The best Bluetooth speakers 2023: top portable speakers for any budget
Best
Contributions from
last updated
Simply the best Bluetooth speakers and portable speakers you can buy
VERDICT
REASONS TO BUY
REASONS TO AVOID
Best Bluetooth speakers: Quick Menu
1. The list in brief
2. Best overall
3. Best budget
4. Best mid-range
5. Best for sound
6. Best for parties
7. Best with a cable
8. Best for charge
9. Best for power
10. Best premium
11. How to choose
12. How we test
13. Latest updates
The best Bluetooth speakers have become a staple household (and travel) item thanks to their compact size and convenience for listening anywhere – whether you're in the shower, mowing the lawn, chilling in your hotel room, having a house party or cleaning the kitchen.
We've been testing the best portable speakers for years, in all shapes and sizes – and crucially, for all budgets. Audiophile sound quality and a thumping low end is always going to be a big ask here, especially if you're looking at something the size of a coffee cup, but you can get a portable speaker that delivers balanced and clear audio outdoors (because if you're going to buy something, it might as well sound good, right?) These are our priorities when testing Bluetooth speakers and obviously we're balancing that with battery life and price – otherwise known as value for money.
We should tell you right now that the smaller and cheaper a speaker is, the more compact and congested the sound can become. That said, there are some very decent affordable options these days, meaning you can get substantial sound from something that still fits in a pocket (just about). Having said that, we do have a guide to the best party speakers if you want huge sound and you don't need it to be especially light or portable. Similarly, if you want a more permanent speaker for your home (and something that can piggyback on your home's wi-fi network), check out our guide to the best wireless speakers.
Most portable speakers are rugged in design because they often get knocked and dropped – and many are dust- and waterproof, though definitely not all. If that's your biggest priority, our separate guide showcasing the best waterproof speakers will show you the options that can take a proper dunking.
Written by
Becky is a senior TechRadar writer (which she has been assured refers to expertise rather than age) focusing on all things audio. Before joining the team in early 2022, she spent three years at What Hi-Fi? reviewing everything from wallet-friendly wireless earbuds to huge high-end sound systems.
The quick list
Want to cut to the chase and find out which Bluetooth speakers are the absolute best in the business? Below, you'll find a roundup of our choices for different needs. You can also jump to a more detailed review of each product, and the best deals on them online.
Load the next 3 products...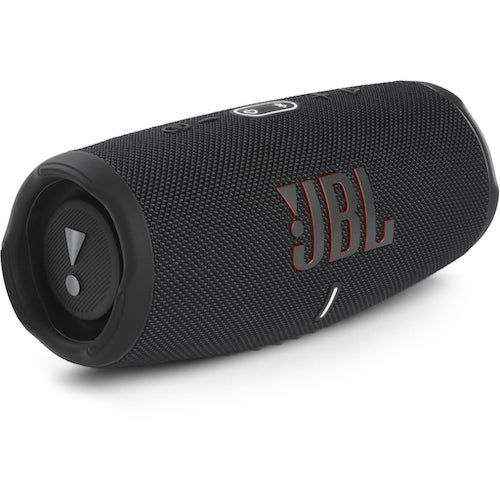 Charge and listen
Best for charging your phone
Looking for a portable speaker that can charge your phone too? Here it is. In terms of features it's fairly basic other than this trick, but the sound is solid and it's built tough (and waterproof).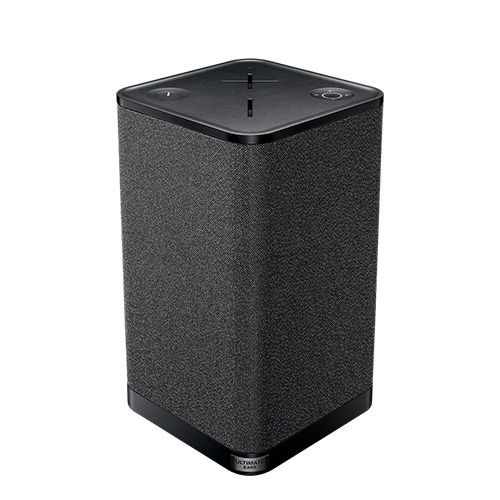 Best for power
Best for sound
This big and powerful speaker packs tons of bass, but we found it also delivers a very well-balanced sound. It can switch seamlessly between two phones too – great for sharing.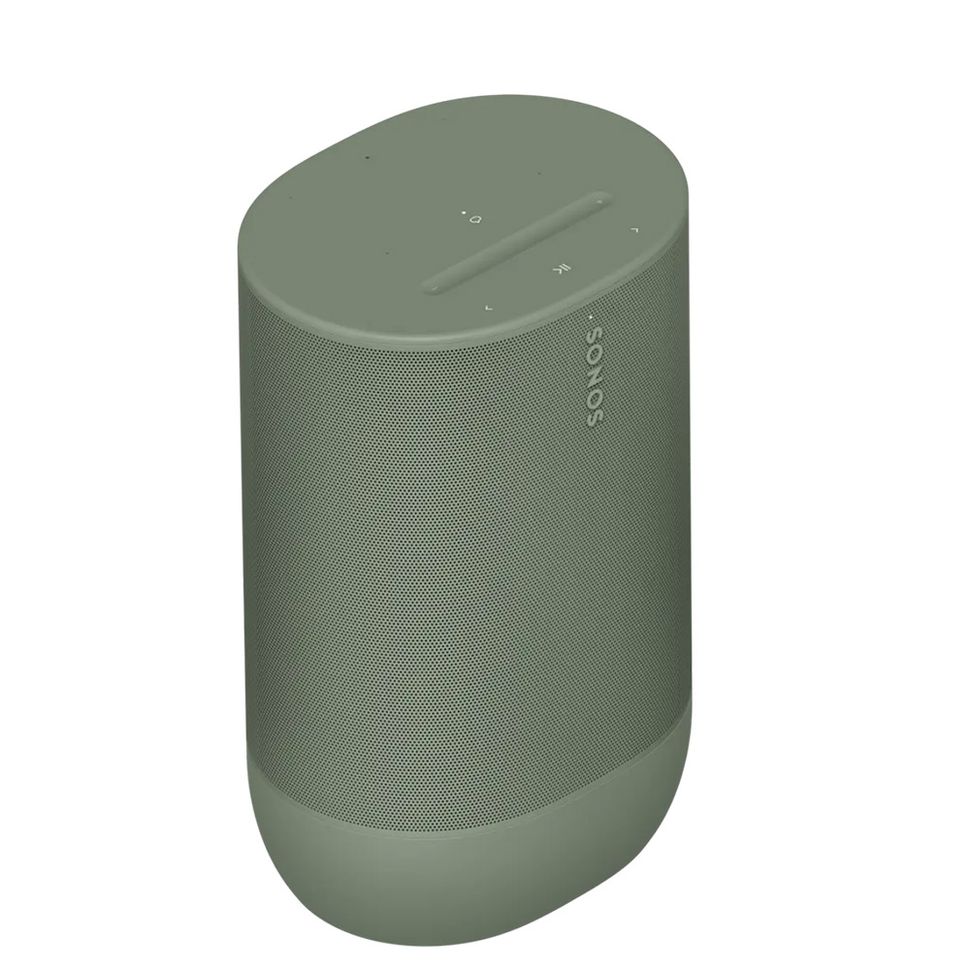 Best premium
Best premium speaker
This is great for both the home and outdoors. It's got big sound and big battery life, but that means a big size and big price tag, so it's not for everyone.
The best Bluetooth speaker overall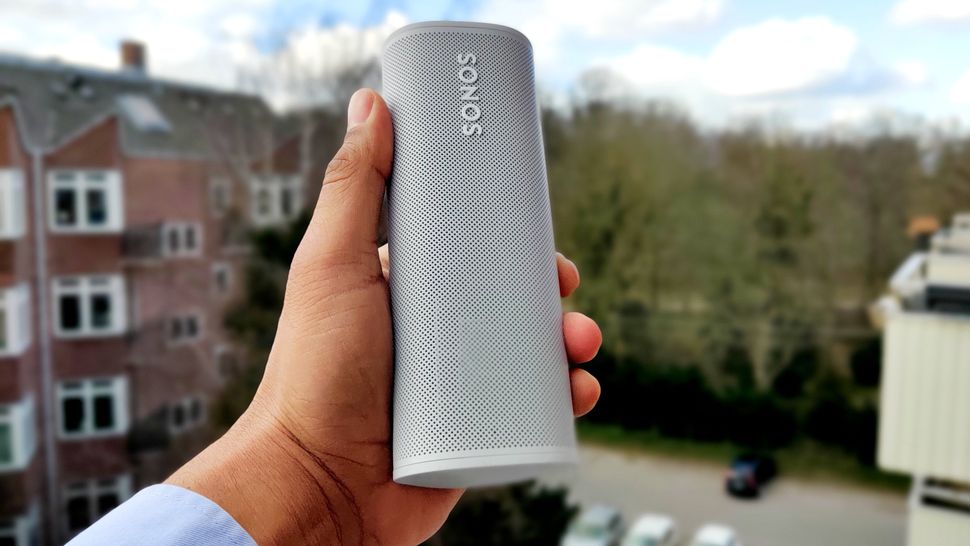 The best Bluetooth speaker for most people
Specifications
Weight:
0.95 pounds (0.43 kg)
Wireless range:
40m - 240m
Frequency response:
Up to 5kHz
Connectivity:
Wi-Fi and Bluetooth 5
Drivers:
One tweeter, one mid-woofer
USB charging:
Yes (USB-C)
Reasons to buy
+
Powerful audio performance
+
Tough and very portable design
Reasons to avoid
-
Not the longest battery life
-
Bass is heavier than some might like
BUY IT IF
✅ You already have Sonos speakers at home: The Roam is easily integrated into an existing Sonos system, letting you take your tunes on the go as well as listening at home.

✅ You want a classy portable speaker: Some portable speakers can look a little garish, but the Sonos Roam retains the company's understated design aesthetic.
DON'T BUY IT IF
❌ You want audiophile sound: The Roam's audio performance isn't bad by any means, but the bass frequencies can be overwhelming.

❌ You want long battery life: At 10 hours, the battery here is relatively low – the JBL Charge 5 doubles it at 20 hours.
The Sonos Roam is our pick for the best Bluetooth speaker, with a powerful sound, rugged design, excellent connectivity features, and smart home control.
A bass-heavy audio performance makes it ideal for use outdoors, because during our testing we found it's powerful enough to cut through wind noise. Meanwhile, a clever Automatic Switching feature means it seamlessly becomes part of your Sonos Wi-Fi multi-room setup indoors.
These flashy features would be pointless if the Sonos Roam didn't sound great – but we're happy to report that, despite its small stature, the Roam delivers a powerful sonic performance, with remarkably prominent bass, even if it does lack the rhythmic accuracy you'd expect from an audiophile speaker.
The Sonos Roam comes with both Bluetooth and Wi-Fi connectivity, which means it can work as a portable speaker as well as part of your wider multi-room Sonos system – and with Google Assistant and Alexa onboard (when you're on Wi-Fi), it doubles up a smart speaker too.
Compared to similar priced Bluetooth speakers we've tested, you're getting a lot of features for your money here. Its slick design means the Sonos Roam won't look out of place in your home, while a rugged, waterproof and dustproof build make it ideal for listening to music outdoors. The battery life isn't huge, though – enough for a good day out, but if that's a priority, check out the B&O A1 instead.
Sonos has also now added the Sonos Roam SL to its line-up. This new version of the Roam lacks a microphone but is otherwise identical in terms of specs. If you're concerned about privacy and want to save around $20 / £20 / AU$30 then the Roam SL could be exactly what you want.
Read our full Sonos Roam review
The best budget option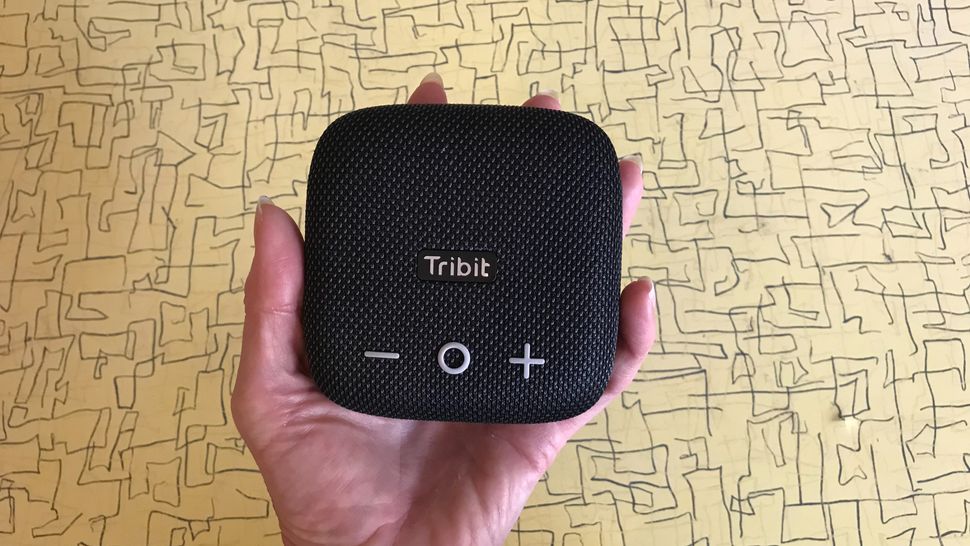 The best cheap Bluetooth speaker
Specifications
Weight:
0.69 pounds (0.315 kg)
Frequency response:
70Hz-20kHz
Connectivity:
Bluetooth 5.3
USB charging:
Yes (USB-C)
Reasons to buy
+
Great sound quality for the size
+
Can now charge your phone
+
Incredible value
Reasons to avoid
-
No 3.5mm line-in for wired listening
-
More expensive speakers sound better
BUY IT IF
✅ You want a supremely portable speaker: Throw it in a small bag, on your belt, around your bike or even in your pocket and let the music play!

✅ You need good battery life: Unlike other small designs at this price, Tribit has somehow summoned up 12 hours of life (up from eight in its predecessor).
DON'T BUY IT IF
❌ You want huge sound quality: It's a small speaker for a low price, don't expect big volume and class-leading detail.

❌ You want an aux-in for wired listening: The only port you'll get here is a USB-C two-way charger – although it does charge your phone. The Cleer Audio Scene has this, though.
The Tribit Stormbox Micro 2 is the best-sounding and most fully-featured mini Bluetooth speaker we've had the pleasure of testing. It's not the most powerful or the loudest Bluetooth speaker out there, but at this size and price you can't currently buy better.
The Micro 2 is a brilliantly pocketable portable speaker that's surprisingly good for music as well as an excellent option for listening to podcasts or just watching TV shows on a mobile device. It's also a great option if you're looking for a stereo pair of speakers for a small room: you can pick up two of these for what you'd pay for one of its better known rivals.
We particularly enjoyed the bass response here, which is where small speakers usually fall down: Tribit is keeping quiet about the exact specifications of the driver in this model but whatever it is, it delivers impressive bass for such a small footprint. And battery life is superb, up from the 8 hours of the original Micro to a travelling or beach day-friendly 12 hours.
If you're looking for a speaker to toss in a bag or clip to a bike, you'll find it hard to get a better speaker for such a low price. It's superb, and its flaws are very minor – only that there's no wired connection, really.
Read our full Stormbox Micro 2 review
The best for mid-range value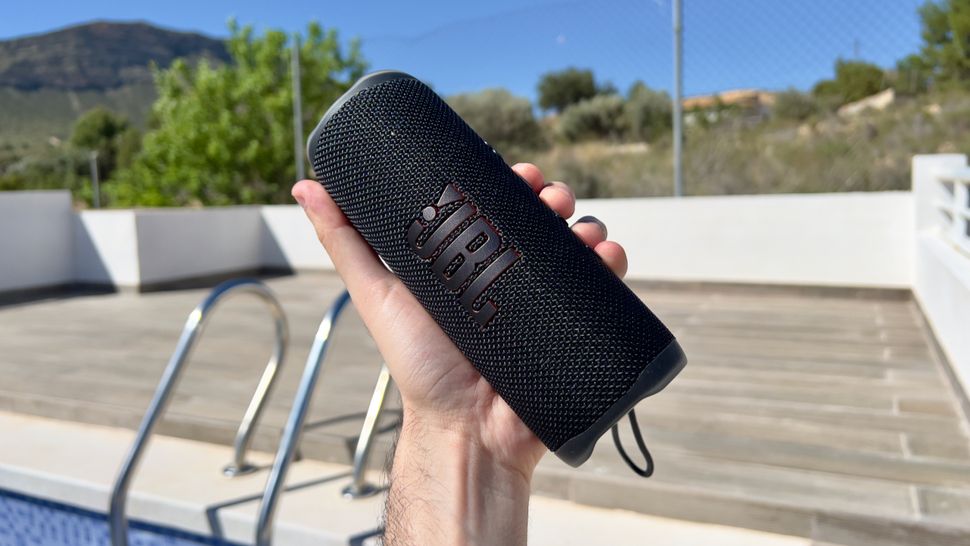 The best Bluetooth speaker at a mid-range price with no frills
Specifications
Weight:
1.2 pounds (0.54kg)
Wireless range:
Not listed
Frequency response:
63Hz - 20kHz
Connectivity :
Bluetooth 5.1
Drivers:
16mm dome tweeter, 45x80mm bass driver and 2x passive radiators
Reasons to buy
+
Well-balanced, bassy sound
+
Simple to use
Reasons to avoid
-
No charging port for your phone
-
No voice assistant
BUY IT IF
✅ You want powerful sound: Despite its small size, the Flip 6 gets remarkably loud, without any drop off in sonic clarity – though trebles can sound slightly harsh.

✅ You're a beach bum: An IP67 dust and water resistance rating means a little sand or a splash of water won't break the JBL Flip 6.
DON'T BUY IT IF
❌ You want Wi-Fi connectivity: Unlike the Sonos Roam, there's no option to hook the Flip 6 up to your home network for higher quality music streaming.

❌ You want to charge your phone: Unlike the JBL Charge 5, the Flip 6 won't be able to top up your phone's battery.
The JBL Flip 6 is a prime example of a Bluetooth speaker that sticks to the basics and gets them all right. This rugged, portable speaker is super simple to use, sounds good, and can be paired with up to 100 other JBL speakers at once to create a huge wall of sound.
You won't find extra features such as voice assistants or Wi-Fi connectivity (or even a 3.5mm aux-in), but the Flip 6 sounds so good that you won't miss them. During our testing, we found that its warm, well-balanced audio performance is far more powerful than you might expect from a speaker of this size, and while the treble can sound a little harsh at higher volumes, you're getting plenty of clarity and detail.
A 12-hour battery life and water and dust resistance makes this an ideal speaker to take to the pool or beach, and it's available in an array of eye-catching colors. It's a shame it doesn't have a port to charge your phone, like some of larger JBL speakers do, but that's not a big deal.
Like the JBL Flip 5 before it, the Flip 6 is an ideal speaker for anyone who wants to simply play their music, crank it up loud, sit back and enjoy – whether you're listening at home or on the go.
Read our full JBL Flip 6 review
The best smaller speaker for audiophiles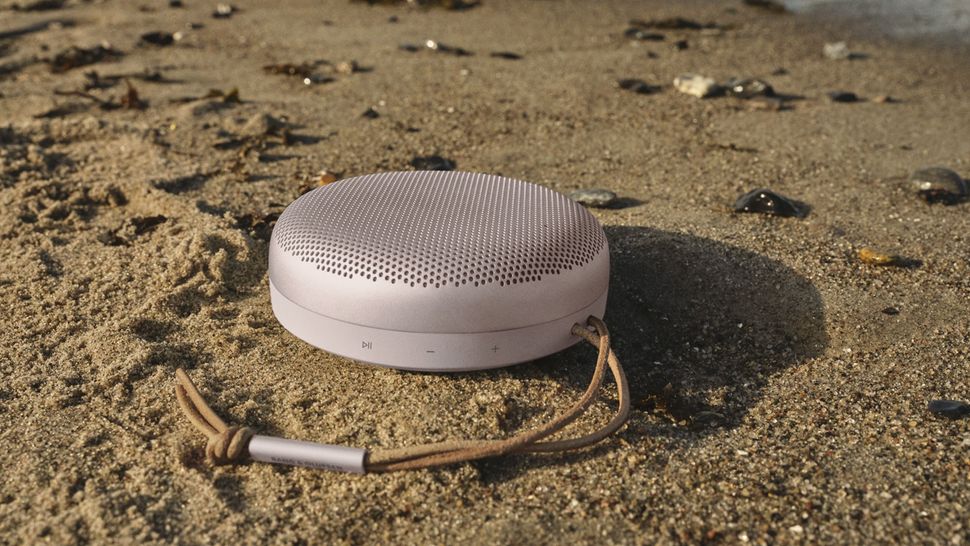 The best small Bluetooth speaker for audiophiles
Specifications
Weight:
1.2 pounds (0.54kg)
Wireless range:
30m (100ft)
Frequency response:
55 - 20,000 Hz
Reasons to buy
+
Crisp sound quality
+
Tough but lightweight design<