The best over-ear headphones for 2023: top cans for any budget
Best
Contributions from
last updated
These are the best over-ear headphones for music lovers, from Sony, Bose, Sennheiser and more
Best over-ear headphones: Quick Menu
1. Quick list
2. Best overall
3. Best budget
4. Best premium
5. Best mid-range
6. Best for sound
7. Best for ANC
8. Best for design
9. Best open-back
10. Best for Bose fans
11. Best wireless
12. Best for Apple fans
13. How to choose
14. How we test
15. Latest updates
The best over-ear headphones completely immerse you in sound. It's no secret that by design, they're more tuned for audiophiles, who often favor wired models where there's more room for large, powerful drivers to deliver detailed, high-definition audio and immense soundstages.
Compared to the best earbuds out there, over-ear headphones have an advantage in that they encapsulate your ears completely, which has an outsized effect on the listening experience – larger earcups means larger drivers and space for real acoustic work to happen. They also tend to be more comfortable, which makes them perfect traveling companions, especially given that many are wireless and come with additional features such as active noise cancellation.
We rank over-ear headphones highly among the best headphones you can buy, so it may not be surprising to learn that they even have added health benefits like protecting your hearing. They can be better for your hearing health compared to in-ear headphones because they don't sit right next to your delicate eardrums. The great sound dampening of a good pair of padded earcups that envelop you also means you don't need the volume so high.
Written by
Becky is a senior TechRadar writer (which she has been assured refers to expertise rather than age) focusing on all things audio. Before joining the team in early 2022, she spent three years at What Hi-Fi? reviewing everything from wallet-friendly wireless earbuds to huge high-end sound systems. Long before all of this though, Becky freelanced as an arts critic alongside a 23-year career as a professional dancer and aerialist – most recently in March 2023, as a soloist in Rusalka at the Royal Opera House. Becky has previously contributed to Stuff, FourFourTwo and The Stage.
The quick list
Want to cut to the chase and find out which over-ear headphones are the best? Below, you'll find a roundup of our choices. You can also jump to a more detailed review of every pick, along with our price comparison tool to help you find the best deals.
Load the next 5 products...
The best over-ear headphones for 2023
Why you can trust TechRadar We spend hours testing every product or service we review, so you can be sure you're buying the best. Find out more about how we test.
The best over-ear headphones for most people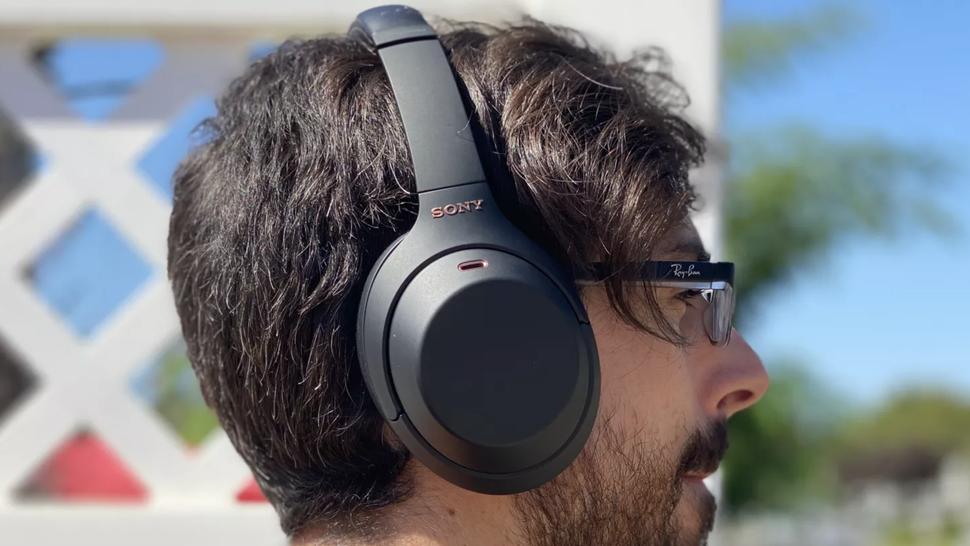 The best over-ear headphones for most people
Specifications
Frequency response:
4Hz to 40kHz
Drivers:
1.57-inch dome-type
Reasons to buy
+
Excellent noise cancellation
+
Great rich audio
+
Light and comfortable design
Reasons to avoid
-
Not water-resistant
-
Better noise cancellation now available
The WH-1000XM4s may not be Sony's flagship headphones anymore – that title has since been passed onto the WH-1000XM5, which we rate as having the best active noise cancellation in the market – but these are still the best for most people because of their impressive sound quality and features balanced with the lower prices you can now usually find them for.
You've got useful extra features too, including multi-point pairing for switching between two devices instantly, DSEE Extreme upscaling and automated control settings thanks to built-in sensors.
You'll get access to Sony's 360 Reality Audio format, which delivers spatial audio on stereo headphones, plus LDAC codec that can send a bitrate of up to 990 kbps for high resolution audio – although aptX and aptX HD are no longer supported. The WH-1000XM4s have set a benchmark that is hard to beat on all accounts by anything else out there.
Read our full Sony WH-1000XM4 review
The best budget over-ear headphones
The best over-ear headphones with noise cancellation on a budget
Specifications
Frequency response:
7Hz-22,000Hz
Reasons to buy
+
Lightweight and comfortable
+
Good active noise cancellation
+
Great extra features
Reasons to avoid
-
They don't fold
-
Weaker ANC than pricier options
Sony has stripped back its premium flagship over-ear headphones to the bare necessities with the WH-CH720Ns. The pared down features means that they're the best budget option out there at this price, balancing audio quality, noise cancellation and price.
They stand above the rest for the flagship-level features that have been added, including support for Sony's 360 Reality Audio format, DSEE upscaling of mediocre-quality tracks, multi-point pairing and adaptive active noise cancellation – although this is not at the same elite level that the Sony WH-1000XM4. The sound quality is also great, delivering strong levels of detail in the audio.
But, of course, there are limitations and the sound can feel constrained at times compared to pricier options. They also don't support hi-res LDAC or have automated control settings. The buttons are easy to find though and the extremely lightweight design makes them one of the most comfortable to wear for long periods. And all this for one of the most affordable prices on the market? These are a steal.
Read our full Sony WH-CH720N review
The best premium over-ear headphones
The best over-ear headphones for premium features and sound
Specifications
Frequency response:
6Hz-22,000Hz
Reasons to buy
+
Neutral, crisp, detailed sound
+
Excellent ANC and transparency
+
Incredible battery life even with ANC deployed
Reasons to avoid
-
A little plain aesthetically
-
Design doesn't fold up into the headband
Sennheiser's flagship over-ear headphones have an edge over any other premium model out there. With an incredible 60-hour battery life, intuitive app, extensive feature set, easy on-ear controls, talented adaptive noise cancellation and a zealous sound, the Momentum 4s have the ability to completely transport you to a musical soundstage.
Yes, they're a tad plain aesthetically and they don't fold down for easy portability, but Sennheiser has packed everything and the kitchen sink into the Momentum 4 Wireless's spec sheet. They feature a 60 hour battery life, sidetone to better hear your voice during calls, 'sound zones' that let you tailor EQ settings and ANC presets, which can be set to magically kick in when you're, well, in the zone. Nothing else has such smart control of its audio settings.
Make no mistake though, the headline-grabber is still the sound. And what a sound it is! Think open, detailed, expansive, neutral and crisp. Never is it overly warm, or congested, or muddied through the bass. The Momentum 4s are by far the most premium choice for top quality headphones.
Read our full Sennheiser Momentum 4 Wireless review
The best mid-range wired over-ear headphones
The best mid-tier over-ear headphones
Specifications
Frequency response:
20Hz-20KHz
Reasons to buy
+
Strong sound across the frequencies
+
Look fantastic
+
Light and comfortable build
Reasons to avoid
-
Better for smaller heads
-
A little light on bass for some
-
No wireless or ANC
Sivga is not a very well-known brand but you'll find its Oriole headphones hard to forget once you see them. The striking wooden ear cups aren't just for looks either and are capable of delivering decent sound across varying frequencies – all for a reasonable mid-range price.
At this mid-tier price level, there are lots of competing wired over-ear headphones to choose from but the Sivga Oriole, which are the costlier alternative to the company's Robin, are the best you can buy considering the step-up in sound quality thanks to large 50mm dynamic drivers.
They don't have active noise cancellation or Bluetooth like many of the other options here, but the full suite of core components are here though. The Sivga Oriole comes with a 1.8m long cable, a 3.5mm to 6.3 adapter and a hemp carry case. The lightweight design is another advantage here.
Read our full Sivga Oriole review
The best over-ear headphones for sound
The best planar magnetic over-ear headphones
Specifications
Frequency response:
20Hz-40KHz
Drivers:
70 x 89mm planar magnetic
Battery life:
80 hours (we actually got 90)
Reasons to buy
+
Detailed, expansive, engaging and zealous listen
+
Light, comfortable, foldable design
+
Incredible battery life
Reasons to avoid
-
No active noise cancellation
-
App is acceptable rather than comprehensive
For the casual listener, planar magnetic headphones might go over their head. But for the audiophiles out there, this type of design is highly sought after and very rarely comes in wireless (or reasonably affordable) forms – but the Edifier does both. Planar magnetic refers to the drivers, which have a larger, flat and super-thin diaphragm in a magnetic field in each earcup, with offers more exciting and distortion-free sound.
And following hours of testing, we rate Edifier's flagship premium headphones – the Stax Spirit S3 – as the best planar magnetic headphones you can buy right now. They have a lot going for them, including beautifully detailed, expansive audio quality, a light comfortable folding design and an incredible 80 hours of battery life (we noted in our review that this even pushed up to 90).
The only missing premium feature here is active noise cancellation. Although if you prioritize an expansive soundfield and crisp audio detail, then these headphones shine above the rest – plus you do get an element of passive sound isolation from the ear cup design. Edifier's Stax Spirit S3 comes with a price tag that isn't cheap, but is competitive with the likes of Sony's higher-end headphones, and is completely justified in that context, because they sound glorious.
Read our full Edifier Stax Spirit S3 review
The best over-ear headphones for ANC
The best over-ear headphones for active noise cancellation
Specifications
Frequency response:
5-40,000Hz
Drivers:
30mm carbon fibre composite dome
Reasons to buy
+
Excellent noise-cancellation
+
Wonderful sounding performance
+
Smart ambient features
Reasons to avoid
-
New design is less portable
-
Not a gigantic upgrade over the still-excellent WH-1000XM4
If you want the most powerful noise blocking tech on the planet, grab these headphones. We rate the Sony WH-1000XM4 higher as a choice for most people because you can find them so much cheaper, and they very nearly as good – but make no mistake that the WH-1000XM5 take a step up in ANC and sound quality.

Whether you like the new lighter design (which can no longer be folded up, although the ear cups do lie flat in the case) or not, they really are comfortable and the user-friendly perks are impossible to ignore, including automated audio control settings thanks to smart sensors. The Sony WH-1000XM5 headphones can anticipate exactly what you want them to do without you needing to touch a button yourself.
These smart features feel snappier and more responsive than previous versions – though they have very tough competition from the clever features offered by the Sennheiser further up. However, for sheer noise-stopping power, these have the edge.
Read our full Sony WH-1000XM5 review
The best over-ear headphones for design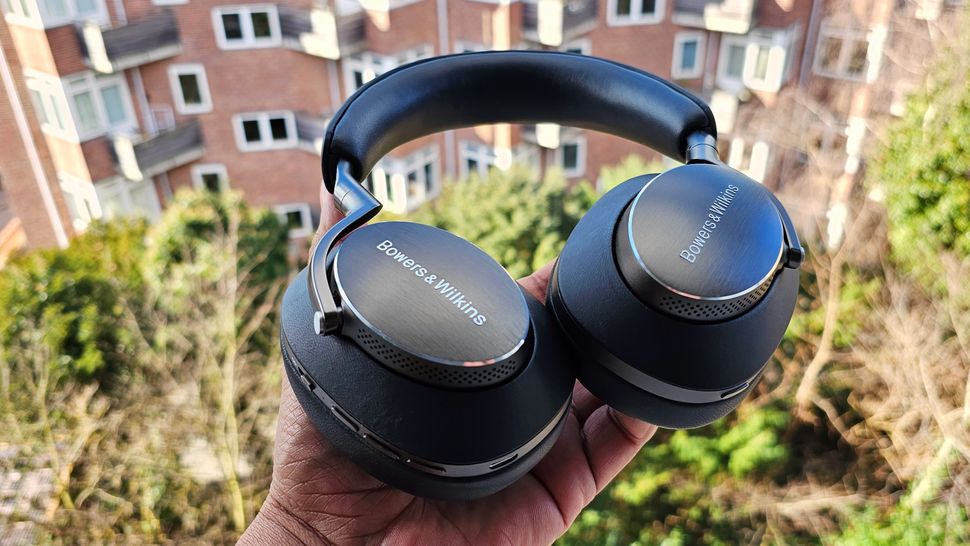 The best looking over-ear headphones
Specifications
Weight:
320g (without carry case)
Drivers:
2 x 40mm dynamic full range
Reasons to buy
+
Agile, detailed, class-leading sound
+
Supreme comfort during wear
+
Classy build and finish
Reasons to avoid
-
Battery life has been beaten
-
Noise cancellation is average
-
Expensive
If we were just to focus on design and sound quality, the Bowers & Wilkins PX8 are the wireless over-ear headphones to beat. There, we said it. If that's all you need to hear, thank you for reading this particular buying guide. But if you want to know why we think they're the best designed, and why we gave them four-and-a-half stars rather than the full five, read on.
The simple fact is that the B&W PX8 are expensive. There are good, tangible, understandable reasons for this – a new carbon cone 40mm drive unit replaces the bio-cellulose driver in the more affordable Bowers & Wilkins PX7 S2 and the die-cast aluminum arms, diamond-cut bright metal detailing and Nappa leather trim elevates the build to high-end territory. They feel, as well as look, a cut above other headphones.
While, for many, anything priced higher than the AirPods Max is too expensive, these headphones are sonically supreme across the board, so cost of living crisis or not, they're exceptional and worth every penny if you do decide to take the plunge. But that definitely won't be everyone.
Read our full Bowers & Wilkins PX8 review
The best open-back over-ear headphones
The best open-back over-ear headphones
Specifications
Frequency response:
8Hz – 41,500Hz
Reasons to buy
+
Open-back design and comfortable fit
+
Consistent, neutral sound
+
Various cable options
Reasons to avoid
-
Lack of smart features
-
Needs a separate amp to get the most out of them
If you love a wide, open sound, then a pair of wired open-back headphones are the way to go and the Sennheiser HD-660S2s are the best you can buy right now. These boast an immensely impressive and expansive soundstage, but being open-back means they don't block out the outside world, so they need to be used in quiet spaces.
Made for the mixing booth, the HD-660S2s have an air of superiority to them. But Sennheiser has made these for general listening too. They feature brilliant sound recreation, premium ear cup cushioning and a durable headband to prevent vibration.
Given their focus on delivering audiophile level sound, these headphones aren't wireless but they come with a variety of cable connections. Compared to their predecessors (the HD-660S), the HD-660S2s have a more fleshed out bass. These are bound to delight anyone looking to have the delights of open-backed cans.
Read our full Sennheiser HD-660S2 review
The best over-headphones for Bose fans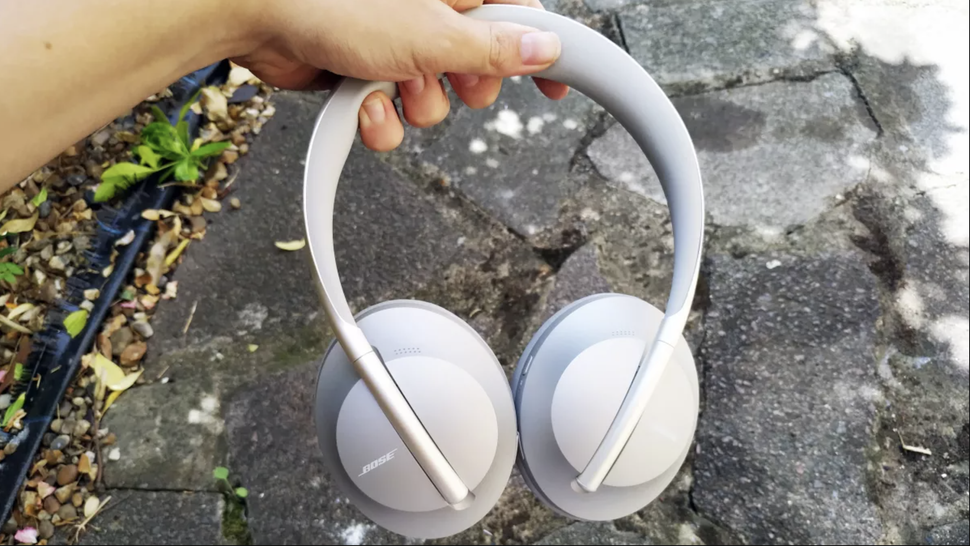 The best Bose over-ear headphones
Reasons to buy
+
Strong noise cancellation
+
Fun, lively audio
Reasons to avoid
-
Battery life could be better
-
Beaten on sound and ANC
The Bose Noise Canceling Headphones 700 remain an exceptional pair of headphones years after their launch – and even though Bose has launched another pair of headphones since then. There are lots of standout features to shout about here, but the best has to be their sophisticated noise cancellation.
When we trailed this feature, we found the call quality to be remarkably clear, even when walking on a busy London street. There are 11 different noise cancellation modes on offer too, so there's something for every potential scenario – only the Sennheiser Momentum does this better (oddly, the newer Bose QuietComfort QC45 don't include it).
With great sound on offer too, the Bose headphones are a serious alternative to the Sony WH-1000XM4s at the top of our list. We highly rate their vibrant, lively character and well-balanced soundstage. These headphones don't have the same dexterity as the Sennheiser or Sony WH-1000XM5, but they're the best wireless headphones for making calls with and for fans of Bose's exceptional quality and design.
Read our full Bose Noise-Cancelling Headphones 700 review
The best wireless over-ear headphones for sound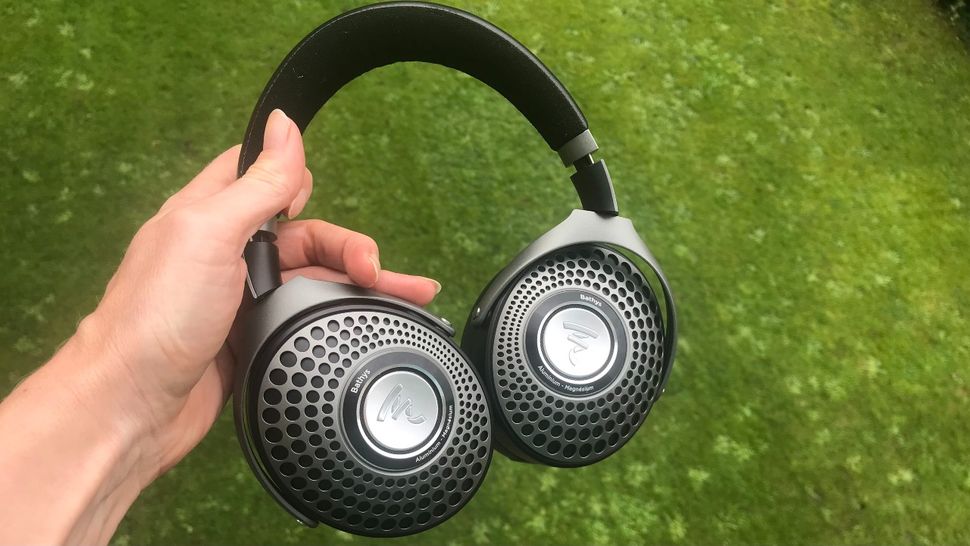 The best audiophile over-ear headphones with full smart features
Specifications
Frequency response:
15Hz – 22kHz
Reasons to buy
+
Exciting, detailed, expressive sound
+
Very comfortable (and easy on the eye)
+
Excellent access to hi-res whistles and bells
Reasons to avoid
-
On-ear controls are hit-and-miss
-
Noise cancellation can be beaten for less
-
No LDAC support
As Focal's debut wireless over-ear headphones, the Bathys have a lot of heritage behind them – the company is in the high stratosphere of hi-fi greats. They are built for the more serious audiophiles out there, and have a DAC mode that supports hi-res up to 21bit/192kHz for wired listening over USB-C.
But the Focal Bathys are also made to be adaptable so are wireless, allowing you to listen to stunning musical clarity with vast depth and space. They also have a great feature lineup that includes active noise cancelation, a five-band EQ tab, and Bluetooth 5.1 support for aptX and aptX codecs. Unlike the Edifier further up, they deliver active noise cancellation too, though it's not at the same level as Sony, Bose and Sennheiser.
The headphones have a flexible design too that folds down for easy portability and are very comfortable. But it's the hi-res audio quality that shines above all else, which makes them our top choice for uncompromising audiophiles who want headphones that can do anything while sounding supreme.
Read our full Focal Bathys review
The best over-ear headphones for Apple fans
The best over-ear headphones for Apple devotees
Reasons to buy
+
Unbelievable audio performance
+
Fantastic user experience
Reasons to avoid
-
No 3.5mm audio port
-
Limited features for Android
The AirPods Max are the best-sounding headphones made by Apple. They have top-class active noise cancellation, superb audio quality and a design that sets them apart from most noise-canceling headphones on the market.
The only real let downs are their eye-watering price, horrible carrying case and their lack of support for hi-res audio codecs. As a result, the AirPods Max aren't exactly aimed at the audiophile crowd. These headphones are squarely targeted at card-carrying members of the Apple ecosystem, and they're packed with nifty features for iOS users and come in an unmistakably 'Apple' design. Spatial Audio is perhaps the stand-out feature, alongside the ability to auto-switch between Apple devices.
If you've already bought into the Apple ecosystem, you have a lot of money to burn and you don't care too much about hi-res audio, then the extra features you get from these may put them above a lot of the competition.
Read our full Apple AirPods Max review
How to choose the best over-ear headphones
When buying over-ear headphones, sound quality is the most important feature to look out for – the more expensive they are, the better your cans tend to sound, although there are quite a few impressive exceptions to this rule.
How you define good sound quality depends on your personal taste. Do you like a warm, well-rounded sound, or do you prefer ultra high-fidelity that allows you to hear every single detail of your music? Are you a dedicated bass head or a classical music junkie?
If you're all about that bass, you'll want to look out for dynamic drivers that displace lots of air, leading to a bassy soundstage. If detail is everything, look for large frequency ranges – 20Hz to 20 kHz is the standard, so anything larger than this may allow for more detail in the highs and lows, though it depends on connection types.
Many over-ear headphones come wireless and with noise cancelling these days, although they're often pricier than their wired counterparts – if you can't live without these modern conveniences, make sure you're buying headphones with the latest Bluetooth technology and active noise cancellation.
Design is also hugely important, as a good pair of over-ear headphones need to be comfortable for long listening sessions – look out for padded earcups and headbands in materials like memory foam for ultimate comfort.
How much should I spend on headphones?
That really depends on your budget – you don't need to overstretch yourself to prices you can't really afford in your quest for great sound.
You can find over-ear options among the best cheap headphones under $100 / £100 / AU$150 – check out brands like Jabra and JBL if you want to keep costs down.
The best noise-cancelling headphones and higher-spec options tend to cost more than this. For wireless headphones, the flagship models start around $250 / $250 / AU$450.
When you get to true audiophile headphones for analytical listening, the prices really start to shoot up – but these cans will last you decades if you look after them.
Is it worth getting over-ear headphones?
Choosing over-ear headphones over earbuds is a personal choice. There's no wrong option here but over-ear headphones typically provide better battery life and better sound quality.
Thanks to being larger, they can pack in a better battery along with more advanced features like superior drivers. By their very nature, they tend to provide better noise cancellation too as they cover your ears more comprehensively than earbuds.
However, some of your decision making process needs to come down to what you feel more comfortable with. Earbuds are easier to store away, but not everyone likes the feeling of them in their ears. Alternatively, headphones can feel more secure over your head but are heavier and require more thought when storing them.
What are the benefits of over-ear headphones?
The two biggest differences are comfort and sound quality. Many people find over-ear headphones much more comfortable to wear than in-ear ones, and because they're much bigger they can accommodate much larger and more powerful drivers. Unlike earbuds, they're not limited by having to fit into the very limited space of your ear canal.
Because over-ear headphones have bigger drivers, they can potentially deliver a wider frequency range than earbuds, especially at the low end where the bass lives. For example, our current favourites, Sony's WH-1000XM4 go down to 4Hz and top out at a very high 40kHz. By comparison Sony's closest equivalent earbuds, the WF-1000XM4, still reach 40kHz but the low end only reaches 20Hz.
There's another crucial factor here. According to the Hearing Health Foundation, over-ears are less likely to damage your hearing. Once damaged, hearing doesn't repair itself so it's really important to look after it. Over-ears don't sit so close to your eardrums so they're less dangerous over long periods – provided of course you don't run them too loud.
Another advantage of over-ears, albeit a horrible one, is that they don't end up covered in ear wax like in-ears do, so you don't have to read our how to clean wireless earbuds guide. And on a more cheerful note, they're also considerably harder to misplace.
Is over-ear better than in-ear for noise cancelling?
There's not really a simple answer to that one. Some earbuds are very good at passive noise cancellation, which is when the headphones simply block out a lot of external audio by being stuck in your ear canals. But over-ears can do much the same by enclosing your entire ears, so there's huge variation here.
Where things generally do differ is when active noise cancellation is involved. That's when your headphones analyze the sound around you and produce additional waves to cancel the sounds you don't want. As with the drivers that can deliver better sound quality, the larger size of over-ears means there's more room for tech in there.
In our many hours of testing and casual listening we've found that over-ears such as Apple's AirPods Max and Sony's WH-1000XM5 deliver even better noise cancelling than the same firms' best earbuds. And they generally sound better too.
How we test the best over-ear headphones
We have tested all of the headphones in this guide extensively, spending lots of time analyzing the sound, fit, design, specs, and value for money.
We listen to audio from a range of sources, including both high-quality and more basic music services, movies, online video, and podcasts or audiobooks.
We test all additional features in headphones, including spatial audio support or active noise cancellation – we will test the latter in real-world situations, including public transport and walking around a city. We also monitor battery life ourselves.
With wired headphones, we'll use a suitable amp where necessary to make sure they get the chance to perform at their full potential.
Latest updates to our over-ear headphones guide
17 August 2023
Added quick list navigation and updated product listings to reflect latest launches.
7 July 2023
Updated rankings to include the Sony WH-CH720N. Re-ordered the list to reflect latest pricing and options in the market. Added new easy navigation subheadings.
23 May 2023
Checked list against latest product reviews.