Editor's Notes: December 2022
We've been seeing a lot of new bone conduction headphones pop up in online stores like Amazon, but we are picking the ones we're testing and reviewing, as a lot might not be top-notch quality.
That said, we have new entries here such as the YouthWhisper SuperQ3 and the new Shokz OpenComm UC, giving you more options just in time for the holiday season.
Michelle Rae Uy, Buying Guides Editor
The best bone conduction headphones are perfect for when you still need to stay alert and pay attention to your surroundings. These headphones transmit audio by utilizing tiny transducers that send those vibrations along your bones to your ears instead of using drivers to vibrate air directly into your ears. Doing so allows users to be aware of their surroundings while still listening to audio.
That makes them ideal not just for running, but also for a variety of other exercises such as cycling and even performing regular work tasks. Unlike the best earbuds and the best over-ear headphones, bone conduction headphones can be completely waterproof, meaning can be used for swimming as well.
That said, if you're after headphones for swimming, head over to our best waterproof headphones guide – plenty of swim-proof options are listed there. However, if situational awareness, safety, and waterproofing are your top priorities, you'll need an excellent pair of bone conduction headphones to take care of your audio listening needs.
We've tested more than our share of them, putting them through paces to ensure that we're only recommending the best ones. And, we gathered the best ones on this list of the best bone conduction headphones. Since these are a foreign concept to many, we're making it easier for you to make the right choice.
Black Friday is just around the corner, and we expect many of these bone conduction headphones to get price cuts, making them more affordable. We'd start keeping an eye out deals now, a lot of which you'll find below where we are including the best deals.
The best bone conduction headphones
Why you can trust TechRadar Our expert reviewers spend hours testing and comparing products and services so you can choose the best for you. Find out more about how we test.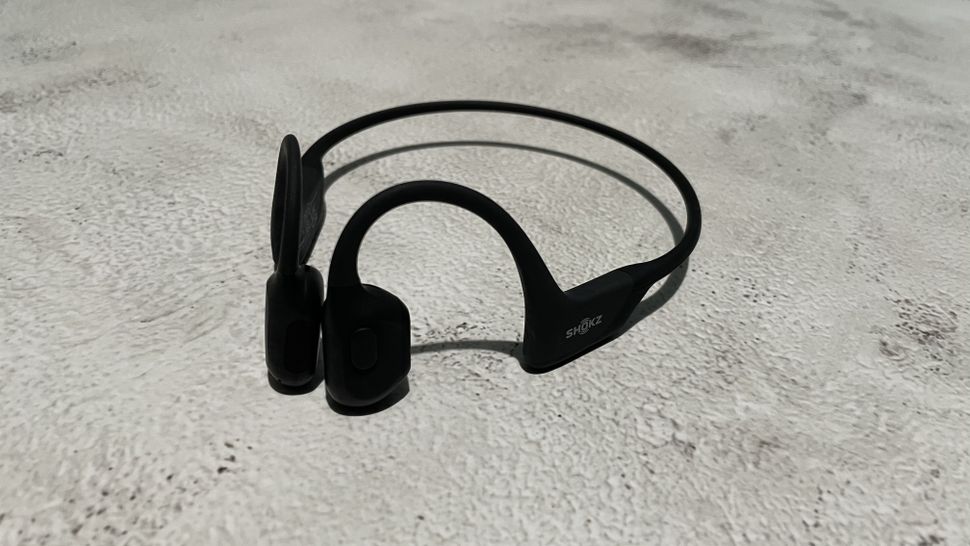 Usually, opting for bone conduction headphones means compromising on sound quality, but thanks to the Shokz OpenRun Pro, that's no longer the case. These headphones contain a set of new bass transducers that deliver far richer sound than any other bone conduction headsets we've tested, which is a real advantage for activities like running, where a solid beat can drive you on. You can even tweak the EQ settings in the new Shokz app to optimize the sound for music or audiobooks.
Design-wise the OpenRun Pro are very similar to the original OpenRun (below), but Shokz has made a few thoughtful design tweaks, including repositioning the charging port, so it's now easier to access and increasing the size of the volume/power buttons. The headset is still light and comfortable to wear, and it stayed comfortable during testing, even during our longest training runs. Plus, the quick-charge function gives you an hour and a half of playtime on just a five-minute charge.
The only downside is that those new bass transducers sometime felt a little tickly against our cheekbones, but that's a minor gripe. The OpenRun Pro are the best bone conduction headphones you can buy right now, and they prove that opting for safety doesn't have to mean compromising on sound quality.
Read our full Shokz OpenRun Pro review
If you're interested in checking out a set of bone conduction headphones but don't want to pay serious cash for something you might not enjoy, the Padmate S30 could be exactly what you need. Its sound isn't as rich or detailed as you'll get with a higher-end headset, but if you're interested in listening to audiobooks or podcasts rather than music while you're working out, it could be a winner.
We thought the lack of a volume control strange (instead, you have to control the volume using your phone) and the buttons somewhat fiddly to operate. However, it's nevertheless a comfortable headset that you can forget you're wearing for hours at a time. It has amazing battery life, too, even if you crank your phone's volume up (something that you might find necessary).
Read our full Padmade S30 review
The Zygo Solo is the only set of bone conduction headphones we've tested that can stream music and podcasts from a phone sitting by the side of the pool. Instead of using Bluetooth, which can only penetrate water for a very short distance, these utilize an FM radio transmitter.
As a result, you can enjoy music, podcasts and coaching tips via the Zygo app without needing to save the MP3 files in the headphones themselves. Even better, we found the sound quality to be impressive. It might sound a little tinny on land, but dunk it in the water, and you'll get that booming bass to keep you motivated.
The transmitter is quite large, and the headset itself isn't very compact. However, we didn't find the transmitter inconvenient, and the headset stayed comfortable during our workouts. We're also big fans of the Zygo mobile app and its instructor-led workouts.
Read our full Zygo Solo review
The Shokz OpenRun (originally called the AfterShokz Aeropex before the company rebranded itself in December 2021) is a flagship headset that offers an impressively small and light design, plus a slight step up in sound quality over rival bone conduction headphones.
They're 30% smaller and 13% lighter than the company's Trekz Air headphones, and they have an IP67 water-resistance rating, so they're an excellent option for exercise and use in the rain. Despite their slender frame, they include two physical buttons to control volume, and the move to a proprietary charging setup helps them achieve that improved water-resistance rating. Dual noise-cancelling mics are available when you need to take calls, too.
On the sound front, Shokz has adjusted its approach to delivering audio to your ears to improve the bass performance and offer less vibration and sound leakage than the brand's other headphones. We found the improvements in bass and clarity to be noticeable, and with an improved eight hours of battery life and the same quick-charge support as the Trekz Air, the OpenRun are still some of the best bone conduction headphones around.
Read our full Shokz OpenRun review
Headsets are tiring when you spend all day making calls. So, when Shokz decided to put bone conduction technology in a productivity-minded headset, we were here for it. To start, at 33 grams, the OpenComm UC is incredibly lightweight. Since it weighs significantly less than traditional headsets, you won't feel like you're really wearing anything, even after hours of use. And, of course, your ears will be completely uncovered so they start to feel cramped or get sweaty.
We were also very impressed with the mic quality. While it wasn't quite on par with holding a phone up to our face – a longer boom mic might have closed the gap – it's still better than most headsets out there. Of course, you do have to pay a hefty price for OpenComm UC and the vibrations of bone conduction technology at higher volumes can feel unpleasant but we think it's worth the cost. And, since you'll most likely get it to make calls, keeping the volume at a reasonable level is easy.
Read our full Shokz OpenComm UC review
Like the Shokz OpenRun Pro, the Mojawa Mojo1 prove that it's no longer necessary for bone conduction headphones to compromise on sound quality. The Mojo1 leaves your ears open but still delivers surprisingly rich bass that'll help keep you motivated during a particularly tough workout.
We found that the Mojo 1 was stable and comfortable on our heads even over long stretches, and their IP67 rating means they'll easily resist dust, sweat, and splashes. Their reflective detailing is a nice touch too, helping you stay safer at night, though we noticed that the transducer pads sitting in front of your ears are larger and chunkier than usual.
As with the OpenRun Pro, we sometimes felt a slight tickle from the Mojawa Mojo1 when listening to particularly bass-heavy music, but it was never enough to be a serious distraction. In all other respects, these bone conduction headphones give you the best of both worlds.
Read our full Mojawa Mojo1 review
Quite a lot of newer bone conduction headphones brands are hesitant to promote theirs as swim-friendly simply because they do not have built-in MP3 players and Bluetooth doesn't work well underwater. But, we tried swimming with the YouthWhisper SuperQ3 headphones anyway, and were pleasantly surprised at how well it works as long as you keep your phone handy above water and you keep your head close to the surface.
That's a reasonable compromise, especially if you want to make sure you're not missing out on any phone calls during your swims. Of course, these are better-suited for pool swims where you can keep your phone within range. The fit is great as well, ensuring they stay on during such swims.
The sound quality is good here, if a little tinny, and better for podcasts than for music. Wearing the included earplugs do improve things a little bit, but they kind of beat the main purpose of these headphones. As for the controls, they're easy to use even with wet hands.
Read our full YouthWhisper SuperQ3 review
If you don't want to spend big on the company's OpenRun headphones, the Shokz Trekz Air offer many of the same features and overall audio quality for significantly less money. Although not as compact or light in terms of its design, the Trekz Air does come with an IP55 rating, making them fit for sweaty workouts.
Adopting the signature wraparound titanium frame, their 30g weight is distributed well; we found them comfortable to wear, and they stayed in place. Pairing with devices over Bluetooth, the headphones feature controls to adjust volume and a mute button to make it quick and easy to cut music in busy environments – or if you need to have a conversation.
Sound quality is as good as you'll find on bone conduction headphones, but we found that they struggled to be heard in busier environments. At full volume, you might experience some tickling sensation familiar with bone conduction, so we think these are best used at moderate volumes. With six hours of battery life, the Trekz Air also comes with a quick-charge feature that will give you an hour of listening time in just 15 minutes of charging.
Read our full Shokz Trekz Air review
How we test bone conduction headphones
We've tested dozens of bone conduction headphones over the years, which puts us in a great position to select our favorites for this guide.
We have reviewed every pair listed above. In each case, we give the product plenty of time to run in before evaluating their sound quality across a variety of music genres, games, movies and podcasts, from several sources, against known class-leaders in the category. Sound quality at TechRadar is, and should always be, a priority when listening to music on the go.
We also consider how comfortable and secure the design is over extended periods of time, the situations the product best suits (running, gaming, audiophile hi-res listening), along with any extra or unusual features offered at the level.
When it comes to additional features, we look at voice assistant integration, on-device touch controls, how comprehensive the companion app is and anything else that each set of bone conduction headphones provides.
We also evaluate those battery life claims to ensure we could give an accurate opinion on how long they will last in normal use. Ultimately, we want you to have a product you'll be over the moon with. We hope we help you achieve that.
How to choose the best bone conduction headphones for you
While we recommend bone conduction headphones for fitness folk who want to be more aware of their surroundings, they can also be useful in any scenario where you'd benefit from hearing a mix of your own music and any background noise, such as walking on a busy street or working at home while needing to listen out for family members or the doorbell.
But too much choice can feel like a burden, which is where we come in – because we've done the heavy-lifting (swimming, running and commuting) for you here.
What we're saying is, we've tested the best bone conduction headphones you can buy right now for training, trying to beat your 10k and more.
Right now there aren't as many bone conduction headphones to choose from as other types of wireless headphones. However, there are a few points to consider.
For example, if you're thinking about investing in a pair of bone conduction headphones for use while exercising, then be sure to check the IP (ingress protection) rating, which will provide an indication of how well they will be able to fend off sweat and water.
What's more, those who will be using the headphones to take calls, but who don't want interaction with their smartphone while doing so, should look for units with built-in controls and a microphone.
There's plenty more to consider, including the design, the fit and budget. Let's take a look at the top bone conduction headphones of 2022 to find out more.
Do bone conduction headphones sound good?
All of the bone conduction headphones in this guide offer a decent audio performance, but you're never going to get the same sound quality as you would from a pair of in-ear headphones or over-ear headphones.
If you do want to stay aware of your surroundings without sacrificing audio quality, there are plenty of true wireless earbuds out there with transparency modes, which feeds in sound from the outside world to your ears.
Are there any health benefits to using bone conduction headphones?
Aside from the obvious benefits of being aware of your surroundings while working out, bone conduction headphones could be better for your hearing health than earbuds, over-ear, and on-ear headphones.
That's because they're not driving air directly to your ear drum, which can lead to damage if you listen to music at loud volumes.
Which AfterShokz has the best sound?
While some other models might feel more comfortable to wear, the best-sounding Shokz headphones are the OpenRun Pro. As we mentioned in our guide above, these headphones contain a set of updated bass transducers that deliver far richer sound than any other bone conduction headsets we've tested. You can even adjust the sound profile in the Shokz app using the EQ settings to further tailor the audio to your liking.