Editor's note: February 2023
The Sony WF-1000XM4 remain at the top of our list, despite mounting competition. Now these buds are a few years old, keep your eyes open for great discounts over the rest of the year, making them even better value.
During last year's sale season, we saw low prices on the Cambridge Audio Melomania 1 Plus, which are our cheaper pick. Their sound quality is truly unbeatable for the sub-$50/£50 price they were going for, so if you see them there again, snap them up.
Matt Bolton, Managing Editor – Entertainment
The best wireless earbuds in our list below pack excellent-sounding audio, fantastic connectivity via Bluetooth, and a secure fit into one stylish and compact design.
We've reviewed hundreds of the top wireless earbuds over the years, so we know what to look for. All of the Bluetooth earbuds in our list have been selected based on several key factors, including audio quality, battery life, comfort, and added features, like noise cancellation. The result is a solid list of earbuds that all bring quality audio performance that'll suit a range of budgets and preferences.
If you don't need to listen to music on the move or want the best audiophile-grade audio, you might prefer wired headphones. If that sounds like you, check out our best wired earbuds list or best over-ear headphones guide. The difference is that these headphones won't compress or reduce the quality of audio files.
However, wireless earbuds are well worth considering. They look great, tend to fit very securely with a choice of eartips, they're convenient and they're fun to use. In our list below, you'll find we've selected the best wireless earbuds designed to stay put while you go about your day, whether you're wearing them on your commute, listening to a focus playlist at work or a motivational soundtrack as you're working out.
We'd also recommend that you read our best noise-cancelling earphones guide and best workout headphones list if you're looking for something specific. Or check out our best headphones list for a look at the best of the best in every category.
The best wireless earbuds 2023: the list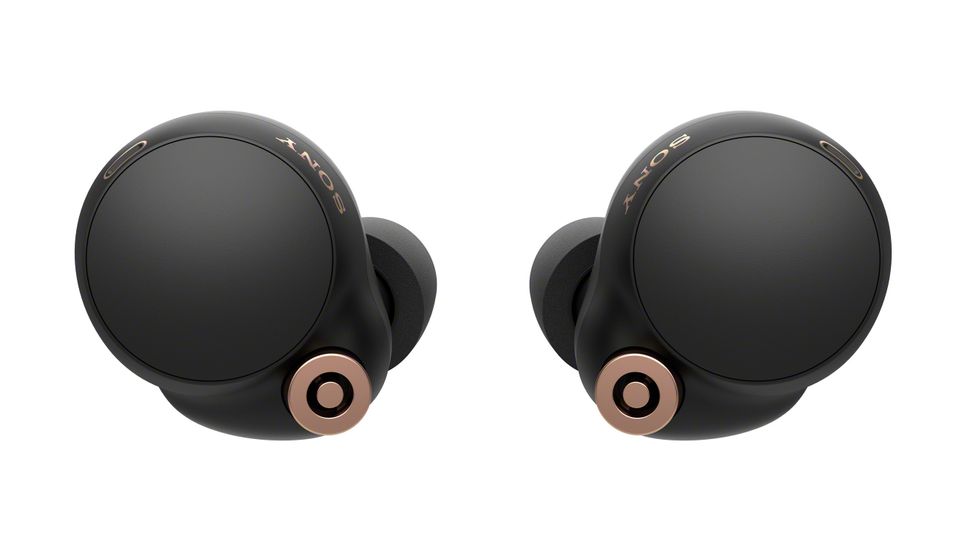 Sony is a leader in audio and offers some of the best noise-cancelling wireless earbuds on the market today. That's why it's no surprise that, after an extensive testing period, we've decided the brand's latest Sony WF-1000XM4 wireless earbuds are our top choice and outshine the other earbuds on this list when it comes to checking the most boxes.
These wireless earbuds sound fantastic and offer full-bodied audio at every turn. That's partly thanks to their specially designed 6mm drivers, which reproduce a dynamic sound despite being so small. In our tests, the WF-1000XM4 immediately impressed, with tons of detail and an excellent rhythmic handling.
Granted, noise cancellation isn't quite the best out there (the newest Bose QuietComfort Earbuds deliver that), but will suit most people looking to drown out a little background noise. And when the WF-1000XM4 earbuds sound as good as they do, second-best noise cancelling is no big deal.
As well as the excellent sound on offer here, Sony's buds offer great call quality, too, which makes them a solid choice for all kinds of scenarios, from commuting to work calls and everything in-between. Design-wise, we found that these earbuds are smaller and lighter than previous models from Sony, like the Sony WF-1000XM3, which means they're comfy to wear for long periods.
Read our full Sony WF-1000XM4 review
The JLab Go Air Pop cost only $20 / £20 / AU$49.95, which is incredibly cheap and would have been unheard of just a few years ago. Fast-forward to now, and JLab is bringing out durable listening gear at rock-bottom prices. The big question is: can earbuds this budget-conscious actually do a job?
We put in the time and tested these budget buds and found that the JLab Go Air Pop are actually pretty good generally – and emphatically unbeatable for the money.
They sound great for the price. Stream Hootie & the Blowfish's Let Her Cry and the different guitars present themselves to each ear in a relatively expansive, open soundstage too. Listen to Prince's Kiss and while you'll get all of the bass funk in the intro, the artist's inimitable vocal comes off a little harsh. Sonically, it is difficult to rave about the sound quality, chiefly because of this treble, which does distort even in relatively easy passages, but that's not really the point here.
We also weren't impressed with the design of the charging case. It has a tadpole-like cable that snaps out from the base. That said, it does charge the earbuds and means you'll never have to search in the semi-darkness for your USB charger – or get caught short because you forgot to pack one.
So although you won't get exceptional sound with the JLab Go Air Pop, or noise cancelling to rival the likes of the Sony WF-1000XM4, during our testing we were surprised to find reliable Bluetooth connectivity, killer battery life, comfortable and light earpieces and solid music on the go. It would be churlish to expect more.
If your budget maxes out quickly for non-essentials (let's face it true wireless earbuds are a luxury), then you'll find a reliable product here. For another cheap option, take a look at the Sony WF-C500 earbuds further down in our list.
Read our full JLab Go Air Pop review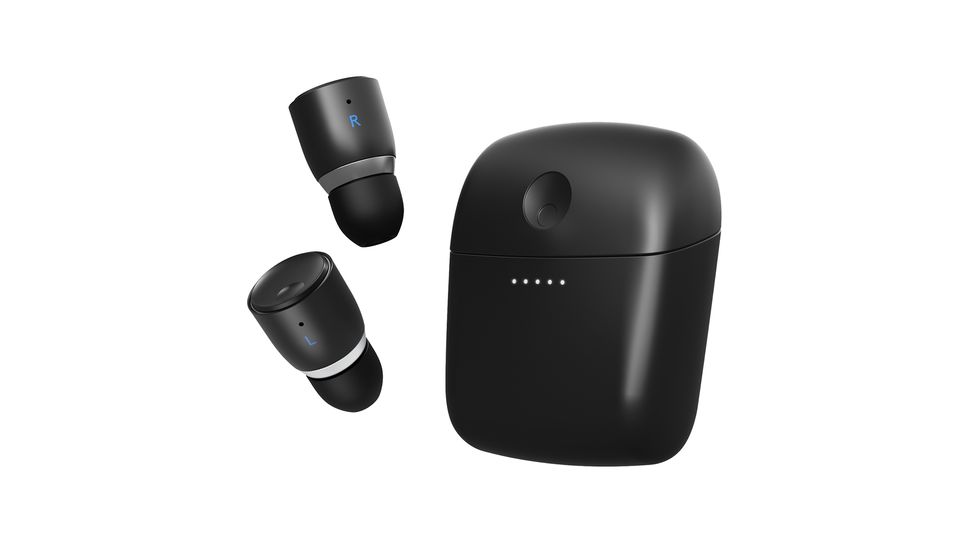 The first thing we noticed when reviewing the Cambridge Audio Melomania 1 Plus earbuds is that they have exceptional battery life. You get a total of 45 hours with the charging case and nine hours from the earbuds on their own—and we found they delivered on those bold numbers.
But there's a lot more to love about the Melomania 1 Plus, including outstanding audio performance and an app that we found genuinely useful and easy to control during our testing.
These buds are an upgrade on the Melomania 1 from Cambridge Audio. While the Melomania 1 Plus design may look similar to its predecessor, there's a clear step up in terms of audio performance here, with levels of detail and clarity that could even rival some of the best over-ear headphones.
When we listened to Daði Freyr's 10 Years, the pulsing synths and romantic strings complemented the baritone vocal melody, with excellent balance across the different frequencies. As the chorus kicked in, the meandering bass guitar and drums sounded punchy and controlled, while harmonized vocals were clear and rich.
You won't find noise-cancelling tech built-in here. Still, if you're looking for a pair of the best wireless earbuds you'll find excellent battery life, solid audio performance and reliable connectivity in a very affordable package. You can't go wrong with this pair of minimal, top-performing buds.
Read our full Cambridge Audio Melomania 1 Plus review
The highly-anticipated Apple AirPods Pro 2 are here and they enter our best wireless earbuds guide in a high spot because they offer superb audio performance and truly stunning ANC in a small and lightweight design.
The original Apple AirPods Pro have long been one of our favorite pairs of wireless buds for iPhone owners. Now the Pro 2 are a significant upgrade, offering fantastic audio performance thanks to new drivers and amplifiers. There's also better ANC on-board which, during our testing, we found to be right up with the best-in-class, blocking out almost all external sounds.
Battery life has had a decent boost and although it may not outperform all of the other wireless buds in this guide, it's good for all-day listening at 6 hours from the buds and 30 hours from the charging case. The case has been revamped too, with an IPX4 water resistance rating for light showers and sweat as well as a built-in speaker so you can find it if you lose it.
As always with Apple products, these buds are best suited to iPhone users and aren't cheap. But with solid audio improvements, they're one of the best pairs of wireless earbuds you can buy right now, rivalling many of our long-standing favorites, including the Sony WF-1000XM4 and even offering ANC to give Bose a run for its money.
Read our full Apple AirPods Pro 2 review
Given Samsung's formidable reputation in the smartphone and tablet arena, it has long surprised us that the company's Galaxy Buds output never quite hit the mark. But that changed in the best way possible with the Galaxy Buds 2 Pro.
Apple, Sony, Bose and Sennheiser now need to take a good look at what Samsung has done with the Samsung Galaxy Buds 2 Pro. They're good. No, really, they're good.
The headline-grabber, if you own a Samsung Galaxy device (and thus, access to the Samsung Wearable companion app and home-screen widget) is 360 audio with optional head-tracking, thus allowing you to use your phone as the focal point to direct more of that new end-to-end 24-bit high-res audio to whichever ear you prefer.
These smaller, more comfortable and less arrogant earbuds (remember the rose gold, kidney-bean shaped Galaxy Buds Live? These are nothing like those) are packed full of useful perks such as excellent ANC, voice detect, wearer detection and customizable on-ear controls – all of which work very well indeed – plus IPX7 water ingress protection. All in all, a home run from Samsung – marred only by the disappointing five-hour battery life.
Read our full Galaxy Buds 2 Pro review
If you want an Apple AirPods-style earbuds experience but don't want to swap from your Android phone to get all of the features, then the Honor Earbuds 3 Pro are some of the best wireless earphones you can buy today. But they're a weaker choice if you have an iPhone, because there's no iOS app on offer here.
Where many other earbuds mimic the look of Apple's best-sellers, Honor has gone further and replicated many of the features that make them so good – and has seriously surpassed AirPods in one key area: the sound. Honor has implemented the world's first coaxial dual-driver design, with an 11mm dynamic driver that includes a separate piezoelectric ceramic tweeter in the center of it.
In our review, we said the result is "a triumph", making them among the very best wireless headphones you can buy today. And that's before you get into the features that include first-class noise cancelling, a supremely well designed Android app and excellent comfort. We also enjoyed the many Honor-specific features, such as extremely fast pairing if your Android phone is an Honor one.
The biggest downside here is the battery life. While you can get 16 hours of noise cancelling when you use the charging case, the earbuds themselves are only good for four hours of listening with ANC on. Otherwise, everything else about these earbuds is excellent, and the price is good too.
Read our full Honor Earbuds 3 Pro review
JBL is known for making mid-range audio products that give rivals at double the price a run for their money and the JBL Live Pro 2 are no exception. The JBL Live Pro 2 are fantastic all-rounder wireless earbuds. These buds have 11mm dynamic drivers, and the audio is powerful, clear and bassy. While we were reviewing the Live Pro 2, we liked that you can tweak how they sound with an EQ in the app and a bunch of presets to choose from.
These wireless earbuds look great, with mirrored stems and a capacitive panel for gesture control. We found them comfortable to wear all day, with a choice of small, medium and large silicone tips. When we tested them they stayed firmly in place, even when we took them to the gym. If you have a high budget you may want to choose better buds with improved sonic performance alongside the noise cancellation, but you'd need to pay considerably more for noticeable improvements.
Read the full JBL Live Pro 2 review
The Sony WF-C500 true wireless earbuds are sensibly specified, incredibly affordable, very light and comfortable, and have a choice of control options that all work well.
At 20 hours, we didn't find the all-in battery life that impressive – but 10 hours from the buds alone is pretty good. During our testing, we through that their sound – rapid, detailed and thoroughly engaging – has some areas of real expertise. That's why these earbuds may not compete with high-end models, but they're one of our top picks for the best wireless earbuds because they're fantastic value for money.
But the Sony WF-C500 are not short of proper competition from equally brave and confident companies offering budget buds for a similar price – and their relative lack of bass extension, so-so battery life and rather confined soundstage has left the door open, just a crack, for those competitors. For example, if you're looking for an even more affordable pair of true wireless earbuds, then check out the JLab Go Air Pop, which you can pick up for $20 / £20 / AU$49.95.
For once, Sony doesn't get the true wireless in-ear action all its own way. But that doesn't mean these aren't a solid pair of budget buds that are well worth your time if you're looking for all the best features at a fraction of the price of Sony's high-end WF-1000XM4 earbuds.
Read our full Sony WF-C500 review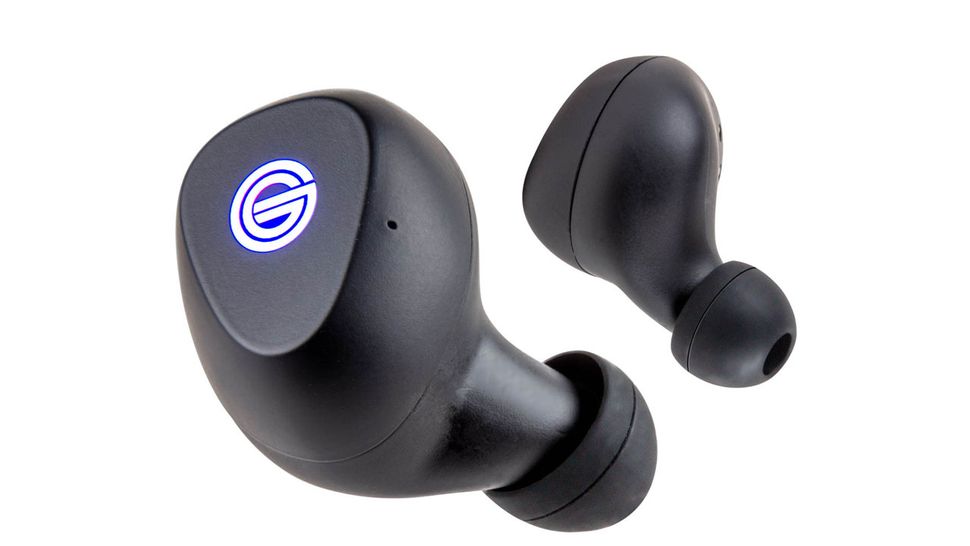 Audio tech company Grado took its time bringing out a pair of true wireless earbuds. But now they're here, the Grado GT220 immediately leap to the top of the class and they're one of our favorite pairs of the best wireless earbuds, especially for sound quality.
The battery life built-in to the Grado GT220 earbuds might only be a mere six hours, but with their handy charging case, we found that we could easily extend that to 36 hours in all, which is an impressive amount of time if you need your music with you on-the-go for hours at a time.
The sound quality aboard these buds is what's truly exceptional. We were so impressed when we tested these buds we felt that they could peer deep into a song's mix and extract every last scrap of information with detail and nuance.
The Grado GT220 wireless earbuds have a very understated design. This might appeal to those who like the minimal look but lacking if you want flashy, sleek or AirPods-style buds. What's more, there's no noise cancellation here.
Read our full Grado GT220 review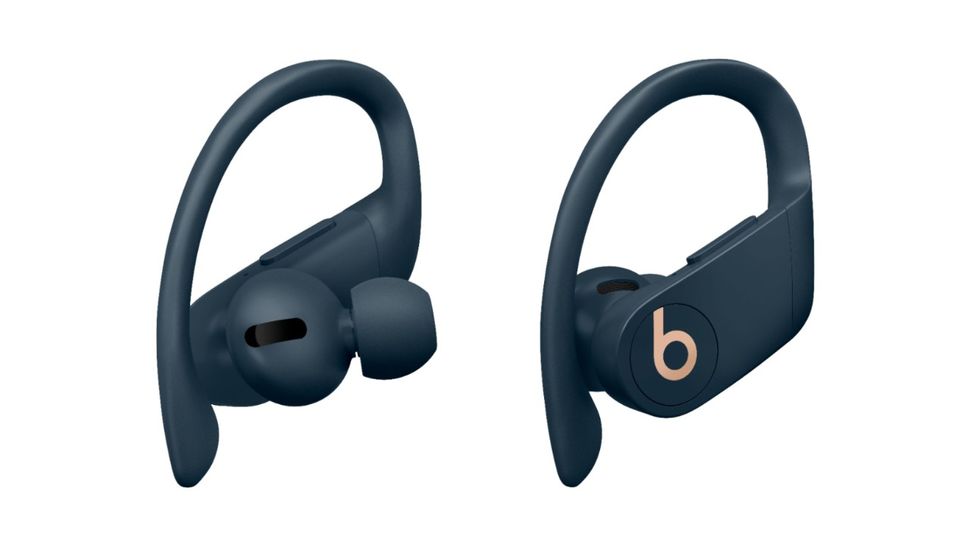 The Powerbeats Pro promise an incredibly secure fit, which is essential if you're going to wear them when you're working out. We found them to be extremely comfortable, and (at least during our testing) they never, ever fell out thanks to their ear hook design.
This is why it's slightly disappointing they come with quite a bulky case that weighs 130g with the earbuds inside. Otherwise, the PowerBeats Pro have an excellent design.
They also sound genuinely fun no matter what you're listening to, which should help motivate you, and have a long battery life, which means you don't need to worry about charging them up when you're trying to hit a new personal best.
There are several downsides, though, including the fact they're only IPX4-rated, which means they should handle sweat, but we'd prefer stronger waterproofing from a pair of workout buds. They're also not noise-cancelling – though the Beats Fit Pro check this box.
However, if you're an Apple-loving gym-goer who can appreciate better-sounding music and features like hands-free Hey Siri, they're a great option to accompany you to your next workout session.
Read our full Beats Powerbeats Pro review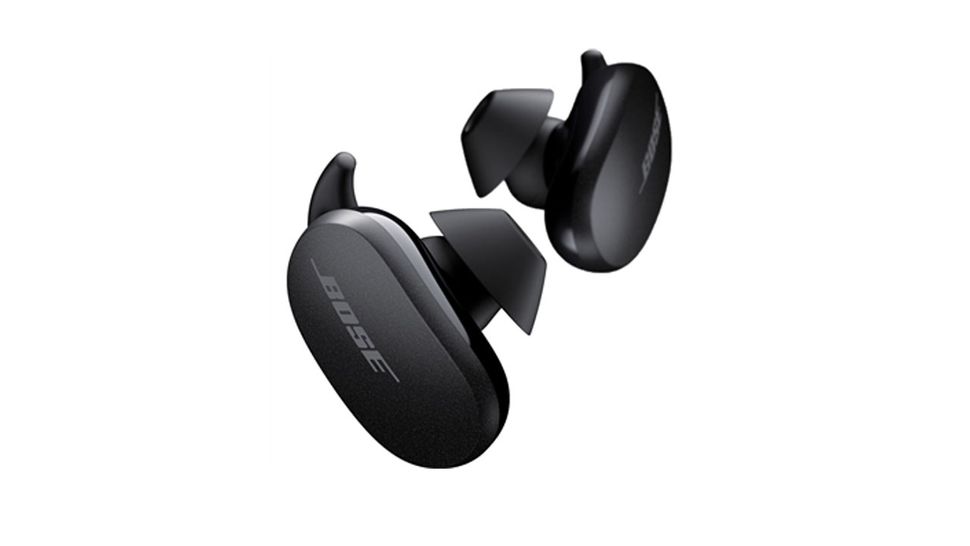 The Bose QuietComfort Earbuds are perfect if you want to block out the world, offering the best ANC you can imagine. Although plenty of the other true wireless earbuds in this list bring you good noise cancellation, none come close to what the QuietComfort Earbuds deliver in terms of fully immersive sound – and that's really saying something.
In our tests we found vocals sounded crisp and every instrument in the background could be heard beautifully, with enough thrum in the low end to make bass lines really enjoyable.
The only thing we're not keen on here is the bulky charging case, which doesn't offer the best battery life either. You'll get a fairly standard six hours of playback from the buds and only two extra top-ups from the case. Take a look at the Sony WH-1000XM4 for stronger battery overall.
We also noted that there's no onboard volume control, which is bound to not bother some people who'd always use their phone anyway. But if you're used to on-ear controls, you'll be disappointed.
Other than that, these are brilliant earbuds, with great sound quality and a really comfortable fit. If you're looking to get lost in your music or need totally uninterrupted tunes to focus, these are the best wireless earbuds for you.
Read our full Bose QuietComfort Earbuds review
Don't be fooled by how the Sony LinkBuds S look. They're a bit boring and you could easily dismiss them as a pair of cheap buds. But we found them to be surprisingly comfortable to wear – particularly for smaller ears.
Not to be confused with the Sony LinkBuds – which have an unusual 'open' design – the LinkBuds S offer a good fit and are very light at only 4.8g per bud. This makes them a good choice for all-day wear.
They sound good and we think they should suit most purposes throughout the day. Although during testing we did find that their shortage of sonic attack leaves them a little short of satisfaction for the price, they're still good overall.
With that in mind, we think these buds are ideal if you've struggled to find a pair of noise-cancelling buds that fit well and are light and comfortable in the past. These buds really are great for small ears and those who find other buds make their ear canals ache after a few hours of wear. However, if you want fantastic sound for not too much more, check out the Sony WF-1000XM4 at the top of this list.
Read our full Sony LinkBuds S review
The Apple AirPods (3rd generation) represent a major step up from their predecessors, the AirPods 2, in almost every way. They boast improved audio performance, better connectivity and a lighter and more comfortable design, thanks to shorter stems and contoured housing. That's why we'd recommend them as a solid choice if you want buds that'll stay put but don't go into your ear canals. But, for that reason, there are no interchangeable eartips to try.
They sound good, with 11mm dynamic drivers powered by a custom amplifier. Features like Spatial Audio support and Adaptive EQ set these buds apart from the competition, and we found the sound to be well-balanced and spacious in our tests. As you might expect, they do come with a price increase, but we think they're a worthy upgrade if you have the older AirPods.
Although we rate these wireless earbuds, they're not for everyone. You'll find better value for money elsewhere, especially if you're on a budget or want best-in-class noise-cancellation, which you won't find in the regular AirPods—you'll have to check out the AirPods Pro for truly immersive sound.
What's more, if you're an Android user, you'll be disappointed. The AirPods 3 are unsurprisingly optimized for use within the wider Apple ecosystem, so anyone with an Android phone will miss out on a lot of the extra features that set them apart from other true wireless earbuds on the market. If that's you, take a look at the Honor Earbuds 3 Pro, which bring many of the same benefits of the AirPods, but for Android users.
Read our full Apple AirPods (3rd generation) review
Best wireless earbuds: FAQ
Wireless vs true wireless: what's the difference?
Wireless earbuds have existed for a while now, basically since Bluetooth was invented. Though battery-powered and not physically connected to your phone, they have a cord connecting both buds – and sometimes a band around the neck too.
True wireless earbuds have no cord whatsoever. While wireless allows us to wear headphones a few feet away from our music players, True Wireless cuts the cord between the earbuds, giving us true freedom. If you're looking to go full wireless, we also have a round-up of the best true wireless headphones, but you'll find our top picks here, too.
Wireless headphones are traditional over-ear or on-ear headphones without the wire – the two earcups are connected by a headband. Check out the best wireless headphones for more.
Which brand of wireless earbuds is best?
In this guide we've included all of the best audio tech and earbuds brands on the market today. But the question of which brand is best depends on what you're looking for.
Sony is certainly one of the best wireless earbuds brands, and one of the best audio brands generally. It consistently brings out great-sounding products and has led the way with fantastic true wireless earbuds year-on-year. The Sony WF-1000XM4 buds are our current pick of the best wireless earbuds and the best true wireless earbuds you can buy today.
If you're looking for a pair of luxury wireless earbuds and have a high budget for a new pair, then check out high-end brands like Bowers & Wilkins and Bang & Olufsen. Otherwise, if you're looking for a budget pair of earbuds, Lypertek makes some of our favourite cheaper wireless earbuds.
How to choose the best wireless earbuds for you
Why you can trust TechRadar Our expert reviewers spend hours testing and comparing products and services so you can choose the best for you. Find out more about how we test.
With so many wireless earbuds to pick from, how do you know which are right for you? There are a few key considerations you need to bear in mind.
The first is price. How much can you afford? You can get a good pair of wireless earbuds for under £100/$100. But often you do get what you pay for in terms of connectivity, build and noise cancellation.
Next up is form. Do you intend to hit the gym, bike or pavement with your earbuds? Then you'll need a design that'll stay put. Or maybe small and minimal is what you're after, so opt for a pair of discrete true wireless buds.
But the biggest consideration is whether you should go wireless, which means there isn't a cable from your phone to your buds. You'll find both types of wireless earbuds on offer here – the best true wireless earbuds with no cables whatsoever, plus neckband-style Bluetooth earphones, which have a single cable that connects each earbud for extra security.
The best sounding earbuds are exactly that – our pick of the wireless earbuds that sound fantastic. These are far from the best cheapest earbuds out there, but if you're passionate about hearing music with clarity, richness and powerful bass, these are the ones you need to consider.
It's still important to pick earbuds that feel good in your ears, but the models in our guide above have been picked for sound quality above all else, rather than noise-cancellation or additional features, like waterproofing or workout-friendly designs.
We've divided our guide up into a few key categories to make it easier to find the right wireless earbuds for you. You'll discover earbuds we've tested that sound fantastic (and often come with a high price tag to match) as well as those with a great battery life above all else, and even some of the best budget wireless earbuds for you to consider, too.
Looking for something a bit different but with similarly great sound quality? The best headphones may be exactly what you need.
How we tested the best wireless earbuds
We've tested hundreds of wireless earbuds over the years, which puts us in a great position to select our favorites.
During testing for this guide, we looked for the earbuds that best fit the categories highlighted above. For best-sounding, we wanted to hear clear, rich audio that does justice to every genre.
In the noise-cancelling section, we included the best earbuds to offer ANC that felt like it really delivered. Plenty of buds are, technically, noise-cancelling, but not all of them work well to drown out ambient noise day-to-day in a variety of environments.
For the battery life picks, we ensured that the buds offered up battery life longer than the standard five-ish hours. We were also looking for excellent battery life boosting if they come with a charging case, as well as quick charging features.
When it came to the best workout buds, we considered the earbuds that had a decent amount of water resistance so they can handle sweat, as well as comfort and additional design choices to ensure they stay in place, such as ear fins. Other considerations were durability and a solid battery life.
The final section is for the cheapest buds on the market. Here, we wanted to include a mixture of super cheap buds – so even those on the smallest budget have options to choose from – but also considered value for money, too. There's no point including only dirt cheap buds that might not deliver.
Ultimately, we do this because we want to help you find a set of earbuds you'll be over the moon with. We hope this regularly-updated buying guide is a useful tool to help you – and us – achieve that goal.