Editor's note: May 2023
The Sony WF-1000XM4 remain at the top of our list, despite ever-mounting competition. Now these buds are a few years old, keep your eyes open for significant discounts – that's really the sweet spot for them.
However, if you want to spend less, Sony's own WF-C700N are the new hotness. You won't find better noise cancellation at under $100/£100 – and the sound quality is hard to fault too.
Matt Bolton, Managing Editor – Entertainment
The best wireless earbuds in this guide bring you a secure fit, fantastic audio quality and connectivity via Bluetooth, all rolled into one compact design. Over the years, we've tested hundreds of the top wireless earbuds, and we know how to sort the ones worth buying from the many… many other options.
We're testing the best wireless earbuds based on factors including battery life, comfort, audio quality and extra smart features, including active noise cancellation. So every pick in our list below is a cut above the competition – several feature in our ultimate best headphones guide – and you should find a pair to suit your preferences and your budget.
Wireless earbuds are the most popular types of headphones, and they're basically all true wireless earbuds these days. While it is still possible to buy earbuds in other designs, nothing beats the convenience of true wireless, and the price has come down so far (while still being strong quality) that we don't think it's worth going to any other kind of wireless earbuds.
If you already know you want a pair of the best earbuds but you're after a more specific kind, do check out our best noise-cancelling earbuds guide or our best workout headphones list too, where we've honed in on just those.
The best wireless earbuds 2023: the list
Why you can trust TechRadar We spend hours testing every product or service we review, so you can be sure you're buying the best. Find out more about how we test.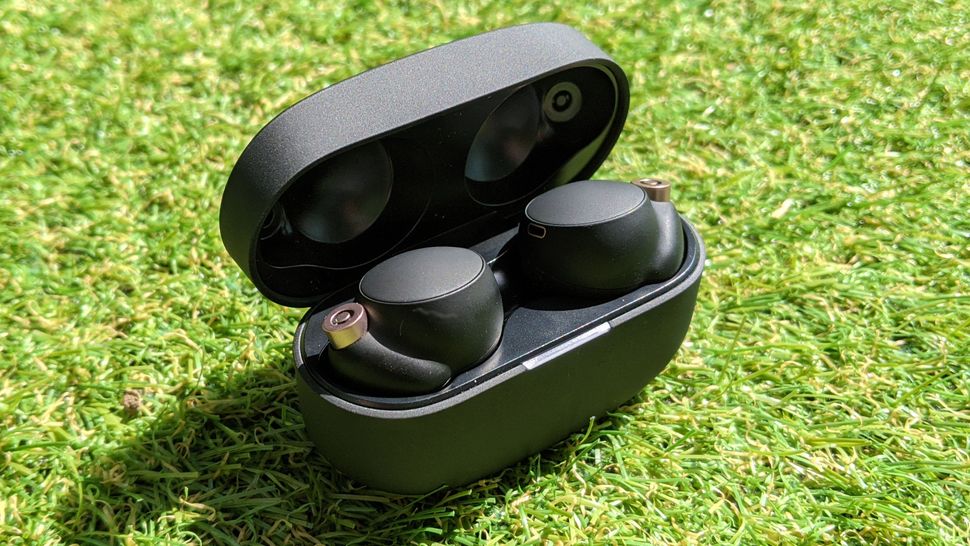 Sony is a leader in audio and offers some of the best wireless earbuds on the market today. That's why it's no surprise that, after an extensive testing period, we've decided the brand's latest Sony WF-1000XM4 true wireless earbuds are our top choice and outshine the other earbuds on this list when it comes to checking the most boxes.
These wireless earbuds sound fantastic and offer full-bodied audio at every turn. That's partly thanks to their specially designed 6mm drivers, which reproduce a dynamic sound despite being so small. In our tests, the WF-1000XM4 immediately impressed, with tons of detail and an excellent rhythmic handling.
Granted, noise cancellation isn't quite the best out there (the Bose QuietComfort Earbuds 2 further down in our list deliver that), but will suit most people looking to drown out background noise. And when the WF-1000XM4 earbuds sound as good as they do, second-best noise cancelling is no big deal.
As well as the excellent sound on offer here, Sony's buds offer great call quality, too, which makes them a solid choice for all kinds of scenarios, from commuting to work calls and everything in-between. Design-wise, we found that these earbuds are smaller and lighter than previous models from Sony, like the Sony WF-1000XM3, which means they're comfy to wear for long periods – though the Sony WF-C700N are much smaller and lighter again.
Read our full Sony WF-1000XM4 review
The JLab Go Air Pop cost only $20 / £20 / AU$49.95, which is incredibly cheap and would have been unheard of just a few years ago. Fast-forward to now, and JLab is bringing out durable listening gear at rock-bottom prices. The big question is: can earbuds this budget-conscious actually do a good job?
We put in the time and tested these budget buds and found that the JLab Go Air Pop are actually pretty good generally – and emphatically unbeatable for the money.
They sound great for the price. Stream Hootie & the Blowfish's Let Her Cry and the different guitars present themselves to each ear in a relatively expansive, open soundstage too. Listen to Prince's Kiss and while you'll get all of the bass funk in the intro, the artist's inimitable vocal comes off a little harsh. Sonically, it is difficult to rave about the sound quality, chiefly because of this treble, which does distort even in relatively easy passages, but that's not really the point here.
We also weren't impressed with the design of the charging case. It has a tadpole-like cable that snaps out from the base. That said, it does charge the earbuds and means you'll never have to search in the semi-darkness for your USB charger – or get caught short because you forgot to pack one.
So although you won't get exceptional sound with the JLab Go Air Pop, or noise cancelling to rival the likes of the Sony WF-1000XM4 or Bose QuietComfort Earbuds 2, during our testing we were surprised to find reliable Bluetooth connectivity, killer battery life, comfortable and light earpieces and solid music on the go. It would be churlish to expect more.
If your budget maxes out quickly for non-essentials (let's face it true wireless earbuds are a luxury), then you'll find a reliable product here. For another cheap option, but with active noise cancellation, take a look at the Earfun Air Pro 3 further down in our list.
Read our full JLab Go Air Pop review
The Sony WF-C700N take most of the features and quality of the WF-1000XM4 at the top of our list, and make them smaller, lighter and cheaper. They're as good as earbuds get for under $100/£100 today. The active noise cancellation is really impressive, for example – in our review, we said "When ANC is on, at my desk, all but the loudest noises are softened, leaving me immersed in my playlists. It's a feat and no mistake."
It's the same story for the sound quality, which we described as "one of the most expansive, three-dimensional and fun soundstages I've heard from a set of earbuds", also noting that "we get an extra ounce of detail and texture through her high belt, too, compared to the competition". More expensive earbuds manage to provide even more detail (and there's no support for CD-quality sound here through aptX or Sony's LDAC wireless systems), but you have to spend twice as much to get even a bit better, really.
There's full support for Sony's app too, through which you can customize the sound and the noise cancelling profiles. There's no auto-pause when you remove them from your ears, and no volume control on the buds, but we can live with that. Especially since the buds are so small and comfortable, unlike most that are so feature-packed.
The highly-anticipated Apple AirPods Pro 2 are here and they enter our best wireless earbuds guide in a high spot because they offer superb audio performance and truly stunning ANC in a small and lightweight design.
The original Apple AirPods Pro have long been one of our favorite pairs of wireless buds for iPhone owners. Now the Pro 2 are a significant upgrade, offering fantastic audio performance thanks to new drivers and amplifiers. There's also better ANC on-board which, during our testing, we found to be right up with the best-in-class, blocking out almost all external sounds.
Battery life has had a decent boost and although it may not outperform all of the other wireless buds in this guide, it's good for all-day listening at 6 hours from the buds and 30 hours from the charging case. The case has been revamped too, with an IPX4 water resistance rating for light showers and sweat as well as a built-in speaker so you can find it if you lose it.
As always with Apple products, these buds are best suited to iPhone users and aren't cheap. But with solid audio improvements, they're one of the best pairs of wireless earbuds you can buy right now, rivalling many of our long-standing favorites, including the Sony WF-1000XM4 and even offering ANC to give Bose a run for its money.
Read our full Apple AirPods Pro 2 review
The first thing we noticed when reviewing the Cambridge Audio Melomania 1 Plus earbuds is that they have exceptional battery life. You get a total of 45 hours with the charging case and nine hours from the earbuds on their own – and we found they delivered on those bold numbers.
But there's a lot more to love about the Melomania 1 Plus, including outstanding audio performance and an app that we found genuinely useful and easy to control during our testing.
These buds are an upgrade on the Melomania 1 from Cambridge Audio. While the Melomania 1 Plus design may look similar to its predecessor, there's a clear step up in terms of audio performance here, with levels of detail and clarity that could even rival some of the best over-ear headphones.
When we listened to Daði Freyr's 10 Years, the pulsing synths and romantic strings complemented the baritone vocal melody, with excellent balance across the different frequencies. As the chorus kicked in, the meandering bass guitar and drums sounded punchy and controlled, while harmonized vocals were clear and rich.
You won't find noise-cancelling tech built-in here – take a look at the Earfun Air Pro 3 below for an ANC option at the same kind of price. Still, if you're looking for a pair of the best wireless earbuds at a lower price, you'll find excellent battery life, rich audio performance and reliable connectivity in a very affordable package.
Read our full Cambridge Audio Melomania 1 Plus review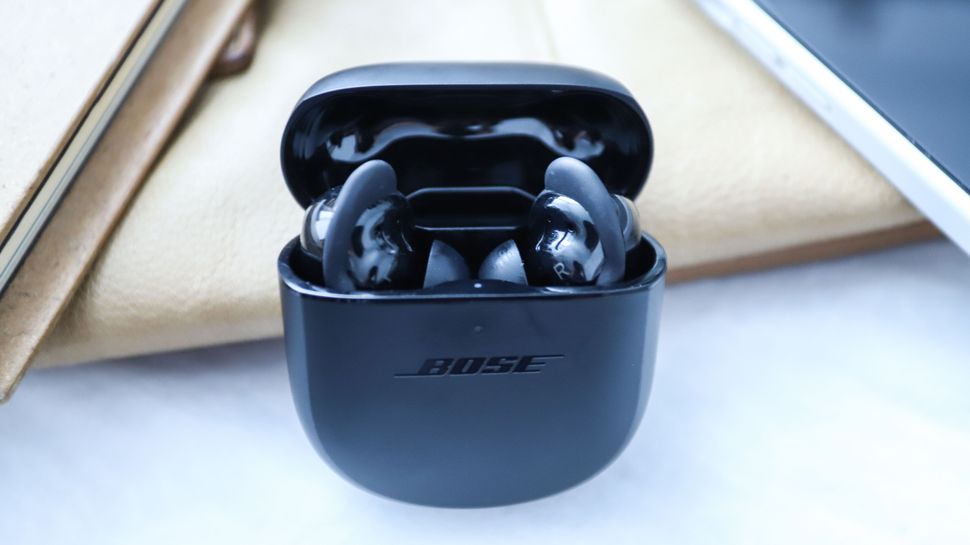 The Bose QuietComfort Earbuds 2 are our top recommendation if you're looking for the best wireless earbuds for noise-cancelling. They're a decent upgrade of the original Bose QuietComfort buds and noise cancellation has been improved considerably, which is really saying something considering the originals were our top pick for some time.
The best news is that improvements to noise cancelling aren't at the expense of sound quality. In our review, we wrote: "We can't stress this enough – the sound is very well balanced, with a heck of a lot of details and textures coming through. And if you still find you need to tweak it, you can via the EQ in the app."
These buds are expensive – although they're the same price as the Sony WF-1000XM4 buds at the top of our list – and battery life is only fine at 6 hours from the buds and a further three charges from the case. However, if you can afford to splurge, these are arguably the best noise-cancelling wireless earbuds you can get.
Read our full Bose QuietComfort Earbuds 2 review
If you're looking for a solid pair of wireless earbuds on a budget with noise cancelling baked in, then we highly recommend the Earfun Air Pro 3.
At the time of writing, these earbuds are only $79.99/£79.99, which makes them excellent value considering they're such all-rounders – and you'll probably find occasional discounts on them. You get active noise cancellation, good sound, a comfy fit and a whole 45 hours of battery life. We can't think of any earbuds that are currently as cheap as this and yet offer such a range of features. Sure the Cambridge Melomania 1 Plus in the list above are a similar price, but they lack ANC.
As well as features, the design also has no business looking so elegant and minimal at this price. Although it is worth mentioning they have a long stem design. We found them comfortable to wear with a good seal – vital for ANC – but did knock them out a few times due to the stem, including a problem with them tangling in long hair (which haven't found with most stem designs).
These buds also boast support for the new Bluetooth wireless standard, Bluetooth LE Audio. Right now that doesn't mean much, as few other devices support it – e.g. major smartphones – but that could make the Air Pro 3 even more of a no-brainer choice in the future when phones catch up.
Read the full Earfun Air Pro 3 review
These cool, refreshingly different Audio-Technica ATH-SQ1TW earbuds are our top picks if you want a budget pair of wireless earbuds that have an extra-striking look.
Audio-Technica hasn't tried to emulate any other earbuds, or indeed any competing brand here, and we love the Tokyo audio outfit for it. These buds are available in no fewer than six delicious-sounding colorways (Caramel, Popsicle, Cupcake, Blueberry, Liquorice and Popcorn – try that for size, ice-white-only AirPods) and you're getting Bluetooth 5.0, 20 hours of battery, a beautiful product that fits comfortably, on-ear controls that work well (including volume) plus a low-latency mode, a hear-through function and a sound that's more expansive, clearer and generally better than anything else you can buy for this money.
As long as a lack of companion app and active noise cancellation aren't deal-breakers, these inexpensive earbuds should be considered. Not only do the looks deliver, but the sound is very, very good for under $80/£80, which is why we recommend them if you're looking for an affordable pair of true wireless earbuds that are stylish as well as functional.
Read the full Audio-Technica ATH-SQ1TW review
Given Samsung's formidable reputation in the smartphone and tablet arena, it's long surprised us that the company's Galaxy Buds output never quite hit the mark. But that changed in the best way possible with the Galaxy Buds 2 Pro – they're good.
The headline-grabber, if you own a Samsung Galaxy device (and thus, access to the Samsung Wearable companion app and home-screen widget) is 360 audio with optional head-tracking, thus allowing you to use your phone as the focal point to direct more of that new end-to-end 24-bit high-res audio to whichever ear you prefer.
These smaller, more comfortable and less arrogant earbuds (remember the rose gold, kidney-bean shaped Galaxy Buds Live? These are nothing like those) are packed full of useful perks such as excellent ANC, voice detection, wearer detection and customizable on-ear controls – all of which work very well indeed – plus IPX7 water ingress protection. All in all, a home run from Samsung – marred by the disappointing five-hour battery life.
Read our full Galaxy Buds 2 Pro review
With the Beats Fit Pro, you get a load of the features that make the AirPods Pro so great for iPhone owners, but made workout-friendly with wing tips that keep them in place, and a custom-designed driver for a bassier sound to get the blood pumping.
These Beats earbuds boast a new sound profile with elevated highs and lows as well as good overall clarity. When we put them through their paces with Lil Nas X & Jack Harlow's INDUSTRY BABY, we found them to deliver the driving bass line followed by a vocal track that moves depending on which way you're facing, because they support Apple Music's Dolby Atmos. We're not sure you'll want the concert experience every time you go for a fun, but the extra immersion is welcome, and means they're great for watching TV and movies whether you're at the gym or just watching some other time.
They don't support wireless charging like the AirPods Pro, and the battery isn't spectacular at 6 hours per charge with 18 hours in the charging case with the ANC on. The ANC isn't best-in-class either – but they have more stability in the ear than anything else here, and that's the crucial thing.
Read our full Beats Fit Pro review
Best wireless earbuds: FAQ
How to choose the best wireless earbuds for you
With so many wireless earbuds to pick from, how do you know which are right for you? There are a few key considerations you need to bear in mind.
The first is price. How much can you afford? You can get a good pair of wireless earbuds for under £100/$100. But often you do get what you pay for in terms of connectivity, build and noise cancellation.
Next up is form. Do you intend to hit the gym, bike or pavement with your earbuds? Then you'll need a design that'll stay put. Or maybe small and minimal is what you're after, so opt for a pair of discrete true wireless buds.
The best sounding earbuds are exactly that – our pick of the wireless earbuds that sound fantastic. These are far from the best cheap earbuds out there, but if you're passionate about hearing music with clarity, richness and powerful bass, these are the ones you need to consider.
It's still important to pick earbuds that feel good in your ears, but the models in our guide above have been picked for sound quality above all else, rather than noise-cancellation or additional features, like waterproofing or workout-friendly designs.
Looking for something a bit different but with similarly great sound quality? The best headphones may be exactly what you need.
How we tested the best wireless earbuds
We're looking (listening?) for earbuds that sound good first and foremost – we want to hear clear, rich audio that does justice to every genre. We listen to both high-quality source music, as well as lower-quality streams, as well as movies and videos.
Voices should be natural, instruments should stand out from each other, and there should be a good sound balance overall between bass, mid-range and treble.
Of course, this is then balanced against lots of other factors, not the least of which is price. We know that a pair of cheap earbuds won't sound as good as premium ones – so we're judging them against competition at the same kind of price, not against something wildly different.
In terms of noise cancellation, we want to find buds that work well to drown out ambient noise day-to-day in a variety of environments. We test them in our pretty typical office environment, out walking in city traffic, and on public transport.
We also consider battery life, ensuring that most of the buds we pick will last long enough to not be annoying. And then we look at extra features, such as sound personalization and other app support – this can make a big difference to the overall value of two earbuds that are the same price.