Bowers & Wilkins Pi7 S2: Two-minute review
Bowers & Wilkins is a UK audio specialist that's not noted for its cheap and cheerful pricing strategies, and that certainly hasn't changed with the Pi7 S2 earbuds. Nevertheless, audiophiles will be aware of the inaugural earbuds this second iteration (note the 'S2' suffix, above) are based on. Why? Because to paraphrase Rhianna, they shine bright like a diamond, sonically speaking – and that has also not changed in this updated set.
If you came here to discover whether the Pi7 S2 are as detailed, crisp, insightful, weighty and immersive as the original Bowers & Wilkins PI7 – and whether Bowers & Wilkins has once again bettered other best-in-class buds for sound – take it as read. Yes, these earbuds offer a better-quality listen than any other similarly wireless design on the market.
If you're waiting for the 'but' though, it's coming. Usually, when a fresh iteration rolls off the production line, you can expect some big upgrades over the previous model. And here, the Pi7 S2 boasts… an extra 30 minutes of stamina, plus a more reliable Bluetooth connection. The battery life in the buds has been improved from 4.5 hours to five hours in the new version – hardly a headline grabber. Most of the competing options in our best noise-cancelling earbuds guide can beat even that upgraded figure quite comfortably.
And while you do get a more reliable connection overall now (including a longer Bluetooth range of up to 25m), thanks to a re-engineered antenna design, plus hi-res audio from compatible sources with aptX Adaptive, the two-way audio setup of a 9.2mm driver with a balanced armature treble unit in each bud here is largely the same as in the previous generation.
And the noise-cancelling, which wasn't much to write home about in the original, is now supposedly smarter about noise-nixing with Adaptive Noise Cancellation. Only, I initially struggled to select the in-app 'auto' option – the indicator light simply danced between 'on' or 'off' under my gaze. The passthrough function also refused to comply to the taps on my iPhone once or twice – and it's important to note that this is the only way to access passthrough, since on-ear controls are limited to playback functions, scrolling through the ANC profiles (via a long hold of the left earbud, choosing between 'on', 'adaptive' or 'off') and accessing your voice assistant.
Although noise was noticeably quashed when using the 'on' mode for ANC, it was still far from perfect. While tapping on my keyboard at work, I once heard tinny, unusually high-pitched sonic articles from the movement of my fingers filtering through into my earbuds – yes, using ANC rather than passthrough. Odd.
The Bowers & Wilkins Music app is otherwise an excellent companion, however, rounding all of my streaming services and playlists into one place and showing me B&W's curated options, as well as the usual battery life information and status of the buds – including wear sensor and streaming quality (which I set to 'highest').
Fans of the unusual feature will be happy to note that the nifty audio retransmission perk is still on board. Fans of on-ear volume tweaks from their earbuds, though, will be sad to see it still doesn't feature.
Oh, and you do get new colors – mine are a lovely midnight blue with gold-tone accents.
What you really need to know is that sound is still the star. And what a bright, shining star it is against this new midnight blue colorway. But given that the originals were sonically stellar already, whether or not you should buy this new proposition is a question you need to answer for yourself.
Bowers & Wilkins Pi7 S2 review: Price & release date
$399 / £349 / AU$700
Released on Januarya 25, 2023
These second-gen Bowers and Wilkins' Pi true wireless earbuds retail for $399 / £349 / AU$700. The keen-eyed will note that this pricing is practically identical (depending on where you live) to that of the original Pi7, which retailed for $399 / £350 / AU$599 when they launched in 2021.
And even if you're not keen-eyed, you'll have spotted that these numbers are not small – those prices dwarf even Apple's. The inaugural buds went beyond any other earbuds in terms of sound quality – but they also cost about 50% more than the likes of the AirPods Pro 2, so you'd hope for a lot more again here.
Bowers & Wilkins has recently launched a step-down option, the Pi5 S2, which retail for a slightly more palatable $299 / £249 / €299 / AU$450.
What do those buds offer? Well, this might not be the place, but okay: a 9.2mm driver, but not the extra balanced armature – so the dynamic range may be affected. They have the same battery life and do support aptX, but not aptX Adaptive, plus you lose the audio retransmission feature in the case. They also have active noise cancellation, but not the adaptive tech used in the PI7 S2 (though you can adjust the level of cancellation). Good? Good. On with the Pi7 S2 review…
Bowers & Wilkins Pi7 S2 review: Specs
Swipe to scroll horizontally
| | |
| --- | --- |
| Drivers | 9.2mm Dynamic Drive with Balanced Armature |
| Active noise cancellation | Yes, Adaptive |
| Battery life | 5 hours for earbuds (ANC off) Additional 16 hours from charging case. 15 minute charge = 2hrs playback |
| Weight | Earbuds: 7g (each) Charging case: 47g |
| Connectivity | Bluetooth 5.0 with aptX Adaptive technology, USB-C |
| Frequency range | 2402MHz to 2480MHz |
| Waterproofing | Yes, IP54 (earbuds only) |
| Other features | Audio retransmission from charging case |
Bowers & Wilkins Pi7 S2 review: Features
Hi-Res with aptX Adaptive support is a triumph
Audio retransmission from charging case
Adaptive ANC is just so-so
B&W's nifty audio transmission feature – whereby you can connect the case's USB-C port to a computer or analog audio source, and sound would broadcast in aptX quality to the buds – is a cool addition. It's not entirely unique – LG's T90Q buds offer a similar feature – but it's still nice to have. Let's say you're on an aeroplane and don't want to use the free wired headphones. No problem! Connect the case and listen with your B&Ws instead.
Unlike earbuds at (and let's face it, slightly beneath) this level, B&W has shied away from ear-fit tests, EQ presets and hearing profiles here – and when they sound this good, we couldn't care less. Nevertheless, if you're someone who likes to crank up the bass in your earbuds, you cannot do that here. Also, you can't alter the volume on the earbuds. This may seem a minor gripe, but I'd much rather touch an earbud to lower my music and thus hear a train announcement than go foraging in my bag for my safely-stored phone – particularly when traveling alone.
I'll get more granular regarding sound quality later (there's so much to celebrate!), but B&W's Music app makes it very clear that multipoint connectivity is not an issue for the Pi7 S2, giving you options for managing your current connections, and whether you're happy to auto-connect to the last-paired device. I found chopping and changing between my laptop and phone without lifting a finger was easy-breezy.
Musically, it's all very slick too, linking your streaming services including Deezer, Tidal and Qobuz (although Apple Music seems to be an omission here, which is a shame given its hi-res content) and playlists on your device. The app makes your music collection the star, rather than the buds themselves – which feels like the right direction for B&W to be heading. Very quickly, the app becomes something I wonder how I lived without, rather than surplus to requirements.
What I did need more of was ANC, and, for that matter, passthrough. I truly wish I could report on the efficacy of these options, but all I can say is that with 'auto' or 'on' deployed, the sonic isolation was slightly better. Essentially, not all regular low-level thrums were nixed. It's not exactly bad, it's just not great – and for this top-tier money, I'd hoped for a little more. Passthrough was a similar story; despite turning it on and taking the slider up to the max, I heard very little of my surroundings. Other options (such as the Bose QuietComfort Earbuds II) are winning, here.
Call-handling was a pleasurable experience though, with the Pi7 S2's three mics per earbud giving me subtle access to my own voice, as well as the caller's, thus making conversations feel supremely natural. This feature – often called sidetone, and very well implemented in the Sennheiser CX Plus True Wireless earbuds – is one I wish more companies would include.
Bowers & Wilkins Pi7 S2 review: Sound quality
Detailed, insightful, beautifully spacious soundstage
Snappy but expansive and impactful bass
No head-tracked spatial audio or Dolby Atmos support
Get ready for the praise. Switching all ANC profiles off, you're in for a sonic masterclass and then some. The 2001 remaster of XTC's Wake Up on Tidal is crisp and frankly joyous, as jagged guitars attack each ear in a cohesive and well-balanced mix.
In fact, so analytical is the presentation of the Pi7 S2s, I actually hear elements within tracks that artists might wish I hadn't. In Rod Stewart's This, for example, (recorded in 1995), I clearly hear the strain in Rod the Mod's voice. I know and love the track, but here I'm granted access to his struggles at the time. There's a slight wavering through the upper registers that other earphones have failed to divulge, on all but one other occasion – and those were not wireless earbuds.
Dynamically, these earbuds are incredibly immersive and agile, despite the lack of support for head-tracked spatial audio. FKA twigs' Two Weeks celebrates every drop of bass and thud in the backing track, but never at the expense of Tahliah Debrett Barnett's ethereal and breathy vocal. Allow your playlist to continue to Cellophane and there's an injection of volume, of fullness, half-way through the track which is delivered with more zeal and energy than I've heard from any set of true wireless earbuds to date – including the first-gen model.
Sonically, these earbuds are a delight. And that's not a statement I make lightly.
Bowers & Wilkins Pi7 S2 review: Design
Re-engineered driver housing caps
Classy build and finish
Smaller ears may struggle with fit
The Pi7 S2 look very similar to B&W's previous generation, including the jewel-like rounded sides, and a raised circular outer case housing the buds' capacitive touch controls.
Fresh colorways aside (the Pi7 S2 is available in Satin Black, Canvas White and Midnight Blue), Bowers and Wilkins claims it has well and truly fixed the biggest issue users encountered with the older Pi7 – connectivity. The original Pi7 had a tendency to drop out, especially in busy signal areas such as crowded airports. The good news is that the company has re-engineered parts of the buds to fix the issue. The caps at the end of the earbuds have been made from a new material that's more transparent to Bluetooth signals, and the antenna is redesigned and repositioned within the earbud endcap to improve antenna performance.
And it worked. I experienced no dropouts during testing, and the claimed 25 metre range (double what it was before) also proved true – and I tested them through a thick stone wall.
This is Bowers & Wilkins, and the finish here is classy. In my palm, the buds look glorious, with the perimeter of the endcap shining as if glowing under the right lighting, and the gold accents reminding me of Swiss watch-style craftsmanship. The case too is pocketable, and feels every millimeter a premium product.
My only issue with the design (aside from the still slightly anaemic battery life) is the size. At 7g per bud, they're a fair bit heavier than the Sony LinkBuds S at 4.8g. Want a little more comparison? It's not that heavy – each Sony WF-1000XM4 earpiece weighs 7.3g, although reports suggest Sony may be shaving a fair bit off this for the Sony WH-1000XM5.
Here's the thing: the shape of the Pi7 S2 is not especially small or ergonomically shaped, to the point that I have to actually stretch my right ear around the main body of the unit and sort of push the earpiece down, wedging it in place. Now, I have a slightly smaller and more particular right ear (a discovery made while trying UE's novel heat to fit earbuds), but nevertheless, it's worth noting that if your ears are small, you may struggle here. It's not a question of the neck or size of the eartips (two alternate options are given, although more would be welcome); no, the actual earpieces are just on the large size.
Bowers & Wilkins Pi7 S2 review: Value
Outstanding audio quality – and that's hard to put a price on
A little low on additional features
No on-ear volume control
Buy the Pi7 S2 and you're paying top dollar for top-quality audio. It isn't a particularly tailored experience (forget fit tests and personal sound profiles), but if the best-sounding music in a pocketable design is a must in a pocketable, you should look to this product. In fact you must look to this product. And it's hard to put a price on that.
Other options – Apple's AirPods Pro 2, Bose QuietComfort Earbuds II, Sony WF-1000XM4, Samsung Galaxy Buds 2 Pro and even Honor Earbuds 3 Pro – offer better and more reliable noise cancellation, but if you're someone who can take or leave ANC tech, that won't be a deal-breaker.
Call-handling is also good, but you don't get on-ear volume control, and the battery-life is far from class-leading. Add to this the fact that smaller-eared users may struggle to get them to stay put and you'll see where the extra star went.
As always, whether this proposition represents value to you is a delicate and deeply personal matter. But know this: in the sound-per-pound stakes, they're unbeatable.
Should I buy the Bowers & Wilkins Pi7 S2?
Swipe to scroll horizontally
| Section | Notes | Score |
| --- | --- | --- |
| Features | Low on customization and no on-ear volume, but the app's a winner | 4/5 |
| Sound quality | Sonically outstanding; practically perfect in every way | 5/5 |
| Design | Jewel-like build and finish, but smaller ears may struggle | 4/5 |
| Value | What price for the best music from earbuds? Well, a premium price… | 4/5 |
Buy them if...
You want the best-in-class music from a set of earbuds
There, we've said it. For music clarity, breadth, depth and impact, the Pi7 S2 are unbeatable. But you'll have to shell out for it.
You've already paid for Tidal and/or Qobuz
If you've got one (or several) hi-res streaming service(s) on your device, the Pi7 S2 will corral them and celebrate the nuance in every MQA or FLAC file you've got.
You like earbuds people will notice
These earbuds are quite beautiful in the palm of your hand – and we find the Midnight Blue colorway particularly striking. Want people to go "Well those aren't AirPods" when you take out the case? You've found the top-tier option.
Don't buy them if...
You're on a tight budget
Simply put, these are not a wallet-friendly proposition. This is Bowers & Wilkins, after all…
You want the best ANC and passthrough profiles
Your (premium-level) money would be better spent on Bose or Apple's flagship earbuds.
You need your buds to last all day (and all of the night)
Five hours is better than the inaugural Pi7 but still not much to write home about in 2023.
Bowers & Wilkins Pi7 S2 review: Also consider
Swipe to scroll horizontally
| | Bowers & Wilkins Pi7 S2 | Sony WF-1000XM4 | Bose QuietComfort Earbuds II |
| --- | --- | --- | --- |
| Price | $399 / £349 / AU$700 | $279.99 / £250 / AU$449.95 | $299 / £279 / AU$429 |
| Drivers | 9.2mm Dynamic Drive with Balanced Armature | 6mm | 9.3mm full-range dynamic drivers |
| Active noise cancellation | Yes | Yes | Yes |
| Quoted battery life | 5 hours (earbuds, with ANC off) 16 hours (case) | 8 hours (buds) 16 hours (case) | 6 hours (buds) 18 hours (case) |
| Weight | 7g per earbuds | 7.3g | 6.2g |
| Connectivity | Bluetooth 5.0 with aptX Adaptive technology, USB-C | Bluetooth 5.2 with LDAC, USB-C | Bluetooth 5.3, USB-C |
| Frequency range | 2402MHz to 2480MHz | 20-40,000Hz | Not specified |
| Waterproofing | IP54 (earbuds only) | IPX4 (earbuds only) | IPX4 (earbuds only) |
| Other features | Audio retransmission from charging case | Speak-To-Chat, DSEE Extreme audio upscaling | Row 8 - Cell 3 |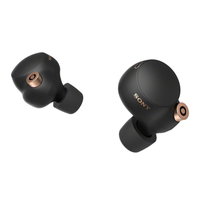 Sony WF-1000XM4
Bose (below) trounces both the Sony WF-1000XM4 and the Bowers & Wilkins Pi7 S2 in terms of ANC efficacy, but these Sony rivals offer better battery life and Sony's proprietary higher-resolution LDAC support – and unusually for Sony, they're the cheapest of the bunch.
Read our full Sony WF-1000XM4 review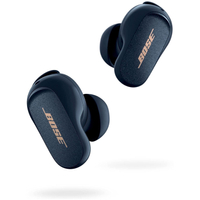 Bose QuietComfort Earbuds II
The Bose QuietComfort Earbuds 2 are almost certainly the best true wireless earbuds you can buy today if ranking them on noise-cancelling capabilities alone; they're also the smallest and lightest set in this roundup. That said, there's no support for higher-res audio codecs such as aptX or LDAC, which given their premium pricing is a shame.
Read our full Bose QuietComfort Earbuds II review
How I tested the Bowers & Wilkins Pi7 S2
Tested for two weeks, listened against the Pi7
Used at work (in the office; walking through London; on a train) and at home
Listened to Qobuz, Tidal Masters and Apple Music Lossless tracks on an iPhone XR and Nothing Phone 1
When testing the Bowers & Wilkins Pi7 S2, they became my musical wing-men for a fortnight – after a thorough 48-hour run-in period. They came with me to work on weekdays (walking brusquely to the station; boarding a train and the London Underground; at the office while call-handling) and on a long weekend walk.
To better test the comfort levels (and battery life claims, modest though they are), I wore them throughout the working day. I put some distance between my source device and the Pi7 S2 earphones to check the Bluetooth range (it is much better with this iteration) and whether the drop-out issues have been resolved (they have).
To check the audio quality across the frequencies, I listened to various playlists (spanning everything from grime to classical) on Apple Music, Qobuz and Tidal, but also to podcasts and TV shows on Netflix.
I've been testing audio products for five years now. As a dancer, aerialist and musical theater performer in another life, sound quality, fit and the user experience have always taken priority for me personally – but having heard how wonderful ANC can be when done well, I know what to look for.
First reviewed: March 2023