The Beats Fit Pro deliver an AirPods Pro-like experience at a lower price. They have a robust feature set that includes active noise cancellation, spatial audio support and hands-free Siri on iOS, but Android owners won't get the full experience. The Beats Fit Pro are a snug-fitting, workout-friendly alternative to Apple's flagship true wireless earbuds.
Pros
+

Active noise cancellation

+

Spatial audio on Apple Music

+

Better battery life

+

H1 chip for hands-free Siri
Cons
-

ANC could be stronger

-

More expensive than Studio Buds

-

Can be uncomfortable

-

Android users miss out on features
Why you can trust TechRadar We spend hours testing every product or service we review, so you can be sure you're buying the best. Find out more about how we test.
One-minute review
Think of the Beats Fit Pro as the Apple AirPods Pro, but with a few key differences. The most obvious difference is design. The Beats Fit Pro have a prominent wing tip, which ensures they're secure in your ears when you're exercising. There's also a custom-designed driver in the Fit Pro, which means your music sounds bassier in comparison to the AirPods Pro, as well as slightly better 6 hours battery life.
However, as well as being more than a year old now, a few niggling issues prevent the Beats Fit Pro from competing with the buds in our best true wireless earbuds guide. For example, while the Fit Pro have active noise cancellation akin to the AirPods Pro, they're not quite as powerful as other earbuds from Bose and Sony. Especially considering Bose has taken the top spot in our best noise-cancelling earbuds guide with the excellent Bose QuietComfort Earbuds 2.
Another issue is the wing tip. Yes, this holds them in place and some people will find it secure and comfortable. But for others, it adds extra pressure to the outer ears that can become uncomfortable to wear over a prolonged period. If you prefer the more standard style of ear hooks, take a look at our Beats Powerbeats Pro review.
Finally, like all Apple-owned buds, Android users won't get the full experience (i.e. spatial audio and hands-free voice assistance) that iOS users get and for their price this means we can only really recommend these buds for people with an iPhone.
So, while the Beats Fit Pro deliver better results than the similar-looking Beats Studio Buds, and are a solid choice for working out, there's still room for improvement. Read on for our full Beats Fit Pro review.
Beats Fit Pro review: availability and price
They cost $199 / £199 / AU$299.95.
Slightly cheaper than the Apple AirPods Pro
The Beats Fit Pro became available to buy in November 2021 in the US and January 2022 in other markets. They cost $199 / £199 / AU$299.95.
This makes them slightly less expensive than the Apple AirPods Pro ($249 / £249 / AU$399). For a cheaper option, take a look at our Beats Studio Buds review, which cost $149.99 / £129.99 / AU$199.95.
For what you're getting, they're good value—especially considering the fact that they come with noise cancellation and the H1 chip.
Beats Fit Pro review: design
Secure fit thanks to wing tip design
IPX4 water-resistance rating makes them sweat-proof
While the Beats Fit Pro don't reinvent the wheel—or in this case, the wing tip—they do implement it in a way we've not yet seen before. By making it a part of the earbuds and giving it extra flexibility, it's able to latch onto the inner ear to keep the buds more secure.
Previously, other earbuds have gone for the wrap-around design and while we think that style is more comfortable, there's something very stylish about the fin being directly attached and inside the ear.
To help you get that perfect seal, the Beats Fit Pro come with two additional sets of different-sized ear tips in the box, and it's well-worth taking the time to find out which of them fit best.
Speaking of fit, these buds do honestly do a great job of staying in your ears. At no point in our review did the buds so much as move a millimeter once they were seated properly. However, because the fit was so exact it did put some pressure on the ears—especially after wearing them for a while.
Beats Fit Pro Specs
Weight: 5.6g (earbuds), 55.1g (case)
Battery life: 6 hours (with ANC) additional 18 hours with charging case
Colors: Purple, grey, white and black
Water resistant: IPX4-rated
Case charging: USB-C
That's particularly important because the Beats Pro Fit are targeted at workout enthusiasts and even come with an IPX4 water-resistance rating that should make them sweat-proof. They're not waterproof, however, so do be careful with them near a pool or on the beach, and they don't have dust resistance either, so keep them out of the sand.
On the outside of each bud, there are the touch controls that allow you to play or pause music and skip between tracks. A long hold will turn on ambient listening mode that will turn off noise cancellation while a second long press will turn it back on.
The controls can be a bit sensitive so you'll have to be careful when putting the earbuds into and taking them out of your ears—trust us, it's very easy to unintentionally hang up an important phone call or blast music in your ear without meaning to do it.
We'll talk about them in more detail below, but it's worth pointing out here that there are a total of six microphones on both earbuds that help pick up your voice and block out incoming noise. There's also a redesigned driver and ventilation system that helps the bass range sound weightier, and the aforementioned H1 chip inside here that will enable a number of neat features for iOS devices.
Finally it's worth quickly talking about the redesigned case that's much smaller than the one that came with the Powerbeats Pro. It easily slides into a pocket and its smooth exterior feels great to hold, just don't let it slip out onto the sidewalk or floor as it might pick up a few scratches. (Whoops!)
Beats Fit Pro review: features
Four colours to choose from
They have the Apple H1 chip
While it's not exactly a feature, we definitely appreciate having the option to pick between four colors for the Beats Fit Pro. Not only does it come in the classic Beats Black and Beats White color ways, but you can also select between a stunning Sage Grey with light green accents or Stone Purple that's lavender with dark grey accents.
Of course, the main reason you're paying a bit more for the Beats Fit Pro than the Beats Studio Buds is because the former have the H1 chip. That allows them to access hands-free Siri as well as spatial audio support on Apple Music, Apple TV and FaceTime.
The other reason these cost more than some other earbuds is because they have active noise cancellation that will block out some outside noise. In practice we found that they weren't quite as adept at this as the Sony WF-1000XM4 or Bose QuietComfort Buds, but they do a decent job blocking out conversations happening in another room when you're working from home.
While Beats designed the earbuds to work with both Android and iOS devices, Android users won't be able to access the entire suite of features. Specifically, they'll be locked out from an always-listening assistant and spatial audio.
Those aren't exactly deal breakers considering how many earbuds don't have access to spatial audio at this point—and Beats does make a pretty great Android app that will let you customize their controls – but these snags might persuade you to pick a more Android-friendly option like the Sony WF-1000XM4 instead.
Beats Fit Pro review: audio performance
The sound is excellent
Good call quality
Gone are the days of Beats earbuds sounding like blown-out car speakers with enough bass to shake your skull. The new sound profile Beats has gone with keeps things exciting with elevated highs and lows and good overall clarity.
To put the earbuds through their paces we checked out INDUSTRY BABY by Lil Nas X & Jack Harlow, which is available in Dolby Atmos on Apple Music. Right off the bat you hear the driving bass line but it's followed by a vocal track that moves depending on which way you're facing. Look left, and the vocal track moves to the right earbud. Turn right and the opposite happens. Being able to dynamically change the audio mix as you move your head is electrifying—giving you a concert-like experience anywhere.
Much of this is due to the way Beats are tuned and Apple's H1 wireless chip—but the newly-designed driver inside the earbuds does help give them a slightly larger soundstage than previous Beats earbuds.
Apple Music has thousands of Dolby Atmos-mixed tracks that deliver a spatial audio experience on true wireless earbuds that really sounds great—INDUSTRY BABY is just one of many songs that really flaunts the sound profile of the new Fit Pro.
The caveat we'd make here is that, despite their impressive performance for their size, the spatial audio on the Fit Pro doesn't replace the immersive sound you get from a true Dolby Atmos speaker system. However, it's a big step up from traditional wireless earbuds.
As far as call quality is concerned, the Beats Fit Pro use five of the six microphones to accurately portray your voice to your recipient and the results are good overall. People we spoke to said we sounded relatively clear, though the volume was a bit softer than when we used speakerphone.
What that tells us is that these earbuds probably won't be the ideal solution for business professionals who need crystal-clear audio in their calls, but would be absolutely fine for someone who just takes the occasional call or two on their earbuds.
Beats Fit Pro review: battery life
Six hours per charge with 18 hours in the charging case (with ANC)
No wireless charging
According to Beats, the Fit Pro have some of the best battery life of any of their earbuds—with ANC on you're looking at around 6 hours per charge with 18 hours in the charging case. That's around an hour-and-a-half more per charge than the AirPods Pro and is a significant improvement on Apple's flagship true wireless earbuds.
The Fit Pro will last even longer with ANC turned off—though, if you're using them for talking instead of listening to music, the battery life will be a bit shorter.
Overall, that battery life is on par with other noise-cancelling earbuds—which is great—and falls just a bit short of other true wireless earbuds without ANC.
The silver lining here is that the buds support fast charging that will restore about an hour of listening time after only five minutes on the charger and will be fully charged in around an hour.
The only real disappointment on the battery life front is that the Fit Pro don't support wireless charging like the AirPods Pro which means you'll always have to keep a USB-C charging cable close at hand when you want them to be recharged.
Conclusion
It's hard not to compare the Beats Fit Pro to the Apple AirPods Pro. They've got the H1 wireless chip and active noise cancellation, the two best features of the AirPods Pro at a big discount. The AirPods Pro do have wireless charging, but that's a relatively minor feature to be missing out on. Especially considering the Beats Fit Pro have a better battery life.
The Beats Fit Pro aren't perfect. Noise cancellation could be better and we felt they weren't as comfortable after a few hours of us. Although Beats has gone above and beyond to make Android users feel welcomed with its adoption of USB-C, one touch pairing and the Beats app on the Google Play Store, there's still no always-listening assistant for Android users or spatial audio support.
But these are a great pair of true wireless earbuds that we think are best-suited to workout-loving iOS users because they'll work well in the office and at the gym thanks to their sporty design and you'll get the most from them with an iPhone.
Also consider...
If our Beats Fit Pro review has you considering other options, here are three more true wireless earbuds to ponder.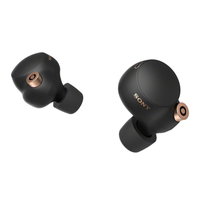 Sony WF-1000XM4 Wireless Earbuds
The Beats Fit Pro offer decent noise cancellation, but if an immersive listening experience is a priority for you, then you'll need to look elsewhere. The XM4 buds from Sony are the best of the best true wireless earbuds that boast great noise cancellation and excellent sound.
Read our full Sony WF-1000XM4 Wireless Earbuds review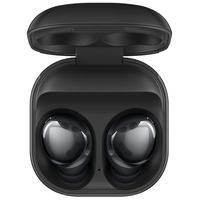 Samsung Galaxy Buds Pro
If you're looking for similar buds that play nicely with Android phones, then the Samsung Galaxy Buds Pro are solid alternatives. These buds have an IPX7 waterproof rating, which make them ideal for working out, too.
Read our full Samsung Galaxy Buds Pro review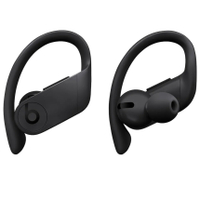 Beats Powerbeats Pro
If you don't like the design of the Beats Fit Pro, or have sensitive ears, check out the Powerbeats Pro. They have the more traditional style of earhooks you tend to see on workout buds, as well as a pressure-reducing micro-laser barometric venting hole to alleviate that uncomfortable, blocked up ear feeling.
Read our full Beats Powerbeats Pro review
Nick Pino is Managing Editor, TV and AV for TechRadar's sister site, Tom's Guide. Previously, he was the Senior Editor of Home Entertainment at TechRadar, covering TVs, headphones, speakers, video games, VR and streaming devices. He's also written for GamesRadar+, Official Xbox Magazine, PC Gamer and other outlets over the last decade, and he has a degree in computer science he's not using if anyone wants it.