Editor's Note: May 2023
The much improved AirPods Pro 2 are the best AirPods model overall in our opinion – the sound quality is excellent, the noise-cancellation is mind-blowing, and the price lightly undercuts a lot of the competition from other earbuds makers.
The AirPods 3rd Gen are nice, but the Pros are simply on another level when it comes to sound quality, noise cancelling and general cleverness. And AirPods Max still deliver fantastic sound quality, though some of their other features could use an update.
Matt Bolton, Managing Editor – Entertainment
The best AirPods and Apple headphones are top-quality in terms of sound, performance, and features. While these earbuds and headphones typically sit at a higher price range like most Apple products, they will give you your money's worth.
Apple headphones used to be synonymous with the flimsy EarPods that came with every new iPhone. They did the job, but not particularly well. Fast-forward to now, and Apple is a true contender in the audio tech space. In fact, offerings in its AirPods and Beats headphones lines are among the best wireless earbuds and best over-ear headphones on the market. (Apple acquired the Beats audio tech brand back in 2014, thereby expanding its audio portfolio considerably.)
We've tested every single pair of AirPods and Apple headphones that have been released, including the AirPods Pro 2, which are our current top pick, and the AirPods Max, which is the best-sounding option if you have money to spare. We've put together this list for you, noting their special features and specs to help you find the most ideal choice based on your needs, budget, and preferences.
Whether you want a pair of running earbuds, on-ear headphones, or a wireless headphones option, you'll find something from either the AirPods or Beats list to suit your audio needs. Take a look at our top picks below and their cheapest prices available right beside them.
The best AirPods 2023
The highly-anticipated Apple AirPods Pro 2 entered our best AirPods guide in the top spot because they're a significant upgrade over the original AirPods Pro, offering fantastic audio performance and astounding ANC in a compact, wireless, and still very AirPods-esque, design.
The Apple AirPods Pro made waves when they first launched, bringing ANC and better audio to the AirPods form factor. Now the Pro 2 offer much more, including fantastic audio performance thanks to new drivers and amplifiers. There's also better ANC on-board too which, during our testing, we found to be remarkably effective, blocking out almost all external sounds.
Battery life has had a decent boost over the originals as well. It's good for all-day listening at 6 hours from the buds and 30 hours from the charging case. The case has been revamped too, with an IPX4 water resistance rating for light showers and sweat as well as a built-in speaker so you can find it if you lose it.
If you already have a pair of AirPods Pro buds you might not be able to justify an upgrade, despite some of the changes. However, if you're looking for the best Apple has to offer, the AirPods Pro 2 are the top option, rivalling many of the top wireless earbuds from the likes of Bose, Sennheiser and Sony.
Read our full review: Apple AirPods Pro 2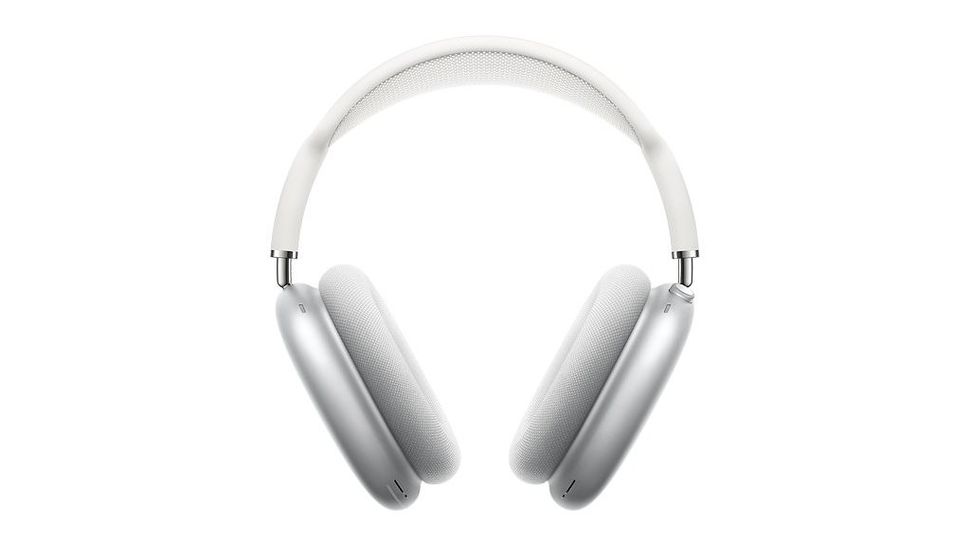 The Apple AirPods Max were some of the most highly-anticipated headphones ever. Rumors and speculation about what they'd look like and sound like have been swirling for years. So do they live up to the hype now they're here? Well, yes and no.
When we finally got our hands on the AirPod Max we found that, as you might expect, the audio quality was nothing short of extraordinary. The design and build was also solid and unmistakably Apple and they were comfortable too. We also appreciate the use of physical controls as opposed to the voguish swipe controls that most wireless headphones seem to favor these days.
We particularly liked the reprisal of the Apple Watch's Digital Crown, which allows you to precisely adjust the volume and easily control your music playback. What's more, they have brilliant quality of life features for those already devoted to the Apple ecosystem.
But it isn't all good news. The most obvious drawback is the price. Apple has always created luxury tech with a higher-than-average price tag, but these are $549 / £549 / AU$899 and it's still quite hard to find them more cheaply even though they've been out for a long time now. In our review, we didn't think the performance (although great) matched the sky-high price, and we can understand why many would prefer to shop for budget headphones instead.
The AirPods Max also come with a case that automatically puts them into a low power standby mode, and into an even lower power mode after 18 hours. That's useful, but the case itself is exceptionally ugly, doesn't offer significant protection and leaves the headband of the AirPods Max totally exposed.
Read our full review: Apple AirPods Max
The Apple AirPods (3rd generation) represent a big step up from their predecessors in terms of audio performance, connectivity, and design. Features like Spatial Audio support and Adaptive EQ set these buds apart from the competition, while a new, more subtle design brings force capacitive sensors to the true wireless earbuds.
The AirPods 3 are unsurprisingly optimized for use within the wider Apple ecosystem, so Android users miss out on a lot of the extra features that set them apart from other true wireless earbuds on the market. Plus, the lack of noise cancellation means they aren't the most high-spec earbuds at this price.
Read our full review: Apple AirPods (3rd generation)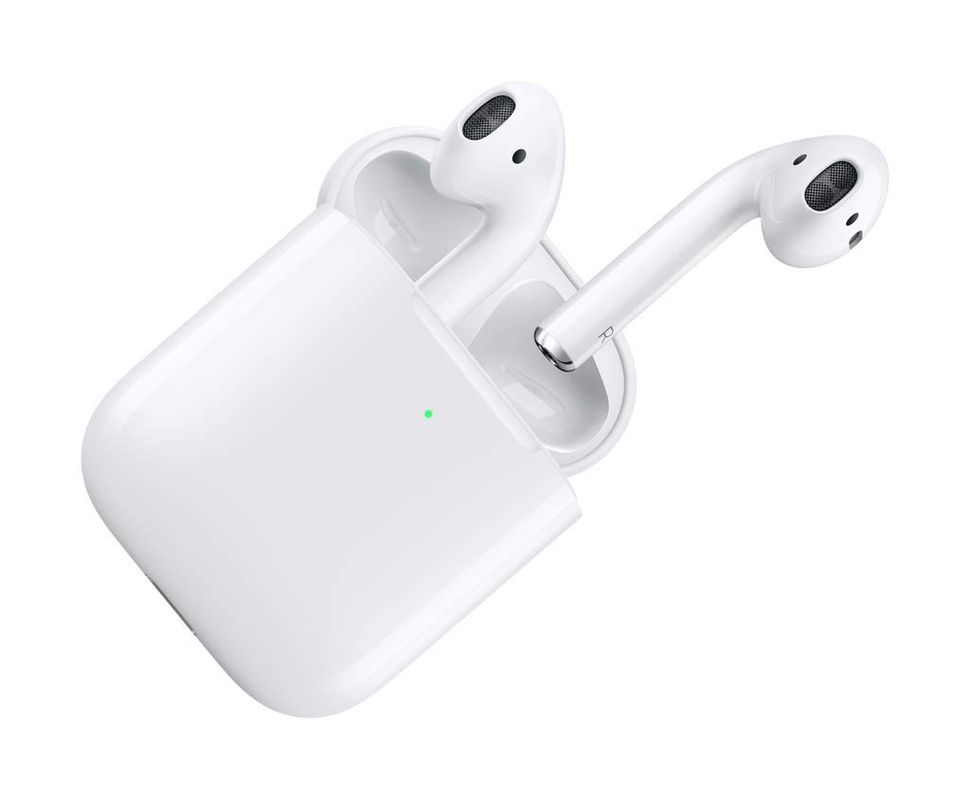 The second generation Apple AirPods may have been usurped by the AirPods 3, but they still sport some cool features that may make them worth buying if you're an iPhone user in particular. They've also been given a permanent price cut, making them the cheapest AirPods you can buy.
A lively soundstage and the inclusion of Apple's H1 headphone chip means that the AirPods 2 work really well as a pair of earbuds for casual music listening or making phone calls - just don't expect audiophile sound. The AirPods (2019) also come with an optional wireless charging case means you can use a Qi-compatible charging mat to power the case, rather than sticking a cable into the Lightning charging port in the bottom of the case.
Read our full review: Apple AirPods (2019)
The best Beats headphones
Apple headphones aren't just limited to AirPods. The best Beats headphones are worth checking out, as well. They might not have Apple written on them, but Apple owns the Beats audio tech brand. These days, there are lots of different Beats headphones to choose from, including in-ear headphones for sports, true wireless earbuds that give the AirPods Pro a run for their money, and comfortable pairs of on-ear headphones that make your music shine.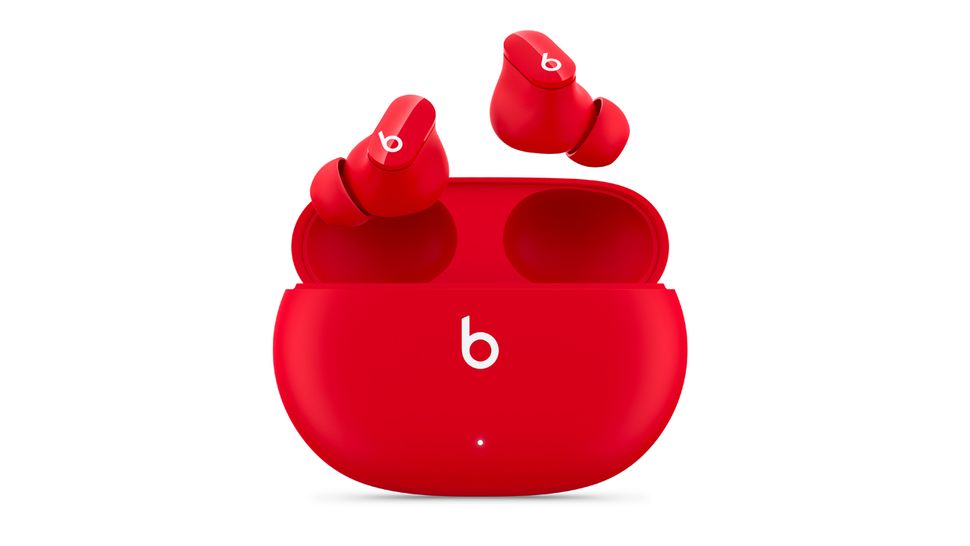 The Beats Studio Buds are rock-solid true wireless earbuds with active noise cancellation and support for Apple's Spatial Audio with Dolby Atmos format. They sound great, with a lively sound quality that elevates the highs and lows of your music, and feel supremely comfortable to wear for long periods of time.
They're not without some drawbacks, though. Chief among them is their lackluster call quality and lack of an H1 Wireless Chip. Battery life with either ANC or Transparency mode turned on is a little short at only five hours (15 hours with the case), and their noise cancellation isn't exactly class-leading, either.
Saying that, they're a very low price compared to AirPods Pro, while still bringing almost all of the same features. That makes them a more budget-friendly option if you want to buy a pair of Beats earbuds.
Read our full Beats Studio Buds review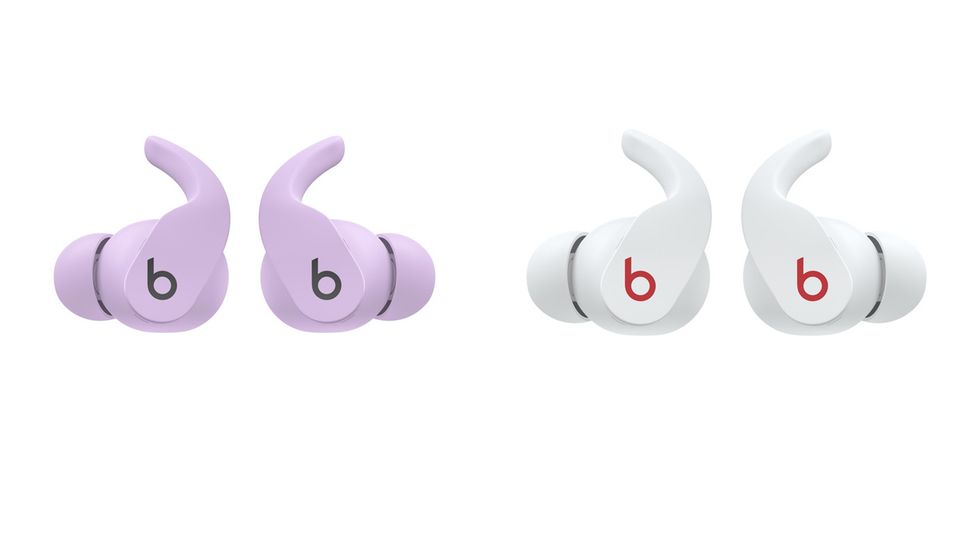 The Beats Fit Pro are essentially AirPods Pro in disguise: they have the same H1 chip as Apple's earbuds, and that means the same hands-free access to Siri and Spatial Audio in Apple Music. But they're slightly cheaper, and their IPX4 rating means they should be sweat-proof for workouts and running.
We do have a few criticisms. They're not as loud as some rivals, and they seal so tightly that they can start to get uncomfortable after long periods. And while Android users can use these headphones quite happily, they don't get the Apple-specific features of the H1.
If you don't do workouts or other intensive fitness activities these probably aren't the Beats for you. But if you do, these are superb in-ears that stay put and deliver excellent audio and call clarity.
Read our full Beats Fit Pro review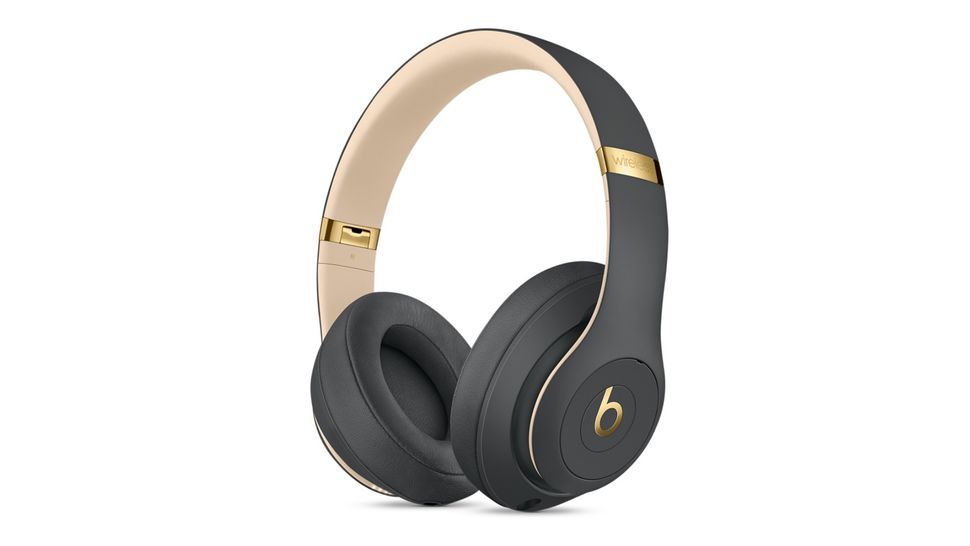 With an over-ear, closed back design, the Studio 3 are among the best noise-cancelling headphones Beats has ever made. The battery has massively improved since previous models too, so you can enjoy music for up to 22 hours, or 40 with the active noise cancellation turned off – just like the Beats Solo Pro.
However, there are sound issues you just don't hear in other good headphones at the price. We found that these do not have a boomy bass, more like a tire of blubber sitting between the bass and mids that makes the Beats Studio 3 Wireless less articulate and open-sounding than most alternatives.
Read our full Beats Studio 3 review
The latest Beats Powerbeats (the PowerBeats 4) are a significant upgrade on the company's wireless workout earbuds, offering a sound quality that's just as good as the Beats Powerbeats Pro. They also boast an IPX4 rating and Apple's H1 Wireless Chip, which can summon Siri with the sound of your voice.
They're supposed to last 15 hours per charge – six hours more than the Powerbeats Pro and three more than their predecessors, the Powerbeats 3. And, they can be paired to multiple devices and share songs wirelessly with another pair of Beats headphones.
We didn't find these to be quite as good as the Apple AirPods Pro – especially in terms of the way they fit and sit in your ears. However, they have a lot of the same technology and specs to make them a decent cheaper alternative.
Read our full Beats PowerBeats 4 review
The best AirPods: FAQs
How to choose the best Apple AirPods
Why you can trust TechRadar We spend hours testing every product or service we review, so you can be sure you're buying the best. Find out more about how we test.
If you know you want a pair of Apple AirPods or headphones, then there isn't a huge amount of choice. However, there are a few key considerations to bear in mind that should help you pick the right Apple AirPods for you.
The most important consideration to begin with is the design. Do you want a pair of over-ears, like the AirPods Max or the Beats Studio3 Wireless? Or do you want a pair of true wireless earbuds, like the AirPods 3 or AirPods Pro? Some people like the feel of a pair of over-ears, but many like the convenience and flexibility of true wireless earbuds. It all comes down to personal preference.
Next up, which features are most important to you? For example, if you want great noise-cancelling, then the Apple AirPods Pro provide exceptionally immersive sound. If that's not a priority for you, then the Apple AirPods (3rd generation) might be a good option—and you'll save some pennies, too.
Finally, consider whether you definitely want a pair of earbuds or headphones from Apple. As you can see from this guide, Apple creates some excellent audio products, but if you're on a budget you might be disappointed by the lack of options here and can generally find a solid pair of all-rounder buds or headphones much cheaper elsewhere.
How much do Apple AirPods cost?
The Apple AirPods 2019 cost $129 / £119 / AU$219, while the AirPods 3 cost $179 / £169 / AU$279.
The AirPods Pro are more expensive at $249 / £249 / AU$399, and the AirPods Max are the most expensive at $549 / £549 / AU$89. All models are regularly discounted (though not by much) - read our guide to the best AirPods deals for the latest price cuts.
Are Apple headphones worth buying?
It depends on what you're looking for – if you want easy pairing with your iPhone, you can't go wrong with Apple or Beats headphones.
But if you're looking for pure audio fidelity, you're better off looking at competitors like Sony and Bose, though the AirPods Max sound very good indeed.
Because all of the Apple AirPods are more expensive than a lot of their competitors, budget is a big consideration here too. Although we do think most of the AirPods are great value for money, you will find similar audio quality, designs and comfort in headphones that are significantly cheaper.
If you know you want to buy Apple AirPods but you're struggling to decide between AirPods models, our Apple AirPods vs AirPods Pro guide should help.
Can I work out with Apple headphones?
Yes. The best Apple headphones for working out are the Powerbeats Pro, thanks to their earhook design and sweatproof IPX4 rating. Other models, like the AirPods Pro have an IPX4 rating, but their design means they're more liable to fall out during vigorous exercise.
Can AirPods connect to Android phones?
Yes, they can. You might find they're marginally slower to pair than they would be with an iPhone, but the difference is negligible. However, if you are using AirPods with an Android, you'll miss out on features like auto-pause or the ability to customize noise cancellation. That's worth considering if you have an Android phone and you're about to pay quite a hefty price for a pair of AirPods.
For more information about how AirPods work with Android phones and step-by-step instructions, read our what non-iPhone users need to know about Apple earbuds guide.
Do AirPods drain your iPhone battery?
A little bit, but they shouldn't make a massive difference to your iPhone battery life. When you're connected normally to your iPhone (as opposed to using AirPlay, which uses more power) your Bluetooth connection will use some battery power.
However, Bluetooth is designed to be a low power technology so even all-day streaming shouldn't do much damage to your battery life. AirPlay is more demanding because it uses the more power-hungry Wi-Fi to transmit and receive data.
The bigger drain on your battery isn't your AirPods connection: it's streaming music from the internet to your phone, especially when you're using mobile data rather than Wi-Fi.
If you're finding that you're only really listening to music and your battery isn't lasting all day, you might want to use your music app's offline mode and download the music to your phone rather than stream it when you're out and about.
How we test
How we tested the best AirPods
We've tested hundreds of audio devices over the years, which means that we know what makes an excellent pair of earbuds or over-ear headphones.
Each of the earbuds and headphones have been tested rigorously for sound quality, comfort, design and, in some cases, additional features, like ANC. We take earbuds out running and headphones on busy commutes, so we can say with authority how they work out in the real world.
In our guide above, we've listed all of the best Apple AirPods. And, because there aren't many models available, most of the Apple AirPods and Beats headphones you can buy today are included. However, that's not because we want to fill up the guide but because all of the products we've listed are genuinely excellent, all offering a brilliant Apple-esque design, solid sound and good features, too.
It might seem tempting to say all Apple products are great solely because they're from Apple. But in the guide above, we've detailed the pros and cons of each product. And we're not afraid to recommend other brands where we think you'd get better value for money, either.
Apple headphones deals