The best travel headphones 2023: more portable noise-blocking options
Best
Contributions from
published
Mute planes, trains and automobiles with the best travel headphones and earbuds
VERDICT
REASONS TO BUY
REASONS TO AVOID
Best travel headphones: Quick Menu
1. The list in brief
2. Best overall
3. Best budget
4. Best premium
5. Best earbuds for ANC
6. Best mid-priced earbuds
7. Best for Apple
8. Best super-cheap earbuds
9. Best for foldable sound
10. Earbuds for in-flight movies
11. How to choose
12. How we test
13. Latest updates
When looking for the best travel headphones, we're slightly adjusting our priorities compared to looking for more general headphones. We're looking for portability, battery life and, of course, active noise cancellation (ANC) more than we might otherwise. For those looking for something to use on a plane, the option of a wired connection becomes more important too.
This list of the best travel headphones contains many of the options in our guide to the best noise-cancelling headphones because for travel, we suggest you use ANC headphones rather than ones that just use padding to silence the world around you. We also consider battery life, their usability (if they're lightweight or fold up for storing in your bag) and whether they have a 3.5mm jack for connecting to a plane's entertainment system.
Over-ear headphones are better at ANC than wireless earbuds, and wireless buds don't have wired connections, but earbuds have a huge portability advantage. So we've also picked out some of the best noise-cancelling earbuds for different budgets, including one model that can, in fact, connect to wired audio sources.
Our reviewers have tested all of these earbuds, and part of our testing of noise-canceling earbuds is to take the on the exact kinds of transport we're talking about when recommending the best travel headphones, from planes and trains to cars and buses.
I've been reviewing tech for 14 years, and for pretty much all that time I've been testing headphones and speakers. As one of TechRadar's most frequent travellers, I've tested a ton of headphones and earbuds while on the go, and I've put all that experience into choosing the headphones that best fit the priorities particular for people flying or taking other long journeys.
The quick list
Want a simple way to find the travel headphones with the features and price range you want? Use our quick list below – you can click to see a longer write-up of each product for more in-depth information.
Load the next 3 products...
Best super-cheap earbuds
Best super-cheap earbuds with good ANC

For this price, no other buds delivers better noise cancellation. And as an added bonus, they offer a long battery life of 7 hours with ANC on, so can get you through a lot of a long flight. They're very future-proof, too.
Best for foldable sound
8. Edifier Stax Spirit S3
Best folding wireless cans for audiophiles
The only entry here without ANC make it to the list, because they sound incredible while having a folding, travel-friendly design. If you want ultimate fidelity and don't need to block out noise, here you go.
Earbuds for in-flight movies
9. Bowers & Wilkins PI7 S2
Best true wireless earbuds for in-flight movie systems
Exquisite sound, solid ANC, weak battery life – but you can connect their case to a 3.5mm jack, and it beams sound to the buds. They're uniquely good for flights in that sense.
The best travel headphones 2023
Why you can trust TechRadar We spend hours testing every product or service we review, so you can be sure you're buying the best. Find out more about how we test.
Best for most people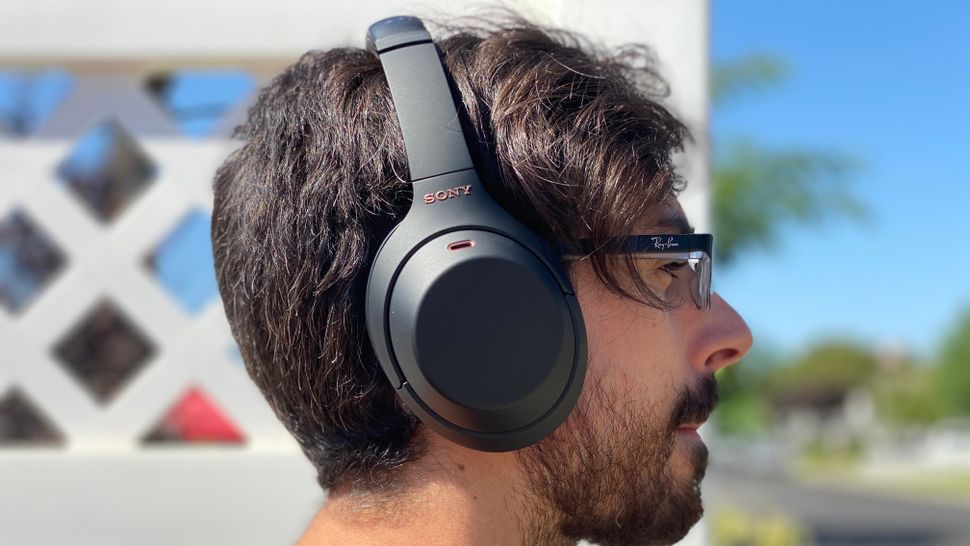 The best travel headphones for most people
Specifications
Frequency response:
4Hz to 40kHz
Reasons to buy
+
Exceptional noise-cancelling
+
Multi-point pairing
+
Conversation awareness
The Sony WH-1000 range has gone from strength to noise-cancelling strength with each iteration. While the Sony WH-1000XM5 headphones are now available, the 2020 XM4s still offer an incredible combination of brilliant ANC and enjoyably balanced audio quality from a lightweight set of cans. You could shell out the extra for the latest model but these are a significantly better buy for being slightly older.
For travel especially, the noise cancelling here is exceptional. You'll only realize just how loud that plane engine hum actually is when you take these off. This is thanks to Sony's proprietary QNe1 Processor, which is constantly sampling the world around you and adjusting the noise cancellation accordingly. And not only will intrusive noises disappear but the pleather cups are cosy and comfortable even for long haul journeys, making the Sony WH-1000XM4s our top pick for the very best travel headphones, even though the newer Sony WH-1000XM5 is available – that model lacks the folding design, and is more expensive without being a big leap better.
Read our full Sony WH-1000XM4 review
Best budget option
The best travel headphones on a budget
Specifications
Frequency response:
7Hz-22,000Hz
Reasons to buy
+
Lightweight and comfortable
+
Good active noise cancellation
+
Great extra features
Reasons to avoid
-
They don't fold
-
Weaker ANC than pricier options
Sony's more affordable counterpart to its flagship 'XM' model can be found for under $150/£100, but delivers very impressive audio quality regardless, especially when it comes to detail and overall balance. Instruments are crisp, treble and bass both get to shine in their own way, and the mid-range is warm and full.
The noise cancellation really helps clamp down on the volume of outside sounds so that you can hear dialog in a movie on a plane, in our experience, though it does leak in noticeably more sound overall than the higher-end options here (both in terms of over-ear headphones and earbuds). But it's as good as anything else available for the price from the likes of JBL.
They're very lightweight and are generally comfortable to use for long periods, which means we can forgive them for not folding. They don't feel as premium as other options here, but again, that's fine. The wired option is very welcome for plane use, and the quoted 35-hour battery life is essentially on the money in our experience.
Read our full Sony WH-CH720N review
Best premium option with huge battery life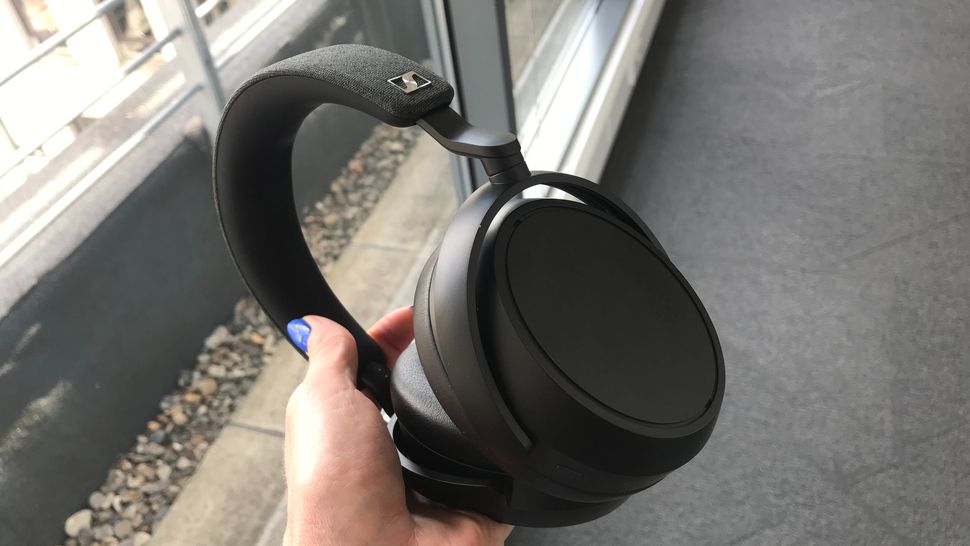 The best travel headphones for battery life and elite sound
Specifications
Frequency response:
6Hz-22,000Hz
Reasons to buy
+
Crisp, detailed audio
+
Astonishing battery life
+
Excellent ANC
Reasons to avoid
-
They don't fold up
-
Not the lightest or prettiest
The Sennheiser Momentum 4 Wireless cans were TechRadar's favorite headphones of 2022 – they're seriously impressive headphones that deliver on every level.
You see, before we even get onto the excellent audio and brilliant ANC, let's just take a moment to celebrate the 60-hour battery life. Yes, 60 hours, even with ANC and normal volume levels. That's enough for five transatlantic flights without even having to think about going anywhere near a USB-C port. Oh, and if you do somehow run out of juice, there's a 3.5mm jack for just that or plugging into a plane entertainment system.
While that battery life would be enough for us, Sennheiser has also managed to cram in wonderfully dynamic audio. No matter the music genre, the Momentum 4 Wireless deliver an ultra detailed and crisp aural performance. There's a real depth here that is rare even in over-ear cans. Add in excellent ANC (with genius adaptive features you can customize through the app) and you'll very quickly forgive the slightly basic looks and mildly chunkier weight of these travel cans.
Read our full Sennheiser Momentum 4 Wireless review
Best noise cancellation in earbuds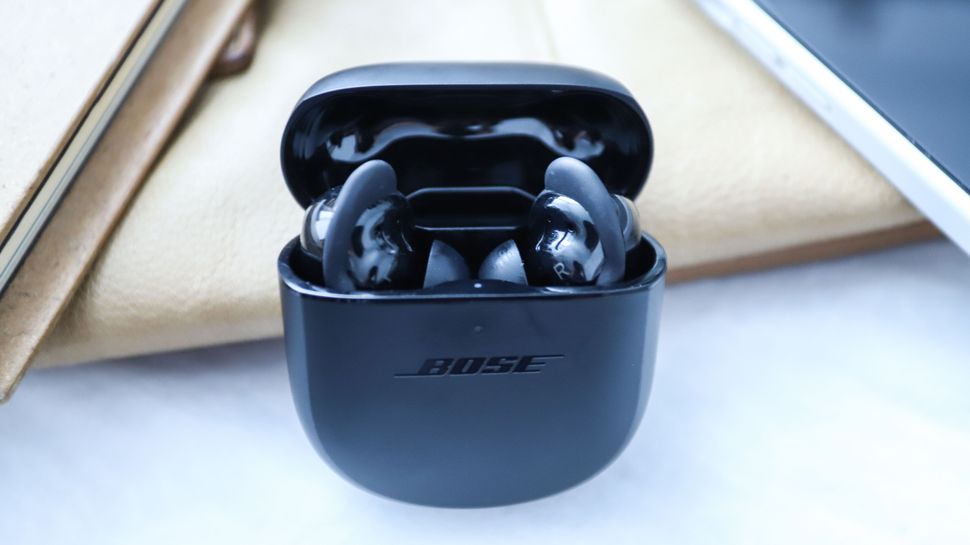 The best travel earbuds for exceptional noise cancellation
Specifications
Weight:
6.2g (per bud); 59.8g (charging case)
Frequency response:
Not listed
Battery life:
6 hours (3 more charges in case)
Reasons to buy
+
World-beating ANC
+
Comfortable fit
+
Beautiful audio
Reasons to avoid
-
No hi-res music support
-
Not as small as some rivals
While some earbuds come with a selection of silicone tips to make sure you can personalize the fit of your buds, the new Bose QuietComfort Earbuds II go one better and customize audio specifically for your ear canals. Thanks to what Bose calls CustomTune, both ANC and audio in these buds are personalized to best suit your ears. And going by the clear and extra-detailed sound here, we can say it's doing something right. Combined with Bose's best-in-class noise cancellation, these buds sing with a vibrant soundstage even over the whirr of jet engines.
The design has been overhauled from the previous generation, with a significantly more comfortable fit that's ideal for long listening sessions. They aren't the smallest buds, but they are lighter than the original Bose QC Earbuds, and the lozenges don't look nearly as bulky in your ears. The only downside here is that there's no hi-res audio support and this price tag is pretty steep without this as an added bonus.
And while the active noise cancellation is the best you can get for earbuds, the high-end over-ear stuff is even more effective. But then, they don't slip in your pocket wherever you go, like these do.
Read our full Bose QuietComfort Earbuds 2 review
The best mid-priced earbuds for ANC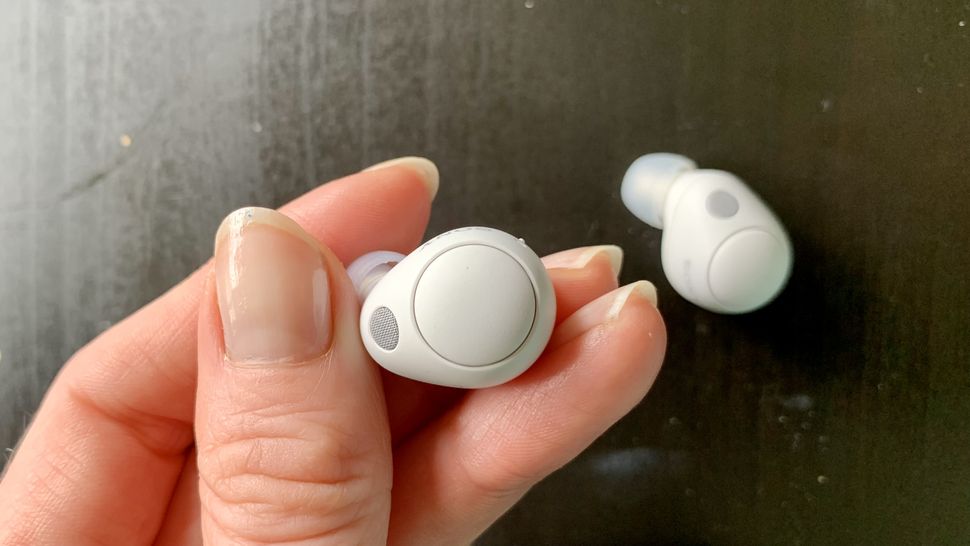 The best travel earbuds at a mid-range price
Specifications
Frequency response:
20-20,000Hz
Battery life:
7.5 hours (earbuds), 7.5 hours (charging case)