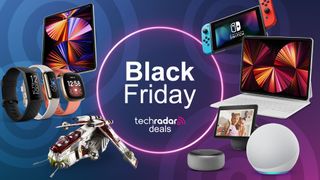 (Image credit: Future)
Black Friday is the year's biggest shopping event, when retailers across the world cut their prices ahead of the holiday season.
Though the date shifts each year, it always takes place on the Friday after Thanksgiving. In 2023, Black Friday will be on Friday, November 24.
Black Friday started out as an in-store event in shops across the US, but has now mainly moved online, with the likes of Amazon, Walmart, Best Buy and Target competing to offer the best deals.
The UK, slightly late to the party, joined in from 2014, as retailers such as Argos, Currys and John Lewis realized there was money to be made. It's now a worldwide phenomenon, with many countries across Europe, Asia, South America and Australia taking part each year.
While the big online retailers dominate, many brands run their own Black Friday sales too. Some simply discount the products in their own stores, but others offer limited-edition models or throw in accessory packs for free. It's not limited to physical products, either, with streaming services often offering reduced-price subscriptions during the sales event.
Opinion is divided as to why it's called Black Friday, but the first known mention of the term in relation to shopping dates from November 1951, when the journal Factory Management and Maintenance used it to describe people calling in sick the day after Thanksgiving so they could have an extra day off work.
These days, there's no need to take the day off, because you can easily shop from the comfort of your desk. We'll be rounding up all of the best Black Friday deals throughout the shopping season, so bookmark this page to make sure you don't miss a thing.