Black Friday MacBook deals 2023: all the best deals live right now
Deals
Contributions from
last updated
Where to get a MacBook for the best price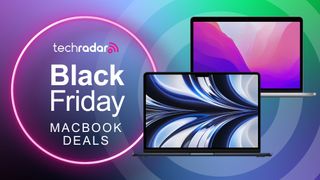 (Image credit: Future)
Black Friday MacBook deals are winding down as the clock passes midnight Saturday on the east coast of the US, but major retailers are still listing plenty of MacBook deals even now.
So even though Black Friday deals are officially done for the year, at many retailers tend to leave a lot of great deals running into the weekend in the lead up to Cyber Monday deals to come, meaning you still have time to pick up a deal on the MacBook you want at a great price.
We'll be keeping an eye on things around here regardless, with many great MacBooks on sale throughout the weekend and new early Cyber Monday MacBook deals popping up as well. And we'll be pulling them all together to help make your holiday MacBook deal shopping that much easier, whether you're looking for the best Black Friday MacBook Pro deals or Black Friday MacBook Air deals still running.
Whichever MacBook model you're hoping to get on sale, we'll be here to help you find it, whatever your desired specs or budget.
Black Friday MacBook deals - quick links (US)
Black Friday 13-inch MacBook Air deals (US)
Black Friday MacBook Deals – MacBook Air 15-inch (US)
Black Friday MacBook Deals – MacBook Pro 13-inch (US)
Black Friday MacBook Deals – MacBook Pro 14-inch (US)
Black Friday MacBook Deals – MacBook Pro 16-inch (US)
Black Friday MacBook deals - quick links (UK)
Black Friday MacBook Deals – MacBook Air 13-inch (UK)
Black Friday MacBook Deals – MacBook Air 15-inch (UK)
Black Friday MacBook Deals – MacBook Pro 13-inch (UK)
Black Friday MacBook Deals – MacBook Pro 14-inch (UK)
Black Friday MacBook Deals – MacBook Pro 16-inch (UK)