Editor's Notes: March 2023
The best MacBook and Macs of 2023 have new surprise additions this Q1 2023, with Apple launching the MacBook Pro 16-inch (2023), MacBook Pro 14-inch (2023) and Mac mini (2023). All these feature the new M2 Pro and M2 Max chips (or the M2 and M2 Pro in the case of the Mac mini).
Michelle Rae Uy, Reviews and Buying Guides Editor, Computing
The best MacBook and Macs deliver a smoother, more streamlined, and more stable experience than what Windows laptops can offer. Now powered by Apple's own SoCs (system on chip) - with the exception of the current Mac Pro that's still powered by Intel, these new Macs are brilliant performers that will see you through your creative workloads.
These Apple devices are among the best PCs and laptops on the market. In fact, despite their best efforts, the best Windows laptops simply can't live up to the experience you get when you're photo or video editing on a Mac or a MacBook. If you're in a creative-driven industry, investing in one will change your workflow for the better.
We've tested and reviewed every single Mac and MacBook from Apple, and we're just the experts to help you find the most ideal model for your specific needs and budget. And, these MacBook and Macs below are our top picks.
One thing to note is that with the launch of the new models, Apple has stopped selling the 2021 models of the 14-inch and the 16-inch, and the 2020 Mac mini, However, since other retailers may still have them in stock and could even offer MacBook deals on the older models, we've kept some of them on the list.
Whether you want to make the switch to the macOS environment or are upgrading from your aging one, here are the best MacBook and Macs on the market. To help you save money, we've also included the best prices available on those models.
The best MacBook and Macs 2023
Why you can trust TechRadar We spend hours testing every product or service we review, so you can be sure you're buying the best. Find out more about how we test.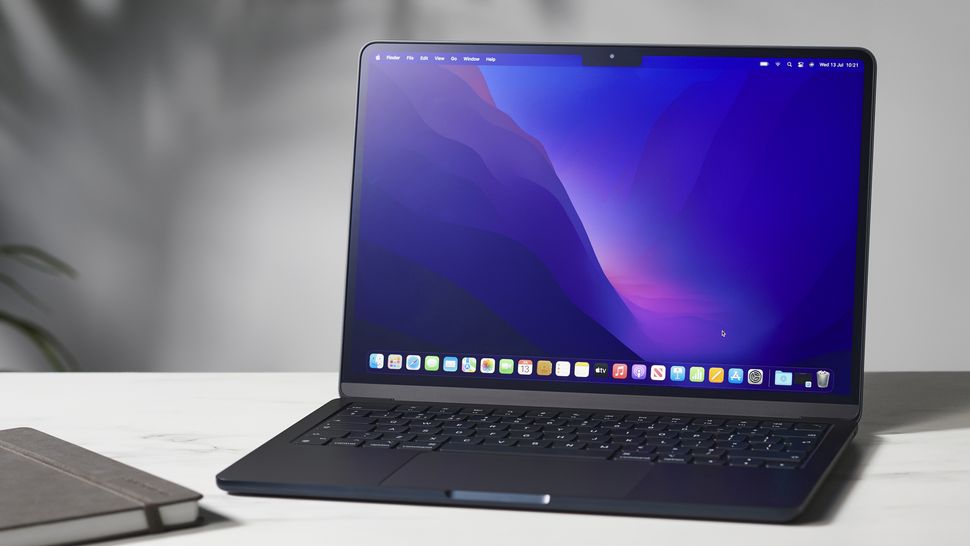 While the MacBook Pros have the sheer performance suitable for power users and content creators, for the rest of us, there's the MacBook Air (M2, 2022). That isn't to say that it's not powerful in its own right. On the contrary, we found its performance to be exceptional during testing, tackling 4K video editing and music production workflows fast and in silence (thanks to its fanless design). In some benchmark tests, its single-core performance is even on par with the MacBook Pro 13-inch (M2, 2022).
It isn't just its specs that saw an upgrade over its predecessor. Its battery life got a 5-hour uptick, giving it 16 hours of use on a single charge, while its screen is bigger and its design is better. We may not have gotten those full colors that the iMac 24-inch is sporting, but you're getting a far more modern design here. It's even thinner and smaller while offering a bigger screen size.
Read our in-depth MacBook Air (M2, 2022) review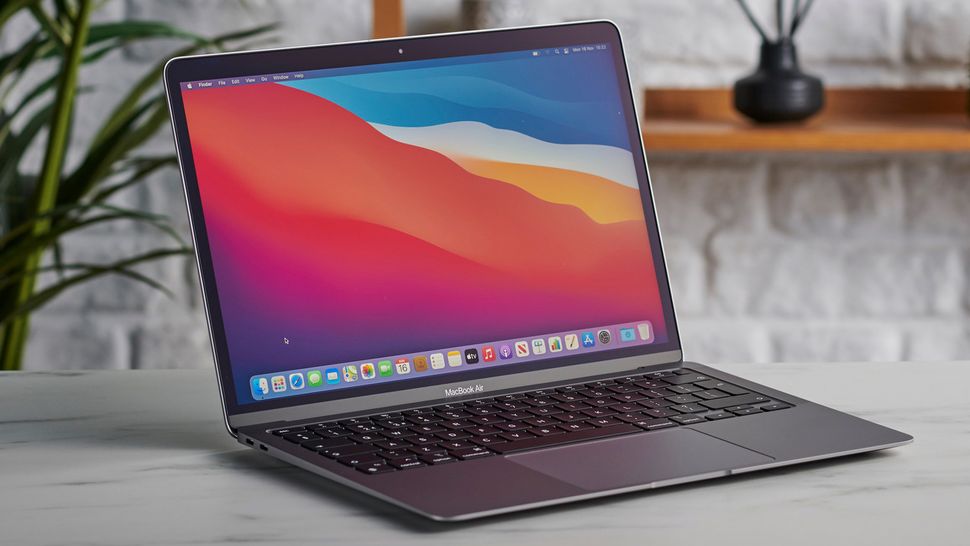 Apple topped last year off with a bang, rolling out their much-talked about M1 silicon chip that's so far been a real game-changer. And, the first laptop to receive it is the company's thinnest and lightest, putting it on the list of the most exciting Apple laptops of recent years. During testing, it felt fast and capable. It was able handle quite a few apps running all at once, keeping up brilliantly and with ease when we swapped between apps. We didn't notice any major incidents of throttling, despite the fact that it has a fanless design and is therefore more susceptible to overheating.
With this new chip, the MacBook Air is better than ever, touting excellent performance alongside its brilliant battery life – without raising the price to keep it (fairly) affordable still. This is the best MacBook for pretty much everyone.
Read our in-depth MacBook Air (M1, 2020) review
The Mac mini got a surprise upgrade in 2023, and the compact PC now comes with a choice of the powerful M2 chip - or the even more powerful M2 Pro. We reviewed the M2 Pro model and were really impressed with its performance as we were with its sleek and compact design.
Despite its small size, this is an extremely capable Mac that can run macOS Ventura and any app or game with ease. It also performed brilliantly when we ran similar tests as we did with the MacBook Pro 16-inch (2023), including editing 8K movie files, making projects in Ableton Live 11 using a MIDI keyboard, and synthetic benchmarks such as Cinebench.
The M2 model is also worth considering. It comes with the same M2 chip that the 2022 models of the MacBook Air and MacBook Pro 13-inch feature, and offers a similar level of performance but without the high price tag. Speaking of which, the Mac mini (2023) launched at a new, lower, asking price, making it even better value for money.
Read the in-depth Mac mini (M2, 2023) review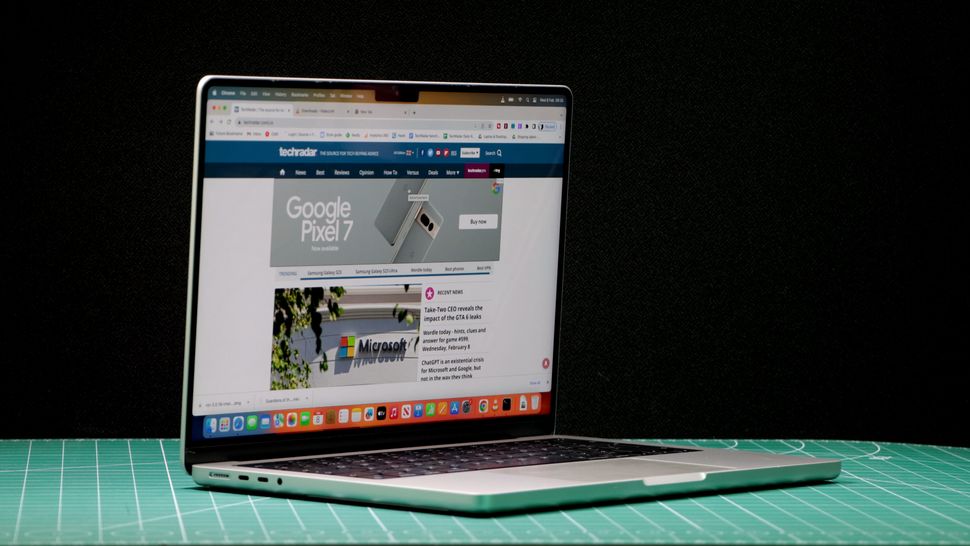 It seems that every year, Apple is making the MacBook Pro 14-inch a lot more power than you'd expect. Its 2021 predecessor may have been an almost perfect laptop, but this one blows it out of the water in terms of power, cementing the line's status as a mobile workstation that's reserved for users who can maximize its sheer performance.
The MacBook Pro 14-inch (2023) handled everything we threw at it during testing, whether we were editing videos in 8K, recording numerous instruments at the same time, or editing multi-track audio projects in Albeton Live 11. Of course, it fared well tackling a range of use cases for day-to-day workloads as well. And, its Liquid Retina XDR and mini-LED technology display with ProMotion adaptive refresh rates of up to 120Hz delivered vibrant colors and rich, deep contrast, making our creative experience incredibly immersive.
It keeps the same design as the 2021 model, but that's no bad thing given the brilliant screen and solid build quality. It is, as with many creative mobile workstations, eye-watering expensive, however. That's especially for UK and Australian consumers. So only invest if you can justify the price with your demands.
Read our full in-depth Apple MacBook Pro 14-inch (2023) review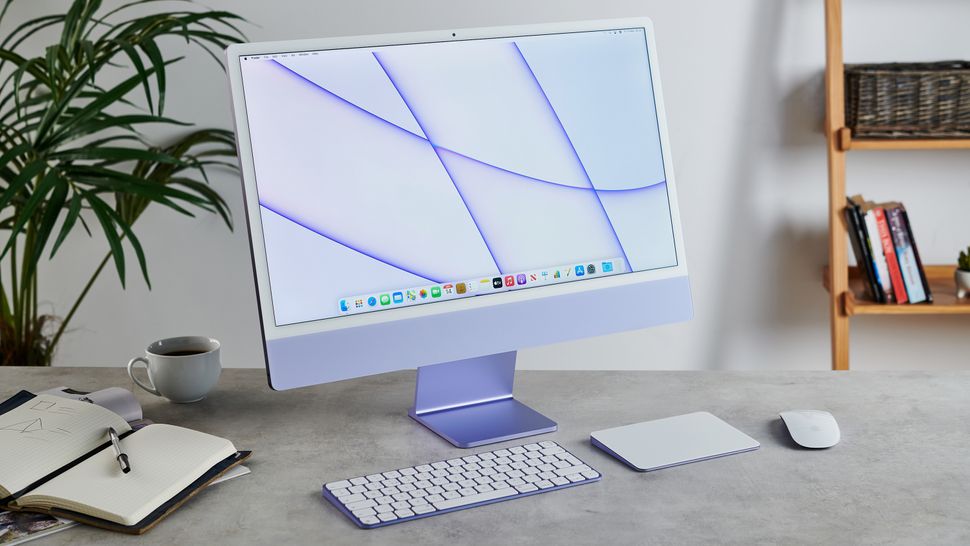 If you think that the new iMacs couldn't possibly be as good as they look, you'd be wrong. They are not just an improvement over their 21.5-inch predecessor externally, touting a fresh new face that comes in several different colors.
They also come with fresh new specs, rocking Apple's new M1 chip that makes it much more powerful than the previous Intel iMacs. Loading up Final Cut Pro to do some editing on an 8K video, it performed very well during testing, smoothly scrubbing through 8K content. If you're a pro, you may be best served by a more powerful Mac, but this one should more than suffice for hobbyists and streamers looking to edit their videos.
You'll also be happy to know that you're getting great value here, as you're getting the Magic Keyboard and Magic Mouse included – in matching colors, we might add. And, while the port selection could be better, the upgraded 1080p FaceTime camera delivers better low-light performance and amazing image quality. The iMac (24-inch, 2021) is the best all-in-one PC we've ever tested, and has certainly earned its place in our best Macs list.
Read our in-depth iMac (24-inch, 2021) review
Regardless of what you're looking for in a computer, the new MacBook Pro 16-inch (2023) can handle it. That's thanks to Apple's impressive in-house M2 Pro and M2 Max chips that can blaze through any application you can think of.
Upgraded from the M1 Pro and M1 Max from 2021, the 2023 model provides even more performance, while also boasting an incredible battery life of over 20 hours. We found during our testing that this beast of a laptop pumps out impressive performance without draining the battery and doesn't throttle its performance when on battery power.
The 16-inch MacBook Pro also comes with an incredible display, as well as plenty of ports including next-gen Thunderbolt 4 ports and a MagSafe charging port. All that performance does come at a price, as even the base model costs a lot. But, considering how powerful this laptop is, it's worth the price of entry.
Read our in-depth MacBook Pro 16-inch (2023) review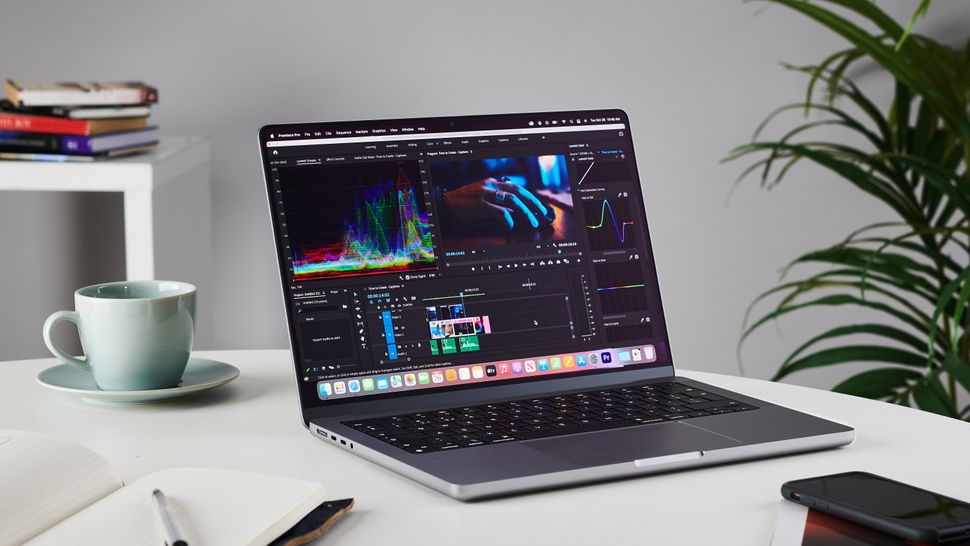 The MacBook Pro is now its truest self with the launch of the MacBook Pro 14-inch (2021) and its 16-inch counterpart. Armed with the new M1 Pro and M1 Max, MacBook impresses with breathtaking power and equally breathtaking battery life – just what every professional needs and deserves.
Our review model worked exceptionally well during testing, allowing us to create and edit complex 3D scenes in Cinema 4D quickly and smoothy as well as edit 8K video on Final Cut Pro impressively seamless. Its unified memory also helps it handle seriously intensive workloads beautifully.
Apple then rounds it all out with its XDR display with 1600 nits of peak brightness and a wide color gamut. There's also an SD card slot, an HDMI port, and three Thunderbolt 4 ports (all of which can stay available thanks to MagSafe charging being back.) It's among the most expensive MacBook Pros ever launched, but it's also certainly among the best.
Read our in-depth MacBook Pro 14-inch (2021) review
The Mac Studio is like a super-charged Mac mini for creative professionals. Apple's newest Mac, this is an impressively compact computer that comes packing some serious power thanks to a choice of the M1 Max chip, or the brand-new uber-powerful M1 Ultra.
The Mac Studio is a formidable machine when it comes to video editing, coding and 3D modeling, in particular. It proved during testing that it the graphical grunt to handle 18 streams of 8K footage on the fly, allowing us to view, edit and add effects on Premiere Pro easily. We also saw it load up an incredibly detailed 3D scene that took up more memory than most discrete professional PC GPUs come with.
The level of performance on offer here will be overkill for many people, but if you're looking for a workstation PC for heavy creative workloads, such as editing 8K footage or rendering complex 3D scenes and animations, then the Mac Studio will be a great choice. It's expensive, but worth the investment.
Read the in-depth Mac Studio review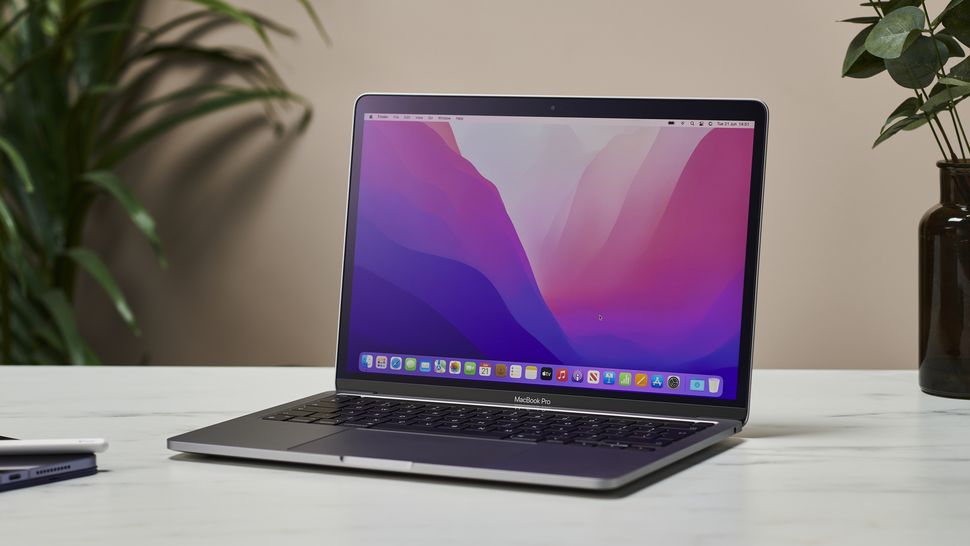 The Apple MacBook Pro 13-inch (M2, 2022) might not come with a new design update, which makes it look and feel a bit redundant, especially because the M1 version is pretty impressive in its own right. However, while there's nothing exciting about its outside, Apple's brand-new M2 chip certainly makes up for it in a massive way.
If you already have the M1 MacBook Pro 13-inch, this might not be worth an upgrade – unless, of course, you need a bit more power. In our tests, this 2022 model achieved better performance in both single and multi-core CPU tests. That means a noticeable boost in its multitasking capabilities, allowing users to open and utilize various applications open at once. It also scored around twice as much as the Intel Core i7-1185G7-powered Surface Laptop 4, and lasted almost two hours longer than the M1 MacBook Pro 13-inch in our battery life test. That's while keeping the same price tag as before.
Read our in-depth MacBook Pro 13-inch (M2, 2022) review
What to look for in the best Macs and MacBooks
Whether it's the new 16-inch MacBook Pro that just came out or the dinky little Mac mini, it's not hard to see why the best Mac and MacBooks are the weapons of choice of creative professionals.
And, even if you don't go for the newest releases, there's already a few excellent options to choose from, especially with Apple recently giving its MacBook Air, 13-inch MacBook Pro and 14-inch MacBook Pro updates in the past 12 months.
The best Mac and MacBooks come in different shapes, sizes and price so that whether you want the cheapest MacBook you could find, a professional workhorse that breezes through all your extensive workloads like a pro, or an all-in-one that saves you space, there's a Mac on the market for you.
How we test the best MacBooks
Testing the best MacBooks and Macs is more intensive than you might think, especially because most of these devices are meant to be used by creative professionals with more taxing workloads.
Aside from putting its build, display, keyboard, trackpad, and webcam through their paces, we also perform creative benchmark tests like Handbrake as well as run demanding workflows like editing an 8K video in Final Cut Pro and doing real-time 3D modeling and animation to see how every device would fare in real-world situations. We also test its battery life and take a look at its heat management performance when running such intensive tasks.