The best Windows laptop 2023: top Windows 11 laptops
Best
Contributions from
last updated
Windows laptops are incredibly versatile - so we've gathered the best we've tested for your consideration.
VERDICT
REASONS TO BUY
REASONS TO AVOID
Best Windows laptop: Quick Menu
1. The list in brief
2. Best overall
3. Best budget
4. Best 2-in-1
5. Best premium
6. Best thin and light
7. Best for gaming
8. Best budget gaming
9. Best AMOLED display
10. Best desktop replacement
11. Best battery life
12. How to choose
13. How we test
The best Windows laptop should be as versatile as it is powerful. These laptops can all clean up your everyday workloads with ease, and many of them also boast the processing power to deal with more resource-intensive workloads, like graphic design or 4K video editing.
The software support and accessibility of Windows 11 (or Windows 10, if you're one of the upgrade holdouts!) mean that Windows laptops can offer unparalleled flexibility, letting you do everything from office work to creative projects to hardcore gaming - in fact, they're some of the best laptops in general.
You can get whatever you're looking for here; we've collated a wide variety of excellent Windows laptops, but if you're looking for something more specific, you might want to check out the best 2-in-1 laptops or the best gaming laptops - the majority of which run on Windows 11.
Remember, if you're an Apple fan, you'll be better off checking out the best MacBooks and Macs, while ChromeOS lovers should take a look at the best Chromebooks instead. But if Windows is your operating system of choice, scroll on down - we've included our handy price comparison tool, but don't forget to check our best laptop deals too!
The quick list
Want to cut to the chase and find out what the best Windows laptops are? Below, you'll find a roundup of our choices, and you can jump to a more detailed review of every pick, along with our price comparison tool to help you find the best deals.
Load the next 3 products...
Best display
7. Samsung Galaxy Book3 Ultra
The best display
The Samsung Galaxy Book3 Ultra is capable tackling demanding tasks, but the highlight here is its 3K AMOLED screen that delivers crisp, clear visuals.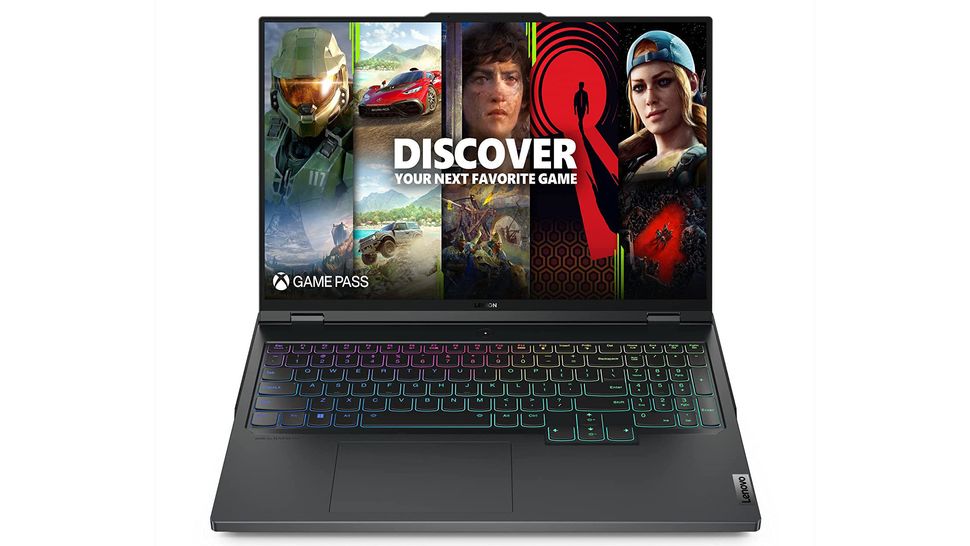 Best desktop replacement
The best desktop replacement
One of the first Nvidia RTX 4000 gaming laptops we've tested, the Pro 7i pairs incredible performance with a stunning and fast display.
Best battery life
9. Dell Inspiron 16 2-in-1 (2022)
The best battery life
While its touchscreen, overall performance, webcam, and audio are fantastic, but its 13-hour battery life is easily one of its best features.
The best Windows laptops in 2023
Why you can trust TechRadar We spend hours testing every product or service we review, so you can be sure you're buying the best. Find out more about how we test.
Below you'll find full write-ups for each of the best Windows laptop in our list. We've tested each one extensively, so you can be sure that our recommendations can be trusted.
The best Windows laptop overall
The best Windows laptop overall
Specifications
CPU:
12th Gen Intel Core i5 – i7
Graphics:
Intel UHD Graphics – NVIDIA GeForce RTX 3050 Ti
Screen:
15.6-inch 3.5K (3,456 x 2,160p), 60Hz, OLED, 400 nits, non-touch
Storage:
256GB – 2TB M.2 PCIe NVMe
Reasons to buy
+
Gorgeous design
+
Powerful performance across the board
Reasons to avoid
-
Not quite a gaming laptop
-
Starts expensive and price soars with better specs
Buy it if:
✅ You want the best-looking Windows laptop around: The Dell XPS 15 sets the standard for stylish Windows laptops.
✅ You want all-day battery life: We didn't think it was possible anymore, but the XPS 15 can get you all-day battery life on an Intel Alder Lake chip.
Don't buy it if:
❌ You're on a budget: The XPS 15 starts pretty pricey and only gets more expensive from there.
❌ You don't want to carry around a USB hub: With three USB Type-C ports, there isn't much room for a whole lot else, namely USB Type-A peripherals.
Updated with new hardware and that classic XPS style, the Dell XPS 15 remains to be the best Windows laptop around. Dell has upgraded the internals to include new Intel Alder Lake processors and faster RAM so that it's more capable than ever.
While it's no gaming laptop, it still turned in respectable gaming results in our testing and blasted through everyday tasks with ease. That's while delivering a full workday on a charge, averaging at 12:01 in our PCMark 10 test.
The chassis remains unchanged, but that classic XPS look and brushed aluminum finish remain as stunning as ever. It's incredibly thin and lightweight, making it extremely portable, especially for a 15-inch laptop. And, its keyboard and trackpad are just as responsive and as comfortable as ever.
It's not a cheap purchase, to be sure, but it's reasonably priced for a laptop in its class. And, you're definitely getting what you're paying for.
Read our full Dell XPS 15 (2022) review
The best budget Windows laptop
The best budget Windows laptop
Specifications
CPU:
Up to 12th Gen Intel Core i7
Graphics:
Up to Nvidia GeForce RTX 2050
RAM:
Up to 16GB DDR4 SDRAM
Screen:
17.3" Full HD (1920 x 1080) 16:9
Storage:
Up to 1TB SSD + 1TB HDD
Reasons to buy
+
Competitive price
+
Solid build, with a 1.7kg weight
+
Decent battery life for the price
Reasons to avoid
-
720p webcam
-
Limited port selection
Buy it if:
✅ You're on a budget: The Aspire 5 is a high-end laptop for video-editing work, but its entry-level model only costs around $600/£450.
✅ You travel a lot: It's sturdy design and weight of just 1.7kg mean that it'll will happily live in your backpack all day long.
Don't buy it if:
❌ You're a gamer: Most Aspire 5 models rely on more basic integrated graphics.
❌ You need all-day battery life: 6.5 hours of battery life isn't bad for a laptop in this price range, but it is if you need a long-lasting laptop for work.
No budget Windows laptop is as good as the Acer Aspire 5, which offers so many configurations covering different display sizes and your choice of integrated and discrete graphics that the line has something for pretty much every user. What's more impressive is that this entry-level model provides respectable performance for a laptop in this price range.
You're not going to get a cutting-edge design, but it gets the basics right, from its sturdy chassis to its comfortable keyboard and fingerprint sensor on the trackpad. And the 1080p14-inch screen is bright, clear, and comes with good viewing angles.
Being a budget option, there are compromises here: the 720p webcam is a bit basic, the built-in speakers are somewhat feeble, and connectivity is a bit of a mixed bag. However, they aren't deal-breakers either. You're definitely getting great value for your money here.
Read our full Acer Aspire 5 (2022) review
The best 2-in-1 Windows laptop
The best 2-in-1 laptop overall
Specifications
CPU:
13th Gen Intel Core i7-1360P
Screen:
Up to 14-inch 3840 x 2400 400-nit OLED touchscreen with 100% DCI-P3, VESA Certified DisplayHDR True Black 500, Dolby Vision
Reasons to buy
+
Absolutely stunning design
+
Gorgeous display
+
Great battery life and performance
Reasons to avoid
-
Too expensive for most people
-
Display averages at 350 nits
Buy it if:
✅ You need one for work and casual photo editing: This is an incredibly capable laptop that handles productivity and every day tasks like a pro and holds its own with creative workloads.
✅ You want a great-featured laptop: There's a lot of great features here, including a rotating soundbar, an OLED display, a fingerprint reader, many keyboard shortcuts, and a 1080p webcam.
Don't buy it if:
❌ Money is tight: It's not exactly a budget option. Look elsewhere if you need something under $1,000/£1,000.
❌ You do more creative workloads: It held its own with photo editing high-res images, but it got pretty loud and warm, and it also wasn't the fastest.
The Lenovo Yoga 9i Gen 8 (2023) is an absolute stunner with its elevated design featuring an OLED display with amazing picture quality and a 360-degree-rotating soundbar that delivers a more immersive streaming experience. And, it's a testament to Lenovo's brilliance.
But, it's powerful as well, crushing other touchscreen laptops such as the Samsung Galaxy Book3 Pro 360 in our benchmarks and holding its own tackling creative workloads such as exporting 50 edited high-res 7952 x 4472 images from RAW to JPEG in Lightroom. And while it may not have the longest battery life, it lasted a little over 10 hours on a full charge in our web surfing battery test, which means you can leave the charger at home and still have a full workday.
The OLED display is not as bright as we'd hoped, averaging around 350 nits, but it's vibrant nonetheless thanks to those deep, rich colors. And, if you want to go on tablet mode, you'll find it responsive and intuitive to your touch commands as well.
Read our full Lenovo Yoga 9i Gen 8 review
The best premium 2-in-1 laptop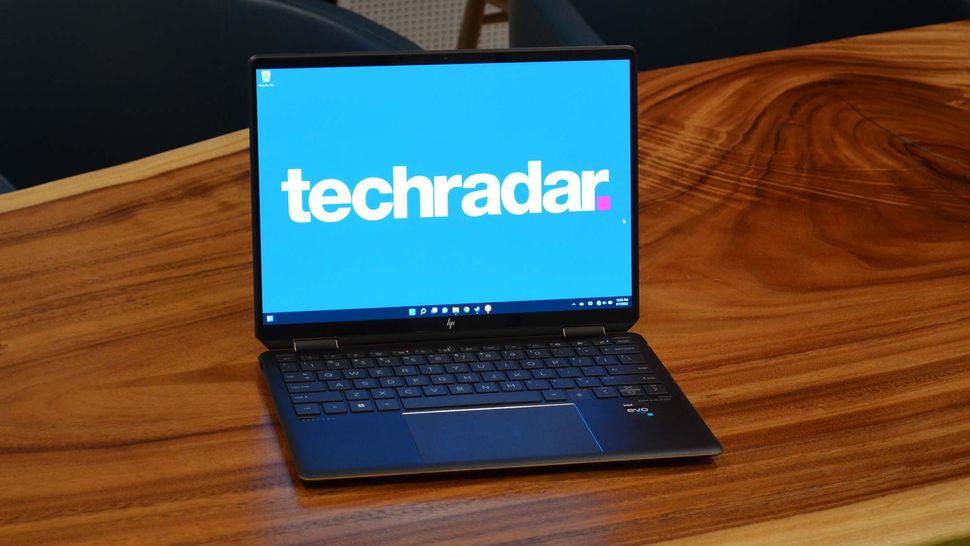 The best premium 2-in-1 laptop
Specifications
CPU:
12th-generation Intel Core i5 – i7
Graphics:
Intel Iris Xe Graphics
Screen:
13.5" 3K2K (3000 x 2000) UWVA OLED
Reasons to buy
+
Gorgeous design
+
Excellent battery life
+
Vibrant OLED screen
Reasons to avoid
-
OLED display drives up the price
-
Touchpad sensitivity is a bit iffy
Buy it if:
✅ You want a lightweight 2-in-1 machine: At 13-inches and 3lbs, the HP Spectre x360 is extremely portable and can fit into nearly any medium-sized bag with ease.
✅ You want to upgrade to an OLED screen: The OLED screen version of this laptop is easily the best one, as it makes this 2-in-1 stand out way more than other laptops in the same market.
Don't buy it if:
❌ You need a functional touchpad: This touchpad has easily the worst sensitivity we've seen in a laptop in quite some time.
❌ You need a budget machine: While the starting pricing isn't too bad, the OLED and general spec upgrades can jack up the costs.
The HP Spectre x360 has been one of our favorite laptops for years now, and the 2022 model is no different. It's more powerful than ever, however, with 12th-generation Intel Alder Lake processors and better-integrated Intel Iris Xe graphics, both of which offer a serious performance boost.
It ran work programs, handle multiple browser tabs, and even play plenty of low and mid-range video games during testing with no issues. And its performance was incredibly consistent throughout. We just wish that the battery life lasts longer than eight hours, but at least, it charges fast, reaching at least 80% capacity in about an hour.
Really, this is the single best 2-in-1 laptop on the market right now, especially with that impeccable design, pristine gem-cut chassis, and solid build. If you care about aesthetics as much as you do performance and overall quality, this is the best Windows laptop for you. While it's certainly pricey, you're getting some excellent extras, such as formidable security features and surprisingly decent Bang & Olufsen speakers.
Read our full HP Spectre x360 (2022) review
The best thin and light Windows laptop
The best thin and light Windows laptop
Specifications
CPU:
Intel Core i7-12700H
Graphics:
Intel Iris Xe Graphics
Screen:
14-inch 2.8K OLED SlimBezel Adobe 100%