Best portable SSDs of 2023: on-the-go storage for every budget
Best
Contributions from
last updated
Transfer files on the go with the best portable SSD
VERDICT
REASONS TO BUY
REASONS TO AVOID
Quick Menu
1. Best overall
2. Best value for money
3. Best premium
4. Best lightweight
5. Best for speed
6. Best all-rounder
7. Best for freelancers
8. Best for gamers
9. Best compact
10. Best rugged
11. FAQs
12. How to choose
13. How we test

Secure, rugged, and lightning-fast, the best portable SSD is a game-changers when it comes to secure backups of your important files. Whether you're trekking through a rainforest or simply commuting to work, these devices have you covered.
Far superior to the best external hard drives in terms of speed and reliability, the top portable SSDs stand out with their impressive transfer speeds, enhanced longevity, and greater stability, and you can even find some of the best portable SSDs are also some of the best wireless drives around for even better features.
While you might find that storage capacities between an SSD vs HDD are fairly similar (at least for portables), the best SSDs, whether portable or otherwise, are often the top pick for discerning users seeking speed and reliability, and can even rival the best hard drives in terms of maximum capacities.
Our dedicated team has gone the extra mile to test and review nearly all of the best portable SSDs on the market, and we're here to delved deep into each drive's speed, storage capacity, connectivity, design, and overall performance.
And for those wanting an added layer of protection, combining your SSD with the best cloud storage solutions and best backup software is a smart move as you dive into our comprehensive guide to find the right portable SSD for your needs and budget.
Best portable SSD of 2023
Why you can trust TechRadar We spend hours testing every product or service we review, so you can be sure you're buying the best. Find out more about how we test.
Below you'll find full write-ups for each of the best portable ssd candidates on our list. We've tested each one extensively, so you can be sure that our recommendations can be trusted.
Best portable SSD overall
A welcome update to a much loved external storage device
Specifications
Capacity:
500GB, 1TB, 2TB
Reasons to buy
+
Built-in security with fingerprint access
+
Incredibly fast
+
Compact
Reasons to avoid
-
Not cheap
-
No rugged case
The Samsung T7 is ideal if you're looking for the best portable SSD with lots of features. This external storage is not only fast – with sequential read and write speeds of up to 1,050 and 1,000 MB/s, respectively – but it also boasts quite a few great features in the palm-sized package.
The most important of those features is its built-in security options. This uses AES 256-bit encryption and gives you the option to use fingerprint sign-in, which you can set up through the device's own management software.
On testing the kit, we found this drive offers the perfect balance between security, speed, portability and pricing. While it lacks IP68 and the security certifications of more expensive rivals, the price point makes it an attractive choice. The Samsung T7 SSD could do with a rugged case, but it remains our pick for best portable SSD on the market, and well worth your consideration.
Read our full Samsung T7 SSD review
Best budget portable SSD
Cheapest branded portable SSD by capacity
Specifications
Capacity:
512GB, 1TB, 2TB
Interface:
Type-C, USB 3.2 Gen 1
Reasons to buy
+
Stunning value for money
+
Good looking
+
Solidly built
Reasons to avoid
-
Average performance
-
No software bundle
I have a confession to make - I may have been a bit too harsh on a review I wrote three years ago. I gave a mere three star to the product I am now writing ecstatically about today.
The Lexar SL200, I wrote back then, was an, "OK product and that's about it. Compared to almost everything else on the market, it lacks a clear edge and its premium pricing is not helping it at all."
Well, fast forward almost three years and the price of the 2TB version SL200 has been slashed by a staggering 70% since it launched back in June 2021, almost a year after my review. That alone means I should probably re-review the drive and add at least one star to the review.
At $89.99, it is the cheapest 2TB portable SSD right now anywhere. That is still far more expensive than a standard portable hard disk drive of similar capacity but let's not forget why an external SSD is a better long run solution for storing your data, files and folders.
✅ Faster It is one of the slowest external SSDs we've ever tested but it is still 3X quicker than most portable hard disk drives.
✅ Works with smartphones A little-advertised feature is that most of the newer portable SSDs have a native Type-C connector that can be plugged into any recent smartphones and be used as storage for your portable device.
✅ Sturdier Because there's no moving parts, the SL200 is a bit more ruggedized than any external consumer hard drives. It should survive a drop on a hard surface from a few feet unscathed.
✅ Smaller The SL200 is smaller than any 2.5-inch hard drive we've seen and by extension, smaller than any portable hard disk drives as well. For once, you can easily slide it in your rear jeans pocket.
✅ 3-year warranty Lexar offers a three-year warranty on its SSD which is 3x what the likes of Seagate and WD offer for portable hard disk drives. Again, that's down to the fact that mechanical parts fail more often than electronics.
Read our full Lexar SL200 review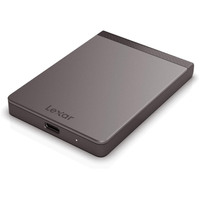 Best premium portable SSD
Samsung's portable SSD is a phenomenal piece of kit
Specifications
Capacity:
250GB, 500GB, 1TB, 2TB
Reasons to buy
+
Incredibly fast
+
Highly compact
+
Fast Type-C connection
+
Up to 2TB storage
Samsung's brilliant line-up of portable SSDs continues with the excellent Samsung Portable SSD T5. "A masterclass in portable storage" is how we described this speedy drive after our time. If you're looking for a true portable, this one is proof at last, that an external drive can be smaller than a high-powered power bank or a stack of credit cards.
Building on the brilliant design and performance of its predecessor, the Samsung T3, the T5 does bring performance gains. There's a fast USB Type-C connection that ekes out every last drop of performance from the solid-state drive inside. It comes with a 10Gbps USB 3.1 Type-C Gen 2, making it capable of delivering twice the maximum theoretical transfer rate of its predecessors. It's also backwards compatible with USB 3.0 and USB 2.0 if your PC doesn't have USB Type-C.
If you're not fussed about those performance gains, the Samsung T3 should be more than enough, and at a cheaper price now, too. If you already have a T3, you can doubtless stick with it for the time being. Otherwise, the Samsung T5 is a great all-rounder SSD with fast transfer rates for moving or carrying large amounts of data.
Read our full Samsung Portable SSD T5 review
Best lightweight portable SSD
The world's largest hard disk drive maker wants a bigger slice of the SSD pie
Specifications
Capacity:
250GB, 500GB, 1TB, 2TB
Reasons to buy
+
Impressive performance
+
Good price
+
Compact design
There's no prizes for guessing the focus of the Seagate Fast SSD. Yes, that's it's name - and yes, it lives up to it.
In our review, we reckoned "when it came to performance, this drive ranked amongst the fastest without resorting to any sort of magic tricks (RAID-0 for example). Seagate's newest storage product delivered some impressive numbers, almost tying with the G-Drive Slim SSD on CrystalDiskMark and Atto. HD Tune Pro and AS SSD numbers were also amongst the best we've seen."
For a slim, lightweight drive, it's one of the best portable SSDs - although not as compact as the WD My Passport SSD. Weighing in at 82g, just 9mm thick with a footprint of 94 x 79mm, it will easily slip into your pocket for a comfortable carry.
Best of all, you can usually get it at a good price. You can certainly pay a lot more (or a lot less) for one that doesn't match the high performance in such a svelte design.
Read our full Seagate Fast SSD 500GB review
Best portable SSD for speed
Thunderbolt 3 and NVMe come together to deliver top notch performance
Specifications
Capacity:
500GB, 1TB, 2TB
Reasons to buy
+
Exceptional performance
+
Hardware encryption
Reasons to avoid
-
Not a budget option
-
Not compact or waterproof
The Samsung X5 is the best portable SSD for you if you want faster speeds above all else, and money is (almost) no object.
It comes with a Thunderbolt 3 connection that takes full advantage of the super-fast speeds of the Samsung 970 Evo NVMe SSD that comes inside. Although after testing and reviewing the device, we thought the transfer speeds weren't as spectacular as you'd expect. But this drive is still exceptionally fast given the right connector.
However, that pure dedication to speed comes at some expense. First, there's the premium pricing. Then there's the design. Because this drive is no Samsung T3 or Samsung T5. It's larger and bulkier than either, coming in at 150g - triple the weight of the T5 - with a footprint of 116 x 60 x 18mm.
Not one for those prizing portability, then. However, for speed alone, the Samsung X5 is one of the best money can buy.
Read our full Samsung X5 Portable SSD review
Best portable SSD all-rounder
The refresh to WD's mainstream external SSD is here
Specifications
Capacity:
500GB, 1TB, 2TB, 4TB
Reasons to buy
+
5-year warranty
+
Good performance and price
+
Great design
+
Decent software mix
Reasons to avoid
-
No status lights
-
Runs very warm to the touch
-
Cable too thin
A refresh to Western Digital's much-loved mainstream external SSD, the WD My Passport is one of the best portable SSDs for thin and lightweight design.
It was one of the first things we noticed about the drive. At 46g, measuring 10 x 5.5 x 0.9cm, this is an impressively slim-line footprint. We were just as impressed with its sleek, ridged metal design, which improves grip while reducing the chance of causing damage to anything else thanks to its curvy, pebblesque shape. Model variants are broad. You can pick up three different capacities (500GB, 1TB, 2TB, 4TB) in four different colors (blue, red, champagne gold, and gray silver).
Inside, you'll find a SN550E, a PCIe Gen3 x4 NVMe drive that pairs an ASMedia ASM2362 bridge with a SanDisk 20-82-10023 controller and SanDisk BiCS 4 96L 3D TLC flash memory. During our benchmarking with CrystalDiskMark, the drive reached 1046MBps (read) and 1013MBps (write). Other benchmarks delivered the same range of results but transferring a single 10GB file proved to be slower than expected.
Overall, expect a fast, compact portable SSD with an excellent five-year warranty. Expect to pay for it for the higher-capacity 4TB model - it's the drive's biggest black mark, especially as smaller, nimble rivals are taking the lead when it comes to value for money. Otherwise, there's something for everyone here.
Read our full WD My Passport (2020 edition) portable SSD review
Best portable SSD for freelancers
A tiny portable solid state drive for on-the-go work
Specifications
Capacity:
500GB, 1TB, 2TB
Reasons to buy
+
A very solid bundle
+
Plenty fast
+
Very small
Reasons to avoid
-
Short cables
-
A bit more expensive than the competition
The Seagate OneTouch is a flawless portable SSD, offering exactly what you'd expect - and then a bit more.
Built from plastic, metal, and cloth, it's an elegant design in itself. But at a mere 70 x 50 x 10mm and weighing 43g, this drive is ridiculously small and portable, too. The kit includes both USB Type-C and Type-A cables, although we wished they were longer than they were. The drive is available in 500GB, 1TB, and 2TB capacities, with a black, blue or silver finish.
Performance is excellent. Benchmarking on CrystalDiskMark gave us speeds of 1047MBps (read) and 1027MBps (write). This means we actually managed to beat the rated speed by just over one percent. In other words, this is a speedy drive with plenty to give. In real life, rather than the simulated tests, we transferred a 10GB file in 18 seconds which is equivalent to a transfer rate of more than 500MBps.
The drive uses a USB 3.2 Gen 2 connector, making it one of the fastest external solid state drives in its category, and matching the likes of the Samsung T7 or the Crucial X8. It also comes bundled with a raft of premium software, including a year's subscription to Create by photo management firm MyLio, and four months of Adobe Creative Cloud.
Read our full Seagate OneTouch review
Best portable SSD for gamers
Striking appearance and excellent value
Reasons to buy
+
Funky LEDs
+
Type-A and Type-C cables
+
Good performance and price
Reasons to avoid
-
No control over the visual effects
-
Demands a USB 3.2 port for full performance
-
Short cables
A striking RGB design and remarkable performance marks the Adata SE770G out as one of the best portable SSDs with a little something extra.
You may not have heard of them over the likes of Western Digital and Seagate, but the company has a long and excellent record in solid-state storage, including the SD700 and the compact SE730H. Adata is always coy about its hardware because it can change during a production run. But our assumption is, the SE770G uses an SMI controller, like an SM2262G. Depending on the price-point, expect a Samsung, Intel or SK Hynix NAND.
Whatever's in there, performance is perfectly in line with most USB Gen 2 drives on the market. In our benchmarking, CrystalDiskMark 7.0 recorded 954MBps reads, and 898MBps writes. .
And anyway, it's the outside that really catches the eye. A mesmerizing lightshow, indicating the drive is powered. It risks coming off as gimmicky, but it's just subtle, even elegant, enough to work even if it isn't usually your preference. Our only real gripe is, we wished we had more control over the effects. Overall, a great performer. As you'd expect from the RGB design, this is also a portable SSD for gaming, hooking up to consoles like the Xbox Series X/S and PlayStation 5 for storing our ever-growing back logs.
Read our full ADATA SE770G external SSD review
Best compact portable SSD
An undoubtedly fast external SSD
Specifications
Capacity:
500GB, 1TB, 2TB, 4TB
Reasons to buy
+
Fantastic speed if you have a compatible system
+
Good value for money
+
Rugged with IP55 rating
+
Very solidly built
Reasons to avoid
-
Requires the right hardware to maintain USP
-
Expensive if you just want plenty of fast storage
Small, light, solidly built, the Kingston XS2000 USB 3.2 Gen 2 x 2 external SSD is an impressive portable SSD. And we mean portable. This one's a pocket-sized drive that can be carried anywhere. measuring 13 x 31 x 67mm without the sleeve, weighing just 29g. Popping the sleeve on might add a little extra, but it adds protection against shocks, water, and dust.
Testing the drive, we found speeds were good. Our benchmarking with CrystalDiskMark: showed read speeds of 1062MBps and write speeds of 999MBps. In fact, the drive is touted as the world's fastest native USB SSD. The key word here is 'native', since it uses the USB 3.2 Gen 2 x 2 interface.
Performance, then, is hamstrung in part by Kingston's baffling decision to release it right before the launch of the speedier USB 4.0. During our review, we noted "it really, really needs a compatible system to hit its headline speed of 2GBps, allowing it to rival Thunderbolt 3." A misstep for an otherwise excellent portable SSD with 500GB, 1TB, 2TB, and 4TB models available.
Read our full Kingston XS2000 external SSD review
Best rugged portable SSD