Joining the party to embrace Gen 2x2 technology long after most PC makers dismissed it, Samsung has produced an effective external SSD that can handle being dropped by its owner. The main problems here are an overinflated price and a lack of software at launch. It's being thrust into a competitive market where more cost-sensitive products have existed for some time.
Pros
+

USB Gen 2x2 performance

+

Highly resilient exterior

+

Up to 4TB capacity

+

Both cable types
Cons
-

Expensive when compared to the T7

-

Large when compared to competitor designs

-

No IP ratings
Why you can trust TechRadar We spend hours testing every product or service we review, so you can be sure you're buying the best. Find out more about how we test.
One-minute review
The last new Samsung external SSD was the T7 Shield, launched in October 2022, making the new T9 the first new product in this series for a year and three years since the classic T7 was released. The T9 has much more in common with the T7 Shield with its robust exterior, but it appears Samsung didn't want to use the 'shield' branding on this model.
Here, we have a small-ish external USB SSD with a rubberised covering design to take the knocks and scrapes that this type of device can typically experience. Where this design differs markedly from the T7 Shield is that the USB interface on this drive is designed for USB 3.2 Gen 2x2 for those lucky enough to have that type of USB port.
With a typical USB 3.2 Gen2 port, the best speeds available are around 1,000MB/s, but with Gen 2x2, both reading and writing can be elevated to a maximum of 2,000MB/s. To enhance the experience, Samsung implemented a caching system to maintain writing performance before the true underlying performance of the NAND modules is exposed.
That feature can make the T9 useful for securing video directly from cameras that can write directly to external devices or anyone moving large files from PC to storage.
What this drive isn't is cheap, with the 1TB model costing £117.49 in the UK and $132 in the USA, making it more expensive than the Kingston XS2000, Corsair EX100U and Sabrent Rocket Nano V2, but cheaper than the Crucial X10 Pro.
The performance and resilience of this drive are great, but the value aspect of this equation is lacking.
Samsung T9: Pricing and availability
How much does it cost? From $139.99/£117.49
When is it out? It is starting to be available now
Where can you get it? Direct from Samsung or through online retailers
We've seen a trend with many of these new Gen 2x2 drives, where sales and marketing have argued that if a drive is twice the speed, it should be double the cost, irrespective of the capacity. It appears that Samsung has fallen victim to some of this logic, making the T9 dramatically more expensive than the T7 or T7 Shield.
As a result, the 1TB capacity T9 costs 86% more than the 1TB T7, and the larger drives are more than 50% more.
The UK launch costs are £117.49 for the smallest 1TB drive, £199.99 for 2TB and £362.79 for the 4TB option. In the USA, these numbers translate to $139.99, $239 and $439 for these same capacities, revealing that the T9 is as expensive in the USA as it is in Europe.
These prices are all MSRP, so we hope retailers discount them somewhat.
Comparing the T9 to other Gen 2x2 drives, only the Crucial X10 Pro and SanDisk Extreme Pro V2 are more expensive, with the Corsair EX100U, Kingston XS2000, Sabrent Rocket Nano V2 and the ADATA Elite SE880 all being cheaper. And, in a few cases, these cheaper alternatives are as affordable as the T7.
Due to overmanufacturing in late 2022, the price of external NAND-based SSD storage has steadily fallen throughout 2023, so Samsung here might be in for a severe dose of market forces after launch, pushing these prices down.
We can only hope that happens soon. Because Micron (Crucial), Samsung, and SanDisk are all trying to defy economic gravity with recent launches, there is only one likely outcome.
Samsung T9: Specs
Swipe to scroll horizontally
Samsung T9 Specs

| | |
| --- | --- |
| Capacity: | 1TB, 2TB or 4TB |
| Dimensions: | 88 x 60 x 14mm |
| Weight: | 122g |
| Data transfer speed: | Reads up to 2,000 MB per second; writes up to 2,000 MB per second on 4TB model |
| Interface: | USB 3.2 Gen 2x2 |
| Data Protection: | XTS-AES 256-bit full-disk hardware encryption |
| IP Rating: | N/A |
| Drop Resistance: | Up to 3m |
| Operating Temps: | 0C to 60C |
| OS Compatibility: | Microsoft, iOS, Android, Linux, Chrome, Thin Clients, Embedded Systems |
| Regulatory Approvals: | CE, BSMI, KC, VCCI, RCM, FCC, IC, UL, TUV, CB, EAC, UKCA, BIS |
| Warranty: | 5 year limited |
Samsung T9: Design
Protective coat
Not especially small
Both cable types
No IP rating
The first aspect of the T9 that makes it different to the T7 and T7 Shield is that this drive has an odd wavy rubberised outer covering. We're pretty sure that this is bonded to the metal interior shell of the drive, so it's a permanent feature.
In our review sample, this was black, and we assume that all T9 are this colour, at least initially. Wavy rubber aside, this is much the same metal tube construction we saw in the T7, and if you removed the protective coating, we assume it would be an identical size.
When compared to other recent external SSDs, this isn't especially small, being significantly larger and heavier than all the alternative products we've tested. Not that it is massive or won't fit in a pocket easily, but the X10 Pro and Kingston XS2000 are much smaller drives.
What we did like about the T9 was that Samsung included both USB-C and USB-A cables in the box, although they didn't provide a pouch to carry those around when the drive wasn't in use.
In a recent review of the Crucial X10 Pro, we mocked that product's ability to withstand falls since its impact tests were performed on carpet. According to Samsung, the drop tests on the T9 used steel plates as the impact surface and from heights up to three meters (9.8 feet). That's higher than most drives are tested at, although Samsung didn't attribute any IP-rated tests to the T9, and it isn't water or dust-resistant, like the Crucial X10 Pro.
We also need to mention that should it not withstand being dropped, Samsung warranty doesn't cover falls from any height. But it does offer a five-year warranty for other unfortunate things that might befall any drive.
Samsung T9: Software
Samsung Magician MIA
No live backup tools
We'd love to tell you about Samsung's new Magician 8.0 software release and how it makes the most of this storage device, except we've not seen it.
Supposedly ready to be launched in September, it wasn't ready to test alongside the T9, unfortunately.
What we can say is that the previous release, Magician 7.0, doesn't recognise the T9 or offer any firmware updates for it.
From what we've been told about Magician 8.0, this release combines all the Samsung software tools, including data migration software, PSSD software and card authentication, into a single tool. And that it should support Windows, Mac and Android.
What it doesn't appear to offer is a live backup tool that can scoop newly created files away automatically from specific folders, although this technology is inherent to Apple Mac users.
In short, Magician 8.0 sounds useful but hardly comprehensive, but whatever it contains isn't reviewable by us at this time.
Samsung T9: Performance
Fast
Capacity scalled caching
Swipe to scroll horizontally
Benchmarks

| Bench test | Read (MBps) | Write (MBps) |
| --- | --- | --- |
| AJA System Test 1GB | 1814 | 1829 |
| AJA System Test 64GB | 1811 | 1714 |
| CrystalDiskMark Default | 2008 | 1914 |
| CrystalDiskMark Real World | 1277 | 1354 |
| ATTO | 1890 | 1720 |
| AS SSD | 1798 | 1808 |
The first important piece of information about this drive is that, like the X10 Pro and Kingston XS2000, if you don't have USB 3.2 Gen 2x2 ports, you won't be seeing anything like the results our test environment achieved with it.
Most computers have USB 3.2 Gen 2, and some only have Gen 1. If you have either of these, there is little logic in buying the T9. Because it will perform much like any Gen 2 SSD design, like the much cheaper Crucial X8 at around 1,000MB/s. Gen 1 connected drives will only see around 450MB/s since that's the limitation of that interface.
While our benchmarks aren't definitive, they reveal that the T9 is a good performer and gets close to the theoretical limits of the USB 3.2 Gen 2x2 interface.
One useful test we perform is the AJA System test, as we repeat the same test with a 1GB file and a 64GB one. The difference in performance between these two file sizes often reveals how the drive handles a sustained write. All NAND drives have a cache limit where the write speed drops to that of the NAND modules, and that can be as low as 400MB/s, irrespective of the interface used.
The buffer on the T9 is determined by the drive capacity, with the sizes 22GB, 88GB, and 180GB on the 1TB, 2TB, and 4TB drives, respectively. Our review drive has a 4TB capacity; therefore, the speed difference between the 1GB and 64GB was minor, where it might have been markedly less on the 1TB based on this information.
Therefore, if you intend to write large files to the T9, get the 4TB model.
In the scope of Gen 2x2 drives, the T9 is up there with the best options and is comparable with the performance we've seen from the Crucial X10 Pro and Kingston XS2000.
Samsung T9: Verdict
Why Samsung took until now to jump on the Gen 2x2 bandwagon is a mystery, but it could have plenty to do with the less than overwhelming level of USB 4.0 capable systems in the market.
Whatever the history behind its appearance now, the T9 provides an interesting alternative to similar offerings from Crucial, Corsair, SanDisk, and Kingston.
The positive features of this drive are great read speeds and its ability to sustain write performance, especially on the larger capacities. It's also capable of handling knocks, although Samsung doesn't claim it is waterproof.
It shares a problem that blighted the Crucial X10 Pro at launch, in that the makers think it is worth more than the buying public is likely to accept. It will be interesting to see if the pricing softens after launch or if Samsung offers promotions to prime the sales channel. At the current asking price, and with Gen 2x2 ports not being a standard feature, getting customers onboard might prove challenging for the T9.
Should I buy the Samsung T9
Swipe to scroll horizontally
| | | |
| --- | --- | --- |
| Value | Not cheap, although less expensive than the Crucial X10 Pro | 3/5 |
| Design | Made to be dropped, but not to get wet. Large when compared with other drives in this category. | 4/5 |
| Software | The software might be good when it arrives. | 2/5 |
| Performance | Good performance, especially with the larger capacities. | 4/5 |
| Overalls | A good performer and a drop-resistant design. But it's expensive, not everyone has Gen 2x2, and it isn't waterproof. | 4/5 |
Buy it if...
You have USB 3.2 Gen 2x2 ports
There are many alternative designs that are cheaper, offer encryption and come in larger capacities if you don't need Gen 2x2 performance. This drive will work with the slower USB ports, but you might as well save some money and buy a cheaper one in that case.
You copy big files
It is one of the quicker Gen 2x2 drives we've tested; it can sustain read and write performance over the long haul on larger capacities. But, you can go faster with Thunderbolt for those who want ultimate performance.
Don't buy it if...
You don't have Gen 2x2 ports
There are plenty of affordable external SSDs that work with USB 3.2 Gen 2 ports, and the vast majority of computers come with one or more of these. If you don't have one with Gen 2x2 ports, the T9 is just an expensive way to experience the same performance as the T7 or T7 Shield.
You work in the jungle
The lack of IP-rated dust and waterproofing means that, unlike the Crucial X10 Pro, this drive wouldn't be ideal in a desert or jungle. Or anywhere that gets wet.
Also consider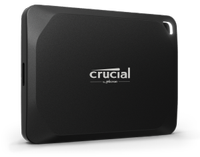 Crucial X10 Pro
The X10 Pro comes with both resilience to impact and waterproofing, along with the same capacities as the T9 and hardware encryption. The caveat is that the price is even higher, and it only comes with the USB-C cable. But it has a better software selection at launch and new apps like Hedge will soon be included.
Check out our Crucial X10 Pro review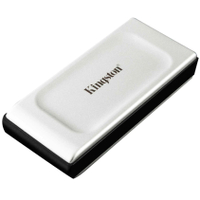 Kingston XS2000
This drive came out in late 2021, when Gen 2x2 drives weren't a popular option.
While it uses plastic construction, it achieves an IP55 rating and should travel well enough. It costs less than the T9, is still a good performer and has hardware encryption baked in.
Check out our Kingston XS2000 review
We've covered all the best external SSDs here for you
Mark is an expert on 3D printers, drones and phones. He also covers storage, including SSDs, NAS drives and portable hard drives. He started writing in 1986 and has contributed to MicroMart, PC Format, 3D World, among others.