The best antivirus software in 2023 for PC
Best
Contributions from
last updated
Protect your devices (and all your important data) with the best antivirus software solutions on the market.
VERDICT
REASONS TO BUY
REASONS TO AVOID
Best antivirus: quick menu
The internet is teeming with threats to your digital security, and seeing as we spend a lot of our lives online, it's important to make sure you're well-prepared to deal with these dangers—and that's where antivirus software enters the picture.
After all, it's your best defense against cybercriminals, viruses, and malware. These threats aren't new, but digital crooks are constantly finding new ways to leverage these tools, capture your personal information, and ultimately commit identity theft.
Antivirus software gives your devices an added layer of protection, and comes with some handy extra features that'll safeguard against a wide variety of scams. This still applies to you if you're a Mac user. More and more threats, like ransomware, are engineered to target Mac devices.
In this guide, I'll cover the best antivirus options on the market. Each service includes outstanding security and privacy tools that'll allow you to work, play, and enjoy your day-to-day browsing without worrying about being compromised by an opportunistic cybercriminal or interruptions from scams and popups. Here are my top three recommendations:
The three best antivirus at a glance
In a hurry? Here are the three best antivirus solutions available today: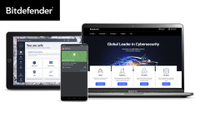 1. Bitdefender: today's best antivirus software True to its name, Bitdefender puts a stop to both new and unknown malware, and acts so quickly that you won't even realize you're in danger. Bitdefender doesn't take up a huge amount of resources and packs a lot of value into reasonably priced plans.
The solution also comes with a VPN, safe banking tools, and a firewall. You can try Bitdefender Total Security free for 30 days before committing to a subscription.
Visit the US site
Visit the UK site
Visit the Australia site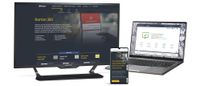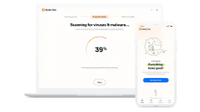 3. Avast One: the gamer's ally
Boot up a game and Avast will automatically put itself in gamer mode. This will keep you protected and ensure that you're not interrupted by popups, reminders, or other frustrating distractions.
Other perks include VPN access and a handy system scanner. Plus, a stripped-down free version is available to try, so you can get a feel for the Avast toolkit.
Visit the US site
Visit the UK site
Visit the Australia site
Recent updates
Although my antivirus rankings haven't changed since the last major update, I've added new insights into each of my comparisons, updated each provider's pricing and features, and made adjustments to the page's overall structure.
The best antivirus services in 2023
Why you can trust TechRadar We spend hours testing every product or service we review, so you can be sure you're buying the best. Find out more about how we test.
Whether you're looking for the total antivirus package or hunting for specific features, like banking protection, my guide has you covered. Keep reading to check out my top 10 favorite antivirus solutions (and a few honorable mentions).
The best antivirus overall
The best antivirus of 2023—packed with features and value
Specifications
Operating system:
Windows, Mac, Android, iOS
Maximum devices covered:
10
Stand out features:
Safepay banking protection, multi-layered anti-ransomware, gaming and streaming modes, VPN
Reasons to buy
+
Tons of features
+
Strong defense against malware
+
Configurable interface
+
Superb value for money
Reasons to avoid
-
Scans can be slow
-
VPN usage caps
-
Not recommended for current infections
Use if:
✔️ You want a full antivirus toolkit: Bitdefender's features hunt down malware and protect against ransomware without disrupting your browsing.
✔️ You don't want to sacrifice too many resources: Bitdefender doesn't take up a lot of storage space, so you don't need to worry about sacrificing system speed for security.
✔️ You're new to antivirus solutions: Bitdefender is easy to install and use. Its real-time protection is even enabled from the get-go.
Don't use if:
❌ You want quick scans: initial and deep scans take almost an hour to complete (five times longer than other antivirus on average). Thankfully, you'll still be able to work, play, and browse when they're running.
❌ You need identity theft monitoring: Bitdefender has some monitoring tools to track online identities, but for real round-the-clock protection from identity theft, you'll want to check out Norton.
❌ You're already infected with malware: Bitdefender isn't as effective when it comes to removing threats already attacking your system. For current infections, try Malwarebytes.
Bottom line ⭐⭐⭐⭐⭐
🔒 Bitdefender is the best antivirus package on the market—and has been for a few years. It combines watertight security tools with straightforward apps and, best of all, offers fantastic value for money.
What to know more?
Our Bitdefender review explores all of its subscription tiers, the available tools, and digs into whether a cheaper plan is just as good as the all-in-one suite.
Bitdefender consistently impresses with its ability to identify threats and stop them in their tracks. Malware files are pinpointed even before they begin downloading, web trackers are likewise rooted out and blocked, and if you try to access a site with known threats you'll receive a warning that's hard to miss (or ignore.)
AV-Comparatives, a third-party test lab, reported positive results when it put Bitdefender to the test. The solution blocked 99.4% of threats (coming in second only to the likes of Norton and McAfee) and didn't have a huge impact on the speed of computer processes. When I put Bitdefender under the microscope myself, I saw it block real-world ransomware before it could wreak havoc. However, I did notice that the Ransomware Remediation feature isn't enabled by default—so you'll need to dive into the settings to ensure that your files remain secure.
▶ Try Bitdefender Total Security free for 30 days
Earlier this year, Bitdefender released a decryptor for the MortalKombat ransomware—free of charge, providing the company's commitment to countering cyberattacks. Victims across the US were targeted at random by ransomware, which spread through bogus emails containing a .ZIP attachment and a BAT loader script. To tackle this threat, the decryptor backs up affected files before attempting decryption, just in case, and can be executed via the command line.
There are three Bitdefender plans on offer, and they all come with useful security tools. If you really want to get your money's worth, however, you'll want to opt for the Total Security package, which includes safe banking tools, a (admittedly limited) VPN, social media protection, file shredder, parental controls, and much more. There's even a handy vulnerability scanner that'll find weak spots in your network and offer suggestions on how to resolve them. You'll be able to use Bitdefender on any device, too, thanks to user-friendly apps for Windows, Mac, Android, and iOS, and take advantage of multiple licenses (up to 10) to protect the entire family.
Bitdefender gets straight to work with a full scan when you start using it, and combs through your system in its entirety to look for threats and intruders. This is par for the course, although Bitdefender took almost a full hour to complete a scan of 50 Gb executable files. It's possible to configure scans, customize them, and set them to run on a schedule or on-demand, and Quick Scans can even be run once a day, or weekly, and dig into individual files.
I found Bitdefender incredibly easy to use—so even if you're new to the world of antivirus, you'll have no trouble navigating sleek and well-designed apps. You can even customize the dashboard by adding or removing default features. So, if you don't make use of the VPN, you can substitute it in a few clicks for the password manager or scan manager. Most of the features you'll need are already enabled by default, too, which means you won't have to spend ages configuring each and every setting. However, if you do need help with particular tools, you can count on Bitdefender's in-program tutorials to help you make the most of these privacy-enhancing functionalities.
Bitdefender's Total Security plan is available from $39.99 for a single year—although the price does jump to $95 after this introductory period. However, you can take advantage of a 30-day money-back guarantee to put the solution through its paces, run your own tests, and see whether its suite of tools is worth the investment.
Swipe to scroll horizontally
Bitdefender test results:

| Features | Notes | Rating |
| --- | --- | --- |
| Protection | Consistently earns high marks from third-party security test labs | ⭐⭐⭐⭐⭐ |
| Performance | Won't impact your speed or create noticeable slowdown | ⭐⭐⭐⭐⭐ |
| Ease of use | Most key features are automatically enabled and apps are intuitive | ⭐⭐⭐⭐ |
| Advanced tools | Safe banking features, webcam monitoring, and parental controls to name a few | ⭐⭐⭐⭐⭐ |
| Customer support | Bitdefender lacks live support but has a library of video tutorials, how-to articles, and a helpful community | ⭐⭐⭐ |
| Value | There are cheaper solutions out there, but you're getting a lot of functionality and value with Bitdefender | ⭐⭐⭐⭐ |
Best antivirus with ID protection