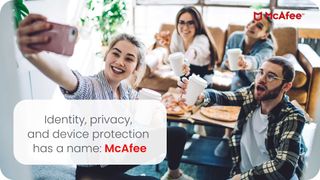 (Image credit: McAfee)
The everyday activities we get up to online - be that posting on social media, online shopping, or playing games with friends - aren't as secure as we'd like to think.
You might think you're safe with well-known websites, but your online activity and personal information are being scraped and cataloged - your credit card details, your buying habits, your location data, your browsing history, everything. All of it gets sucked into the dark backrooms of user data logs, to be sold to the highest bidder.
We're not just talking about getting a virus from a dodgy download, either; even when you're browsing through online marketplaces for a nice set of new garden furniture for the incoming summer weather, your digital privacy is being invaded, and nobody seems to want to talk about that.
Fortunately, there are tools to help shield you in all your online activities. McAfee's online data protection services offer an all-in-one solution to keep you safe online, keeping you protected not just from cyberattacks, but also from the more crafty, quiet scraping of your personal details.
Do I really need data protection?
The short answer is yes. The long answer is yes, you absolutely do need data protection! It's easy to think - even for tech-savvy professionals like us - that you're able to avoid getting a computer virus by simply not clicking on that shady link. But it can be nigh-impossible to know when your data has been compromised not by solitary hackers, but by big businesses who want to reduce your online presence to data points on a quarterly profits spreadsheet.
McAfee's identity protection software (available from Currys, or direct from McAfee) is more than just an antivirus program. It proactively scrubs through the internet - including the dark web, where you really don't want your personal data to crop up - to detect and remove your digital presence from risky websites. That means that should the worst happen and someone does try to use your online identity for nefarious purposes, you've got the best possible protection.
The McAfee software suite is also available on mobile devices, keeping your phone or tablet protected to the same degree as your desktop. We do plenty of our everyday internet activities on our phones these days - if you'd protect your laptop, why wouldn't you also keep your phone secure?
Keeping yourself protected
In a recent study, it was found that 54% of consumers use their social media accounts to log into third-party apps and websites, and that 26% have their credit card or other financial details linked to their social media. Respondents across Europe agreed that the most important things to protect were passwords and financial information.
Despite this, plenty of us use our social media accounts to log into other websites and platforms - unknowingly creating a digital pathway to our financial details. If you use a social media account to sign into a compromised website, you could be putting your personal data at risk.
This is where McAfee's platform shines: in a world where data is king, data privacy is the most important tool at your disposal. You get an absolute wealth of features: robust antivirus, of course, but also comprehensive security in the form of a password manager, VPN, privacy and identity protection, and useful support services like online identity restoration in the event of identity theft. You can even get 'lost wallet support', where McAfee's specialists will help you cancel and replace your IDs and credit or debit cards if your physical wallet is misplaced or stolen.
So don't wait - your personal info could already be out there on data broker sites, and even if it's not, proactivity is always the best approach. With McAfee's range of plans, you can rest assured your online activities and safe and secure - whatever you choose to do on the internet.
In fact, McAfee has a deal on right now - so there's no better time to protect your personal data. You can get a full year of protection across seven different devices for just £16.99 right now - that's £63 off the usual price, so keeping your online identity secure doesn't have to cost the world.
Get daily insight, inspiration and deals in your inbox
Get the hottest deals available in your inbox plus news, reviews, opinion, analysis and more from the TechRadar team.