The performance of the Sabrent Rocket Nano V2 isn't at the level of the X10 Pro, Kingston XS2000 or Adata Elite SE880, but it can sustain its throughput for longer. More of an issue is the lack of endurance specs, zero software, and only offering a 3-year warranty.
Pros
+

USB 3.2 Gen 2x2 support

+

4TB option

+

No thermal throttling
Cons
-

No IP rating

-

Only 3-year warranty

-

Zero software
Why you can trust TechRadar We spend hours testing every product or service we review, so you can be sure you're buying the best. Find out more about how we test.
One-minute review
Sabrent Rocket Nano V2 Specs
Here is the Sabrent Rocket Nano V2 configuration sent to Tech Radar Pro for review:
Capacities: 1TB, 2TB, 4TB
Interface: USB 3.2 Gen 2x2
Quoted Speed: 1,500MB/s read, 1,500MB/s write
Dimensions: 11.9x 29.6 x 69.95mm
Weight: 46g
Casing material: Aluminium
Hardware Encryption: N/A
Compatible OS: Windows 8,8.1,10 or 11, macOS (v.10.6 +), Linux (Kernel 2.6+), Android (5.0+)
In the box: Sabrent Rocket Nano V2, USB 3.2 Type-C to C cable, USB 3.2 Type-C to A cable
Warranty: 3-year (if you register)
With many SSD makers jumping on the Gen 2x2 bandwagon recently, the Sabrent Rocket Nano V2 has more than enough competition to contend with.
What it offers is a very tiny drive that's easily pocketable, capacities up to 4TB and it comes with both USB-C and USB-A cables, all at a reasonable price.
But, where other products using the Gen 2x2 specification offer throughput of up to 2,000MB/s, the Nano V2 offers a less ambitious 1,500MB as its peak performance.
That's still 50% faster than the typical best speed of a Gen2-connected SSD, and this design does at least achieve that consistently.
Where this drive is less than ideal is the specification data that Sabrent offers with it, or rather, the lack of concrete standards. The promotional material speaks of durability, but it doesn't back this up with IP ratings or even expected operating temperatures.
Also. the Nano V2 only comes with a three-year warranty when almost all the alternatives now come with five.
Overall, this product is a direct competitor for the Corsair EX100U but doesn't offer much more than that product. For those wanting a better warranty and hardware encryptable storage, there are better options available.
Sabrent Rocket Nano V2: Pricing and availability
How much does it cost? $89.99/£84.99/€92.99
When is it out? It is starting to be available now
Where can you get it? Direct from Sabrent or through online retailers like Amazon.
For the smallest capacity, 1TB, the Nano V2 seems acceptable at $89.99, but the Kingston XS2000 is more than $10 cheaper, and the Corsair EX100U can be found for $20 less.
Hilariously, the Sabrent product page for the Nano V2 infers that the originally intended price of the 1TB model was $199.99. We can't believe Sabrent ever sold any at this massively inflated price.
At $159.99, the 2TB is a better value per GB, but that's $50 more than the EX100U and is only cheaper than the Crucial X10 Pro and Kingston XS2000 at this capacity.
This theme continues with the $349 4TB option, which is cheaper than the Kingston XS2000 and $60 more than the superior Crucial X10 Pro.
Overall, the price of the Nano V2 is too high for what it brings to the table, and we'd expect market forces to act to drive it down over time.
Sabrent Rocket Nano V2: Design
Metal and silicon
Both cables provided
What's confusing about this design is that Sabrent obviously spent some time and effort to construct an enclosure for the Nano V2 that was incredibly robust. And then, to make it even more damage-resistant, they put a silicon bumper around it. But they never documented what sort of fall it might survive or if any of this keeps water and dust out.
The drive appears milled from a solid block of aluminium, and at 46g, it is decidedly heavier than drives like the similarly sized Adata Elite SE880.
The provided rubberised silicon bumper has strategically cut holes that show the Rocket logo, provide a tiny hole to see the activity light, and have slots that we presume are for the dissipation of heat.
With the bumper in place, the Nano V2 does feel like it could withstand plenty of abuse and keep going, but that's an assertion on our part that isn't backed up by the relatively low warranty that Sabrent offers on it.
At one end is a standard USB-C receptacle, and also in the metal box that the Nano V2 comes with are both USB cable types to interface this to a computer or console.
That metal box at least provides a means to store the drive and its cables, although most users would probably prefer a soft pouch that could be more easily put into the pocket of a laptop case.
Other than the lack of IP standards, there seems little wrong with the Nano V2 from a design and construction perspective.
Sabrent Nano V2: Performance
Average performance
No hardware encryption
Zero software
Swipe to scroll horizontally
Sabrent Rocket Nano V2: Benchmarks

| Header Cell - Column 0 | Read (MBps) | Write (MBps) |
| --- | --- | --- |
| AJA | 1588 | 1517 |
| CrystalDiskMark Default | 1679 | 1561 |
| CrystalDiskMark Real World | 914 | 1535 |
| ATTO | 1690 | 1560 |
| AS SSD | 1373 | 1419 |
Sabrent doesn't claim that this is the fastest Gen 2x2 drive around, and it isn't.
We tested the 1TB model and found that even using the most optimistic test, CrystalDiskMark 8.0.4, it managed 1679MB/s reads and 1561MB/s writes.
Probably a more accurate result was the AJA System Test that saw 1588MB/s reads, and 1517MB/s writes for a 1GB file. That's very close to the quoted performance and 25% less than we've seen from the Kingston XS2000 and Crucial X10 Pro.
However, when we increased the file size to 64GB on the AJA test, we saw that the Nano V2 sustained that performance till about 24GB, and then the decline in speed was very gradual rather than dropping off a cliff.
With a 64GB file, performance had only declined to 1366MB/s average read and 1254MB/s write by the end of the file. That's a respectable underlying speed and much better than what we saw on the Adata Elite SE880, for example.
On the 2TB and 4TB models, Sabrent states that the drive can maintain 800MB/s writes, and that's better than some NVMe drives we could mention.
The message here is that sometimes going as fast as possible might not be the best policy, and achieving a speed that better fits the capabilities of other components, like the NAND modules, might be the optimal choice.
For those with small files written as part of a live backup model, a drive capable of 2,000MB/s might work better. But for those with large files, like video files, the Nano V2 might easily be quick enough.
In benchmarking, it beats only the Corsair EX100U reliably when compared with other Gen 2x2 designs. By definition, it is faster than most Gen2 drives, like the Crucial X9 Pro.
There are two significant weaknesses to this design, and the first is that it doesn't offer hardware encryption. It can be used with software encryption, like almost any USB SSD, but from a security standpoint, that isn't ideal for securing the most sensitive content.
The other disappointment is that at the time of writing this review, Sabrent has no software utilities for this product. If you want to automate a backup to the Nano V2, you will need to organise that separately, as it isn't part of the package.
More of a concern is that there is no firmware maintenance tool, making the firmware currently installed the only choice. Let's hope that choice doesn't return to bite Sabrent in the future.
The best thing about the Sabrent Rocket Nano V2 is that it was built for a very specific speed, 1500MB/s, and it can achieve that and keep it going without the need for thermally throttling the drive. We saw this with the Adata Elite SE800 and Corsair EX100U, but the solid metal enclosure of the Nano V2 can dissipate that heat effectively.
However, the current pricing of this model is too high considering that Sabrent doesn't offer any IP rating on the design, it has no hardware encryption, and it only comes with a three-year warranty.
Based on these points, the Nano V2 should be one of the cheapest drives with this spec, but it isn't.
That the 4TB model is more expensive than the Crucial X10 Pro, a drive that has software tools, IP ratings for dust and water, hardware encryption, and a five-year warranty is a genuine head-scratcher.
Pitched at the right price, the Nano V2 could be a decent choice, but the pricing is overmatched for what it is.
Sabrent Rocket Nano V2: score card
Swipe to scroll horizontally
| | | |
| --- | --- | --- |
| Value | Priced higher than it should be with this spec | 3 / 5 |
| Design | Small and chunky, it looks remarkably robust, even if Sabrent won't say exactly how tough it is. | 4 / 5 |
| Performance | Not the fastest Gen 2x2 drive, but it can sustain the speed well. However, it comes with no software tools. | 3.5 / 5 |
| Overall | A drive at a lower price and with supporting software we'd recommend, but it has neither of those at this time. | 3.5 / 5 |
Should I buy the Sabrent Rocket Nano V2
Buy it if...
You have USB 3.2 Gen 2x2 ports
There are many alternative designs that are cheaper, offer encryption and come in larger capacities if you don't need Gen 2x2 performance. This drive will work with the slower USB ports, but you might as well save some money and buy a cheaper one in that case.
You copy big files
While it might not be the quickest Gen 2x2 drive we've tested, it can sustain read and write performance over the long haul effectively. That makes it useful for transferring video files if you are happy with a drive that only comes with a 3-year warranty.
Don't buy it if...
You need hardware encryption
The contents of this drive can be software-protected but not hardware-encrypted. Those wanting that feature in a similar form factor should look at the new Crucial X9 Pro or Crucial X10 Pro.
You need software tools
One of the best uses of external SSDs is to capture live file changes on a desktop or laptop, and the Nano V2 could be great at that job. But Sabrent has no backup tools or any other software supporting it, so you will need to buy 3rd party software if you want that functionality with this drive.
Also consider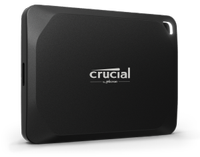 Crucial X10 Pro
A more expensive drive but one that comes with software, a longer warranty, an IP specification and hardware encryption. Amazingly, it is cheaper than the Nano V2 at the 4TB capacity. For those needing the biggest capacity, this is the best option.
Read more about this drive here.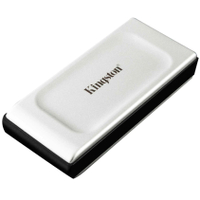 Kingston XS2000
This drive came out in late 2021, when Gen 2x2 drives weren't a popular option.
While it does use a plastic construction, it does achieve an IP55 rating and should travel well enough. Costing more than the Nano V2, the extra expense delivers better-sustained performance and hardware encryption. And, it might be worth it.
Check out our Kingston XS2000 review
Mark is an expert on 3D printers, drones and phones. He also covers storage, including SSDs, NAS drives and portable hard drives. He started writing in 1986 and has contributed to MicroMart, PC Format, 3D World, among others.