The best SSD for PS5 is an essential accessory for anyone looking to increase the storage of their console to accommodate more games, especially since the console only ships with around 667.2GB of free space. Fortunately, in May 2023, we're seeing the prices plummet for the best SSD for PS5 across the board. That means making huge savings on all-star brands such as Samsung, WD Black, Corsair, Kingston, and Seagate just to name a few.
If you've been in desperate need of extra headroom on your PS5 console for some of the best PS5 games, then now is the best time to invest in either a 1TB or 2TB configuration. It's worth remembering that NVMe Gen 4 architecture has been around for almost five years, with Gen 5 now upon us, so the rates should continue to fall.
If you don't know where to start with PS5 internal storage then we've got your back. Our step-by-step installing M.2 SSD in PS5 guide takes you through the whole process to make it quick and easy. Once you've got set up with storage for more games, we recommend turning your attention to some of the best PS5 controllers next or going considering a new panel with the best monitors for PS5 at all budgets.
Best SSD for PS5 in 2023
Why you can trust TechRadar We spend hours testing every product or service we review, so you can be sure you're buying the best. Find out more about how we test.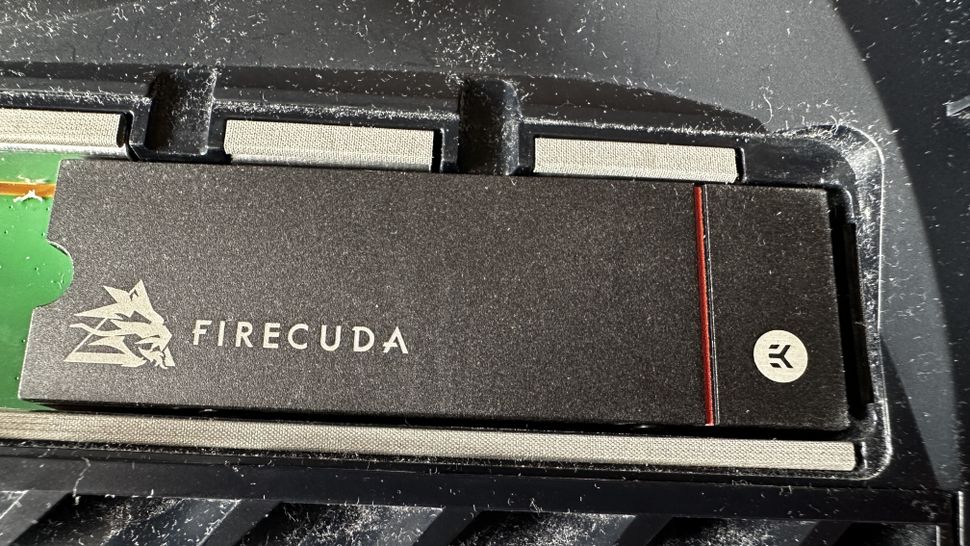 Even nearly three years on the Seagate FireCuda 530 is a tough act to follow as far as the best SSDs for PS5 go. It features the excellent Phison E-18 controller paired with 176-layer Micron TLC Flash memory for performance that's hard to beat, as it's capable of reaching rates of up to 7,300 MB/s read speeds. In our testing, we found that this top-performing drive achieved 6,539 MB/s making it still one of the fastest models you can slot into your PS5's M.2 port to this day.
At its time of release, the Seagate FireCuda 530 was incredibly expensive. While it's still pricey in the highest configurations, as many Gen 4.0 drives are, the rates have come down dramatically in 2023. That's because you can pick up the 1TB variant for around $129 / £103.99 / AU$239.99 and the 2TB version for $239.99 / £189 / $AU414.78. All told, that's pretty competitive given the current going rates for many high-end storage sticks.
What helps the Seagate FireCuda 530 stand out the most has to be its write endurance which is seriously high-level. You can expect around 1,275TBW for 1TB and 2,550TBW for 2TB and that's substantially higher than what you will find on many SSDs for PS5. Couple this with an excellent all-over heatsink and you've got a winning combination here. It's no longer quite the fastest, but it's still well worth slotting into your system at these prices.
The Kingston Fury Renegade excels across the board and can easily be considered one of the best SSDs for PS5. That's because this model, which specifically comes with a dedicated heatsink for the console, delivers leading sequential performance that we just haven't seen from many others at the price point.
In our testing, we found that the Kingston Renegade scored a sequential read figure of 6,500 MB/s from Sony's internal benchmarking test. That easily makes it the quickest drive we've had our hands on, whereas some others tend to hover around the 6,100 MB/s mark in contrast.
Speed and build quality aside, the Kingston Fury Renegade SSD's major strength is the competitive price point. That's because you can get the 1TB variant for just $117.99 / £152.40 / AU$197.21 and the 2TB runs at $244.19 / £260.96 / AU$360.93. It's one of the more aggressive rates given the prowess of the hardware inside, given that drives running the Phison E18 controller aren't usually this affordable.
We strongly encourage you to opt for the heatsink model, as while there's a standard version available a few dollars cheaper, you'll otherwise need to DIY a cooling solution. There's little we can fault this NVMe on all told. Now that we're into our third year of market availability with SSDs for PS5, the Kingston Renegade reigns supreme in 2023.
The Adata XPG Gammix S70 Blade is a sure-fire success for budget SSDs for PS5. That's because it is competitively priced when compared to its rivals while performing just as strongly as some of the flagship models in our roundup. In our testing, we found that this drive clocked in at 6,384 MB/s, which is actually slightly faster than what the brand claims is possible from this model.
Analyzing the build quality of the Adata XPG Gammix S70 Blade is where the more humble pricing becomes most apparent. That's because the low-profile heatsink, while sturdy enough, isn't as robust as what you'll find from the likes of Kingston and Samsung for instance. However, considering that the 1TB version costs just $84.99 / £87.13 / $161.95 and the 2TB comes in at only $169.99 / £161.52 / AU$362.78, it's something we feel can be overlooked.
Performance is the most important factor with SSDs for PS5 and the Adata XPG Gammix S70 Blade is no slouch where speed is concerned. We were impressed to see some top-end games loading faster on this PS5 SSD than with the console's native storage. If you're on a tight budget then we think that the 1TB model coming in significantly under the $90 / £90 / $165 mark is a hard value to beat for how fast it is.
The WD Black SN850 is easily up there as a top pick for the best SSD for PS5. This storage drive, famously used by the console's architect Mark Cerny, far excels the humble 5,500 MB/s read requirements from Sony and utilizes a thick heatsink so that thermal throttling doesn't impact your gaming performance.
What propels the WD Black SN850 ahead of some of the competition is its aggressive price-to-performance capabilities. In 2023, it's entirely possible to pick up the 1TB variant for around the $150 mark, with the 2TB configuration frequently retailing at, or under $200.
What's more, with this officially licensed model now on shelves, the standard non-branded heatsink model can frequently be found hovering around $130. Gone are the days when a drive like this would run you upwards of $300. With that said, there's never been a better time to consider a drive for your machine, as even an extra terabyte would far surpass the amount of usable storage on your system.
In our testing, we found that the WD Black SN850 delivered on its lofty promises by achieving 6,550 MB/s in Sony's own internal benchmarking. It's a feat to just how well constructed the drive is, with the in-house controller and SanDisk flash memory easily able to keep up with some of the best in the industry close to two years after its introduction.
The Samsung 990 Pro maxes out what's possible with NVMe Gen 4.0 technology in a way that few other SSDs for PS5 can say. Available in either 1TB or 2TB configurations, this high-speed and high-end drive is seriously impressive across the board when compared to the competition.
In our testing, we found that the Samsung 990 Pro was able to achieve read and write speeds of 7,465.49MB/s of 6,887.68MB/s respectively in our industry standard tests. That's a considerable improvement on the brand's previous flagship of around 50% give or take. Loading times and file transfer times are equally impressive as around 10GB of data made the jump to this NVMe SSD in less than four seconds, that's how fast we're talking here.
Keep in mind that the Samsung 990 Pro is a little pricier than some other SSDs for PS5 in our roundup at the moment. You can currently expect to pay around $169.99 / £155 / AU$265 for the 1TB version and $289.99 / £283.99 / AU$439 for the larger 2TB variant. It's the current asking rates that keep the company's latest drive from reaching the top spot in our roundup but we're sure that will change in the coming months. It also happens to run toasty, so be sure to get the version with the PS5 compatible heatsink for the best experience.
The PNY XLR8 SSD Gaming Kit combines the powerful PNY CS3140 Gen 4.0 drive with the company's custom-designed heatsink made exclusively for the console. What separates this kit away from other storage sticks at a similar price point is how the heat spreader completely replaces the stock M.2 port shield that comes with the system for advanced airflow.
This not only means that you're protecting your SSD for PS5 for longer, but that you can get the most out of high-performance drives such as the CS3140 found in the PNY XLR8 SSD Gaming Kit. In our testing, we found that the read speeds, while no longer the absolute fastest on the market, were still incredibly quick and consistent. With a benchmark figure of 6,198 MB/s, this module blitzes many others in its class on price and sequential performance.
Price-wise, you're looking at $106.98 /£190.79 for 1TB, $180.98 for 2TB, and $485.98 for 4TB variants. Those based in the US are getting the best deal by going for the Gaming Kit combo. If you're based in either the UK or Australia, then getting the PNY CS3140 and PNY PS5 SSD heatsink cover separately could be best. It's around £200 / AU$239.57 for 1TB, and £243.50 / AU$392.62 for 2TB at RRP, but discounts are frequent below these rates.
We've been continuously impressed by the Corsair MP600 Pro LPX since getting our hands on it earlier in the year. This compact Gen 4.0 NVMe drive is capable of excelling with lightning-fast read speeds and sequential write figures that are hard to argue against.
In our testing, we found that the Corsair MP600 Pro LPX certainly lived up to its ambitions, scoring 7,364 MB/s reads and 6,870 MB/s. There are few models that can say the same, especially at the price point that the company's flagship drive retails for.
As with many Gen 4.0 SSDs at the start of 2023, the asking prices for this super-fast PS5 SSD have continued to plummet. This is excellent news for those searching for value for money, as the 1TB model can often be found for $125 and the 2TB variant usually now retails for $220. That's a far cry from the once sky-high rates of $185 and $370 respectively, making now an ideal time to consider it.
Despite its age, the Samsung 980 Pro continues to be an excellent SSD for PS5 and this is in large part to its excellently designed heatsink and solid write endurance. If you're after an NVMe storage drive that's willing to take a lot of punishment, the thick aluminum chassis of this one has enough grunt to bear intense workloads.
The Samsung 980 Pro is quoted at reaching sequential read speeds of up to 7,000 MB/s and we found in our testing that this model came within striking distance achieving 6,783 MB/s. That's more than fast enough for file transfers and pushes far beyond the recommended 5,500 MB/s that the console requires.
With the successor model, the Samsung 990 Pro soon to get its own dedicated heatsink model (and pushing its writes further) the 980 Pro has enjoyed a series of price cuts. You can regularly find it available for around $150 for a 1TB model and between $199 and $220 for 2TB if you're wanting to double the available storage space.
The TBW write endurance is a particular highlight of the Samsung 980 Pro, especially in these latter two configurations, as there's a rating of 600TB and 1200TB respectively. There's no chance of slowing down or degradation over the years, and with a 5-year warranty, you've got peace of mind knowing it'll keep up for the long haul.
PS5 Storage: SSD Requirements
PS5 games can only be played from a compatible internal NVMe SSD or the console's own native storage. Below you'll find the key requirements that all compliant with the system's M.2 port:
Swipe to scroll horizontally
PS5 SSD requirements

| Header Cell - Column 0 | Header Cell - Column 1 |
| --- | --- |
| Format | PCIe Gen 4.0 (x4) M.2 NVMe SSD |
| Capacity | 250GB, 500GB, 1Tb, 2TB or 4TB |
| Read Speed | 5500MB/s or faster |
| Total size with heatsink | 110 x 25 x 11.25 mm |
| Form factor | 2230, 2242, 2260, 2280 or 22110 |
| Heatsink | Required |
All the SSDs in our roundup meet or exceed the recommended requirements set by Sony and are natively PS5-compatible. Keep in mind that regardless of which drive you choose, you will need a PS5 SSD heatsink. This is because the console has no way to dissipate heat with the M.2 port and metal cover as a computer's motherboard would. Without a heatsink, the thermals could become dangerously hot, and not only damage the SSD, but also your console.
Best SSD for PS5 FAQs
Still got more questions? No worries! We're employing all our knowledge and experience to help you make an informed purchasing decision.
Should I buy a 1TB or 2TB SSD for PS5?
The minimum size we would recommend for the SSD for PS5 should be at least 1TB. That's because you're more than doubling the overall amount of storage space you get as standard. However, if you're someone who downloads frequently from the PlayStation Plus Game Catalog then the 2TB variant will be best to keep all those titles playable in one place.
Which SSDs are PS5 compatible?
The only SSDs that will work in the PS5 are Gen 4.0 NVMe models with heatsinks. Gen 3.0 models are too slow to reach the minimum recommend read speeds of 5,500 MB/s. Fortunately, the prices are continuing to fall on some of the biggest names in the storage world making 2023 the best time to consider investing.
Do I need a heatsink for my SSD on PS5?
Yes, you absolutely need a PS5 SSD heatsink in order to use an SSD properly on the console. That's because the system's M.2 port has no thermal management as you would typically find from a motherboard's heatsink. Excessive heat for prolonged lengths of time can damage or corrupt the drive which is the last thing you want after splashing the cash. Fortunately, these are cheap enough to get separately, though, many SSDs for PS5 come with one pre-installed.
How we test SSDs for PS5
We test SSDs for PS5 by recording the file transfer times as well as loading times in-game, too. The official Sony benchmark gives us a rough consistent read pace. After that, we compare how the PS5 SSD compares to the internal storage drive to see if it is on par or surpasses what the system does as standard. We look at the asking price for the drives and compare them with the performance which factors into the overall verdicts.