Finding the best SSD for PS5 is essential, mainly because it's the accessory that'll significantly impact your console gaming – if only to save you from the pain of deleting game installs to make room for a big new release. An SSD (short for solid state drive) lets you expand your console's internal storage, letting you keep an extensive library of games downloaded and ready to play.
Unfortunately, you can't just plug any old SSD into your PS5; Sony has strict compatibility requirements of what drives you can use – and many of them don't come cheap. Though, once you've chosen what card to buy, installing a PS5 SSD is easier than it looks.
Picking which drive to buy and expanding your PS5 storage can be daunting, so we've put together this guide. All the drives listed below are compatible with your PS5 or PS5 Digital Edition.
It really is worth buying an SSD; Sony's PlayStation PS5 only comes with 667GB of usable internal storage. You will fill that up surprisingly quickly, with major releases demanding more storage space than ever. Even if you just installed the PS Plus free games each month or just the best PS5 games, you'd fill your console fast.
Sony added the option to expand your PS5 internal storage back in September 2021, and it's been one of the most significant updates yet. The key questions you should be asking yourself when you're picking a PS5 SSD are how much storage space do you need, how fast do you want the drive to be, are you willing to install a heatsink, and how much do you want to spend?
While we haven't had hands-on experience with every SSD we've included in this guide, each drive meets the exact specifications outlined by Sony. One even comes recommended by the PS5's lead systems architect, Mark Cerny, himself. We have also included an explainer about how PS5 storage works in general.
We'll update this list with more recommendations and hands-on reviews as they come in, so you can find the best SSD that'll play nicely with your PS5.
If you live in the US and you're still trying to lay your hands on Sony's console, be sure to check our PS5 restock tracker. And if you just want a good price for an SSD, these are the cheapest PS5 SSD upgrade deals right now.
PS5 Storage: SSD Requirements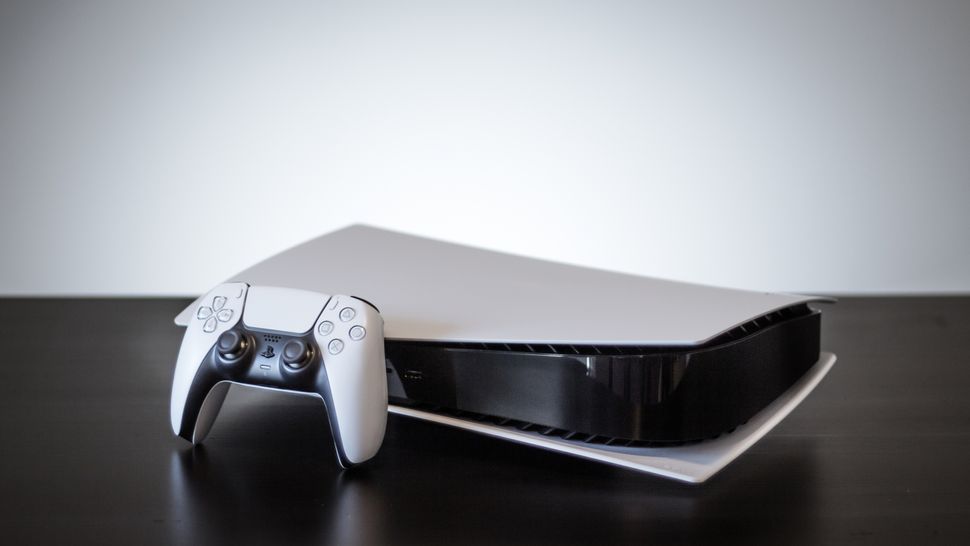 PS5 games can only be played from the PlayStation 5's internal storage, or from a compatible M.2 SSD that has been installed in the console's SSD bay. Sony has confirmed that any solid state drive you purchase must meet the following requirements:
Best SSD for PS5: requirements
PS5 SSD requirements

| | |
| --- | --- |
| Format | PCIe Gen 4.0 (x4) M.2 NVMe SSD |
| Capacity | 250GB, 500GB, 1Tb, 2TB or 4TB |
| Read Speed | 5500MB/s or faster |
| Total size with heatsink | 110 x 25 x 11.25 millimetres |
| Form factor | 2230, 2242, 2260, 2280 or 22110 |
| Heatsink | Required |
Every SSD listed below either meets or exceeds these requirements, so you can rest easy knowing that whichever SSD you pick will be fully compatible with your PlayStation 5. However, remember that every PS5 SSD requires a heatsink, so if you opt to purchase an SSD without one, you'll need to buy and install one manually, ensuring you don't exceed the maximum size outlined by Sony.
PS5 Storage: Best SSD for PS5
Recommended by PlayStation 5's lead system architect Mark Cerny, the WD Black SN850 SSD is compatible with the PS5 and makes for a great option, thanks to its blazing-fast read speed of 7,000MB/s and built-in heatsink. The drive hits the size requirements outlined by Sony, so you won't have to worry about it not fitting correctly.
Depending on how much storage you require, the WD Black SN850 SSD comes in 500GB, 1TB or 2TB capacity versions. You can also get the WD Black SN850 without the heatsink for a cheaper price, but you will need to install your own manually.
Why stop at just one drive, though, and follow Cerny's lead. "Our solution to our very active two gamer PS5 household? His-and-hers SSDs," Cerny said on Twitter (opens in new tab) . "Couple of awesome options for 7000MB/s, ended up putting my $$ down on this one."
---
The fastest SSD in this list, the Seagate FireCuda 530 Heatsink 1TB M.2 SSD can hit eye-watering read speeds of 7,300MB/s, which means your PS5 has more than enough overhead to play with. It also has a high-grade aluminium block that acts as a heatsink, meaning it'll keep cool for optimal performance when installed in your PlayStation 5.
The Seagate FireCuda Heatsink SSD comes in 500GB, 1TB, 2TB and 4TB versions, though it's worth noting that the 500GB SSD isn't quite as fast when it comes to read speeds, dropping to 7,000MB/s. The Seagate FireCuda 530 SSD is also available without a heatsink, but you'll need to install your own manually.
If you're looking for a drive that's just that little bit faster, then this Seagate SSD is the one to go for, but you will be paying extra for it.
---
Another great SSD with a built-in heatsink is the Gigabyte Aorus NVMe Gen 4 7000s, which means your speeds will never throttle when the SSD heats up. With a read speed of 7000MB/s, it comfortably exceeds the 5500MB/s requirement set out by Sony.
It's also one of the more affordable 1TB options we've seen, coming in at under $200 / £200 / AU$279 RRP. Better still, that's been given the greenlight by Gigabyte themselves, who shared on Twitter (opens in new tab) that the SSD is fully compatible .
The Aorus NVMe Gen 4 7000s is listed as being slightly taller than the recommended maximum height outlined by Sony. However, it's since been confirmed that it will fit inside the PS5 with the SSD bay cover attached.
We've tested the Aorus NVMe Gen 4 7000s and can confirm it works flawlessly. The PS5 shows a read speed of 6559MB/s when installed, which exceeds the recommended minimum of 5500MB/s or faster.
---
The Patriot Viper VP4300 is slightly slower than some of the SSDs on this list. Still, it still beats Sony's recommendation of 5500MB/s read speeds, as it's capable of hitting 5800MB/s. It'll fit nicely inside your PS5's SSD bay, too, and comes with a heatsink already attached, so you can plug it in and get gaming faster. What you get for the slower read speed is a lower price tag than many of the other drives on this list.
With the Seagate FireCuda 530's, question whether you'll need slightly faster than the competition's read speeds, considering it'll cost more. With the Patriot Viper, you should ask yourself if the slower speeds are worth the savings. They'll be fine for gaming but if you want to use the drive for file storage and transfer, that could become frustrating.
---
The Samsung 980 Pro is a popular choice for those looking at a super-fast SSD, but using it with your PS5 requires purchasing and attaching a heatsink. It's important that any heatsink you buy keeps the drive at the recommended height of 11.25mm or shorter, otherwise it won't fit.
The Samsung 980 Pro comes in 250GB, 500GB, 1TB, and 2TB capacity models, so there's flexibility based on your storage space needs. In testing, we found the Samsung 980 Pro was a blisteringly fast drive that made us realise the potential of this new generation of SSDs. It's a few years old now, but it's still near the front of the pack, as you can see when compared to the newer Corsair SSD below.
If the idea of purchasing and attaching your own heatsink puts you off, we recommend grabbing some of the SSDs above that come with a heatsink pre-installed. After all, you'd hate to damage such an expensive piece of equipment. Thankfully, there is a variant which now includes such a heatsink.
Read our Samsung 980 Pro review
---
Looking at the numbers provided by the manufacturer, the Corsair MP600 Pro LPX looks like it'll be a fast SSD. Surprisingly, we found in our review it actually runs faster than advertised, making this an easy drive to recommend.
We clocked it running at 7,364MB/s and 6,870MB/s read and write speeds, respectively, which is a significant margin above those on the box numbers. It puts it faster even than the Seagate FireCuda 530 Heatsink SSD. That's particularly impressive considering you can find it on sale for less than the Firecuda.
If you're looking for the best SSD for the PS5 from the ones we've tested ourselves, this is it. It may not have the Mark Cerny seal of approval but we were blown away by its performance. The one area we found the Corsair drive fell down in comparison to the Samsung 980 Pro was in its random read/write speed, which was 10% slower than the older card.
Read our Corsair MP600 Pro LPX review
PS5 storage explained
The PS5's storage can be expanded in three distinct ways: by installing a Sony-recommended NVMe SSD (Sony's official PS5 teardown video shows exactly where an extra drive will fit), or by adding an external HDD or SSD attached via USB.
Sony has now confirmed the requirements for which NVMe M.2 SSD drives will work. We know that the PS5's internal drive supports PCIe Gen 4 M.2 NVMe SSDs, capable of 5500MB/s bandwidth with a capacity of 250GB, 500GB, 1TB, 2TB or 4TB. You will need a heatsink, and the dimensions should not exceed 110 x 25 x 11.25 millimeters.
Any games installed to either the internal or additional NVMe SSD will benefit from the full power of the PS5, particularly when it comes to load speeds. The problem is that NVMe SSDs aren't cheap, so prepare to part with a large chunk of change if you want to expand the PS5's storage capacity.
The next solution to free up space from the PS5's main drive (or additional NVMe SSD you install) is to plug in a regular external HDD or SSD. As both these storage solutions sit outside of the console, they're often referred to as "external" drives.
Both these drives can be used to store and play the best PS4 games, however, they won't benefit from the advantages of being stored directly onto the PS5's NVMe drive. After a recent PS5 system update, you can now store the best PS5 games on an external hard drive or SSD, saving you having to redownload them, but you'll need to transfer them onto the internal drive if you'd like to play them.
PS5 Storage: How much do you get?
The PS5 is equipped with an 825GB NVMe SSD, which provides super-fast load times and promises a transformative impact on how new-gen games will perform in the future. Since this is the drive that comes installed in the PS5, it's often referred to as the "internal" drive and cannot be removed by the user through normal methods.
The PS5 only has 667.2GB of usable memory to play with, since a large chunk of storage is reserved for system files and the PlayStation's operating system. With the majority of new PS5 games weighing in at 50GB, space will be at a premium.
PS5 Storage: What is an NVMe SSD?
It's important to establish what an NVMe SSD is, since that's what's found inside the PS5. An NVMe SSD (Non-Volatile Memory Express) is a superior storage solution compared to standard hard drives and SSDs. NVMe SSDs use PCIe sockets for data transfer, which means they can send up to 25x more data than the slower SATA equivalent (which is what the hard drives in the PS4, PS4 Slim, and PS4 Pro use).
NVMe drives also communicate directly with a system's CPU, and the end result is blazing fast performance that currently can't be matched by other storage solutions. PS5 relies on this new storage format to create a leap in performance, so it's paramount that you understand the difference between the three types of drives.
PS5 Storage: Is an NVMe SSD the same as an SSD?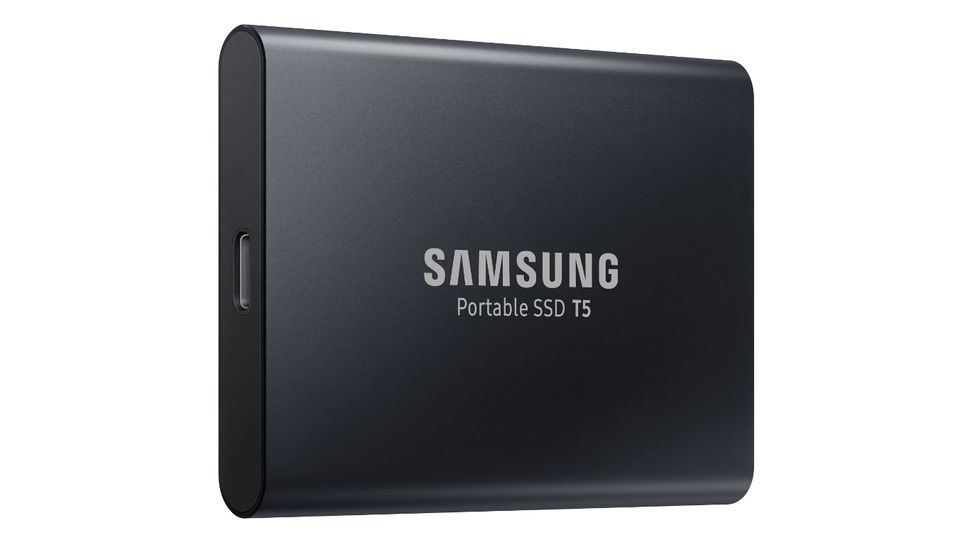 No, and it's an easy mistake to make – particularly as Sony regularly refers to its storage as just "SSD".
Regular SSDs rely on SATA, which is a far slower way of transferring data within a system. An SSD is still much faster than a regular mechanical hard drive (and less prone to failure due to the lack of moving parts), but its speeds pale in comparison to an NVMe SSD.
PS5 storage at a glance
Looking for all the information you need at a glance? Check out the table below for a clear guide of how PS5 storage works.
PS5 storage guide

| | Can you play PS5 games from it? | Can you play PS4 games from it? | Can you play PS5/PS4 games from it? | Can you store PS5 games? |
| --- | --- | --- | --- | --- |
| PS5 internal NVMe | Yes | Yes (they will benefit from faster load times) | Yes | Yes |
| M.2 NVMe SSD | Yes | Yes (they will benefit from faster load times) | Yes | Yes |
| External HDD (USB 3.1) | No | Yes | No, only PS4 games | Yes |
| External SSD (USB 3.1) | No | Yes (they will benefit from faster load times) | No, only PS4 games | Yes |
How to choose the best PS5 SSD for you
An SSD is one of the best accessories you can buy for your PS5, letting you keep a much larger library of games installed at once. We've all had those long afternoons waiting for a game to download and reinstall, cursing ourselves for deleting it in the first place, all so we could make room for something you wanted to play at the time. Expanding your console's storage simply reduces how often that can happen.
However, an SSD is expensive and there's lots of options available. So, there are a few things that will help you narrow down your choices.
First off, are you comfortable installing a heatsink? A solid state drive is an expensive component, and it would be heart-breaking to damage it by installing a heatsink incorrectly. If you aren't confident doing that bit of DIY, then save yourself the pain and anxiety and scratch those SSDs off your list, even if it costs you a little more to buy a drive with a heatsink pre-installed.
Next, how much storage space do you need? In the dream scenario, you would go for the biggest drive available. But the cost of an SSD increases dramatically with the storage space, so a 2TB drive can be nearly double the price of a 1TB drive, which is over half the price of the PS5 console itself. Even a 250GB drive can go a long way if, say, you're a keen Warzone player who wants to have that massive game always ready to go, without it taking up significant real estate on your internal storage.
Less important is how fast you want the drive to be. Granted, that seems counterintuitive at first, because surely a faster drive is better? But, all the drives listed above play your games flawlessly since they meet Sony's minimum requirements. Where you will notice the increased speed is when you're transferring files between the drive and the console, though that won't be so often as to offer major benefits.
The speed is important if you plan on using your SSD for anything other than expanding your PS5's storage. If you plan on one day installing it in your PC for things that require particularly intensive file transfers, then perhaps look at buying a drive with a faster read/write speed.
Above all, ask yourself how much you want to spend on an SSD. It's often tempting to look at components and gaming accessories that are out of budget. But, you're buying this for a gaming console, so it's little use if you can't afford to buy any games afterward. Buy an SSD in your budget and maybe consider getting one of the best PS5 headsets to improve your gaming in other ways.
How we test
The SSD we've reviewed in this buying guide were originally tested by the TechRadar Computing team, who were wowed by the drive's incredible speed.
As well as testing the drive with heavy file transfer loads, and intensive, data-heavy applications like Adobe Premiere, the reviewer used PCMark10's SSD test to benchmark the drive against other components. This software simulates real-world day-to-day storage workloads, providing a reliable comparison score to measure its performance against other products.