Best laptops for architecture students in 2023
Build the future with the best laptops for architecture students
Best laptop for architecture students: Quick menu
1. The quick list
2. Best overall
3. Best on a budget
4. Best portable
5. Best for gamers
6. Best 2-in-1
7. Best Chromebook
8. Best 17in
9. FAQs
10. How to choose
11. How we test
The best laptops for architecture students and professionals need to be fast, performance-driven, with high-resolution displays to help all your bring ideas to life.
If you're running the best architecture software or the best 3D modeling software, you'll know how important performance is when it comes to resource-hungry CAD tools. They use a lot of power, so they need high-spec machines that can run programs smoothly, no matter how complex the project. That demands fast processors and generous amounts of RAM and storage. Elsewhere, architecture student laptops should be robustly built with great battery life for working across campus and with clients in the field. During our rigorous review process, we test all these specs and more.
Our expert reviewers have benchmarked the best laptops for architecture students. We've tested gaming laptops, business laptops, and the best mobile workstations to find the top premium machines and budget laptops for architecture students building iconic spaces.
The quick list
Best overall
Apple MacBook Pro 16-inch (2023)
Huge performance and an incredible display make light work of the most demanding architecture and design apps. You'll get 20 hours of battery life, the keyboard is exceptional and the chassis is robust. It's expensive, but it'll justify the outlay with a decade of rock-solid service.
Best on a budget
The HP marries low prices with a 1080p screen and plenty of processing and graphical power, so it's ideal if you want a laptop that can zip through architectural software without complaint. It looks pretty mature, too – aesthetically, it's not a typical gaming laptop. You won't get great battery life here, but it's affordable if performance is paramount.
Best portable
The MacBook Air remains a design marvel in both its 13.6-inch and 15.3-inch guises. Slim, light designs give way to powerful M2 processors and stunning displays – you won't struggle to tackle architectural tasks on this notebook. Combine that with a great keyboard and all-day battery and you've got a winner.
Load the next products...
The best laptops for architecture students in 2023
Why you can trust TechRadar We spend hours testing every product or service we review, so you can be sure you're buying the best. Find out more about how we test.
Best laptop for architecture students overall
A powerhouse with incredible screen and build quality – it ticks every box
Specifications
CPU:
Apple M2 Pro (12-core) - Apple M2 Max (12-core)
Graphics:
Integrated 19-core – 38-core GPU
Screen:
16.2-inch Liquid Retina XDR display
Dimensions:
14.01 x 9.77 x 0.66 in / 35.57 x 24.81 x 1.68 cm
Reasons to buy
+
Sensational M2 Pro and M2 Max processors
+
Over 20 hours of battery life
+
Fantastic high-resolution display
Reasons to avoid
-
Expensive;
-
A little largee
-
Doesn't use Windows
Most laptop designs involve compromise, but there's very little of that on the Apple MacBook Pro 16-inch – making it the best option for architecture students who want the top choice for their studies and future career.
On the inside, the latest M2 Pro and M2 Max processors leap ahead of the standard M2 chip and most Intel CPUs for performance, which means you've got all the power required for demanding architecture and design applications. Apple's integrated graphics core also has enough power for graphical acceleration in creative apps.
Thanks to the accurate and crisp Liquid Retina XDR display, your designs will look sharp and you've got plenty of space to work, and the keyboard and trackpad are both exceptional.
Elsewhere, it's impressive business as usual for Apple. The MacBook Pro 16 has Thunderbolt 4, SDXC and HDMI ports for file transfers and peripheral connections. The battery is one of the best on the market – a 20-hour lifespan is enough to handle the most demanding working day.
At 3.5 or 3.6 pounds, this mighty MacBook isn't the lightest option around, and you'll have to look elsewhere if you want Windows. And these notebooks are never the cheapest. But this is comfortably the best option for architecture students, and if you invest it's the kind of notebook that could underpin your work for a decade.
Read our full Apple MacBook Pro 16 (2023) review
Best budget laptop for architecture students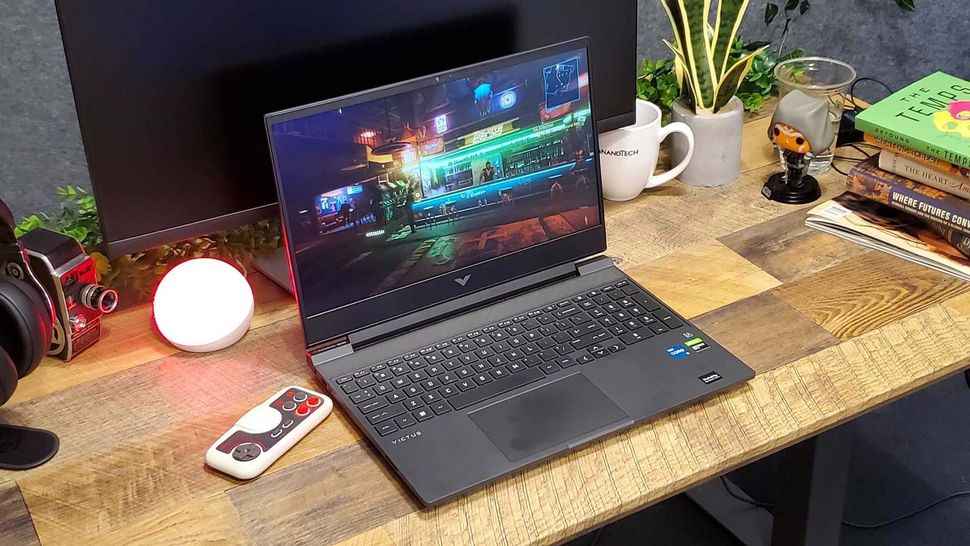 Affordable, solid and, importantly, with a discrete graphics card
Specifications
CPU:
Up to AMD Ryzen 7 5800H/Intel Core i7 13700H
Graphics:
Up to NVIDIA GeForce GTX 4050
Screen:
15.6-inch FHD IPS LED
Storage:
Up to 512GB M.2 PCIe NVMe
Dimensions:
14.09 x 10.03 x 0.92 in / 35.79 x 25.5 x 2.35 cm
Reasons to buy
+
Loads of power for the price
+
Includes a discrete graphics card
+
Ideal for after-lecture gaming
Reasons to avoid
-
Mediocre battery life
-
Uninspired design
-
Slightly heavy
It might sound odd to consider a gaming laptop if you're an architecture student, but hear us out. The Victus comes with powerful AMD and Intel processors that will handle almost any architecture and design software, and the discrete Nvidia GPU adds graphical acceleration to many of those tasks – alongside the option to play some top-quality games once the working day is done.
NVMe SSD storage and decent memory keep things moving, and the Full HD screen pairs good quality with enough pixels to handle mainstream work situations.
On the outside, HP's rig has a surprisingly mature and modest design, so it won't look out of place in lectures and offices, and its build quality is good enough to handle commutes and busy days. The keyboard is comfortable and spacious, the Victus never gets too loud, and the rig has a decent camera, Wi-Fi 6E and USB-C – so it'll offer basically every feature most students require.
And if you want to do something good for the environment, this laptop is built partially from post-consumer-recycled plastic and finished with eco-friendly paint.
There's not much on offer here in terms of battery life, but no affordable gaming notebook excels in this department. And at 5 pounds, it's not that light either. But with bargain-basement prices and plenty of power, those are compromises worth accepting for architecture students on a budget.
Read our full HP Victus 15 review
Best portable for architecture students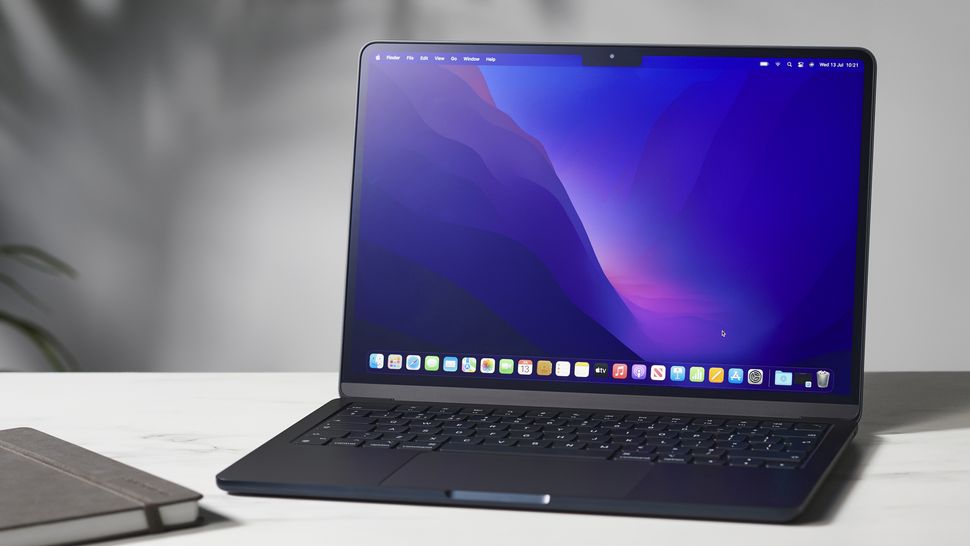 A top-class, lightweight performer – now with a larger 15in screen
Specifications
Graphics:
Integrated 8 - 10-core GPU
Screen:
13.6-inch / 15.3-inch Liquid Retina display
Dimensions:
13.6-inch: 11.97 x 8.46 x 0.44 in / 30.41 x 21.5 x 1.13 cm; 15.3-inch: 13.4 x 9.35 x 0.45 in / 34.04 x 23.76 x 1.15 cm
Reasons to buy
+
Great power
+
Slim and light
+
Now in a larger screen size
+
All-day battery
Reasons to avoid
-
Can be expensive
-
Other laptops are faster
The Apple M2 range of processors is a revelation – stick any of those chips inside any laptop or desktop and you're basically guaranteed brilliant performance, no matter the form factor. That remains true in the MacBook Air, now available in 13.6-inch and 15.3-inch designs.
This notebook can't compete with the MacBook Pro in terms of pace, but it still has ample speed for architectural apps and student software and still outpaces almost anything Intel or AMD-based at this size.
You'll still get more than a working day of battery life from this thin notebook, and the Liquid Retina display still serves up fantastic quality – your architectural designs will look superb. The keyboard and trackpad are excellent, too, which is no surprise.
The 13.6-inch notebook weighs 2.7 pounds and the 15.3in rig weighs 3.3 pounds, so neither will weigh you down, and the robust aluminum body means you can sling the Air into a bag without concern.
This slim device doesn't have the ports, power or longevity of the MacBook Pro, but it's hundreds of dollars cheaper and will still handle virtually any architectural task. Its power and portability make it our favorite MacBook outside of the all-conquering Pro.
Read our full Apple MacBook Air review
Best for gamers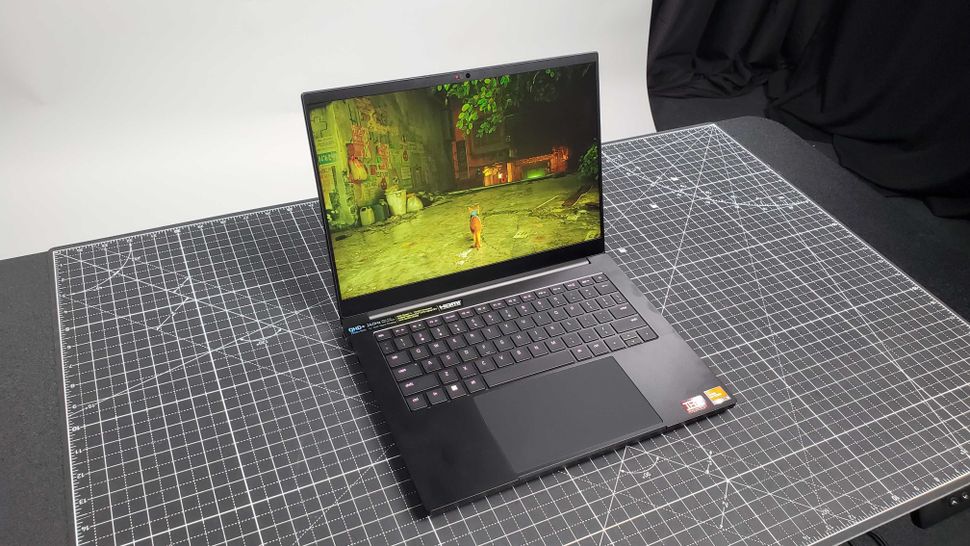 Benchmark-breaking performance levels and a fast, bold screen
Specifications
Graphics:
Nvidia GeForce RTX 4060 - 4070
Screen:
14-inch 2560 x 1600 240Hz IPS
Dimensions:
12.23 x 8.97 x 0.7 in / 310.7 x 22.8 x 17.99 cm
Reasons to buy
+
Incredible power considering the size
+
Robust, compact design
+
High-quality, sharp screen
Reasons to avoid
-
Can become expensive
-
No Intel CPU
The maturity and quality of the Razer Blade 14 means that buying a gaming laptop for architectural student work is no longer and outrageous suggestion.
This notebook looks so sleek that it'll get admiring glances in any office, and the high-end AMD and Nvidia internals mean that no architectural or design app will prove too much for the internals – the AMD Ryzen 9 7940HS has eight monster cores and Nvidia's GPUs tackle accelerated creative software and the latest games.
The option to use Nvidia Studio drivers helps creative apps run smoothly, and the latest incarnation of the Blade 14 also has a 240Hz display with more quality than other 14-inch competitors.
DDR5 memory guarantees speed, the keyboard is soft, quiet and comfortable, and Wi-Fi 6E means you can connect anywhere. Unusually for a small notebook, the Blade 14 also plenty of ports, including pairs of full-size USB and USB-C connectors and an HDMI output. It also weighs just under four pounds, so it won't prove too much of a strain on your shoulder.
It doesn't have a card reader and you'll only get through most of your working day without plugging in – but that's still a decent result for any gaming notebook. Also, remember that the Razer Blade 14 is on the expensive end of the market, especially if you upgrade to 32GB of memory or better graphics.
Like the MacBook Pro, though, there's no denying its quality. If you want a market-leading laptop for architectural work and after-lecture gaming – and don't want anything too big – there's nothing better.
Read our full Razer Blade 14 review
Best 2-in-1 laptop for architecture students
A classy, capable convertible with a 4K-beating OLED screen
Specifications
CPU:
13th Gen Intel Core i7-1360P
Screen:
Up to 14-inch 3840 x 2400 400-nit OLED touch with 100% DCI-P3, VESA Certified
Dimensions:
12.52 x 9.06 x 0.6 in / 318 x 230 x 15.2 mm
Reasons to buy
+
Incredible design
+
Reliable performance
+
Touchscreen with stylus
+
Great battery
Reasons to avoid
-
A little pricey
-
Display could be brighter
The Lenovo's 2880 x 1800 OLED touchscreen comes with a stylus, and it looks phenomenal and is an amazing creative tool for note-taking and sketching. Combine that with Lenovo's smooth convertible motion and you've got a portable that's the ideal partner for creative architectural students who don't want to be restricted by their technology.
The Lenovo looks fantastic thanks to its elegant, minimalist chassis, and the 13th Generation Intel processor sits alongside LPDDR5 memory and a 512GB SSD to deliver the speed required for mainstream architectural software.
You'll get through a day of working with the Lenovo, the Yoga has Wi-Fi 6E connectivity and a webcam with facial recognition and a privacy shutter. Good speakers, USB-C connectivity and a tiny three-pound weight make the Yoga perfectly portable. And because it's Lenovo, you know it's going to have a fantastic keyboard.
A lightweight convertible with a great low-power processor, all-day battery life and a stylus-powered touchscreen is a top choice for architectural students with a creative side, so it's our 2-in-1 choice.
Read our full Lenovo Yoga 9i Gen 8 review
Best Chromebook for architecture students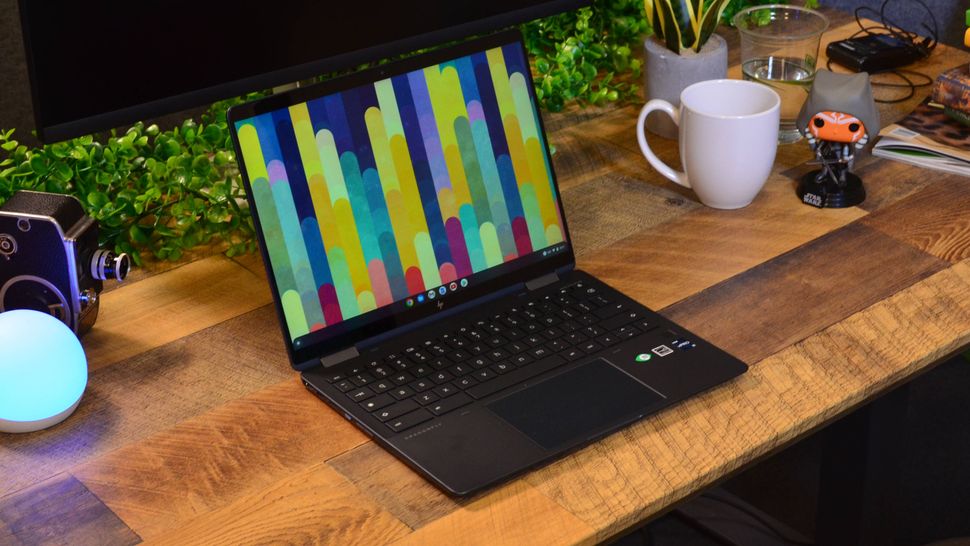 The fastest, classiest Chromebook around
Specifications
Screen:
13.5-inch, 1920x1280p, 400 nits, touchscreen
Dimensions:
12.4 x 8.7 x 0.7 in / 31.4 x 22.09 x 1.77 cm
Reasons to buy
+
Very fast
+
Looks incredible
+
Touch-capable, stunning screen
Reasons to avoid
-
An expensive option
-
Enterprise security costs extra
We'll g