The best student laptops in 2023: top laptops for school
Best
Contributions from
last updated
We break down the best student laptops and Chromebooks for learners at every level
VERDICT
REASONS TO BUY
REASONS TO AVOID
Quick Menu
1. The list in brief
2. Best overall
3. Best budget Chromebook
4. Best Chromebook overall
5. Best premium Chromebook
6. Best premium Windows
7. Best creative laptop
8. Best budget 2-in-1
9. Best premium 2-in-1
10. Best gaming laptop
11. Best OLED laptop
12. How to choose
13. How we test
The best student laptop should tick all the boxes for solid performance, durability, reliable battery life, and, importantly, offer good value for money.
With a plethora of options available, finding the best laptop that meets a student's unique educational needs can be daunting. The specific requirements of student life make some models stand out more than others, so for students in creative fields like animation or graphic design, the best MacBooks offer a blend of power and finesse ideal for such disciplines.
Alternatively, for those involved in intensive tasks like 3D rendering or scientific modeling at the university level, opting for a laptop with powerful discrete graphics is advisable, like those found in the best gaming laptops (it doesn't hurt that they can help you blow off steam in your downtime).
Beyond performance, the practicalities of student life must also be considered. A laptop that can endure a full day of classes without needing a charge, and can withstand the rigors of a busy campus life is essential. This is where the best 2-in-1 laptops come into play, offering a versatile, lightweight, and compact solution perfect for moving between classes.
Budget is another significant consideration for students. With financial constraints often in play, it's important to find a laptop that delivers great value. For those on a tighter budget, exploring the best cheap laptops is a wise choice. They provide a balance between cost and functionality without compromising on the essential features.
To assist in this crucial decision-making process, we've compiled a list of top laptop choices for students across various disciplines. Whether you're seeking the best Chromebook, the best thin and light laptop, or more powerful options, our comprehensive guide is here to help you make an informed choice for your academic journey.
For Australian deals, see our best laptop deals and best cheap laptop deals pages.
The quick list
If you want to get right to it and see the best student laptop in every category, check out our quick roundup of top picks below. Don't worry though, you can easily jump to a more detailed view of every pick along with a price comparison tool to help you find the best laptop deals for students no matter your budget.
Load the next 5 products...
The best student laptop overall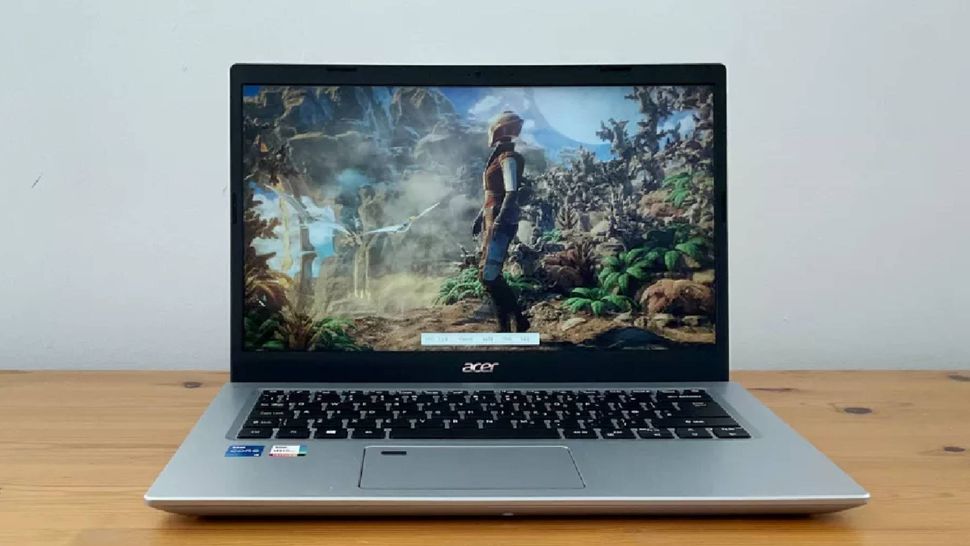 The best student laptop overall
Specifications
CPU:
Up to Intel Core i7-1165G7 or AMD Ryzen 7 5825U
Graphics:
Integrated Iris XE or Radeon graphics
Screen:
up to 17.3-inch 1080p
Reasons to buy
+
Competitive price
+
Solid build, with a 1.7kg weight
+
Decent battery life for the price
Reasons to avoid
-
Modest performance
-
720p webcam
-
Limited port selection
Buy it if:
✅ You're on a budget: This entry-level model only costs around $600/£450, which makes it a capable option for budgeting students.
✅ You travel a lot: It's not an ultrabook, but a sturdy design and weight of just 1.7kg mean that the Aspire 5 will happily live in your backpack all day long.
Don't buy it if:
❌ You're a gamer: Acer's website talks about a discrete GeForce graphics card, but most Aspire 5 models rely on more basic integrated graphics.
❌ You need all-day battery life: Six and a half hours certainly isn't bad for a laptop in this price range, but you'll need to spend a bit more if you need a long-lasting laptop.
The Acer Aspire 5 (2022) is a 14-inch Windows laptop that makes some compromises to get to its price point, but thankfully it doesn't scrimp on too much so it's performance is more than enough to get students through several years of school work, whether that's in secondary school or university-level coursework.
The model we reviewed was an entry-level unit (all the better to test its value for money) packing an 11th-gen Intel CPU. Although it hardly blew us away in our testing process, we ruled that it would make a 'respectable office laptop' given its reliable mid-range performance and decent battery life - we even ruled that a bit of casual gaming should be an option here, provided you're willing to dial back your graphical settings a bit.
If you're a student who isn't looking for the highest-end specs and you need to come in under a budget, but still need your laptop to last you through the day and perform well, the Acer Aspire 5 definitely has you covered.
Read our full Acer Aspire 5 (2022) review
The best budget Chromebook for students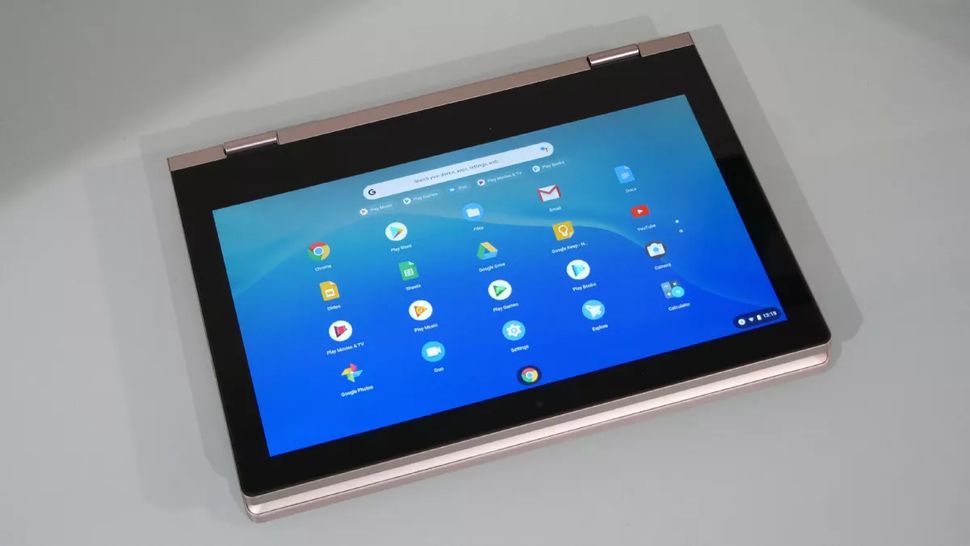 The best budget Chromebook for students
Specifications
Best for:
Budget-minded students who don't need a lot of power
CPU:
MediaTek MT8183 Processor (2.0 GHz)
Graphics:
Integrated graphics
Screen:
11.6-inch HD 1366 x 768 IPS
Storage:
64GB eMMC Flash Memory
Reasons to buy
+
Excellent value
+
Solid build quality
+
Great battery life
Reasons to avoid
-
Looks ancient
-
Not terribly compact
-
Weak performance
Buy it if:
✅ You're after a fantastic value 2-in-1 Chromebook: It's an awful lot of machine for the money and performs much better than the on-paper specifications imply.
✅ You want a flexible 2-in-1 device: With a touchscreen and tablet capability that's suitable for students or kids, the Flex 3 is truly versatile.
Don't buy it if:
❌ You need a device with decent performance: While the Lenovo IdeaPad Flex 3 copes fine with daily web browsing and media streaming, it would be a poor choice for anything more demanding.
❌ You need something with a great display: It's small, not terribly bright, and pretty low resolution.
The Lenovo IdeaPad Flex 3 Chromebook isn't flashy by any means, and its MediaTek processor and 4GB LPDDR4 RAM is just about enough to run Chrome OS, but there's no denying that this is a solidly-built Chromebook that'll get you through your school day without much trouble.
A laptop like this doesn't need to have great specs thanks to the lightweight OS. Plus, as a 2-in-1 Chromebook, you'll be able to get the most out of notetaking in the cloud and other collaborative apps like Office 365, Google's G-Suite, and more thanks to built-in WiFi 6.
When we reviewed it, we noted that despite its modest specs, ChromeOS ran smoothly and general productivity workloads were a breeze. The battery life was also nothing short of epic, lasting for a whopping 16 hours in our video playback test. Best of all, this durable Chromebook is among the cheapest laptops for students you'll find.
Read our full Lenovo IdeaPad Flex 3 Chromebook
The best overall Chromebook for students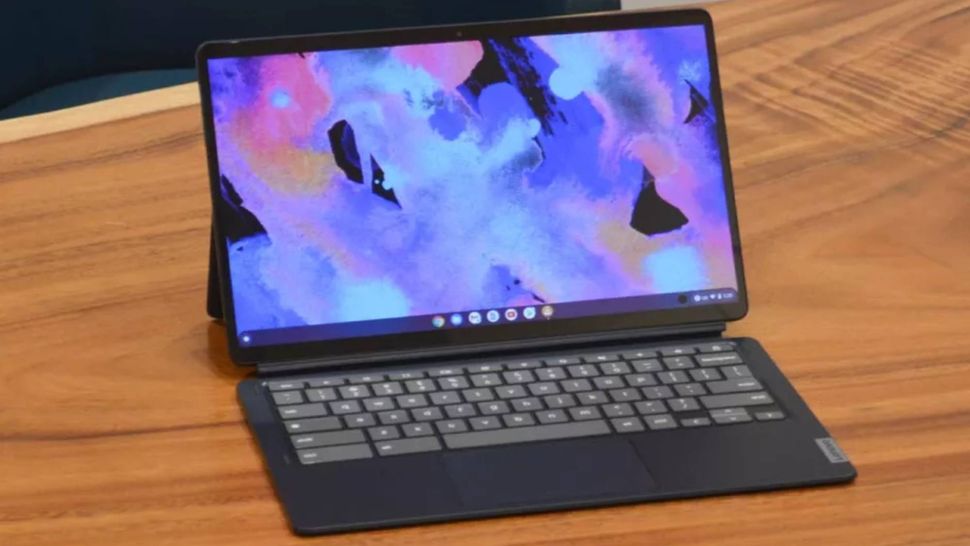 The best Chromebook for students overall
Specifications
Best for:
All students who have some room in their budget
CPU:
Qualcomm Snapdragon 7c Gen2 2.55GHz
Graphics:
Qualcomm Adreno GPU
Screen:
13.3-inch 1920 x 1080p multitouch OLED, 400 nits
Reasons to buy
+
Gorgeous display
+
Phenomenal battery life
+
Respectable performance
Reasons to avoid
-
Flimsy keyboard
-
Difficult kickstand
-
Stylus not included
Buy it if:
✅ You want the best 2-in-1 Chromebook around: The lightweight and easily convertible form factor here is about as comfortable as it gets, with a decent amount of power and phenomenal battery life.
✅ You want outstanding battery life: Very few Chromebooks get this kind of battery life, and with the right tweaks, you can easily get to the 18-19 hours of battery life.
Don't buy it if:
❌ You want a cheap Chromebook: There are some truly premium features on the Duet 5 Chromebook, and that does push the price up into the high end for a Chromebook.
❌ You want more of a tablet-first form factor: The 16:9 screen ratio and 13.3-inch display makes using it in tablet mode somewhat unwieldy.
The Duet 5 Chromebook isn't the most powerful on the market, nor is it the cheapest, but the mix of solid performance, adaptability, excellent battery life, and a very fair price makes this a Chromebook that you'll not only want to use, but one you'll want to show off.
This 2-in-1 detachable Chromebook features a full HD OLED display, giving you vibrant color and clarity that is almost impossible to find with even the best Chromebook using a standard IPS display. What's more, with 8GB RAM and a Qualcomm Snapdragon 7c Gen2 processor, you're looking at some very solid performance as well. We loved the lightweight chassis and detachable keyboard back when we reviewed it.
And because it's a Snapdragon CPU at its core, its battery life is phenomenal, lasting just over 16 hours in our tests. To be clear, this is downright unheard of for an OLED laptop, so you really can't miss with this one. It's not the best for note-taking, owing to its tighter 16:9 display ratio, but it can definitely do that and more, making it a great option for students with a bit of flex in their budgets.
Read the full Lenovo IdeaPad Duet 5 Chromebook review
The best premium Chromebook for students