Best laptops for MBA students 2023
We test, review, and rate the best laptops for MBA students and multi-tasking professionals
Quick menu
1. The quick list
2. Best overall
3. Best on a budget
4. Best portable
5. Best for gamers
6. Best 2-in-1
7. Best Chromebook
8. Best 17in
9. FAQs
10. How to choose
11. How we test
At MBA level, performance is everything - so our team of experts tested the best laptops for MBA students. Our hand-picked top MBA student laptops are tailored for the fast-paced, competitive campus and office lifestyles. .
Like all the best business laptops, MBA student laptops need speed, power, and a pin-sharp design. All the machines we've chosen pack powerful processors with plenty of cores. MBA courses demand multitasking power and performance-driven flexibility.
We compared every last detail, from the RAM speeds to responsive keyboards for comfortable typing. High-resolution displays, battery life length, and webcam and microphone quality have been put to the test. Our reviewers tested the build quality and robustness of each device, and benchmarked performance tests to find out who comes out number one.
The quick list
Best overall
Apple MacBook Pro 16-inch (2023)
Incredible power, screen quality and battery life make a robust case and the superb design, keyboard and build quality only make it stronger. The MacBook Pro 16 is not cheap, but no rival can compete either.
Best on a budget
An OLED display and full-power Intel CPU for under four figures sounds too good to be true, and the Swift 3 also supplies all-day battery life and good connectivity for that price. It's not perfect, but it is a superb value option for MBA students.
Best portable
The combination of a super-slim design, M2 processor, all-day battery life and two sizes of Liquid Retina display creates a tempting and effective option for MBA students who want Apple computing without MacBook Pro pricing.
Load the next products...
The best laptops for MBA students in 2023
Why you can trust TechRadar We spend hours testing every product or service we review, so you can be sure you're buying the best. Find out more about how we test.
Best laptop for MBA students overall
A processor, keyboard, and design that'll cope with anything
Specifications
CPU:
Apple M2 Pro (12-core) - Apple M2 Max (12-core)
Graphics:
Integrated 19-core – 38-core GPU
Screen:
16.2-inch Liquid Retina XDR display
Dimensions:
14.01 x 9.77 x 0.66 in / 35.57 x 24.81 x 1.68 cm
Reasons to buy
+
Versatile, fast M2 Pro and M2 Max processors
+
Brilliant battery life
+
Bold, high-resolution display for multitasking
Reasons to avoid
-
Expensive;
-
A little largee
-
Doesn't use Windows
Any good MBA laptop needs to be versatile, reliable and look the part. And there's nothing better than the Apple MacBook Pro.
On the inside? M2 Pro and M2 Max processors will handle anything short of the tasks you'd give to a desktop workstation – overkill for many MBA students, but it's enough power to keep you going for years. The Liquid Retina XDR makes every image, website and video look stunning.
On the outside? An Apple laptop will always look slick in the lecture hall, office or boardroom, and the all-aluminum chassis has the build quality to withstand regular commutes, lectures and trips.
Name an attribute and the MacBook Pro probably excels. Speakers? Fantastic – easily good enough for presentations and background music. Camera and microphone? Ample for video chats. Keyboard? Comfortable for long days. The battery? Expect about twenty hours if you're careful and fifteen hours if you're pushing the processor. Thunderbolt, HDMI and SD slots complete the picture.
You'll have to ensure your favored apps run on Mac OS and you'll have to be prepared to spend big if you want the MacBook Pro 16, but it's a clear front-runner when it comes to laptops for MBA students.
Read our full Apple MacBook Pro 16 (2023) review
Best budget laptop for MBA students
A fast, versatile, affordable all-rounder
Specifications
CPU:
Intel Core i5 12500H / i7 12700 H
Screen:
14-inch 2880 x 1800 OLED
Dimensions:
12.31 x 8.42 x 0.7 in / 31.29 x 21.4 x 1.79 cm
Reasons to buy
+
Solid performance
+
A fantastic OLED screen
+
Great pricing on all models
Reasons to avoid
-
Plain looks
-
Middling build quality
You need to make a good impression in business, and the Acer Swift 3 OLED does just that without breaking your budget. The OLED display is bright, bold and accurate, and the metallic exterior looks sleek and smart – if not particularly eye-catching.
Underneath the OLED panel you'll find full-power Intel Core i5 and Core i7 processors – the former is capable of any Office-based task and is a robust multi-tasker and the latter is well-suited to creative workloads and number crunching, too. You don't get a discrete GPU, but when the Acer is regularly available for three figures, that's an easy compromise to accept, especially when MBA work doesn't often need graphical ability.
Fourteen hours of battery life means the Acer will handle lengthy MBA student and office days, and the Acer has full-size USB ports and a Thunderbolt 4 connection. The keyboard and trackpad are only mediocre, but they're fine at this price and fine for work. You'll find lighter 14-inch laptops than this three-pound device, too.
Still, a soft keyboard and slightly weighty design are prices worth paying when you get full-power Intel CPUs and an OLED screen for under $1000 / £1000 / AU$1000. It's a great option for MBA students on a budget.
Read our full Acer Swift 3 OLED review
Best portable for MBA students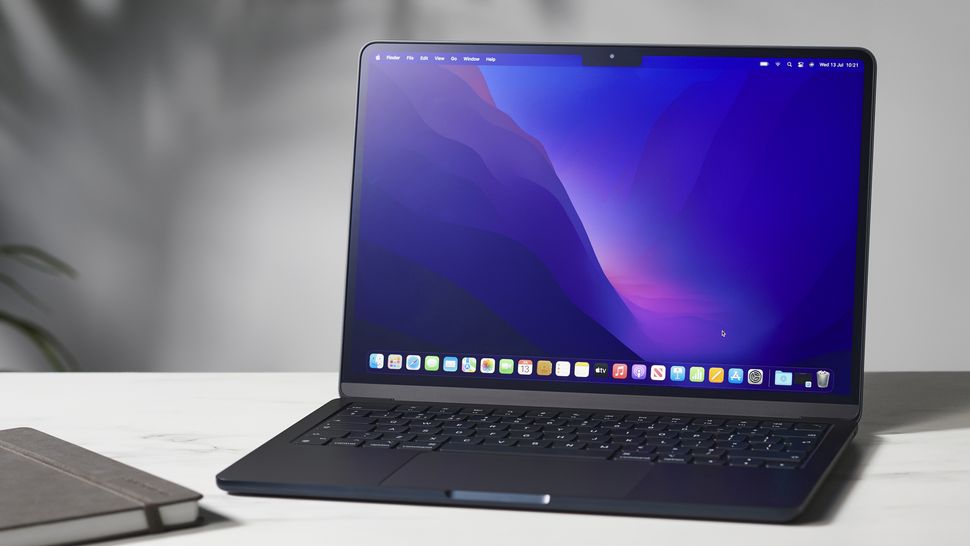 A top-class, lightweight multi-tasker – and now with a larger 15 in screen
Specifications
Graphics:
Integrated 8 - 10-core GPU
Screen:
13.6-inch / 15.3-inch Liquid Retina display
Dimensions:
13.6-inch: 11.97 x 8.46 x 0.44 in / 30.41 x 21.5 x 1.13 cm; 15.3-inch: 13.4 x 9.35 x 0.45 in / 34.04 x 23.76 x 1.15 cm
Reasons to buy
+
Great power; Slim and light
+
Now in a larger screen size
+
All-day battery
Reasons to avoid
-
Can be expensive
-
Doesn't run Windows
What should you do if you don't want the expense or relative bulk of the MacBook Pro? Turn to the MacBook Air, which delivers many of the same benefits into a sleeker and more affordable package.
You don't quite get the CPU ability of the M2 Pro and Max chips with the MacBook Air, but the standard M2 is still a stellar performer for MBA students – it's easily got the power to cope with anything you'll throw at it.
The 13.6-inch and 15.3-inch screen options mean you have choice, with the former ideal for MBA students on the move and the latter perfect for anyone searching for more immersion or space. And at 2.7 pounds and 3.3 pounds respectively, neither will weigh you down.
Apple's more affordable MacBook has a full working day of battery life and a stonking keyboard. Its slim size means it doesn't have that many ports, especially compared to the MacBook Pro, but you can overcome that issue if you're well-prepared with dongles.
It's a fast, slim, light and long-lasting Apple device that doesn't break the bank quite like its bigger brother, so this is a superb option for MBA students who want to run MacOS.
Read our full Apple MacBook Air review
Best for gamers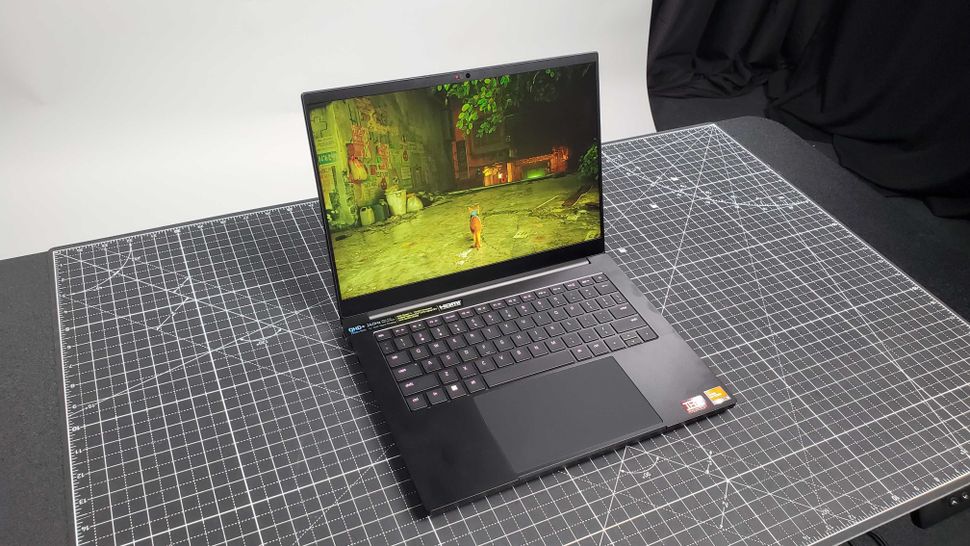 Benchmark-breaking performance inside a sleek, professional design
Specifications
Graphics:
Nvidia GeForce RTX 4060 - 4070
Screen:
14-inch 2560 x 1600 240Hz IPS
Dimensions:
12.23 x 8.97 x 0.7 in / 310.7 x 22.8 x 17.99 cm
Reasons to buy
+
Incredible power
+
Mature, good-looking design
+
Great screen quality
Reasons to avoid
-
Can become expensive
-
No Intel CPU
-
A larger screen may be preferable
MBA students harboring a secret gaming habit can get the best of both worlds with the Razer Blade 14. At four pounds and with a compact chassis it's easy to take to lectures and days in the office, its matte black design looks smart and professional, and on the inside it's hiding fearsome graphical power.
The Nvidia GeForce RTX 4060 and RTX 4070 graphics cores will run today's top games at impressive levels of graphical fidelity. The AMD Ryzen 9 7940HS is an unusual addition when Intel rules the laptop roost in many designs, but it's an extremely capable chip that'll tackle any MBA student task. Factor in the 16GB or 32GB of memory, 1TB hard disk and Wi-Fi 6E connectivity and you've got a go-anywhere notebook.
Pairs of USB and USB-C connectors and an HDMI output improve versatility, and the display is fantastic – it's got the quality for everyday work and impressive presentations and the 240Hz speed for esports. It also has a 1080p webcam with facial recognition.
This notebook will struggle to get through a whole working day without electric help and it doesn't have a card reader, and Razer notebooks are infamously expensive.
You get what you pay for, though, and there's no denying the Razer's quality. It's small, powerful and easily handles MBA student life and all your gaming needs. What's not to like?
Read our full Razer Blade 14 review
Best 2-in-1 laptop for MBA students
A classy, capable convertible that'll handle any office task
Specifications
CPU:
13th Gen Intel Core i7-1360P
Screen:
Up to 14-inch 3840 x 2400 400-nit OLED touch with 100% DCI-P3, VESA Certified
Dimensions:
12.52 x 9.06 x 0.6 in / 318 x 230 x 15.2 mm
Reasons to buy
+
Reliable performance
+
Eye-catching, smart design
+
Stylus and touchscreen
+
Superb battery
Reasons to avoid
-
A little pricey
-
Display could be brighter
MBA student life is all about versatility, and few laptops offer more in this department than the Lenovo Yoga 9i Gen 8. Flip the 14in screen around on its smooth hinges and you can use the Yoga as a notebook, tablet, or tent-based presentation and collaboration tool.
The display's high-resolution OLED spec guarantees crisp, bold imagery no matter the situation, and the packaged stylus adds creative ability to the notebook – it's a top tool for note-taking, annotating and sketching.
Aesthetically the Yoga has the sleek metal body to impress in any lecture hall, seminar or boardroom, and internally the low-power 13th Gen Intel Core i7 processor has the cores and speed to run loads of browser tabs and Office apps simultaneously. It's only going to struggle with demanding creative or data-heavy workloads.
USB-C connectivity, great speakers, a webcam with facial recognition, a privacy shutter, and great speakers mean the Yoga is well-connected, secure, and good for presentations, video calls, and background music.
You're only looking at low four-figure prices, too, so you're getting a lot of superb 2-in-1 for your money. For MBA students who want versatility and good looks, this is excellent.
Read our full Lenovo Yoga 9i Gen 8 review
Best Chromebook for MBA students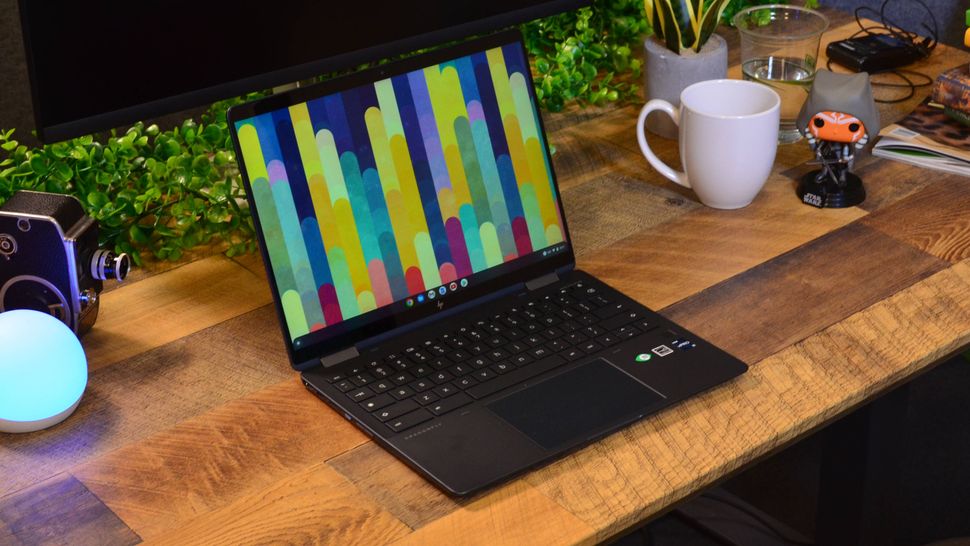 A fast, first-class Chromebook
Specifications
Screen:
13.5-inch, 1920x1280p, 400 nits, touchscreen
Dimensions:
12.4 x 8.7 x 0.7 in / 31.4 x 22.09 x 1.77 cm
Reasons to buy
+
Fast and capable
+
Stylish enough for any office
+
Touch-capable, stunning screen
Reasons to avoid
-
An expensive option
-
Enterprise security costs extra
The wealth of software available on ChromeOS these days means that it's easily conceivable that MBA students can access everything they need on a Chromebook – and if you want a Google-based notebook to impress, the HP Elite Dragonfly should be at the top of your shopping list.
The metal chassis looks and feels fantastic, and the ergonomic design of the keyboard and trackpad are exceptional – you'll get through a full day of typing without any finger fatigue.
The Intel 13th Gen processors offer the multitasking and single-threaded speed for any task an MBA student might face, especially when running on Google's lithe Chrome OS software. The touchscreen is excellent, too, and if you're willing to pay for one of the more expensive models you'll enjoy extra security features, like a Google Titan C chip and zero-touch enrolment. You can also add 5G connectivity if that's preferred.
All-day battery life, stylus options and relatively big SSDs for a Chromebook complete an impressive picture. If you're comfortable working on Chrome OS, you won't be any more comfortable than here.
Read our full HP Elite Dragonfly Chromebook review
Best 17-inch laptop for MBA students