Finding the best video editing laptops for cutting clips and making movies on-the-go takes more than just picking up any portable device.
There's always debate around using a laptop to cut content, with energetic editors asking are laptops good for video editing? After all, the best video editing software and even the best free video editing software can be pretty hardware-intensive and usually demand high specs.
The best video editing laptops are built to effortlessly handle high-performance post-production processes. From simple trimming to grading, and rendering, laptops for video editing come powered by a fast CPU, plenty of RAM, and a solid GPU. These video editing portables also boast crisp displays with excellent color space - Rec. 709 and DCI-P3 are the de facto standard for video editors and colorists.
We've tested, reviewed, and rated the best video editing laptops for home, office, studio, and on-the-move. Our testing process checks factors from size and internal specs to performance and resolution.
To help you find the right set-up for you, we've also tested the best video editing computers, best video editing Macs, and best monitors for video editing to suit a range of budgets and workflows.
The best video editing laptops of 2023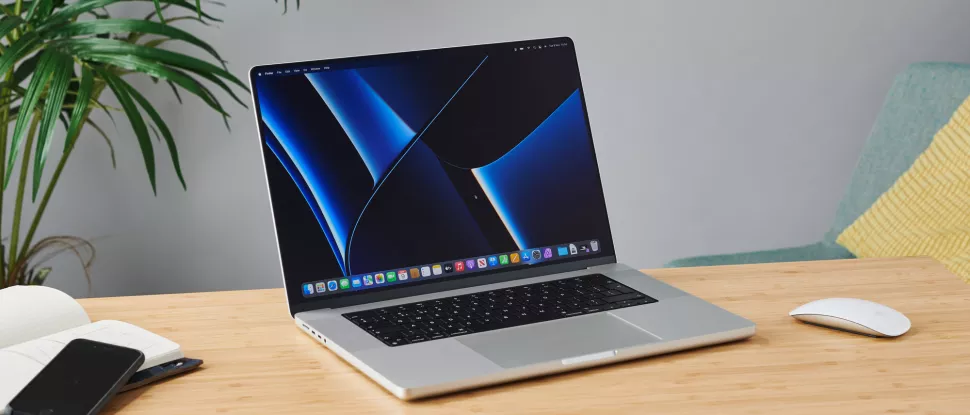 The larger of Apple's new Pro laptops contains about as much performance as you can ask for in a notebook, powered by either Apple's SoC 10-core M1 Pro or M1 Max SoC (system on a chip).
Not only is that 8 performance cores and 2 efficiency cores of processing power but, since it's a system on a chip, you also get either 16 or 32 cores handling your graphics. Add in up to 64GB of RAM (32 if you stick with the M1 Pro and this powerhouse will rip through any project you throw at it.
Since you can upgrade the SSD to up to 8TB of storage, you can skip carrying around an extra drive for storage. That is, if you're willing to pay.
The main drawback of the MacBook Pro 16-Inch (2021) is its price. If this is more power than you need in a computer, there are other options on this list that cost less than half the 16-Inch's base model. It's also a bit on the bigger side, weighing 4.7 pounds or 2.1 kgs, making it a little less portable than the 14-inch model or a lot of other options here.
However, if you're willing to pay and carry the extra weight, there's a lot more than just the performance of the new M1 chips. That gorgeous mini-LED XDR display gives you 254 pixels per inch as well as up to 1600 nits of peak brightness, making this an easy screen to use.
It also comes with plenty of ports including 3 Thunderbolt 4 ports, an HDMI port, an SDXC card slot, and the return of the MagSafe port so all your Thunderbolt ports are available even when charging. If that isn't enough, the battery life is stellar, especially for a larger notebook.

Read the full MacBook Pro 16-Inch (2021) review
The HP Envy 16 is a bit of an all-rounder. Catering to creatives who edit videos, photos, or even build small indie games, if you're using Adobe or Adobe-like tools, this laptop should definitely be considered.
It's sleek and well-designed, but in that way that all modern laptops are - good-looking but not a standout beauty. Open up the device, though, and its crisp 4K 16-inch display immediately makes it a top-flight choice for video editing. It features 100 percent sRGB gamut, 100 percent Adobe gamut, and color calibration with Delta E and Eyesafe certification.
Audio is great too, with the Bang & Olufsen speakers proving ideal for mixing AV when you haven't got your headphones. For professionals, online collaboration and client meetings are enhanced by the 5MP True Vision IR web cam and dual microphones.
The specs are good enough for gaming, too - so it's a bit of a work, rest, and play machine. However, the laptop is let down by its low battery life, so better if you're transporting it to offices, cafes. Not true on-the-go, anytime-anyplace content creators. But highly effective.
Read our full HP Envy 16 review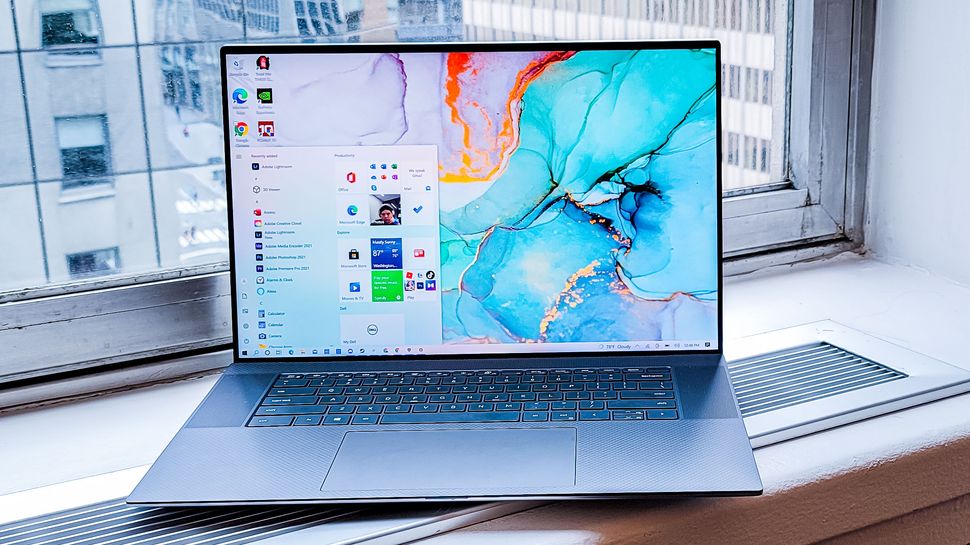 Engaging in 4K video editing on a laptop with the same power as a desktop workstation and a UHD display wasn't until recently a realistic proposition but now it is. Packed in its sleek, thin design is an Intel i9-11900H processor, a beefed up Nvidia RTX3060 graphics card, 32 GB of memory and a generous and fast 1TB SSD.
It also looks gorgeous: A silver aluminum lid and bottom cover the laptop and a black soft-touch deck interior and palm rests are coated with carbon fiber. The laptop's keyboard comes with Dell's trademark backlit design. Expansion is provided via its four Thunderbolt 4 (USB-C) ports which also supply power. Ideal for connecting fast external solid state disks or HDDs to deliver your final video workload. Or you can do it wirelessly to the cloud via Wi-Fi 6.
The UHD display is a must for accurate 4K video edits and this laptop delivers with a cherry on top. What Dell calls a 4-side InfinityEdge display is actually a thin bezel surrounding the actual screen. That means you get the largest screen possible without enlarging the rest of the laptop.

Read the full Dell XPS 17 review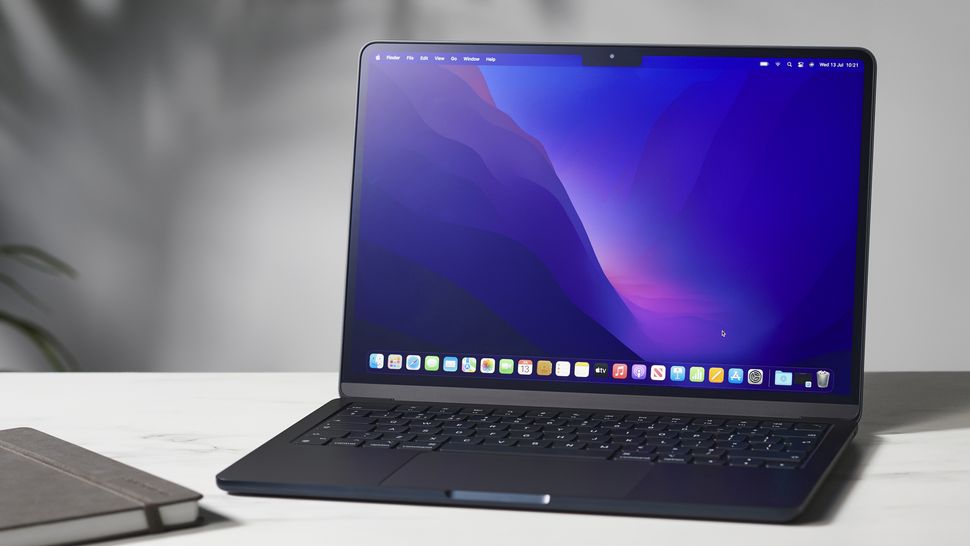 Built for on-the-go creatives, Apple's outstanding MacBook Air is perfect for video editing at home, in the office, or wherever else inspiration strikes. It's lightweight (a mere 2.7 pounds), streamlined, and genuinely beautiful.
Powering the device is a snappy M2 chip, with the base model featuring 8-core CPU, 8-core GPU, 8GB of memory and 256GB SSD storage. If you're doing serious editing, you'll likely want to opt for one of the upgraded models. Our review unit had an integrated 10-core GPU, 16GB RAM, and 1TB storage - more respectable specs for content creation. A slimline laptop means a smaller screen size - just 13.6 inches (and a resolution of 2560x1664), but that's all part of the charm.
Arguably the biggest problem with MacBook Air (M2) is its price. If you're working to a budget, the previous model offers much better value. If you're looking for a more portable upgrade to the comparably priced MacBook Pro 13-inch, it makes a lot more sense.
Read our full Apple MacBook Air (M2, 2022) review
Lenovo's ThinkPad P17 Mobile Workstation may not be the best choice if you just want to grab your laptop and work in the coffee shop for a couple of hours. But if you need to setup and get some serious creative work done, this mobile workstation easily handles everything from video editing to 3D modeling.
Strong, sturdy, and a powerhouse under the hood, it's not the fastest on the block, but it is fast enough. Our Lenovo ThinkPad P16 featured an i9 2.30GHz CPU, an Nvidia RTX A5500 GPU, and 64GB RAM that can be swapped out - more than enough for video projects. The 16-inch multi-touch display shows a resolution of 3840x2400. 2TB of storage should easily see most editors through the next project.
Writers will especially like the full-size keyboard - we found it comfortable to type on even for long periods of time. In our tests, we also found the iInternal fans did an excellent job of keeping everything cool - so it'll be fine on your lap (although fair warning, this beast clocks in 2.5-times heavier than a MacBook Air).
Read our full Lenovo ThinkPad P16 Mobile Workstation review
Solid performance and a lightweight build mark the Alienware X14 as one of the best video editing laptops on the market. A strikingly thin device, it's ostensibly a gaming laptop that can more than handle the requirements of video editing.
The base model features a 12th-generation Intel Core i7 processor, 16GB RAM and an Nvidia GeForce RTX 3050, while the top-end model bumps that to 32GB of RAM with a 2TB SSD. Upon testing the machine, the verdict was clear: "CPU heavy workloads like photo and video editing are going to be a breeze."
It's not perfect, however. Overall, we found the speakers are fine, but not exemplary.A slight design flaw to the rear means it packs away more like a 15-inch laptop than a 14-inch laptop. We also criticized its weak battery life and middle-of-the-road 720p webcam.
With its 14-inch 1080p display, this won't be the right choice for veterans and hardcore professionals. But the X14 does reach 109% of the sRGB color spectrum, and for most video editors, this laptop should capably deliver.
Read our full Alienware X14 review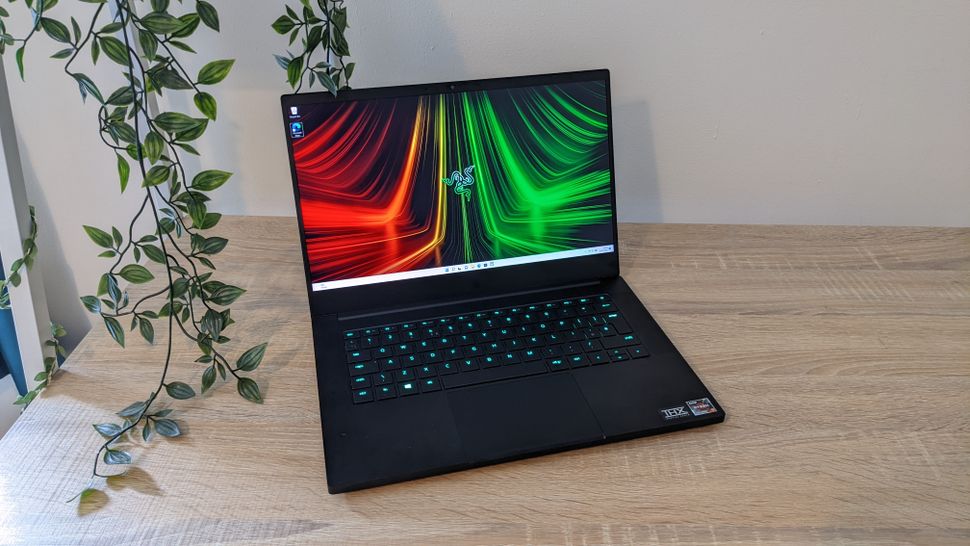 A "beautiful little piece of hardware with exceptional build quality" that's "a joy to use." That's how we described the Razer Blade 14 when testing out the laptop for the first time.
The iconic Blade chassis returns - cleanly designed in a durable black aluminum, complete with RGB keyboard, it retains the signature look of previous iterations. The 14-inch 1440p screen features up to 100% DCI-P3 color reproduction, making it a smart choice for video and photo editing. During our time with the laptops, we were impressed with the incredible density of color and sharpness of contrast, offering a competent tool for content creation work.
Internally, the RTX 3070 Ti GPU does a fair job, although it lacks the power of its desktop counterpart. CPU performance from the AMD Ryzen 9 6900HX is good, although it doesn't quite measure up to Intel's competing i9-12900H. But the video editing laptop runs quiet, its SSD is super-fast, and the battery life was fair - in our tests, it lasted almost 8.5 hours.
On the downside, the keyboard does feel a bit cramped - so may not work if you're planning to write your screenplay here. And the soldered RAM means no upgrading the internals. But for a solid video editing laptop with gaming capabilities, it's plenty powerful.
Read our full Razer Blade 14 review
If you edit video while on the go a "convertible laptop" or 2-in-1 laptop can be handy to boost your creative process. You can use it as a tablet for previewing your source material or exploring transitions with the touch screen, then the next minute load up your complex non-linear video editor and use it with the keyboard like a regular laptop.
The HP Envy's 15.6-inch, full HD 1080P WLED display looks gorgeous and is more than adequate for video editing on the go. If need be, you can connect it to an external monitor or large screen TV via its HDMI or DisplayPort via USB-C. While this isn't a 4K 17-inch screen laptop replacement, what you lose by not having an extra-large display and 4K resolution you make up for when it comes to battery life.
Packed inside is an eight-core AMD Ryzen 7 5700U with Vega graphics, a speedy CPU that makes up for the lack of a discrete GPU. Its terabyte of fast SSD storage will make working with heavy video editing programs a breeze.
When it comes to expansion, it sports one USB-C port - luckily of the USB 3.2 Gen 2 type (10 Gb/s with Power Delivery), one HDMI 2.0, two USB 3.2 Type-A ports, a micro-SD card reader and headphone jack. Connectivity is provided via built-in Wi-Fi 6 and Bluetooth 5. With its well-engineered design, a comparative low price and excellent display, the HP Envy x360 is one of the best options for video editing enthusiasts on the move.

Read the full HP Envy x360 review
Best video editing laptop: FAQs
How to choose a video editing laptop for you
Why you can trust TechRadar We spend hours testing every product or service we review, so you can be sure you're buying the best. Find out more about how we test.
When choosing which video editing laptop is best, there are several factors to take into account. As we said before, it's not simply a case that the most expensive, most powerful will be right for post-production.
Most video editing software depends on the CPU - it keeps the engine driving as the speeds top video editors are most comfortable. so opt for the best CPU in your budget.
Video editing apps are also heavyweight in terms of memory usage, so look for laptops with the best RAM. To work with heavyweight video editors like Adobe Premiere Pro you will need 16GB of RAM to plod away comfortably, although technically it can run with just 8GB.
A fast GPU will also help once you get past simple chopping up footage and start adding transitions, overlays and other fancy effects. The GPU used to be less important, but it's becoming more popular especially for creatives working with specific video editors, the best VFX software, and best 3D modeling and rendering software.
The operating system should have a rather large solid state disk so both it and applications load and run quickly with plenty of scratch space. Ultimately though, it will be the resolution of your video production which will steer you towards your final system requirements, with screen size being one of the most important.
In general, if your video production is full HD or 1080p, any laptop will be adequate. However, once you move to 2K or higher, you will prefer a "higher than Full HD" screen resolution on your system, we're talking QHD and UHD for working with 2K and 4K video, respectively.
Other good factors to consider are choosing a device that is expandable (so that you can add more memory or an additional SSD if necessary), one that comes with next business day warranty (or at least offers it as an option) and a device that features ample connectivity as users are likely to transfer files via cloud storage or via external storage (most likely a portable SSD or external hard drive).
What specs does my video editing laptop need?
Swipe to scroll horizontally
| Specs | Minimum | Recommended | Ideal |
| --- | --- | --- | --- |
| Editing resolution | 1080p (1920 x 1080) | 4K (3840 x 2160) | 4K (3840 x 2160) |
| Processor | 8th Generation Core i5 or equivalent AMD Ryzen | 8-core Intel CPU or equivalent AMD | Intel Xeon or better |
| Memory | 16GB | 32GB | 64GB |
| Storage | 256GB SSD | 256GB NVMe PCIe SSD | 1TB NVMe PCIe SSD (RAID-0) |
| Screen | Full HD | 4K | 8K |
| Video card | Integrated | Discrete | Nvidia RTX or AMD Radeon Pro |
Are laptops good for video editing?
Yes, you can get laptops that are good for video editing - but it has to be the right laptop with the right specs.
We reached out to Michel Yavercovski, Senior Director of Product Management for Corel video products, to get his expert opinions about choosing a creative computer.
"There are a few key things to look for when buying a video editing laptop and, of course, when you're talking about video, the better the hardware, the smoother and more responsive your editing experience will be. Whether you're talking about our Pinnacle Studio or VideoStudio products, both have been designed to take full benefit of your hardware to make video editing as fast and efficient as possible," said Michel.
Processors
"First, you'll want to look for a system with a powerful multicore processor -- the Intel Core i7 product line is a good choice to get started with -- and our software has been optimized to take advantage of multithreading so you can get the most out of these impressive chips. A powerful processor will also give you a seamless experience when working with today's popular formats and creative features like multi-camera and 360° video support. 4K video can create huge file sizes, so you'll also want to make sure the device has a large and fast SSD storage drive that can read and write large video files without any hang-ups."
Memory
"Video editing takes up a lot of memory, so shop for a system that has between 16GB and 32GB of RAM to keep things running smoothly. And, of course, a 64-bit version of Windows 10 is a must. "
Graphics card
"Then, when considering graphics cards, look for the latest NVIDIA GeForce RTX or GTX series as well as Intel Iris or HD Graphics for overall faster processing and editing. Most advanced graphics cards will also have HEVC support, enabling the use of this advanced video format in your productions."
Display
"Since you'll be working primarily on one screen when you're on the go, make sure the laptop's built-in monitor produces crisp images and has accurate color rendering. It's also ideal to have a system that will support multiple screens for when you're back in your main work space."
Battery
"Lastly, I always advise users to either plug in their laptops or adjust the power settings for high performance since many notebooks default to power-saving features when they're running on battery which can impact performance. You may have to accept a shorter battery life, but it will ensure faster processing for a great editing experience."
Are Chromebooks good for video editing?
No. Even the best Chromebooks aren't a good choice for editing videos. These portable lack large storage facilities and the specs required to run video editor software - most software requires a good CPU, GPU, and RAM to run flawlessly. However, you may have some luck using the best video makers to create simple content in your browser on a Chromebook. The best video editing apps are a good alternative to video editing on Chromebooks. These accessible apps run on Android, iPhone, and iPad devices, offering surprisingly powerful tools for cutting content easily.
How can I speed up my video editing?
Hugely experienced edit trainer and colourist, Darren Mostyn, guides us through some essential steps to accelerate editing routines in a bid to make your workflow even more efficient.
I have been editing for over 25 years and thought I would share some of my best tips on how to speed up your editing skills. Most of this advice applies to any editing application. Even a 1% or 2% increase in speed could improve your productivity by over half an hour a week. That's time you can take off and enjoy or add to the workload and increase your income. Having worked in broadcast sport and live events editing for around a decade, I had to edit super-fast to turn highlights of live action around in some crazy tight deadlines.
Before we get in to the steps, here's something to keep in mind. Editing quickly is not necessarily why we are employed. But by being quick at the mechanical process of editing also leaves more time for the 'real' job – crafting the story, supporting the performances, controlling the pace and engaging the audience, and so on.
Learn your keyboard shortcuts. My first piece of advice is to know your keyboard shortcuts inside out. Any menu that you use more than twice a day will likely have a keyboard shortcut or can be mapped to a keyboard. Just take the time to find the shortcut and practise using it. You may find this slows you down to start with, but it will increase your speed over time. Force yourself to use the shortcuts. Combine that with using a dedicated colour coded keyboard available for most NLEs by third party keyboard manufacturers. DaVinci Resolve users like myself can use a dedicated keyboard called the Speed Editor (ed: Other popular video editing apps are likely to have bespoke consoles as well). Don't forget that you can change shortcuts if you need to – I spent many years alternating between Avid, Final Cut Pro and Adobe Premiere, so now when I edit I have a set of shortcuts that are a hybrid. How flexible you can be will depend on your NLE.
Get training. Invest in some quality training. Whilst this may seem like an expensive outlay, the return on investment can be rewarding. Spending hours looking at YouTube channels hoping that the information is correct can be a potential waste of your time. A structured course will give you more confidence in playing with new techniques – you may find you have been working in a certain way for years only to discover there is a much easier and quicker approach available.
Time management. Your mind will be far more productive if you take breaks. It is believed that 2-3 hours of concentrated work, followed by a short break, is far more effective than 4 or 5 hours straight editing. Get all the emails and social media checks done in the break, but actually take a break from your screen too. Go for a walk or something active, then carry on working for a few more hours - it is good for your body not to be sat in a chair for hours on end. You'll come back with higher levels of concentration. Be comfortable – this applies to everything. Nothing slows you down more than a bad back or an aching wrist. Invest in a good ergonomic chair or even a standing desk and make sure your monitors are at the right height.
Cheap media is a false economy Use faster hard drives and quality card readers if you are responsible for transferring data. Cheap hard drives and card readers will slow down your transfer speeds considerably. I invested in a decent USB hub after years of using cheap ones and the transfer times are lightning quick. If you can get your data onto SSD drives, you will save so much time over regular drives. Editing and rendering times will also benefit from faster hard drives. You can consider making proxy files from your footage to help with workflow bottlenecks you may encounter on slower machines.If we are making proxies for use in an Avid workflow, we use DaVinci Resolve to generate them as it is quicker.
Use a decent computer. Learn your NLE's proxy workflow if your computer is struggling. Two monitors or an Ultrawide monitor will help you organise your edit and a third monitor for previewing full screen is ideal. Nothing is more frustrating than being slowed down by the hardware. (ed: The jury is still out on screen resolution)
Freshen up your human interface. A Wacom digitizing tablet and pen will not only speed up your editing but also reduce fatigue in your wrist. I have not used a mouse since discovering Wacom tablets around 20 years ago. I have a small portable size tablet that I can take on the road with me if I am working away from the studio. I currently use an Intuos 3, which is old now, but they are built so well that it still works like new. The fact that I can keep the pen in my hand at all times makes it faster for me to work. Once you have set them up correctly for your comfort and assigned shortcuts to the keys, you will never need a mouse again. If you have to draw any masks or audio levels, it is far easier to use the pen. It takes a bit of getting used to and will slow you down at the start, but you will soon gain speed.
How we test the best video editing laptops
We took into account the recommended hardware requirements from popular non-linear video editors and published benchmarks like Puget Systems' Premiere Pro benchmark.
Given the above requirements and information, we selected laptops with 16GB of RAM or more -32GB preferred- with 1TB or more of fast internal SSD storage and the latest-generation CPUs from AMD, Intel and Apple. We had to make an exception in the rugged category as an Intel i7 is the fastest at the time of writing.
As a result, a laptop chosen from this list will be as suitable for the task at hand a year down the line as it is today. Offerings from Apple, Dell, Lenovo, HP, and Razer all provide suitable options for video editing, including a versatile 2-in-1 laptop and a rugged laptop for working outdoors.
It is no surprise that some entries are mobile workstations and business laptops while others are marketed as the best gaming laptops: modern games are resource-intensive in terms of CPU, RAM and GPU, so gaming laptops are exceptionally well suited for pro video editing. Unless otherwise noted all systems feature a SD card reader slot.