The best 2-in-1 laptop 2023: convertible laptops for all budgets
Best
Contributions from
last updated
These are the best 2-in-1 laptops on the market right now
VERDICT
REASONS TO BUY
REASONS TO AVOID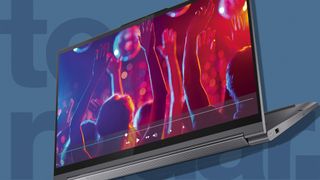 (Image credit: Future)
Editor's Note: December 2023
This month, we have a new entry, the dual-display beauty that is the Lenovo Yoga Book 9i. It's not only one of the best 2-in-1 laptops on the market right now, but it takes it to a whole new level with its two displays and multi-mode versatility. We're big fans, and while it's not exactly cheap, it's well worth the investment if you're a multitasker.
Michelle Rae Uy, Reviews and Buying Guides Editor, Computing
The best 2-in-1 laptops can be absolutely vital tools for work, school, or entertainment. Whether you're using them to surf the web, take notes in class, video-chat with your grandma, or watch your favorite Twitch streamer, these hybrid devices can handle it all. If you're on the lookout for a new laptop, any one of the models listed below could become your new tech companion.
Every 2-in-1 laptop on this list has been personally reviewed by our expert team, and we can say with confidence that they're so much better than the convertible laptops of yore. Even just looking back three or four years, the shifts in power, portability, and design quality are hugely noticeable – largely due to the new processors and more efficient batteries that have made these machines some of the best laptops around.
It's not just the best Windows laptops that benefit either, since many of the best Chromebooks available right now are 2-in-1 models that utilize either a 360-degree hinge or a detachable keyboard to deliver top-notch user experiences in both laptop and tablet modes (If you're not sure which to get, check out our Chromebooks vs laptops guide where we break down the pros and cons of each).
With so many great options out there though, how do you go about finding the right one? Well, fortunately, we've tested loads of the best 2-in-1 laptops on the market over the years, so whether you're looking for something cheap and cheerful or the best Ultrabooks, we've seen just about all of them. Scroll on down, and you can see our top 10 picks of all the 2-in-1 laptops we've reviewed.
The best 2-in-1 laptops 2023
Why you can trust TechRadar We spend hours testing every product or service we review, so you can be sure you're buying the best. Find out more about how we test.
The best 2-in-1 laptop overall
The best 2-in-1 laptop overall
Specifications
CPU:
13th Gen Intel Core i7-1360P
Screen:
Up to 14-inch 3840 x 2400 400-nit OLED touchscreen with 100% DCI-P3, VESA Certified DisplayHDR True Black 500, Dolby Vision
Reasons to buy
+
Absolutely stunning design
+
Gorgeous display
+
Great battery life and performance
Reasons to avoid
-
Too expensive for most people
-
Display averages at 350 nits
The Lenovo Yoga 9i Gen 8 (2023) is a testament to Lenovo's brilliance, offering speedy performance and great features in an elevated design and for less than the price of its more popular rivals. This is an absolute stunner, with an OLED display with amazing picture quality, and a 360-degree-rotating soundbar for a more immersive streaming experience.
Performance-wise, it crushed other touchscreen laptops such as a similarly-specced and similarly-priced Samsung Galaxy Book3 Pro 360 in our benchmarks. And surprisingly, it holds its own when tackling creative workloads, taking less time than we expected to process and export 50 high-res 7952 x 4472 images from RAW to JPEG in Lightroom. It delivers on battery life as well, giving us a little over 10 hours on a full charge in our web surfing battery test.
The OLED display is not as bright as we'd hoped, averaging around 350 nits in our readings. But it's vibrant nonetheless, not to mention responsive and intuitive to your touch commands.
Read our full Lenovo Yoga 9i Gen 8 review
The best budget 2-in-1 laptop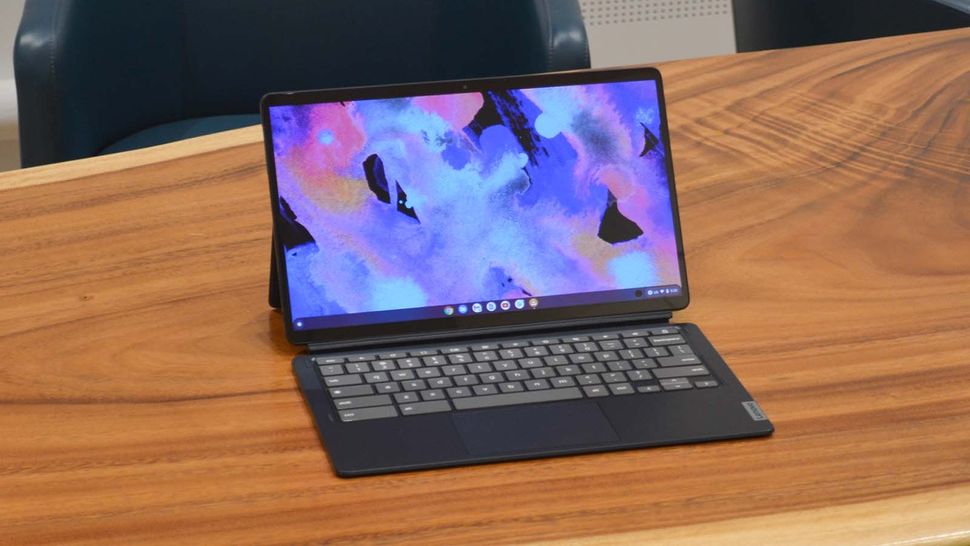 The best budget 2-in-1 laptop
Specifications
CPU:
Qualcomm Snapdragon 7c Gen2
Graphics:
Qualcomm Adreno Graphics
Screen:
13.3-inch FHD (1920 x 1080) multitouch OLED, 400 nits
Reasons to buy
+
Bright and vibrant display
+
Truly exceptional battery life
+
Decent performance for the price
Reasons to avoid
-
Keyboard could be more robust
-
No included stylus
-
Works better as a laptop
It's actually astounding how something like the Lenovo IdeaPad Duet 5 Chromebook can exist in this market, being as cheap yet as impressive as it is. It delivers plenty of power to those who rely heavily on Google Chrome workloads and use it for the more casual workloads.
Our time with this incredibly portable Chromebook was spent sending emails, writing our articles, and naturally, streaming our favorite shows. While all that doesn't sound taxing to the system at all, having 20 or more browsers open actually is, especially if some are streaming content. And, this Chromebook breezed through that without a sweat while lasting about 16 hours and 20 minutes during testing.
We also appreciate that it's incredibly portable, making it easier to take with us if we want to squeeze in a little bit of work whilst traveling. This being a 2-in-1, there's also the touch display aspect, which got upgraded to an OLED one. Its touch capability has always been nice and responsive, but now you've also got the vivid colors that only an OLED panel can offer.
Read our full Lenovo IdeaPad Duet 5 Chromebook review
Still the best premium 2-in-1 laptop
Still the best premium 2-in-1 laptop
Specifications
CPU:
11th-generation Intel Core i3 – i7
Graphics:
Intel Iris Xe Graphics
Screen:
13.3-inch diagonal BrightView LED FHD, 400 nits – 13.3-inch diagonal BrightView LED 4K UHD HDR-400 550 nits
Reasons to buy
+
Great design
+
Comfortable keyboard
+
Excellent screen
Reasons to avoid
-
Expensive
-
USB-C ports on only one side
HP might have stumbled with the overpriced, underperforming HP Elite Dragonfly G3, but fortunately its predecessor hasn't gone anywhere. It's still amazing: an impressive business laptop with a smart design, great battery life, and 2-in-1 capabilities.
The HP Elite Dragonfly was among the best HP laptops, and the second-generation model followed in its footsteps. Of course, being a follow-up, it's more powerful than its predecessor. Day-to-day tasks were handled very well during testing, and the 256GB SSD in our model was fast and speedy. It might not be 12th-gen Intel, but that's actually a good thing here; the G-series 11th-gen chip inside provides great stability and performance – and not too shabby a battery life.
It might just be as close to being the perfect business laptop as any manufacturer can get, but it's also stylish enough to appeal to more casual users. That is, if they can afford it – as this laptop is as expensive as it's always been. However, as it is meant for professionals, it's definitely worth the investment. Plus, that 2-in-1 form factor, touchscreen functionality and included stylus makes it a better value than its rivals.
Read our full HP Elite Dragonfly G2 review
The best 2-in-1 Chromebook for work and fun
The best 2-in-1 Chromebook for work and fun
Specifications
Graphics:
AMD Radeon Graphics
Screen:
14-inch 1920 x 1080 Acer CineCrystal LED-backlit IPS touchscreen
Storage:
128GB Flash Memory
Reasons to buy
+
Great performance
+
All-day battery life
+
Fantastic screen
Reasons to avoid
-
No stylus included
-
High mid-range price
The Acer Chromebook Spin 514 is a fantastic touchscreen laptop to immerse yourself in. Though you'll still need to do most of your work on the Chrome browser, you are getting an even more powerful device here without paying a premium.
Keeping up with much pricier Chromebooks during testing, it breezes through mostly browser-based workloads without a hitch, handling about 20 tabs of websites of varying graphical and processing demands while keeping things relatively cool and quiet. Sure, the battery isn't as long as many budget Chromebooks, giving us eight hours and 20 minutes run in our battery test, but that's still a full workday if you think about it.
The 14-inch 1080p Corning Gorilla Glass display is a stunner as well, ideal if you want to just use it for streaming Netflix all day and even play a mobile game. It also supports the USI Stylus, despite not having it included in the box. But you don't need to buy one as the touch capability here is incredibly intuitive.
Read our full Acer Chromebook Spin 514 (2022) review
The best dual-screen laptop
The best dual-screen laptop
Specifications
Graphics:
Intel Iris Xe Graphics
Screen:
2 x 13.3″ 2.8K (2880 x 1800) OLED, 400 nits, 16:10 aspect ratio, 100% DCI-P3, PureSight, touchscreen
Storage:
Up to 1 TB PCIe SSD Gen 4
Reasons to buy
+
Beautiful dual displays for multitasking
+
Multiple modes, plenty of features
+
Luxurious lightweight design
Reasons to avoid
-
One configuration is expensive
-
Steep learning curve
-
Port selection is disappointing
Finally, a dual-screen laptop done right. The Lenovo Yoga Book 9i may be a little out of most people's price range, but it's a worthy investment if you're a multitasker whose daily work needs cannot be satisfied by just a single laptop screen. If you're thinking of getting a portable monitor to spread out, this laptop is worth a look, especially since Lenovo quite beautifully and seamlessly executed its dual-display design, complete with multiple modes so it's going above and beyond being a 2-in-1 laptop.
It's a capable laptop as well. On test, it saw us through not only our general productivity needs but our photo editing workloads as well, taking just under 3 minutes to import 75 42,000KB RAW files from a UHS-II SD card, and three minutes and fifty-two seconds to export those same images as JPEG. What's even more impressive is that it might be able to outlast your internal battery with its over nine-hour battery life benchmark result. Play your cards right, and you can extend that to 14 hours.
Want to do more content creation? It will take a little more time rendering and encoding videos, but the touchscreen displays are total stunners. During testing, they delivered about 193% DCI-P3 and 163% sRGB color coverage with an average of Delta E < 1.0 color accuracy.
Read our full Lenovo Yoga Book 9i review
The best mid-range 2-in-1 laptop