EDITOR'S NOTE: March 2023
With the announcement of the Samsung Galaxy Book3 Pro 360, there is a strong new contender for best 2-in-1 laptop incoming, but it will have to overcome some seriously potent laptops to make our list.
The HP Elite Dragonfly G2 is still one of the best Windows laptops around, in addition to being a powerful 2-in-1, but with a new 13th-gen Intel processor the Galaxy Book3 Pro 360 is sure to replace the Galaxy Book2 Pro 360 atop our list. We'll know for sure once we can formally review it, but from what we've seen so far, we can definitely say it's one of the most exciting 2-in-1 launches we've seen so far this year.
- John Loeffler, US Computing Editor
The best 2-in-1 laptops can be absolutely vital tools for work, school, or entertainment. Whether you're using them to surf the web, take notes in class, video-chat with your grandma, or watch your favorite Twitch streamer, these hybrid devices can handle it all. If you're on the lookout for a new laptop, any one of the models listed below could become your new tech companion.
Every 2-in-1 laptop on this list has been personally reviewed by our expert team, and we can say with confidence that they're so much better than the convertible laptops of yore. Even just looking back three or four years, the shifts in power, portability, and design quality are hugely noticeable – largely due to the new processors and more efficient batteries that have made these machines some of the best laptops around.
It's not just the best Windows laptops that benefit either, since many of the best Chromebooks available right now are 2-in-1 models that utilize either a 360-degree hinge or a detachable keyboard to deliver top-notch user experiences in both laptop and tablet modes (If you're not sure which to get, check out our Chromebooks vs laptops guide where we break down the pros and cons of each).
With so many great options out there though, how do you go about finding the right one? Well, fortunately, we've tested loads of the best 2-in-1 laptops on the market over the years, so whether you're looking for something cheap and cheerful or the best Ultrabooks, we've seen just about all of them. Scroll on down, and you can see our top 10 picks of all the 2-in-1 laptops we've reviewed.
The best 2-in-1 laptops for 2023
Why you can trust TechRadar We spend hours testing every product or service we review, so you can be sure you're buying the best. Find out more about how we test.
The Samsung Galaxy Book2 360 may not be the excellent Pro Book2 model, but it still manages to get a lot of things right – enough to make it a worthy option for professionals looking for a highly capable 2-in-1 laptop that's not quite a piggy-bank-breaker. There's a lot you'll love here including its all-day battery life and premium convertible design.
But, this being a Samsung laptop, its pride and joy is that stunner of an AMOLED display. Despite its modest 1920 x 1080 resolution, we found this screen to be a delight, especially for watching videos or doing a spot of photo-editing. Of course, its performance has proven to be solid as well when it comes to productivity tasks and even casual gaming.
If you're looking for a versatile, portable, and affordable 2-in-1 laptop with great battery life and an even better display, this one's a winner.
Read our full Samsung Galaxy Book2 360 review
Is it a Chromebook or is it a tablet? Well, luckily, you won't have to decide. True to its name, the Lenovo IdeaPad Duet Chromebook delivers two form factors in one, while keeping the price unbelievably low. In fact, if you're looking for a budget option, this is the best 2-in-1 laptop for you. This Chromebook utilizes the versatility of the Chrome OS, while setting you back a lot less than many of the top Windows tablets out there.
Of course, true to its Chromebook nature, its battery packs an incredibly long life of almost 22 hours – you could pull an all-nighter, work through the day and mid-afternoon, and you'll still pass out before it runs out of juice. For this price, sacrifices have to be made, naturally – the keyboard is tiny, the trackpad isn't as reliable, and the charger and headphones share one port. However, if budget is your top priority, this has to be your top choice.
Read our full Lenovo IdeaPad Duet Chromebook review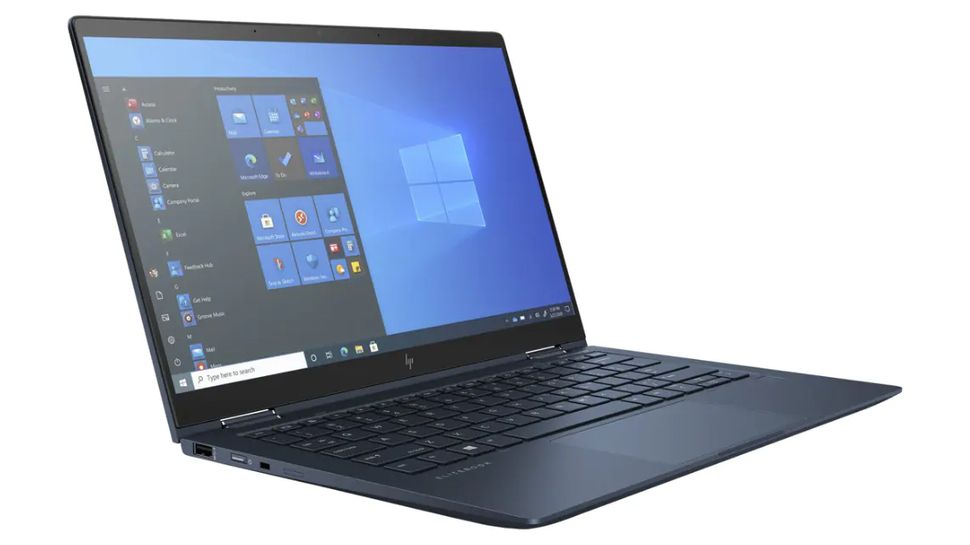 HP might have stumbled with the overpriced, underperforming HP Elite Dragonfly G3, but fortunately its predecessor hasn't gone anywhere. It's still amazing: an impressive business laptop with a smart design, great battery life, and 2-in-1 capabilities.
The HP Elite Dragonfly was among the best HP laptops, and the second-generation model followed in its footsteps. Of course, being a follow-up, it's more powerful than its predecessor. Now, the line is touting 11th-gen Intel Core chips, Intel Iris Xe graphics, and now a 4K display, upgrading from its previous Full HD models.
It might not be 12th-gen Intel, but that's actually a good thing here; the G3 uses a U-series 12th-gen chip, which provides better battery life but ultimately sub-par performance. The G-series 11th-gen chips in the HP Elite Dragonfly G2 provide better stability and performance for their generation, and this laptop doesn't struggle with battery life anyway.
It might just be as close to being the perfect business laptop as any manufacturer can get, but it's also stylish enough to appeal to more casual users. That is, if they can afford it – as this laptop is as expensive as it's always been. However, as it is meant for professionals, it's definitely worth the investment. Plus, that 2-in-1 form factor, touchscreen functionality and included stylus makes it a better value than its rivals.
Read our full HP Elite Dragonfly G2 review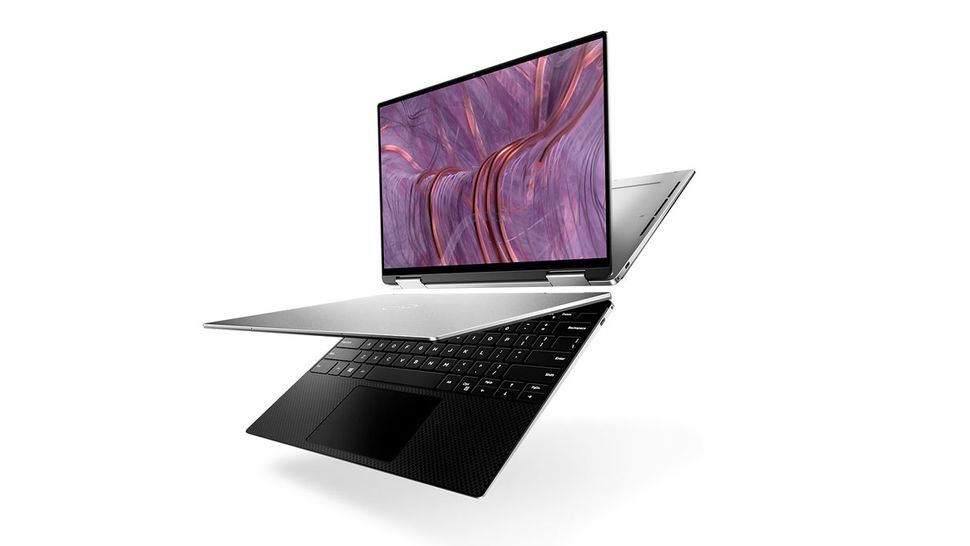 The Dell XPS line has been upping the ante in the world of portables since its launch, and that hasn't changed years later. Its price tag means it's now moved into the premium tier, forcing its budget-conscious fans to look for cheaper alternatives, but that higher price tag is more than justified considering this laptop's build, features, and prowess. The Dell XPS 13 2-in-1 (2020) remains to be among the best laptops right now, touting more versatility thanks to its hybrid design. We love this laptop so much that we'd buy it just for the pleasure of using it.
But if that price is holding you back, let us assure you: this is worth paying extra for. Its absolutely stellar battery life, Wi-Fi 6 connectivity, plenty of storage, and quiet operation are among the most noteworthy features here. Its bright and vibrant display also means that it's just as much of a pleasure to use in tablet mode as it is in traditional laptop mode.
Read our full Dell XPS 13 2-in-1 (2020) review
The Asus Zenbook Pro 15 Flip OLED is pretty darn difficult to find – with virtually no availability outside the US – but it's nonetheless one of the best professional laptops we've ever reviewed. When we tested it, we found that demonstrated superb, versatile performance packaged in a sleek but durable frame. A comfortable keyboard and trackpad plus a good selection of physical ports make using this Zenbook in laptop mode a cinch, and the glorious 2.8K OLED touchscreen is fantastic for tablet-mode shenanigans.
Stock struggles aside (it's not even that easy to find in the US), our only real criticism was that the webcam's low-light performance was lackluster – something that felt slightly like us clutching at straws for a single negative point. As long as you've got a brightly-lit room for your video calls, you should be fine.
Read our full Asus Zenbook Pro 15 Flip OLED review
Most 2-in-1 laptops opt for a small form factor – typically with a 13-inch or 14-inch display – in order to better align themselves with their tablet brethren. Not so the Dell Inspiron 16 2-in-1, which rocks a big, bright 16-inch screen with a 16:10 aspect ratio that allows you to fit more on your screen when scrolling through web pages or documents.
It's a bit more expensive than many 2-in-1 laptops with comparable specs, but this is still a dependable workhorse for everyday tasks. It's a little on the heavy side, but that's down to it having an exceptionally sturdy chassis and a robust touchscreen. A wide range of models are available, including one with a dedicated Nvidia MX550 GPU, in case you'd like to do a little creative work, or gaming.
Read our full Dell Inspiron 16 2-in-1 (2022) review
---
Microsoft's latest Surface Pro 2-in-1 is equally adept at being a laptop and a tablet, with one specific ace up its sleeve that simultaneously causes it some problems and earns it a place on this list: the Microsoft SQ3 chip at its core, designed in collaboration with Qualcomm.
The SQ3 chip is the latest of Microsoft's efforts to bring proprietary processors to its Surface line, and it comes with two big advantages: great energy efficiency for longer battery life, and support for 5G LTE connectivity - so you can connect to the internet no matter where you are, a boon for fast-moving professionals. Unfortunately, the SQ3 chip runs an ARM-based version of Windows 11 (rather than the more conventional x64 or x86 variants), which introduces compatibility issues with some third-party programs, causing them not to work.
Despite this flaw, the Surface Pro 9 5G is a lovely little tablet with a beautiful screen and a stylish but sturdy design. Bear in mind that the Signature Keyboard Cover and Microsoft Slim Pen 2 aren't included, so you'll need to pay extra for those if you want the full 2-in-1 experience - and you will, because they're great companions to this Surface Pro.
Read our full Microsoft Surface Pro 9 5G review
---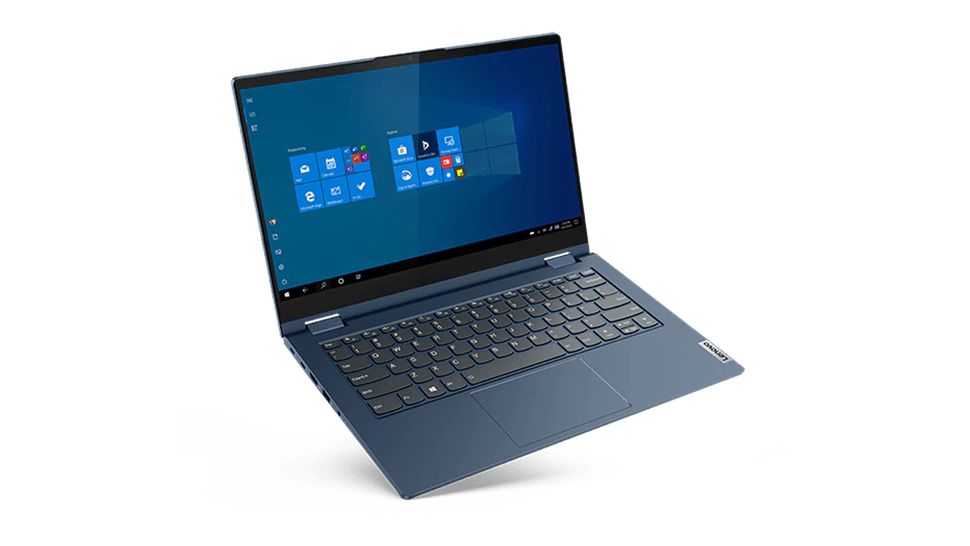 Lenovo's latest release, the ThinkBook 14S Yoga, is a solid and affordable convertible that comes with some great features and terrific performance. Even though admittedly, it isn't perfect, there's a lot to love here, starting with its great price-to-performance ratio. You'll appreciate the specs behind that power – that 11th-gen Intel Core chip and Intel Iris Xe graphics inside will ensure that it'll see you through even arduous tasks. And, although that coveted 2-in-1 design may come standard on every hybrid, for example, its garaged pen is not, making it a boon to those who tend to lose small peripherals. Plus, its webcam shutter is there to protect your privacy.
Sadly, that battery life is no match to the competition. It falls just shy of the nine-hour mark, which means that you should take your charger with you if you're clocking in a full work or school day. Still, for the price you're paying, this is among the best 2-in-1 laptops out there.
Read our full Lenovo Thinkpad 14S Yoga review
---
HP's premium Spectre x360 line of 2-in-1 laptops has always been one of our favorites, and the 2022 model is no exception. Sure, like its predecessors it's very expensive, but you get what you pay for: this time, a 12th-gen Intel processor, a subtly redesigned chassis, and a truly beautiful OLED display.
This screen is made even better by its 3K2K resolution and almost non-existent screen bezels, and HP has managed to squeeze in a very comfortable keyboard into the 2022 Spectre x360's compact frame. It keeps all the best aspects of older Spectre models, like the corner-angled ports that provide more connectivity while making excellent use of the laptop's real estate.
Read our full HP Spectre x360 (2022) review
---
A sleek and stylish upgrade to the IdeaPad Duet Chromebook seen higher up this list, the Duet 5 is that 2-in-1 Chromebook's big brother. It's got a bigger screen, a bigger keyboard, and a more powerful Snapdragon CPU from Qualcomm. The display on this version is an OLED panel that provides excellent brightness and color density.
The IdeaPad Duet 5 Chromebook is undeniably more at home being a laptop than a tablet, but that's no bad thing; it can hold its grounds against top-notch ultrabooks, and the Snapdragon 7c chip at its core is incredibly power-efficient, which results in an incredible 18+ hour battery life. The only downside is that it's more expensive than its predecessor.
Read our full Lenovo IdeaPad Duet 5 Chromebook review
How to choose the best 2-in-1 laptop for you
With so many great options available, picking out the best 2-in-1 laptop for your own personal needs can be tricky. If you're not particularly clued in on what the internal components mean, don't worry: we're here to help.
Ultimately, you need to consider exactly what you're planning on using your new 2-in-1 laptop for. If it's just going to be for simple office work (say, spreadsheets and word processing) or it's a simple entertainment laptop for a child, you don't need a top-tier processor or tonnes of RAM.
Most of these 2-in-1 laptops feature at least 8GB of RAM, which is plenty for the average user. If you're going to be performing more intensive tasks, like video editing, digital art, or running complex mathematical programs, you might want 16GB or even more than that. When it comes to confusingly-named CPUs, bigger numbers in the name generally mean a more powerful chip that will make the laptop run faster - though these will cost more.
If you want to use your laptop for maximum productivity, consider one with a 16:10 or 3:2 screen aspect ratio. This means that the screen is taller than 'widescreen' aspect ratios like 16:9, so you can fit more of a long text document on the screen without needing to scroll!
Lastly, pay close attention to the amount of storage a laptop has. If you're planning on mostly working off the cloud (like using Google Drive), you won't need as much storage. But if you want to install lots of programs to your device or store a tonne of photo or video files, you're probably going to need more than the 256GB drives found in many of the best 2-in-1 laptops.
How we test 2-in-1 laptops
Testing 2-in-1 laptops looks a lot like testing traditional clamshell laptops, only with a few extra steps. After all, we also need to test these hybrids' 2-in-1 form factor as well as touchscreen functionalities, ensuring that everything works swimmingly and the touchscreen is as responsive as it should be.
We take a look at a 2-in-1 laptop's design, first of all, checking to see how robust its build is, just how portable it is, how comfortable its keyboard and trackpad are to use, how good the display is, etc. We check the availability of ports and biometrics sign-in technologies. We check out the webcam, speakers, and mic as well, since video conferencing has become such an integral part of our daily lives. Naturally, because its 2-in-1 form factor is a major selling point, we inspect the hinges, the different modes, the touchscreen functionality, and the stylus, if included, to make sure that it's delivering a seamless experience.
Of course, we test its performance as well. Since most 2-in-1 notebooks are designed for productivity, school, or everyday use, we utilize the laptop in our daily workloads as well as for entertainment and casual use. We use the most commonly used Windows 10 (or Chrome OS on Chromebooks) apps to see how fast they load and run. We perform synthetic benchmarks as well, including PCMark 10 (Home Test) and GeekBench 5 so we can get you those exact numbers to compare to its rivals.
Battery life – or rather, great battery life – is an integral part of laptops, especially premium ones. So, we also test its longevity, using it at full charge to see just how long the battery lasts when doing everyday workloads, as well as running both our looped 1080p movie test and the PC Mark 10 battery life benchmark.
Finally, we gather all that information we collected about the laptop and compare it to its price tag to gauge whether it's a great value to consumers - or at the very least, worth the money.
For a more in-depth guide on our testing process, see how we test.
Why are 2-in-1 laptops great for students?
Some of the best 2-in-1-laptops are also excellent choices for students because of their versatility. No matter what you study, 2-in-1 laptops are more than likely capable of handling all the software demands your studies require. Tablet mode is great for any long reading assignments you may have, and tent mode makes it easy to go over group presentations with your classmates.
2-in-1 laptops also tend to be lightweight, making them easy to transport across campus and anywhere else you like to study. The best 2-in-1 laptop will also have a sleek, intuitive design that makes working for hours much easier - some perks include comfortable keyboard designs and top-notch screen displays.
If you're a student looking for a laptop compatible with the demands of university, there are plenty of options in something in your price range that will help you through all aspects of your schooling.
Today's best 2-in-1 laptop deals