Best Adobe Premiere Pro alternatives in 2023
Best
Contributions from
last updated
Find the best Adobe Premiere Pro alternative for video editing
VERDICT
REASONS TO BUY
REASONS TO AVOID
The best alternatives to Adobe Premiere Pro are packed with professional post-production tools - whether you're working on a movie, cutting a YouTube video, or creating clips for social media.
Quick menu
1. Best overall
2. Best for prosumers
3. Best for Mac
4. Best for mid-level editors
5. Best free
6. Best for beginners and experts
7. Best for Adobe subscribers
8. Best on a budget
9. Best for beginners
10. Best for basics
11. How to choose
12. How we test
If you're looking around for the best video editing software, sooner (rather than later), you're going to find Adobe Premiere Pro. It's a top choice for industry use, setting the Hollywood gold standard with its studio-grade output. Not only does it feature all the tools professionals need during the post-production process, it also seamlessly integrates with Creative Cloud apps like VFX software After Effects.
But despite its popularity, particularly among those in the film and TV industry, Adobe Premiere Pro isn't for everyone. With its steep learning curve, it's not the best video editing software for beginners. And by requiring a Creative Cloud subscription, it may not provide value if you're outside the Adobe ecosystem (or just looking for the best free video editing software). If that's the case, it's time to find a substitute to Adobe's top video editor tool.
To help you find the right software without compromising on your creativity, we've gone hands-on with the best alternatives to Premiere Pro. As part of our extensive test and review process, we've compared each app's strengths and weaknesses to Adobe's own video editing software. This includes user interface and experience, required learning curve, and overall performance during editing, rendering, and exporting, so your final cut matches expectations. We've also assessed pricing and value for money against Adobe's subscription plans.
Today's best Premiere Pro deals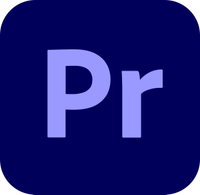 Adobe Premiere Pro is our top pick for best video editing software overall. The powerful editing suite for professionals offers industry-standard features and tools wrapped in an easy interface. If you're going pro, it's best-in-class.
See our guide How to download Adobe Premiere Pro


Best Adobe Premiere Pro alternative overall
Free, with powerful performance for professionals
Specifications
Operating system:
Windows, macOS, Linux
Reasons to buy
+
Multiple post-production workspaces in one app
+
Best color tools available
+
Standard version is free
DaVinci Resolve started out as a color grading app but has since evolved into a fully comprehensive post-production suite that's fast becoming an industry favorite.
In our hands-on review, we said "DaVinci Resolve is a tough app to beat. It's incredibly powerful, it's updated regularly, and to top it all, it's free. It puts a lot of competing software to shame. The only downside is so much power leads to a complex interface."
The tool has separate workspaces for editing, color, audio, and visual effects, each with in-depth features allowing a deep level of control, making it a clear alternative to Premiere Pro.
Rather than editing in one program and sending the project to a separate VFX software or audio editing app, the whole post-production process is contained in one app. With multi-user online collaboration, various team members can work on their aspects of a project simultaneously.
The standard version, which has all the main features, is completely free. A premium version - DaVinci Resolve Studio - is available and includes features such as a neural engine, stereoscopic 3D tools, and advanced HDR grading. It costs a one-off fee of $295.
Resolve is one of the most in-depth video editing programs available, so it is targeted at professionals rather than newcomers. This does mean it may be too complex for some, but does prove its worth as the best free alternative to Premiere Pro.
Read our full DaVinci Resolve review
Best Premiere Pro alternative for prosumers
A great balance for those who enjoy video editing
Specifications
Operating system:
Windows
Reasons to buy
+
Versatile editing features
+
Regular updates
+
Good value subscription
CyberLink PowerDirector is aimed at a prosumer market: it's neither for complete novices nor full-time professional editors, but is a solid Premiere Pro alternative for those in between.
The PowerDirector interface is attractive and efficient, and once you've mastered the basics, you'll find that it has a wide array of features.
Additions in recent updates include custom masking, precise keyframing tools, and a library of customizable animated sketches, which are an easy way to add color and energy to a video.
That said, it does lack in a few areas; the color-grading tools are a bit rudimentary compared to Adobe's video editor (not to mention many Premiere Pro competitors).
There are several versions: PowerDirector Essentials is free but basic. PowerDirector Ultra includes most features, and PowerDirector Ultimate adds a few advanced tools.
For those that appreciate Premiere Pro's easy subscription set-up, PowerDirector 365 is the subscription version, packed with all the video editing features for a monthly or annual cost.

Read our full CyberLink PowerDirector review


Best Premiere Pro alternative for Mac
A cutting-edge Apple-only tool
Reasons to buy
+
Efficient interface
+
Powerful editing features and very stable
+
Numerous tools with great new additions
+
One-off cost
Reasons to avoid
-
Mac only
-
Slow update rate
The Mac-only Final Cut Pro video editing and compositing package crammed with features. It's currently at version 10.6, which includes a slew of minor tweaks and improvements, making this the sturdiest and most stable version of the video editing app yet.
This is a powerful and versatile video editing app, with a well-designed, no-fuss interface that makes editing intuitive without compromising features. Its magnetic timeline makes it easy to insert shots within a sequence without other clips losing relative position, and the assembly process feels slick.
Other impressive features include 360° video, HDR, and advanced color grading tools.
On top of all that, new features add a few welcome cherries on top. These include the ability to fully control footage shot on an iPhone 13 in Cinematic Mode, an incredibly easy to use Motion Tracker, and a nifty AI that allows you to apply an effect onto a specific part of an image.
The app is a great Premiere Pro alternative on Mac, running natively whether your computer is powered by Intel or Apple silicon.
It's incredibly good value for money, and after a lull in its upgrade cycle, it appears to have picked up the pace recently. Most definitely worth a look if you're interested in an affordable, sturdy and versatile video editing tool that rivals Adobe's own.
Compare how the software stacks up against Adobe's video editor in Adobe Premiere Pro vs Apple Final Cut Pro.
Read our full Final Cut Pro review
Best alternative to Premiere Pro for mid-level editors
Accessible and powerful tool for video editors
Specifications
Operating system:
Windows
Reasons to buy
+
Accessible but powerful editing
+
Great new features
+
Reasonably priced
Reasons to avoid
-
Windows only
-
Not as in-depth as Premiere Pro
Pinnacle Studio once had a reputation for poor performance and limited functionality. Thankfully, recent updates have significantly improved the video editor.
Think of it as the grown-up version of Corel VideoStudio (it's from the same developer). Expect a few similarities between the two, as Pinnacle builds on the more simplified Corel alternative.
That said, it's still less in-depth than the likes of Premiere Pro and DaVinci Resolve. But it is still a versatile editing program. The interface is intuitive, and besides the performance issues being fixed, many useful new features have been added.
These include a title designer with an impressive level of control over animated text, keyframing controls that enable you to adjust clips and effects over time, and face-tracking masks. This lets you adjust the lighting or effects on a face, even when the subject is moving.
You'll find three versions available for a one-time purchase: Standard, Studio Plus, and Studio Ultimate. It's worth paying the extra for Ultimate if you're likely to use the additional features, which include masking and 4K editing.

Read our full Pinnacle Studio review


Best free Premiere Pro alternative
A top free choice for newcomers
Specifications
Operating system:
Windows, macOS, Linux
Reasons to buy
+
Free
+
Regular updates bring powerful features
+
Built-in VFX workspace
+
Multi-platform
Reasons to avoid
-
Pro tools locked behind paywall
-
Can't export to 1080p and above
Lightworks is a video editor with a bit of a pedigree. Go to their website, and you'll see how proud they are of the numerous professional feature films that have been cut with it. But this is with the Pro version.
The Free option offers you the same interface, but has a more limited selection of tools. Still, don't let that dissuade you: most of the pro features really are destined for professional users, and if you're an amateur, enthusiast, or just starting out, you'll have a great time learning the ropes with it. Everything is pretty intuitive, and the new contextual help windows guide you through your first steps effectively.
The only major downside to the free version is an inability to export your finished product beyond 720p. We'd understand if 4K was deemed a pro feature, but 1080p is a baffling decision.
Find out how one of the best free video editing software tools compares to its free rival in Adobe Premiere Pro vs Lightworks.
Read our full Lightworks review


Best Adobe Premiere Pro alternative for beginners and experts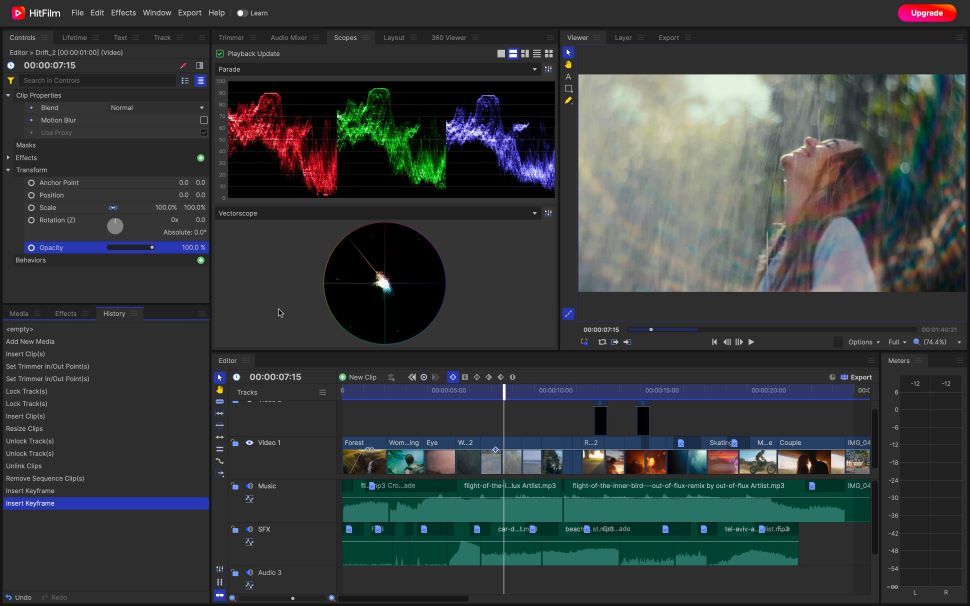 An excellent all-rounder regardless of skill level
Specifications
Operating system:
Windows, macOS
Reasons to buy
+
Professional video editing tools for free
+
Easy to use and welcoming to beginners
+
Great tutorial videos
Reasons to avoid
-
More powerful features watermarked or hidden behind paywall
-
High system requirements
Formerly known as HitFilm Express, HitFilm is one of the best alternatives to Adobe Premiere Pro for beginners and experts alike.
In use, it's an undemanding video editor app - and it's packed with tutorials that help newcomers learn the basics of video editing.
The software is a bit of an all-rounder - an all-in-one program that even comes equipped with basic VFX software for adding visual effects to your footage. At the free end, these are unlikely to satisfy pros familiar with premium special effects programs like Adobe After Effects. But their addition is welcome.
However, there are a couple of downsides. For one thing, the impressive feature list isn't growing as fast as it used to - or rather, more features are being locked behind HitFilm Pro and Creator subscription packages. And the free version isn't shy about nudging you towards the upgrade option.
On the other hand, by upgrading, professionals and veteran editors will find a video editor that's even more powerful, and more capable of replicating the results of Adobe Premiere Pro.
You can upgrade via a subscription plan or picking up a perpetual license, which gives you access to 12 months' worth of updates (the software remains yours thereafter, with renewal discounts available).
Whether you opt for the free version or upgrade, HitFilm offers a powerful, professional, multi-platform experience for beginners and professionals alike. Just make sure your computer can handle this intensive Premiere Pro alternative.

Read our full HitFilm review
Best Premiere Pro alternative for Adobe subscribers
A simple alternative straight from Adobe
Specifications
Operating system:
Windows, macOS
Reasons to buy
+
One-off purchase
+
Stable and Easy to use
+
Lots of handy tools
Reasons to avoid
-
Dated interface
-
Can be confusing
Premiere Elements is Adobe's very own Premiere Pro alternative for consumer-level video editors. It's a bit like comparing Apple iMovie to Final Cut Pro in that sense. So, when it comes to the best alternatives to Adobe Premiere Pro, you can't go far wrong staying in the same stable.
Premiere Elements designed to make building an edit as easy as possible for anyone with little knowledge of this craft, and it does a very good job of easing beginners into the art.
You have multiple different interfaces, depending on your skills, with a good number of step-by-step tutorials aimed at introducing you to new concepts, and more complex techniques.
The new features for 2022 primarily focus on social media, and creating content destined to be shared online, all of which are welcome and useful, and some are even fun to use.
There's no subscription service for this software: you buy it outright from the get-go, and only pay for upgrades if you feel the new features are useful to you. A definite strong mark in the software's favor.
The full program costs $100, with upgrades from older versions costing $80. A free 30-day trial is available for you to check all the features out for yourself.
Read our full Adobe Premiere Elements review


Best budget alternative to Premiere Pro
A good value substitute with no subscriptions
Specifications
Operating system:
Windows
Reasons to buy
+
Easy to learn
+
Good value
+
No subscriptions
Reasons to avoid
-
Too basic for pros
-
Dated interface
-
Windows only
Corel VideoStudio comes in two versions: VideoStudio Pro is ideal for standard editing while VideoStudio Ultimate packs in more premium effects. With a one-off purchase of $79.99 and $99.99 respectively, both are significantly more affordable than Adobe's editor. And with no ongoing subscription, it's one of the best alternatives to Adobe Premiere Pro.
Using the video editing app is much simpler, chiefly because it lacks many of Premiere's in-depth options for fine-tuning clips and effects - although Ultimate boasts the wider feature-set.
That said, Corel VideoStudio is relatively easy to learn. Once you've mastered the basics, it does have useful features, such as 360° and multicam editing. In recent updates, the color tools have been significantly improved, too.
There are a few odd issues with the interface: the layout can feel a little clunky and dated, and the way that layers work is upside-down compared to most other software, which might be confusing to editors used to working with other video editing software.
Read our full Corel VideoStudio review


Best Premiere Pro alternative for beginners
Simple toolset that works across Windows and macOS
Specifications
Operating system:
Windows, macOS
Reasons to buy
+
Large toolset for editors
+
Ideal for beginners
+
Available across multiple platforms
Reasons to avoid
-
Interface and experience can be frustrating
-
No effects preview
Filmora is a video editing software package aimed at the novice, making it one of the best alternatives to Adobe Premiere Pro for quick editing, but with enough power to satisfy others as well.
Not only can you work with your own clips, but you also have access to three royalty-free libraries for stock photos and stock videos straight from the interface.
Editing is a breeze (although it can be hard to differentiate between your clips in the timeline). You've got a wealth of additional tools, from simple filters, interesting transitions, and advanced titles.
Speaking of advanced, there are also a bunch of more complex additions, such as color correction, chroma keying, image stabilization, and motion tracking.
You can try most of these features for free, and as of this writing, this package will set you back $50 or $80, depending if you choose to go for the yearly subscription or the perpetual license. Businesses can get different licenses, but only on Windows computers.
With its modest system requirements, Filmora is one of the best alternatives to Premiere Pro for low-end PCs.
Read our full Filmora review


Best basic alternative to Adobe Premiere Pro
Great for basic video editing without compromising quality
Specifications
Operating system:
Windows
Reasons to buy
+
Great for beginners and intermediates
+
Fair FX library
+
Switch between Express and Advanced editing timeline
Reasons to avoid
-
Too basic for professionals
Nero Video is a fair alternative to Adobe Premiere Pro. Really, it's video editing software best for beginners or casual editors and small businesses who need fast editing tools to produce decent-quality content. Its undemanding minimum requirements make it a good substitute for those in need of a video editor for low-end PCs.
In terms of feature-set, tool-kits, and every extra that makes Adobe's software for editing videos the industry standard, Nero Video can't quite match it. But what the program excels at is making the video editing process incredibly simple for just about everyone. This is as accessible as editing videos gets - and it's got plenty of essential FX, including chroma-keying, to help bring your movies to life.
During our time with the program, we found Nero Video "the definition of 'quick and easy'. Drag-drop-cut-done."
However, we noted that the tool offers little to advanced and professional editors, while newcomers, enthusiasts, and hobbyists are often better served with free editing software like HitFilm Express.
Still, the editing experience is effortless, the value is good - it's a budget one-time buy/perpetual license deal - and, as you'd expect from Nero, you can still burn your movies to disc.

Read our full Nero Video review
How to choose the best Adobe Premiere Pro alternative for you
Choosing which Premiere Pro alternative is best for you begins with identifying what you like (or dislike) about Adobe's video editor.
Once you get used to it, Premiere Pro's interface is simple, intuitive, and easy to use. It houses an extensive toolset. It's paid for through subscription. This is a good baseline for making your comparison.
Previous experience and intended use counts. DaVinci Resolve is an excellent alternative because, like Premiere Pro, it's an advanced post-production tool for professional editors. But Corel VideoStudio is the better alternative for beginners, because it unlocks the same core editing functions.
Price in the price when making your decision. Creative Cloud All Apps subscription is good when you use a lot of Adobe apps like Photoshop, Animate, and After Effects, which is delivers some of the best VFX software. Some alternatives to Premiere Pro offer similar easy payment plans or bundling additional compositing, chroma-keying, and other post-production tools and features.
If that doesn't suit your budget and on-going needs, or if you'd prefer to pay for your software outright (or get it for free), look for perpetual or lifetime licenses, There may be some trade-offs here, particularly in the features department - either they lack Premiere Pro's depth, like Pinnacle, or they're more complex, like Resolve.
You'll also want to make sure your chosen program will run on your machine - video editor apps are notoriously resource-intensive, and for more advanced tools, you may need to invest in any of the best video editing laptops, best video editing PCs, or, if you're an Apple user, one of the best video editing Macs. If you're creating mobile content on your phone or tablet, you may be better served by the best video editing apps rather than Premiere Pro's heavyweight software.
Like all creative software, it's important to pick the app that works for you. It's not about following an arbitrary checklist. It's about finding the video editor that helps you innovate the art. All the best Premiere Pro alternatives offer free trials. See which one fits your unique creative flow.
How we test the best alternatives to Adobe Premiere Pro
When we test the best Premiere Pro alternatives, we're looking for similarities and differences, where the alternative improves on Adobe's video editor, and where it underdelivers.
A good user experience is critical. Adobe's interface is easy to grasp at all skill levels - it's one of the reasons why it remains a popular tool for creatives in the film and TV industry. The best alternatives, even those with steep learning curves, should be accessible, and make sense in operation.
We also explore integrations and additional tools. Premiere Pro plays brilliantly with creative apps like Adobe After Effects and Audition. We want to see other video editors work well with other VFX software, best 3D modeling software, and best audio editors.
It's even better when those tools come built into the editor, like Lightworks's admittedly basic visual effects or DaVinci Resolve's Fusion - one of the best After Effects alternatives for professionals.
We review how well these video editors meet the needs of the intended audience. Video editors are not all alike, mirroring Premiere Pro in different areas. Small businesses will delight in crafting professional-looking visual assets with tools like CyberLink PowerDirector and Pinnacle Studio. They may not need Premiere Pro's in-depth tools. Unlike professional editors, requiring access to the sort of powerful features found in Final Cut Pro and Resolve.
Performance is important, since video editing and rendering is intensive. It can be a strain on computers, even for Premiere Pro alternatives for low-end PCs, which often lack the 'powerhouse' stylings of other editing suites. After working the laptop fan for hours, is the footage usable or does it stutter from start to finish? Users want to see that the juice was worth the squeeze.
Are you a pro? Subscribe to our newsletter
Sign up to the TechRadar Pro newsletter to get all the top news, opinion, features and guidance your business needs to succeed!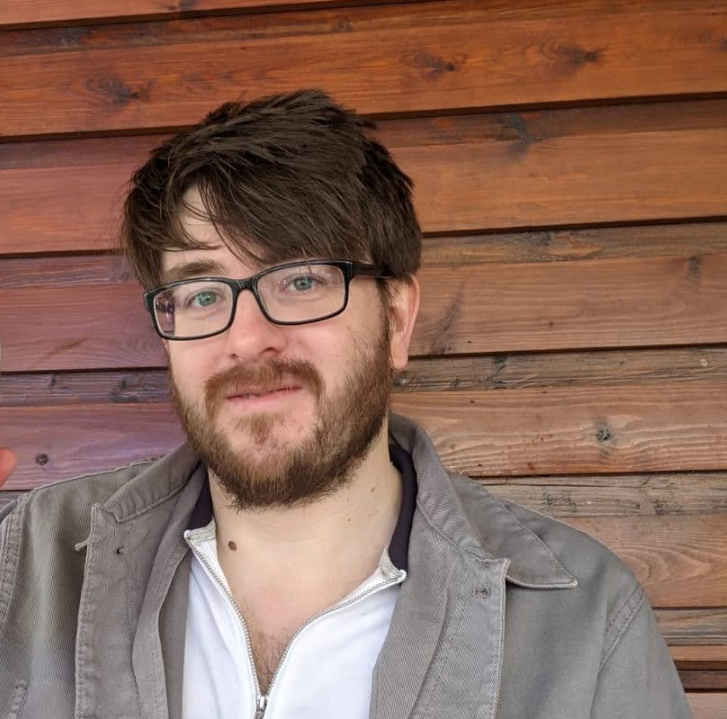 B2B Editor - Creative & Hardware
Steve is TechRadar Pro's B2B Editor for Creative & Hardware. He explores the apps and devices for individuals and organizations that thrive on design and innovation. A former journalist at Web User magazine, he's covered software and hardware news, reviews, features, and guides. He's previously worked on content for Microsoft, Sony, and countless SaaS & product design firms. Once upon a time, he wrote commercials and movie trailers. Relentless champion of the Oxford comma.