The best free PDF editors let you edit, and work together on files without subscriptions or fees.
Top PDF editors offer everything you need for creating, editing, and collaborating on documents. In many cases, the best PDF editors on the market require a subscription or one-off purchase to access. But you don't need to compromise on features if you don't invest in document editing software. When you need the best PDF editor free, there are plenty of platforms that deliver advanced tools at no charge.
We've tested free PDF editors online and for Android, Windows, Mac, iOS, and iPad. As part of our review process, we've explored each PDF editor app's integrated tools and workflows, sized up the best cloud storage offerings, and compatibility - as well as ensuring that every option is a completely free PDF editor. So, you can get on with the job at hand, whether you're designing a document from scratch, you're swapping Adobe for the best Acrobat alternative, or you just the best free PDF eader to view your files.
Today's best PDF reader deals
We've tested, reviewed, and rated the best PDF editors for Windows, Mac, mobile, and online. If it's in budget, we recommend these top three premium picks - bringing professional PDF editing tools into the home or office.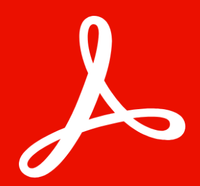 Adobe Acrobat DC: best PDF editor overall
The original is still the best. Adobe Acrobat DC lets users edit and create professional-looking PDF on desktop or mobile. In our 5-star Adobe Acrobat review, we praised the extensive feature-set. "Sometimes," we wrote, "the best solution on the market has its reputation for a reason."

Nitro PDF Pro: best PDF editor for beginners
Nitro PDF Pro is one of the simplest PDF editors we've ever used - but that effortless user experience hides a wealth of advanced tools. In our Nitro PDF Pro review, we felt it let users edit and convert PDFs with ease and speed.

pdfFiller: best PDF editor for online collaboration
Online PDF editor pdfFiller is a web-based, business-focused end-to-end document management tool. As such, it excels at letting you securely share and work with others on the same documents. We reviewed pdfFiller as a versatile document management system, though the advanced toolset means a steeper learning curve.
The best free PDF editor 2023
PDF24 Creator is our pick for best free PDF editor overall. You may find the website a tad dated, but the tool is surprisingly feature-rich.
The free PDF editor is a very small program that can easily run on older systems - ideal, then, for businesses with limited resources or a suite of low-spec computers.
When we tested the software, we rated it as one of the best free tools, going above and beyond what's expected. It's full of features, and has everything needed to create and edit PDF documents. While we noted that it lacked more advanced features usually found in premium tools like Adobe Acrobat DC, we felt that most users will find more than enough utility within PDF24 Creator.
The Windows-only tool serves up a PDF editor for free document creation, PDF merging, PDF compressing, and converting PDFs into other formats. You can even optimize a PDF for the web or apply OCR to a PDF, so that you can convert scanned images to text.
PDF24 Creator has a minimalistic user interface and it's clear that the program is designed around speed first and foremost. The interface can feel a little clunky at times, but all of the important features are easy to find and when you first open the software, you're presented with a grid of editing options. And yes, our top choice for best free PDF editor is genuinely free and unlimited, through and through.
Read our full PDF24 Creator review
PDF Candy is ideal if you want a free online PDF editor and a way to edit PDF files in your browser. You'll also find a desktop version available for Windows if you upgrade to the lifetime license.
Easily one of the best free PDF editors online, it's delightfully simple to use - everything is clean, clear, and easy to navigate. And it's absolutely packed with functionality, with an impressive 47 different tools for editing, altering, converting PDF files, and so much more. During our tests, we found PDF editing as effortless every other function in the software, delighted that "editing text in a PDF file isn't a million miles away from editing a word processor document."
The free version places a one-task-per-hour limit - e.g., processing an edited PDF file or converting a document. This can be removed by setting up a monthly or annual subscription, or purchasing it outright for a one-off payment. The latter also grants access to the Windows-only desktop PDF editor app. If restriction is too much to bear, and you don't need everything the platform offers, try PDF24 Creator - it's fully free across the board.
Elsewhere, PDF Candy has a good amount of useful tools and features. This includes the option to edit PDF files online, convert documents to a variety of formats, merge and compress PDFs.
On top of that, PDF Candy lets you easily extract text and images, resize pages, and add watermarks. In total, there are an impressive 47 different tools to help you manage and edit PDF files. All features are found in a handy list of buttons, so you won't spend ages looking for what you need. Overall, we found service delightfully simple, but as with even the best free PDF editors, an upgrade unlocks its full potential.

Read our full PDF Candy review
Smallpdf was created with a single goal in mind: edit and compress PDFs.
But what sets it apart from the competition is its extensive multi-lingual support, available in 24 different languages and used in 195 countries around the world.
Long considered one of the best free PDF editors online - you can make all the changes you need from your browser - the user experience is excellent and incredibly easy to use. When we tested Smallpdf, we found the lightweight, cloud-based tool perfect for simple tasks, but not ideal for high-volume editing or advanced features.
We found using the PDF editor very straightforward. Upload your PDF via the website, and begin making annotations and taking notes. We also liked the option to add pictures, text and shapes to a PDF. Once the necessary changes are made, Smallpdf gave us the option to compress a PDF or export it as a Word, Excel or PowerPoint file.
There are restrictions, as you'll find in many of the best free PDF editors. Chiefly, you're locked to two tasks per day - so a fully free tool like PDF24 Creator or Canva might be a better choice for more consistent use.
If you want even more functionality, you can upgrade to Smallpdf's premium edition. While the web version is slightly cheaper, you can pay a bit more to take advantage of the desktop version so you can work offline. Alongside a web PDF editor and Windows desktop app, users can also install the PDF editor on Android and iOS phones.
Read our full Smallpdf review
Apple's Preview app is free, and as you'd imagine, only available on Apple devices like the MacBook. It's designed to let you preview many different image formats, but its most interesting feature is its ability to view, interact with, and manipulate PDFs.
After testing our choice for best free PDF editor for Mac, we concluded that Apple's product was a remarkably powerful editor, allowing you to perform what could be considered advanced content manipulation and note taking tools.
The basics are seamless: open a file, scroll through the pages, search for specific words, print the whole document, or just parts of it, fill in specific fields, add notes, it's all there, and you can't really ask for an easier-to-use PDF reader.
But Preview goes one better: you can manipulate PDFs files to a certain extent. There's no text editing, but you can reorder pages, rotate them, and even delete them.
On the downside, despite being one of the best free PDF editors on the market, it lacks OCR tools. But most other functions should cater for most users. For custom PDF creation, you have the option of copying and pasting pages into new documents - as long as those original PDFs allow you to copy their pages.
Read our full Apple Preview review
Canva's free PDF editor is a good choice if you're looking to create documents from scratch or re-edit an existing file.
Like the platform's design app and logo maker, the browser-based editor is pure child's play. If you're familiar with Canva's other free tools, you won't find any surprises here. And if you've never made or edited a PDF document before, it won't take long to master the tools and build professional-looking assets. Select an element, drag it into position, and that's that. It offers a decent amount of customization. You'll also find it packed with stock images and vector graphics that can be added to your file.
When we reviewed Canva - one of the best free PDF editors with design capabilities - we were especially impressed with its ability to turn existing PDFs into editable documents. Upload your file and the tool smartly identifies the different elements on the page - text boxes, images, background colors, that sort of thing. You're then free to click and modify (or delete) any of these.
There is also an app library for added utility. This is where you can connect your cloud storage services, add links, and even create QR codes. This is all free to use, but there is a monthly/annual subscription available, adding business-focused utilities such as brand kits, more cloud storage, premium graphics, and social media scheduling. Subscribers gain access to these across the Canva platform; it's not limited to the PDF editing tool.
Effortless is, perhaps, the best way to describe this top free PDF editor. But while the tool excels on the design side, it lacks many of the advanced features you'll find in full-fat software like Adobe Acrobat. There's no OCR, for example, and no eSign integration. That makes it best for teams and marketing departments largely focused on designing their own PDF assets.
Read our full Canva PDF Editor review
I Love PDF is an online service that allows you to manipulate PDF files in a number of ways. You can merge files together, split a single one into multiples, and convert documents to and from the PDF format. The only thing you can't do is alter the original content of a PDF, although you can add additional text boxes, images and shapes.
So, it's not a full PDF editor like Adobe Acrobat DC. In fact, we noted in our review of the PDF editing tool that while it lets you manipulate documents in many ways, the drawback is that you can't actually change the existing content of these files. You can only add extra text boxes, shapes, images, and the like.
Despite this, it does contain a number of interesting features that are cleverly implemented. This includes being able to use your phone's camera to scan pages, and have them appear back on your page on your computer, once done. You can easily add page numbers to every page, or even a watermark, and of course add a digital electronic signature to a document.
The online PDF editor is free, as long as you access it from a web browser. A handful of tools have limited functionality in this way, but should be suitable for most people's needs.
If you require more advanced features like OCR and offline PDF editing , then you'll need to consider subscribing.
Read our full I Love PDF review
Sejda, like PDF Candy and Smallpdf, is one of the best free PDF editors available online in your browser. You can also grab a separate free downloadable, editable PDF app for desktops.
What sets it apart from other similar offerings, however, are its security features. All files uploaded to the service are automatically wiped from its servers after two hours. This means you can use it to work on sensitive documents without having to be worried about your data being leaked or stolen.
Sejda as a convincingly power PDF editor - in our tests, we found that using it is incredibly self-explanatory, and it was frankly difficult to fault the tools on offer. On the other hand, we were disappointed by the lack of precision over layout and movement controls. In fact, during our time on the platform, we were noted a big flaw: "While you will find that it is possible to edit text, you're likely to find that fonts are changed, making it apparent precisely where edits have been made."
Sejda also offers a desktop version with the biggest difference being that all of the processing is handled locally as opposed to in the cloud. Regardless of which free version you choose, Sejda limits you to working on a maximum of three tasks per day, one file at a time and files can't be larger than 50MB or 200 pages.
In addition to being able to edit PDF text, you can add new text as well as images including shapes and drawings. Sejda also lets you add annotations, create forms, whiteout sections of a document and more. However, it's worth noting that free users will get hit by the file size and time restrictions. For those that do decide to upgrade, Sejda is available as a weekly, monthly or annual subscription though there are discounts for larger teams with multiple users.
Read our full Sejda review
Best free PDF editor: FAQs
How to choose the best free PDF editor for you
Why you can trust TechRadar We spend hours testing every product or service we review, so you can be sure you're buying the best. Find out more about how we test.
When deciding which free PDF editor is best for you, make a list of the must-have feature-set needed by you and your team. Not all free Adobe Acrobat alternatives are created equally. For example, if you're bulk-editing, a tool like PDF24 Creator will serve you better than SmallPDF.
Consider which bits of your PDF file you need to change. If you're just trying to add information to a form digitally, you'll just need a basic editor that supports text insertion.
However, if you need to change the content of a PDF substantially, you'll require a more powerful PDF editor that can make modifications to text or images already stored in the file. In some cases, especially if you want to change almost all the content of your file, it may be better to use a dedicated PDF converter instead.
Other advanced features to look out for, depending on your workflow, are built-in PDF conversion, OCR software, and eSign software. Cloud storage is another factor, so check the free PDF editor supports platforms like Google Drive and Dropbox.
Most modern browsers have free PDF reader capabilities if that's all you need
What is a PDF editor?
A PDF editor lets you assemble a Portable Document Format (PDF) file from scratch, as well as amend the content of existing PDF files. The format was released by Adobe in 1993 as a way to standardize documents viewed across different platforms, devices, and screens. Most PDF editors come with the ability to convert, or batch convert, common file types such as Microsoft Office's Word, Powerpoint, and Excel to and from the PDF format. You'll also find more advanced tools like optical character recognition (OCR) software.
Are the best free PDF editors good?
Whether or not a free PDF editor is best for you will largely depend on how you'll use it, and where. While there are some free PDF desktop apps that work offline, they don't always feature multi-platform and mobile support. Many others are only available online in your browser. You'll find some have extra features, like PDF merging tools and PDF compressors. But others are bereft of anything but the basics. So, it can be hit-and-miss. Free PDF editors can also impose usage limits, such as the amount of files you can import, or export, per day. As such, they're often better for light users, or to get a taste for the tool.
Should I use a free PDF editor?
Free PDF editors are popular - but they're not always the best solution, particularly for data-conscious and data-compliant businesses. It's worth being aware of some of the reasons why organizations often tend to go premium in our guide 5 reasons why you should avoid free PDF editors
How do I edit a PDF for free?
All PDF editors are designed differently - although tools and layouts follow a similar pattern. We've covered several ways to alter documents in the most popular paid-for and free PDF editors with our guide How to edit a PDF.
We've also highlighted the best method in Sedja PDF editor in our guide How to edit a PDF for free.
Is there a completely free PDF editor?
PDF24 Creator is a completely free PDF editor. It's free of charge, free of spyware, and it's our pick for best free PDF editor overall. But there are loads of amazing free PDF editing software depending on your needs and device/platform - many also include paid-for upgrades for premium features.
How we test the best free PDF editors
To test for the best free PDF editors, we first set up an account with the relevant software platform, whether as a download or as an online service.
We then tested the service using a handful of PDF files to see how the PDF editor could handle editing not just text, but also images, as well as tables imported from Microsoft Excel.
The aim was to push each software platform to see whether it could simply and easily not just edit a range of content types but also do so faithfully and consistently without introducing formatting issues or similar problems.