The best Word to PDF converters provide a simple way to save and manage Word files as PDF files.
The PDF file format has certain advantages over Word's .doc format, especially when you need to share documents with colleagues and businesses who use Microsoft Office alternatives.
The real benefit of the PDF format is maintaining a file's formatting standardized across platforms. You can rely on a PDF to present your content exactly how you want it, no matter on what device or browser it's being viewed.
Advanced PDF editors - even the best free PDF editors - include powerful extras, too. OCR software, for instance, lets the tool 'read' what's on the screen. eSign software let users add signatures to contracts and other documents.
Converting Word to PDF is a great way to keep everyone on the same page (and helps put an end to all that unnecessary editing). And the best Word to PDF converters offer plenty more PDF conversion options too, whether you're converting Office tools like Excel and PowerPoint to PDF, or the other way around.
We've tested out the best Word to PDF converter software, exploring everything from compatible operating systems to how they handle large batches of files. We've also gone beyond conversions, trying all the features in between to help you decide which Word to PDF converter is best for you.
We've also featured the best PDF to Word converters.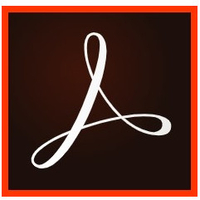 (opens in new tab)
The best PDF software is Adobe Acrobat Pro DC (opens in new tab)
Whatever you need to convert to PDF format, Adobe Acrobat Pro DC is the tool for you. It gives you total freedom to create PDFs from scratch and edit existing documents without fuss, on desktop or mobile. Of course, it also has a comprehensive range of converters and is the best PDF software you can buy overall.
The best Word to PDF converters of 2022 in full:
Why you can trust TechRadar Our expert reviewers spend hours testing and comparing products and services so you can choose the best for you. Find out more about how we test.
Adobe Acrobat DC is the best Word to PDF converter overall - but, maybe that's unsurprising, given the company behind the top office tool invented the PDF file format.
It can be overwhelming for beginners, with an interface that looks more complex than it actually is. Once you get to grips with navigation, however, it's incredibly easy to use. That excellent Adobe design polish on show.
Awarding the software a rare 5-stars, in our review we summed it up by saying, "sometimes, the best solution on the market has its reputation for a reason."
The conversion process is excellently handled. Simple to enact, fast to convert, and the quality of the outputs are of the highest quality. There's also a full editor, compressor, merger, and other tools necessary for power-users.
Adobe Acrobat isn't a budget PDF converter. Like other tools from the firm, a monthly or annual subscription is required to unlock Acrobat's full potential. For casual users, that might not prove much value. However, if you regularly convert Word docs to PDF - or use PDF files on a daily basis - Adobe Acrobat is worth its weight in gold.
Read our full Adobe Acrobat DC review

Soda PDF is easily one of the best PDF anything's around, let alone the best Word to PDF converter. Claiming to offer the "fastest PDF to Office Converter on market", it's a jam-packed PDF editor, manipulator, converter, merger, and everything else you'll likely need in your day-to-day PDF management.
It's available as a web-based tool for free online PDF conversion - with upload limits, of course. You can also download a desktop app for Windows and Mac for offline Word to PDF conversion. There's even an iOS, giving Soda PDF great utility as a multiplatform file conversion tool.
When we tested out the software, we were delighted to find versatile, well-designed, easy to use PDF solution.
Frankly, some of these tools rival Adobe Acrobat Pro, allowing you to convert between an extensive list of file formats and edit your created PDFs. You can create a PDF from any Word document, and merge multiple Word documents into a single PDF. You can even batch convert Word documents into individual PDFs.
Soda PDF offers three monthly and annual subscription tiers, each adding more features, such as OCR and eSign software. A Soda PDF license gets you unlimited access to both the online editor and the offline desktop app. Business plans are also available.
Soda PDF is intuitive to use and has advanced features such as PDF forms, secure signing, and OCR, so if you work with PDFs daily, it's an excellent choice.
Read our full Soda PDF review.

Foxit is a company that's almost as synonymous with PDF as Adobe, having offered PDF editing tools for decades. Its most recent software, Foxit PDF Editor, is a clear choice for converting Word documents to PDF, having additional settings upon conversion that other software doesn't.
For example, you can set file options for optimizing the PDF for online viewing, add a watermark, ensure that the file conforms to specific PDFA standards (PDF/A-1b to PDF/A-3u), add headers and footers, and specify passwords and permissions. While these features are often available in other PDF editors, being able to save them as a template and use them repeatedly for batch processing is an excellent time-saving feature.
However, while other best Word to PDF converter candidates, like Soda PDF, have an online version nearly identical to its desktop version in functionality, the online version of Foxit PDF Editor is quite basic and feels like a different product entirely.
Foxit PDF Editor has a free 14-day evaluation and comes in Standard and Business versions. The Standard version has almost all the features that most businesses will need for a monthly fee. A perpetual license is available but doesn't include future updates to the software. Overall, Foxit PDF Editor is an excellent candidate for the best Word to PDF converter available today.
Read our full Foxit PDF Editor review.

PDF Candy is one of our favorite free Word to PDF converters. The interface is exceedingly simple - with its big, bold buttons, you'll always know exactly where to go and what to do. But it's the comprehensive PDF editing and converting toolkit that sets PDF Candy apart some of the other best Word to PDF converters.
The service offers an impressive 47 tools for altering and manipulating PDF documents. This includes 10 'convert from PDF' tools and 19 tools to convert to PDF, such as image and eReader filetypes, Excel, PowerPoint, and Word.
PDF Candy promises to convert your documents in a single click. Select the Word to PDF function - you can favorite any action button by clicking the star, bringing it to the top of the list. Next, upload your Word doc from the desktop or through a DropBox or Google Drive cloud storage space. After this, the service automatically converts your file, ready for download or upload to your cloud storage.
In our review, we praised the way PDF Candy simplified and streamlined editing and converting PDFs. However, there's a price to pay for simplicity. Free users are limited to performing one task every hour - which might be no bad thing for casual Word to PDF converters. Monthly & annual subscribers and lifetime license holders have no such restrictions, while gaining access to the PDF Candy Windows desktop app.
Read our full PDF Candy review

Wondershare PDFElement is a top-rated PDF conversion and editing tool. It supports all Microsoft Office formats but can convert from a wide range of image file types.
The main toolbar in Wondershare PDFElement includes options for batch converting from Word documents and combining Word documents into a single PDF. The tools work well at creating an accurate representation of the Word document in PDF format, but we found that batch converting many large Word documents at a time could cause the program to stop responding.
The PDFElement conversion tool also doesn't have the immediate flexibility of Foxit PhantomPDF in terms of specifying margins, file permissions, and watermarks upon import. However, the robust set of batch processing tools does allow you to make batch changes to your PDFs after you've imported them.
Wondershare PDFElement is available for a yearly subscription, with different pricing options according to the number of features you want. The Pro version, for example, includes batch processing. Overall, it's well worth considering, as its PDF editing tools are some of the most intuitive to use.
Read our full PDFelement Pro review.

Nitro Pro is a Windows-only desktop app for converting and editing PDFs. Its fast PDF creation can convert all Microsoft Office file types, WordPerfect, images, and HTML.
In our testing, we found Nitro Pro to be one of the best choices for batch Word to PDF conversions. You can set generated PDFs to be PDF/A-1b compliant, and the software has no problems converting multiple large Word documents accurately. Overall, we felt it's one of the top apps for converting .doc to .pdf.
Although it has reasonably good PDF editing tools, Nitro Pro feels less intuitive to use than Wondershare PDFelement and Soda PDF. Sometimes, though, it's just a case of needing an extra mouse-click here and there to get things done.
When we reviewed the tool, we found it "a good PDF editing software package that allows you to make changes to documents, annotate them, and perform numerous alterations on them. It also comes with a good OCR, conversion tools. And it's delightfully easy to use."
Nitro Pro has a refreshingly simple pricing plan that charges per user. You can contact the company for special pricing should you need more than 20 licenses, and a 14-day fully functional trial is available to download.
Read our full Nitro PDF Pro review.

Unlike the other PDF editors on this list, pdfFiller from airSlate is an end-to-end document management software suite that provides users with the feature-rich tools needed to transform static PDF files into interactive documents and templates. Since this software is available through a web interface, you can import, convert, fill out, edit, and export PDFs right from your favorite browser. iOS and Android pdfFiller apps are also available but they have limited functionality compared to the web interface.
If you're struggling to create a document on your own, pdfFiller has a vast online library of 25m documents for taxes, legal purposes, business, and more that can be downloaded and customized to your liking. At the same time, you can also build fillable PDF forms that connect to a payment gateway for your small business. Once your PDF file is edited, you can securely share it with your teammates in just a few clicks. Besides sharing PDFs by email, pdfFiller also allows you to send them via text, by fax, and through the mail with the option to have them notarized online right from your account.
Just like with Adobe Acrobat DC, pdfFiller is available via two recurring subscription plans. While the Basic plan offers PDF editing and cloud storage for your documents and is ideal for individuals, the Premium plan lets you create reusable templates, collect payments with PDF invoices, and supports electronic signature workflows.
Read the full pdfFiller review.

SmallPDF is an online PDF editor with a desktop version available if you buy the Pro package. This converter is a suitable choice if you only need to perform a few conversions between Word and PDF. Its basic features are free, but you're limited to one conversion at a time.
Besides converting between Word and PDF, you can merge, split, and perform simple PDF editing. The editing features are quite basic, only allowing you to add text, images, and shapes, so if you need to edit PDFs often, you should probably explore other converter options.
If you're happy with just the basics, this is one of the best Word to PDF converters when it comes to ease of use. The drag and drop interface is highly intuitive, meaning you'll be up and running right away.
The paid version removes ads and file conversion limitations, and can be paid for monthly or yearly. You can try before you buy, as a 14-day free trial is available.
Read our full SmallPDF review.
We've also featured the best Excel to PDF converters.
---
What is a Word to PDF converter?
A Word to PDF converter turns Microsoft Word .docx files into PDF files. Why would you want to do that? PDF (Portable Document Format) files are compatible with a broad range of devices and operating systems. They preserve your Word document's original layout and styling, so it always looks as you intended.
The best Word to PDF converters include a host of other features that allow you to edit PDF files, create new ones from scratch, and export PDFs to other various file formats.
How to choose the best Word to PDF converter for you
When deciding which Word to PDF converter is right for you, you first need to consider if you ever work with PDF files in other ways. If you only need to convert the occasional .docx into a PDF, the tools built into Microsoft Office may already be sufficient.
However, if you work with PDF files more frequently and need to make basic edits, a PDF reader with a Word to PDF feature could be more appropriate. Large batch conversions are best handled by a dedicated converter, while a fully-fledged PDF editor is your best option if you make significant edits to PDF files on a regular basis.
How we tested the best Word to PDF converters
We downloaded, installed, and tested all of the programs in our best Word to PDF converters guide to offer opinions based on first-hand experience. We looked at how easy it was to use each piece of software and assessed the quality of supporting documentation provided by each developer.
Standalone converters are excellent if you want to batch process files, but we know many people need a more versatile solution. That's why we explored what each program offers in the way of additional features and functionality. Finally, we looked at each product's pricing and subscription models and investigated free and trial versions (where available).
Read how we test, rate, and review products on TechRadar.
We've also featured the best JPG to PDF converters. (opens in new tab)