The best PDF editors let you create, edit, and collaborate on documents - whether you're working online, on desktop, or on mobile.
PDFs are an essential communication tool for digitally minded organizations. Offering efficient workflows and better security, important documents can be created and shared with clients, colleagues, and employees. The layout of the documents are locked, so whatever device it's viewed on, the formatting stays the same. It's a good way to keep everyone aligned - especially those working with Microsoft Office alternatives. You can easily view these files in a web browser or the best free PDF readers, but top PDF editor apps include features like OCR, digital signatures, and document conversions that go beyond annotation to full file creation and collaboration.
We've tested the best PDF editors for Android, Mac, Windows, iPad, and online. As part of our review process, we've explored each app's user interface and experience, editing performance, tools, platform availability, and pricing. Our round-up includes some of the best free PDF editors and Acrobat alternatives - ideal whether you need to edit a PDF online or in a desktop or mobile app.

(opens in new tab)
The best PDF editors of 2023
If you work with PDF files professionally, then you'll be hard-pressed to find a better tool than Adobe Acrobat DC - our top pick for best PDF editor.
Acrobat Standard DC lets you create PDFs and export to Word, Excel and PowerPoint, edit text and images, reorder and delta pages in a PDF, password-protect PDF files and more.
Acrobat Pro DC includes all of the features above and also lets you compare two versions of a PDF to review the differences, turn scanned documents into PDFs, redact sensitive information in PDFs and it even includes OCR functionality.
Working on the go is also possible as Adobe Acrobat DC lets you edit, create, export, organize and combine PDF files right from your smartphone or tablet with Acrobat Reader (opens in new tab).
Unlike some of the other top PDF editors, Adobe Acrobat DC is available through an Adobe Document Cloud (opens in new tab) subscription as opposed to a one-off fee.
Read our full Adobe Acrobat DC review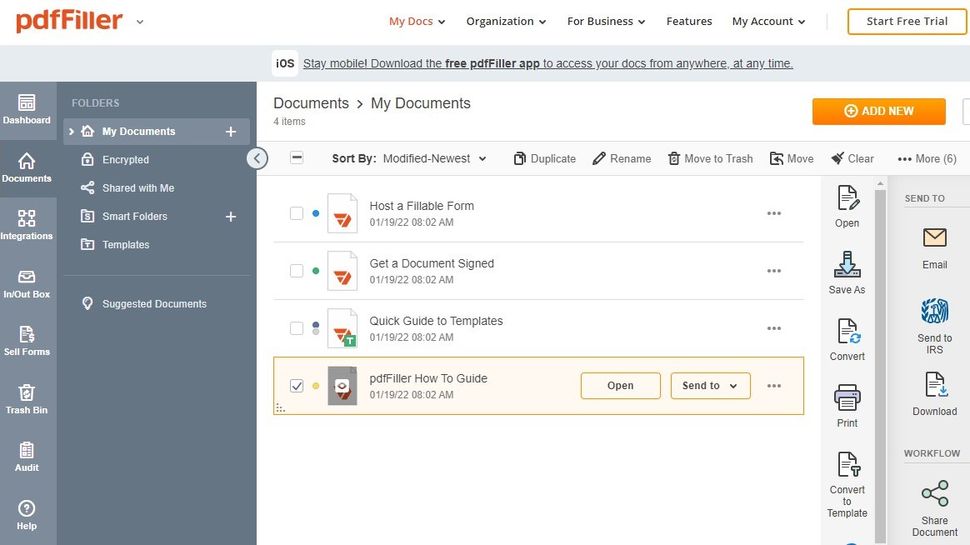 pdfFiller from airSlate is an end-to-end document management software suite - and a great way to transform static PDFs into interactive files and templates from a library of 25 million documents for taxes, legal purposes, business and more.
The tool is web-based, with more limited PDF editor apps for Android and iOS, so you can edit PDFs online, import, convert, fill out, and export files right from your browser. You can also build fillable forms that connect to a payment gateway for your business.
Beyond essential online collaboration tools, pdfFiller also allows you to send files via text, by fax and through the mail with the option to have them notarized online right from your account.
The tool has three subscription plans, Basic, Plus, and Premium, but only the latter lets you create reusable templates, collect payments with PDF invoices, and supports electronic signature workflows.
Read our full pdfFiller review
Nitro PDF Pro is a clean and simple PDF editor for Windows and Mac (Mac users can choose between PDF Pro and the less feature-filled PDF Pro Essentials).
The ribbon-style UI makes navigation will be instantly familiar to anyone who uses Microsoft's Office software - and it's here where you'll find tools including editing, combining, signing and converting PDFs.
With ease-of-use at the forefront of design, it's suitable for beginners and experienced PDF editors. The ribbon-style UI makes navigation will be instantly familiar to anyone who uses Microsoft's Office software - and it's here where you'll find tools including editing, combining, signing and converting PDFs. It's absolutely rich with advanced features like OCR, primarily geared towards commercial use. When we tested the PDF editor software, we found it suitable for minor edits and big projects.
Nitro PDF Pro is only available with an annual subscription. However, there are discounts for those who purchase more than one license at a time - ideal for organizations that require access for multiple users.
Read our full Nitro PDF Pro review.
The PC-only EaseUS PDF Editor lets you edit and manipulate PDF files. Other 'as standard' tools include the ability to merge, split, and convert PDFs to other formats.
After testing out the software, we found it powerful and packed with all the basics you need, alongside advanced features like OCR and online collaboration tools. Editing capabilities are quite impressive. Everything on the page is split up into various boxes that can be moved around and resized. You can also edit the content, changing the font, color, and of course the text body.
EaseUS PDF Editor has a free version with limited functionality - and be warned, it will add a watermark to PDFs. But it's good enough to give you a feel for what to expect. Monthly and yearly subscriptions unlock all features, or you can pay a one-off fee which lets you download all future upgrades for life.
Read our full EaseUS PDF editor review
Foxit PDF Editor is great for PDF power-users. It transforms documents into editable text boxes to be repositioned, resized before altering the content. And it does it all so very well.
Tools like merging and splitting documents, and rearranging pages are de rigueur for such software, and well-implemented. You'll also find very good OCR capabilities and annotation tools.
But the redaction tools are truly excellent. If you're a data-conscious organization, this is a serious stand-out feature. For protecting sensitive data for legal and compliance reasons, this is the tool for the job, as it doesn't simply mask data with a colored box - where restricted text remains accessible in the right hands.
The PDF editor is available for a monthly or annual subscription or a perpetual license. Foxit also offers the upgraded PDF Editor Pro and PDF Editor Pro+ (yearly subscription only) for more advanced tools.
Read our full Foxit PDF Editor review
Soda PDF is one of the best PDF editors online, with PDF editor apps for Android, Windows, macOS, and iOS.
The interface is easy to use and responsive. When we tried out the software, we were delighted to find a well-designed, online PDF editor. The interface is easy to use and responsive. The tools are useful. And it's a cinch to modify content from fixing typos to effectively building a PDF document from scratch.
Soda PDF is a subscription-only service which comes in two tiers: Standard and Pro.
Standard gets you the basic tools, such as View, Convert, Edit, and Page. But the most interesting tools are kept for Pro, and these include OCR searching, digital signatures, annotations, and creating forms.
A free trial is on offer so you can give it a spin. It's also completely compatible with Adobe Acrobat and Adobe Reader, if you're already locked in the Adobe ecosystem.
Read our full Soda PDF review
No-hassle PDF editing and manipulation tools is what WinZip PDF Pro offers.
When we tested WinZip PDF Pro, we found it offers the tools to achieve pretty much everything you'd want to do to a PDF on a desktop PC.
The software serves up a clean, simple interface, with similarly easy-to-use tools - from reading documents to manipulating content, and collaborating on files. You also have the option to fill in forms, password protect documents, and add page numbers.
It's not perfect. The PDF editor software is built for Windows, meaning Apple users will want to look elsewhere. And we stumbled across a couple of annoying glitches that mar the overall positive user experience.
Despite that, it remains one of the best in its category, and worth checking out, especially since it has a free seven-day trial. If you decide to use it full time, you'll need to buy a subscription - no lifetime license for you.
Read our full WinZip PDF Pro review
There may be plenty of PDF editing software on Apple devices, but Readdle PDF Expert is arguably the best PDF editor for Mac right now.
In our hands-on review, we praised the clean UI, which is intuitive and well-organized. And noted that, as a macOS and iOS tool, synchronizing your documents on other Apple devices was very straightforward.
PDF Expert runs on Apple's own Metal, providing excellent performance when opening large PDF documents without any delay or lag. From there, you can annotate, sign, convert, edit and organize PDFs as well as redact any sensitive information they contain. Text to speech is available. And the high-precision OCR tool works especially well with older documents that need distortions fixed, shadows removed, and contrast improved.
Readdle offers both a monthly subscription plan and a lifetime deal so that you can pay once and use one of the best PDF editors forever.
Read our full Readdle PDF Expert review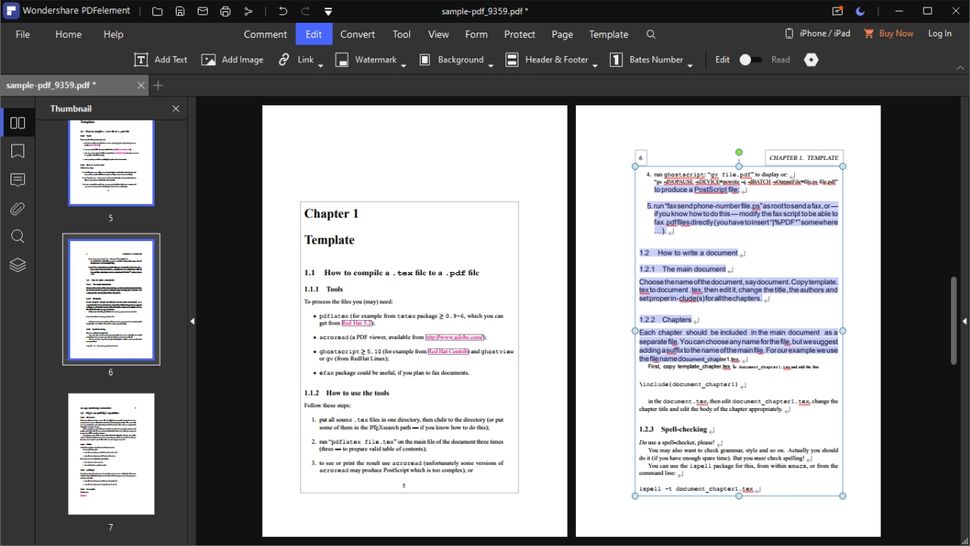 PDFelement from Wondershare is an easy-to-use all-rounder for creating, editing, converting and signing PDF files across Windows, macOS, iOS, Android, and the web.
With a streamlined interface, PDFelement is a feature-packed PDF editor. During our time testing out PDFelement, we felt it met the needs of regular users and power users who require advanced tools. The software allows you to convert Word, Excel, PNG and JPG files to PDFs with a handy batch convert feature for those that want to save time by processing multiple files simultaneously. Elsewhere you'll find a PDF compressor and OCR tools. On the privacy side, you can add a password or redact sensitive information.
PDFelement is available in three different versions and both PDFelement for Desktop and PDFelement for iOS can be purchased through an annual subscription or with a one-time price. Document Cloud meanwhile, which lets you collaborate with others on the web, is available with an annual or semi-annual subscription.
Read our full PDFelement review
Kofax Power PDF is a multi-platform program designed to read, manipulate, and annotate PDF files.
You can't create a document from scratch , and you can only alter the full content of an existing PDF when you're using the Mac version, which contains a couple of tools the PC version bizarrely lacks. However, it's possible to rotate, reorder and delete pages, as well as highlight and annotate sections of the document. You also have tools to convert documents into PDFs, such as Microsoft Office software like Word and Excel, as well as web pages.
Power PDF is available with a lifetime license. Buy once, own forever - whether you're running Windows or macOS, choosing the Standard or Advanced edition. It's an attractive proposition for those looking for alternatives to Acrobat's subscription service. You can download the app and try it out free for 15 days - no personal info necessary.
Read our full Kofax Power PDF review
Best PDF Editors: FAQs
How to choose the best PDF editor for you
Why you can trust TechRadar We spend hours testing every product or service we review, so you can be sure you're buying the best. Find out more about how we test.
When choosing which PDF editor is best for you, think about what you need from the tool.
First, it should be easy to navigate and find what you're looking for - PDFs are great when streamlining workflows, so the tool should be just as effortless in use.
If it's simple text editing, a standard app with fewer features will work well. Online or browser-based tools may also serve your needs well here. However, dedicated desktop apps for PDF editing are best when performing more advanced or complex actions, or using PDFs on a regular basis. Check for extra features like OCR, eSign software, and cloud storage for documents. Data-conscious businesses will also want to look for tools like Foxit PDF Editor, which feature excellent redaction tools to remove personal information from PDF files.
You'll also want to ensure the PDF editor is compatible with your operating system and has a bulk-buy discount if you're purchasing multiple licenses for your firm.
What is a PDF editor?
A PDF editor makes it possible to edit the otherwise non-editable PDF file. The PDF (Portable Document Format) file was designed for exchanging documents swiftly and reliably, but there was no option to edit it. PDF editors are built for editing PDFs directly, rather than converting them into an editable format (like .docx) and then making the changes.
How do you edit a PDF?
Every PDF editor has its own way of letting you alter the contents of a document - and, more specifically, what you can edit. If you're using a full PDF editor like Nitro or Acrobat, you'll have a lot more modification tools than you will in simple PDF manipulators.
We've looked at the steps needed to modify files in the best PDF editors in our guide How to edit a PDF (opens in new tab).
Should I use a free PDF editor or a paid one?
You usually have to pay for the best PDF editors - but it means you get access to a full set of tools that may be missing from some free platforms. There are a few reasons why a free PDF editor may not be right for you.
However, if your needs are simpler, or you're working to a tighter budget, free PDF editors can be an excellent choice. Many of them are also available online in your browser.
We've explored the topic in our guide Free PDF editors vs Paid PDF editors: What's the difference? (opens in new tab)
What features should my PDF editor have?
The best PDF editors often come equipped with lots of tools - so be on the look out for these features:
> Multi-platform support: Select the best PDF editor for the platforms you use - many work across Windows and Mac, with mobile PDF editing apps for Android, iOS, and iPad, but not all. The more platforms the better (because you never know when r where you might need it), including browser-based editing software.
> Security: WIth organizations acutely aware of data compliance, many programs now feature a raft of security features from the basic password protection to full-on redaction tools.
> Conversion: The PDF format is designed to display the same regardless of device or operating system - so, when you're working with different apps, like Microsoft Word, a converter lets you change the filetype to PDF (and back again).
> OCR: Built-in optical character recognition (OCR) is a necessary feature when scanning paper-based documents to turn them into digital PDFs. Ideal for archiving or when upgrading systems.
> eSign: Digital signature capabilities now let you create and share a document that can be signed by the user without having to ever step into your office. An essential tool, especially in HR and sales.
> Merge & split: Merging lets you join multiple documents into one. Conversely, a PDF editor with the split feature lets you carve up a single document into many. Ideal when you need to make files manageable or more comprehensible.
> Compression: If you're working with large documents, the PDF editor's compression tools can shrink them to a more manageable file size. Best for saving physical and cloud storage space or for sharing.
> Online collaboration: Remote and hybrid working has made online collaboration tools a necessity across modern organizations. In the very best PDF editors, these will range from wide share options, annotations, and comments to real-time collaboration.
What's the difference between a PDF editor and a PDF reader?
A PDF reader is primarily built for letting you view documents. However, many of these tools have editing-lite capabilities, so you can make minor changes or manipulate the content in some way.
A PDF editor lets you build PDF documents from scratch, and make changes across the file. This is the better option if you're a power-user, as they typically pack in a lot more tools, giving you complete control over how your document looks.
If you only occasionally view PDF documents, most modern browsers are ready-made for this job - there's no additional software downloads and it won't cost you anything, either.
We've tested out the best PDF readers for Windows, best PDF readers for Mac, and best PDF readers for Android.
When was the PDF invented?
Adobe's PDF filetype was introduced to the world in January 1993. It started life as the Camelot Project in 1990, taking influence from 1985's Postscript desktop publishing software.
The PDF filetype was created by Dr John Warnock, Adobe co-founder, who said at the time, "These documents should be viewable on any display and should be printable on any modern printers. If this problem can be solved, then the fundamental way people work will change."
With 2023 marking the 30th birthday for the ubiquitous format, we've charted the fascinating history in 30 years of PDF: The file format that changed the world (opens in new tab).
How we test the best PDF editors
When we test the best PDF editors, we measure the software against the same criteria that matters to users.
First. we assess performance and platform - what operating systems they're available on, the system requirements to run the editor, and how swiftly they open up PDF documents (especially larger ones).
We check how simple the interface is, and how easy the overall user experience is. The best PDF editors are accessible and intuitive to use - even more advanced offerings. We also test how well the product fits the intended audience. Is that beginner software straightforward? Does the business tool offer a professional features and results?
During our time with the software, we check how many file formats the software supports, whether there are security options like encryption and password protection, and other annotation and sharing features.
Pricing is another factor. We then look at the purchase options available (if it's a one-time buy or a subscription-based model), and if there are discounts when purchasing multiple licenses.