The best Adobe Acrobat alternatives don't cut back on powerful PDF editing tools and features - they just don't need a Creative Cloud subscription.
Adobe Acrobat has long been considered the best PDF editor overall. Perhaps that's expected for the original PDF reader and editor. It started life by standardizing documents across devices and operating systems, and its advanced toolkit has only grown over the last three decades.
Today, you don't need Adobe to ensure a document is identical, no matter what device it's viewed on. You'll find plenty of premium and free PDF editors packed with features like OCR, digital signatures, and redaction tools that lead to more efficient and secure digital workflows.
We've tested the best Adobe Acrobat alternatives to see where the competition beats, matches, and misses the mark compared to Acrobat - whether you're only opening files now and then or you're a PDF power-user in and out of documents every day.
(We've covered the filetype's glorious history in 30 years of PDF: The file format that changed the world (opens in new tab))
Today's best Adobe Acrobat deals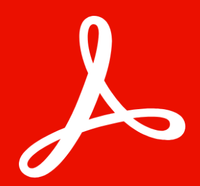 (opens in new tab)
Adobe Acrobat DC: best PDF editor overall
Adobe Acrobat DC is our top choice for best PDF editor overall. Earning 5 stars in our review, we said, the program is the most professional PDF editor out at the moment, and it comes with lots of advanced features fit for everyone's needs.
See our guide How to download Adobe Acrobat.
The best alternatives to Adobe Acrobat in 2023
Nitro PDF Pro is probably the best Acrobat alternative for those who absolutely, positively want to avoid subscriptions at all costs. You won't find any on-going payment plans with this PDF editor. Just a one-off perpetual license.
When we tried out the product, we found it featured an impressive toolkit that compares favorably with Adobe Acrobat. The interface and experience make using the software incredibly simple and easy - a factor the sometimes overwhelming Acrobat struggles to boast.
Other tools to let you make changes to existing PDF documents, and even create one from scratch. You have a lot of tools at your disposal, including various ways to make annotations, leaving instructions for colleagues to follow.
Editing the actual content of an already existing PDF isn't as seamless as we'd like it to be, and that's probably the weakest tool in Nitro's arsenal. Everything else is very well implemented, and we especially liked how the ability to convert files to and from PDFs is performed.
Ultimately, we found this Adobe Acrobat alternative "a good PDF editing software package that allows you to make changes to documents, annotate them, and perform numerous alterations on them. It also comes with a good OCR, conversion tools."
This PDF editing software is capable of running on a PC or a Mac, and costs $180 per license. Volume licensing for businesses is also available.

Read our full Nitro PDF Pro review
PDF24 Creator isn't just one of the best Adobe Acrobat alternatives for Windows - it's also our top pick for best free PDF editor overall.
Despite the no-cost approach, the tool - a PC-only desktop app that works offline and is ideal for low-spec PCs - is surprisingly feature-rich.
During our time with the software, we rated it as "one of the best examples of free tools that go above and beyond. It's packed full of features, and comes with everything you might need to create and edit a PDF document."
Tools for PDF creation, compressing, merging, and converting are all present and results are grand. Extras like OCR and eSign are well-implemented. The interface is clean and fresh and emphasizes productivity - you can quickly find what you need and what to do.
We even felt it bested Adobe in one area. Praising Acrobat for its inclusion of tools for almost use-cases, we noted, "the only exception is if you need something more advanced for filling out forms, in which case an editor like PDF24 Creator or PDFZilla (opens in new tab) could work better, despite looking a bit clunkier."
PDF24 Creator is available free and unlimited. The experience might not quite match Adobe's fluid workflow, but it's a price you can't beat.

Read our full PDF24 Creator review
Foxit PDF Editor is a stellar substitute for Adobe Acrobat. Like Adobe, Foxit has been offering PDF tools for decades, and users can take confidence from the many high-profile endorsements proudly listed on the Foxit site, with the likes of Amazon, Google, Dell, and Intel among them.
The company's best Adobe Acrobat alternative, Foxit PDF Editor, offers dozens of useful features. This includes watermarking, adding headers and footers, tailoring password permissions, creating templates, and converting other documents to PDFs. One neat feature is being able to drag files of other formats - such as converting Excel to PDF or using the PowerPoint to PDF converter.
In our Foxit PDF Editor review, we felt it might not offer enough value to casual users, but the multi-platform PDF editor app was great for businesses who regularly need to manipulate, edit, redact, annotate, and alter PDF documents.
Indeed, the redaction tools were a special highlight for us. We were impressed with how easily they worked, thoroughly scrubbing sensitive data from documents .The feature is a boon for compliant-conscious teams who understand the importance of adhering to global data laws.
Pricing for Foxit PDF Editor is flexible, with monthly and yearly subscriptions. If on-going payments are one of the reasons you're looking for the best Adobe Acrobat alternatives, there's the opportunity to pick up a perpetual license for a one-off purchase.
You'll also find two upgraded versions of the PDF editing software - Pro and Pro + - which add additional features for power-users.

Read our full Foxit PDF Editor review
EaseUS PDF Editor is the ideal choice if you're on a PC - it's one of the best alternatives to Adobe Acrobat for Windows.
Unlike many of the best Acrobat alternatives, EaseUS has a free, but limited version available alongside the Pro version. This works great in a pinch, but it restricted in many ways - not least adding a watermark to your documents. The Pro version opens up the software, however.
In our review, we described EaseUS' offering as "a powerful, PC-only PDF editing software tool that allows you to manipulate and alter documents with relative ease. It also comes with more standard features, such as a converter, and has good OCR capabilities." Elsewhere, you'll find outstanding PDF converter tools and eSignature tools.
The program is impressively kitted out for PDF editing, splitting pages into boxes that can be moved and resized. Content can also be changed, such as altering the font, color, and the text itself.
And it's all housed within a refreshingly clean user interface. This makes navigating the tool an absolute breeze - not dissimilar to the excellent user experience offered in Adobe Acrobat, with its focus on maximizing productivity.
Costs for EaseUS PDF editor vary, with monthly and annual subscriptions and a one-time-buy 'lifetime upgrade' option. It's 'one license for one computer'. Bundles are available.
Read our full EaseUS PDF Editor review
If you're looking for the best Adobe Acrobat alternative for Mac, iPad, and iPhone, look no further than Readdle PDF Expert.
While modern Apple machines come preinstalled with the excellent Apple Preview - a tool we felt "should be able to cater to all but the most demanding PDF road warriors" - it's more of a PDF reader and manipulator, rather than a full PDF editor, like Acrobat.
PDF Expert is much more fully featured, making it a much better alternative to Acrobat. Alongside image and text editing, Readdle's product also comes kitted out with converter tools for Word, Excel, and PowerPoint, OCR and eSign tools.
When we tested out the software, we were impressed to find it "has lots of useful features for people who use PDF files on a regular basis. It has a very clean UI design and everything is neatly organized so you don't need a lot of help in understanding how the software works when you use it for the first time." We also loved how well PDF Expert synced documents on all Apple devices.
A wide range of editing tools include the ability to highlight parts of the PDF and add notes, redact sensitive information, extract or rearrange pages, and merge documents. Being able to draw directly onto the PDF is also useful for those who are using the software on iPad and have an Apple Pencil.
The sleek interface and a well-organized toolbar make it simple and intuitive for new users to accomplish everyday PDF editing tasks. In short, PDF Expert makes you feel like a PDF expert.
Pricing is via an annual subscription or a perpetual license - however, only the yearly fee offers use across iPhone, iPad, and Mac.
Read our full Readdle PDF Expert review
PDF Architect, from pdfforge, offers a range of PDF packages that rival Adobe Acrobat. The free plan includes basic PDF creation for Word, Excel, and PowerPoint docs, and the ability to merge, move, and delete pages and files.
More advanced features rest in the Standard, Professional, and Pro + OCR plans. These open up necessary editing, converting, collaboration tools, and more. When we took a look at PDF Architect, we awarded it 4 stars, calling it "a great choice for those who need a reliable, advanced PDF editor with lots of extra features and a stable, reliable interface."
We appreciated the excellent interface, which will be familiar to anyone used to Microsoft Office software, and the extensive toolkit - praising the developers for "researching the market and identifying underserved niches." Best of all, with minimal system requirements, PDF Architect is one of the best alternatives to Adobe Acrobat for low-end, low-spec computers.
However, there are limitations, even beyond the free version. eSignatures, for example, require a separate module in the PDF editor. For that reason, we recommend a free trial to get a feel for what you can and can't do, to see if it fits your current workflow.

Read our full pdfforge PDF Architect review
For those with a need to edit PDFs online and on a budget, Sejda offers a tool that might just be the best free Acrobat alternative online.
It's available as a desktop version that saves files locally to your computer or an online version that uses cloud storage. But watch out for restrictions in the free version. You can only perform three tasks per day, you can only work on one document at a time, and file sizes cannot exceed 200 pages or 50MB.
One of Sejda's real highlights is its security process. All files uploaded to the server are automatically deleted after two hours. Ideal, then, for businesses with a focus on data protection and compliance.
The tool isn't without its faults, though. We found in-document text editing to be fairly basic, meaning you might encounter some issues replicating a typeface if the original PDF features a unique or unusual font. But as a useful Adobe Acrobat alternative for infrequent PDF editing, Sejda offers an excellent no-cost or low-cost option.
As we noted when we reviewed the software, it's "a convincingly powerful PDF editor, but you'll need to pay if you need to use it a lot."
Pricing comes in the form of a weekly and monthly subscriptions for the web app, or an annual desktop and web app subscription. Team and volume licensing is available.
Read our full Sejda review
Best Adobe Acrobat alternatives: FAQs
How to choose the best Adobe Acrobat alternative for you
Why you can trust TechRadar We spend hours testing every product or service we review, so you can be sure you're buying the best. Find out more about how we test.
When deciding which Adobe Acrobat alternative is best for you, you first need to consider how you will be working with PDF files.
Modern operating systems and browsers can open PDFs without additional software, meaning this is all you need if you only want to view the files.
You can make basic edits using a PDF reader, many of which are available as free versions. You'll also find plenty of PDF editors that have fewer features than Acrobat, making them the ideal choice for casual users or those who don't need anything too complex. If you need to make more in-depth edits, batch process files, or convert between file types, then a fully-fledged PDF editor is the best choice for you.
Also consider cost. Adobe Acrobat is only available as a subscription service - but alternatives to Acrobat are available on subscription and perpetual license (so you buy it once and own it forever). Some are even available free of charge.
What is a PDF?
PDF is an acronym for Portable Document Format. The filetype was invented by Adobe and designed to look identical across different devices and screens - so, it retains consistency and maintains accuracy without formatting issues. However, because it's standardized, it also means it can't be edited without the use of a PDF editor like Adobe Acrobat.
What is Adobe Acrobat?
Adobe Acrobat is a PDF editor for Windows, Mac, Linux, iOS, and Android. Unlike PDF readers, lets users create, edit, and annotate PDF documents that can easily be shared and viewed by others. It's often considered the industry standard in PDF editing software. Not only did the company design the PDF format, but also introduced a range of tools so businesses can easily build and modify documents
Why do I need an Adobe Acrobat alternative?
The best Adobe Acrobat alternatives deliver similarly effortless interfaces and experiences for PDF editing - without the need for a Creative Cloud subscription. Although Acrobat remains the obvious choice for editing PDFs, and is often considered the industry standard PDF editor, it might not fit your overall workflow, meet your needs, or your budget. This is especially true if you're not a power-user; if you're not a PDF power-user, alternatives may meet your needs better.
How we test the best Adobe Acrobat alternatives
To test the best Adobe Acrobat alternatives, we downloaded and installed each piece of software to give you a first-hand opinion.
Our research looked at operating system compatibility, system requirements, and real-world performance when working with large files.
We explored each program's features, noting any significant additions and omissions compared to Adobe Acrobat.
We also investigated the price, payment models, and free versions (where available) for each Adobe Acrobat alternative. Finally, we looked at the support services and documentation offered by each developer as we feel it's a key part of the overall user experience.