The best Adobe After Effects alternatives offer powerful visual effects software - whatever your experience and budget.
Long-considered one of the best VFX software solutions on the market, Adobe After Effects delivers Hollywood-grade special effects, motion graphics, and video compositing.
In our review, we found the latest version offers a "wealth of new features designed to make VFX quicker and easier. It's no wonder After Effects is seen as the go-to video compositor." For professionals deep within the Adobe ecosphere, it also offers seamless integration with top video editor Premiere Pro to add professional-grade polish to any video production.
All that can make it difficult to identify the best alternatives to Adobe After Effects. But the special effects software isn't without its faults. Some users find the interface tricky to use as a beginner, while others dislike the subscription-only pricing plans.
If you want to swerve the Creative Cloud subscription, or just want to master a new bit of kit, we've tested, reviewed, and rated the best Adobe After Effects alternatives for beginners, post-production pros, and creatives on a budget.
Today's best Adobe After Effects deals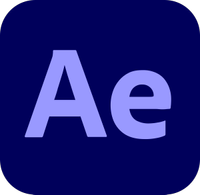 (opens in new tab)
Adobe After Effects is one of the best VFX tools out there. In our 5-star After Effects review (opens in new tab), we praised the visual effects powerhouse for "offering so much versatility and options, for the budding and professional video designer. It can be an overwhelming app, but there's really very little you can't do with it."
The best alternatives to Adobe After Effects
Why you can trust TechRadar Our expert reviewers spend hours testing and comparing products and services so you can choose the best for you. Find out more about how we test.
HitFilm Pro (opens in new tab) offers the ability to edit videos and add compositions in a single tool. You won't need to switch programs, like you do between AE and Premiere Pro, leading to smoother, more efficient workflows.
Since you're working within one app, effects are applied onto a non-linear editing timeline, compared to AE's layer-based system. This makes it easier to learn for those already used to non-linear editing.
And the two-in-one nature of HitFilm Pro doesn't mean that the effects features are any less deep. When it comes to VFX toolkits, this is a capable rival to After Effects.
HitFilm Pro's developers claim it has "the world's biggest VFX software toolkit". It lives up to that boast, making it one of the best Adobe After Effects alternatives. Some of the best tools include advanced 2D and 3D motion tracking, world-leading particle effects, an excellent chroma key, and over 875 VFX presets.
Price of admission is admittedly high. The $349 / £308.86 price tag likely to sway casual and rookie effects artists. That said, this is a one-off fee rather than a subscription. There's also a free demo version available that has all the features and no time limit, but exports are given a watermark.
You can also try HitFilm - the FXHome's free video editing software, which includes a handful of free VFX tools.

Read more in our full HitFilm Pro review


Blackmagic Design's Fusion (opens in new tab) is an in-depth visual effects workspace. And the long list of Hollywood productions it's been used on tells you all you need to know about the strength of its features, which include advanced VR and 3D compositing.
In Fusion's node-based effects workspace, you can connect various effects and filters together through a visual web of nodes. That pro-level system can appear complex to newcomers. Like After Effects, this free editing software has a steeper learning curve, which takes some time to master. But once you've got used to it, it's a very efficient way to build up combinations of effects.
Fusion is built into the stellar DaVinci Resolve, Blackmagic's all-in-one post-production program. Like HitFilm Pro, you're free to edit your project in Resolve's editing workspace, then click the tabs bar to switch over to Fusion and add effects.
The best thing about this After Effects alternative is that the standard DaVinci Resolve 18 suite is completely free. For some advanced features, such as faster network-based rendering, the premium version, simply called Fusion 18, costs a one-off fee of $295.
Apple Motion (opens in new tab), Apple's Mac-only visual effects software, can't match Adobe After Effects in advanced functionality. It's simple, limited, and functional. But it pairs superbly well with Final Cut Pro - you can see how Apple's video editor compares to its top rival in our guide to Adobe Premiere Pro vs Apple Final Cut Pro.
Motion features the silky smooth experience you'd expect from the always aesthetically pleasing Apple. Running on macOS, Motion is optimized for Apple hardware. In operation, the easy-flowing interface makes it one of the best alternatives to After Effects if you want a program that's by far easier to learn.
Power users will delight in the faster rendering times compared to Adobe's special effects app.
While it lacks the same depth of functionality, falling short when it comes to advanced compositing, for example, the VFX tool still manages to pack some impressive features. Not to be missed is the very comprehensive text design & animation tools.
Motion is available for an affordable one-off fee of $49.99 / £44.99. This gives you the software plus any future updates for a lower cost than a three-month After Effects subscription.
Open-source, free alternative to After Effects Blender (opens in new tab) is tailored to 3D animation. It supports the whole pipeline of 3D modeling, sculpting, animation, compositing, and editing.
Blender's toolset for designing and animating characters enables a very impressive level of control. However, when it comes to applying visual effects on top of the animations, it's not the best alternative - After Effects has a depth to it unmatched by Blender.
As a node-based VFX tool, the learning curve is steep and the process slow. It can't handle 2D graphics or elements like animated text like AE. But there is an extremely supportive online community always willing to help with any issues you might face.The official Blender training hub also houses online courses and workshops led by experts.
That's the only price animators pay for free 3D modeling software that in some ways is a much more powerful alternative to After Effects.
Natron (opens in new tab) is a comprehensive open-source VFX program, ideal for innovative creatives on a budget looking for free Adobe After Effects alternatives.
Focusing on 2D and 2.5D effects, Natron delivers professional results through useful features, including powerful keying tools, flexible rotoscoping, and unlimited masks and mattes. Further boosting its toolkit are the wide range of community-created plug-ins available.
However, the node-based visual effects software isn't built to tackle motion graphics or 3D tools. Development has been undeniably sluggish over the past few years, with no recent major updates. It's not as stable as the best Adobe After Effects alternatives like HitFilm Pro and Fusion. Some performance issues have been reported, too.
But it is free. It is powerful. It is a capable open-source alternative to After Effects. If you need a professional-grade, 2D node-based editor, Natron is a great choice.
FilmoraPro (opens in new tab) is one of the best alternatives to After Effects, thanks to a decent set of VFX and motion graphics tools.
Like Wondershare's consumer-level video editor Filmora - one of the best Adobe Premiere Pro alternatives - FilmoraPro's drag-and-drop interface is simple and intuitive. You'll have no problem placing effects on the timeline, and control key A/V elements, from noise reduction to color correction.
That simplicity is deceptive, though. As the name suggests, this is a VFX app designed for professionals. While it's good for beginners, it's perfect for intermediate editors and visual effects artists looking to hone their craft.
The quality won't win any Oscars for professionalism, but it's a good choice of video editor for YouTubers and indie filmmakers just starting out. Streamers will also get use from FilmoraPro, thanks to the built-in screen recorder.
FilmoraPro is available for a one-time purchase of $149.99 / £159.05 - ideal if you're looking for After Effects alternatives to avoid paying a subscription. Commercial licenses are also available, starting at $155.88 / £123.97 per user per year.
Hardware requirements are fairly modest for a visual effects tool. Your rig doesn't have to be the best video editing computer to create impressive visual effects, making it one of the best Adobe After Effects alternatives for low-end PCs
Smoke (opens in new tab) is a Mac-only video effects software that blends timeline- and node-based editing for increased productivity and a more well-rounded workflow.
The user-friendly editor lets you add post-production polish. The high-quality kit includes VFX essentials like keying, compositing, color correction, and 3D effects.
Autodesk, the developer behind Smoke, is also responsible for some of the best architecture software. This is a company adept at creating top-quality, professional-grade graphic design tools for SMEs and enterprises.
The cost reflects this. Smoke costs $225 / $246 a month or $1785 / $1968 a year. And where there's Smoke, there's…Flame - with seamless integration with Autodesk's 3D visual effects suite.
As you'd expect from a top-tier VFX app, results are impressive, rivaling any of the best Adobe After Effects alternatives.
Pricey and professional. If it's in your budget, Smoke could set your world on fire.
---
Adobe Premiere Pro vs Adobe After Effects: what's the difference?
Adobe Premiere Pro vs Adobe After Effects isn't quite the right way to think about these two video post-production tools.
There are some similarities between Adobe's industry-standard creative programs - with both earning 5-stars in our hands-on reviews. The tools are incredibly powerful, letting content creators easily cut clips and add effects thanks to that easy user experience Adobe excels at. And both deliver exceptional professional polish to video projects.
What's the difference between Premiere Pro and After Effects? Adobe Premiere Pro is video editing software for editors. Adobe After Effects is VFX software, used by designers and artists to add special effects to shot footage.
The two tools are best deployed in different parts of the post-production process. Crucially, though, Adobe has designed Premiere Pro and After Effects to work seamlessly together, creating a more efficient workflow for content creators and film & TV professionals who use multiple Adobe Creative Cloud apps.
How to choose the best Adobe After Effects alternative for you
When choosing which alternative to Adobe After Effects is best, start by determining your VFX skills, and how you'll use the tool. Professional-grade visual effects software offers industry-standard effects, but beginners and enthusiasts may want to start with a simpler, or less expensive option.
Finding the right tool for the right platform is important - particularly if you favor a particular video editing tool, such as Premiere Pro or Final Cut Pro. You'll also need to decide if you want the full visual effects suite, or you need high-performance in a specific area, such as 3D animation. Don't ignore additional extras and nice-to-have's, like FilmoraPro's screen recording software.
If you're experienced with the Adobe stack, look for products that mirror After Effects - particularly those with an easy-to-use interface and similar features. It'll make it easier to get creative with software if you're already familiar with AE.
Pricing models vary between the best Adobe After Effects alternatives. Creative Cloud subscriptions can be a deal-breaker, so check how you'll pay. You'll find similar subscription models, one-off payments, and even free alternatives to After Effects. Select the product that best suits your creative budget.
How we test the best alternatives to Adobe After Effects
When determining the very best Adobe After Effects alternatives, we review each product based on interface, performance on devices, the size of the toolkit, and how users will actually use the VFX software.
After Effects is famously easy and intuitive to use - like most Adobe programs, once you understand the basics, it's incredibly powerful. Alternatives to AE should feature experiences that are just as simple to use - even with a steep learning curve, we want to make sure users can navigate and create in a way that makes sense.
We also review how well the VFX software runs, and how rendering effects can impact computer performance.
Recognizing that the best After Effects alternatives are often built for different skill-levels and purposes, we test the software based on its intended use and audience.
Pricing models are also a factor. A Creative Cloud subscription isn't for everyone - and where one-off purchases replace subscription models, we'll note this. When it comes to the best free Adobe After Effects alternatives, the software should be genuinely free, without hidden charges or hamstrung performance.