Best Adobe InDesign alternatives in 2023
Best
Contributions from
last updated
The best Adobe InDesign alternatives for page layout designers
Finding the best Adobe InDesign alternatives is a designer's dream - especially if you can't find value in a Creative Cloud subscription.
Quick menu
1. Best overall
2. Best for graphic designers
3. Best for beginners
4. Best for professionals
5. Best free
6. Best on a budget
7. Best online
8. How to choose
9. How we test
There's no denying that Adobe InDesign sets a high standard for page layout design apps - used across the industry, it's packed with tools, templates, fonts, and features that professionals need to bring color-accurate printed assets to life. If you need to design magazines, flyers, posters, and even books, the best Adobe InDesign alternatives need to meet a high standard.
But while InDesign may offer one of the best desktop publishing software experiences, it's not for everyone. Some creatives may need industry-specific tools not found in Adobe's DTP app, others may just want to avoid the required Creative Cloud subscription - especially if they're not using other Adobe CC apps like Photoshop and Lightroom. If that's the case, it's time to find out which alternatives to InDesign are the best your next project.
To help you create eye-catching designs and publications, we've tested a range of the best Adobe InDesign alternatives. As part of our review process, we've compared each tool's interface and user experience to Adobe's offering, as well as how accurate and easy they are to bring printed assets to life. We've also evaluated pricing, including alternative solutions that are free and subscription-free.
Today's best InDesign deals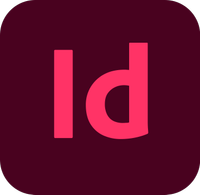 Adobe InDesign is our top pick for best desktop publishing software. The layout design app offers pro designers industry-grade features for making magazines, books, brochures, and digital assets with a professional polish.
Best alternative to InDesign overall
A pro choice that's subscription-free
Reasons to buy
+
Subscription-free
+
Cross-platform
+
Feature-rich
+
Intuitive layout makes designing easy
Reasons to avoid
-
The interface elements are quite small
-
Higher upfront cost
Affinity Publisher 2 is the big upgrade over Serif's original version of the popular Adobe InDesign alternative.
It's fair to say interface isn't anything we haven't seen before (but perhaps that's not a bad thing; it made navigation effortless). And our only real complaint was with the size of icons and labels that might appear quite small on pixel-dense displays.
That said, the page layout designer has seen a raft of improvements, particularly in efficiencies for designers up against the clock. Document design is a breeze - and we especially liked the time-saving tools that range from small extras like easy footnote creation to more serious object manipulation. This includes options to copy effects from one object to the next, select similar objects to alter them all at once, or create a grid of objects in seconds.
Affinity Publisher 2 runs on Windows, Mac, and iPad for a one-off purchase. So, if you're looking to avoid Adobe's Creative Cloud subscription and don't mind the higher upfront cost, this desktop publishing software delivers. It's available as a standalone app or as part of the Affinity V2 Universal License, a creative design suite that includes Affinity Photo and Affinity Designer.
Read our full Serif Affinity Publisher 2 review
Best Adobe Indesign alternative for graphic designers
All-in-one alternative
Reasons to buy
+
Publishing, illustration, and image editing in one app
+
Efficient layout tools
+
Smooth performance
CorelDRAW Graphics Suite is a complete illustration and design package.
One reason InDesign is a popular choice is its seamless integration with Adobe's other Creative Cloud editing apps. Corel packs that toolset into a single app, making it one of the best alternatives to Adobe InDesign, Photoshop, and Illustrator - all in one. And without the sprawling subscription fees, either.
While perhaps best known for its illustration side, CorelDRAW's publishing features are just as powerful. You'll find in-depth layout and typography tools here, and the 2021 release added a multipage view that simplifies the organization and movement of assets between pages.
The slick interaction between various creative aspects of the suite makes CorelDRAW a particularly good InDesign alternative for creative professionals who want to design print or web content with bespoke illustrations.
Corel's top DTP software runs quite efficiently, with separate versions designed for best performance on Windows and Mac, and extensive file compatibility.
But a comprehensive design suite commands a comprehensive price: a one-off $859/£659 or an annual subscription of $269/£319. It's a sharp hit that could prove more affordable than an Adobe subscription in the long-run.
Note that the one-time purchase doesn't include access to any future updates, whereas the subscription does. Companies also face a further fee for Corel software maintenance that's tied to all business licenses.
Read our full CorelDRAW review
Best InDesign alternative for beginners
A DTP tool for Microsoft users
Reasons to buy
+
Beginner-friendly
+
Familiar MS interface
Reasons to avoid
-
Basic feature set
-
Windows only
-
Subscription required
Microsoft Publisher is an accessible layout designer with a broad reach but low on features. It's a long-serving member of the company's office software suite, alongside Word, Excel, PowerPoint.
If you're familiar with the Microsoft stable, it's one of the best Adobe InDesign alternatives, as it features the same 'second-nature' interface found across all Microsoft 365 apps (and yes, unfortunately, Publisher does require a Microsoft 365 subscription).
When it comes to professional-level features, the magazine-making software can't stand up to the likes of Adobe InDesign.
Layout and typography tools are much less flexible. There are no numeric transform controls. No in-depth color management tools. For users familiar with a feature-rich toolkit, the list can feel endless.
Publisher is worth considering if you're a design beginner or small business looking to produce marketing documents. Experience is no barrier with this desktop publishing tool.
It's a smooth, hassle-free app, and it's easy to get started without having to learn too many technical skills.
Read our full Microsoft Publisher review


Best alternative to InDesign for professionals
4. QuarkXPress
A classic app that's tailored for pros and business use
Reasons to buy
+
The original
+
Good features for print and web design
+
Built-in image editing tools
QuarkXPress used to wear the 'best desktop publishing software' crown. First released in 1987, it hit peak popularity in the 90s. And despite Adobe stealing the program's thunder (and crown) in recent years, the program still receives regular updates and remains a powerful alternative to InDesign.
It's a versatile tool, effortlessly handling print materials like books and magazines. It also enables you to create web content optimized for desktop and mobile devices. With a large set of effects and image editing tools, you get in-depth control over all aspects of your design.
The built-in image editing and illustration tools are a welcome touch, helping to keep workflows within one app. They are similar to the ones that you'd find in Photoshop and Illustrator, though lacking the depth of either.
The biggest downside is the price: QuarkXPress has a one-off fee of $699/£517 or an annual subscription of $249/£184.
Design veterans and Quark-driven business will be happy to invest - and it's money well-spent. This is one of the best InDesign alternatives out there, with the reputation and heritage to back it up. But with most competitors more affordably priced, it can be difficult to justify the cost.


Best free alternative to Adobe InDesign
Free and open-source substitute to Adobe's page layout designer
Reasons to buy
+
Open-source
+
Most functions of paid equivalents
+
Great color management tools
Reasons to avoid
-
Can't import other DTP software's file formats
Open-source desktop publishing tool Scribus is easily the best free InDesign alternative for designers on a budget.
Considering it's free, Scribus stands up well against its competitors. Though it's unlikely to ever be as powerful or in-depth as InDesign or QuarkXPress, it does have almost all the features that you'd expect in its paid-for equivalents.
A particular highlight is the software's color management tools, such as color separations, CMYK, and a color blindness simulation mode to make your designs more accessible. It also features extensive PDF support and direct editing of vector drawings.
The interface is similar to InDesign, so it's easy to navigate but the toolset can be harder to master. For beginners, there are several templates to get you started. A passionate developer community has blossomed around Scribus, so it sees regular updates and support.
It's a great tool for designing magazines, brochures, newspapers, and books. The only real downside is that you can't import files made in other programs, such as InDesign or Quark.
Read our full Scribus review


Best InDesign alternative on a budget
6. Xara Page & Layout Designer
No subscriptions but not feature-rich
Reasons to buy
+
Highly accessible app
+
Simple interface
+
Low one-off purchase
Reasons to avoid
-
Not as many features as InDesign
-
Won't be right for professional designers
Xara Page & Layout Designer is a really accessible desktop publishing program for those new to designing digital documents.
The interface is simple to get around, and easing you on your way are a selection of ready-made templates. So, even if you're a complete beginner, you'll be using the software to design magazines, brochures, and business cards in no time.
However, the feature list is shorter than InDesign's. Quite a lot shorter. That's going to limit the tool's appeal for professional designers and advanced users who will find Xara fine for quick tweaks and edits, but will otherwise rapidly outgrow it.
For everyone else, Page & Layout Designer is a welcoming introduction to designing magazines and printed assets.
The price, too, makes the InDesign alternative an attractive offer for creatives on a budget. A one-off $89.99/£49.99 cost, or as part of the Xara Designer Pro+ subscription plan, which bundles the desktop publishing software with a photo editor and website designer that reviewed very well.
Best online alternative to InDesign
7. Lucidpress
Design pages in your browser
Reasons to buy
+
Easy to use
+
Great for beginners
+
Design in your browser
Reasons to avoid
-
Lack of features
-
Not always stable in browsers
Lucidpress is a DTP tool that works in your browser. That should immediately clue you into how powerful this layout designer is: not very. But don't write it off just yet - especially if you have little experience in publishing.
The drag-and-drop interface lets you easily design digital assets and print materials like flyers, newsletters, and brochures. And to give your publications the personal touch, you can import, embed and share designs through integrations with Google Analytics, Dropbox, Slack, Facebook, and YouTube.
Lucidpress lacks the impressive feature list of other alternatives to InDesign (and even InDesign itself). This isn't a top-flight desktop publishing tool - but it's not meant to be. It's meant to act as an accessible entry point for beginners and those who don't need to spend hours working up designs.
You can sign up for a limited free account that's really more of a free trial than anything else. Extra features are unlocked with the Pro, Team, and Business monthly subscription plans.
How to choose the best Adobe InDesign alternative for you
Choosing which InDesign alternative is best starts with understanding what you're trying to avoid with Adobe - interface, costs, workflow, or something else. Look at where each software sub mirrors or diverges from Adobe's top DTP tool.
If you're new to digital desktop publishing, try an alternative for beginners - simple user interfaces don't always mean losing out on powerful tools. If you're an adept designer, select a feature-rich program like Affinity Publisher that lets you innovate even without Adobe. If you're chiefly working on online materials, the best graphic design software may be a better fit for your projects.
It's worth factoring in the pricing model. You can still find alternatives to Creative Cloud subscriptions, while others offer one-time purchases. High-quality free alternatives to InDesign are available, only Scribus really delivers on its promise as software for designing magazines.
You'll also want to make sure that your machine can handle the DTP software - not all apps require the best laptops for graphic design, although these can be useful especially when you need color-accurate screens and fast performance.
Most importantly, choose the software that perfectly chimes with your creative workflow.
To try Adobe's app yourself, see our guide How to download Adobe InDesign.
How we test the best alternatives to Adobe InDesign
Alongside other desktop publishing tools and page layout designers, we've also extensively tested the best Photoshop alternatives and the best alternatives to Lightroom for when you want to break out of the Adobe ecosphere.
When we test the best InDesign alternatives, we're assessing how closely - or differently - the DTP software matches Adobe's toolset and performance.
The very best alternatives to InDesign must pack in plenty of features, to compete with the industry powerhouse - necessary when crafting professional page layouts. We're looking for a broad range of powerful tools, how well they're implemented, and how well they deliver on their promise.
But we also recognize that some alternatives provide more of an entry point to desktop publishing. In those cases, we test how easy it is for digital design tool beginners to get started.
One reason why Adobe products dominate the creative market is the simple, intuitive interface. Designers of all skill-levels have the potential to master InDesign, and we measure all alternatives against that effortless user experience.
Are you a pro? Subscribe to our newsletter
Sign up to the TechRadar Pro newsletter to get all the top news, opinion, features and guidance your business needs to succeed!
Kieron Moore is a freelance writer based in Manchester, England. He contributes to Future sites including TechRadar and Creative Bloq, focusing on subjects including creative software, video editing, and streaming services. This work draws on his experience as an independent filmmaker and an independent TV watcher.