Want to know how to download Adobe InDesign for free - or just try one of the best desktop publishing software for designing magazines, posters, books, and just about any other printed assets?
Depended on by professional magazine, book, newspaper, and brochure designers, DTP tools are essential for laying out pages that don't bleed over the edges, create chasms of negative space, and remain color-accurate on-screen and in hand.
Whether you're an established designer or developing your publishing skills, Adobe InDesign is a great page layout tool to bring your ideas to life. It's available as a single app or as part of a Creative Cloud All Apps subscription, bundling tools like Adobe Illustrator and Photoshop alongside its layout designer.
We're looking at how to download Adobe InDesign free for 7 days or via Creative Cloud. We'll run through the different subscription plans and discounts available, how to get started, and the best InDesign alternatives worth considering.
Today's best Adobe InDesign deals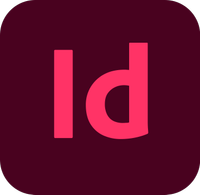 (opens in new tab)
Adobe InDesign is our pick for best DTP software overall.
Making a magazine? Designing a flyer? Printing a book? Adobe InDesign is tailor-made for creating printed assets that look as good on your computer as they do when they go to print - so it should cut down on those endless back-and-forths before sign-off and unnecessary recalls after printing. You can download InDesign free on a 7-day free trial or via a Creative Cloud subscription.
How to download Adobe InDesign
Can I download Adobe InDesign free?
You can download InDesign free with a 7-day free trial by clicking here (opens in new tab).
The desktop publishing software is compatible across Windows and macOS, and the trial enables you to access all the features, including the latest updates.
Once the trial ends, you can continue to use the service by signing up for Adobe Creative Cloud. As your payment details aren't required for the trial, there are no automatic charges in place. However, if you like the platform and want to continue using it, you can convert to a paid membership during the trial.
Although there are many services online claiming to provide the use of InDesign for free, downloading a hacked copy of the software is illegal. On top of this, you will put your computer at risk of viruses and other malware, as there is no way to confirm the safety of the download.
How do I buy Adobe InDesign?
Unlike some DTP tools, you can't purchase Adobe InDesign on a lifetime license or a one-off fee. Like most other tools in the creative stack, you'll need to subscribe if you want to keep using it after your free trial.
You can opt for a Single App subscription, which only includes the InDesign desktop app plus 100GB of cloud storage.
You can also choose Creative All Apps, which bundles InDesign with over 20 other tools, such as Adobe Lightroom and Acrobat, the company's top PDF editor. If you work across different mediums, this could prove value for money.
How much does Adobe InDesign cost?
Adobe offers three ways to subscribe to InDesign - monthly, annually, and annually billed monthly. The latter is cheapest, but you'll be locked into a yearly contract and you'll have to pay an exit fee if you want to cancel before the 12 months are up. Choose the plan that best fits your budget.
Adobe InDesign single app price
Monthly: $31.49 / £30.34 / AU$45.99
Annual billed monthly: $20.99 / £19.97 / AU$29.99
Annual upfront: $239.88 / £238.42 / AU$343.07

Creative Cloud All Apps subscription prices
Monthly: $79.49 / £75.85 / AU$114.99
Annual billed monthly: $52.99 / £49.94 / AU$76.99
Annual upfront: $599.88 / £596.33 / AU$871.07
Note: while these prices are correct at the time of writing, prices outside the US fluctuate regularly with the exchange rates. All subscriptions can be canceled with a full refund within the first 14 days.
Are there Adobe InDesign discounts for teachers and students?
You can get discounts for Adobe InDesign if you're a student or teacher. However, this only applies to a Creative Cloud All Apps plan - and the cost will rise after the first year. Discounts for commercial licenses are also available.
InDesign student-teacher prices
Annual billed monthly: $19.99 / £16.24 / AU$21.99 a month for the first year, $29.99 / £25.28 / AU$43.99 a month afterward.
Annual upfront: $239.88 / £238.42 / AU$343.07
You'll need to sign up for the whole year with either plan, and prove your eligibility with, for example, an academic email address.
Adobe InDesign alternatives
Although InDesign may be the best-known desktop publishing app, it's not the only one in the market. There are other options on the market.
Microsoft Publisher is an easy-to-use publishing platform that seasoned Microsoft 365 users users will have no issues navigating. It's pretty powerful, but it is a Windows-only product.
Affinity Publisher is a stellar alternative - we're big fans of Serif's Affinity Designer 2 suite, and its page layout designer is just as effective and effortless to use. As a bonus, it's available for a one-off fee and no on-going subscriptions.
QuarkXPress used to be the king of the DTP world before InDesign took the crown. But don't let that fool you - it remains an incredibly powerful program focused firmly on professional use.