Best laptops for graphic design in 2023
Best
Contributions from
last updated
Get creative with the best laptops for graphic design
VERDICT
REASONS TO BUY
REASONS TO AVOID
Quick menu
The quick list
1. Best overall
2. Best Windows
3. Best for heavy workloads
4. Best budget MacBook
5. Best 2-in-1
6. Best for perfectionists
7. Best for gamers
8. Best mobile workstation
FAQs
How to choose
How we test
The best laptops for graphic design are the ones that combine outstanding performance with genuine portability, all in a stylish shell.
Our team of expert reviewers have gone hands-on with a massive range of creator-friendly machines, including the best laptops for photo editing and the best video editing laptops. Now, we're putting graphic design laptops to the test.
Choosing the right laptop is absolutely essential for maintaining a creative flow. Even the best graphic design software can be pretty resource-intensive, slowing down the computer, stuttering to a halt.
To help you hit your next creative brief, our reviewers have benchmarked each of the top laptops for graphic designers. We're comparing specs, build quality and design, and overall performance - from running software smoothly to staying cool under pressure. We've also checked sRGB, Adobe RGB, and DCI-P3 coverage for when you need a color-accurate screen.
The quick list
Best for gamers
The Razer Blade 14 is a beast in a small case. Coming in a 14-inch case, while showcasing a Nvidia GeForce RTX 3070 Ti and 16GB RAM. This gaming laptop has impressive and vivid colors, a great chassis and phenomenal ports, while pushing games at 1440p and 1080p.
Best mobile workstation
For Windows powerhouse creative users, the Gigabyte Aero 16 is hard to beat. The Aero 16 has a 12th Gen i7 or i9, a 16-inch 4K UHD+, and a NVIDIA GeForce RTX 4070. This creative laptop has a great keyboard, a 16:10 golden aspect ratio and remarkable overall power.
Best laptop for graphic design in 2023
Why you can trust TechRadar We spend hours testing every product or service we review, so you can be sure you're buying the best. Find out more about how we test.
Below you'll find full write-ups for each candidate for the best laptop for graphic design in 2023. We've tested each one extensively, so you can be sure that our recommendations can be trusted.
Best laptop for graphic design overall
Tailored for designers and creatives
Specifications
CPU:
Apple M2 Pro (12-core) - Apple M2 Max (12-core)
Graphics:
Integrated 19-core GPU - Integrated 38-core GPU
Screen:
16-inch, 3456 x 2234 Liquid Retina XDR display
Reasons to buy
+
High-performance M2 Pro and M2 Max chips
+
Over 20 hours battery life
+
Still the best screen on a laptop
It's difficult to picture a better laptop for digital designers than the Apple MacBook Pro 16-inch. Seemingly tailored for creators and designers, the design is beautiful, performance is outstanding, and the display is stunning.
That beautiful 3456 x 2234 Liquid Retina XDR screen is brilliant in the original sense of the word, providing a broad, crisp canvas for all graphic design work. It's so good, in fact, that after extensive testing, we called it "the best screen on a laptop".
Performance across the board is excellent. The MacBook Pro is powered by the M2 processor - an impressively efficient chip that we found easily handled a range of creative software. Benchmarking the laptop, it managed a PugentBench Photoshop score of 1,060; Premier Pro scored 1,095; Blender, 123.97. Unlike many workstations, the M2 doesn't throttle performance when you're running on the battery, either, making it ideal for working anywhere. With the coming arrival of the M3-powered MacBook Pro, we're expecting even faster performance too.
The only real downside is that it's not the lightest laptop for digital designers, and the larger screen will affect portability compared to the 13-inch model or the MacBook Air. The base configuration features a 10-core CPU, a 16-core GPU, 16GB memory, and 512GB SSD storage. However, we recommend professional graphic designers and artists opt for the 32GB RAM model and 1TB storage configuration.
Read our full Apple MacBook Pro 16-inch (2023) review
Best Windows laptop for graphic design
The top choice for Windows users
Specifications
CPU:
12th Generation Intel Core i5 - i9
Graphics:
NVIDIA GeForce RTX 3050 4 GB GDDR6, NVIDIA GeForce RTX 3060, 6 GB GDDR6
RAM:
8GB, 16GB, 32GB, 64GB
Screen:
17-inch, FHD+ 1920 x 1200, 3840 x 2400
Reasons to buy
+
Gorgeous design and build quality
+
Excellent CPU performance
+
Remarkably good battery life
Reasons to avoid
-
Not cheap
-
Not the most portable
The Dell XPS 17 (2022) may look like its predecessor - but it's still one of the slickest and sleekest 17-inch laptops for graphic designers. If you're looking for a top Windows machine, this is worth consideration. In our tests, we found Intel's latest 12th Gen CPUs delivered epic performance and surprisingly good battery life.
This is a super-sleek machine. Even its display has ultra-slim bezels. It's build of machined aluminum, with carbon fiber palmrests. During our testing, the chassis felt very solid. The keyboard bed was also fairly stable, although we did detect some flex present.
Benchmarking the device, CPU performance delivered everything you could ask for. Easily capable of tearing through the likes of video encodes and 3D renders. And the Alder Lake's performance also means day-to-day tasks like browsing the web feels snappy.
With a laptop like this, the biggest trade-off is portability. Yes, the battery life is good - but it weighs in at well over 2kg, measuring more than 14 inches across. So, it's not something you want to be lugging around from meeting to meeting, studio to studio. In our experience, the XPS 17 is about as portable as 17-inch laptops get, with the exception of the LG Gram 17.
Read our full Dell XPS 17 (2022) review
Best graphic design laptop for heavy workloads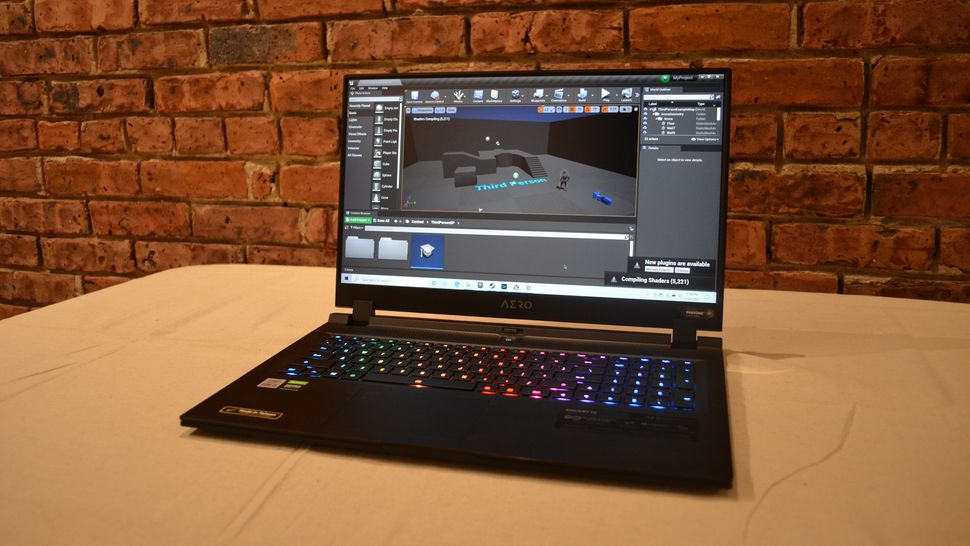 A creative professional's dream
Specifications
CPU:
10th-generation Intel Core i7 – i9
Graphics:
Nvidia GeForce RTX 3080 Max-Q
Screen:
17.3-inch UHD 4K OLED, HDR400, 100% Adobe RGB, Pantone-certified
Reasons to buy
+
Powerful
+
Gorgeous display
+
Abundance of ports
+
Good price against rivals
Reasons to avoid
-
Runs hot
-
Battery life could be improved
While there are plenty of laptops for designers and creators, the Gigabyte Aero 17 is, in our experience, a creative professional's dream.
It's easily one of the most powerful and portable machines you can find. In our tests, we found the build quality exceptional, the display (not to mention the overall design) to be gorgeous. Oh, and there's plenty of ports for attaching all necessary peripherals.
It's built that way, of course - a sort of Windows alternative to the creator-focused MacBooks. In fact, one of the main reasons we recommend the Aero 17 for graphic design is that the screen features Pantone factory calibration for 100% Adobe RGB.
Running the Cinebench20 CPU benchmark, we found the Core i9-10980HK scored 3,352cb in the multi core rendering test. That performance is about as well as we expected, We also ran several rendering benchmark tests from 3D modeling software Blender. The laptop proved 73% and 53% faster than the median times provided by Blender. The performance of the RTX 3080 with Max-Q is one of the best you'll find in a laptop geared toward the creative class. But it's in the 3DMark benchmark tests that the Aero 17 really pulled away from the competition.
While the overall build quality is stellar, we did the find trackpad just...ok. It's responsive enough - but if you're a creative professional, you won't want to rely on this for anything more than for day-to-day tasks.
Read our full Gigabyte Aero 17 review
Best budget MacBook for graphic design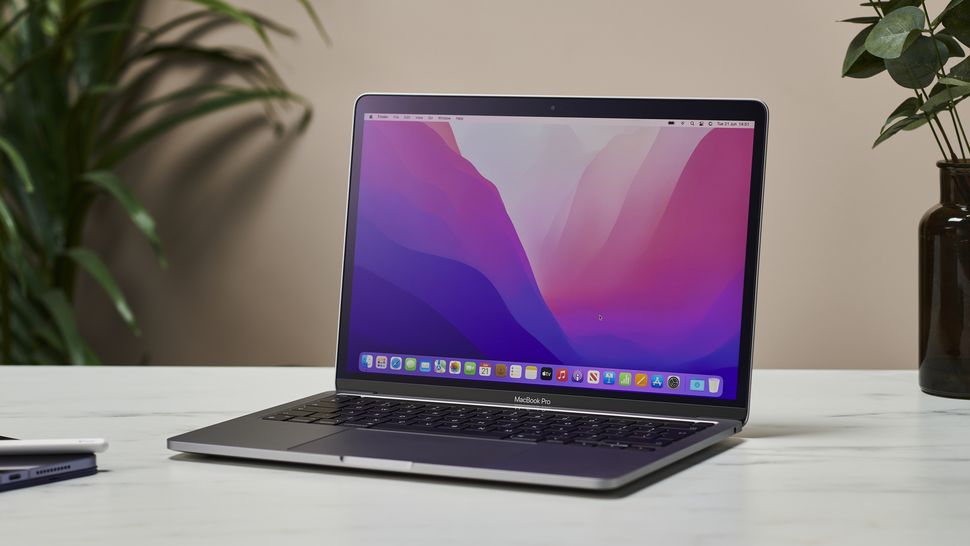 A sleek 13-inch MacBook Pro for designers
Specifications
CPU:
Apple M2 with 8-core CPU
Graphics:
Integrated 10-core GPU
Screen:
13.3-inch 2560 x 1600 display with P3 and True Tone technology
Dimensions (H x W x D):
30.41 x 21.24 x 1.56 cm
Reasons to buy
+
M2 chip is a brilliant performer
+
Excellent battery life
+
Almost silent in use
Reasons to avoid
-
No new design
-
Still only two Thunderbolt ports
Ok, it may not be much of an upgrade on the previous 13-inch MacBook Pro, and with the release of certain new MacBooks, it might not feel quite as essential as it used to, but the MacBook Pro 13-inch is still a stellar laptop for graphic design - especially if you're looking for a more affordable Apple device.
It's beautifully designed, of course, in the way you'd expect from Apple. And the performance is just as slick - ably assisted by that powerful M2 processor. In our own testing, this chip offered better performance in single and multi-core CPU tests, with noticeable uplifts when multitasking with multiple apps open. It also scored twice as much as Microsoft's Surface Laptop 4, which boasts Intel's i7-1185G7.
Our real-world tests also showed strong performance. That's across browser apps like Safari and Chrome to creator-driven software like Final Cut Pro and GarageBand. They were all fast-loading, and ran smoothly. In our experience, it's effectively a creator's dream machine. You might not see that increased performance unless you're pushing the laptop hard, but it's there.
In our battery life test, where we play a looped video until the battery dies, the MacBook Pro 13-inch lasted 15 and 31 minutes - that's almost two hours longer than when we conducted the same tests with the M1 MacBook Pro 13-inch. Perfect for hopping from home to studio to cafe throughout the day.
Read our in-depth MacBook Pro 13-inch (M2, 2022) review
Best 2-in-1 laptop for graphic design
Best of both worlds
Specifications
Screen:
14-inch, 1920 x 1200
Storage:
256GB – 512GB SSD
Reasons to buy
+
Yoga flexibility (2-in-1)
+
Gorgeous display and great speakers
+
Outstanding keyboard
+
16:10 aspect ratio
Reasons to avoid
-
Very high price for a high-quality item
-
No-frills business laptop
The Lenovo ThinkPad X1 Yoga Gen 8 might be pricey but the high-quality makes it worth every penny - especially if you're looking for a performance-driven laptop for professional use.
It may not be centered on content creators and designers - this is, after all, a business laptop. But that heritage means it's built for power and efficiency.
We found the form factor to be great. The Aluminum casing gives this a real robustness, with a responsive trackpad and a comfortable keyboard. There's something about those ThinkPad keyboards. They offer the perfect amount of feedback without making typing overly taxing. However, it's also pretty no-frill