Finding the best monitors for photo editing is important for delivering creative art that accurately reflects how it looks in your head - whether you're a professional photographer or just starting out with photo editors.
The very best monitors for photo editing offer exceptional image quality. If possible opt for one that's been professionally calibrated to ensure colors are as accurate as possible. Offering wide color gamut and high resolutions are also key features for a photo editing monitor.
With a huge range of screens out there, it can be tricky to know which monitors really are best for editing photos. Even the best free photo editors and Adobe Photoshop alternatives need to offer visual acuity to produce stunning results.
To help you find the right bit of kit, we've tested the best monitors for photo editing. From the best 4K monitor to the lower resolution yet more affordable options, we've compared key factors including resolution, screen size, connectivity, and aesthetics to allow you to make the best choice for you.
And we've tested the best laptops for photographers and best video editing computers to power-up post-production workflows, too.
The best monitor for photo editing in 2022 in full
Why you can trust TechRadar Our expert reviewers spend hours testing and comparing products and services so you can choose the best for you. Find out more about how we test.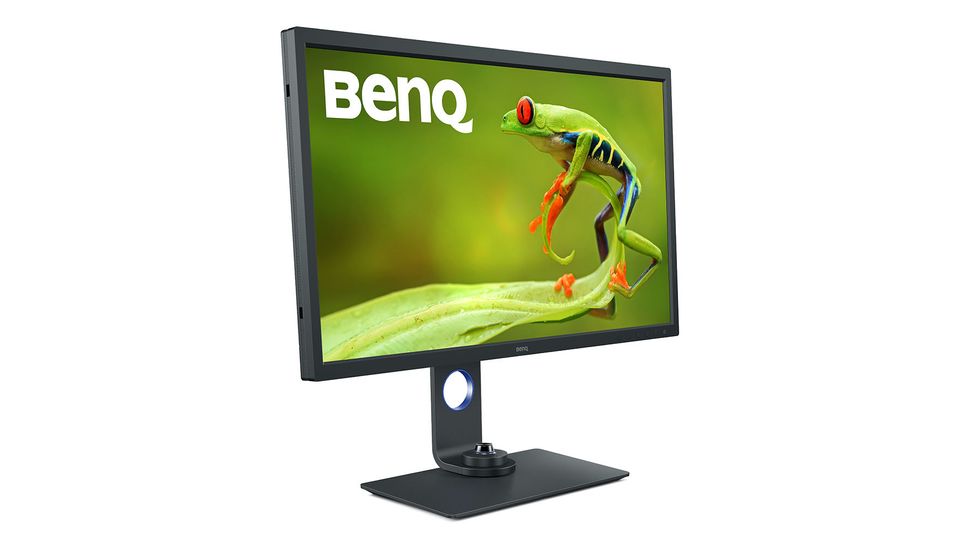 Pro-level displays are no longer the premium-priced, inaccessible purchase they started out to be. At least as far as the BenQ SW321C PhotoVue is concerned.
This 32-inch 4K photo monitor is up a step or two in terms of both performance and usability, featuring an incredibly wide color gamut of 99% of the Adobe RGB color space and 95% of DCI-P3.
The monitor also boasts a new and very effective anti-reflection coating that ensures excellent color accuracy and contrast.
If you're in the cinematography or photography sphere, that's exactly what you need. And that's on top of all the other features this monitor boasts.
Without a doubt, the BenQ SW321C PhotoVue is among the best monitors for photo editing you'll find. When we put the monitor through its paces, we found that "from the physical build quality to the display performance, it qualifies as a pro-level reference monitor on every level, except one… it's still affordably priced."
Read the full BenQ SW321C PhotoVue review
---
Fledgling content creators will find great value in the LG UltraFine 24MD4KL-B, if they're looking for the best monitor for photo editing that won't break the bank. This 4K display's high resolution and color accuracy get things done while its USB-C and Thunderbolt 3 is a boon for Apple fans, with its buttonless design and relatively lightweight build making it practically designed for Macs and Ultrabooks.
It's still pretty pricey, especially for everyday users. However, it's a pretty good purchase for content creators, especially if you're used to more expensive models. Though you do have to compromise with a smaller screen size and thicker bezels, which are around 13.9mm on the sides and 15.5mm on the top and bottom – pretty sizeable by today's standards.
If you're working with a smaller desk space, this is definitely ideal.
Read the full LG UltraFine 24MD4KL-B review
---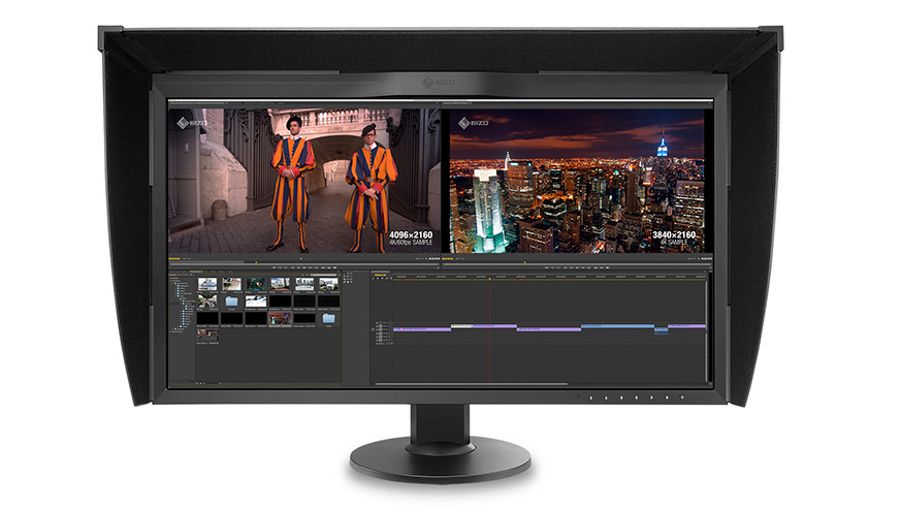 The 31-inch ColorEdge CG318-4K is one of the best monitor for photo editing, mainly thanks to its color accuracy - is essential for professional photographers.
The photo editing monitor features full sRGB coverage, 99% of the Adobe RGB spectrum and 98% DCI-P3. It fully supports 10-bit colour, taken from a 16-bit look-up table.
The CG318-4K has a 4096 x 2160 resolution, compared with the 3840 x 2160 resolution used in other 4K computer displays.
All of these features come together to produce a jaw-dropping image, making your photos really stand out. There's also a built-in calibration tool to constantly keep the colors as accurate as possible.
It's also brimming with connectivity options, with one DisplayPort, one Mini DisplayPort, two HDMI ports and one VGA combining with a whopping four USB 3.0 slots.
---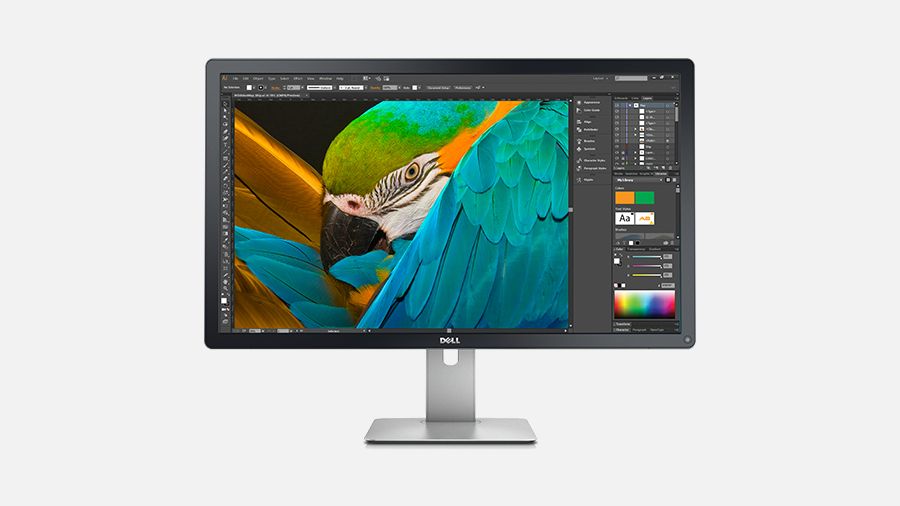 Dell's top-end 31.5-inch 4K display packs in a lot of professional-grade features for superb color accuracy. It's not a budget option. But then, this is a large, high-resolution screen and easily one of the best 4K monitors for photo editing.
Unlike some of the other photo editor monitors featured in our list of best monitors for photo editing, all of its ports are restricted to the back of the monitor rather than options on the site. Combined with a restrictive pivot, this doesn't provide the easiest of access.
You'll recognise the matte-black and silver trim design from Dell's previous model (the UP3214Q), and the same goes with its chunky three-quarter-inch bezels. But where Dell have added some magic is in its razor-sharp UHD colour performance. It comes with support for the DCI-P3 color spectrum. It has a specification that almost rivals Eizo's monster CG318-4K, as it hits 99% Adobe RGB coverage and 87% DCI-P3, delivering great picture quality.
---
BenQ has added the PD3200U, which features a massive 32-inch Ultra HD display, to its Designer Monitor range. The PD3200U is best suited for creators. 3D designers, for instance, will be grateful for the inclusion of a CAD/CAM mode, while photographers and photo editors will love in the factory-calibrated color accuracy and Rec. 709 adherence.
Aesthetically, the BenQ PD3200U has a simple yet elegant design, with work and productivity clearly the priority here. So don't expect any flashy design flourishes that you might expect on some gaming displays, with the company itself describing the monitor as a 'simple, functional design for increased efficiency'.
That focus on pragmatism over panache is evident in the very handy KVM (Keyboard Video Mouse) switch, allowing you to plug in a second PC and switch between the two while using a single monitor, keyboard and mouse. It's therefore an excellent option if you tend to use multiple machines for your photo editing.
Read the full BenQ PD3200U review
---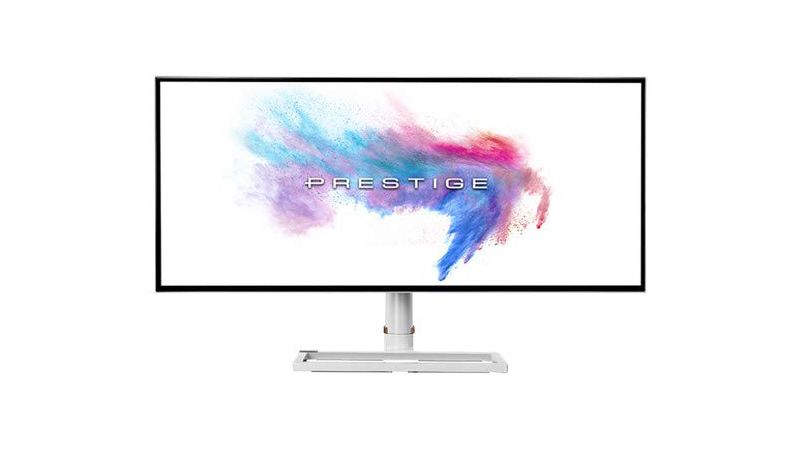 If you're looking for a photo editing monitor that's a cut above the 4K norm, then you've got the MSI Prestige PS341WU. Showing up any impeccable 4K monitor is by no means an easy feat, but this monitor does so with the huge 5K2K native resolution (and 21:9 ultrawide aspect ratio) of its luscious 34-inch IPS screen.
That's 5,120 by 2,160 pixels and fully three million more than a standard 4K or UHD monitor. This provides a pixel density of 163DPI.
It doesn't come cheap, but it does have a great feature set to make up for that, including a Nano IPS panel with DCI-P3 color gamut, HDR support and comprehensive connectivity. All that packed in a beautiful white aesthetic, and you've got yourself one of the best monitors for photo editing.
Read the full MSI Prestige PS341WU review
---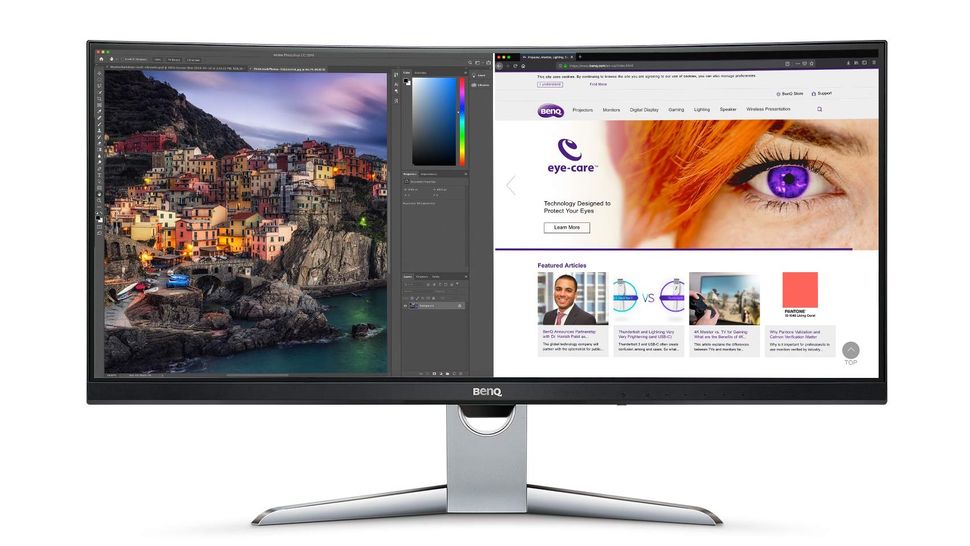 If you want a lot of space to work on editing multiple photos at once, then you'll want an ultrawide monitor, and the BenQ EX3501R is in our view the best ultrawide monitor for photo editing. It comes with a 3,440 x 1,440 resolution that gives you a huge desktop to work on, and its 2,500:1 contrast leads to bright and vibrant images, as well as for HDR (High Dynamic Range).
Crucially, it also has 100% sRGB support, making this a great choice for photographers when looking for the best monitor for photo editing, thanks to its excellent color reproduction.
Unlike the whistles and bells one has come to expect from monitors designed to appeal to gamers, the BenQ EX3501R describes itself as a 'video enjoyment monitor', which means the large screen, and the content it displays, grab the limelight ahead of any snazzy aesthetics, which remains smart, yet sedate.
Read the full BenQ EX3501R review
---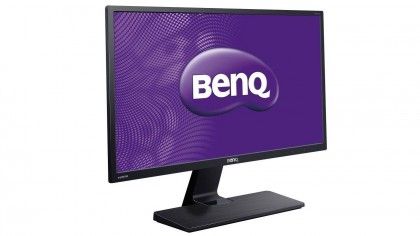 BenQ offers the most affordable full HD monitor with an HDMI connector and it doesn't look that bad. The company embraced the Bauhaus "less is more" philosophy to deliver "a celebration of minimalist" lifestyle. Those are their words, not ours.
It has some standout features though, including BenQ's exclusive 'eye-care technology' that is intended to reduce flicker (PWM technology) and a low blue light mode designed to reduce eye strain. BenQ confidently claim this helps prevent headaches and sleeping disorders caused by spending so long looking at a screen.
Althought it comes with ultra-high 3000:1 native contrast and 178°/178° wide viewing angles, with 'just' a 1080p resolution, this isn't as fancy as other monitors on this list, but it allows you to edit your photos without having to spend loads on a new screen. It's also among the lightest on this list of best monitors for photo editing.
---
The Dell UltraSharp UP3218K is an absolutely amazing monitor for photo editing. It features a huge 32-inch screen and 8K resolution that equates to 7,680 x 4,320 pixels, making it perfect for photographers and video editors, and the amount of screen real estate that high resolution offers makes it an excellent productivity tool.
The screen is professionally calibrated so it looks amazing out of the box, with a tool-free assembly that means it's quick and easy to securely attach the screen to its base. The base and neck of the monitor are made of durable-feeling brushed aluminum.
Its 32-inch screen doesn't take up as much desk space as you might expect. But be warned: this is a very expensive monitor. Depending on your needs, this will either be a brilliant buy, or an expensive folly.
Read the full Dell UltraSharp UP3218K review
---
Should you go for a curved monitor for photo editing?
We chatted with Brett Barbour, VP at US monitor vendor, Viotek, to find out whether it makes business sense to opt for a non-flat monitor for photo editing.
When you think of the types of people that use – and love – curved monitors, three types of people come mind: gamers, gamers and gamers. But why should gamers have all the fun? Curved monitors could bring a fair bit of ergonomic benefit for office workers too. After all, our eyes have a nice curve to them. We might as well have a monitor that comes with a nice curve to match, right? Especially if we're expected to use them at least 6-8 hours a day. Ergonomics isn't the only benefits to curved monitors for the office.
Most of us are spending a lot of time staring at a screen, be it for work or for play. And this brings additional health risks for our eyes. Headaches. Eye strain. Eye fatigue. But research has shown (opens in new tab) that curved panels yield less eye strain and fatigue than flat panels. So they're easier on the eyes – especially helpful if you spend most of your day in front of a monitor (or expect your employees to).
This benefit can also be further leveraged by software integrated into the monitor. For example, ASUS has their Eye Care technology; Viotek has their "Viotek Protect"; and Samsung features a proprietary "Eye Saver Mode." These all provide a range of eye-saving benefits, including reducing the amount of harmful blue light radiation from hitting your eyes – particularly helpful when you're looking at the screen for extended all day.
You can expect less glare and distortion with a curved monitor. Its corners are closer to you, replicating the natural curvature of the human eye. In most workspace setups, the curved monitor won't reflect light at all, effectively reducing glare from other sources of light. The only exception being if a window is directly behind you at a certain angle. This is a rarity, but it can certainly happen.
But that's not all; normally, how nice a monitor looks is purely a question of personal preference. You like what you like – simple as. But the reality is that a curved monitor might take up less desk real estate than its flat counterpart. It might be nominal depending on the stand that it uses, but the curved ends will definitely give you some extra space to place odds and ends on your desk, from phone charging pads, pen holder or what have you.
However, it is worth looking at the potential issues they might come from. In most cases, a curved monitor still costs a bit more than its flat-screen counterpart. An LG 34WK650-W is a 34-inch flat-screen IPS monitor with 2560x1080p resolution that goes for about $396.99. Or you could grab an LG 34GL750-B 34-inch curved monitor with the same resolution and faster refresh rate for around $449.99.
The difference might be as little as $50-75 per monitor. Still, if you're trying to fill up an entire office, that can add up.
But Is It Really a Con? Well, for now, maybe. But the cost gap is closing quickly, as manufacturing costs are dropping fast and certain brands (Samsung, ASUS, Viotek, et al.) find ways to pack a lot of features in quality monitors without sending the price through the roof.
There's also talks about the fact that curved monitors could hinder straight-line perception. This is another possibly niche drawback with curved monitors. It certainly won't apply to every office. Professionals in engineering, drafting or drawing industries may find that their straight-line perception is slightly skewed because of the curvature of a monitor. There is software that can "fix" this issue, but if you're in one of these industries, you may be better off sticking with a flat screen monitor for now.
How to choose the best monitor for photo editing for you?
Prioritizing the right features and specifications is critical when picking a panel for photo editing. Firstly, the best mainstream screen technology for photo editing is IPS. It's more color accurate than VA or TN panel tech, while OLED screens remain niche in PC monitor terms.
Next up, don't be distracted by gaming-centric features like high refresh rates and ultra-low response times. They will not help with editing images. However, you do want to consider color accuracy. A useful metric involves coverage of various important gamuts, including sRGB, Adobe RGB and DCI-P3.
For any remotely serious image editing work, a screen with at least 100 percent coverage of sRGB and over 90 percent for both Adobe RGB and DCI-P3 is a decent starting point. But the higher those numbers the better. The best screens will be in the high 90s. With regard to HDR support, if you're not already aware you need it, you probably don't.
Native resolution is a slightly trickier topic. You don't necessarily need an ultra-high resolution panel to edit images. But higher resolutions will allow more accurate editing and make it easier to judge details such as focus with less need to zoom in and out of images. We'd say 1440p or 2,560 by 1,440 is a decent baseline but full 4K is both preferable and now relatively affordable.
The final major concern is connectivity. At minimum, you want both DisplayPort and HDMI, the latter can be especially important for laptops which lack DisplayPort. We also highly recommend USB-C with power delivery, again especially if you have a laptop that supports it. The consequent single-cable connectivity for everything is a genuine joy.
The best monitor for photo editing: How we test
In comparing the best monitor for photo editing we begin by looking at screen size and resolution. Screen size is measured diagonally in inches, while resolution measures the number of pixels that make up the display. But a bigger monitor doesn't necessarily mean greater resolution; the 24-inch Eizo has a higher resolution than the 27-inch NEC, for example.
Instead, a more useful measure of the 'crispness' of a display is pixel density, measured in pixels per inch (ppi). The NEC is 82ppi, the Eizo 94ppi, while Samsung and Dell weigh in at 109ppi.
Monitors increasingly offer more than just a simple display for your computer, and we've also looked at additional features including built-in speakers, USB hubs, card readers and multiple inputs, such as HDMI, for use with a variety of devices.
While true-to-life colour reproduction is very important in image editing, you may need to compromise to get all the features you want within budget. LED backlighting allows thinner displays, while IPS (or Samsung's PLS) allows for greater viewing angles.
We'd always recommend using a digital interface like DVI or HDMI, but it depends on what your computer has. Do you want to plug in multiple devices? Make sure your new monitor has the same input as your computer has output!
Several of these displays enable you to swivel the monitor from side to side and turn the screen 90 degrees into portrait mode.
Most monitors are now capable of Full HD resolution (1920x1080) but more and more can achieve higher resolutions - many here are capable of 2560x1440, for example.
With so many devices plugged into our computers these days, a USB hub really is something you'll wonder how you lived without.
So many monitors - including several of these - are just plain ugly. Also see what people are saying about the button controls and menu system. Ensure it is usable.