The best monitors for photo editing deliver high resolutions, sharp details, and an unrivalled accuracy to all your images on-screen and in print.
Photographers, designers, and artists know how important it is to make sure digital and printed assets crafted on a photo editing PC exactly matches how it should look in the real world. No-one wants to spend months trying to get a project signed off.
When you're working with the best photo editors, Adobe Photoshop alternatives, or Lightroom alternatives, there are a few things to look for in the best monitors for photo editing. A 4K screen resolution is ideal for professionals, but Full HD (FHD/1080p) will be fine most other users. A decent photo editing monitor should feature a wide color gamut, with a professionally calibrated display for the most color accuracy.
To help bring out the best in your images, we've tested the best monitors for photo editing. As part of our review process, we've explored everything from screen size and luminance, to connectivity and value for money. For on-the-go creatives, we've also rated the best laptops for photo editing.
Best monitors for photo editing June 2023
Pro-level displays are no longer the premium-priced, inaccessible purchase they started out to be. At least as far as the BenQ SW321C PhotoVue is concerned.
This 32-inch 4K photo monitor is up a step or two in terms of both performance and usability, featuring an extensive color gamut of 99% of the Adobe RGB color space and 95% of DCI-P3.
The monitor also boasts a new and very effective anti-reflection coating that ensures excellent color accuracy and contrast.
If you're in the cinematography or photography sphere, that's precisely what you need. And that's on top of all the other features this monitor boasts.
Without a doubt, the BenQ SW321C PhotoVue is among the best monitors for photo editing you'll find. When we put the monitor through its paces, we found that "from the physical build quality to the display performance, it qualifies as a pro-level reference monitor on every level, except one… it's still affordably priced."
Read our full BenQ SW321C PhotoVue review
Fledgling content creators will find great value in the LG UltraFine 24MD4KL-B if they're looking for the best monitor for photo editing that won't break the bank. This 4K display's high resolution and color accuracy get things done. At the same time, its USB-C and Thunderbolt 3 is a boon for Apple fans, with its buttonless design and relatively lightweight build making it practically designed for Macs and Ultrabooks.
It's still pretty pricey, especially for everyday users. However, it's a pretty good purchase for content creators, especially if you're used to more expensive models. However, you have to compromise with a smaller screen size and thicker bezels, around 13.9mm on the sides and 15.5mm on the top and bottom – pretty sizeable by today's standards.
This is ideal if you're working with smaller desk space. Overall, we found the excellent image quality goes a long way to making up for the premium price-tag and thick bezels. But it's not suited everyday users.
Read our full LG UltraFine 24MD4KL-B review
Asus's ProArt PA329CV is a classic semi-pro display that's perfect if you want to take that critical step up from an entry-level 4K monitor to something a little more accurate. It delivers 97% coverage of the DCI-P3 digital cinema gamut, 100% of the sRGB gamut, with full 10-bit per channel color.
It's also DisplayHDR 400 certified. So, it has basic but not true HDR support and comes pre-calibrated and Calman verified with sub-2 Delta E color accuracy. More generally, it's a 32-inch 4K panel, offering a nice balance between screen size and pixel density, coming in at 138DPI. That's enough for nice crisp fonts and lots of image detail.
For connectivity, there's USB-C with 90W of power delivery, making it perfect for single-cable use with a laptop or MacBook. Along with a conventional stand with height, tilt, swivel and rotate into portrait mode, the ProArt PA329CV also comes with a trick C clamp, letting the display ergonomically attach to your desk, freeing up space and reducing clutter.
It's not the cheapest 4K monitor for photo editing. But it does have a strong feature set that will suit semi-pro designers and creators.
If you're looking for more work space, the Dell U4021QW is about as good as it gets. This is a 40-inch photo editing monitor with 5,120 by 2,160 pixels. It has the same crisp pixel density as a conventional 32-inch 4K monitor, it's just a whole lot wider.
That gives you more space to multitask while viewing and editing high-resolution images. Thanks to quality Nano IPS panel tech, it also offers good color accuracy, including fully 98% coverage of the demanding DCI-P3 gamut and comes with a factory calibration report and sub-2 Delta color accuracy.
What's more, the Dell U4021QW also sports Thunderbolt 3 connectivity with 90W of power delivery. So, you can hook up a laptop or MacBook with a single cable, keep it charged, drive the display and connect peripherals, like a keyboard, mouse and external storage. There's even an ethernet port, so networking is included in the docking support.
Finally, KVM support and picture-in-picture modes mean you can easily share this display with multiple computers. It's the ultimate photo editing and productivity workhorse.
Read our full Dell U4021QW review
If you're after an affordable 4K screen with good connectivity, the ViewSonic VP2756-4K should be on your shortlist. It sports a sweet 27-inch 4K IPS panel with pin-sharp pixel density, plus Pantone Validation, which is handy if your image editing workflow includes printing.
It's factory calibrated to sub-2 Delta E standard to ensure decent color accuracy out of the box. Strictly speaking, this monitor doesn't offer truly top notch color fidelity. It only covers 80% of the DCI-P3 gamut, for instance. There's also no HDR support at all. But for SDR image editing for the web and other less demanding workflows, the factory calibration should get the job done.
You also get excellent connectivity thrown in at a competitive price. The ViewSonic VP2756-4K includes USB-C with 60W of power delivery. That's perfect for connecting a laptop or MacBook with a single cable, keeping your workspace neat and tidy. This may not be a true pro-grade photo editing monitor. But it's a strong package if you're looking for a decent 4K editing experience plus that all-important USB-C interface at a sensible price.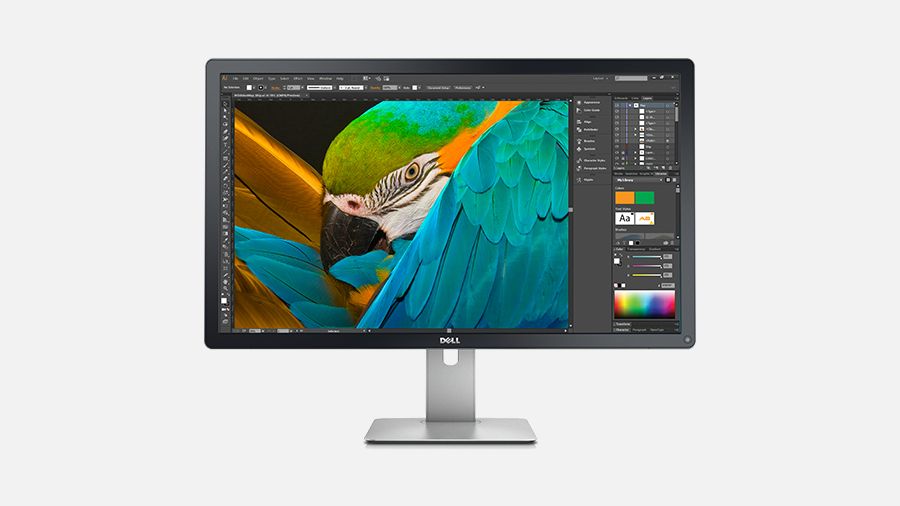 Dell's top-end 31.5-inch 4K display packs many professional-grade features for superb color accuracy. It's not a budget option. But then, this is a large, high-resolution screen and easily one of the best 4K monitors for photo editing.
Unlike some of the other photo editor monitors featured in our list of best monitors for photo editing, all of its ports are restricted to the back of the monitor rather than options on the site. Combined with a restrictive pivot, this doesn't provide the most accessible access.
You'll recognize the matte-black and silver trim design from Dell's previous model (the UP3214Q), and the same goes for its chunky three-quarter-inch bezels. But where Dell has added some magic is in its razor-sharp UHD color performance. It comes with support for the DCI-P3 color spectrum. Its specification almost rivals Eizo's monster CG318-4K, as it hits 99% Adobe RGB coverage and 87% DCI-P3, delivering excellent picture quality.
BenQ has added the PD3200U, which features a massive 32-inch Ultra HD display, to its Designer Monitor range. The PD3200U is best suited for creators. 3D designers, for instance, will be grateful for the inclusion of a CAD/CAM mode, while photographers and photo editors will love the factory-calibrated color accuracy and Rec. 709 adherence.
Aesthetically, the BenQ PD3200U has a simple yet elegant design, with work and productivity as the priority here. So don't expect any flashy design flourishes that you might expect on some gaming displays, with the company itself describing the monitor as a 'simple, functional design for increased efficiency.
That focus on pragmatism over panache is evident in the very handy KVM (Keyboard Video Mouse) switch, allowing you to plug in a second PC and switch between the two while using a single monitor, keyboard, and mouse. It's, therefore, an excellent option if you tend to use multiple computers for photo editing. When we tested the screen, we found "it performs brilliantly, and the large screen size really gives you an insight into how a large 4K monitor can improve your productivity."
Read our full BenQ PD3200U review
If you're looking for a photo editing monitor cut above the 4K norms, then you've got the MSI Prestige PS341WU. Showing up any impeccable 4K monitor is no easy feat. Still, this monitor does so with the huge 5K2K native resolution (and 21:9 ultrawide aspect ratio) of its luscious 34-inch IPS screen.
That's 5,120 by 2,160 pixels and fully three million more than a standard 4K or UHD monitor. This provides a pixel density of 163DPI. On the downside, we thought the chassis felt plastic-y, and the white aesthetic was took confused cues from the gaming and professional settings - without capturing either in full.
It doesn't come cheap, but it does have a great feature set to make up for that, including a Nano IPS panel with DCI-P3 color gamut, HDR support, and comprehensive connectivity. All that packed in a beautiful white aesthetic, and you've got yourself one of the best monitors for photo editing.
Read our full MSI Prestige PS341WU review
If you want a lot of space to work on editing multiple photos at once, then you'll want an ultrawide monitor, and the BenQ EX3501R is in our view the best ultrawide monitor for photo editing. It comes with a 3,440 x 1,440 resolution that gives you a huge desktop to work on, and its 2,500:1 contrast leads to bright and vibrant images, as well as for HDR (High Dynamic Range).
Crucially, it also has 100% sRGB support, making this a great choice for photographers when looking for the best monitor for photo editing, thanks to its excellent color reproduction.
Unlike the whistles and bells one has come to expect from monitors designed to appeal to gamers, the BenQ EX3501R describes itself as a 'video enjoyment monitor', which means the large screen, and the content it displays, grab the limelight ahead of any snazzy aesthetics, which remains smart, yet sedate.
In our final analysis, we felt the photography monitor "delivers high resolutions, immersive visuals and smooth gameplay, and the HDR in games, where supported, is very good."
Read our full BenQ EX3501R review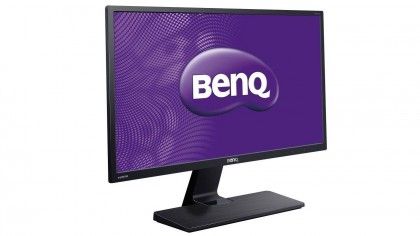 BenQ offers the most affordable full HD monitor with an HDMI connector and it doesn't look that bad. The company embraced the Bauhaus "less is more" philosophy to deliver "a celebration of minimalist" lifestyle. Those are their words, not ours.
It has some standout features though, including BenQ's exclusive 'eye-care technology' that is intended to reduce flicker (PWM technology) and a low blue light mode designed to reduce eye strain. BenQ confidently claim this helps prevent headaches and sleeping disorders caused by spending so long looking at a screen.
Although it comes with ultra-high 3000:1 native contrast and 178°/178° wide viewing angles, with 'just' a 1080p resolution, this isn't as fancy as other monitors on this list, but it allows you to edit your photos without having to spend loads on a new screen. It's also among the lightest on this list of best monitors for photo editing.
The Dell UltraSharp UP3218K is an absolutely amazing monitor for photo editing. It features a huge 32-inch screen and 8K resolution that equates to 7,680 x 4,320 pixels, making it the perfect monitor for photographers and video editors, and the amount of screen real estate that high resolution offers makes it an excellent productivity tool.
The screen is professionally calibrated so it looks amazing out of the box, with a tool-free assembly that means it's quick and easy to securely attach the screen to its base. The base and neck of the monitor are made of durable-feeling brushed aluminum. So, we're talking solid build quality here.
Its 32-inch screen doesn't take up as much desk space as you might expect. But be warned: this is a very expensive monitor. Depending on your needs, this will either be a brilliant buy, or an expensive folly.
When we tested out the monitor, we found it an "indispensable tool that offers amazing visuals" that delivered "stunning image quality."
Read our full Dell UltraSharp UP3218K review
Best photo editing monitors: FAQs
How to choose the best monitor for photo editing for you
Why you can trust TechRadar We spend hours testing every product or service we review, so you can be sure you're buying the best. Find out more about how we test.
Display quality is absolutely critical when choosing which photo editing monitor is best.
Color accuracy is a good starting point. IPS panels have the best color accuracy, though there is significant variation from one monitor model to the next. Many professionals with very specific digital or print workflows will know exactly what they need in terms of gamut coverage. But if you're not sure what you need, look for at least 95% coverage of either the DCI-P3 or Adobe RGB gamuts in the specs.
That isn't professional grade color coverage. But it can be achieved quite cheaply these days and it's a good starting point for photo editing for web and other entry level or semi pro workflows. True 8-bit color coverage without dithering is another good minimum requirement, though again professional grade displays will be 10-bit.
Resolution is the next major spec point. More pixels allow you to view images in greater detail and closer to their true resolution. These days, there's little need to settle for less than 4K given entry-level 4K displays are now truly affordable. Just remember that you lose pixel density as screen sizes increase if the resolution remains the same. A 4K 40-inch monitor sounds great, but it doesn't actually have the pixel density required to render really sharp images.
You also have the option of larger format ultrawide panels, including 5K2K monitors, which allow for more space while multi-tasking at the same time as displaying plenty of detail for image editing.
As for HDR support, that's another aspect that may or may not be required for your workflow. But be aware that few monitors that claim HDR capabilities are truly HDR monitors. If you want full HDR fidelity, it's very, very expensive. If in doubt, don't worry about HDR support, it's probably not required and you almost certainly don't want to spend the money to achieve actual HDR display performance.
On the connectivity side, we recommend displays with USB-C sockets supporting power delivery of at least 65W, especially if you use a laptop or MacBook. USB-C used to add significantly to the price of a monitor. But more recently, 4K displays with USB-C connectivity have become much more reasonably priced.
How we test the best monitor for photo editing
In comparing the best monitor for photo editing we begin by looking at screen size and resolution. Screen size is measured diagonally in inches, while resolution measures the number of pixels that make up the display. But a bigger monitor doesn't necessarily mean greater resolution; the 24-inch Eizo has a higher resolution than the 27-inch NEC, for example.
Instead, a more useful measure of the 'crispness' of a display is pixel density, measured in pixels per inch (ppi). The NEC is 82ppi, the Eizo 94ppi, while Samsung and Dell weigh in at 109ppi.
Monitors increasingly offer more than just a simple display for your computer, and we've also looked at additional features including built-in speakers, USB hubs, card readers and multiple inputs, such as HDMI, for use with a variety of devices.
While true-to-life colour reproduction is very important in image editing, you may need to compromise to get all the features you want within budget. LED backlighting allows thinner displays, while IPS (or Samsung's PLS) allows for greater viewing angles.
We'd always recommend using a digital interface like DVI or HDMI, but it depends on what your computer has. Do you want to plug in multiple devices? Make sure your new monitor has the same input as your computer has output!
Several of these displays enable you to swivel the monitor from side to side and turn the screen 90 degrees into portrait mode.
Most monitors are now capable of Full HD resolution (1920x1080) but more and more can achieve higher resolutions - many here are capable of 2560x1440, for example.
With so many devices plugged into our computers these days, a USB hub really is something you'll wonder how you lived without.
So many monitors - including several of these - are just plain ugly. Also see what people are saying about the button controls and menu system. Ensure it is usable.