The best photo editing PCs are capable of effortlessly running the very best photo editors while boosting creative workflows.
But with so many models on the market, it's not always easy to know where to start or what you should look for.
Even the best free photo editors can be resource intensive, so it's often worth prioritizing RAM and a good-sized SSD to run image editing apps smoothly. A dedicated graphics card and high-performance processor are worth getting, but memory and disk should be the priority when choosing your photo editing PC. We also recommend pairing your machine with a true photo editing monitor for high-res clarity and detail on every project.
To help you find the best photo editing PC for you, we've tested out a host of Windows and Mac computers with a focus on photography and photo editor apps. As part of our in-depth review process, we assess performance, budget, and every last spec from CPU to connectivity.
The best PC for photo editing 2023 in full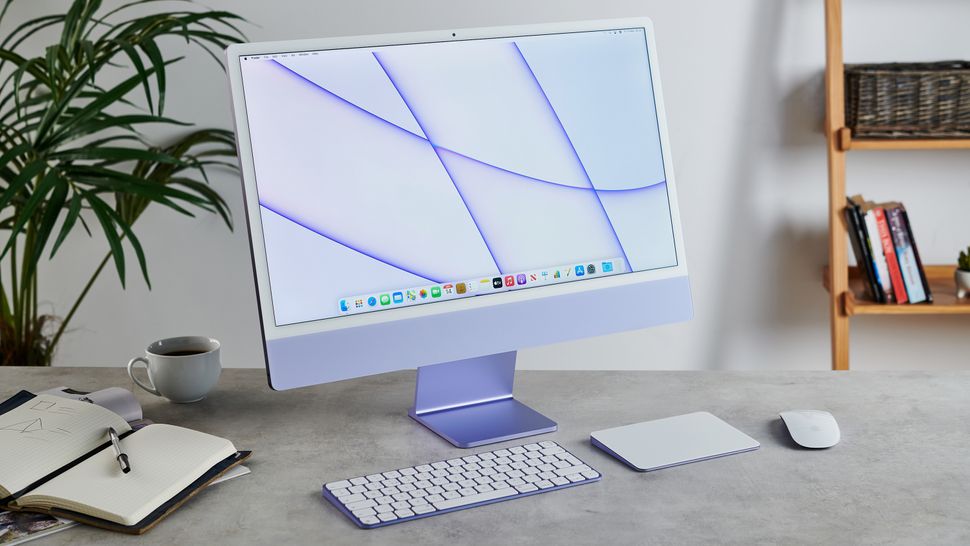 If you think that the new iMacs couldn't possibly be as good as they look, you'd be wrong.
Not only are they an improvement on their 21.5-inch predecessor externally, touting a fresh new face that comes in several different colors. But they also come with fresh new specs, thanks to Apple's new M1 chip that makes it much more powerful than the previous Intel iMacs. That means they're more than equipped to handle video and photo editing without slowing down the creative workflow.
In fact, we'd go as far as to say that the new iMac (24-inch, 2021) is the best all-in-one for photo editing we've ever tested. It's certainly earned its place in our best Macs list. You'll also be happy to know that you're getting great value here, as you're getting the Magic Keyboard and Magic Mouse included – in matching colors, we might add.
Read the full iMac (24-inch, 2021) review
Even though the iMac 27-inch's last update was only recent, Apple couldn't help but step up in the upgrades department with its follow-up. Specs-wise, this model sports some massive improvements while also upgrading its webcam and microphones for a felicitous update.
More people are working from home these days, and the 1080p FaceTime HD webcam and studio-quality microphones ensure better video calls, now an essential part of any home office.
The glare-preventing nano-texture glass finish on the display comes as an optional extra. This seems like the best all-in-one PC to invest in without being forced to make some considerable space in your existing area. Sure, its overall design hasn't seen so much as a tweak, making it look a bit tired, but power trumps design for photo editing.
Read the full iMac (27-inch, 2020) review
One of Apple's biggest surprises of the year is the update to its smallest Mac. The brand-new Mac mini now touts Apple's M1 chip, while keeping things the same in its much-loved design.
An ideal photo editing computer, it's more powerful than ever – Apple claim that the M1 will offer the world's best CPU performance per watt, with its 8-core CPU consisting of four high-performance cores and four high-efficiency cores to balance workloads, enabling it to process tasks nearly three times faster than the chip in the previous Mac mini.
With more than decent video editing performance, even at 8K, and can now run iOS apps and games, thanks to this new chip, but it still keeps its title as the cheapest Mac ever – terrific news for budget-minded creatives.
Read the full Mac mini (M1, 2020) review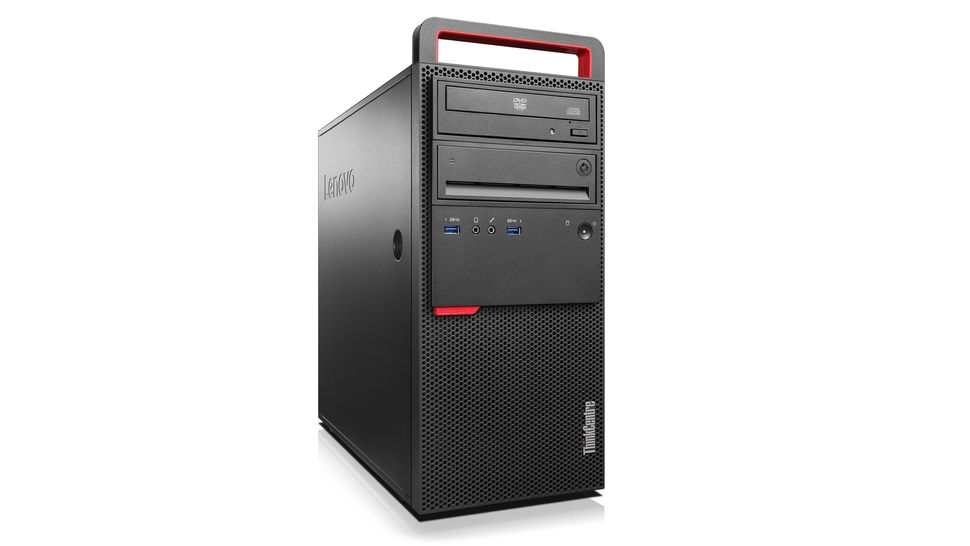 The Lenovo ThinkCentre M900 is one of the best PCs for photo editing, as it combines speed and power with excellent build quality and reliability which is essential for computers used for heavy-duty image manipulation.
The M900 comes with an Intel Core i7 processor that is tailored to keep up with the workload of gamers and so should have little trouble handling the editing demands of even the busiest of photographers. Although if you're keeping the PC busy, the fan can be a little on the noisier side.
Best of all, the Lenovo ThinkCentre M900 comes in a range of configurations, with the top-end model boasting a huge amount of power. This flexibility lets you build a Lenovo ThinkCentre M900 that suits your needs, and there's plenty of room to upgrade and expand this desktop in the future.
If you're looking for an incredibly powerful, yet stylishly designed, all-in-one PC for photo editing that's not made by Apple, then Microsoft's brilliant Surface Studio 2 will be for you. It comes at a price, but for build quality and performance, you'll not want to look any further, especially if you work with image editing applications.
And that's because, while not for everyone, the Surface Studio 2 has been designed with digital artists and content creators in mind, So, those looking to use their PC for photo editing would be wise to consider it.
Microsoft's all-in-one machine fits comfortably on a desk, and its built-in screen makes your photos look fantastic, even before you've edited them. As it runs Windows 10 you get a huge range of comparable photo editing apps as well.
Read the full Microsoft Surface Studio 2 review
If you're a professional photographer and digital creative, then the iMac Pro is one of the best PCs money can buy. This is a seriously powerful all-in-one with cutting-edge tech, and a choice of powerful Intel Xeon W processors, bags of RAM and hefty graphical processing power.
All of this is in an iconic Apple design. If you have the budget for it, the iMac Pro is one of the best PCs for photo editing money can buy. For professionals needing a dedicated workstation to streamline a heavy-duty workflow though, the price is worth it.
However, for some people, you may find it has a level of power that you do not require. If that is the case, then read on for more modest (and affordable) PCs for photo editing.
Read the full Apple iMac Pro review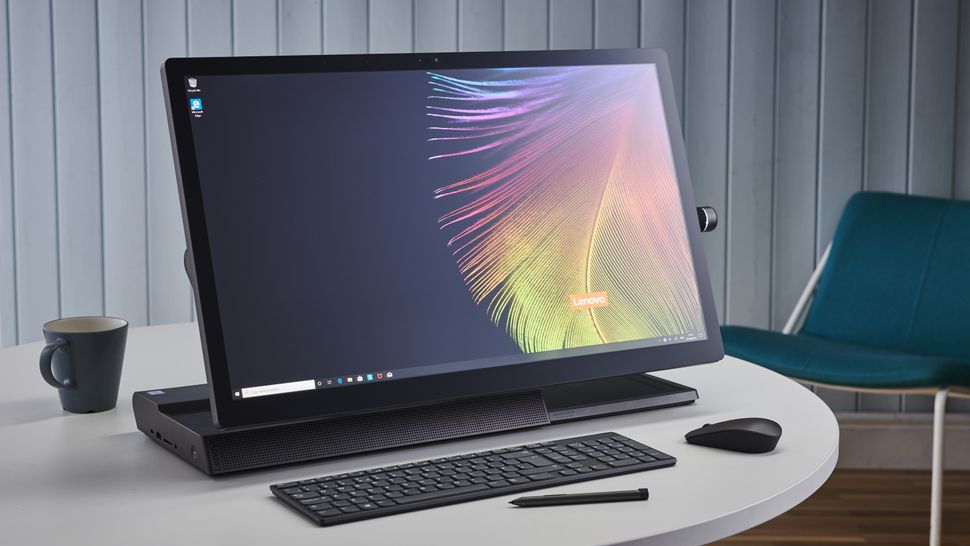 Lenovo's latest all-in-one offering isn't as powerful as Apple's premium AIO, the iMac Pro, or even the recently updated iMac, which now offers a 9th-generation Intel Core configuration. After all, the 8th-generation chips and Radeon RX 560 graphics are aging at this point.
However, it is still plenty powerful to meet the needs of professional photographers who can't afford Apple's more pricey machines.
The 27-inch screen boasts a 4K resolution with 100% Adobe RGB support and Dolby Vision. This makes visuals on the screen look bright and vibrant, and that Adobe RGB support is essential for any photographers who require accurate colors.
The in-built webcam can be used to log in with just a glance, while there's also a stylus and dial as well, for better control over your photo editing work.
Read the full Lenovo Yoga A940 review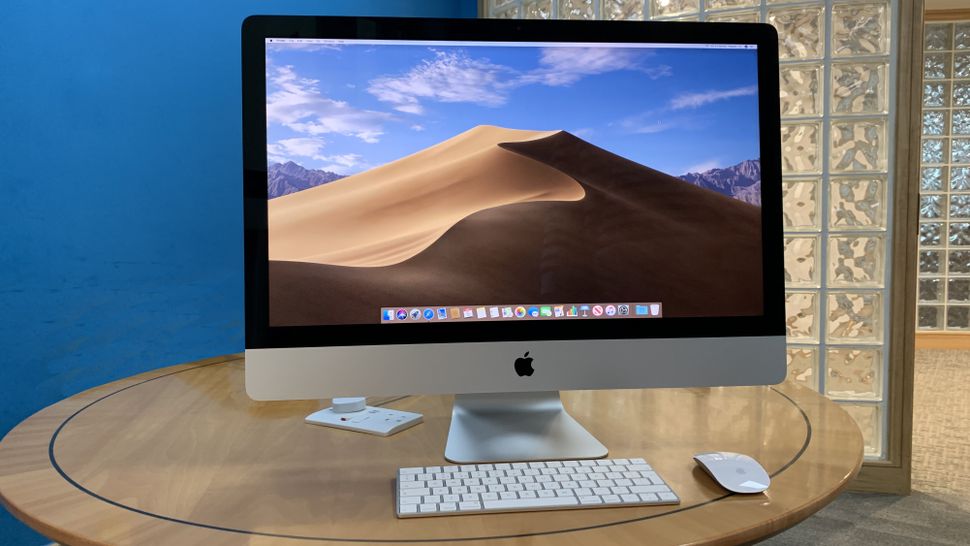 If the iMac Pro above is too expensive (and offers a level of performance that you simply don't need) but you want an Apple all-in-one, then the standard iMac is more than capable of helping you with your photo editing.
While the iMac 2019 doesn't feature a touchscreen or an adjustable stand, the option for a 4K P3 wide color gamut display means it will accurately display your photos. Plus, there's the fact that because the iMac (27-inch, 2019) is no longer the latest model, it should be getting some tempting price cuts.
The 2019 iMac is certainly an upgrade on the 2017 model, especially for creative professionals, and one of the best premium all-in-one PCs that money can buy. Though beware that memory and storage upgrades don't come cheap.
Read the full Apple iMac 27-inch (2019) review
If you appreciate the beauty of minimalism - and you rely on music as a muse for your photographic creativity - then the unique HP Pavilion Wave might just be the PC pick for you. It's a PC that aims to combine the bulk of a personal computer and speakers into one sophisticated, and compact, unit.
Though at first you might confuse it for a fabric-woven Mac Pro refresh, the HP Pavilion Wave is anything but. This compact Windows machine packs in sixth-generation Intel Core processors and optional discrete AMD graphics with a uniquely integrated Bang & Olufsen speaker.
Wrapped in a handsome fabric exterior, this is the perfect PC to have on the desk. If you love listening to music while you edit your photos, then this is a brilliant – and stylish – photo editing PC.
If you're looking for a great desktop experience for photo editing, but don't have a lot of space, look no further than the Intel Hades Canyon NUC. In this tiny bare-bones PC, you have an insanely powerful 8th-generation Intel Core i7 processor, and discrete-class Radeon graphics – once you throw in some RAM and storage, you've got a small and easily portable PC that can handle photo editing with ease.
At first glance, it may look more like a set-top box than a desktop PC, but the device is interesting enough to look like more than just a plain box in your home entertainment setup while also not being too distracting if you decide to use it as your work computer.
Also, if you often travel around and want a powerful and dependable PC for photo editing, then this is definitely worth considering.
Read the full Intel Hades Canyon NUC review
Best PC for photo editing: FAQs
How to choose the best photo editing PC
Why you can trust TechRadar Our expert reviewers spend hours testing and comparing products and services so you can choose the best for you. Find out more about how we test.
When choosing which photo editing PC is best for you, it's a good idea to have a clear idea how you'll be using the machine. Given the considerable variance in costs between some of the PCs featured in this list, it's important to get a solid grasp of the level of photo editing performance you require.
If you're an amateur photographer who would love to simply spend a little more time editing shots taken in your spare time, then you're unlikely to need to shell out on some of the more powerful machines in this list.
Conversely, if you're a professional photographer who relies on being able to turn around a considerable number of photos during working hours in order to pay the bills, eyeing up the powerful models will prove a shrewder decision in the long run.
There are of course more subjective choices to be made too. Windows or Apple is the main one, of course, but there are also aesthetic choices like whether you want something that will sit unmoved in a defined office space, or whether you require something portable.
When selecting your photo editing PC, look for those that offer a high amount of RAM and SSD storage. Memory and disk are really important, even more than picking a high-powered CPU and GPU (although they really help ease workflows, of course). Ideally, choose a computer offering a minimum of 16GB RAM and 1TB SSD storage for best results.
Why do I need a photo editing computer?
Photo editing software, video editing software, 3D modeling and rendering software, and VFX are usually resource-intensive. So, it's important to select a PC equipped to handle photo editing apps.
Professional software like Adobe Photoshop, and the best Photoshop alternatives can force the computer to work hard. That leads to a lowering of performance, slowing down creative processes, and outputting images that don't match the vision you had in your head - or what the client wanted. As a result, your work and your workflow suffers.
For a PC for photo editing, we recommend minimum specs of 16GB RAM and 1TB of SSD storage - paired with a well-sized photo cloud storage service for backups.
Photo editing: PC vs Mac
Below is an excerpt of "The Digital Darkroom: The Definitive Guide to Photo Editing" by James Abbott, published by Ilex Press (£17.70 on Amazon.co.uk (opens in new tab)). James talks briefly about the differences between Apple and Windows-based devices when it comes to photo editing.
"With two major systems available in Apple and Windows computers, which one is truly better for photo editing? All professional photographers use Macs, don't they? And aren't Macs simply much better at running photo editing software than Windows PCs? When Photoshop 1.0 was launched back in 1990 it was Mac-only software, and it wasn't until 1993 with version 2.5 that it became available for Windows computers. Macs remained the favorite option for graphic designers, and this, alongside the fact that digital typography began on Macs, helped to create the idea that Macs were best for running Photoshop.
The reality is that running Adobe and Affinity Photo (ed: probably the most potent rival to Adobe's hegemony - read our Affinity Photo review) is identical on both Mac and Windows PCs. There really are no differences in performance, features or functionality, although faster and more powerful computers of both types are preferred. This means that you don't have to switch from Windows to Apple when you first begin editing – you can use whichever system you prefer.
I used to use Macs, but once Apple made it difficult to upgrade components such as RAM and hard drives, I switched to a Windows PC because I knew I'd be able to upgrade all components when I wanted to. The switchover was seamless, and while I miss the clean simplicity of the macOS operating system, the versatility of the Windows PCs I've owned since I switched has been well worth it.
Just one more thing: with improvements in the processing power of both Android and iOS tablets, it's now possible to edit images using these smart devices. The ability to use touch can provide a highly tactile approach to editing, and with Affinity Photo and different versions of Photoshop and Lightroom (read our Lightroom review) available for tablets, there's huge scope for using these devices.
From a workflow point of view, computers remain the best devices for image editing because of their greater processing power, larger screens and increased space for storing image files. Tablets, however, are a great option when travelling for image editing on the go.
How we test the best PC for photo editing
In our run down of the ten best PCs for photo editing, we've rigorously tested all PCs using our standard reviewing process for laptops and desktops. This begins with looking at the built quality of all models, assessing its design and build to see how robust it feels, testing the functionality of all ports, switches and latches.
We looked at screen quality, testing brightness and tone, and the overall weight and size of the machine. We also considered the machine's compatibility with the leading photo editing software, and ran the rule on battery life and (key in the case of photo editing) processing speed.