Best VFX software of 2023
Best
Contributions from
last updated
Wow your audience with visual effects
Quick menu
1. Best overall
2. Best free
3. Best VFX & video editor combo
4. Best for professionals
5. Best for Mac
6. FAQs
7. How to choose
8. How we test
The best VFX software deliver eye-catching visual effects with seriously professional post-production polish - whether you're adding explosive action or making tiny tweaks your audience may never notice.
From YouTube content to feature-length movies, highly polished VFX are expected from today's sophisticated audiences. That's led to a massive increase in easily accessible special effects software like Adobe After Effects and all the best After Effects alternatives. If you're working on your latest movie, making social media clips, or creating visual assets for your organization, using the best VFX software is a must.
To help bring your videos to life, we've tested out all the top visual effects apps out there. As part of our review process, we've compared the overall user experience, ease of use, and options from simple lighting and color adjustments to advanced compositing and chroma-keying. We've also assessed extra tools, features, and integration with some of the best video editing software. So, you can create new ways to engage audiences and tell awe-inspiring stories enhanced with Hollywood-grade special effects.
Best VFX software overall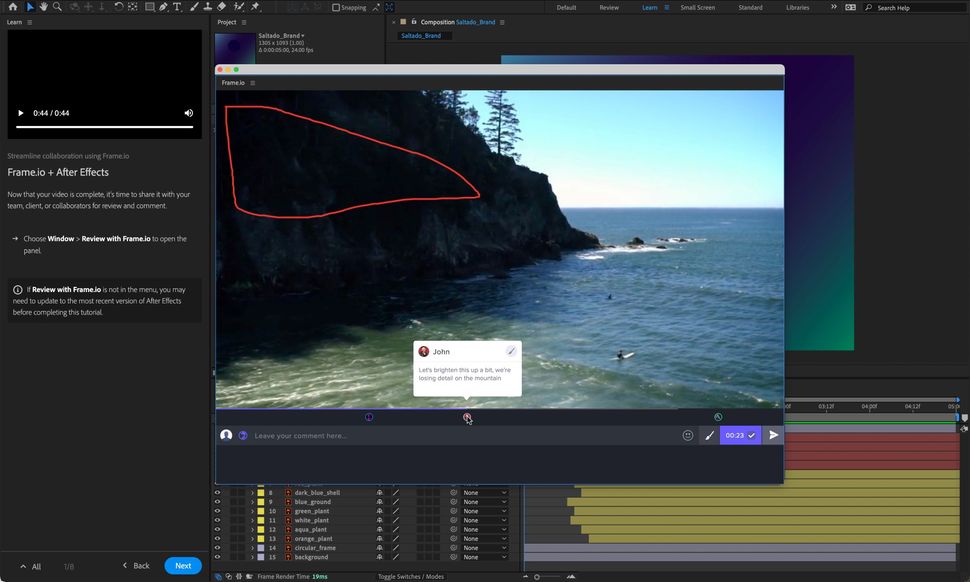 A powerful visual effects app
Reasons to buy
+
Broad array of tools
+
Integrates perfectly with Premiere Pro
+
Industry-standard quality of effects
Reasons to avoid
-
Subscription costs add up
-
Steep learning curve
Adobe After Effects is our pick for the best VFX software overall. Used across the creative industry, it's helped define what visual effects tools can do and how they do it.
In our hands-on 5-star review, we called it "a visual effects powerhouse, offering so much versatility and options, for the budding and professional video designer. It can be an overwhelming VFX app, but there's really very little you can't do with it."
After Effects is a complex video compositing software package. It's definitely not for the faint-hearted, and we found that it should really be viewed as a professional tool. If you're deep within the Adobe ecosphere, it's ideal, since perfectly integrates with other Adobe creative apps like Premiere Pro (and you can even use it alongside some of the best Adobe Premiere Pro alternatives).
However, the suite easy to immerse yourself into, and it even comes with a series of excellent tutorials to show you the basics.
The latest version of the video effects software includes a wealth of new features, including proper multilingual support, a better 3D workplace, a very flexible template creation tool, and support for Frame.io. The video collaboration tool lets you discuss your work with others in real-time, ideal for working with remote teams and finalising changes with clients.
Couple this with welcome under-the-hood improvements for power management, and you have a winner on your hands.
As you'd expect for a professional multi-platform Adobe product, you can't purchase it outright: it only comes as part of a Creative Cloud subscription. You can gain access to Adobe's entire stack with the All Apps subscription. If this feels like too much, After Effects can be subscribed to on its own on a monthly or annual. For more details, see our guide How to try Adobe After Effects for free or with Creative Cloud
Read our full Adobe After Effects review
Best free VFX software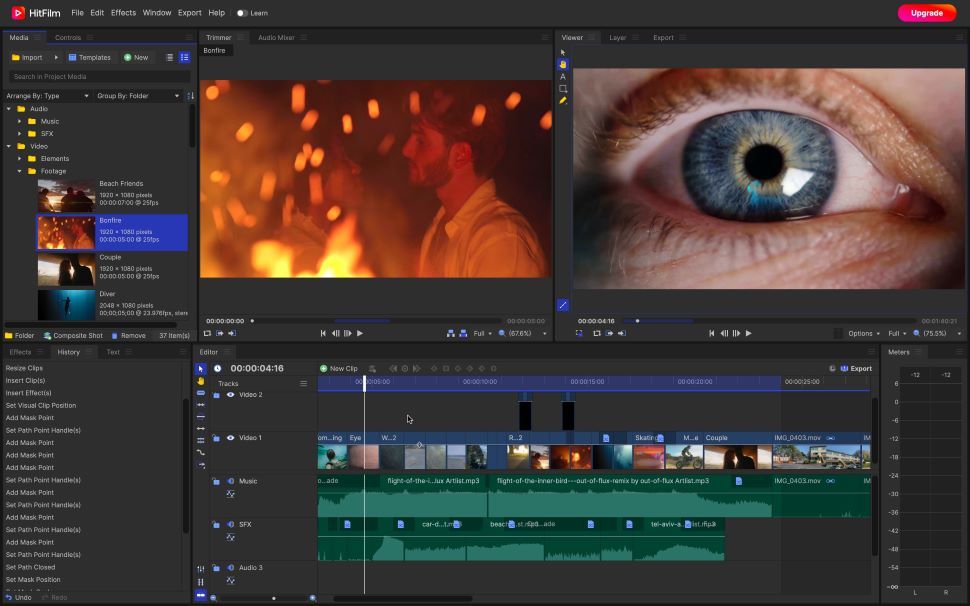 Free VFX with video editing included
Reasons to buy
+
Editing and effects in one app
+
Accessible to beginners
+
Free
HitFilm Express is the best free VFX software - making it the top choice for creatives on a budget.
Technically, this is a free special effects video editor - and one we found to be a very accessible, with "a selection of tools that make you wonder why you should try any other free video editor."
However, HitFilm Express houses a huge portion of the features and video effects, including all the standard ones that the majority of users will need.
You can then power up the effects library by purchasing individual add-ons for Express. Costs range from $9.99 for basic color adjustment tools to $49.99 for 3D particle effects.
That makes HitFilm Express is a flexible option for beginner filmmakers who want to edit videos with basic VFX. When you're a bit more confident and want to step up, you have the choice of buying add-ons or switching to a different program.
Read our full HitFilm Express review


Best video editor & VFX software combo
The all-in-one options
Reasons to buy
+
Editing and VFX in one app
+
Impressive range of features
+
Over 875 VFX presets
HitFilm Pro is a top all-in-one video editor and VFX software package that delivers professional results.
Developed by the same team behind the consumer-level tool, HitFilm Express, this VFX program lets you apply effects onto the non-linear editing timeline, rather than an After Effects-style layer-based system. This makes for for a gentler learning curve if you're not used to editing software.
In our review, we felt that "where HitFilm Pro truly shines is in the visual special effects department. This is this app's biggest selling point, as it offers hundreds of effects and presets. You have access to masks, blue/green screen keying, particle simulators, distortion effects, powerful colour correction tools - the list is impressive."
From the extensive VFX toolset, you can see why HitFilm Pro is used in big Hollywood movies. Besides all the essential tools that you'd expect, particularly remarkable features include an excellent chroma key, world-leading particle effects, advanced 2D- and 3D-motion tracking, and over 875 VFX presets.
HitFilm Pro's one-off fee of $349 / £309 is high. But if you're going to use the program regularly, it can work out cheaper than subscription-based software.
The price of admission also includes 12 months of development updates, the latest features and effects, and support. After that time, the user keeps the software forever or can purchase another 12 months of updates at a discounted price.
Additionally, alongside the HitFilm Pro license, you automatically get Boris FX Continuum 3D Objects included and Foundry's 3D camera tracker, which could make it especially worthwhile.

Read our full HitFilm Pro review
Best free VFX software for professionals
Free VFX software that's tailored for pros
Reasons to buy
+
Extensive range of advanced features
+
Efficient node-based interface
+
Available for free
Reasons to avoid
-
May be too complex for beginners
Blackmagic Fusion is one of the best VFX software tools for pro visual effects artists who demand industry-grade renders. Top features include compositing live-action footage with 3D models, working with 360º VR, and stereoscopic 3D effects.
That offers a taste of the complexities behind Fusion. It's definitely not designed to be the best VFX software for beginners - this is a professional program for professional use. However, the node-based workspace - in which you connect various effects and filters through a visual web of nodes - is quite simple and efficient, once you get used to it.
Fusion is built into video editing tool DaVinci Resolve - which we hailed as "an incredibly impressive piece of software. It may look overwhelming at first glance as it's so full featured, but that's because it contains pretty much everything you need to catalog, organise, edit, alter, and composite your video project, at a price that's truly hard to beat."
Blackmagic's all-in-one post-production program lets you edit your video, then switch to the Fusion tab to add effects. The real-time collaboration tools enable an editor and a VFX artist to work on the same project simultaneously.
The best thing about Fusion is that the standard visual effects software is free. The premium version has a few advanced features, including faster network-based rendering, and costs a one-off $295.
Read our full DaVinci Resolve review
Best VFX software for Mac
5. Apple Motion
Best VFX software for Mac
Reasons to buy
+
Works well with Final Cut Pro
+
Slick, intuitive interface
+
Low cost
Reasons to avoid
-
Not the most in-depth
-
Mac only
Apple Motion offers some of the best VFX software for Macs. As you'd expect from an Apple product, we found Motion to be a sleek and attractively designed special effects app.

The efficient interface means it's easy to get to grips with. It's still powerful - but it's a lot more accessible to less-experienced VFX artists. Among its features are advanced color correction and a useful set of tools for designing and animating text.
That said, it doesn't have the same depth as alternatives like HitFilm Pro and Fusion, falling short on advanced compositing and 3D modeling tools, for example. But for most projects that aren't blockbuster movies, you should find everything that you need.
Motion is particularly useful for those who edit in Final Cut Pro - which we described as "an incredibly powerful piece of video editing software" in our in-depth review (you can see how it compares to Adobe's top video editor in Adobe Premiere Pro vs Apple Final Cut Pro).
Apple Motion and Final Cut Pro seamlessly integrate, making it easy to work on visual effects and send projects between the two apps.
Apple Motion available for a one-off fee of $49.99 / £44.99, and this includes access to any future updates.
Best VFX software: FAQs
Adobe After Effects vs Adobe Premiere Pro: what's the difference?
Adobe After Effects is VFX software; Adobe Premiere Pro is video editing software. While Premiere Pro lets you create some effects, you'll need the fully featured After Effects for more complex projects. Both post-production tools are considered industry-standard - they have all the tools professionals need - and are available on a Creative Cloud subscription. They also work seamlessly together, letting you cut videos in PP before adding effects in AE.
What computer do I need for the best VFX software?
VFX software, like even the best free video editing software, can be very resource-intensive. So, for top performance, it's best to use a dedicated computer or laptop for VFX software.
Like the best graphic design laptops and computers, as well as best PCs for photo editing and the best laptops for photo editing, graphics cards are arguably the most important factor.
Select a device with a powerful GPU. Plenty of RAM is critical, too, while CPU is more important for running video editing software.
Using the best laptop for video editing or video editing PC may be fine - but remember these machines are high on CPU, which is more important for video editors, while VFX apps rely on powerful GPUs. In short, check the specs.
How to choose the best VFX software for you
When choosing which VFX software is best for you, start by assessing your needs, your skill level, and your preferred operating system.
Every visual effects tool is different - and aimed at different audiences, so it's important to pick the one that best fits how you want to use it. For example, HitFilm Express is an excellent tool for beginners - but it's not going the best VFX software for professional artists looking for industry-grade special effects.
Likewise, a tool like Adobe After Effects or Blackmagic Fusion will deliver those pro results - but the learning curve will be steeper. If your skill level is low, an entry-level program will be the best visual effects software for you.
Check which platform your chosen special effects software is for. Most effects tools, like After Effects and HitFilm Pro, run on Windows and Mac, but a program like Apple Motion is limited to macOS machines.
Decide what other features you need, and the size of the effects library. You'll find certain tools are a lot more feature-rich than others. The best green screen software or chroma-key software will be perfect for pro-looking post-production edits, but if your needs are less intensive, a simpler VFX app will work well.
How we test the best VFX software
Our team of expert reviewers have gone hands-on with a massive range of creative software, from the best graphic design software to the best video editing apps. Whatever software we're testing, we take the same extensive, rigorous approach for each one.
Our readers want to know they're making the right choice - a choice they can trust. So, when we test which VFX software is best, we measure the contenders against the factors that matter to users.
First, we evaluate the overall user experience. It should be simple to navigate, with a clean, intuitive interface. Even advanced effects software, like Fusion or After Effects should be accessible to everyone, with clear guidance on how to effectively use the tool.
During this time, we assess how well the program meets the needs of the intended audience. We appreciate that a simpler product, like HitFilm Express won't meet the needs of professional VFX artists, but for basic editing and effects, the tool excels. Fusion may be a complex tool that's not ideal for beginners, but as a professional-grade product, it ticks every box.
Performance is paramount, and we assess how well the VFX software runs - from the moment the app starts running, to the quality of the finished product. To rank as our one of our best VFX software options, features and effects like chroma-key, should work exactly as the user expects (and, ideally, surpass those expectations).
Are you a pro? Subscribe to our newsletter
Sign up to the TechRadar Pro newsletter to get all the top news, opinion, features and guidance your business needs to succeed!
Kieron Moore is a freelance writer based in Manchester, England. He contributes to Future sites including TechRadar and Creative Bloq, focusing on subjects including creative software, video editing, and streaming services. This work draws on his experience as an independent filmmaker and an independent TV watcher.