The best business laptops make it simple and easy to carry out work on your computer without worrying about whether your hardware specs are up to it.
It doesn't matter if you're still working from home or going into the office. You need a laptop for working from home that can keep up with your most intensive computing needs and keep your work safe.
If you need a device to keep up with your demanding productivity workflow, consider the best laptops for working from home offers. While plenty of professionals have flocked to more consumer-focused devices over the years, these notebooks offer a combination of power, flexibility, and, most importantly, security that you won't find elsewhere.
And, you might indeed be fine using cheaper laptops for work. But they're not as secure and, in some cases, won't offer the kind of horsepower that you might need to handle your productivity needs. Fortunately, the top business laptops have learned from the best Ultrabooks. They're thinner, lighter, and easier to take on the go, making them just as portable as most of the prosumer options.
The COVID-19 pandemic has accelerated the transition away from desktop PCs and workstations. It has established laptops as the dominant format in businesses and enterprises, enabling them to work from the office, at home, or anywhere.
Best business laptops in 2023
Over the years, the Dell XPS 15 has become something of a classic, and its latest incarnation is no exception.
Maintaining all the typical XPS bravado, the 2022 release leverages the latest Alder Lake processors up to the impressive Intel Core i9-12900HK combined with the mobile Nvidia GeForce RTX 3050 Ti.
What a discrete GPU doesn't achieve for the XPS 15 is to make it a gaming laptop, but it is better than any of the integrated video options, including Intel Iris Xe. Computing is increasingly graphics lead, so a better GPU is becoming necessary.
Where this Dell surprised us most is that the processing power onboard doesn't noticeably impact the battery life, with the review hardware capable of running video playback for more than ten hours in our tests.
With excellent performance, solid construction and fine lines, the Dell XPS 15 would be the obvious choice for corporate customers wanting to provide a solid mobile platform for employees. However, while the lower specified options start at around $1,500, the Core i7 and Core i9 SKUs are substantially more expensive. For those who want every option, it is possible to spend nearly $4,000 or £3,200 on one of these systems.
Read our full Dell XPS 15 OLED (2022) review (opens in new tab).

In this increasingly Cloud-driven world, not every problem needs Microsoft Windows, and many users can do everything they need using Chrome OS on a Chromebook.
The HP Elite Dragonfly Chromebook isn't a cheap machine for students to abuse or access streaming services. It's a highly functional laptop with a myriad of security features designed to become the go-to solution for IS departments of Enterprise customers.
The critical component that gives this Chromebook the security edge is that the higher-level SKUs offer an Intel vPro processor designed to facilitate a multi-layered security approach that's compliant with the level of customers that HP desires the most.
When businesses invest this heavily, they expect only the best, and HP includes a year-long subscription to Parallels for Chrome OS, an app that enables legacy Windows apps to run on this hardware to help with any transition.
Our review hardware came with just an Intel Core i5-1245U with vPro processor, 8GB of RAM and only 256GB of storage is $1,449, making it one of the most expensive Chromebooks we've ever reviewed. However, the top model with the Core i7-1265U vPro, 32GB LPDDR4x and 512GB is a whopping $3,393. Or, more expensive than most Windows laptops with this spec.
As nice as it is, the HP Elite Dragonfly proves that all Chromebooks aren't cheap or under-specified.
Read the full HP Elite Dragonfly Chromebook review (opens in new tab).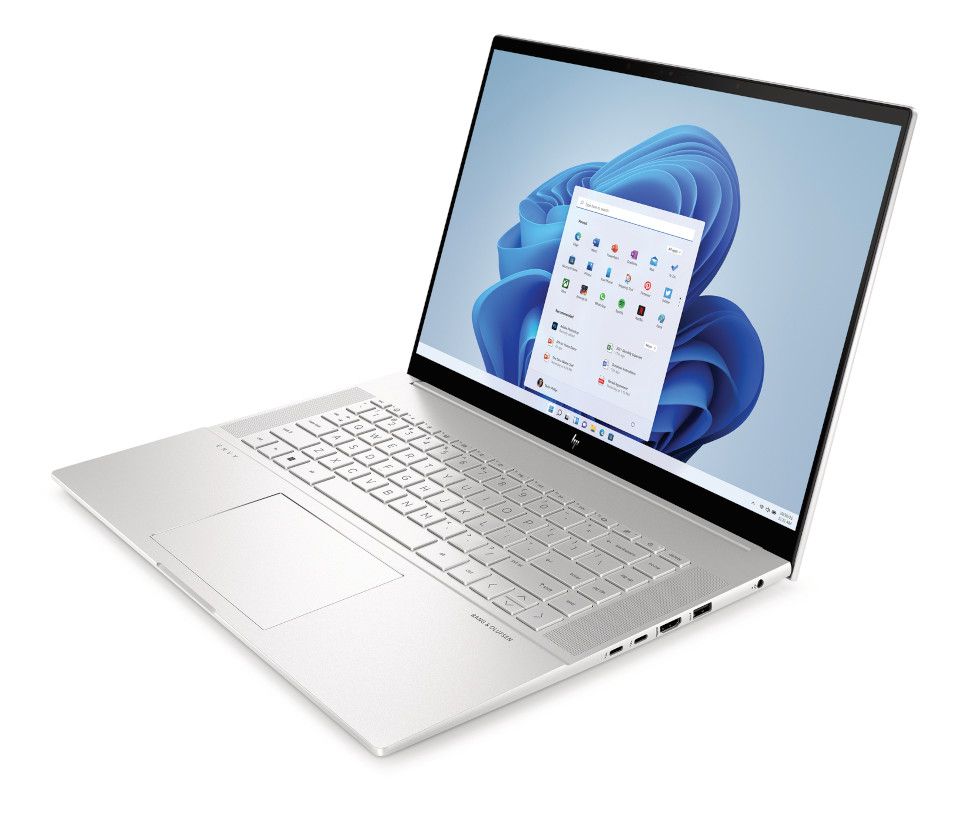 HP had the media professional in mind when they specified the Envy 16, although its GPU performance is sufficient for those that wish to game away from their desktop system.
The caveat to using all that performance on this system is that it can become somewhat noisy, and the battery life isn't sufficient to allow for demanding tasks to operate for long without mains power.
The lack of a fingerprint scanner also hints that HP considers this a business solution only in the loosest terms rather than ideal for most of its corporate customers.
The entry-level designs that use a 12th Gen Core i5 processor start at $1,049. These come with a WQXGA resolution screen and the new ARC A370M discrete processor. These are better value choices than the high-end Core i9 machines with the mobile RTX 3060 GPU and the 4K OLED panel, that cost at least $2,599.
Part of the justification for that price curve is that the better machines come with more RAM, more storage and an excellent HP True Vision 5MP IR webcam.
Overall, the HP Envy 16 represents excellent value for money, especially at the lower end.
Read the full HP Envy 16 review (opens in new tab).

For those invested in the Apple ecosystem, a single supplier scenario limits the number of equipment refreshes you can expect. Or in the case of the Apple MacBook Pro 16-inch, it was the first new design since the 15-inch MacBook Pro Touch Bar appeared in 2017.
Since the Air and Pro 13-inch have already transitioned to the M2 CPU design, that leaves this design using slightly older technology and the likelihood that it won't see an upgrade before 2025.
That said, the performance of this system is exceptionally good. It sports a glorious 3,456 x 2,234 Liquid Retina XDR display, and battery life is remarkable for such a spritely system.
As with most things Apple, the downsides are that the cost is frankly outrageous ($3,299 for a 1TB version), it is not a lightweight laptop to carry around, and there is no practical way to upgrade it (memory or SSD).
We'd recommend getting the 1TB of SSD as, by the time this model is replaced, 512GB might seem like a tiny amount of storage.
Read the full MacBook Pro 16-inch (2021) review (opens in new tab)
---
Check out our laptop buying guide video below.
Best laptops for working from home: FAQ
What is a business laptop?
Why you can trust TechRadar Our expert reviewers spend hours testing and comparing products and services so you can choose the best for you. Find out more about how we test.
A business laptop is a device that has been designed for a professional usage. Like their consumer counterparts, business laptops come in all shapes, sizes, price points and features. And business laptops do not have to run Windows only; businesses in their thousands have embraced Chromebooks, MacBooks and so called mobile thin clients.
Choosing your budget (and shopping window)
Buying a business laptop for an organization usually entails a designated budget set by the purchaser or someone else within the organization and is usually part of a purchase lifecycle.
That is, a device is being acquired either for a new starter or because the previous device is no longer fit for purpose (too slow, broken, or out of warranty). What that means is buying a new PC for business rarely happens by itself; it is usually a well-structured process that is outside the scope of this article.
It may be worth pointing out two trends influencing purchasing a business laptop in the 2020s. First, there's PCaaS, otherwise known as PC-as-a-service. It's essentially another variant of leasing; there are usually no upfront costs (only one fixed monthly payment that may cover accessories/peripherals), and essential software (e.g., antivirus (opens in new tab)), deployment, end-of-lease recycling/migration, and support are included throughout. All major vendors now offer PCaaS.
Then there's the emergence of Black Friday and various similar sales events that happen throughout the year (e.g., Amazon Prime Day, Presidents Day). Many now target small and medium businesses outright with exclusive discounts, vouchers, and coupon codes.
Windows 11 Pro and business laptops
Microsoft's operating system is the defacto one in the enterprise and business space and includes some compelling business-focused features. The obvious assumption is that you want to stick with Windows for business, but that's no longer the case. Apple's macOS and Google's Chrome OS have made inroads in what was and remains Microsoft's most prized possession as its de-facto OS for business end-user/client computing.
Can business laptops be used for working from home?
In short, absolutely. Business laptops these days have been used for working from home in many cases or a wide range of different jobs. Everything from accounting to journalism, graphic design or project management. Fundamentally, there is nothing challenging about using a business laptop to work from home, especially if it is to work for the business that gave you the laptop. The one issue could potentially be accessing a secure network, but even that is not a limitation of the laptop but rather a limitation put in place by the business. Part of the beauty of a laptop is the ability to bring it with you anywhere.
What level of support does a business laptop need?
You need to consider the level of support your business requires. Smaller vendors often offer a one-year warranty, sometimes with onsite support, but more often than not, that's return-to-base (i.e., you need to send the laptop back to the vendor at your own cost) which is not ideal.
Most global vendors offer comprehensive warranty packages with their laptops, with some having a three-year affair with onsite next-business-day support by default. Dell and Lenovo stand out by offering warranties of up to 60 months (that's five years), well worth it on laptops costing thousands. Check out whether you need accident coverage or coverage outside your country; some offer support in countries as far away as India.
Some car insurance providers offer a courtesy car when a member's vehicle breaks down or is involved in an accident. This allows the customer to minimize any disruption caused to his or her workflow. There's no equivalent yet from a laptop vendor. If downtime is not an option and if there are privacy concerns, having a backup laptop or PC is highly recommended.
Business laptops: what are the use cases?
The purchase strategy for a one-man band (or very small entity) will differ significantly from that of a medium size company. If you only need a couple of laptops, you might be less picky when choosing a manufacturer of refurbished notebooks. Choosing your laptop will also depend on what you intend to do with it.
Edge use cases (e.g., graphics designer, coder, video editing, financial analysts) may require mobile workstations (opens in new tab) or rugged laptops (opens in new tab) rather than standard business laptops. Still, for everyone else, the configuration below should be good enough. While there is no real alternative to a powerful CPU, extra memory and a fast SSD can often help.
Swipe to scroll horizontally
Minimal configurations for a business laptop

| Components | Optimal specifications |
| --- | --- |
| Processor | At least a 10th generation Intel Core/3rd generation AMD Ryzen |
| RAM | Minimum 8GB |
| Graphics | Integrated |
| Storage | 256GB SSD |
| Display | 13.3-inch or bigger, full HD resolution |
| Connectivity | Type-C or Thunderbolt connectors |
| Networking | Wi-Fi 5 or Wi-Fi 6 |
Battery life and processing power do not go hand in hand. That's an unfortunate truth; the fastest laptops tend to have very short battery life despite sporting massive batteries because they run components that are power hogs.
Throw in the market's obsessive quest for thinness, and it's no wonder that many are often disappointed by their laptops because they are either powerful but with short battery life or vice versa. Finding the right balance means that you will identify how long you can stay away from mains and what kind of processing power you need (hint: look at the applications you use most often).
Avoid these 10 easy mistakes:
Too little, badly configured memory, low-resolution display, slow storage components, or no webcam. I recently compiled a list of things you need to avoid when buying a business laptop (opens in new tab). Worth a look so that you don't end up in a pickle.
Think about the peripherals
If you plan to use your laptop at your desk a lot, then it makes sense to invest in a docking station (opens in new tab) that allows you to connect your device to several peripherals (like a keyboard, mouse, printer, and monitor) in one simple move. The ubiquity of USB Type-C also allows some of them to charge their laptop at the same time.
Generic docking stations are more affordable and compatible with various laptop ranges, making them more attractive if you plan to change laptop brands regularly. Type-C power delivery models are attractive because they allow you to bypass your laptop charger or keep the latter for another location.
The future of external displays is 4K, so make sure your laptop supports it should you plan to have an external monitor (opens in new tab) at work or elsewhere. This means checking that your laptop either comes with an HDMI 2.0 port or a DisplayPort connector. Another option is to consider a docking station that offers either of these connectors.
A 4K monitor (opens in new tab) can transform your work by offering four times the full HD resolution, perfect for multi-tasking on several documents. It can also help improve your workflow by allowing you to work on several devices simultaneously while reducing the number of monitors needed.
Explore the upgrade options available for your laptop should you have access to them (e.g., at checkout). For example, you could opt for a 4G/LTE internal modem should you have the option. Not only do they allow you to be connected when you're far from a Wi-Fi Hotspot (opens in new tab), they often cost less than buying a separate dongle, use less power, and are unlocked – plus, you don't run the risk of breaking one USB port.
Check whether you can get a removable/second battery that may allow you to stay longer away from the mains. Security options are also worth considering; these include SSD with default encryption, fingerprint or palm readers, and NFC/SmartCard readers.
---