For portability and versatility, there's nothing that compares to the best business tablets on the market. The very best of the bunch cater to one of the most important needs of any business user: productivity.
These kinds of tablets need to have enough processing power to manage demanding tasks, long battery lives to power you through long work sessions and lightweight builds.
These days, tablets are incredibly versatile devices, and thanks to the combination of power and form factor, they are excellent devices for business use.
The best business tablets you'll find on this page can be used for various professional tasks, whether that's reading documents on the go, being creative in a range of ways, or managing different systems and channels at the same time.
Thanks to modern advancements in mobile tech, many tablets now offer a level of performance that can rival laptops. They can run a wide range of apps, and their thin and light design means they can be easily carried around - making them perfect for people who work on the go.
Android and Apple tablets have a huge collection of apps that can help with business work, and there are also tablets in this best business tablets list that run Windows 10, which makes them even more powerful and versatile.
Add Bluetooth keyboards, styluses, and perhaps a great pair of noise cancelling headphones too, these great business tablets become formidable work machines.
For the sake of clarity, we'll only look at pure tablets, and detachables when it comes to convertibles. The best 2-in-1 laptops are too close to traditional laptops, as their keyboard can't be totally detached.
---
Best business tablets of 2022 in full: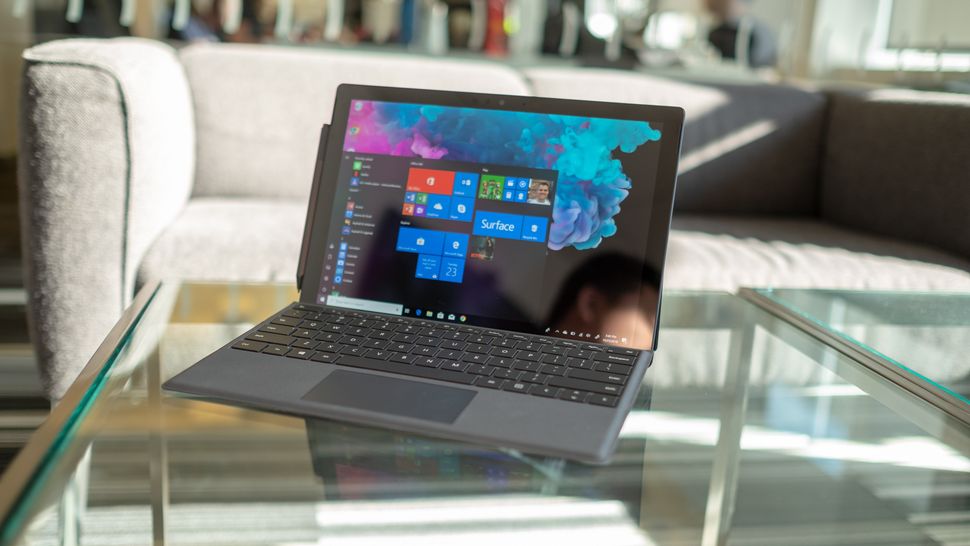 Microsoft's Surface Pro lineup is often found at the top of our list for best business tablets, and the latest version – the Surface Pro 6 – is no different. This takes what we've loved from previous versions and refined it. So, it's not a revolutionary new tablet that does everything new, but a solid business tablet that does everything right. So, it's got that gorgeous design and build quality, plus a new black color option, plus some of the latest mobile tech crammed into its body. However, once again it doesn't include the Type Cover for turning it into a laptop-like device, nor the Surface Pen stylus, which is a bit mean considering the price.
You might be wondering why the Surface Pro 6 tops this list when the Surface Pro 7 exists (and has a lower-ranking position in this list). Well, you'll have to read that entry to know in detail, but we didn't find it a big enough improvement to justify over the Surface Pro 6.
Read the full review: Microsoft Surface Pro 6
Pipo W11 tablet - $274.99 at Banggood (opens in new tab)
(£208/AU$377)
Pipo is not a household brand, but given the W11 costs less than half the price of the Microsoft Surface Go 2 - and offers superior performance, storage and connectivity - it's well worth a look. Use the code BGpipo2 at checkout to get this price.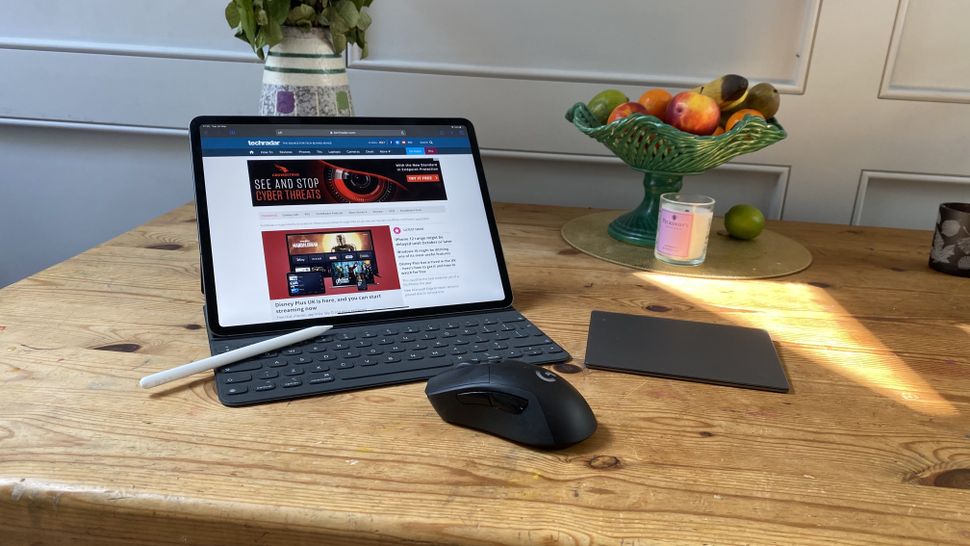 Our list of the best business tablets used to feature the iPad Pro 12.9 (2018) but Apple brought out a newer version with some improvements and identical price tag, so it's the obvious choice to go for if you want a powerful and traditional tablet.
If you want a large, vibrant screen the iPad Pro is a good choice thanks to its huge 12.9-inch display and 2048 x 2732 resolution. It's a simply stunning tablet to look at and use, and it's ideal for creatives, as its large touchscreen makes for a fantastic canvas - especially if you buy the Apple Pencil too.
It's got the power to back it up as well, with some of Apple's most powerful hardware inside, albeit a chipset that's only a small amount better than its predecessor's. With its unrivaled processing power, massive display, snappy operating system, and the fact you can use it with the Apple Pencil and Smart Keyboard, it's definitely a tablet you should consider for your business. The only issue is that it's expensive. Very expensive.
Read our full review: iPad Pro 12.9 (2020)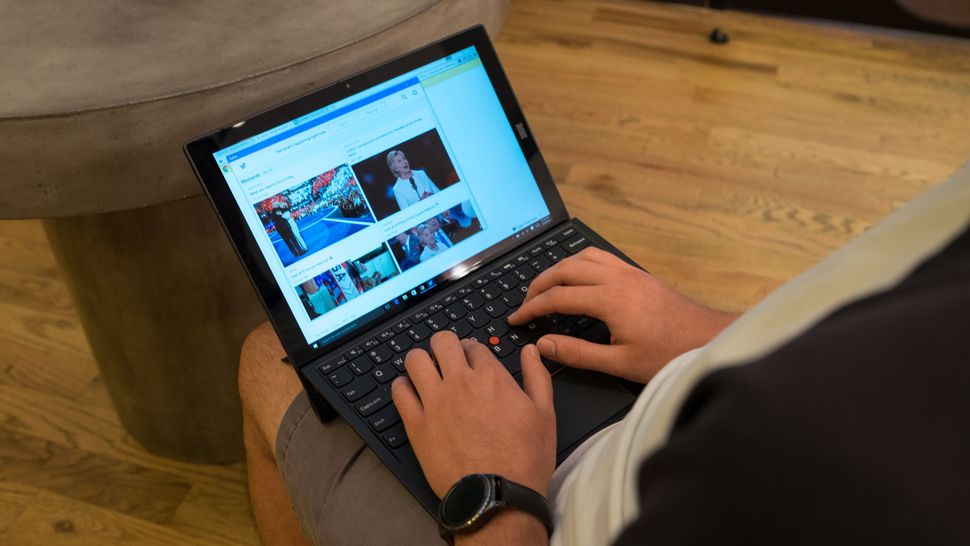 (opens in new tab)
We were big fans of the original Lenovo ThinkPad X1 Tablet (opens in new tab), but this third-gen model is just fantastic. It's a powerful laptop with a removable keyboard, leaving you a robust tablet, which makes it great if you need a device for different circumstances and situations.
You're getting plenty of features here that make it one of the best business tablets around - the ThinkPad Pen Pro stylus comes with the tablet, so you don't need to buy any peripherals, there are multiple Thunderbolt 3 ports, and you've got a big 3K touchscreen too.
Sure, it's quite a bulky device, so you might have trouble working on a cramped bus or train, and the battery life still isn't what we'd expect. But generally, the third-generation Lenovo ThinkPad x1 Tablet is great for your business needs.
Read the full review: Lenovo ThinkPad X1 Tablet (3rd Gen)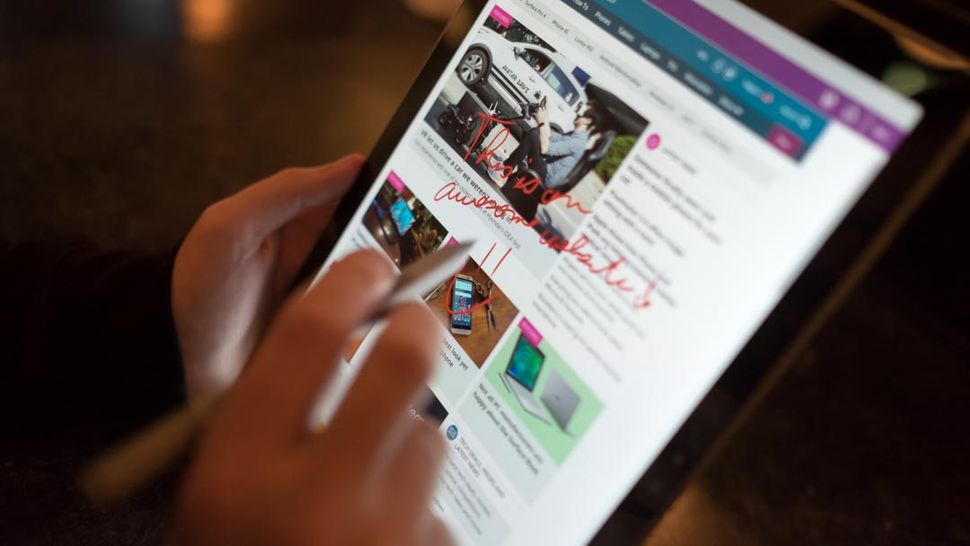 (opens in new tab)
The best business tablet isn't necessarily the newest, which is why the Microsoft Surface Pro 7 doesn't top this list, but it's still a decent device that could be useful for you depending on what you need from your slate.
We didn't find the Surface Pro 7 a huge upgrade on the Surface Pro 6, which is why the newer tablet didn't topple its predecessor, as the older slate is more affordable now.
Saying that, there are some upgrades you might appreciate. There's the high-speed Wi-Fi 6 connectivity and also USB-C ports, which the Pro 6 lacks. On top of that, the performance sees a boost, so if you need a processing powerhouse, this might be the Microsoft device for you.
Read the full review: Microsoft Surface Pro 7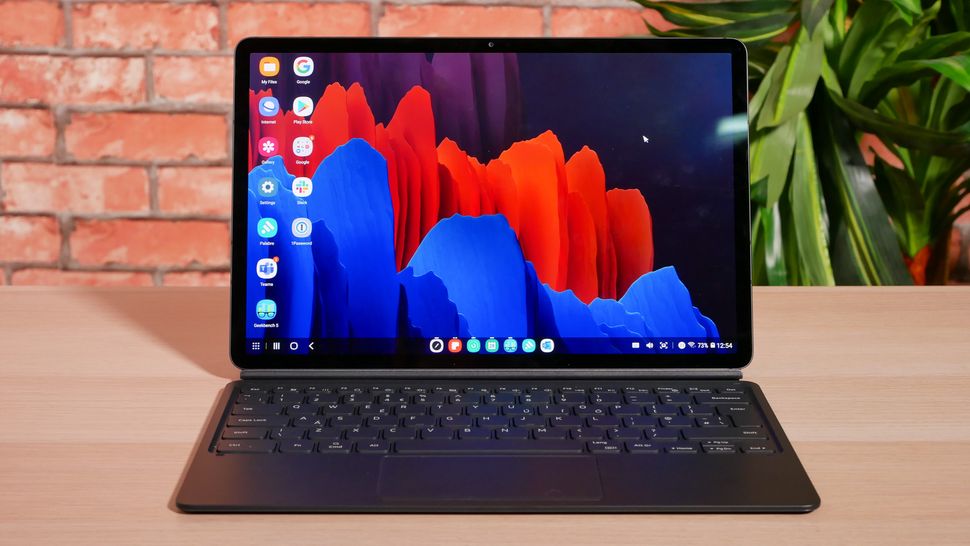 Samsung's best tablet right now is the Galaxy Tab S7 Plus, which is an iPad Pro rival for people who would prefer to be on Android.
The tablet has a large, good-looking screen with a high refresh rate, and that's matched by powerful internals and multiple rear cameras.
There's also a non-Plus version of the tablet that's more affordable but weaker in a few ways. But if you're looking for the absolute top Android tablet the Samsung Galxay Tab S7 Plus is the one for you.
Read the full review: Samsung Galaxy Tab S7 Plus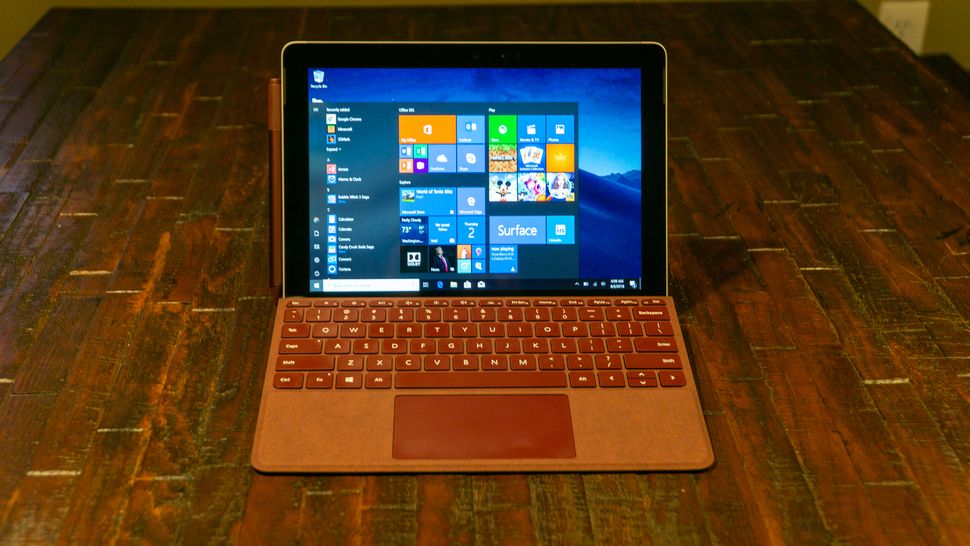 If you're looking for the best budget business tablet, then the Microsoft Surface Go should definitely be considered. It's thin, light, portable and elegant without sacrificing the ability to get some work done, and Microsoft has packed in everything they could in a device at a low price point. If you're often working while travelling, then it's a brilliant choice, thanks to its slimline design and reliable build quality that we've come to expect from Microsoft's Surface products.
Read the full review: Microsoft Surface Go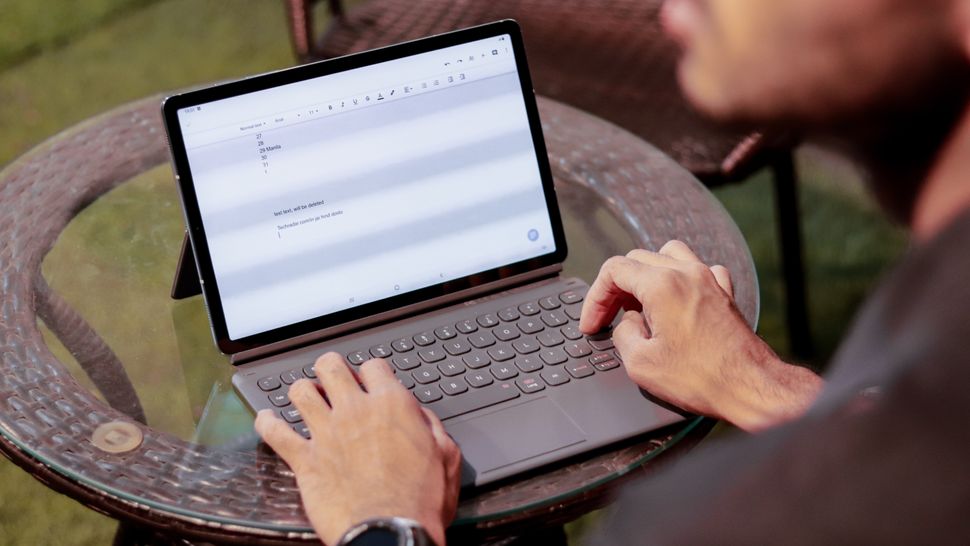 (opens in new tab)
If the best business tablet for you must be an Android device, then perhaps Samsung has you covered, perhaps with this Samsung Galaxy Tab S6.
This top-end piece of kit comes with the S Pen stylus included, so your only extra costs could be the keyboard cover, and of course the tablet has all the staples of a Samsung device, including a beautiful screen and its One UI interface.
If you're looking for a slate with an operating system modelled after a smartphone OS, this might be as close to an iPad Pro as you'll get, and in general it seems like a pretty similar device. There's plenty of processing power, decent camera capabilities, and a lightweight build - but the high price tag his here too.
Sure, Samsung has newer tablets out, and one of them sits higher on this list. But if you want something that's a little more affordable but still worthwhile, the Galaxy Tab S6 is good.
Read the full review: Samsung Galaxy Tab S6
Although it is not pitched as a business tablet, the Alldocube iWork GT does have the (deceptively conservative) looks and the performance to match one, without the high price. It will appeal for those looking for an iPad-size tablet that runs Windows 11. We love the fact that it comes with a powerful set of components and a plethora of ports. Just bear in mind that the Surface Pro 7+, while being a marginally bigger alternative, is available for not much more and comes with the level of support (up to four years warranty) you'd expect from a trillion dollar company. We'd also wished that the iWork GT had a kickstand and fully functional Thunderbolt 4 ports.
Read the full review: Alldocube iWork GT (opens in new tab)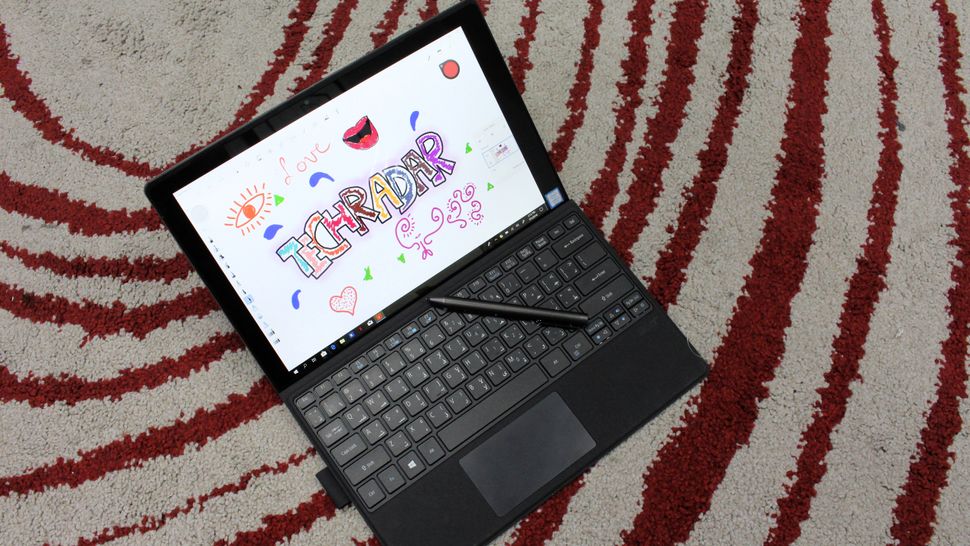 If you want the versatility that the Surface Pro offers, but don't want to pay the exorbitant price that a competent model asks, you might want to check out the Acer Switch 5. You'll lose a bit in screen resolution and sound quality, but you're saving hundreds of dollars. The Acer Switch 5 is one of the best business tablets for any professional who need to get work done on the go, and save some cash at the same time.
Read the full review: Acer Switch 5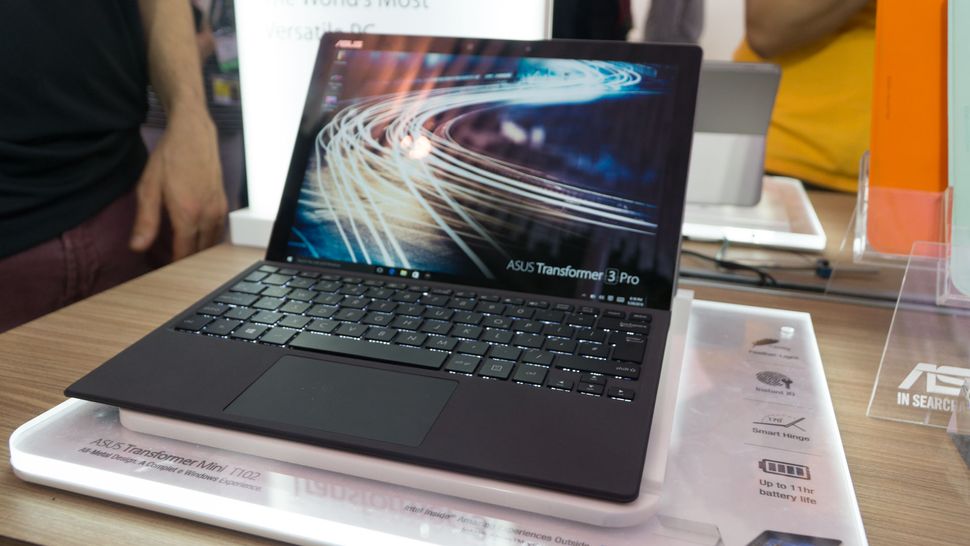 (opens in new tab)
Asus threw down the gauntlet to Microsoft with the launch of the Transformer 3 Pro (opens in new tab). The device, which is the only tablet we know of that comes with 16GB of RAM as standard, easily surpasses the Surface Pro 4 in terms of sheer value for money although Microsoft's flagship tablet remains the better known (and probably more trusted) of the two. Other than the standard keyboard, the Transformer also has a docking station, a stylus and even a trusted platform module (TPM) for improved security within an enterprise setting.
Read the full review: Asus Transformer 3 Pro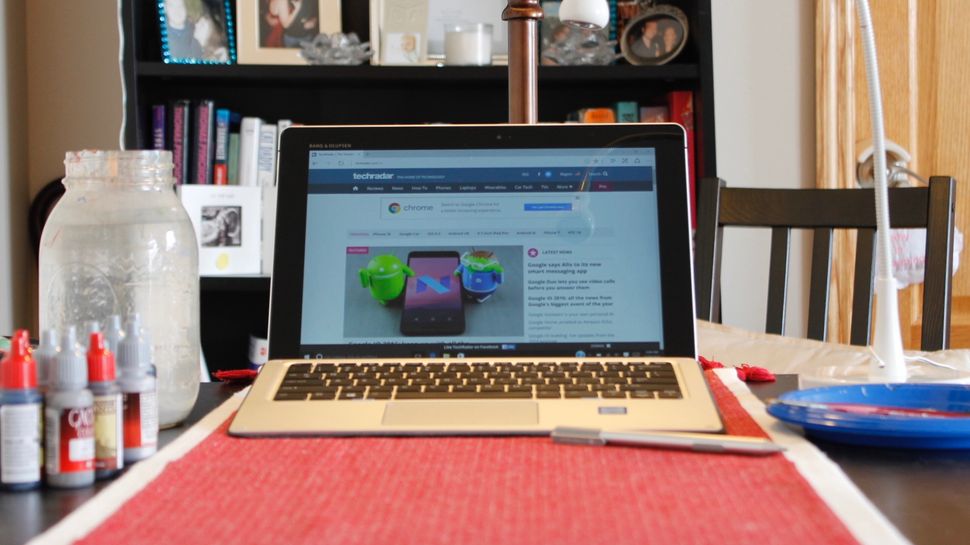 (opens in new tab)
Just like the rest of the competition, HP took inspiration from Microsoft's playbook when building the Elite x2 1012 (opens in new tab), which clearly targets the business market. Like Fujitsu, HP made sure that its product was designed with enterprise users in mind. It is sturdy, undergoing a 12-point stress test, is very easy to upgrade and comes with a number of security features. There's an active pen and a keyboard, and our reviewer said that typing on the latter was "as comfortable as it is on a real notebook". Not everything about the design is perfect - such as the hinge - but overall this is a tempter with a great keyboard and screen.
Sure the HP Elite x3 is newer, and has some slightly better specs. But in our review we actually scored it lower than its predecessor, for reasons like the poor app support for Windows 10 Mobile and a pretty unnecessarily big size. That's why the HP Elite 2 retains its spot on this list - for now.
Read the full review: HP Elite x2 1012 G1
Chuong Nguyen, John McCann, Matt Hanson and Henry Casey also contributed to this article
You might also want to check out the best tablet with keyboard (opens in new tab).