The best Android tablets 2023: which should you buy?
Best
Contributions from
last updated
Don't want an iPad? Try one of the best Android tablets
Best Android tablet: quick menu
1. The list in brief
2. Best for most people
3. Best overall
4. Best budget
5. Best for students
6. Best for productivity
7. Best small
8. FAQs
9. How we test
The best Android tablets aren't so much an answer to 'what's a good iPad alternative?' and are rather their own devices, offering apps and services that Apple's tablets can't.
But there are a lot to choose from, meaning you have to be rather discerning when it comes to picking the best tablet for you. We're here to help, as we have narrowed down a host of Android tablets we've reviewed and lived with so we know which models to recommend and which models to skip entirely.
While OnePlus Pad and Samsung Galaxy Tab S9 Ultra may top our list, we also have option for every type of user, including those seeking one of the best cheap tablets. We also included some mid-range picks from brands like Amazon, Google, and even TCL to give a better range.
Of course, if you change your mind and want an iPadOS-powered device instead, our picks of the best iPads should help. If you're sticking with Android, read on for our guide of the best Android tablets below, complete with each device's pros and cons.
Quick List
The best Android tablets 2023
Why you can trust TechRadar We spend hours testing every product or service we review, so you can be sure you're buying the best. Find out more about how we test.
Below, you'll find full breakdowns for each of the best Android tablets in our list, as well as links to their respective in-depth reviews. We've tested each model extensively, so you can be sure that our recommendations can be trusted, as we flag both a tablet's pros and cons.
The best Android tablet for most people
Best flagship Android tablet
Specifications
Dimensions:
258 x 189.4 x 6.5 mm
Resolution:
2000 x 2800 pixels
CPU:
MediaTek Dimensity 9000
Reasons to buy
+
Display is sharper than iPad Pro
+
A flagship tablet priced like a cheaper model
+
Big battery and faster charging
Reasons to avoid
-
Performance doesn't match best phones
-
One option for storage, RAM, color
-
Stylo pen is pricey, needs charging
OnePlus's first tablet was impressive with some of the perks we expect from OnePlus phones. It integrates with both OnePlus and Oppo phones, ships with Android 13, has a sharp and bright LCD display with a 144Hz refresh rate, a large battery, and 67W super-fast charging.
However, we found it was held back by the performance that wasn't quite as speedy as what you could get on the best phones. It uses a MediaTek Dimensity 9000, a chip that's a step down from the Snapdragon 8 Gen 2 that most of the top Android phones – the OnePlus 11 included – use. This meant that for some tasks like using Adobe Lightroom, there was enough lag that it would be annoying.
Due to the relatively weak premium Android tablet market, the OnePlus also didn't offer separate storage offerings. It did, however, come with a lovely green shade that we praised in our review.
The OnePlus Pad's few flaws are covered by its $479 price. Samsung's Galaxy Tab S tablets are the only competition for Android fans, and they cost $200 more in most cases.
Read our full OnePlus Pad review
The best Android tablet overall
The best Android tablet
Specifications
Dimensions:
326.4 x 208.6 x 5.5mm
Resolution:
1848 x 2960 pixels
CPU:
Snapdragon 8 Gen 2 for Galaxy
Rear camera:
13MP (wide) + 8MP (ultrawide)
Front camera:
12MP + 12MP
Reasons to buy
+
Samsung multitasking is better than iPad and Pixel Tablet
+
Gorgeous display and blazing performance
+
Value is surprisingly good compared to iPad Pro
Reasons to avoid
-
Same price as a Macbook Air (M2)
-
Faster charging would have been nice
-
Flimsy keyboard and no easy S Pen storage
The Samsung Galaxy Tab S9 Ultra is the ultimate Android tablet, just like its predecessor. It comes with polished OneUI software that takes advantage of its big and beautiful 14.6-inch screen, and the included S Pen stylus and optional keyboard should make this a great device for creating artwork, editing documents, taking notes, and other productivity tasks.
For a tablet of this size, the display is its selling point. It is massive, sure, but it is also beautiful at 1848 x 2960 resolution and smooth at a 120Hz refresh rate. It packs a Snapdragon 8 Gen 2 for Galaxy chipset with up to 16GB of RAM, and the storage goes up to 1TB. In other words, this really, really wants to convince you it can replace your laptop.
In our review, we were very impressed with both the software and its performance. Qualcomm's processor really put in the work here, and Samsung's OneUI software makes this feel like a real laptop with enhanced multitasking capabilities that you simply won't find on offerings from Apple or Google. Unfortunately, its biggest flaw is that it continues to feel like a real laptop without actually being one. If you want a laptop to do all the laptop things, you'll still be better served running a real laptop. But as a big tablet? Unmatched.
Read our full Samsung Galaxy Tab S9 Ultra review
The best Android tablet for students
The best Google tablet
Specifications
Dimensions:
258 x 169 x 8.1mm
Resolution:
1600 x 2560 pixels
Reasons to buy
+
Great value for a tablet and speaker dock combo
+
Home screen controls are useful and improving
+
Excellent sound for immersive audio
Reasons to avoid
-
Android still seems a phone OS shoehorned into a tablet
-
Soft-touch back picks up dirt and fingerprints
-
Smaller than the '11-inch' marketing makes it seem
The Google Pixel Tablet comes with Google's tablet-optimized version of Android. It's a pleasure to use, as the company has built out a suite of apps that now work well with large-screen devices and tablets, including the Google Suite of apps, its entertainment apps like YouTube, Google Play apps, and more.
The tablet is powered by Google's custom Tensor G2 chip that you'll find in the Pixel 7a, 7, and 7 Pro as well. This processor provides plenty of power for even the most demanding tasks. The screen is 11 inches (albeit IPS LCD and not OLED) and has a resolution of 2560 x 1600 pixels. It's worth noting that there's no 90 or 120Hz refresh rate, which is a shame. Even the cheaper Pixel 7a comes with a 90Hz display.
The speaker dock has four speakers that produce rich, immersive sound when playing music or watching video. As with other Pixels, this tablet receives regular security updates and software updates from Google. You'll get Android 14 the minute it's ready, the same will hold for Android 15 and 16 as well.
Despite all that power and security, this tablet isn't meant for productivity, though. You're meant to see it as an entertainment device, whether you lean into Google's positioning of this as a smart home device, or you use it as a tablet. With a lovely screen, a powerful speaker dock, and quick updates, the Pixel Tablet certainly lives up to the hype.
Read our full Google Pixel Tablet review
The best budget Android tablet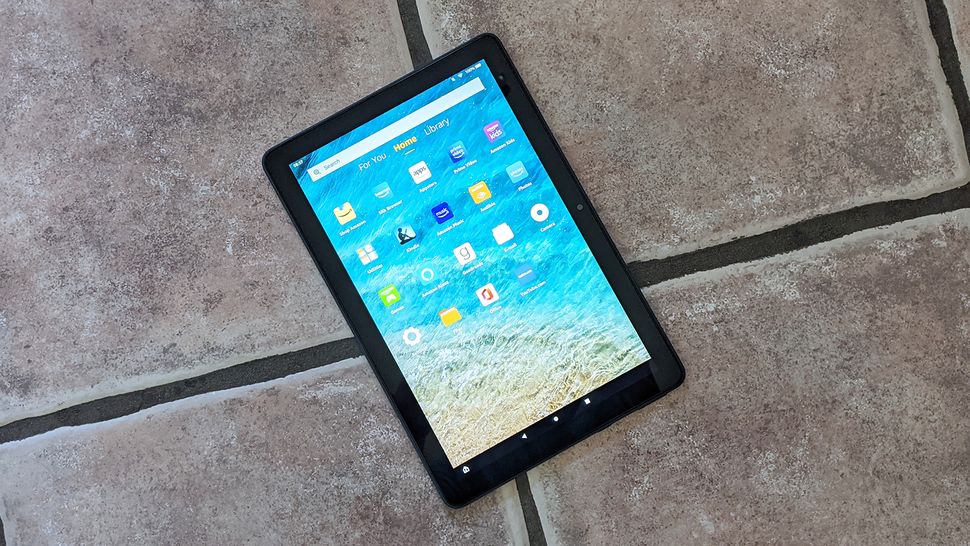 The best budget Android tablet
Specifications
Dimensions:
247 x 166 x 9.2mm
Reasons to buy
+
Well priced
+
Good quality screen
Reasons to avoid
-
Looks dated
-
Could be faster
It might not be the best of the bunch for Android tablets but the Amazon Fire HD 10 Plus (2021) has a lot going for it thanks to its attractive 10.1-inch display with a 1920 x 1200 resolution. That means it's ideal for watching your favorite movies or shows, especially as we also found that it manages around 12 hours of battery life, so you won't run out of juice at a pivotal moment.
In our review, we were also fairly impressed with the speakers for the money, so this is a capable budget media machine. Storage is limited at either 32GB or 64GB and we'd like speedier performance in an ideal world, as the chipset was a little bit dated even at launch, but at this price, it's not bad at all.
Read our full Amazon Fire HD 10 Plus (2021) review
The best Android tablet for productivity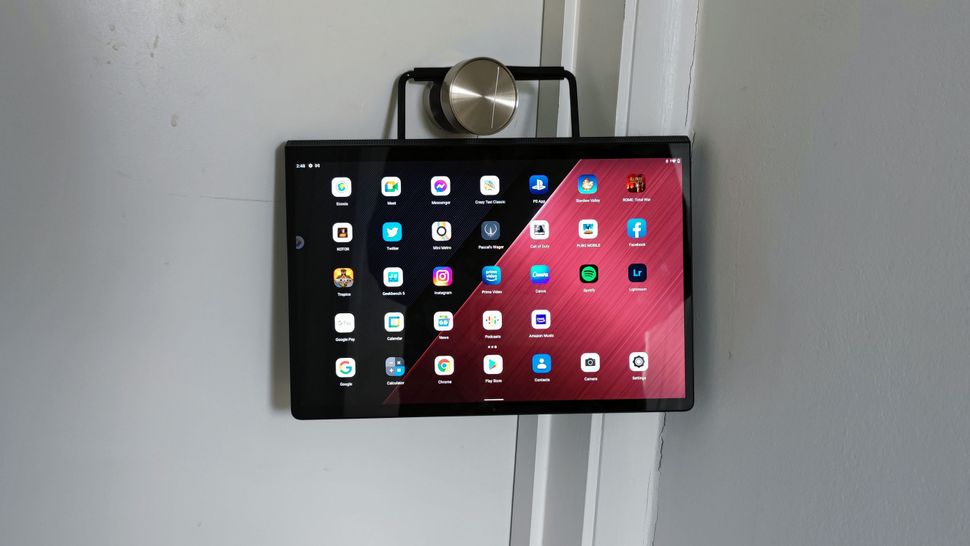 The best Android tablet for second screen use
Specifications
Dimensions:
293.4 x 204 x 6.2-24.9mm
Resolution:
1350 x 2160 pixels
Reasons to buy
+
Useful built-in stand
+
Fantastic speaker quality
Reasons to avoid
-
Design makes cases hard to use
-
No rear camera
The Lenovo Yoga Tab 13 is a bit different to most tablets, and that helps it stand out. While the slate works brilliantly as a conventional tablet, it also has a built-in stand, so you can prop it up without a case, and there's a micro HDMI port, so you can easily use it as a second screen for a laptop or other device - two features which we found very useful.
The Lenovo Yoga Tab 13 also has an enormous speaker by tablet standards, making it great for anything involving audio. Beyond that, you get a big 13-inch 1350 x 2160 screen, a moderately powerful Snapdragon 870 chipset, and a respectable amount of storage.
What you don't get – in another unusual move – is a rear camera, but then tablets are never ideal for taking photos anyway, and we also found the design made it hard to use with a case. Still, if a kickstand or micro HDMI are important to you then this is the Android tablet to get.
Read our full Lenovo Yoga Tab 13 review
The best small Android tablet