Many tablet fans love the best Android tablets for their ability to side-load apps and ability to handle games better. So, while Apple's own portables are popular, these Android-powered devices are lauded for these unique strengths. That's on top of the range of sizes, features, and use cases that allow them to cater to different types of users.
Of course, with all the choices on the market, it's vital to be even more discerning when it comes to picking the best tablet for you. You also have your daily needs and budget to consider, to ensure that you're getting your money's worth, whichever device you end up with.
Luckily, we can narrow down your options to make things easier. We've lived with and reviewed plenty of Android tablets over the years, and we know which models to recommend and which models to skip entirely. We also made sure to have an option for every type of user.
After all, while Samsung Galaxy Tab S8 Ultra may top our list, we also have options for those seeking one of the best cheap tablets. We also included some mid-range picks from brands like Amazon, Nokia, and TCL to expand the options range. Conspicuous in its absence is a Google option. The company has announced the Pixel Tablet, and though we haven't reviewed it yet, it's all but certain to find a place on this list due to its fast updates, pure Android experience, and minimalist design.
Of course, if you change your made and want an iPadOS-powered device instead, our picks of the best iPads should help. If you're sticking with Android, take a look at our guide of the best Android tablets below, complete with each device's pros and cons, along with who it's best suited for.
The best Android tablets 2023
Why you can trust TechRadar We spend hours testing every product or service we review, so you can be sure you're buying the best. Find out more about how we test.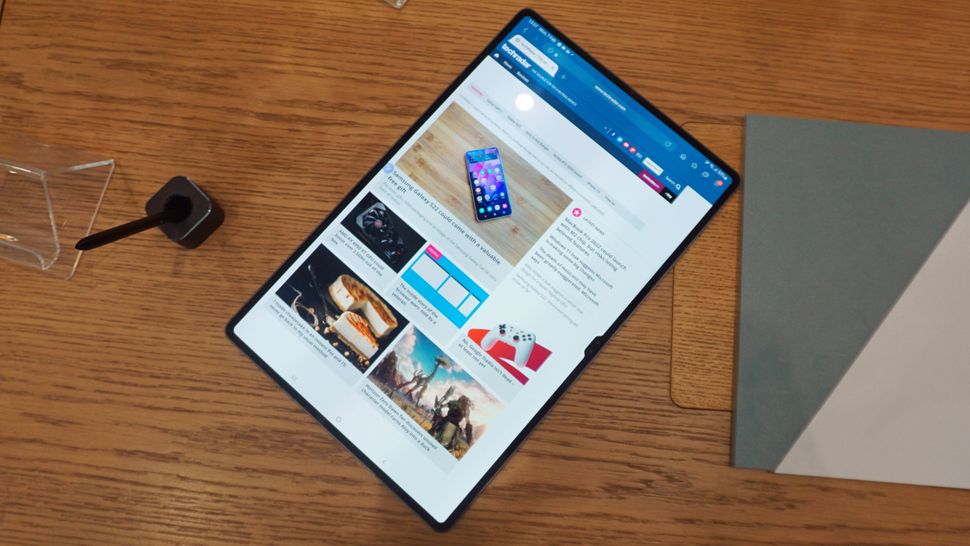 The Samsung Galaxy Tab S8 Ultra is the ultimate Android tablet, but with its enormous 14.6-inch screen it won't be for everyone. That size sees it dwarfing even the largest iPad Pro, but with its included S Pen stylus this also makes it a superb device for creating artwork, editing documents, taking notes, and other productivity tasks.
The display is crisp at 1848 x 2960 and smooth at 120Hz, there's tons of power from the Tab S8 Ultra's Snapdragon 8 Gen 1 chipset. It also has a great 12MP ultra-wide camera on the front, making this an ideal device for video calls.
In our review, we were very impressed with its four speakers too, plus its masses of storage, and its premium – if fragile-feeling – design. The Samsung Galaxy Tab S8 Ultra then has it all. You can even buy a keyboard folio if you want to use it like a laptop. The size does make it less portable than some slates though, and it sure is expensive.
Read our full Samsung Galaxy Tab S8 Ultra review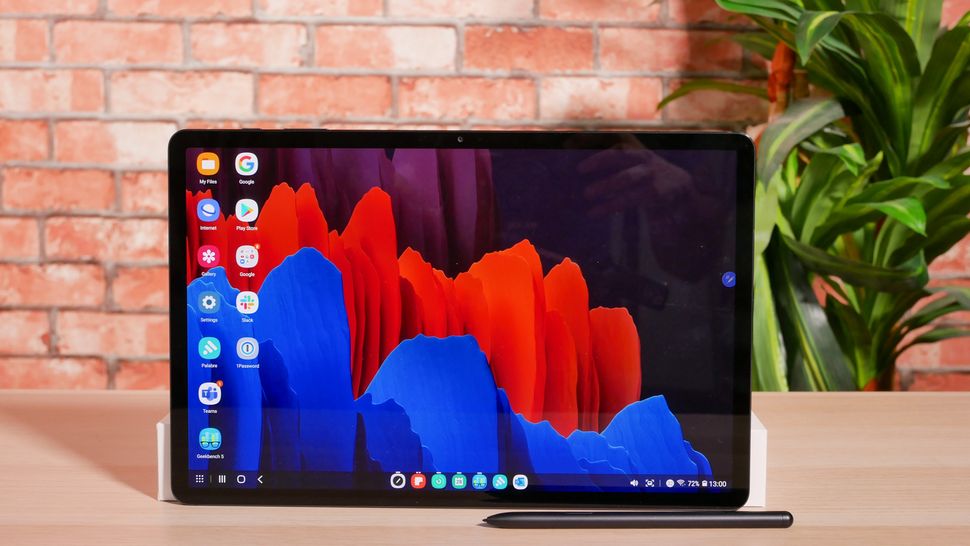 The Samsung Galaxy Tab S7 Plus was at launch the best tablet Samsung had ever made, and it's still great now, as well as being a serious rival to the iPad Pro range. In fact, its screen arguably has those slates beat, as it's a 12.4-inch Super AMOLED one with a 2800 x 1752 resolution and a 120Hz refresh rate. The iPad Pro range can match much of that, but those slates have LCD screens, which aren't quite as good - we were seriously impressed with this screen.
You also of course get a whole lot of power from the Samsung Galaxy Tab S7 Plus's Snapdragon 865 Plus chipset, enough that we found it the smoothest Android tablet experience we'd come across at launch. Plus, it has a premium metal build that's incredibly slim at 5.7mm thick.
There's also a 5G model for speedy mobile data, and Samsung's S Pen stylus comes bundled with the slate. Chuck in a keyboard (sold separately) and this is a serious productivity machine. But even without that this is a high-end slate and great for media.
Read our full Samsung Galaxy Tab S7 Plus review
OnePlus's first tablet was impressive with some of the perks we expect from OnePlus phones. It integrates with both OnePlus and Oppo phones, ships with Android 13, has a sharp and bright LCD display with 144Hz refresh rate, a large battery, and 67W super fast charging.
However, we found it was held back by the performance that wasn't quite as speedy as what you could get on the best phones. It uses a MediaTek Dimensity 9000, a chip that's a step down from the Snapdragon 8 Gen 2 that most of the top Android phones – the OnePlus 11 included – use. This meant that for some tasks like using Adobe Lightroom, there was enough lag that it would be annoying.
Due to the weak Android tablet market, the OnePlus also didn't offer separate storage offerings. It did however come with a lovely green shade that we praised in our review.
The OnePlus Pad's few flaws are covered by its $479 price. Samsung's Galaxy Tab S tablets are the only competition for Android fans, and they cost $200 more in most cases.
Read our full OnePlus Pad review.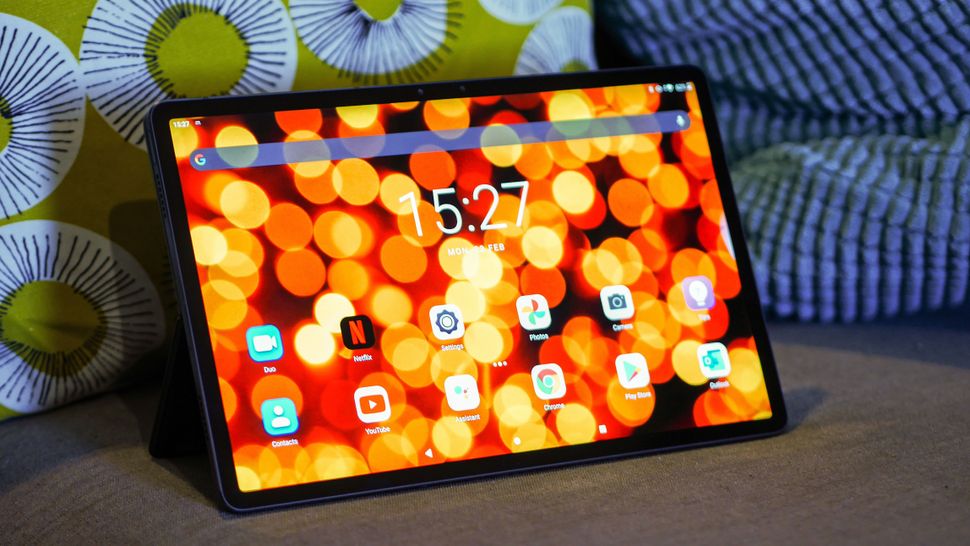 Samsung has long been ruling the high-end Android tablet world, but it now faces an unlikely challenger in the form of the Lenovo Tab P11 Pro. Lenovo isn't well-known for Android tablets, but with the Tab P11 Pro it's delivered a real rival to the likes of the Samsung Galaxy Tab S7 Plus.
This slate has an 11.5-inch 1600 x 2560 OLED screen, so it's big, sharp, and packs punchy OLED tech. It also supports HDR10, so we found it a joy to view content on, with the only slight let-down being its conventional 60Hz refresh rate. Coupled with loud quad-speakers, the Lenovo Tab P11 Pro makes for an accomplished media machine, and with its long-lasting 8,600mAh battery it's a great travel companion.
The Lenovo Tab P11 Pro packs an attractive metal build too, and it supports both a keyboard and a stylus, transforming it into a capable productivity device – though one that's still no match for a typical laptop. We found its performance middling and its cameras aren't up to much, but with its surprisingly reasonable price tag, those are sacrifices we can live with.
Read our full Lenovo Tab P11 Pro review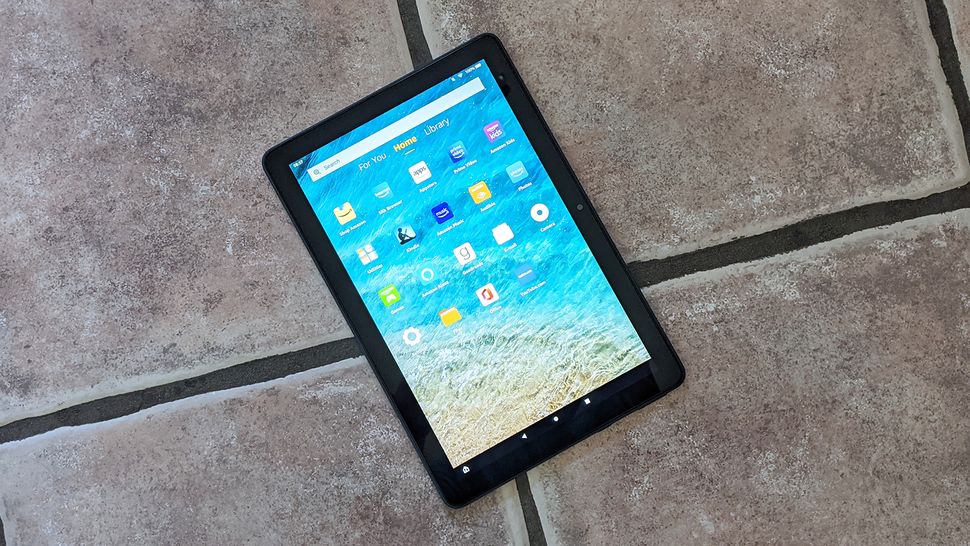 It might not be the best of the bunch for Android tablets but the Amazon Fire HD 10 Plus (2021) has a lot going for it thanks to its attractive 10.1-inch display with a 1920 x 1200 resolution. That means it's ideal for watching your favorite movies or shows, especially as we also found that it manages around 12 hours of battery life, so you won't run out of juice at a pivotal moment.
In our review, we were also fairly impressed with the speakers for the money, so this is a capable budget media machine. Storage is limited at either 32GB or 64GB and we'd like speedier performance in an ideal world, as the chipset was a little bit dated even at launch, but at this price, it's not bad at all.
Read our full Amazon Fire HD 10 Plus (2021) review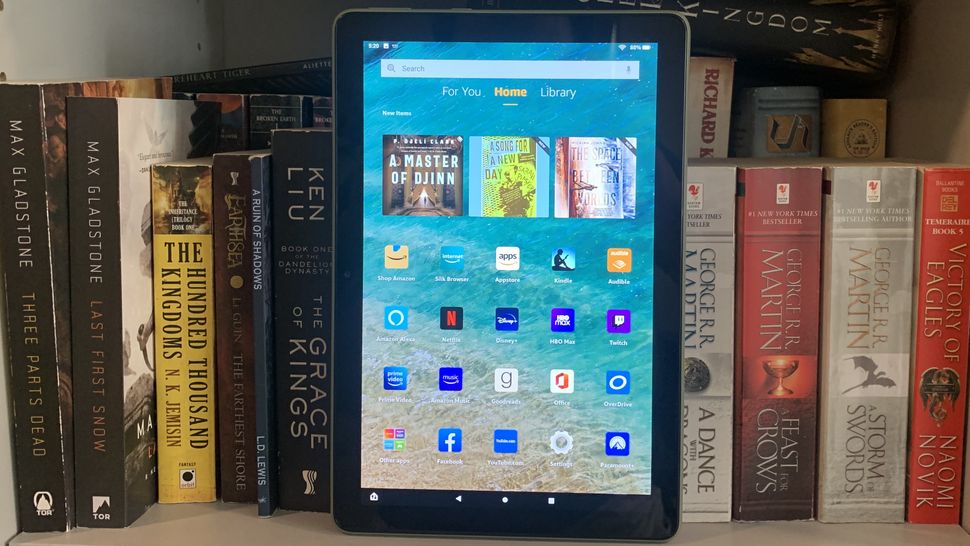 The Amazon Fire HD 10 (2021) isn't the speediest tablet, but at a low price it creeps onto our best Android tablets list for good reason. For the price, you get a good quality and large screen with a 1920 x 1200 resolution, which we found was ideal for watching films or your favorite YouTube videos.
This is a slate you can use all day too, as our reviewer found that if anything the battery life is even better than Amazon's 12-hour estimate. In our tests we found the software was a bit limited and the processor a tad slow, meaning there are better options out there. However, if you're on a budget and don't mind making some compromises, you could do a lot worse than the Fire HD 10.
Read our full Amazon Fire HD 10 (2021) review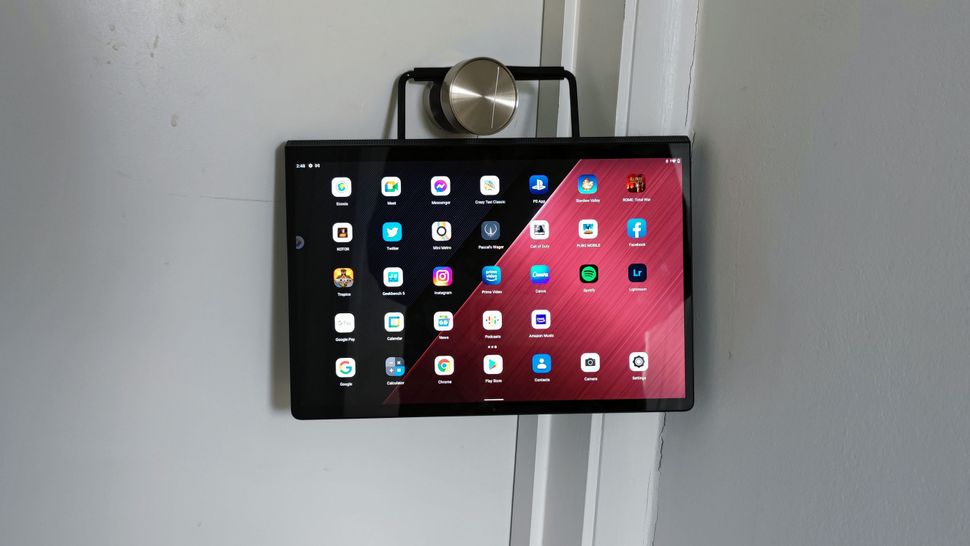 The Lenovo Yoga Tab 13 is a bit different to most tablets, and that helps it stand out. While the slate works brilliantly as a conventional tablet, it also has a built-in stand, so you can prop it up without a case, and there's a micro HDMI port, so you can easily use it as a second screen for a laptop or other device - two features which we found very useful,.
The Lenovo Yoga Tab 13 also has an enormous speaker by tablet standards, making it great for anything involving audio. Beyond that, you get a big 13-inch 1350 x 2160 screen, a moderately powerful Snapdragon 870 chipset, and a respectable amount of storage.
What you don't get – in another unusual move – is a rear camera, but then tablets are never ideal for taking photos anyway, and we also found the design made it hard to use with a case. Still, if a kickstand or micro HDMI are important to you then this is the Android tablet to get.
Read our full Lenovo Yoga Tab 13 review
The Samsung Galaxy A8 is a cheap and cheerful option that exists for those who love Samsung's Android efforts but don't want to pony up for its more expensive tablets.
We found that the design and display of the Tab A8 stood out as gorgeous and vibrant, especially compared to other devices in its price range. Samsung's prowess shines in this regard.
Of course, it's an inexpensive device, so corners have to be cut somewhere. Sacrificed in this device are performance and charging speeds. With just 3GB or 4GB of RAM to keep this chugging along, this tablet won't replace your gaming phone or handle everything you can throw at it, but it will make a great Netflix machine or e-book reader.
Read our full Samsung Galaxy Tab A8 review.
The TCL Nxtpaper 10S stands out as a unique Android tablet that opts for a blue-light-reducing matte display. It's a useful change at a time when most of us are ruining our eyes and staring constantly into screens, and it's also a powerhouse to boot. It also comes with several reading modes that make using it for media consumption ideal. We found that it was good at handling multiple apps despite not being a flagship-class MediaTek processor, handling common tasks like video calls and mobile gaming with ease. A
Of course, there are trade-offs. That matte screen is constructed in such a way that it adds fuzziness where clarity would be desired, and as such detail may be lost when watching movies.
Read our full TCL Nxtpaper 10s review here.
Despite predominantly making phones, HMD Global has also debuted Nokia tablets as well. None of them will make the iPad lose any sleep, but they may save you some by putting some extra cash in your wallet. The Nokia T10 is one of them, and it's the best small tablet from Nokia you can find. It's priced inexpensively, supports a clean build of Android with no extraneous additions, and will last quite long on a single charge.
As far as performance and display quality goes, you very much get what you pay for here. Keep that in mind and you won't be disappointed.
Read our full Nokia T10 review here.
How to choose the best Android tablet for you
Size and price are the two biggest considerations when buying a tablet. Consider whether you want the biggest screen possible - which is great for media and productivity, or something smaller and therefore more portable.
Consider how much you want and need to spend too. If you don't need top-end power then you can usually save some money.
Beyond that, other things to pay attention to are the screen resolution (higher is better), and the battery life - obviously longer is better, but how important that is will depend on whether you mostly plan to use your tablet at home (where you can plug it in at any time) or when out and about (where you might have to rely heavily on the battery).
If you plan to use your tablet for work or creative endeavors then it's also worth seeing whether it supports a keyboard or stylus, and whether any such things are included.
Is mobile data important?
Some tablets come with the option of 5G or 4G, but getting a data plan adds to the cost, so consider how much you'd need data when away from Wi-Fi - and remember that you can always tether your smartphone to your tablet to share your phone's connection instead.
How we test
Every tablet included in this guide has been reviewed in full, so we've spent a lot of time with each of them working out what's good, what's bad, and how they compare.
We've made sure to fully test out their performance with apps and games, how good content looks on their screens, whether their interface is intuitive, how long the battery lasts, and how the cameras hold up, as well as assessing their design and build quality.
With that experience we've also considered how they're priced and whether there are newer models in the range, to come up with this ranking.