OnePlus Pad: one-minute review
The tablet world is just as complicated as the smartphone world, and it's hard to find the best tablet for your needs at the right price. With the OnePlus Pad, the upstart smartphone maker brings its product philosophy – great displays, fancy design, aggressive pricing – to a stagnant market in need of a shakeup.
If the 'Android vs Apple' choice doesn't matter to you, the OnePlus Pad is a fantastic entertainment tablet and the perfect screen to carry around the house for whatever you need.
This isn't the most powerful tablet you can buy, so it won't be a good laptop replacement like an iPad Air. It's also too expensive to compete with the best cheap Amazon Fire tablets you throw at little kids in the backseat for long car rides.
Where the OnePlus Pad excels is showing you entertainment, browsing the web, and being your favorite screen for everyday tasks. The display is excellent and the speakers are loud and clear enough to entertain (bother) everyone around you. The design is solid and more stylish than other tablets at this price, and you can get it in any color you like, as long as it's green.
The OnePlus Pad is even better if you have a OnePlus phone, like the OnePlus 11, but that's not required. Even iPhone owners might pick the Pad for its larger display versus an iPad 10.9 (2022), especially with its standout looks. OnePlus has a winner with this tablet, and hopefully big rivals like Samsung will finally get the message about what's important in a tablet, and how much a great tablet should cost.
OnePlus Pad review: price and availability
Available May 8 for $479 / £449 (sorry, no Australia pricing yet)
One configuration with 8GB RAM / 128GB storage
Only available in Halo Green, complementing the OnePlus 11 and Buds Pro 2
OnePlus phones are reliably a bargain compared to the mightier flagship brands, and the OnePlus Pad is thankfully no exception. At $479 / £449, it's either a bit cheaper (by £50) or a bit more expensive (by $30) than the base model iPad 10.9, depending on where you live.
Samsung's base model Galaxy Tab S8 is inexplicably much more expensive, at $699.99 / £649 / AU$1,099 (yes, you read that correctly). The OnePlus Pad is priced closer to the cheap Galaxy Tab S7 FE, even though it outmatches the newer flagship Samsung tablet in some important and interesting ways.
There is a single OnePlus Pad configuration with 128GB of storage and 8GB of RAM. You can find more than a dozen iPad variations and myriad Samsung Galaxy Tab families, but OnePlus is keeping things simple with its first tablet, just as it did with its recent flagship phone (read my OnePlus 11 review for more on that). There won't be a Plus or a Pro model, and you can't get more storage or more RAM.
Maybe that's limiting, but I never felt limited in my time with the OnePlus Pad. I loaded my favorite games and downloaded all of the high-resolution textures in the background and didn't feel stifled by it. I downloaded a full season of Picard and a bunch of Better Call Saul without worrying about storage. This is neither a productivity nor creativity powerhouse, so I won't be editing massive video files or storing tons of data on board anyway.
Frankly, OnePlus set a fantastic price for this tablet, and when I originally saw it, I was sure that the company would make the fatal mistake of overpricing this gorgeous beast. For $100 / £100 more I'd say it remains competitive, but at this launch price it jumps to the top of my list of the best Android tablets. I'd even recommend grabbing the pre-order deal for 50% off the OnePlus Buds Pro 2, if you're reading this in time. They're both good for such a great price.
OnePlus Pad review: specs
Swipe to scroll horizontally
| | |
| --- | --- |
| Starting price | $479 / £449 |
| Operating system | Oxygen OS w/ Android 13 |
| Chipset | MediaTek Dimensity 9000 |
| Memory (RAM) | 8GB (LPDDR5) |
| Storage | 128GB (UFS 3.1) non-expandable |
| Display | 11.61-inch 7:5 (2800 x 2000) IPS LCD |
| Weight | 552g |
| Battery | 9,510mAh |
| Charging | 67W SUPERVOOC |
| Cameras | 13MP main, 8MP front |
With OnePlus, you always get a device that is impressive in some ways, but compromises to cut costs. I didn't notice the cuts on the OnePlus Pad in the way I've noticed on previous OnePlus phones.
Most tablet tasks don't require super-powered processors. You also won't mind if your tablet can't shoot photos like the best camera phones. The OnePlus Pad makes the right spec compromises, however, I did find performance lagging for my most intensive tasks.
Where the OnePlus Pad punches above its weight class is in the display department. The 11.61-inch IPS LCD screen is bigger and yet more sharp than every rival in its price range. The iPad 10.9 and the Samsung Galaxy Tab S8 are far outmatched. This display is closer in quality to the latest 11-inch iPad Pro, which costs $799/£899/AU$1,399 – almost twice as much as the OnePlus Pad.
OnePlus fans are undoubtedly nodding along, because you know what makes OnePlus great. You get a few flagship-killing specs at a bargain price. It's no surprise the OnePlus Pad also has a larger battery than rivals, with much faster charging at 67W, compared to whatever piddling charge speeds Samsung and Apple settle upon (45W and 30W respectively).
The sacrifice comes first in the chipset. The OnePlus uses late-2021's MediaTek Dimensity 9000, even though the Dimensity 9200 has been announced. Samsung's Galaxy Tab S8 family uses the Qualcomm Snapdragon 8 Gen 1 chipset found in its 2022 flagship Galaxy S22 phones. Likewise, Apple uses premium Bionic chips from the iPhone line in its base model iPad, and M1 desktop-class chips from the latest Macs in the iPad Air and better.
This means that – unlike expensive competitors – the OnePlus Pad won't be a great laptop replacement. It doesn't run as fast as the best OnePlus phones either. I compared editing photos using Adobe Lightroom on my Microsoft Surface Laptop Go 2 (a very slow machine) and my OnePlus Pad, and on the Pad I experienced grave delays and stutters that made work impractical.
All around, performance is not inspiring. You can play your favorite Android games, but you won't see the highest resolution graphics running smoothly, which is a shame on such a dazzling display. Thankfully, movies from my favorite streaming services looked near-perfect. Unlike Samsung, OnePlus supports the Dolby Vision HDR standard that Netflix prefers, so even inky black sci-fi space content looked wonderful (yes, even on an LCD).
OnePlus Pad review: display
Big and beautiful 11.61-inch IPS LCD
Higher pixel density (therefore sharper) than any iPad or Galaxy Tab
Up to 144Hz refresh rate on certain apps and functions
In planning its first tablet, OnePlus wisely started with the best possible display for the price, and built around it. The OnePlus Pad screen is dazzling. It packs more pixel per inch than even the best iPads; including the iPad Pro. Only E Ink devices like a Kindle Scribe offer greater sharpness.
I might pine for OLED technology – with its near-infinite contrast and saturated colors – but a great IPS LCD panel like the OnePlus Pad is close. You can find OLED on the Samsung Galaxy Tab S8 Plus and better, but Apple sticks with the same IPS tech for its iPad Air, and the iPad Pro 12.9 (2022) uses very high-end mini-LED tech. The OnePlus Pad looks just as bright as the iPad Air, even in direct sunlight.
OnePlus says the Pad screen can refresh at variable rates up to 144Hz, but it isn't clear where this benefit occurs. Fine print says there is a whitelist for apps that can use the fastest speeds, presumably including the Oxygen OS user interface, since it looks silky smooth on this screen. We've reached out to OnePlus for more specifics.
There were times the frame rate seemed to stutter – mostly while gaming – but this was likely a performance issue and not a refresh rate problem. If you want to save power, you can dial down the refresh rate to only a fixed 60Hz, among numerous other settings. There are plenty of options to enhance video or keep your eyes more comfortable at night too.
OnePlus Pad review: design
Unique look with centered camera and brushed metal finish
Only Halo Green, which kind of matches the OnePlus 11
Looks nice, but some odd edges make it less comfortable
OnePlus isn't just launching a tablet, it's completing an ecosystem of products, and visually, the OnePlus Pad closely resembles the other major OnePlus products from the past year: the OnePlus 11 and the OnePlus Buds Pro 2. That is, if you bought those products in 'Eternal Green' (the phone) or 'Arbor Green' (the buds). Both of those devices came in black too, but OnePlus is totally committed to green with the OnePlus Pad.
This shouldn't come as a surprise to anyone who follows the phone market, as this natural-ish green hue has shown up across brands and product lines. It's very hot right now, at least in some regions. No blue for OnePlus, and definitely no purple. Just green – be it Eternal, Arbor, and Halo.
The OnePlus Pad admittedly looks odd and feels odd. The aesthetics I like, the texture and ergonomics, not so much. The green is very pretty and unique among tablets, though it doesn't quite match across product categories. The OnePlus 11 is glossy (or lightly textured) glass and slippery, while the OnePlus Pad is metal brushed in a circular pattern that radiates around the camera.
That black camera circle is a contentious bit of design, hanging in the upper middle of the tablet if you're holding it in a landscape orientation. Again, if you've been following the phone market recently, you'll already be used to huge circular cameras on the back of mobile devices.
OnePlus says having the camera centered helps you take photos and keeps your fingers away from the lens. Too bad it doesn't have Hasselblad's involvement, like the OnePlus 11 (and some of the company's previous phones); if we're taking tablet photography seriously.
OnePlus has been talking up its uniquely curved edges as a "cambered frame," with a 2.5D treatment – whatever that means. There is a nice curve, sure, but it isn't consistent around the device. To accommodate the optional keyboard cover and pogo pins, one entire edge is sunken and flat. It's a jarring experience to hold, considering the rest of the tablet is so smoothly uniform.
I did not find the OnePlus Pad any more or less comfortable than the competition. It feels like a large tablet. it has a very large battery inside – so it's heavier than comparable iPad and Galaxy Tab models, it isn't slippery, but the slim bezel and premium materials make this less comfortable to wield, not more so.
OnePlus Pad review: software
OnePlus phone connectivity features not available at launch
Multi-window and pop-ups work well
OxygenOS feels heavy-handed on a tablet
When OnePlus told us it was launching a tablet – especially a tablet that looks like its latest flagship phone – I was curious how the two would work together. Unfortunately, I'm still curious, as OnePlus has made many promises about the synchronicity between the devices, but the features aren't here yet (at the time of review).
Those features will include a special data connection that lets the OnePlus Pad use your cellular network through your phone, without worrying over a WiFi hotspot. Apple has this feature on its iPad devices and it works automatically, so hopefully OnePlus will pull off a similarly smooth experience.
The sync should go even deeper than sharing data. OnePlus says the tablet will get photos from your phone as soon as you take them, again similar to Apple's iCloud and Samsung's synchronized Gallery. Of course, Google Photos does the same job, and without being able to test this feature, I can't tell you if OnePlus is doing anything special.
You'll even be able to share your clipboard, so if you cut and paste text on your phone, it should show up in your Pad's keyboard, but this functionality was also unavailable during testing. It could be cool, and especially rewarding for OnePlus owners. While Apple builds an entire ecosystem of integration between its devices, Samsung and other Android makers have been less aggressive offering benefits for sticking with the same brand family.
We've got OnePlus phones on hand to try the new features as soon as they arrive in an over-the-air update, though.
There are some standard multi-window features, including the ability to swipe down with two fingers and split whatever you're looking at. You can even reduce an app further to a pop-up window version that still functions normally.
These side-by-side features worked fine when I used them. Samsung does a better job handling the window resizing swipes and gestures, but then again, Samsung practically invented multi-window features on mobile devices.
While I usually like the OxygenOS that OnePlus uses, I found it a bit heavy-handed for a tablet. On a phone, I like to customize every millimeter of the experience; it makes the phone feel more personal. On a tablet, these features just feel like clutter.
A tablet needs to get out of the way of its own big screen. I don't want to bother with any OS on my tablet, I just want to stream my shows, browse the web, and play a few rounds of Marvel Snap. Those home screen transitions and assistive ball pop-up features are great on a smaller, one-handed phone, but on a tablet, they feel silly and besides the point.
OnePlus Pad review: performance
The MediaTek Dimensity 9000 was a great fast-follower last year
Chipset can't keep up with fast display refresh rate
Unclear how data connection features will perform
Even though the OnePlus Pad looks and feels like a flagship tablet, it is priced to compete with Apple's base model iPad and Samsung's cheaper so-called 'Fan Edition' Tab S7. Therefore, I can forgive that performance that didn't match that provided by the Snapdragon 8 Gen 2 chipset on my OnePlus smartphone. I'm still underwhelmed, though.
OnePlus sent me a review sample with a matching keyboard cover and the OnePlus Stylo – an expensive, proprietary stylus that hangs precariously off the side of the tablet and needs to be charged periodically. This to me screams 'laptop replacement', especially now that we've added nearly $250 / £250 to the bill as a result.
I tried to handle some more advanced photo editing chores, but the OnePlus Pad couldn't keep up. I needed to tap and swipe the effects sliders in Lightroom multiple times before the app caught my actions. Typing into Google Docs was much better, and the keyboard is a quality accessory worth considering; especially if you like the matching color.
The Stylo for me is a harder sell. It is attached with magnets, which I absolutely hate. I'm cynical, but I think this magnetic attachment reeks of a scheme to sell you a replacement pen after you lose it. The latency and feel were fine, but I use pens for productivity and journaling, not for drawing. For those tasks it worked well, but as an interface tool, there was sometimes a bit of lag.
The OnePlus Pad uses WiFi 6, but not the newer Wi-Fi 6E flavor that limits outside traffic interference. There is no cellular option, so you need to use WiFi or tether to a phone ti stay connected. If you have an Android phone, Google makes this easy, provided you are signed in to all of your devices with the same account. Just search for the Nearby Share feature in Settings.
OnePlus says that the OnePlus Pad will have some special connection to its newer phones, enabling a data connection through the cellular network if the phone is within five meters of the tablet. Presumably, this will work like Apple's automated data tethering between its iPhone, Macbook and iPad products. We'll know once the update hits that enables the feature.
OnePlus Pad review: battery
Excellent battery life watching video and browsing
Faster charging than any tablet we've used
Huge 9,510mAh battery inside
For no good reason, fast charging capabilities have been ignored by tablet makers until now. With 67W charging, the OnePlus Pad can top off the battery in around 80 minutes. Considering this battery is nearly twice the size of your average smartphone battery, that's pretty impressive. It takes almost twice as long to charge any iPad, except the smallest iPad mini.
Of course, you mostly use a tablet around the house, where you have plenty of power outlets available and surfaces to rest a charging tablet, so fast charging isn't very important. Where is does make a difference is when you're packing for a trip and realize you forgot to charge said tablet. In the time it takes to pack up gear and eat breakfast, you can have entertainment charged and ready for the road.
I had no trouble getting the OnePlus Pad to last through extensive use for a full day of travel. Watching hours of shows, playing tons of online games using an airplane's spotty WiFi connection; then relying on the tablet to read news and find a spot for dinner. OnePlus estimates more than 12 hours of video playback and that estimate is in line with my testing.
OnePlus includes a charger in the box, and it follows the company's absurd pattern of reverting to USB-A wall warts. You need to use the adapter with the included red OnePlus cable to accommodate the faster charging speeds. I complained about this when the OnePlus 11 launched, and the company said its buyers don't have enough USB-C devices and chargers on hand to make the switch.
Should you buy the OnePlus Pad?
Swipe to scroll horizontally
OnePlus Pad report card

| Attributes | Notes | Rating |
| --- | --- | --- |
| Value | A better value than competing iPads and Samsungs, with more screen and battery, though you can find cheaper | 5 / 5 |
| Display | Sharper than any competitor. OLED would be nice, but it's rare at this low price | 4 / 5 |
| Design | Halo green color and radial brushed metal finish are cool, but the design is a bit unusual, and it isn't as comfortable to hold | 3 / 5 |
| Software | Handles tablet tasks very well, but some key benefits for OnePlus owners are still missing | 3 / 5 |
| Performance | Not a laptop replacement, but great for entertainment. If you want real productivity and gaming, spend more | 3 / 5 |
| Battery | Excellent battery life from one of the largest tablet batteries you can find. Fast charging is a nice bonus | 5 / 5 |
Buy it if…
You have a recent OnePlus phone (or might buy one)
Tablets are best when they work with your phone, and even though Android tablets and phones play nicely through Google, OnePlus is promising some special synchronicity features here.
You want a bigger screen at a good price
For the same price, the OnePlus gives you a bigger, brighter and sharper display than the base model iPad 10.9, and not even the iPad Pro matches the OnePlus Pad's pixel density for crispness.
You love, I mean LOVE, green things
It's rare for a device maker to go all matchy-matchy on products that aren't black. While the Halo, Arbor, and Eternal Green shades don't match perfectly, they look good together; so rock that green phone, tablet, and earbuds in style.
Don't buy it if…
You have an iPhone and want them to work together
If you have an iPhone, you can synchronize through Google, but you'll miss out on the data sharing features and other sync options that make it worth staying in the family. It's still a nice tablet, you'll just be missing out on what you could have with an iPad.
You are considering a tablet to replace your laptop
If your job relies on a few open tabs in the web browser and watching a lot of videos, the OnePlus can handle your needs. If you need to be seriously productive, think about an iPad Air with a desktop-class Apple M1 processor inside, or a Galaxy Tab S8 Ultra.
Samsung is paying you to buy a Galaxy Tab
Samsung loves deals, especially trade-ins. While the Galaxy Tab S8 is still exorbitantly priced, you can keep an eye out for deals that will drop that price much closer to the OnePlus Pad. Samsung also offers cellular models, so carriers will have deals too.
Also consider
Not convinced by the OnePlus Pad? Here are a few other options to consider:
Swipe to scroll horizontally
| Header Cell - Column 0 | OnePlus Pad | Apple iPad 10.9 (2022) | Samsung Galaxy Tab S8 | Lenovo Tab P11 Pro Gen 2 |
| --- | --- | --- | --- | --- |
| Price | $479 / £449 / AU $??? | $449 / £499 / AU$749 | Starting at $699.99 / £649 / AU$1,099 | $399.99 / £350 |
| Base storage | 128GB | 64GB | 128GB | 128GB |
| Screen size | 11.61-inch IPS LCD | 10.9-inch TFT LCD | 11-inch TFT LCD | 11.2-inch OLED |
| Chipset | MediaTek Dimensity 9000 | Apple A14 Bionic | Qualcomm Snapdragon 8 Gen 2 | MediaTek Kompanio 1300T |
| Battery | 9,510 mAh | 28.6 Wh | 8,000mAh | 8,200 mAh |
| Charging | 67W | 30W | 45W | 20W |
| Cameras | 13MP main, 8MP front | 12MP main, 12MP front | 13MP main, 6MP ultra wide, 12MP front | 13MP main, 8MP front |
| OS | OxygenOS w/ Android 13 | iPad OS 16 | One UI with Android 13 | Android 12 |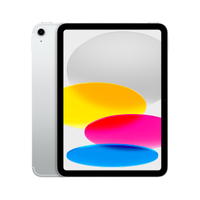 Apple iPad (2022)
The OnePlus Pad is a fine tablet, but a lot of what makes it great for OnePlus owners is also what makes the iPad great for iPhone owners. If you have Apple's phone, buy Apple's tablet, you'll be happier.
Read our full Apple iPad (2022) review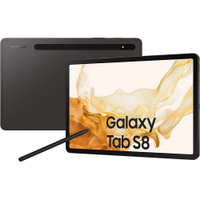 Samsung Galaxy Tab S8
While the OnePlus Pad cuts corners with the processor, Samsung's flagship tablet had the best Qualcomm Snapdragon around when it launched in early 2022, and it's still plenty powerful. You can also get it with more RAM and storage.
Read our hands-on Galaxy Tab S8 review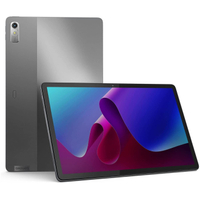 Lenovo Tab P11 Pro Gen 2
The Lenovo P11 Pro Gen 2 has even less processing power than the OnePlus Pad, but Lenovo is using a gorgeous OLED display with a high resolution and a fast 120Hz refresh rate. Plus, it costs less than the OnePlus Pad, though it feels much less premium.
Read our hands-on Lenovo P11 Pro Gen 2 review
How I tested the OnePlus Pad
OnePlus loaned me the OnePlus Pad more than a month before this review was published, along with the OnePlus Magnetic Keyboard and the OnePlus Stylo. I have been using the tablet extensively since then, mostly at home as my personal tablet, but also as a professional device and on the road, as a traveling entertainment center.
I have been watching movies, playing games, and web browsing extensively on the OnePlus Pad, using every streaming service you've heard of and playing mostly Call of Duty Mobile and Marvel Snap. For gaming, I use touch controls as well as an Xbox wireless controller connected via Bluetooth.
For professional work, I typed much of this review and edited all of these review photos using Adobe Lightroom and Google Docs on the OnePlus Pad, and I reported my experience above. I also used Slack, Airtable, and a number of communication apps.
For battery testing, I spent at least two days of the review using the tablet almost nonstop until it died, then charged it again to check the fast charging times. Otherwise, I kept notes of what I'd done with the tablet and the battery percentage at the end of each day.
I tested the tablet with benchmarking software TechRadar's mobile team relies on for internal note keeping and reference, but I typically prefer to report performance only in terms of real world use cases and responsiveness.
First reviewed April 2023