EDITOR'S NOTE: October 2022
With back to school season finally here, shoppers everywhere are on the lookout for the best Chromebook deals for themselves or the students in their life. We've seen a lot of great devices come out this year, and with IFA 2022 winding down, we've seen a couple of great Chromebooks get announced. Those might not be available for the start of this school year, but it's never too soon to keep an eye out for some great devices for next term.
- John Loeffler, Computing Editor
If you're in the market for the best Chromebook, you have a huge array of devices to choose from. From slick and stylish high-end Chromebooks like the Google Pixelbook Go to more budget Chrome-powered laptops that just do what you need them to without any frills, there's a Chromebook out there for everyone.
Or just about everyone, at least. Chromebooks regularly make it onto our best laptop and best 2-in-1 laptop lists, but they aren't always the best device for all users, especially those who need more power or more functionality than a Chromebook can provide - or simply prefer using Windows or macOS.
Chromebooks use the Chrome OS operating system, which relies heavily on cloud computing instead of local device installations. This really helps keep the demands on the system's hardware lower than other operating systems like Windows 11 or macOS, which lets Chrome OS run brilliantly on lower-end hardware. This helps keep the cost of Chromebooks down and makes them some of the most affordable laptops around - although premium Chromebooks are definitely a thing now too!
Since nearly every major laptop manufacturer makes several different Chromebooks at this point, it can be hard to tell which one is right for you. Fortunately, we've tested dozens of Chromebooks so we're just the experts to help you find the best Chromebook to suit your needs and budget.
Best Chromebooks 2022 - Chosen by our experts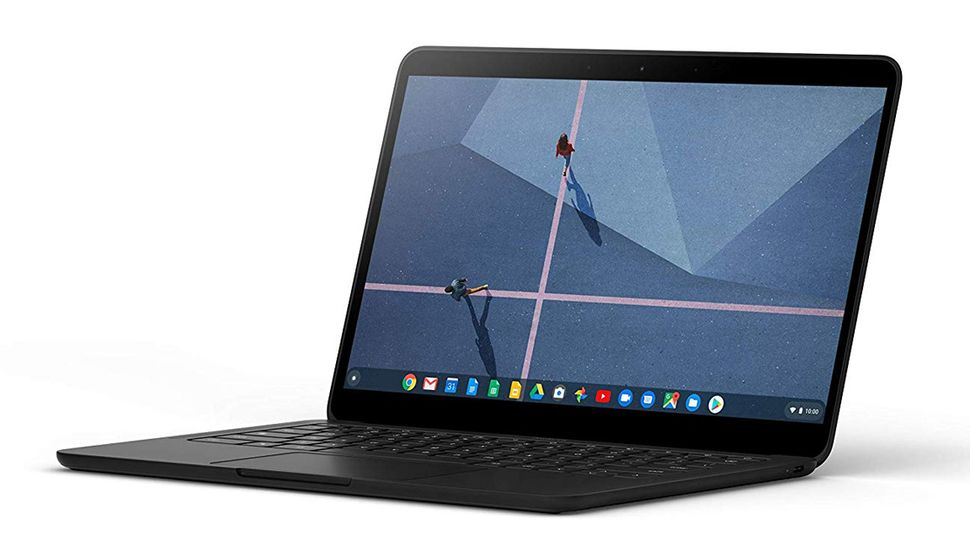 Since Google designed the Chrome operating system itself, it should be no surprise to anyone that the search engine giant makes the definitive best Chromebook on the market. The original Pixelbook previously held the top spot on our list, but the newer Pixelbook Go is even better, proving without a doubt that Chromebooks can hold their own against mainstream Windows laptops and MacBooks without sacrificing style or value.
The Pixelbook Go's standout feature is its incredible battery life, which comfortably outlasts many competing traditional laptops. This means you can go a full day at work or school without ever needing to shackle yourself to a wall outlet to charge your device. It also holds charge admirably, meaning you can close the lid and leave it in your bag for a few days, then come back and pick up right where you left off without finding that the battery has died in your absence.
It also boasts an incredible 'Hush' keyboard that feels amazing to type on and doesn't clatter as some laptop keyboards do. The Pixelbook Go is so good, we've even taken to using it over more powerful Windows laptops when we need to get some work done on the go.
Read our full Google Pixelbook Go review
---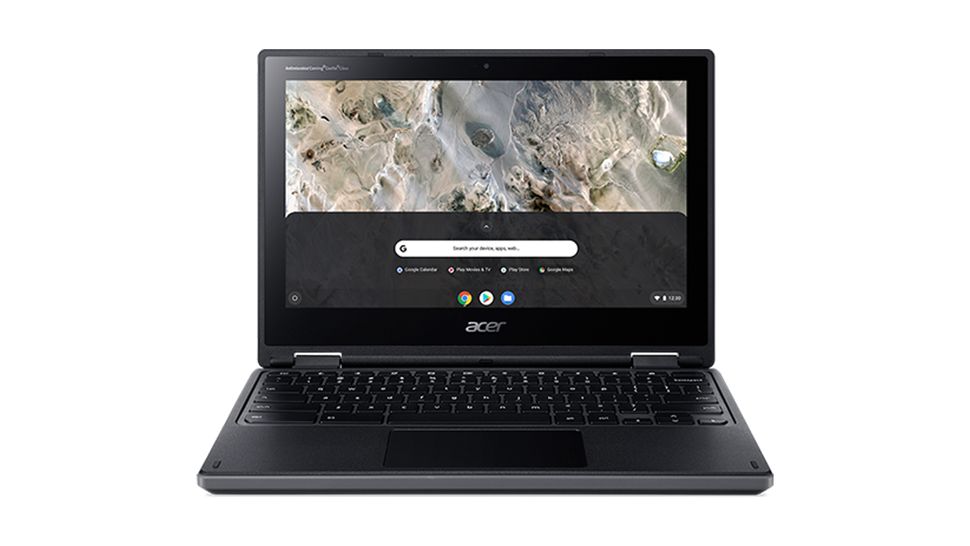 When it comes to budget laptops, it can be difficult to find one that will suit your needs since many are simply too underpowered to be worth the cost for most users. Acer's Chromebook Spin 311, though, punches above its weight with solid performance at a very reasonable price tag.
During our tests, it never experienced any stuttering or slowing down, despite having far too many Chrome tabs open while we were playing music on YouTube or Spotify at the same time. In fact, we'd go so far as to call it a consistent little workhorse of a Chromebook. Chrome OS is an incredibly well-optimized operating system, and the Spin 311 takes full advantage of this.
It's not just about performance, of course. The Spin 311 is very versatile for a cheap Chromebook, offering decent battery life, a 360-degree hinge for swapping into tablet mode, and a durable touchscreen that should hold up to use by a younger owner. Just bear in mind that since this is a budget option, it does come with a modest list of compromises, including its chunky screen bezel and relatively low display brightness.
Read our full Acer Chromebook Spin 311 review
---
The HP Elite Dragonfly Chromebook is definitely not for everyone, at least not the high-end configurations anyway. While this is the most premium Chromebook we've ever laid our hands on, it does have more affordable entry configurations that make this a more compelling student Chromebook rather than just one for the bosses and organization fleets.
It's by far the most powerful Chromebook we've ever tested, and the entry-level 12th-gen Core i3 configuration packs some seriously solid specs that would make a lot of other Windows and Mac laptops blush.
Featuring some of the best security features we've ever seen on a Chromebook, including the first Chromebook to ever come powered by Intel vPro, this is the perfect lightweight and portable productivity Chromebook, though be prepared to spend a whole lot of money for the privilege.
Read our full HP Elite Dragonfly Chromebook review
---
The Acer Chromebook Spin 713 takes everything Acer's more affordable Chromebooks can offer and kicks it up to 11, offering top-tier performance with the same versatile Spin form factor and a 3:2 display ratio that is excellent for productivity, fitting more info on your screen without the need to scroll.
The Intel Core i5-1135G7 that powers this Chromebook is a solid option, ensuring that your browsing will be silky-smooth in Chrome OS. It also packs a satisfying keyboard, super-responsive trackpad, and a 2-in-1 design that lets you spin it around (hence the name) to convert it to a nice big tablet.
That said, the overall design is fairly simple for such a potentially beautiful device. The 713 lacks the included stylus found in some other Acer 2-in-1s, which might limit its potential for anyone looking to use it for digital art. Still, it's hard to beat the Acer Chromebook Spin 713 if you're looking for the best premium Chromebook on the market right now.
Read our full Acer Chromebook Spin 713 review
---
We're always learning, but some of us are learning more than others. Younger students are sure to benefit from the Lenovo IdeaPad Flex 3, which packs a rather rugged build quality that is well-suited for users who want to quickly stuff everything in their backpack or are likely to drop things on the floor. The keyboard base is solid and the hinge is very robust, enabling it to survive any amount of careless handling.
This isn't the most powerful Chromebook, but students need reliability more than power - especially if they're only really using it for homework, note-taking, and perhaps the occasional bit of Netflix. Fortunately, the IdeaPad Flex 3 has a seriously impressive battery life – our testing yielded a whopping 16-hour-and-20-minute result – which will allow them to make it through a whole day of school without needing to plug in. It's also very affordable, which should provide a nice bit of financial relief for parents who need to buy their kids a school laptop.
Read our full Lenovo IdeaPad Flex 3 Chromebook review
---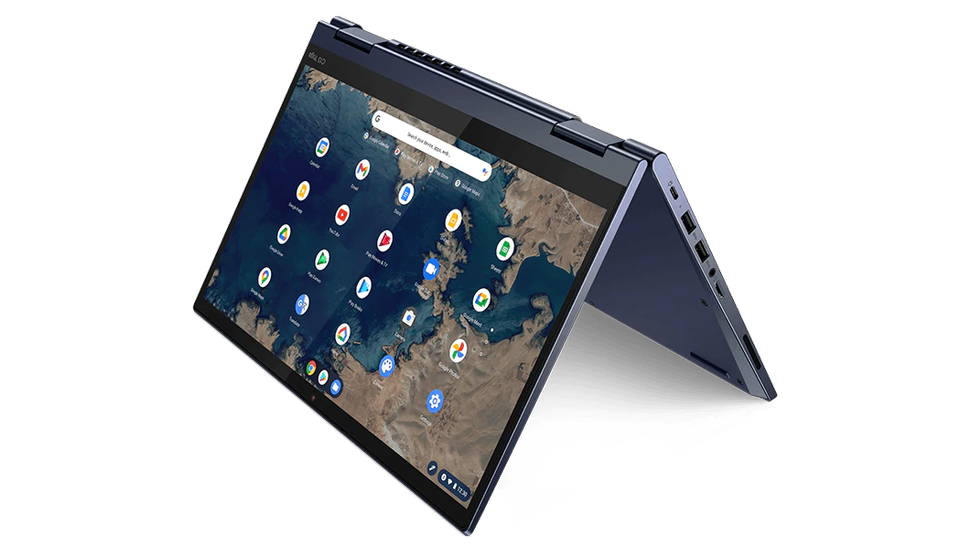 As soon as it was released, the Lenovo ThinkPad C13 Yoga Chromebook flew straight into our best Chromebooks list purely because it's one of the most powerful Chromebooks on the market. All that extra grunt from the top-spec model's AMD Ryzen 7 processor means that it's more expensive than a typical Chromebook, but it's a worthy investment if you want a future-proof work laptop.
A stunning touchscreen, garaged stylus, and hybrid tablet design means that this Chromebook has the flexibility needed for fast-moving professionals, and it also sits among the best laptops available right now when it comes to security features - a must-have inclusion for a business Chromebook.
The battery isn't the strongest we've seen on a Chromebook, though it can still last an 8-hour workday without any issues. If you don't want to spend too much, the lower-spec models using AMD's Athlon CPUs are more affordable without losing any of that premium design quality, too.
Read our full Lenovo ThinkPad C13 Yoga Chromebook review
---
A Chromebook with an OLED screen is a relatively novel idea, and the Lenovo IdeaPad Duet 5 Chromebook executes that idea to perfection, making a significant improvement to an already-impressive laptop. On top of that gorgeously colorful OLED display, it also packs a nifty detachable keyboard that has been enlarged from previous models.
There are a few things that a regular laptop user might find a bit of an adjustment here. During testing, we found that its keyboard and kickstand still feel a little flimsy - not to mention, not the most seamless to handle. Surprisingly, a stylus is still not included. However, that phenomenal battery life of up to 19 hours (our own battery life test gave a little over 16 hours) more than makes up for these shortcomings.
Wrapped up in an affordable package, you've got an absolute ace that we feel comfortable calling the best detachable tablet laptop on the market right now, with the best battery life to boot.
Read our full Lenovo IdeaPad Duet 5 Chromebook review
---
If you want a fancy laptop but don't want to spend too much cash, the Asus Chromebook Flip C536 looks and feels high-end without costing the world. This mid-range Chromebook offers fantastic value for money thanks to its solid spec sheet and luxurious design, with a 15-inch screen that brings plenty of display real estate for work and play.
Performance-wise, the Intel processor that powers this laptop is unsurprisingly impressive, with specs that match a budget Windows laptop. On the hardware-light Chrome OS, those internal components are able to perform even better, scoring highly on our benchmark tests and making it a good choice for tasks such as spreadsheet work and photo editing.
With these slightly more powerful specs, it's also unsurprising that the battery life suffers a little. Still, it gave us a decent seven-hour-and-44-minute result during our movie test, which isn't to be sniffed at.
Read our full Acer Chromebook Flip C356 review
---
Sometimes you need a device that can pull double duty as a compact laptop and a tablet, and the HP Chromebook x2 11 is a great choice for this. Unlike many hybrid Chromebooks, this 11-inch unit is actually a very manageable size, closer to an iPad or Amazon Fire tablet than a beefy laptop. It's ideal for getting work done with the keyboard cover attached, then converting to tablet mode for some relaxing streaming.
Despite its small size and tablet design, this is just as capable as the rest of the mid-range options on this list. It's powered by the Qualcomm Snapdragon 7c chip, which is comfortably powerful enough to handle whatever you throw at it on Chrome OS. We ran 20 Chrome tabs on the x2 11, five of which were streaming content from various services, and we didn't experience any noticeable slowdown.
It's the 1440p display that really sets it apart from the rest, though. That 2160x1440 native resolution means that despite the smaller 11-inch form factor, the fidelity of this display is top-notch, and all your favorite Play Store games will look great.
Read our full HP Chromebook x2 11 review
---
The Acer Chromebook 314 might not be the most powerful laptop on the block, but it's one of the best-value Chromebooks out there considering its performance, size, and cost. This is a more conventional laptop offering for the user who doesn't want fancy bells and whistles; there's no 360-degree hinge here, nor a touchscreen or external display ports.
No matter though; for a budget Chromebook, the 314 has an excellent display that almost matches higher-end models for brightness and clarity. The battery life is great for all-day use too, lasting over 13 hours in our battery life test.
Performance-wise, the Acer Chromebook 314 can handle all your online work needs, from browsing the web to running Google Docs and Sheets. We threw a wide range of everyday workloads at it, and it didn't run into any problems. Finally, its traditional laptop form factor makes it an easy, user-friendly entry into the world of Chromebooks for Windows refugees.
Read our full Acer Chromebook 314 review
---
How to choose the best Chromebook for you
When it comes to choosing the best Chromebook, price is most people's first consideration. That's because a lot of these laptop alternatives end up in the hands of more casual users who don't need a whole lot from their PC. In such a case, a cheaper yet still capable option is the better value – one of the best cheap Chromebooks, perhaps.
Of course, if you have more demanding needs, there are pricier options as well, and they will come with higher-end specs like more RAM, better processors like Intel Core CPUs, and perhaps more storage space. So, if you want to save more files, do some light photo editing, or play some games, you'll want to splurge a little for better specs.
It's not just the reasonable price tag that most Chromebooks have that make them top contenders, especially as laptops for kids and as student notebooks. You have to consider its design. Most boast impressively long battery lives while some are built to withstand abuse better than others – any gear you put into a kid's hands needs to be able to absorb some bumps, after all. Others come with that 2-in-1 form factor and touchscreen capability that makes them so versatile.
Just like with the laptops, size is a crucial factor as well. You might want a larger display for more screen real estate or you might want something smaller for easier portability. Since most of these portables fall somewhere between 10 to 15 inches in terms of screen size, they're all going to be easier to lug around than the competition.
How we test Chromebooks
Testing Chromebooks isn't too different from testing laptops and gaming laptops, though perhaps the paces are a little less intensive or game-heavy.
Since Chromebooks rely heavily on the Chrome browser, we push that browsing prowess to its limits, opening 20 or more browser tabs on different types of websites, from productivity ones like Google docs to streaming sites like Netflix and Hulu. For good measure, we try to play media on those streaming services simultaneously. Because Chromebooks are now much more capable of running apps, we also open and use several apps at the same time.
Of course, we also run synthetic benchmarks like Kraken JavaScript, Octane 2.0 JavaScript, and Jetstream 2 as well as the TechRadar movie test to measure its battery life.
Because a Chromebook is only as good as its peripherals, we take a look at its display, keyboard, availability of ports, and how good its overall design is. We also test its webcam and touchscreen capabilities, if they're on hand.
We then take everything we've learned about the Chromebook and compare it to its price – whether or not it's performance and features are worth that price tag, and whether or not it offers the best value to customers.
What is a Chromebook?
But, what is a Chromebook exactly, and how is it different from other notebooks? A Chromebook is a device that runs the more lightweight Chrome OS. This Linux-based operating system relies heavily on Google's Chrome browser and connectivity to the Internet for most of its tasks, which means that it requires less power and storage space when performing those tasks.
It isn't as robust or comprehensive as Windows 10/11 or macOS. However, it's just as capable of seeing its users through their daily multi-tasking needs, no matter if it's to do productivity work all day while streaming shows and movies, getting through a bunch of school assignments, or even some photo editing and gaming.
More recently, it's even expanded to run Android and Linux apps without internet connectivity, which means that its users are no longer limited to the Chrome browser. Finally, the lightweight nature of the operating system also lets the best Chromebooks beat out traditional laptops in some key areas, like portability and battery life.
Which is better, a Chromebook or a laptop?
Knowing which is better, a Chromebook or a laptop with a more traditional OS like Windows of macOS, really comes down to your needs and how you intend to use your laptop.
If you do almost all of your work online using web apps like Google Docs, SalesForce, GeForce Now, or other similar products, then a Chromebook is just as good at handling that kind of work as a more traditional laptop, since all of the actual application processing takes place in the cloud, which then displays the contents in a browser.
If you have a fast enough internet connection, you're not going to tell the difference between a Chromebook and a fully-featured Windows laptop or a MacBook.
If you plan on using locally installed apps like Microsoft Office, Adobe Photoshop, or Steam, then you're going to find Chromebooks simply can't do that. The Android apps available through the Google Play marketplace are great, but they aren't as fully featured as similar desktop software. In most cases, Chrome OS simply can't run most of the installable software you'd find on a Windows laptop or a MacBook, so a Chromebook would be a bad choice for anyone hoping to use major flagship software offline.
How is a Chromebook different from a laptop?
A Chromebook is different from a laptop in a few key ways, but it's important to note that Chromebooks are laptops, they just function differently. What you're using a laptop for will ultimately determine whether or not you should invest in a Chromebook or something more powerful with better processors and graphics cards.
Chromebooks run on Chrome OS, which is a web-based operating system very similar to Google Chrome, so if you're familiar with Google Chrome, a Chromebook might be a good option for you. Traditional laptops typically run the Windows operating system, and Macbooks run macOS, and will usually be full of RAM to make sure the laptop runs without lag or performance issues - something Chromebooks don't have to worry about.
If you're going to university, you may want to consider getting the best Chromebook as a student laptop because it's lightweight - plus the cloud storage means you won't have files clogging up your computer. However, if you're planning on studying something like graphic design you'll want to invest in something more powerful than a Chromebook that can handle design software.
A slight drawback to Chromebooks is that they don't have the same programs available as other laptops, so for example you can't get the full Microsoft Office suite, but you can open, edit, and convert files to and from Microsoft Office with Google Drive apps, or use Microsoft's own Office web apps. Skype will work on a Chromebook because it's available as an app on the Google Play Store, but iTunes will not work.
If you tend to want to play PC games on your laptop or do more energy-consuming tasks like photo and video editing, you may want to look into other laptop options like gaming laptops. But, if you're in the market for the best Chromebook to help you accomplish daily tasks or business-related tasks, check out our list on this page.
Today's best Chromebook deals
Find the best Chromebook deals no matter where you are in the world, thanks to our handy price comparison tool.