The best HP laptops 2023: top HP laptops we've seen and tested
Best
Contributions from
last updated
These are the best HP laptops you can buy right now
VERDICT
REASONS TO BUY
REASONS TO AVOID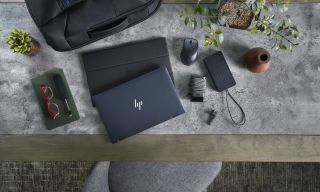 (Image credit: HP)
Editor's note: November 2023
Heading into summer, we've replaced some older favorites such as the HP Elite Dragonfly G2 and the HP ZBook Studio G7 with newer models such as the HP Envy 13 x360, one of the best ultrabooks available right now. We also added a new contender from HP for the best Chromebooks in the HP Dragonfly Pro Chromebook. The year is far from over, however, so keep tabs here, especially if you're hoping for an RTX 4000-series-equipped gaming laptop!
Michelle Rae Uy, Reviews and Buying Guides Editor, Computing
The best HP laptops combine form and function to get you through your work or play. Whether you're looking for a svelte Ultrabook, a monster of a gaming laptop, or even a competent Chromebook, HP has more than one product to fit your needs. Since the company has such a vast array of machines to choose from, only rivaled by other large competitors like Dell, It can be difficult figuring out what to pick. To help in that regard, we've collected what we believe to be the best of its offerings.
Some of our choices rank among the best laptops overall, proving that HP is more than just one of the best printer brands. You'll find reasonably priced options ideal to use as the best student laptops as well as the kind of powerhouses that are great for creative professionals looking for the best mobile workstations.
No matter what you're looking for, however, rest assured that everything on this list has been thoroughly tested and reviewed. We've pointed out what we love and what we don't with each model and what they're best for. We've also made sure to include options for every need, which is why we've limited ourselves to only one gaming laptop, though with HP's Omen and Victus series, the brand has more than one computer fit for the best gaming laptops guide.
In short, if you're looking for any type of new laptop and HP is your brand of choice, all you need to do is keep scrolling and you're sure to find a laptop to suit your needs. Whatever you go for, don't forget to check out all the HP promo codes available to save even more.
The best HP laptops 2023
The best HP laptop overall
Specifications
CPU:
12th-generation Intel Core i5-i7
Graphics:
Intel Iris Xe Graphics
Screen:
13.3-inch 2.8K (2880 x 1800) IPS BrightView OLED touchscreen
Storage:
1 TB PCIe NVMe M.2 SSD
Reasons to buy
+
Excellent battery life
+
Bright OLED screen
+
Generally solid performance
Reasons to avoid
-
No HDMI output
-
Touchpad can feel a little janky
There were only a few minor issues we had when we got our hands on the HP Envy x360 13 (2022) – there's no HDMI port and the trackpad has some issues with sensitivity. Outside of that though, this model is a near-perfect laptop.
It all starts with the fact that this is very reasonably priced compared to many of its competitors. The entry-level configuration comes in at around $900 / £800. Even the most expensive kitted-out entry, complete with that beautiful OLED display and 12th-gen Intel Core i7, rings in at an affordable price.
Since it's Evo-certified, the HP Envy 13 x260 is held to strict performance standards, and it shows. When tested, we were pleased with its performance in both laptop and tablet mode, finding it to perform on par with other, larger 2-in-1s. That's despite the fact that this is one of the smaller and more portable models we've used. We were even impressed with its battery life of over nine hours, especially considering that OLED screens require a little more power.
Read the full HP Envy 13 x360 (2022) review
The best HP laptop with an OLED display
Specifications
CPU:
12th-generation Intel Core i5 – i7
Graphics:
Intel Iris Xe Graphics
Screen:
13.5" 3K2K UHD (3000 x 2000) IPS BrightView micro-edge OLED multitouch
Reasons to buy
+
Gorgeous design
+
Incredible OLED display
+
Included stylus
+
Excellent battery life
Reasons to avoid
-
Touchpad could be better
-
Pricey
When we tested the HP Spectre x360 (2022), we were impressed. Previous iterations of this laptop line were always strong entries among HP's range of devices, but this one adds a powerful 12th-gen Intel Core processor and a stunning OLED display to the mix for a mostly wonderful computing experience.
While most laptops have an issue here and there, this one comes with one glaring one. And, that is its touchpad. We found it to be so overly sensitive that we defaulted to using either its admittedly wonderful touchscreen or an external mouse when possible. It doesn't help that this laptop, at least with the optional OLED display, can get pricey.
That said, the OLED screen with its sharp 3K2K resolution is worth it. And, so is the rest of the package including a satisfying keyboard, a solid selection of ports, and an included stylus. Its battery life of over eight hours is pretty good too, considering OLED displays usually require a little more energy. Just spend a little extra and get yourself a wireless mouse to go with it.
Read the full HP Spectre x360 (2022) review
The best small productivity machine from HP
Specifications
CPU:
Intel Core i7-1165G7
Graphics:
Max-Q Nvidia GeForce GTX 1650 Ti, Intel Iris Xe
Screen:
14-inch 1920 x 1200 (16:10 ratio) IPS micro-edge display with multi-touch
Storage:
1TB PCIe NVMe TLC SSD
Reasons to buy
+
Understated elegant design
+
Great thermal management
+
Lots of power
Reasons to avoid
-
Touchscreen slightly buggy
-
Expensive
Though the HP Envy 14-eb0000na is just a year or so away from ancient status, at least in the lifespan of a computer, it still belongs on this list thanks to its versatility. It's a sleek machine that's light enough to fit most people's Ultrabook needs while bringing enough power, courtesy of its discrete graphics, to handle creative work as well as some casual gaming.
In fact, when we put it through its paces, we found it to perform wonderfully. It was snappy and, more importantly, kept cool under duress. You're not going to be playing the latest and greatest AAA titles on this, but there's enough performance for most people.
If there's anything to fault here, it's the slightly buggy touch feature. Overall however, the 1200p 16:10 touch display is stellar and great to use. It also comes with a high price tag that might seem a bit out-sized for such an all-rounder as this. But, it is a premium machine that can keep up with most people's needs, whether that be power or portability.
Read the full HP Envy 14-eb0000na review
The best HP laptop for for creatives who game
Specifications
CPU:
up to 12th-gen Intel Core i7-12900H
Graphics:
up to Nvidia GeForce RTX 3060
Screen:
up to 16-inch 16:10 UHD+ (3,840 x 2,400) OLED touch display
Storage:
up to 2TB PCIe Gen4 SSD
Reasons to buy
+
Beautiful 4K OLED display
+
Solid content creation and gaming performance
+
Fantastic webcam
+
Great audio quality
Reasons to avoid
-
No fingerprint scanner
-
Battery life isn't the best
-
Can get a bit loud
-
Can run hot under load
The HP Envy 16 is a powerhouse that will appeal to a small subset of potential users. We found its battery life to be a bit short at under six and a half hours in our video test for the typical commuter. It's expensive too, if you go with one of the higher configurations and especially if you decide to spring for that OLED display. But, if you need a decent amount of screen real estate and enough power to get you through creative work with some gaming on the side, this might be the best option for you.
For instance, when we ran some graphically intensive projects in Photoshop and Premiere Pro, the HP Envy 16 had absolutely no trouble keeping up. Even playing a demanding game like Cyberpunk 2077 yielded surprising results, hitting just above 50 fps on Cyberpunk 2077 on Ultra settings. There's more than raw power on hand, however. A 100% Adobe RGB color coverage means that any creative work will come out accurately. And, a 5MP IR webcam will have you looking sharp in any video calls you have to take.
This is not going to be a portable little Ultrabook with surprising performance like the HP Envy 13 x360 (2022). Instead, this is the kind of laptop that makes for an excellent desktop replacement.
Read the full HP Envy 16 review
The best HP Chromebook
Specifications
CPU:
Up to Intel Core i7-1265U w/ vPro
Graphics:
Intel Iris Xe Graphics
Screen:
14-inch, 16:10 LCD (2560 x 1600p), touchscreen, 1200 nits max
Reasons to buy
+
Gorgeous design
+
Powerful hardware
+
Incredible display
Reasons to avoid
-
Expensive
-
Not configurable
Despite its MacBook Pro / Dell XPS-level pricing, the HP Dragonfly Pro Chromebook is a wonder of a machine. So while it doesn't fit into the typical price range of what one would expect from a Chromebook, it is one of the best and most powerful versions of a ChromeOS-based laptop as we have found.
Its 12th-Gen Intel Core i5 and 16GB of RAM is certainly a lot for this type of computer. However, it obliterated just about every benchmark and test we threw at it. Add in a 1600p display with an astonishing 1200 nits of brightness, and it's no surprise that the Dragonfly Pro's price is far outside of the usual budget range that we expect with these kinds of products. Considering it comes with four USB-C Thunderbolt ports, all that power could be in service of running a USB-C monitor or two when you need more screen real estate.
Read the full HP Dragonfly Pro Chromebook review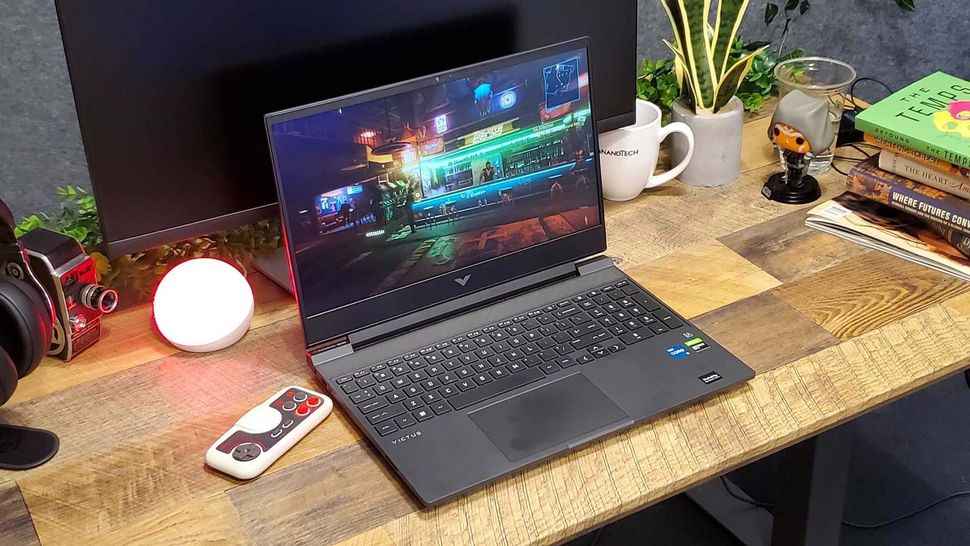 The best HP laptop for gaming
Specifications
CPU:
Up to Intel Core i7-12700H
Graphics:
Up to Nvidia RTX 3050 Ti
Screen:
15.6-inch FHD (1920 x 1080p), 144Hz, 9ms response
Storage:
Up to 1TB NVMe M.2 SSD
Reasons to buy
+
Excellent keyboard and trackpad
+
Chrome OS is responsive
+
Crisp, vivid screen
Something from HP's more robust Omen line might seem like the better choice when it comes to getting HP's best gaming laptop. In terms of pure power, that may be the case. However, the HP Victus 15 brings a value proposition that makes it a fantastic gaming solution for anyone trying to stretch their budget. Even its most powerful configuration sits at a very affordable price range..
Still, the specs are there for most gamers as it comes with up to a 12th-gen Intel Core i7, Nvidia RTX 3050 Ti GPU, 16GB RAM, and 1TB NVMe M.2 storage. In our testing, we were able to get some pretty good results from running Hitman 3 on its second-highest graphical settings to the tune of over 60 fps to getting through all these games and benchmarks without generating much in the way of heat – something that's always been an issue with gaming laptops.
Where the HP Victus 15 doesn't buck the gaming laptop trend is in its battery life. Its four and a half hours of use is understandable but underwhelming. More surprising however is that the display's speedy 144Hz refresh rate is hampered by a not-so-speedy 9ms response time, making this more ideal for single-player adventures and MOBAs than fast-paced esports games.
Read the full HP Victus 15 review
A good HP laptop for business
Specifications
Graphics:
AMD Radeon Graphics
Screen:
14-inch Full HD (1,920 x 1,200)
Reasons to buy
+
Excellent performance
+
Beautiful HD touchscreen with HDR
+
Solid sound and webcam quality
+
24/7 customer service is pretty convenient
Reasons to avoid
-
Overheating and battery issues in some units
-
Too pricey for its audience
-
24/7 customer service is a paid subscription after a year
The HP Dragonfly Pro seemingly has it all: speedy performance, great battery life, portable form factor, and even a keyboard button that has customer service on speed dial. As a collaboration between HP and AMD, it features the unique PMF or AMD platform management framework, which automatically adjusts performance based on usage to prolong battery life. In theory, this is a fantastic addition.
In practice, however, it's a mixed blessing. During use, it does a great job of conserving energy where necessary while giving us the performance we need for more intensive tasks. In fact, it's able to keep up with whatever we throw at it. However, when put to sleep and stored away in an enclosed space such as a laptop bag, it has a tendency to overheat. There are also reports of the battery not fully charging. Hopefully, these issues will be fixed with newer models or firmware updates. For the time being though, the HP Dragonfly Pro is a cautious recommendation.
Read the full HP Dragonfly Pro review
The best 15-inch HP laptop
Specifications
CPU:
AMD Ryzen 5 – 7 / 11th-generation Intel Core i5 – i7
Graphics:
AMD Radeon / Intel Iris Xe Graphics
Screen:
15.6" diagonal 4K UHD, UWVA, BrightView, AMOLED – 15.6" diagonal FHD, IPS, micro-edge, WLED-backlit
Storage:
up to 256 GB Intel SSD + 16 GB Intel Optane memory
Reasons to buy
+
Best-in-class performance
+
Exceptional battery life
+
Fantastic price
+
Great display
Reasons to avoid
-
Heavy
-
Tablet mode a bit unwieldy
-
No docked stylus
The HP Envy x360 15 (2021) is a bit of an ugly duckling among all of HP's 2-in-1 offerings. Not to say that it's actually a bad-looking laptop – it's perfectly normal if a little unassuming. However, at 15 inches, it's somewhat unwieldy to use in tablet mode and too heavy to really be considered all that portable.
To be very fair, if you want a bigger screen than all the various 13 and 14-inch laptops that make up the majority of the 2-in-1 offerings out there, HP or otherwise, this computer is a pretty remarkable option. In fact, when tested, it impressed us with not only its performance in terms of productivity and some casual gaming but also its lengthy battery life, which lasted over 13 hours in one of our benchmarks testing for battery life. The icing on the cake is a very accessible price tag that's only come down as this laptop has aged, even if it's done so gracefully.
Read the full HP Envy x360 15 (2021) review
How to choose the right HP laptop for you
When deciding which HP laptop to go with, you need to figure a few things out. To start, you should decide what you need it for. If you're a commuter and need something light and thin, then an Ultrabook is for you. But, if you keep up with the latest games, then nothing but a gaming laptop will suffice. There are some options that will bridge the gap, but you'll have to pay a price for it.
Once you know whether you want a computer for some light productivity work, creative content, or gaming, you should settle on a budget. Depending on your needs, the price range will shift. Really powerful and really thin laptops both come at a premium, while all-rounders and less robust options won't put quite the same hole in your budget. That said, stretch your budget as best you can. After all, you get what you pay for.
The form factor is another consideration. If you want a laptop that can also function as a tablet, a 2-in-1 is the only way to go as this is a feature that cannot be added after the fact. Similarly, the type of display, whether it's a touch screen, OLED display, or just a panel with a higher resolution, is an important deciding factor. Once you've gotten that laptop, you're stuck with whatever screen it came with.
What series of HP laptop is best?
The best HP laptop is realistically the one that best fits your needs. The HP Envy and Spectre lines are ideal for anyone looking for lighter Ultrabooks that still pack a punch while the Omen and Victor lines are the go-to for gamers, with the latter being the more affordable.
In fact, there's a lot of overlap as the HP Envy 13 x360 and Spectre 13 x360 prove. Performance-wise, there's not much difference. Only the Spectre comes with a slightly better display, a more attractive design, and a higher price tag for the privilege. That's all to say that there are some differences between series but there's not a clear best among them.
Is HP a good brand for laptops?
HP has been around for a long time for a reason. The company makes a large range of products, from cheap laptops that will last you maybe a year to premium options that can compete with the flagship models from other companies. Unlike Apple then, you have to look beyond just the name and at the individual product lines and even the individual laptops as there are some extremely fantastic options across the board. To that end, we recommend that you check out our review on whichever computer has struck your fancy.
How many years should an HP laptop last?
Treat HP laptops as you would any other PC maker. You can expect to get 3-5 years out of whatever you choose. The more powerful the components the more years you can squeeze out of it. In the same vein, if you go for a rock-bottom option, you might be back on the market in a year.
How we test HP laptops
When we review HP laptops, we don't just compare them to other HP products of a similar caliber. We also make sure to compare their stats with laptops from other brands to prove how well they function in comparison to the competition.
We review laptops based on a variety of criteria including price, design, battery life, and performance. We run the laptop all day to test its battery life and subsequent performance as the day goes on to make sure it works as advertised. The best HP laptops will have functional, sleek design for a moderate price, as well as a battery that doesn't drain too quickly.
We put all our review laptops through benchmark tests as well to make sure the hardware can handle whatever software you may run. These benchmark diagnostics allow us to make accurate comparisons to other HP laptops, as well as similar laptops from other brands.
Today's Best HP Laptop Deals