Editor's note: June 2023
You are looking at a completely overhauled list of the best touchscreen laptops. It took us a while to update this list, but now that we have, it's now dominated with models from 2022 and 2023. More importantly, every single model on it has been tested by us, so you can rest assured you're making the right choice, whatever you get.
Michelle Rae Uy, Reviews and Buying Guides Editor, Computing
The best touchscreen laptops offer a unique way of interacting with your computer. While they often offer performance and portability that are comparable to traditional clamshell notebooks, they also come with a touch display that gives you new functionalities, including using your actual fingers to navigate and having a tablet-like experience.
Just about all smartphones and tablets rely on touch capability for their interface due to its intuitive nature, and having it on some of the best laptops on the market just adds to their value. What's more, it often goes hand-in-hand with that 2-in-1 form factor, which makes that touchscreen laptop a kind of all-in-one device to serve your different needs – a notebook for work, a portable for presentations, a tablet for surfing the web, and a display for streaming the latest episodes of your current favorite show.
We've tested most of the top laptops on the market touting touchscreen capabilities, so we know which ones combine the best touch experience with great performance. To help you narrow down your choices, we gathered all the best touchscreen laptops on the market right now, including some of the best 2-in-1 laptops and some of the best Chromebooks. Don't just take a look at our picks either, as we included some of the best laptop deals available on our picks.
The Dell XPS 15 (2022) has held a lofty status in the laptops world, and even with new amazing releases from the likes of Lenovo and Acer, it still remains king – especially in the best touchscreen laptop category. It is one of the most powerful laptops on the market, delivering outstanding performance in both productivity and creative workloads during our testing – not to mention, decent 1080p gaming performance as well, thanks to the RTX 3050 Ti under the hood. As a nice surprise, it's also proven its longevity, lasting about 12 hours in our PCMark 10 test and 10 hours in our HD movie test, which isn't as common among powerful laptops such as this.
That amazing performance and battery life is matched by its display. The line's InfinityEdge screen, which boasts thin bezels and a 92% screen-to-body ratio, has always been incredible – premium, bright, and vibrant. And the touchscreen version is very responsive and luxurious to interface with.
This isn't the cheapest laptop on the market. In fact, while it won't burn a massive hole in your pocket, its price tag makes it best-suited for professionals and casual users with deep pockets. But, it's worth every penny and is the best touchscreen laptop overall.
Read our full Dell XPS 15 (2022) review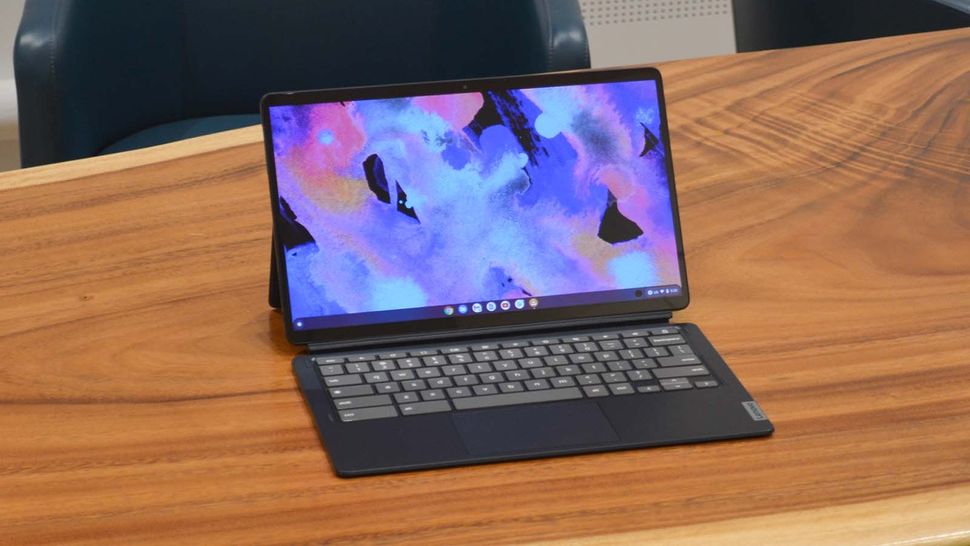 It's actually astounding how something like the Lenovo IdeaPad Duet 5 Chromebook can exist in this market, being as good as it. It's not a premium Chromebook so the specs aren't high-end, but it still delivers plenty of power for its target users – the ones who rely heavily on Google Chrome workloads and use it for the more casual workloads. In fact, we love using it for sending emails, writing our articles, and naturally, streaming our favorite shows.
We also adore the fact that it's incredibly portable, making it easier to take with us if we want to squeeze in a little bit of work whilst traveling. Naturally, its decently-sized keyboard and outstanding battery life – we yielded about 16 hours and 20 minutes of juice during testing – make it a boon for that very purpose as well.
This being a 2-in-1, there's also the touch display aspect, which by the way got a major upgrade to OLED from its predecessor. Its touch capability has always been nice and responsive, but now you've also got the vivid colors that only an OLED panel can offer.
Read our full Lenovo IdeaPad Duet 5 Chromebook review
The Lenovo Yoga 9i Gen 8 (2023) delivers an elevated design, speedy performance, and wonderful elements all for less than the price of its more popular rivals. Even as we were taking it out of the box, it was already apparent that this was going to be an amazing option, especially for users who care just as much about aesthetics as they do performance.
This crushed other touchscreen laptops such as a similarly-specced and similarly-priced Samsung Galaxy Book3 Pro 360 in benchmarks during our testing. And while it may not have discrete graphics to blaze through creative workloads, it still holds its own, taking less time than we expected to process and export 50 high-res 7952 x 4472 images from RAW to JPEG in Lightroom. It delivers on battery life as well, giving us a little over 10 hours on a full charge when we ran our web surfing battery test.
The OLED display is not as bright as we'd hoped - it averaged around 350 nits in our readings - but its picture quality is stunning nonetheless. To interface with the display, Lenovo throws in a stylus, which is good as it's pretty steeply priced. Not that you need it because not only is it vibrant but responsive and intuitive to your touch commands as well.
Read our full Lenovo Yoga 9i Gen 8 review
The Samsung Galaxy Book2 360 improves on its predecessor in many ways, so what you're getting is an even better touchscreen laptop – one with solid performance and battery life and, of course, that incredible AMOLED display that Samsung is a master at. The first thing you'll notice here is its ultra-lightweight form factor that Samsung combines with a clean, minimalist aesthetic, which makes it an excellent choice for pros.
But the performance is worth a spotlight as well, with even just the 12th Gen Intel Core i5 rivaling the previous generation's i7 in terms of power and energy efficiency in our tests. We saw this laptop see through multi-core workloads like photo and video editing seamlessly, and it absolutely slays in general productivity ones as well. That's while lasting for a whopping 16 and a half hours in our looped movie battery life test
The display, as we mentioned, is the absolute star here, delivering incredibly vibrant colors and stellar picture quality. The maximum brightness is more than sufficient for outdoor use provided there's not too much glare. And, its responsive touch capability is perfect for creative use as well.
Read our full Samsung Galaxy Book2 360 review
The Asus Zenbook Pro 15 Flip OLED is the full package, touting boss-level performance, a decent battery life, amazing keyboard and touchpad, and a stunner of an OLED touchscreen inside its thin and light package. We called this one near-perfect in almost every category in our review, because it simply slays, and really the only complaint we have is its subpar webcam.
It performed consistently well during our suite of benchmarks, beating out many Ultrabooks in its class. And, sure enough, it proves to be a champ at handling a multitude of productivity tasks while conference calling and playing YouTube videos without breaking a sweat. That's while giving you about nine hours of juice so you won't have to lug a charger around. And that keyboard and touchpad combo are built to increase productivity and comfort.
The crown jewel, of course, is the OLED screen, which is the 'world's first 2.8K 120Hz OLED' laptop display. Its refresh rate beats out some high-end monitors, and we found that it delivers any game or movie with beautiful clarity.
Read our full Asus Zenboook Pro 15 Flip OLED review
For a premium Chromebook experience, the Acer Chromebook Spin 514 is a fantastic touchscreen laptop to immerse yourself in – not just for media consumption but for work as well. As with most Chromebooks, you'll need to do most of your work on the Chrome browser, but you are getting an even more powerful device here without paying a premium.
During our testing, it's proven that it can keep up with pricier Chromebooks, breezing through mostly browser-based workloads without a hitch. It also managed to handle 20 tabs of websites of varying graphical and processing demands while keeping things relatively cool and quiet, and keeping its price to an affordable mid-range. And although the battery isn't as long as many budget Chromebooks, its eight hours and 20 minutes run during our battery test proves that you can have a full workday on it at full charge.
The 14-inch 1080p Corning Gorilla Glass display is a stunner as well, ideal if you want to just use it for streaming Netflix all day – and even playing a game or two. It supports the USI Stylus, which sadly isn't included in the box, but you don't need it as the touch capability here is incredibly intuitive.
Read our full Acer Chromebook Spin 514 (2022) review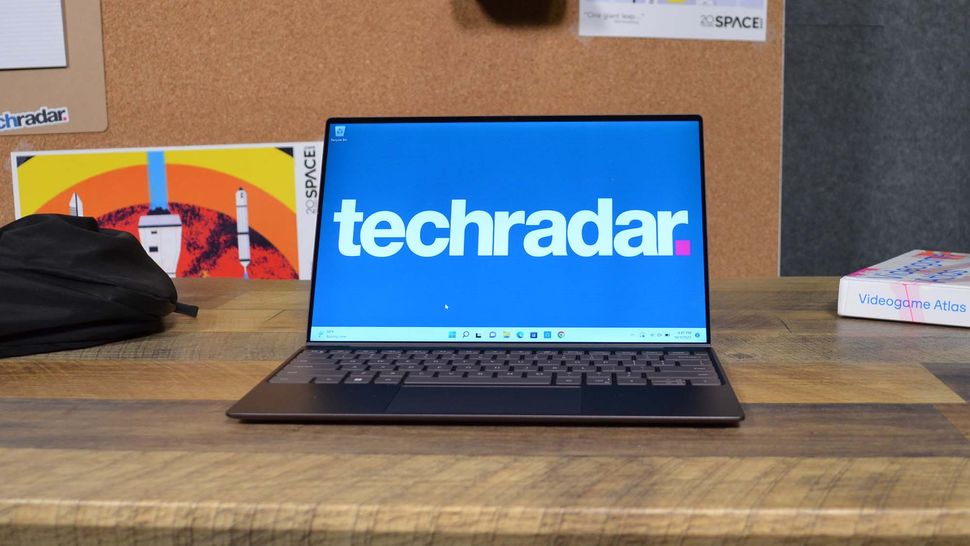 The Dell XPS 13 (2022) is a pricey piece of kit, but such is still the nature of an Ultrabook. Besides, the starting price isn't too bad, and it might be a good option for you, as long as you're ok with demanding apps like Adobe Premiere Pro, Blender, and Photoshop running a little slower. Still, it's a fantastic laptop for everyday use, and it saw through web browsing, video streaming, and a couple of spreadsheets for work during our testing without issue.
Design-wise, it's as gorgeous as ever, even if the exterior is a little changed. It's very lightweight and slim as well, which means you can carry it just about anywhere – to the office, to a cafe, even on your vacation. This time around, you can also get it in a purplish-blue color option, Umber, if you're tired of the same neutral colors.
The display is a full HD+ with a nice taller 16:10 aspect ratio for the ultimate productivity. It can also get as bright as 500 nits. Get the touch screen version, which is responsive and nice to the touch, and you'll be able to interface directly with the display.
Read our full Dell XPS 13 (2022) review
Another great mid-range contender is the Acer Swift 5, a solid laptop well-suited for school or work due to its efficiency, quick start up time, and excellent performance. There's also a lot to love here, including a solid battery life, great sound quality, and clear 1080p touchscreen, making it a great value for the price.
Processor-heavy tasks are no match for this laptop, tackling a wide variety of everyday computing needs without slowing down. The double fan setup does a great job of keeping the laptop nice and ventilated, staying quiet the whole time we pushed it to its limits. And proved to be surprisingly good as a casual gaming laptop too. That's while delivering a respectable eight hours and 31 minutes of battery life during our testing.
One of the biggest features of the Acer Swift 5, however, is the Gorilla Glass antimicrobial touchscreen, which is incredibly responsive and feels substantial and weighty. Better than other touchscreen displays, though, it resists fingerprints and dust surprisingly well.
Read our full Acer Swift 5 (2022) review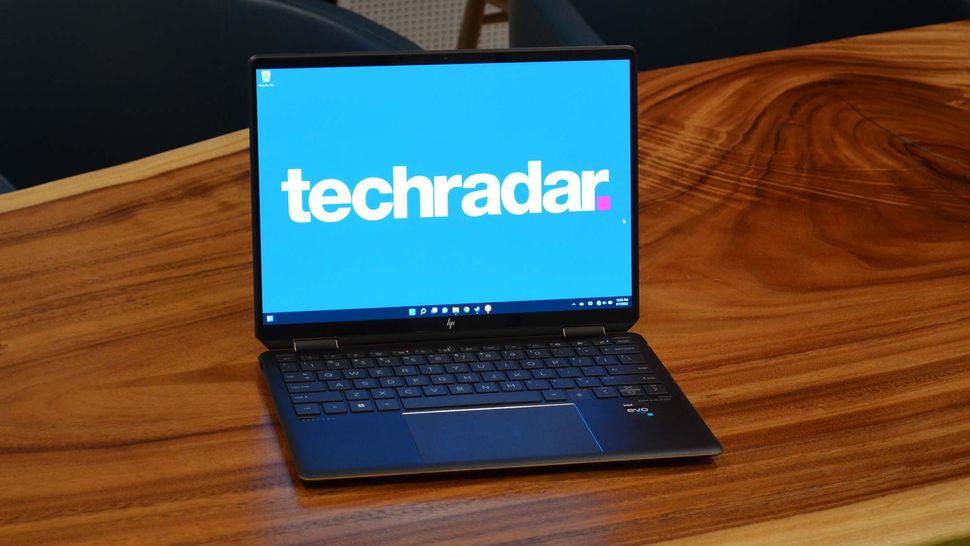 The HP Spectre x360 (2022) is as amazing and as good-looking as ever. Its gorgeous chassis with elegant brass accents is light yet well-made, solid, and small size and lightweight for portability. The keyboard also feels just as luxurious, and the battery life, while average, will get you up to eight hours of use – or at least, that's what we got during our battery tests.
Speaking of testing, we found that the HP Spectre x360 benchmark scores close to most other 2-in-1 laptops. And, it was able to run work programs, handle multiple browser tabs, and even play plenty of low and mid-range video games with no issues during our time with it.
The gorgeous OLED screen is just as impressive, enhancing any images, movies, or games, as well as giving you plenty of screen real estate with its ultra-thin bezels. Adding to the laptop's value is its included stylus pen, which works beautifully with the display. That's lucky since the touchpad's satiny feel can cause sensitivity issues that make using it a chore.
Read our full HP Spectre x360 (2022) review
The HP Envy 13 x360 is a solid choice if you're looking for a thin and easy-to-carry productivity machine with an OLED screen and great battery life. It's not exactly a budget buy, but considering the OLED technology you're getting, it's pretty affordable too. On top of that, the keyboard is solid and its port selection is varied.
What's really impressive here, however, is the fact that it can compete with 16-inch 2-in-1 laptops. We've been able to run spreadsheets, word processors, conference calls, and multiple browser tabs playing videos at the same time without any real slowdown. The battery life is quite excellent as it's easily able to last over nine hours during our movie battery test.
Thanks to the thin bezels, you're getting decent screen real estate. But the OLED display is also gorgeous, thanks to the tech itself delivering vivid colors, and the touchscreen functionality is also great.
Read our full HP Envy 13 x360 (2022) review