Even the best PCs slow down over time, and if your PC is starting to show its age, you might want to think about replacing, upgrading or adding the best RAM. However, before you do, there are a couple things you need to consider. Capacity, speed and overclocking ability are key aspects when you're browsing for the best RAM for your PC. And, if your computer is just a few years old, you should keep your eyes open for the best DDR4 RAM, as DDR3 RAM won't work.
However, as soon as you pull up any online retailer looking for the best DDR4 RAM, you'll notice that there are hundreds of DIMM kits out there. Anyone who isn't familiar with PC hardware is bound to be a little overwhelmed. However, we here at TechRadar have your back, and we've created this list of the best RAM on the market in 2018.
Every RAM kit on this list has been tested in-house at TechRadar, so you should be confident that you're getting the best RAM, whatever your needs are. So, whether you want an upgrade so that you can open more Chrome tabs on your laptop, or even if you're a gamer looking for the fastest RAM money can buy, read on for the best RAM available today.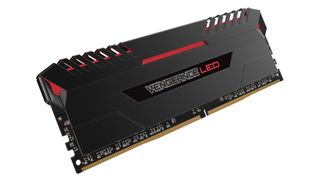 Best RAM: Corsair Vengeance LED
Some of the best overall RAM on the market comes from Corsair. Their Vengeance series has something for everyone with its LED DDR4 offerings topping our list. On top of giving PC builders that extra touch of vibrancy lighting brings, the Corsair Vengeance LED series' built-in heat spreaders maximize cooling for higher overclocking and maximum performance. Corsair's Vengeance LED DDR4 series offers CL16 latency and 3,466 MHz speeds and color coordinated computing.
Best DDR4 RAM: G.Skill Ripjaws V Series
When looking for high-speed, quality DDR4 for your rig, look no further than the G.Skill Ripjaws V Series. G.Skill has designed its flagship memory for reliability, low-voltage drain and easy XMP 2.0 overclocking for in-depth users. With a CL14 to CL19 latency and speeds between 2,133MHz and 4,000MHz, it's quick. While the Ripjaws V Series isn't an RGB RAM set, it does come in five colors: Blazing Red, Steel Blue, Classic Black, Radiant Silver and Gunmetal Gray.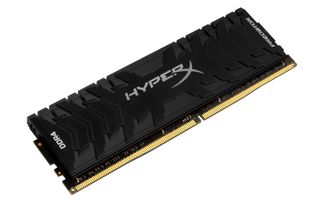 Best DDR3 RAM: Kingston HyperX Predator
Kingston's high-performance HyperX has some of the best DDR3 RAM on the market and the Predator models is particularly tuned for and extreme-performance that's further expandable with XMP profiles. The Predator DDR3 series achieves CL9 to CL11 latencies and speeds between 1866MHz to 2666MHz.
This product is only available in the US at the time of this writing. UK and Australian readers: check out a fine alternative in the Kingston HyperX Fury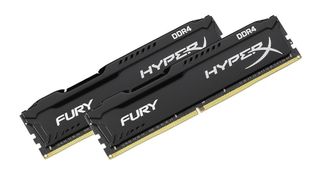 Best Budget RAM: Kingston HyperX Fury
The Kingston HyperX Fury is auto-overclocked memory that won't empty your wallet. This smart DDR3 or DDR4 RAM auto-detects system components to overclock to the highest speeds possible, optimizing performance for all of Intel's latest chipsets. It comes with latencies between CL14 and CL16, and has speeds between 2,133MHz and 2,666MHz. While it costs little, it can have a huge impact on the performance of your rig.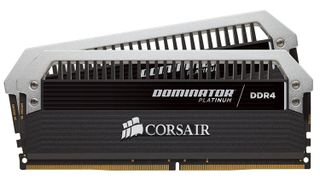 Best High-end RAM: Corsair Dominator Platinum
Corsair's Dominator Platinum is the best type of RAM for high-intensity tasks – and those who need chrome heat spreaders for maximum performance. Massive heatsinks and optional fans on your memory might seem absurd, but they're absolutely necessary for C19 memory operating up to 4,000MHz. On the low-end, Corsair also offers a low-latency C14 version of the Dominator Platinum operating at 2,400MHz.
Best Gaming RAM: Team T-Force Night Hawk
When looking for the best possible specs for gaming, then look no further than the Team T-Force Night Hawk DDR4 RAM. It comes with CL15 or CL16 latencies, and between 2,666MHz and 3,200MHz frequencies so no matter which kit you get, it'll run at peak performance. It's also available in a full-spectrum RGB model for users who need personalization and gaming aura.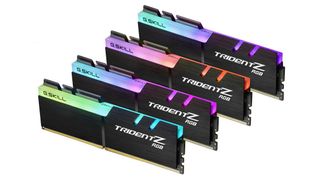 Best RGB RAM: G.Skill Trident Z RGB
G.Skill has given the Trident Z RGB series great performance and the ultimate lighting setup for personalization. The top of each memory stick features a full-spectrum rainbow wave light bar that you can use to match your RGB lighting across all your components. Trident Z RGB DDR4 RAM comes with CAS Latencies between 14 and 19, and between 2,400MHz and 4,266MHz. No matter what your style, the best full-spectrum RAM is definitely the G.Skill Trident Z RGB.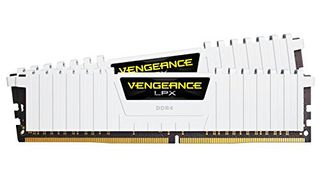 Best Low-Profile RAM: Corsair Vengeance LPX
RAM in the LPX series of Corsair Vengeance memory is made for users who want the maximum performance with minimum size. This low-profile RAM is essential for PC builds with massive CPU coolers. Despite being so short, they also feature an eight-layer heat spreader to cool while overclocking. And while it's thin design doesn't allow for LEDs, you can get it in three colors: black, red or blue. Corsair's Vengeance LPX DDR4 series clocks in with CL12 to CL19 latencies and between 2,400MHz and 4,600MHz.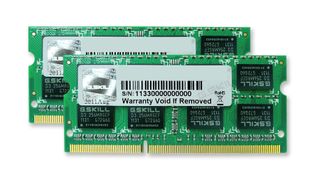 Best Mac RAM: G.Skill Mac RAM
Just like their dedication to laptop and desktop RAM, G.Skill has RAM upgrades for Macs, too. Adding more memory on the Apple Store is needlessly expensive, so going with a third-party kit can help you save a ton of money – assuming that your machine is one the last remaining MacBooks or iMacs that are still upgradable. These SO-DIMM have a CAS latency between 9 and 11 and have between 1,333MHz and 1,600MHz. The best bang for the buck seems to be the G.Skill DDR3-1333 for Mac.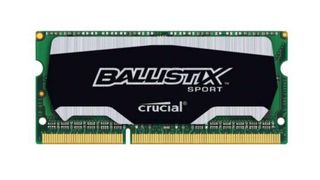 Best Laptop RAM: Crucial Ballistix Sport
Crucial is the go-to replacement RAM for laptop systems. They've designed their Crucial Ballistix Sport SODIMMs for efficient battery life in mind while still delivering good speeds for multi-tasking. It's perfect for those wanting a little more out of their laptop, and this memory will likely offers higher performance speeds than anything coming stock in your laptop., with a latency of CL16 and speeds between 2,300MHz and 2,666MHz.