Quick Menu
1. The list in brief
2. Best overall
3. Best budget
4. Best AMD
5. Best foldable
6. Best thin gaming
7. Best Nvidia gaming
8. How to choose
9. How we test
The best 17-inch laptop is going to give you great performance across one of the biggest displays you can get in this form factor.
Whether you're looking for the best gaming laptop or the best laptop for creatives, a 17-inch laptop is going to offer you the most screen real estate to enjoy your favorite games or be more productive at work or at home.
They aren't the most portable, to be sure, though some of the best thin and light gaming laptops are 17-inch devices and so long as you're not going too heavy on the hardware saide, you can find a couple that are much more lightweight than some of the extremely heavy gaming or creator laptops out there.
The top 17-inch laptops are also going to be more on the expensive side, but there are a few budget laptops to be found at 17 inches, though you can often find the some of the best ultrabooks coming in for cheaper.
Still, regardless of your needs or budget, there is a 17-inch laptop out there that will fit you perfectly, and we've done our fair share of reviewing 17-inch laptops over the years, so we're here to help you find the right big-screen device for you. We've even included our trusty price comparison tool to help you find the best laptop deals on the device you want.
The quick list
If you want to get right to it and see the best 17-inch laptop in every category, check out our quick roundup of top picks below. Don't worry though, you can easily jump to a more detailed view of every pick along with a price comparison tool to help you find the best laptop deals no matter your budget.
The best 17-inch laptop overall
If you don't know already, Dell makes some of the most amazing laptops on the market, especially with its XPS line. So, it's no surprise that the Dell XPS 17 (2022) is one of the most popular laptops at this size. It's pricey, but for good reason.
It comes with the kind of components that can get you through any task including up to an Intel Core i9 CPU, 64GB of RAM, and an Nvidia RTX GeForce 3050 while touting a stunner of a screen and a design that will take your breath away. The dedicated GPU allows it to approach 50 fps in Total War: Warhammer III at 1080p with everything on Ultra settings during our testing as well as demanding 4K video editing needs.
We only wish it came with more ports. However, it is a nearly perfect laptop in every other way, which is why it tops our list of the best 17-inch laptops.
Read our full Dell XPS 17 (2022) review
The best budget 17-inch laptop
The HP Laptop 17 isn't designed to be the flashiest or the most powerful, but when it comes to 17-inch laptops, this is easily one of the cheapest you can buy.
With up to an 11th-gen Intel Core i7 processor with Intel Iris Xe graphics, this 17-inch laptop isn't going to be loaded with top-of-the-line specs, but for remore work or general computing use, this laptop is going to be more than enough for most people's needs. And, with 16GB DDR4 RAM, you'll be able to multitask like a champ. You'll also get 256GB PCIe storage with an extra 1TB HDD for extra capacity to keep all your necessary files handy.
While we haven't reviewed this particular laptop, we've tested plenty of HP devices with similar specs so we're confident that you'll get your money's worth with this device so long as you keep expectations in check.
The best AMD 17-inch laptop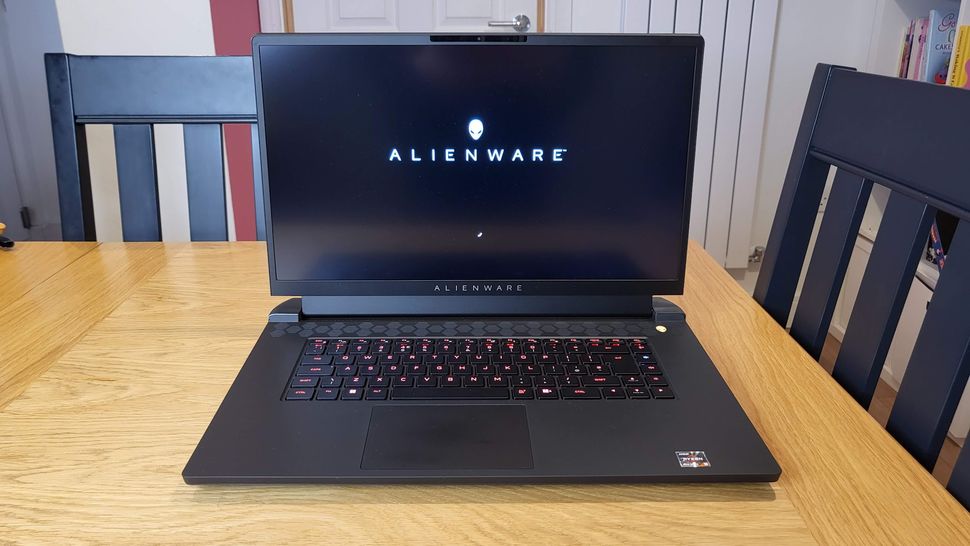 The Alienware m17 R5 AMD Advantage is an excellent gaming laptop that delivers on every front. The 17-inch display is a ridiculous 120Hz 4K screen, further enhanced with Dolby Vision support. During our testing, we found that the gorgeous crystal clear image paired well with a smooth enough refresh rate for most gamers.
Its performance during our own benchmark testing was even more impressive, with eye-watering high scores on every GPU test. And when it came to testing out general gameplay performance, most games hit the highest highs in terms of framerate and more. Not only is its performance top-notch, but it also has a gorgeous design befitting the Alienware line.
The clamshell design is not only aesthetically pleasing but keeps the main vent clear and more effective at proper ventilation, something absolutely vital when it comes to high-power gaming sessions. It's a bit heavy and bulky with a somewhat decent battery life of about six hours, but if you're getting a desktop replacement gaming laptop then you know the deal.

Read the full Alienware m17 R5 AMD Advantage review
The best foldable 17-inch laptop
There aren't a whole lot of foldable 17-inch laptops on the market, but easily the best we've seen so far is the Asus ZenBook 17 Fold OLED.
Foldables have come a long way since the first Lenovo ThinkBook X1 Fold we reviewed just over two years ago, with the newest generations of devices like the ZenBook 17 Fold sporting up to a 12th-gen Intel Core i7. The OLED panel is also a major improvement, with a gorgeous, high resolution display with 2560x1920 pixels.
Unfortunely, there is no stylus support, which is a major knock against a device that seems tailor made for that kind of touch interface. This is especially true given the price you're likely to pay for it, so it's the kind of feature you might really want here, but there's more than enough to this foldable to keep you satisfied that you won't miss it too much.
The best thin and light 17-inch gaming laptop
If you're looking for an absolute beast, the best gaming laptop for you might just be this follow-up to Razer's 17-inch leviathan. More than just a gaming portable, it makes for an excellent mobile workstation for creators as well – although gamers who have the cash will appreciate the RTX 3000 GPU, up to 32GB of memory, and display with fast refresh rates.
During testing, the Razer Blade 17 (2022) chewed through everyday tasks. And, we used it daily for everything from a frankly embarrassing number of Google Chrome open tabs across two displays to running various demanding creative applications such as Adobe Photoshop and Blender. Gamers aren't left behind as well. On test, it managed to achieve just under 90fps in Metro: Exodus on Ultra settings and 78fps in Cyberpunk 2077.
It's pretty expensive, however. Only invest if you absolutely need all that power or you just have the money to throw away.
Read our full Razer Blade 17 (2022) review
The best RTX 4000-series 17-inch laptop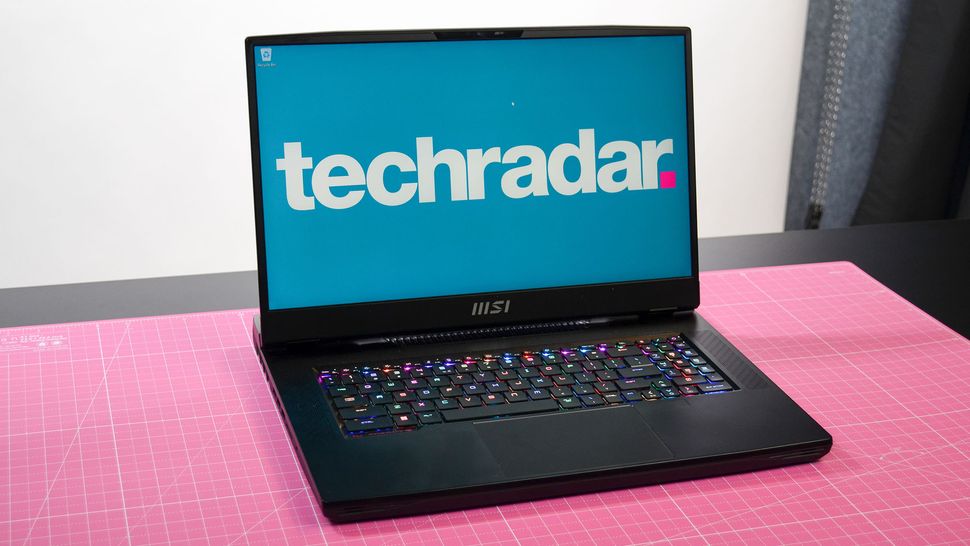 If you're looking for a contender for the most powerful gaming laptop, the MSI GT77 Titan (2023) has the competition beat so far. It comes with the latest in specs, including a 13th-gen Intel Core i9-13980HX CPU and an Nvidia RTX 4080 12GB Laptop GPU. During our extensive testing, we found that it managed to beat out the Lenovo Legion Pro 7i in most of our benchmark scoring when it came to GPU performance.
Its display is a ridiculous 4K resolution with a 144Hz refresh rate, and as we tested this behemoth we found that PC games never looked and moved better. The cherries on top are that this laptop comes with a Mini DisplayPort output and, according to our tests, the battery life is okay for a gaming laptop four and a half hours. It does charge fast, so that's another positive to add.
There are some caveats we found, however. The biggest one is the sheer size of this behemoth, which weighs over seven pounds. You will never move this laptop off your desk, it's the truest form of desktop replacement. And thanks to its size, it sounds like a jet engine. Cost is also an issue, but if money isn't a problem then you can't go wrong investing in this exceptionally powerful laptop.
Read the full MSI GT77 Titan (2023) review
How to choose the best 17-inch laptop for you
When you're looking for the best 17-inch laptop, you really do need to ask what you're looking to do with your device. Not all 17-inch laptops are created equal, and whether its for gaming or work, you'll find all kinds of big-screen devices to suit your needs.
15-inch laptops vs 17-inch laptops
Deciding between a 15-inch and 17-inch laptop has probably never been harder. Just a few years ago, only 17-inch laptops came with the kind of power to handle the most demanding tasks. But, since components have gotten smaller and more powerful over the years, you don't have to stick with the largest laptops anymore to get great performance.
You can find portables in both sizes with robust CPUs, GPUs, and plenty of storage space. However, the two sizes do come with their own advantages.
If portability is a factor for you, a 15-inch laptop is always going to be smaller, lighter, and easier to carry around. And, unlike the smaller 13-inch models, it can still come with plenty of power. But, a 17-inch laptop will still have that bigger screen. And, even though a smaller laptop can come equipped with a powerful GPU, its thermal solutions won't be as well implemented as that of these larger portables.
What is the best resolution for a 17-inch laptop
Picking the best resolution for your 17-inch laptop will come down to a few things. Though plenty of the best ones come with a standard 1080p resolution which is more than enough for most people, your needs might be a little different.
If you're hoping to do some photo or video editing, you probably want to get a higher resolution so you can see what you're working on in its intended resolution. And, if you're getting one to game on and you like to play immersive story-driven or open-world games, you'll appreciate getting a laptop with 1440p or 4k. Of course, it's only worth getting that higher resolution if your portable's components can keep up. That means having a solid discrete GPU to run your favorite apps or games at those higher resolutions.
Higher resolution also means more screen real estate. So, if you're a multitasker looking to keep multiple tabs open and visible at once, a QHD or higher resolution will only help.
However, if you're getting one of the more budget options whether it's for productivity or gaming, particularly competitive gaming, a 1080p resolution will more than suffice.
How we tested the best 17-inch laptops
We've seen our fair share of laptops of all shapes and sizes, but we always have a few standard ways we measure them before we pass judgment on if they're a worthwhile investment. We've used these laptops throughout the day to get accurate readings on battery life and performance, but also factor in aspects like price and overall design.
When we review laptops, we also run benchmark tests to make sure the laptop's hardware can handle the software you'll run. Benchmark tests additionally give us a valid comparison to other laptops of its kind, therefore helping us decide the ranking and what laptops to recommend and which to skip. We've selected the best 17-inch laptop based on these results from a variety of other 17-inch portable computers.
Beyond performance, we consider every possible use for the laptop to ensure we recommend it in good faith. If you're a laptop gamer, you want something that can handle your games and load them with minimal wait time — but if you travel frequently you probably don't want a heavy laptop. We cover all aspects — pros, cons, and neutrals — to give you a well-rounded idea of what to expect from a laptop should you choose to buy it.