Searching for the best budget gaming laptops can be made simple once you know what to look for. Even better, many of them balance price with performance and a light form factor, meaning you don't have to choose between either of those features. Many of the top manufacturers like HP, Dell, Lenovo, MSI, Asus, and more offer exactly what you're looking for in a budget gaming laptop. And our own expertise can help narrow down your choices and help you find exactly the laptop you need.
While you're not likely to find 4K gaming laptops with the best processors and GPUs like you'd find in the very high-end gaming laptops from Alienware and the rest, more budget offerings still pack a punch with 12th- and 13th-gen Intel chips or the latest AMD Ryzen processors, along with powerful Nvidia RTX GPUs that let you get raytracing and resolution upscaling to greatly improve gaming performance beyond what you'd expect from a budget gaming laptop.
There is also a lot of very old tech out there that is still being sold to recoup costs though, so sometimes two laptops with the same price can be wildly different in terms of performance. As a consumer, spotting the difference can be tricky, which is why we're leveraging our expertise to help you sort the best laptops for gaming on a budget from the pretenders. We've tested and reviewed nearly all of the latest budget gaming laptops from the top manufacturers out there and we've pulled together our favorites to help you find the best budget gaming laptop for your hard-earned cash.
The best budget gaming laptops 2023
Why you can trust TechRadar We spend hours testing every product or service we review, so you can be sure you're buying the best. Find out more about how we test.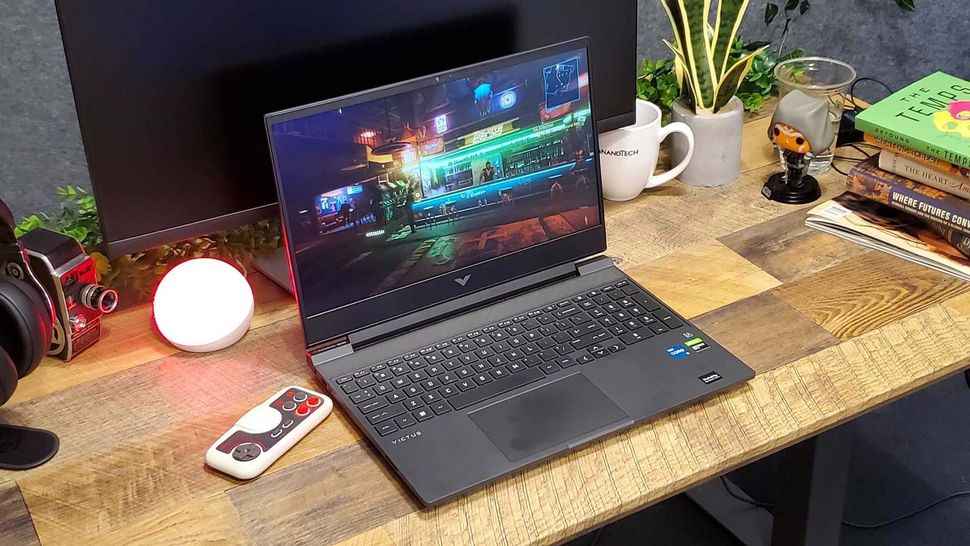 Easily the best budget gaming laptop put out by HP, the Victus 15 is a remarkably robust device for not a whole lot of money. With the latest Intel and Nvidia hardware, it's a powerful device, but even some of the lower spec configurations can get you great 1080p gaming at a very affordable price point.
In particular, going for the Intel Core i5-12450H and Nvidia GTX 1650 combo can save you a lot of money while still enabling you to get great frame rates on your favorite games at reasonably high setting. You won't be able to enable any ray tracing in your games due to the limitations of the GTX GPU, but in our experience, it really isn't that big of an issue, especially if you can find this configuration on sale, which it often is.
Read the full HP Victus 15 review
This is the refresh on the previous version, the Acer Nitro 5 (2022), which greatly improves on specs without sacrificing much on the price point front. This is still a budget laptop through and through, forgoing the fancier bells and whistles of more premium machines for a practical design and experience.
It includes an Intel Core i5-12500H processor, an Nvidia GeForce RTX 3050 Ti graphics card, 16GB RAM, and 512 PCIe SSD storage. While the bezels are still thick and the trackpad mid at best, it's a reliable beast that will play any PC game you throw at it, and most of them on high settings to boot. Just don't unplug it too often, the battery won't last and it takes forever to recharge.
Read our full Acer Nitro 5 (2022) review
The HP Omen 15 has a number of configurations that can put it in the cheap gaming laptop category but prices can vary considerably depending on the specs. That said, a system with a 9th Gen Intel Core i7 CPU with an Nvidia GeForce RTX 2070 GPU can come in at under a thousand bucks or quid, packing a ton of gaming performance without a hefty price tag.
That said, all that power comes at the expense of middling power management which you can literally feel in your lap and not in the tingly sense either. If you can stand the heat – or can at least put your system on a table while you play – then the HP Omen 15 will give you some fantastic gaming performance.
Read our full HP Omen 15 review
If you want a solid budget gaming laptop that's also thin and light, the Gigabyte G5 is the ideal portable machine. It only weights 2.2 kg, meaning that when carried it around to test the weight, we could barely feel it. It also comes with a beautiful HD display and anti-glare tech that we found during testing helps enhance not only the visuals but ensures that your eyes don't suffer. Another benefit is that the fans are surprisingly quiet, even when we tested out more intensive titles like Dirt 5 and Cyberpunk 2077.
The laptop houses an impressive Nvidia GeForce RTX 3060 which, we found when running it through its paces, can handle pretty much any PC game at high settings. Unfortunately, productivity testing proved that the 10th Gen Core i5 CPU is a bit dated and struggles with non-gaming tasks. We also had to switch to a proper gaming mouse during testing, as the trackpad is also a bit dated and hard to use.
The Gigabyte G5 has a solid port selection, though it's missing an ethernet port. But having ports in the back of the laptop can be divisive, as some people may be unable to easily reach them when having to plug in a USB drive or wireless mouse. But the positive is that having ports in the back reduces clutter when it's plugged in and sitting pretty on your desk.
Read our full Gigabyte G5 review
The MSI GF63 Thin (2022) is still one of the best budget gaming laptops that you can purchase. It's thin, light, and at an incredibly affordable price point with a solid 15.6-inch display.
It features an Intel Core i7-11800H processor, an Nvidia GeForce RTX 3050 Ti graphics card, 8GB DDR4-3200 RAM, and 512GB PCIe Gen3 SSD storage. It doubles the storage space of the previous model, which means more games you can have installed on your laptop. And thanks to those solid specs, it'll run any game off your PC library and at high settings too.
Read our full MSI GF63 Thin (2022) review
How we test gaming laptops
Testing a gaming laptop isn't as easy as you might think. But, then again, neither is narrowing down your options and choosing the best one for you, which is why we take our job seriously. Even if that means gaming for hours on end – hey, someone's gotta make the sacrifice, right?
In all seriousness, we put every gaming laptop we test through its paces to make sure it delivers as promised and is worth your hard-earned case. That means that on top of playing the latest and hottest games on it, noting things like gaming and thermal performance, we also run synthetic benchmarks like PCMark 10, 3DMark and Geekbench 5 as well as battery tests.
Because a gaming laptop is only as good as its peripherals, we take a look at how smooth and fast the display is, how comfortable and responsive its keyboard is, whether or not there are enough ports on hand, and how good its overall design is. We also test its webcam, in case users want to utilize it for game streaming.
We then take everything we've learned about the gaming laptop and compare it to its price – whether or not it's performance and features are worth that price tag, and whether or not it offers the best value to customers.
How to buy the best budget gaming laptops
While there are tons of different budget gaming laptops to choose from, said choices can be overwhelming. Then there's the fact that some retailers will try to over inflate the price of some laptops when its specs should discount it far more.
That's why it's important to come in knowing what specs are best for your needs, so you can not only choose the perfect laptop that suits them but you also know which offerings to avoid on altogether. And that's where we come in, with all of the information you need to make the most informed decisions.
What specs should I look for in a budget gaming laptop?
• CPU: For gaming, an Intel Core i5 is perfectly suitable, as the GPU is far more important than the CPU and the i5 can handle any processing just fine.
• GPU: For most average gaming needs, an RTX 2060 GPU is more than enough. But if you want to play on high to max out settings, an RTX 3050 and higher is what you're looking for.
• RAM: 16GB of RAM will take care of all your memory needs for any game, though you can get away with 8GB for all but the latest titles if you need to shave off some money.
• Storage: At least 516GB is preferable since that will allow you to install a good amount of games on your PC before having to upgrade or purchase an external hard drive.
• Display: An HD display is good enough for most games, and at least a 120Hz refresh rate should ensure a smooth gameplay experience.
How much should I spend on a gaming laptop?
When looking for a budget gaming laptop, a solid price point to use as a metric is $1,000. The vast majority of gaming laptops currently retail under that price, with anything above it starting to hit the mid-range and more premium options.
Today's best budget gaming laptop deals