Editor's Note: November 2022
The age of mesh Wi-Fi systems started a couple of years ago, but these router systems are now picking up speed in terms of popularity. Not only are there more options to choose from now, but more and more households are using them as well.
So, we are now regularly testing and reviewing Wi-Fi routers, putting many of the newly released models through their paces to ensure that we're keeping up with the trends. We've also updated this guide to reflect this so you'll see a lot of newer models with Wi-Fi 6 and Wi-Fi 6E capability.
Michelle Rae Uy, Buying Guides Editor
The best mesh Wi-Fi systems make dead zones and network slowdowns a thing of the past. They also ensure that every nook and cranny of your home or office gets a strong, consistent signal.
Unlike a regular router, a mesh Wi-Fi system is expandable and modular, comprised of one main router to which several mesh devices called nodes or points can be connected. These nodes or points can then be positioned strategically around your space to get rid of dead or weak spots, ensuring that you're always in range and using the same network name.
Upgrading to a mesh Wi-Fi system, therefore, makes a lot of sense if you're plagued with dead spots or have a large area to cover. They ensure that every part of that home or office gets a strong, consistent signal, making them among the best routers right now. And, although a strong case can be made for the best Wi-Fi extenders, those cannot perform as efficiently and seamlessly as these mesh routers.
We've tested a lot of routers over the years, putting them through their paces so we can make excellent recommendations to you. Take a look at our top picks below with the Google Nest Wifi still at the top and some of the best Wi-Fi 6 routers included. We've also included the best router deals available since most mesh systems are still pretty expensive.
Black Friday deals are live now, so you'll find a few of these mesh Wi-Fi routers below at a cheaper price. You'll also likely find great deals on the budget options on the list, saving you even more money.
The best mesh Wi-Fi systems 2022
Why you can trust TechRadar Our expert reviewers spend hours testing and comparing products and services so you can choose the best for you. Find out more about how we test.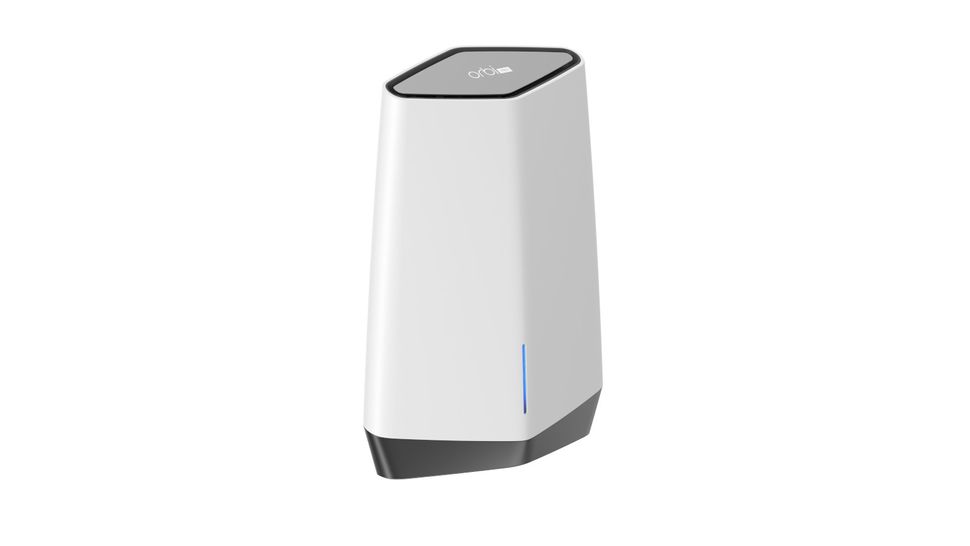 Sprawling mansions and big companies have demanding network coverage needs that only the best mesh Wi-Fi systems can meet, which is why such routers as the Netgear Orbi Pro WiFi 6 exist. This is a powerful piece of kit, even at its most basic configuration, delivering superb Wi-Fi connection over a remarkably large area.
In testing with a WiFi 6 capable client, we were able to take advantage of speeds of over 800Mbps near the router. Even with older clients at 50ft or further away, the performance remained outstanding.
If you want the most powerful mesh Wi-Fi system, you've found it. However, it also comes at a lofty price that most households shouldn't spend. It would be complete overkill unless live in a sprawling mansion or a castle. Invest, but only if it makes technical sense.
Read our full Netgear Orbi Pro WiFi 6 review
Google Nest Wifi kicks things up a notch in the mesh Wi-Fi system, taking Google Wifi's incredible yet simple design and performance then merges it with the convenience of a smart speaker. What you've got here is a two-in-one device in an even sleeker and more attractive package.
Especially if you're a smart home fiend, you will appreciate the pure genius of this upgrade in Google's Wifi line. Performance is excellent as well, chewing through downloads and streaming video over our 100Mbps service during our tests. Set up is a breeze as well, which makes it ideal for mesh Wi-Fi system newbies.
And, if you're tired of the color white, this one also comes in Mist and Sand colors. As far as the best mesh Wi-Fi routers go, the original Google Wifi is still the one to beat. This one just gives it that extra oomph.
Read our full Google Nest Wifi review
The Netgear Orbi Quad-Band WiFi 6E's price is not for the faint of heart. But, if you need a very large space, up to 9,000 square feet, covered then this might be the mesh Wi-Fi system for you. Not only can it cover an incredibly large space but it's more than capable of handling the most crowded of networks, supporting up to 200 connected devices at a time. And, thanks to its Wi-Fi 6E connectivity – the "E" stands for extended – you get access to an incredibly speedy 6.0Hz frequency band.
By setting one of the Orbi satellites in our back office, which suffers with poor Wi-Fi, it get us our maximum Wi-Fi speeds right off the bat, maintaining 100Mbps for the Ookla test and 12.5MB/s without fuss. Setting the whole system up is a breeze as well, thanks to the Orbi app being easy to use.
Read our full Netgear Orbi Quad-Band WiFi 6E review
If you're looking for a way to spread Wi-Fi throughout your home without having to spend a lot of dough, then look into the TP-Link Deco M5. It's not as speedy as some of the other best mesh Wi-Fi system on this list. This system is focused more on coverage than high-throughput. However, it did improve our throughput significantly during testing.
Plus, if you're not too concerned about getting the maximum theoretical throughput, which you probably won't be able to take full advantage of anyway, this shouldn't be too much of an issue. Setup, similar to the other devices here, is a breeze, even if you're not tech-savvy. The TP-Link Deco M5 is among the best wireless mesh routers for those who don't want to get too technical. And, as it is much cheaper than the rest of the options here, it's also the best mesh Wi-Fi system for budget-minded households.
Read our full TP-Link Deco M5 review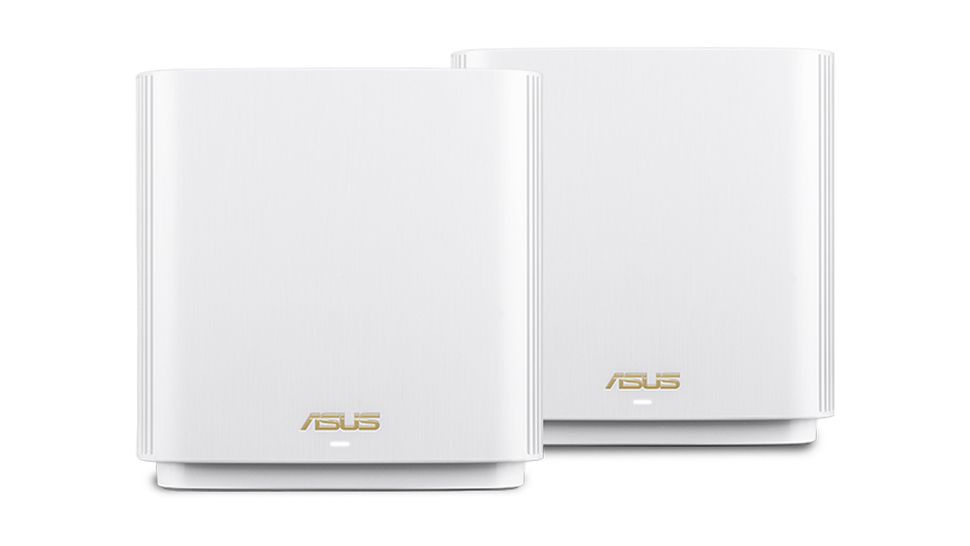 With the Asus ZenWiFi AX (XT8), Asus has managed to introduce Wi-Fi 6 to that other cutting-edge tech in connectivity; mesh routers. While it is among the more expensive options out there and limits you to two mesh routers, the Asus ZenWifi AX offers blazing fast speeds as well as plenty of flexibility in its setup – such as the option to set up one or two networks using the 2.4 and 5GHz bands.
During our tests, it manage to push our 50Mbps Internet connection all the way, even squeezing it up to 60Mbps at one point. It also held download speeds steady at 7.3MB/s even on the slower 2.4GHz band in an area in our space with previously low connectivity issues.
Set up isn't quite as straightforward. However, with excellent security features to boot, this is a fantastic choice if you're looking at the best mesh Wi-Fi systems.
Read our full Asus ZenWiFi AX (XT8) review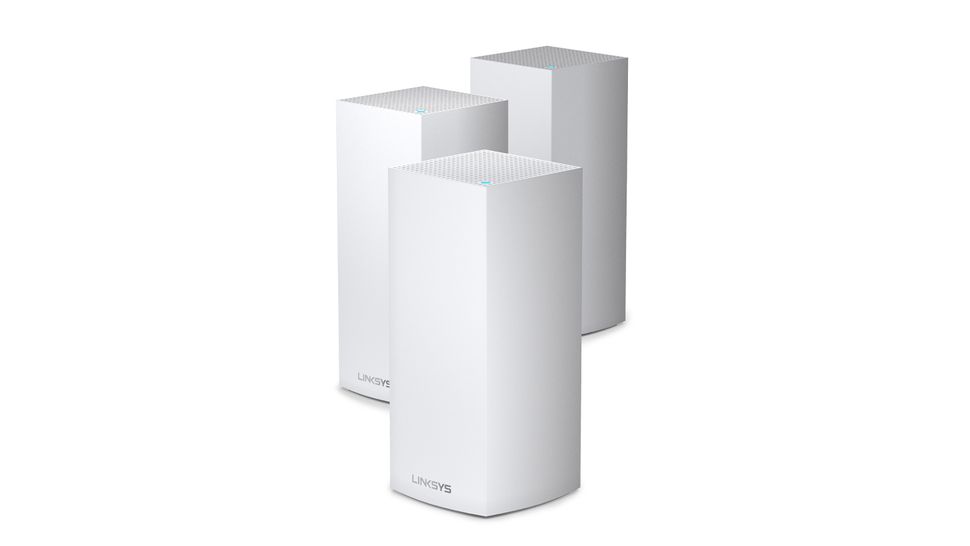 The Linksys Velop WiFi 6 AX4200 is proof that Wi-Fi 6 mesh systems can be affordable and accessible. It gives big households on a budget an excellent option that still delivers admirable performance and ease of use.
If you want to improve your home network's speed and connectivity, this state of the art mesh system is an ideal solution. That's especially if you're ready to future-proof your network with Wi-Fi 6 technology. And, during our tests, it smoothly handed the Wi-Fi signal over to the second node that we placed closer to a harder-to-reach area in our space while maintaining the same speeds seamlessly.
Those who aren't as computer savvy will also appreciate that easy-to-use Linksys app. It explains everything from connecting to your existing broadband router in order to use its Internet connection to where to place any additional nodes in order to get the best Wi-Fi reception.
Read our full Linksys Velop WiFi 6 AX4200 review
The Eero Home Wi-Fi system might just be the answer if you need a mesh Wi-Fi system that gives you a lot of control over your network. It gives users total control over their network while touting a secure connection through AI and delivering a terrific performance worthy of power users.
Holding up well in our testing, we found it capable of taking full advantage of our 100Mbps connection at home and better than others in handling standard, paster walls. Those with bigger spaces will appreciate that it strengthens its signal using its Beacon units via a third 5.8GHz band.
Also feature-rich, the Eero Home Wi-Fi System comes with subscriptions to 1Password, MalwareBytes and Encrypt.me VPN. These should keep everyone linked to your network safe and secure, whether they're gaming all day or dealing with sensitive work information
Read our full Eero Home Wi-Fi System review
Larger homes and offices need a much more robust mesh system like the Asus ZenWiFi Pro ET12. This Wi-Fi 6E mesh system might be a bit of an overkill for most users, but there are still many that will benefit from the level of performance and range it brings – particularly those that have massive spaces and high network demands to cover.
With it, you're getting a top speed of 11Gbps as well as a 6,000-square-foot range (if you get the router and a node set). It delivers in practice as well. During our testing of the two-pack set, the first ET12 gave us the maximum speeds provided by our office broadband service and the second unit allowed us to maintain those speeds, even in the hard-to-reach areas. The support for the new Wi-Fi 6E standard is a plus as well – especially if you've got some new shiny toy that uses it.
Read our full Asus ZenWiFi Pro ET12 review
Although there are opportunities for improvement here – that Nighthawk app is disappointingly sparse and demands additional subscriptions for extra vital features – the Nighthawk MK83 still delivers excellent connectivity for two- to three-bedroom homes. It's capable of covering 6,750 sq.ft with its three-piece kit and offers Wi-Fi 6 for more efficiently transmitting data to lots of devices all at the same time.
During testing, its slower 2.4GHz band managed a steady 80Mbps on the Ookla speed test in our back office, which usually get the worse connection, while boosting its Steam download speeds from 4.9MB/s to 6.4MB/s. Better yet, the 5.0GHz band cruised at 100Mbps on the Ookla speed test while delivering 12.5MB/s for Steam downloads. This is just what you need for a multi-room, multi-device smart household, especially if you have some cash to spare.
Read our full Netgear Nighthawk MK83 review
The Magic 2 WiFi 6 Mesh absolutely smashes through thick walls and massive obstructions by using Powerline technology to break through those obstacles. This mesh Powerline system allows you to enjoy robust and uninterrupted connectivity throughout your space even when you're dealing with an older space that regular mesh Wi-Fi routers cannot handle.
Of course, if you've got a large house or building with a number of rooms to cover, that mesh technology via plug-in adapters also ensures that there aren't any dead zones or weak areas.
Performance-wise, it slays as well. It had no trouble cruising along at 110Mbps and delivering a rock-steady 12.5MB/s for Steam downloads. Its Wi-Fi speeds are relatively modest, but it's more than enough for what most general users and households need. And, if you require an even more solid and faster connection, two Ethernet ports per device are on hand.
Read our full Devolo Magic 2 Wi-Fi 6 Mesh review
How to choose the best mesh Wi-Fi system for you
When choosing the best mesh Wi-Fi system for you, there are a few important considerations starting with the size of your coverage area and the speed you require depending on your daily average needs and the amount of devices that regularly use your network. Based on that, you need to take a look at the mesh Wi-Fi system's range and performance.
Also take a look at the design, setup process, and ease-of-use for when you need to adjust settings during use. Other features like security protocols and parental controls are important as well, and gaming-focused extra if there are gamers in the family.
Of course, the price is a major factor. Remember that many of the best mesh Wi-Fi routers tend to be expensive. However, you will find more affordable options if you know where to look.
How we test mesh Wi-Fi routers
We test every mesh Wi-Fi router that lands on our desk before we can recommend it to you. Much like with any peripheral or device we test, we check everything from its design and features to its performance.
We take a look at its design, of course, because if you're going to have several routers spread around your space, they should blend in with your home or office aesthetics. We also check its ports and any extra features it might have – like the ability to create a guest network and set up family controls – as well as ease of initial setup and use.
Then we move on to its performance. We check its range and strength of coverage as well as perform the Ookla speed test and our file download test, jotting down any information we collect. Naturally, we also test it against our everyday network usage to give you a glimpse on its real-world performance.
We then take everything we've learned and measure all that against its price tag to see if it's a great value to consumers.
Is mesh Wi-Fi better than a traditional router?
So, should you buy a mesh Wi-Fi router? In some cases, mesh Wi-Fi is considered better than a traditional router, but it really comes down to what you need your Wi-Fi devices to accomplish. If you live in a large home, you may want to consider mesh Wi-Fi in place of a regular router because it can better cover a large area with an unwavering Wi-Fi signal.
Conversely, if you live in a small home or apartment where one traditional router does the job well, you might not need to switch. If you're a gamer, you may also want to pass on a mesh Wi-Fi router because, as good as a mesh system is, it will never match the speeds one of the best gaming routers is capable of.
Mesh Wi-Fi routers are also typically designed to blend in with home decor, but if you're someone who doesn't like dealing with one router, you may not want the responsibility of dealing with a few small ones placed around your home. The best mesh Wi-Fi routers can be a great upgrade for your Wi-Fi signal, but ultimately it's up to you and if you're ready to make the change.