With tri-band Wi-Fi 6 and a top speed of 7.8Gbps, the XT9 mesh system provides impressive range and performance for larger homes. And while it's expensive, it does include additional features, such as free parental controls, that still represent good value for money.
Pros
+

Impressive speed and range

+

Supports 2.5 Gigabit broadband connections

+

Free parental controls
Cons
-

Expensive

-

Overkill for smaller homes
Why you can trust TechRadar We spend hours testing every product or service we review, so you can be sure you're buying the best. Find out more about how we test.
Asus ZenWifi XT9: One-minute review
The latest addition to the range is the new Asus ZenWifi XT9 which, as the name suggests, is a follow-up to the Asus ZenWifi XT8. In truth, this Wi-Fi router is not a massive upgrade, providing tri-band Wi-Fi 6 with a top speed of 7.8Gbps, compared to 6.6Gbps for the XT8. However, this mesh Wi-Fi system has the same range of features - including free parental controls - and admirable ease of use that makes it a good option for larger homes that need fast, reliable Wi-Fi.
Not content with being one of the world's leading PC manufacturers - with the Republic Of Gamers brand also under its wing - Asus also makes some pretty impressive networking products. Its XT8 mesh system walked off with our Editor's Choice a couple of years ago, with the top-of-the-range ZenWifi Pro ET12 bringing the state-of-the-art Wi-Fi 6E technology to the range more recently.
So, does the Asus ZenWifi XT9 maintain the same lofty standards? Read our review of the Wi-Fi 6 router to find out more.
Asus ZenWifi XT9: Price and availability
How much does it cost? $499.99 / £459.99
When is it available? Available now
Where can you get it? Available in the US and the UK
Asus ZenWifi XT9: SPECS
Wireless Connectivity: tri-band WiFi 6 (2.4GHz and 2x 5.0GHz)
Wi-Fi Speed: 7.8Gbps
Processor: quad-core,1.7GHz
Memory: 512MB
Storage: 256MB Flash
Ports: 2.5Gb WAN, 3x Gigabit Ethernet; 1x USB 3.2
Dimensions: 161 x 160x 75mm
The increased speed of the Asus ZenWifi XT9 does mean that it's a little more expensive than its predecessor - and we also have to take Asus to task for the slightly misleading information on its web site. The web site shows a picture of a two-piece mesh system, with two identical routers, and states that prices "start at $269.99" (£256.49).
In fact, that's the price for a single XT9 router on its own, which can work like a conventional router, covering an area of up to 2,850 sq.ft (or homes with up to four bedrooms). The two-piece mesh system that we review here actually costs $499.99 / £459.99 and is suitable for larger homes up to 5,700 sq.ft (for 6+ bedrooms).
That's quite expensive, but still comparable to rival mesh systems that provide this level of performance, and online prices do seem to vary quite a bit, so it's worth shopping around before buying. It also means that the older XT8 has now been reduced in price, providing a more affordable alternative that will be more than adequate for most domestic broadband services. The Asus ZenWifi XT8 is still the best option for users in Australia too, as the XT9 hasn't yet been released in that region.
Asus ZenWifi XT9: Design
Smart, compact design, in black or white
App is very easy to use
Good parental controls, with no subscription
The Asus ZenWifi XT9 may be a bit pricey, but it works hard to earn its keep. Available in black or white, the two XT9 mesh routers have the same slim, upright design as the older XT8, which allows each router to house six internal antennae to boost transmission of the Wi-Fi signal. And, as mentioned, the mesh Wi-Fi system provides tri-band Wi-Fi 6 that uses 2.4GHz and two 5.0GHz frequency bands.
To make the most of that performance, the XT9 has a 2.5 Gigabit Ethernet (WAN) port for high-speed broadband connections, along with three Gigabit Ethernet ports to provide wired connections. There's even a USB-A 3.2 port that allows you to connect a hard drive or other storage device, which can be shared with other people on your network.
Getting started is a piece of cake. The two XT9 routers are identical, but one of them has a label on the front that says - "I'm the main router, so start with me!". There's a QR code that lets you download the Asus Router app for iOS and Android, and a second one that prompts the app to link the two XT9 routers together, checks your Internet connection, and connects your iOS or Android device to the new network.
You do need to create a name (SSID) and password for your new Wi-Fi network, but the app allows you to create a single network that merges the 2.4GHz and 5.0GHz bands for quick and easy set-up. Or you can separate the three bands and set up three networks with their own individual passwords. That will take a little longer, but it's a useful option if you want to dedicate one of the fast 5.0GHz bands to a device such as a gaming console or PC for maximum performance. For more advanced users, the app also allows you to open up a web browser interface that provides more detailed control over the network settings.
The app provides standard features, such as a guest network and the ability to prioritise applications such as gaming or streaming video for maximum performance. However, we were also pleased to find that it provides good parental controls, including content filters that can block unsuitable material. These filters are free of charge, too - unlike many rival routers that require a monthly subscription fee for parental controls.
Asus ZenWifi XT9: Performance
Fast Wi-Fi 6 performance, with good range
2.5 Gigabit Ethernet for high-speed broadband connections
3x Gigabit Ethernet for wired connections
Asus ZenWifi XT9: Benchmarks
Ookla Speed Test - 2.4GHz (download/upload)
Within 5ft, no obstructions: 150/150Mbps
Within 30ft, three partition walls: 150/150Mbps
Ookla Speed Test - 5.0GHz (download/upload)
Within 5ft, no obstructions: 150/150Mbps
Within 30ft, three partition walls: 150/150Mbps
20GB Steam download - 2.4GHz
Within 5ft, no obstructions: 19MB/s
Within 30ft, three partition walls: 19MB/s
20GB Steam 20GB download - 5.0GHz
Within 5ft, no obstructions: 19MB/s
Within 30ft, three partition walls: 19MB/s
The whole point of mesh systems is that they can provide fast Wi-Fi that covers your entire home.
Our normal router can provide good Wi-Fi performance for computers and other devices that are nearby, reaching 150Mbps on the Ookla speed test, and 19MB/s for Steam downloads. However, our router struggles to reach one office at the back of the building, where the Wi-Fi signal is so unreliable that we rely on PowerLine adaptors to provide a wired connection instead.
With one Asus ZenWifi XT9 connected to our router, and the second located halfway along that corridor, we are able to get smooth, steady speeds of 150Mbps and 19Mb/s for Ookla and Steam once more - even on the slower 2.4GHz band.
Should I buy the Asus ZenWifi XT9?
Buy it if...
You have lots of bedroom
You can buy a single XT9 on its own, and use it like a conventional router. However, this two-piece mesh system is designed for larger homes with six or more bedrooms.
You're a network newbie
The Asus app does provide advanced controls for more experienced users, but clear labeling and the use of QR codes ensures that it's very easy to use for beginners too.
You want parental controls
Many router manufacturers now require an additional monthly subscription in order to provide parental controls, but the Asus app includes scheduling features and content filters free of charge.
Don't buy it if...
You're on a budget
With tri-band Wi-Fi 6 and a top speed of 7.8Gbps, the XT9 will be overkill for many homes. There are less expensive mesh systems that will be more than adequate for most home broadband services.
You have a modest abode
Mesh systems like this are very much designed for larger homes. If you only have 2-3 bedrooms then a less expensive range extender may be all you need to solve your Wi-Fi problems.
You're a gadget geek
Wi-Fi 6 is the mainstream option for Wi-Fi routers at the moment, but there are already devices - such as the latest iPad Pro - that support the state-of-the-art Wi-Fi 6E technology.
Also consider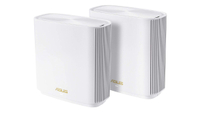 Asus ZenWiFi XT8
It's a couple of years old now, but the original XT8 is still available. Its Wi-Fi 6 and 6.6Gbps speed will still be more than adequate for most homes, making it a less expensive alternative to the XT9.
Read our full Asus ZenWiFi XT8 review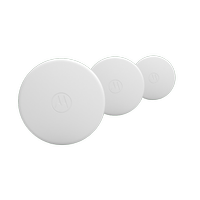 Motorola MH7603
The affordable MH7603 isn't the fastest mesh system around, with a relatively modest speed of 1.8Gbps. But that's still fast enough to handle web browsing and streaming video, making it a good mesh option for people on a tight budget.
Read our full Motorola MH7603 review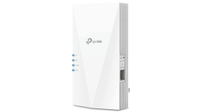 TP-Link RE700X Range Extender
If you only need to boost the wi-fi in one or two rooms, then a low-cost range extender is a good alternative to an expensive mesh system. The RE700X does the trick, with good performance and ease of use at a bargain price.
Read our full TP-Link RE700X Range Extender review
Asus ZenWifi XT9: Report card
Swipe to scroll horizontally
| | | |
| --- | --- | --- |
| Value | It's expensive, even by the standards of Wi-Fi 6 routers, and the original XT8 model is still available to provide a more affordable alternative. | 4 / 5 |
| Design | The smart design houses high-speed hardware for both wireless and wired networking. The Asus app is easy to use too, with good parental controls. | 5 / 5 |
| Performance | The 7.8Gbps wi-fi speed will meet the demands of most households, and its 2.5Gbps Ethernet is future-proof too. | 5 / 5 |
| Total | The XT9 justifies its high price with admirable performance, a wide range of useful features, and an easy-to-use app. | 4.5 / 5 |
First reviewed February 2023
How I tested the Asus ZenWifi XT9
We pride ourselves on our independence and our rigorous review-testing process, offering up long-term attention to the products we review and making sure our reviews are updated and maintained - regardless of when a device was released, if you can still buy it, it's on our radar.
Cliff Joseph is a former Editor of MacUser magazine, and a freelance technology writer with 30 year's experience in the industry (and old enough to remember when Apple was close to going bust…).
His first job involved using Macs for magazine sub-editing and typesetting, which led to the realisation that these computer-thingies might actually turn out to be useful after all. After a few years specialising in the Mac side of the market, he went freelance and embraced the wide world of digital technology, including Windows PCs, digital audio and hi-fi, and networking. Somewhere along the line he also developed a bit of a gaming habit and has stubbornly waved the flag for Mac gaming for far too many years.