Consider one of the best Asus routers to fix what ails your network. They're not only very reasonably priced, a common theme with even the most premium offerings from this Taiwanese company, but they're robust enough to go toe-to-toe with the competition.
It doesn't matter if you're gaming competitively or trying to download obscenely large files, the best wireless routers from the manufacturer will give you the kind of blazing-fast speeds and stunning performance needed to keep up. And, whether you just need something basic, one designed for gamers, or a router that can handle a large number of devices, Asus has such a large range of products that there's something that will fit your needs.
You don't have to navigate their full range of routers to find the right one for you, however. We've done our fair share of testing and reviewing all sorts of network solutions, and we've used our expertise to gather what we think are the best Asus routers on the market right now.
No matter what you're looking for, one of these are more than up for the job, some of which you'll even find on our best gaming routers. On the other hand, if you're covering a larger area, consider the best mesh Wi-Fi system.
The Asus RT-AX58U is a cut above other Wi-Fi 6 routers in terms of value. This is an affordable option that delivers a fast dual-band Wi-Fi 6 performance, and it's just the ticket for the average consumer looking to upgrade their network. One other thing that makes it an excellent choice for most people is that it's easy for less tech-savvy folks but also offers a web browser interface for more advanced users.
On test, it performed impeccably. When used in the same room as our existing 802.11ac router, it was able to squeeze a little extra Wi-Fi speed, increasing it from 55Mbps to 59Mbps. Meanwhile, our back office, which often gets neglected by a typical router, enjoyed a steady and reliable speed of 58Mbps.
That's excellent news for multi-user, multi-device medium households. And, those that do have young kids will also enjoy the benefits of its good parental controls. If you're looking for the best Asus router for most people, this is the one for you.
Read our full Asus RT-AX58U review
The Asus RT-AX55 is an impressive piece of kit if you're looking for something even more affordable. It isn't the fastest Asus router out there – at least not compared to some of the more expensive Wi-Fi 6 routers on the market. But, it's still a good Wi-Fi 6 upgrade for web browsing, streaming music and video, and even casual gaming.
During our tests, we found its 5.0GHz band delivering top Wi-Fi speeds of 100Mbs with Ookla and 12.5MB/s for Steam downloads to an area in our space that struggles to get decent connection. Even its 2.4GHz band performed fast enough for streaming video and routine web browsing.
Features about as well. The Asus RT-AX55 may be simple to use for most users, but a web browser interface is also on hand for more experienced users who need more than the basic features provided by the app. It also can be used with other Asus routers as part of a more extensive mesh Wi-Fi network, in case you need to expand your network later on.
Read our full Asus RT-AX55 review
The Asus ZenWiFi Pro ET12 is an excellent choice if you've got a large space to cover. It might be a bit too pricey for regular users – and massive overkill for most homes. But, if you have a mansion or a building with many devices, it might just be the best solution for you. A single Asus ZenWiFi Pro ET1 router can cover homes of up to 3,000 sq. ft, while a two-piece system covers 6,000 sq. ft.
During testing, it proved to be powerful enough to provide an area in our building where poor Wi-Fi has always forced us to rely on PowerLine adaptors with speeds of 100Mbps with the Ookla speed test, and 12.5MB/s for Steam downloads. Those were the same speeds that devices close to the main router had enjoyed.
The best part here is that it's easy to set up with an app that's easy to use. Plus, it supports a web browser interface that gives more experienced users better configuration options.
Read our full Asus ZenWiFi Pro ET12 review
The Asus ZenWiFi AX Hybrid XP4 solves a common problem many older homes and buildings face. By combining conventional mesh Wi-Fi system with wired powerline connectivity, it allows you to extend your network to cover a larger space riddled with thick walls and other obstacles.
Rather than being connected by a Wi-Fi signal, the Asus ZenWiFi AX Hybrid XP4 routers can use powerline technology to transmit data over your existing main wiring in your building. On test, both routers performed impressively, maintaining a smooth and steady 100Mbps with Ookla and 12.5MB/s with Steam.
It isn't the fastest mesh system around. However, it has its place in the world and is perfect for users experiencing network blues due to thick walls and other obstacles. Just bear in mind that the initial setup process might be a little complicated. That's especially with the QuickStart guide throwing around a lot of jargon.
Read our full Asus ZenWiFi AX Hybrid XP4 review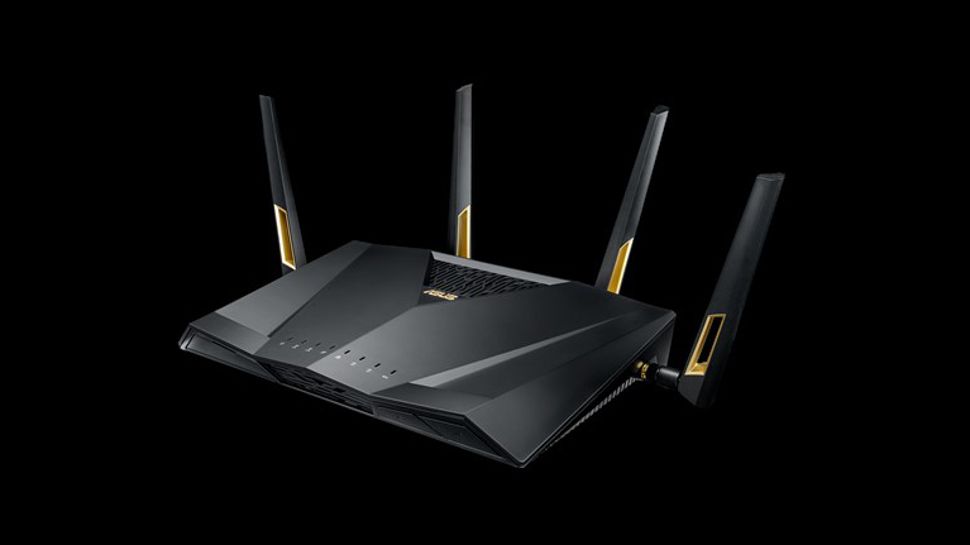 The RT-AX88U is built around the latest 802.11ax wireless standard (newly renamed Wi-Fi 6, but manufacturers are still using the 'ax' label) for the fastest Wi-Fi speeds, while remaining a relatively affordable model – it's far, far from cheap, but you'll always pay through the nose for the very latest tech.
This Asus router boasts superfast 5GHz speeds, and the 802.11ax tech also helps for better performance in congested wireless environments (where a lot of devices are being used over Wi-Fi).
Remember, though, that you'll need client devices which also support 802.11ax to get the full benefit of the router's ax speeds, and there aren't many around right now (Samsung's Galaxy S10 smartphone is one). The good news, however, is that Wi-Fi performance is still blazingly quick even with 802.11ac devices.