The best Motorola phones tend to be impressively affordable devices that offer excellent value for money and great features for the price.
Still managing to be some of the best phones around, Motorola also produces some of the best cheap phones. There are mid-range and premium handsets to choose from too, if your budget is more flexible.
Whatever you're looking for, there's a Motorola handset for you. The Moto E, Moto G, and Motorola Edge lines are the ones to watch for, as well as a few that fit into the rugged category.
We've tested and reviewed every new Motorola phone below, using them in our daily lives to see how they fare and what they offer. From there, we've ranked the ten best phones from the American firm, with options for different budgets and needs.
Not sure if a Motorola phone is for you? There's always the best Android phones and best iPhones to check out too.
The best Motorola phones 2022
Why you can trust TechRadar Our expert reviewers spend hours testing and comparing products and services so you can choose the best for you. Find out more about how we test.
The Motorola Edge 30 Ultra is fantastic value for a flagship phone. It has a top-end Snapdragon 8 Plus Gen 1 processor that's ideal for power-hungry processes as well as gaming. A 144Hz refresh rate on its 6.67-inch FHD+ display looks great for all content from streaming to browsing online. A glass front and back with metal frame ensures it looks expensive and premium too.
A 200MP main camera is potentially overkill for most people but it's a cool-sounding selling point, and produces generally bright and colorful images.
Fast-charging with good battery life will please most users. Rounding things off nicely is stock Android 12, ensuring you get a nice clean interface right from the start.
Read our in-depth Motorola Edge 30 Ultra review
While the Moto G100 and G200 are technically part of Motorola's line of budget devices, the G22 is the top option on this list that's a 'true' affordable phone, looking at its price. So this is going to be the top pick for people who don't need top specs, and just want a cheap and cheery handset.
Our two favorite things about the phone were is durability and its long-lasting battery life, so if that's what you need from a smartphone, you're in luck here. The low price is just the cherry on the cake.
Motorola has cut corners to hit this price, with a dim screen, no 5G connectivity and limited camera modes (though we did find the main snapper to work well in good lighting). But if you don't need a feature-packed phone, and just need a useful mobile that'll see you through the day, this should be your top pick.
Read our in-depth Moto G22 review
The Motorola Razr 2022 addresses the issues of its predecessor. It has a 6.7-inch notch-free full HD+ pOLED panel that looks great with a barely noticeable crease in the display. Ideal for split-screen multitasking and media, the Motorola Razr 2022 exudes style as you use it thanks to that foldable design.
A 144Hz refresh rate should mean it's ideal for gaming although its Snapdragon 8 Plus Gen 1 chip is unusually stuttery at times, suggesting poor optimization somewhere along the line.
Despite that, the Motorola Razr 2022 is still attractive, thanks to its clean interface, decent battery life (for a flip foldable), and a surprisingly good camera, in the form of a large 50MP wide sensor with OIS and a 13MP ultrawide lens. Throw in the in-display 32MP selfie camera and the newest RAZR makes for the most complete package in the series yet.
Read our in-depth Motorola Razr 2022 review
The Motorola G82 offers slightly more than other phones in this price range, thanks to its 6.6-inch 120Hz full HD OLED panel and ever present clean Android 12 experience.
Besides offering stereo speakers that are ideal for anyone keen to stream their favorite shows through their phone, the Motorola G82 still retains a 3.5mm headphone jack proving useful for wired audio fans.
Its Qualcomm Snapdragon 695 chipset could be a little faster, with other phones in this price range offering more, but the Motorola G82 is a solid all-rounder. A 50MP primary lens, 8MP ultra-wide and 2MP macro all prove convenient.
Being able to charge to 50% in under 30 minutes sweetens the deal, with a large 5,000mAh battery ensuring this isn't too commonplace.
Read our in-depth Motorola G82 review
The Moto G200 straddles the line between 'budget phone' and 'mid-range' mobile, but it's far more affordable than most devices that pack similar specs. For a relatively low price, you're getting a big, good-looking screen, a giant battery, a powerful chipset and a high-res main camera - it's a 5G phone too. It feels a lot like a more affordable, but equally useful, alternative to Moto's Edge handsets.
When we tested the phone, we loved how we were able to get access to all these cool features without having to break the bank. The affordability of this phone is its biggest selling point.
We did have a few issues – inevitably some corners were cut to achieve the relatively low price here, with the screen being LCD rather than OLED, the 33W charging being slower than some rivals, and given the size of its screen, the phone itself is inevitably on the large and cumbersome side.
But those are small complaints compared to everything the Moto G200 delivers. So, if you're in the market for a great Motorola handset, or just a great phone that won't break the bank, then this is a top choice.
Read our in-depth Moto G200 review
If you need 5G and you don't want to spend a fortune, you'll appreciate the Motorola G62. A cheap phone, its plastic build isn't the most stylish but it retains a useful headphone jack. A 6.5-inch 120Hz full HD+ IPS LCD display offers middling viewing angles but it's great to be free of motion blur issues.
Performance wise, a Snapdragon 480 Plus chipset shows its age but Android 12 remains clean and simple to use, which helps it feel quick enough to use everyday.
Similarly, its cameras offer a 50MP-led triple rear camera system but one that's let down by slightly anemic photography. Still, auto HDR helps where it can and for this price, we wouldn't expect too much more.
The Motorola G62 may not be perfect by any means, but at this price, it's highly accessible for anyone after 5G connectivity for less.
Read our in-depth Motorola G62 review
Motorola's top-end phone of 2021 was the Edge 20 Pro, the top-specced and most expensive member of its second generation of Edge devices. This isn't a truly premium phone like the Edge Plus was in 2020, with a competitive price and some mid-range specs and features to keep the price low.
It's good for a Moto phone, but not perfect, with the G200 bringing many of the same features but at a lower price. In particular, the high screen refresh rate and long-lasting battery impressed us.
We found the body too big to hold comfortably, especially with a side-mounted fingerprint scanner that was pretty hard to reach. Plus it was slow to charge and the camera software was sometimes disappointing.
The Edge 20 Pro doesn't quite compare to other similar-priced phones, as it's simply not as competitive as rivals from Xiaomi, Google or OnePlus. However, in the canon of Motorola devices it's not bad.
Read our in-depth Motorola Edge 20 Pro review
The Motorola Defy isn't your typical Moto phone. It's actually a rugged device, which means it's designed to work well in the outdoors - it's protected against drops, has a big battery, and includes a slot for lanyards.
Moto presents the phone as designed for gig workers, like food delivery bikers or similar. And, it's intended to have lots of stopping power for this kind of task.
It does its job just fine - its built-in lanyard, hardy design and long-lasting warranty ensured that we felt safe using the phone. However, we did think that a USB port cover could have helped.
Sure, it's not a perfect phone for every function: it's not got much processing power, so don't expect to play games at top graphics options, and its cameras leave a lot to be desired too. But we were impressed during our time with the phone and it's definitely worth looking at if you have a habit of damaging your smartphone.
Read our in-depth Motorola Defy review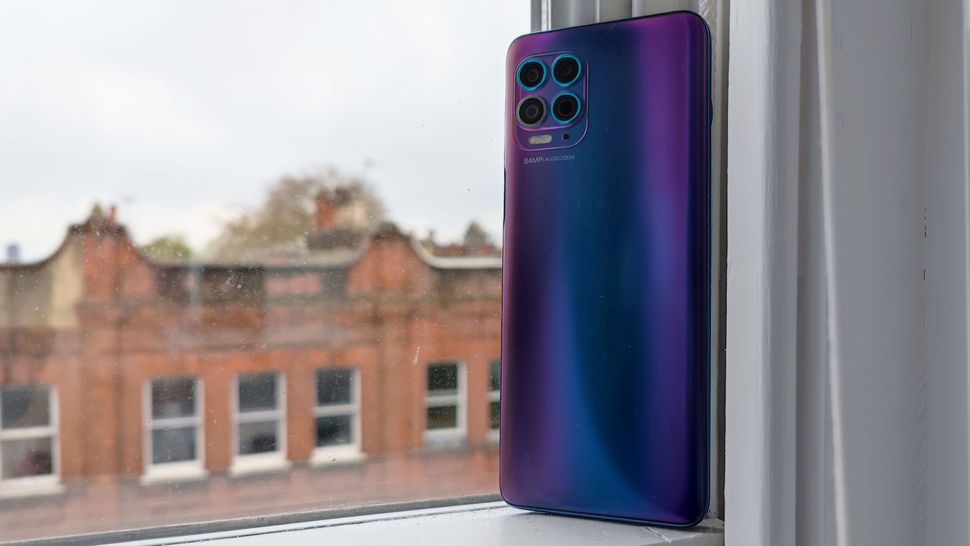 It's odd to call a phone from mid-2021 'old', but the Moto G100 has been supplanted by the G200 in many ways, including in price. The Moto G100 is near the top of the company's 2021 line-up of G-series phones, but it's somewhat of a spiritual successor to the Edge 20 handsets which came out several months earlier.
This is a great budget phone. It has a snappy processor, decent cameras, a big battery and a fingerprint scanner that's pretty convenient to use.
The big problem we had with the Moto G100 is that you have to buy it alongside a dock for Ready For, a software that lets you connect your phone to a display for a range of other functions. Ready For is useful to some, but not all, so it's irritating that you have to pay extra for a stand you might not use. Overall, though, this is a really good smartphone, and one that's worth your money, especially if you're interested in Ready For.
Read our in-depth Moto G100 review
The Motorola Edge Plus is the oldest handset on this ranking, and we've kept it around because it's the last real premium phone from the company, with a huge price and some top features. When we tested the phone, we loved its great-looking display and top specs, and it made the handset stand toe-to-toe with its Samsung Galaxy and iPhones contemporaries.
Nowadays, other Moto devices like the Edge 20 Pro and G200 beat it in most departments, but the Edge Plus stands out in one way: it has a super-premium build, with a 'waterfall' screen that curves steeply at the edges. This gives the phone a striking appearance and a smooth feel in the hand. So if design is a key element for you, then consider this phone.
Read our in-depth Motorola Edge Plus review
How to choose the best Motorola phone for you
The first thing you need to ask yourself is "how much am I willing to spend?". If you've got no set budget, and can splash out a bit, the Edge series is what you want to consider. If you don't want to break the bank, though, stick to the G series.
After that, think about what the key features you need are. Do you need a great camera? A durable device? A high-res screen? A long-lasting battery? Fast charging? Lots of performance power? Most of the G-series phones are decent in all areas, but certain models stand out in certain departments, and we've highlighted these in our rankings.
You should also consider whether you want lots of software updates or if the newest version of Android isn't quite as important - Motorola doesn't always keep its handsets updated for very long, so older phones may already have been discontinued.
Which Motorola phone is the newest?
Despite releasing its phones in quite a sporadic pattern, there is a rhyme and a reason to the naming behind the phones.
The Edge series sees a new number each year - in 2021 it was the Edge 20 series, and 2022 brought the Edge 30, and so on. The Razr is also easy, as this foldable phone is often named after the year - so Razr (2020) and so on.
The G series is a little bit harder, but each new version gets a new suffix number - so if you see the G35 next to the G33, you know which is the newer version. The first number refers to the relative ranking - so the G55 will be as new as the G75, but not as top-end.
How we test Motorola phones
Simple: we put our SIM cards into the phone we're testing, load over all our apps and contracts, and simply use the Moto phone as our own for several weeks.
This means we don't just test the performance power, battery life and screen brightness in controlled, lab settings, but we get a great idea of the everyday work performance of the handset.
This also helps us stumble upon the little quirks, both the good and bad ones, that you might not normally find just by looking at a phone: if there are specific software bugs, or finickity fingerprint sensors, or if the phone overheats, we'll notice it.
Since we test most of the smartphones released in our regions, testing them in a hands-on way like this also means we can compare key features between phones, which really helped with creating this ranking.