Best Samsung Phones: Quick Menu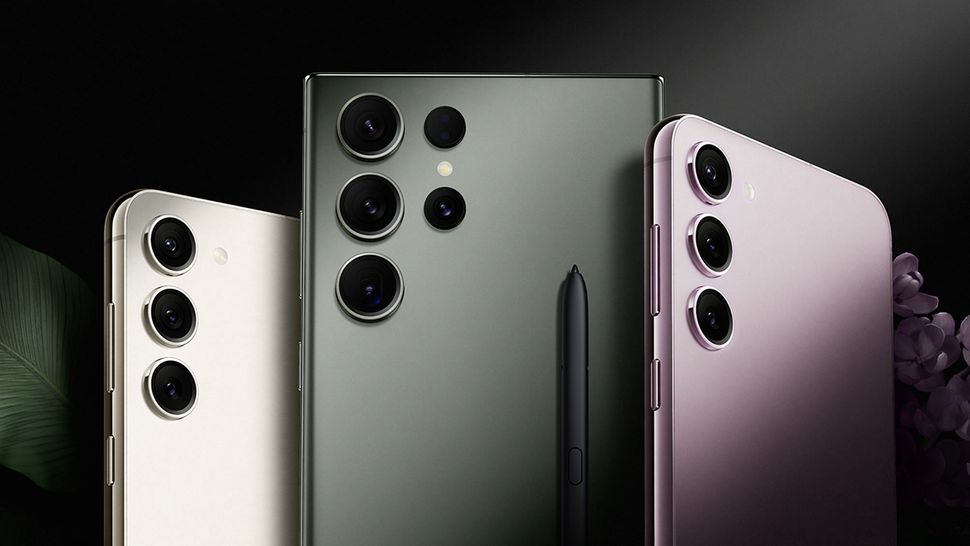 1. The list in brief
2. Best overall
3. Best value
4. Best 2022 phone
5. Best foldable
6. Best clamshell
7. Best compact flagship
8. Best compromise
9. Best discounted
10. Best budget
11. How we test
The very best Samsung phones boast fantastic cameras, feature-rich software and some of the best displays you'll see, all of which helps to make them stand out from the crowd in 2023.
It's no wonder that several devices in Samsung's Galaxy range feature prominently in our list of the best Android phones, with the S-series also ranking among the best smartphones, period. These devices command a lot of respect among smartphone fans – and for good reason.
Whether you need one of the best camera phones or a handset with superior battery life, the best Galaxy devices have you covered. Topping our list right now is the recently released Samsung Galaxy S23 Ultra, which is expensive but has the best camera of any phone on the market.
For the lowdown on Samsung's latest handsets, head over to our Samsung Galaxy S23 review, our Samsung Galaxy S23 Plus review and our Samsung Galaxy S23 Ultra review. All three feature in the below list, so they're well considering.
We've tested thousands of devices over the years, from the best iPhones to the best cheap phones and best gaming phones, so we know what we're talking about.
Read on as we take you through the best Samsung phones, with links to our in-depth reviews included alongside a quick overview of each model.
The quick list
Welcome to our "let's get to the good parts" section, where we give you a quick overview of all Samsung's top phones (up to this moment). Check out each design, a brief description of why we like the phone, the all-important rating, and, naturally, where you can buy it. Scroll down further (or use the jump links) to dig into the details of each Samsung handset.
Load the next 3 products...
Best compromise
7. Samsung Galaxy S23 Plus
The best compromise option
The Galaxy S23 Plus is a good compromise between the bigger and more expensive Ultra and the smaller base S23.
Best discounted
The best discounted option
Now over a year old, Samsung's former Galaxy flagship is a great option if you're after a top-tier Android for a lower price.
Best budget
The best budget Samsung phone
The Galaxy A13 is a seriously cheap smartphone that manages to be good enough in most of the areas that matter.
The best Samsung phones in 2023
Why you can trust TechRadar We spend hours testing every product or service we review, so you can be sure you're buying the best. Find out more about how we test.
Below you'll find full write-ups for each of the best Samsung phones on our list. We've tested each one extensively, so you can be sure to trust our recommendations.
The best Samsung phone overall
Buy it if
✅ You want the best camera phone: Put simply, the Galaxy S23 Ultra offers the best pocket-sized photography experience money can buy. Here, you're getting an absolutely huge 200MP camera sensor, as well as a veritable smorgasbord of other photo capabilities that no other phone can match.

✅ You need as much power as possible: The Galaxy S23 Ultra delivers some phenomenally good performance. If you need a smartphone that can handle multiple power-hungry tasks at once, there's really no better device on the market.

✅ You want the best Android phone: There's little the Samsung Galaxy S23 Ultra doesn't do and do well by modern smartphone standards. It has everything you could need as an Android fan, plus a few extras.
Don't buy it if:
❌ You're on a budget: The S23 Ultra is eye-wateringly expensive, and even pricier than its predecessor in a lot of markets.

❌ You don't like big phones: The S23 Ultra is not just big: the squared silhouette of this mammoth phone means it's especially poorly suited to pockets. One-handed use is a challenge, even if you do have big paws.

❌ You hate One UI: Samsung's take on Android, with its own fonts, additional features and distinct aesthetic, won't be for everyone. It's customisable, but you won't be able to hide the Samsung-specific touches outright.
The bottom line
📱 The Samsung Galaxy S23 Ultra is the very best of what Samsung can pack into a smartphone. Provided you're not dissuaded by its steep asking price, the phone's tougher build, faster memory, more efficient battery, custom-tuned chipset and new 200MP main camera make the Galaxy S23 Ultra one of the best handsets in the world. ★★★★½
What you need to know
Despite looking identical to the S22 Ultra, the Galaxy S23 Ultra is packed with improvements that help it rank as the best Samsung phone available in 2023. In a nutshell, this phone has a tougher build, faster memory, a more efficient battery, a custom-tuned chipset and a new 200MP main camera that blows its competitors out of the water.
Design: The S23 Ultra offers only subtle refinements to its predecessor's already excellent design. There's a similar pill-shaped top-down profile, with curved front and back glass feeding into a metal frame. One change is the reduced radius of the curved edges of the display, which offers a greater flat surface area.
Display: Aside from that reduced curvature along its edges, the S23 Ultra's display offers a familiar viewing experience to its predecessor. As on last year's Ultra, you get a 6.8-inch Dynamic AMOLED 2X panel, with a resolution of 1440 x 3088 and a dynamic refresh rate that can scale between 1Hz and 120Hz.
Camera: The Galaxy S23 Ultra's camera setup is incredibly versatile. It boasts a wide, ultrawide, and two telephoto cameras, giving you optical zoom at 3x and 10x, respectively. Add to that an absolutely huge 200MP sensor for the primary camera, and the S23 is easily the best camera phone money can buy.
Performance: Previously, Galaxy S phones were powered by either Samsung's own Exynos or Qualcomm's Snapdragon silicon, but the S23 series has the Snapdragon 8 Gen 2 chipset worldwide. This eliminates performance disparities that previously left users of Exynos-powered phones feeling behind the curve. And it's fast. Very fast.
Battery life: The S23 Ultra keeps the same 5,000mAh battery as its predecessor, as well as the latter's support for 45W wired charging, and wireless and reverse wireless charging. In testing, the phone delivered some of the longest screen-on time per charge (approximately eight hours) of any device we've sampled recently.
Value for money: Naturally, the S23 Ultra's phenomenal hardware comes at a price, and the phone is even pricier than the S22 Ultra in a lot of markets. No handset that demands a four-figure sum can reasonably be described as 'good value' – but if you can afford it, this is the best Samsung phone money can buy.
Read the full review: Samsung Galaxy S23 Ultra
Swipe to scroll horizontally
Samsung Galaxy S23 Ultra scorecard

| Attributes | Notes | Rating |
| --- | --- | --- |
| Price | Double the storage, but even more expensive that the S22 Ultra in most markets | ★★★☆☆ |
| Design | Attractive and well built, but no more pocketable than its predecessor | ★★★★☆ |
| Display | A stunning display with even greater color accuracy than previously | ★★★★★ |
| Camera | Iconic Ultra versatility with a new sensor that improves low light shooting | ★★★★★ |
| Performance | The best-performing Android phone, if not the best-performing phone outright | ★★★★★ |
| Battery life | Efficiency improvements deliver far greater battery life | ★★★★★ |
The best value Samsung phone
Buy it if
✅ You take pictures for social media: The Samsung Galaxy A53 takes bright photos that take little time to edit into Instagram- or YouTube- ready packages. That's as true for macro snaps as it is for selfies or videos.

✅ You want to draw eyes: Usually, you need a foldable phone to draw eyes at a party – not so with the peach or blue Galaxy A53 phones, which are attractive enough to garner heaps of praise.

✅ You watch loads of videos: If the likes of Netflix, Prime Video and YouTube are your most-used apps, the Galaxy's good-looking screen will suit you well.
Don't buy it if:
❌ You're a mobile gamer: The Samsung Galaxy A53 doesn't have the chops to compete with other mid-range phones in the performance department, making it sub-par for gaming.

❌ You need fast charging: Two hours to charge to full is incredibly slow for any smartphone in 2023, and we can't recommend the A53 if speedy charging is vital.

❌ You need a battery superhero: Some mid-range and budget phones can last for over two days on a single charge. Not the Samsung Galaxy A53, which will generally last you about a day.
The bottom line
📱 The Samsung Galaxy A53 is an attractive phone with a good-looking screen and impressive cameras for the price, the Samsung Galaxy A53 offers good value for money overall; but with its slow charging and stuttery performance, it's not for everyone. ★★★★
What you need to know
The A53 is essentially a 'lite' version of the Galaxy S22 (full write-up here), bringing lots of 'S-range' features to a lower price point. It's not the absolute cheapest phone Samsung makes by some distance, but it is on the lower end of the mid-range, and definitely worth considering if you're on a budget.
Design: The phone measures 159.6 x 74.8 x 8.1mm and weighs 189g, so we'd call it medium-sized. It's not so big that it's uncomfortable to use, so long as your mitts aren't massive. It's also undeniably attractive; while we were testing the peach version, we were constantly told how good it looks. The white, black and blue versions are similarly pretty.
Display: The Samsung Galaxy A53 boasts one of the best-looking screens you'll see on a phone for this price. It's a vibrant, colorful 6.5-inch Super AMOLED panel, with a FHD+ resolution, 120Hz refresh rate and 800 nits max brightness.
Cameras: The main camera is a 64MP f/1.8 with a wide-angle lens, and it's joined by a 12MP camera with an f/2.2 123-degree ultrawide, a 5MP f/2.4 macro and a 5MP f/2.4 depth sensor. The snappers take photos that are bright and colorful, which makes shots of wildlife, food, landscapes or people pop. There's high dynamic range for a phone at this price and pictures are sharp too, as long as you take them on the main camera.
Performance: The Galaxy A53 may lap same-price rivals in the camera and display departments, but it falls behind on performance. The chip here is the Exynos 1280, which is a home-brewed piece of mid-range kit from Samsung – and it leaves a lot to be desired.
Battery life: The 5,000mAh battery is on the big side, though we see lots of mid-rangers pack this kind of power. That bright screen and 5G require a lot of juice and we found that the phone lasted roughly a day between charges.
Value for money: The Samsung Galaxy A53 gives you some surprisingly top-end specs for its price in some departments, but in others it's weaker than its rivals.
Read the full review: Samsung Galaxy A53
Swipe to scroll horizontally
Samsung Galaxy A53 scorecard

| Attributes | Notes | Rating |
| --- | --- | --- |
| Price | Some top-end specs for less | ★★★★☆ |
| Design | Surprisingly attractive at the price | ★★★★☆ |
| Display | One of the best displays at its price tier | ★★★★☆ |
| Performance | Painfully slow, which could lead to frustration | ★★☆☆☆ |
| Cameras | Better than similarly priced rivals | ★★★★☆ |
| Battery life | You'll get a day, but charging speed is slow | ★★☆☆☆ |
The best 2022 Samsung phone
Buy it if
✅ You're a productivity junkie: Beyond its successor, you'll be hard-pressed to find a more capable mobile device than the Samsung Galaxy S22 Ultra.

✅ You're a compulsive note-taker or artist: If you love to take notes by hand, or you're an artist who has brilliant ideas on the go, the S Pen is now always with you. It's also versatile enough to support everything from scribble-to-text conversions to fine art creation, simple doodles, and markup.

✅ You love photography: The camera array here is excellent, and the zoom capabilities will finally let you capture what your eyes can see. The S23 offers even more, but this is still a great camera.
Don't buy it if:
❌ You thought you'd get two days of battery life: The phone's 5,000mAh battery is huge, but so is the phone. That screen and the powerful mobile CPU might be a little more power-hungry than expected. You'll still get a very full day (sunrise to well-past sunset) though.

❌ You have tiny hands: This is a big phone. Even the curved edges don't completely cut down on the size. Also, yes, it's a slippery device. Want a smaller Galaxy S? Look at the S23 (here) or the S23 Plus (here).

❌ You're a fan of wired headphones: If you still rely on 3.5mm, wired headphones, this isn't the phone for you. Samsung removed the 3.5mm headphone jack from the device (and does not ship with a wired set of headphones). Naturally, the handset works like a charm with wireless and Bluetooth earbuds.
The bottom line
📱 The Samsung Galaxy S22 Ultra is a big, powerful, and attractive Android phone (if you like them monolithic). It's super-versatile, ready for important work, hand-written notes, gaming, and casual big-screen web browsing – and the cameras are a clear highlight, with the Space Zoom capabilities taking you to infinity and beyond. And, yes, you'll pay handily for all these features. ★★★★½
What you need to know
Though it's now been superseded by the S23 Ultra, last year's model remains a fantastic choice for anyone who wants a big, powerful phone - not least because its price has dropped since the 2023 version landed.
Design: The frame is a solid Armor Aluminum that resists bends. Polished on the outside to a near-chrome finish, the metal is sandwiched between Gorilla Glass Victus+ plates. The front glass is high-gloss, and the back is a warm satin finish; both repel fingerprints. It's also waterproof to the IP68 rating.
Display: The 6.8-inch AMOLED screen is another highlight. It supports up to 3088 x 1440 pixels (WQHD+) resolution, which works out to 500 ppi and which matches the S23 Ultra. The iPhone 13 Pro Max, by contrast, has 458ppi on its 6.7-inch 2778 x 1284 screen. It's worth noting that the S22 Ultra's default resolution is the lower FHD+, which Samsung says uses less battery life – although we switched halfway through our testing and didn't notice much difference.
Cameras: The camera is an obvious highlight on the S22 Ultra. There are two 10MP telephoto lenses: one is f/2.4 with a 36-degree field of view (FOV) and the other is f/4.9 with an 11-degree FOV. There's also a 12MP ultrawide with a 120-degree FOV, plus a 108MP main wide camera (f/1.8) with an 85-degree FOV. The S22 Ultra's zoom capabilities simply blow away anything we've ever seen before from a phone camera. Obviously, the 3x and 10x optical zoom are not only solid but offer clear images of distant objects with enough clarity that you can crop in on details without seeing much pixelation.
Performance: Over almost a week of intense testing, the S22 Ultra never let us down. It's a fast and powerful phone. The 4nm processor (in our test phone it's the Qualcomm Snapdragon 8 Gen 1 chipset – UK or Australia get Samsung's own Exynos 2200 chipset) doesn't outperform Apple's A15 Bionic in Geekbench benchmarks, but raw numbers never tell the full story. Apple's numbers are better, but the S22 Ultra didn't feel any slower across all tasks. Perhaps the only situation where we detected a small stutter was on 8K video playback.
Battery life: Like the Galaxy S23 Ultra, the S22 Ultra features a beefy 5,000mAh battery and wireless charging. In our tests, the battery was good for a full day of varied activity but not much more. We were a little surprised that such a large battery didn't provide a day and a half of battery life.
Value for money: The Samsung Galaxy S22 Ultra is a premier phone at a premier price, but that price is now slightly lower than it was before the arrival of the S23. Given all that you're getting here, it's arguably better value than the 2023 model - although of course you do miss out on upgrades to the camera, battery life and processor.
Read the full review: Samsung Galaxy S22 Ultra
Swipe to scroll horizontally
Samsung Galaxy S22 Ultra scorecard

| Attributes | Notes | Rating |
| --- | --- | --- |
| Price | Expensive, but there are often great deals | ★★★★☆ |
| Design | Solid, attractive, Note-like design | ★★★★★ |
| Display | Big, S Pen-friendly and high-resolution | ★★★★☆ |
| Performance | Not the absolute fastest, but more than enough power for most | ★★★★☆ |
| Cameras | Excellent overall and Space Zoom will blow you away | ★★★★★ |
| Battery life | Good but could be better | ★★★★☆ |
The best foldable Samsung phone
Buy it if
✅ Productivity with a difference is key: If you want tablet productivity in a phone form factor, this is the device for you.

✅ You're a bit of a photographer, too: Yes, we'd have liked the S22 Ultra camera array, but this one is excellent, too. We took a lot of great photos in a wide variety of shooting situations.

✅ A clamshell fold is not enough: Samsung's Galaxy Z Flip 4 is easily the cutest foldable on the planet, but it's not ready to truly multitask. The Z Fold 4 has you covered for productivity.
Don't buy it if:
❌ You're on a tight budget: This is an expensive phone. Yes, it has lots of RAM, and two screens, but unless you find a great deal, it's not easy on your wallet. Still, it's a little cheaper now than it was when it first launched.

❌ You want faster-charging: The Samsung Galaxy Z Fold 4 can fast charge at an okay speed, through wired or wireless powering, but most top-end and even mid-range phones power up more quickly.

❌ You just want a stylish folding phone: Do you really need all that the Z Fold 4 can provide? Or would the cute and more affordable Galaxy Z Flip 4 be more your style, and a better fit for your budget?
The bottom line
📱The Samsung Galaxy Z Fold 4 is a do-everything device that presents few compromises. It's good for photography, multi-tasking and watching Netflix - as well as being cutting-edge tech - however the high price might put off some buyers. ★★★★½
What you need to know
With the Samsung Galaxy Z Fold 4, Samsung hasn't tried to reinvent the genre or radically alter the foldable's display and design. Instead, it brings a number of small-but-welcome design enhancements over the Z Fold 3, plus a new processor and upgraded cameras.
Design: At this point, Samsung clearly believes it has a pretty good foundation for its premier folding device, and that's why the Z Fold 4 isn't radically different from the Samsung Galaxy Z Fold 3. That said, there are small differences, some of which you can plainly see while others are hidden beneath the frame.
Display: The main screen is a 7.6-inch Dynamic AMOLED display with 2176 x 1812 resolution and which supports an adaptive refresh rate of 1 to 120Hz. The low end of the range is useful for saving battery life by not refreshing the screen when it's not needed, while the high end means smoother gameplay and video action. The cover screen, meanwhile, is a 6.2-inch Dynamic AMOLED panel with a 2316 x 904 resolution. It also has an adaptive refresh rate: 48Hz to 120Hz.
Camera: As with the Z Fold 3, which used the S21's camera array, the Z Fold 4 adopts its main camera array from the Galaxy S22. It has the same sensors underneath (though they're backed by a slightly more powerful CPU here), and the same lenses. There's also a selfie camera on the cover screen, and a low-grade selfie cam under the main screen.
Performance: We're happy that the Z Fold 4 has Qualcomm's top-of-the-line Snapdragon 8 Plus Gen 1 CPU, as it needs all the power it can get for the multi-tasking gymnastics it's capable of.
Battery life: The battery lasted approximately 13 hours, which is pretty good, though we would've liked more. Still, getting that far is a testament to the CPU's power-management capabilities.
Value for money: It's an expensive phone – especially if you go for more than the base 256GB of storage. But if you want the best foldable on the planet, that's the current price you'll pay.
Read the full review: Samsung Galaxy Z Fold 4
Swipe to scroll horizontally
Samsung Galaxy Z Fold 4 score card

| Attributes | Notes | Rating |
| --- | --- | --- |
| Price | Expensive but arguably worth it | ★★★☆☆ |
| Design | A great and still-evolving foldable design | ★★★★☆ |
| Display | Cover display is bigger and better and the main screen is great | ★★★★☆ |
| Camera | A great rear camera array and above-average cover camera | ★★★★☆ |
| Performance | Powerful enough for anything you throw at it | ★★★★★ |
| Battery life | Battery life is adequate, but not amazing | ★★★★☆ |
The best clamshell Samsung phone
Buy it if
✅ You want the very best clamshell foldable: The design, the price, the functionality… the collective effect of the Z Flip 4's strengths make it the obvious choice for those after a clamshell foldable right now.

✅ You love taking selfies: The external Cover Display, paired with the phone's compact size and the ability to shoot with the phone's main sensors, makes this one of the best smartphones for selfies out there.

✅ You want a compact phone: If you can afford it, the Galaxy Z Flip 4's standout form factor makes it a great option for those in the market for a compact phone, without wanting to compromise on a large display.
Don't buy it if:
❌ You're accident prone: Sure, Samsung's 2022 foldables are more durable than ever and there are a range of official cases to protect the Z Flip 4, but if phones take a beating in your possession, this is still vulnerable compared to a conventional candy bar phone.

❌ You want zoom photography: The camera experience on the Z Flip 4 is pretty versatile, not least because of the inherent benefits that its folding form factor and FlexCam functionality provide. But with no dedicated telephoto snapper, zoomed photos are best avoided.

❌ You need a phone with good battery life: Samsung knew the Z Flip 3's battery life was going to be its biggest shortcoming and despite taking steps to alleviate the issue on the Flip 4, longevity is still subpar.
The bottom line
📱 The Samsung Galaxy Z Flip 4 addresses some of the Z Flip 3's biggest pain points; mainly by way of a larger battery that fits into a more compact form factor, but there's still plenty of room left for further improvement. Price versus performance remains unmatched in the market, especially when you consider this is still one of the only water-resistant foldables out there. ★★★★☆
What you need to know
Samsung didn't reinvent its clamshell-style foldable, but the Samsung Galaxy Z Flip 4 does all that it needs to do for the company to hold onto its foldable crown.
Design: If you've seen the existing Z Flip 3, the design changes of the new Samsung Galaxy Z Flip 4 may not even register at first glance. It sports a familiar straight-sided look (with a fraction less rounding this time), with a black 'visor' along the top edge of the back that hosts two rear camera sensors and the external cover display. The rest of the back is comprised of Gorilla Glass Victus Plus, set against a complimentary, color-matched Armor Aluminum frame.
Display: You get a 6.7-inch Full HD+ (2640 x 1080) 'Dynamic AMOLED 2X' panel with a pleasantly smooth 120Hz refresh rate that can scale down to 1Hz to extend battery life. The external cover display, made larger between generations on 2021's Galaxy Z Flip 3, looks to have been carried across to the Flip 4; you get the same 1.9-inch Super AMOLED panel, plus the same 260 x 512 resolution and 60Hz refresh rate.
Camera: You'll find three cameras on the Samsung Galaxy Z Flip 4, which at first blush look very familiar to those on the Z Flip 3. While the apertures remain the same between generations, on the Flip 4 the primary 12MP sensor is fractionally wider and promises brighter stills and videos (by up to 65%), thanks to larger pixels (1.8µm, up from 1.4µm previously). The rest of the hardware appears unchanged from the Flip 3.
Performance: Although the Flip 4 focuses on compact portability over the Fold 4's productivity, it doesn't skimp on performance, with Qualcomm's latest Snapdragon 8 Plus Gen 1 silicon running the show.
Battery life: Despite only a 12% increase in capacity, it pushes the Flip 4 over the line in terms of day-long longevity. This is helped by that adaptive display, intelligent power management that adjusts dynamically based on usage, and a new battery performance profile menu that lets you choose between 'standard' and a new 'light' option.
Value for money: If it weren't for the fact that the Z Flip 3 arrived with an even lower starting price, there wouldn't be any doubt about the value for money the Z Flip 4 offers. That said, it still delivers the most bang for your buck compared to the small crop of rival clamshell foldables now on the market.
Read the full review: Samsung Galaxy Z Flip 4
Swipe to scroll horizontally
Samsung Galaxy Z Flip 4 scorecard

| Attributes | Notes | Rating |
| --- | --- | --- |
| Price | Pricey but still the best value clamshell foldable | ★★★★☆ |
| Design | The best-designed clamshell and the only one with water resistance | ★★★★☆ |
| Display | The screen offers a great viewing experience | ★★★★☆ |
| Camera | Lacks optical zoom but great for selfies | ★★★★☆ |
| Performance | More grunt than you might expect | ★★★★½ |
| Battery life | The Flip 4 can just about last a day | ★★★★☆ |
The best compact Samsung flagship
Buy it if
✅ You're on a budget: This isn't the cheapest Android phone, but it's a good deal for a top-of-the-line Samsung S-series handset.

✅ You want a small phone: The 6.1-inch Galaxy S23 is just what smaller hands ordered, so if you find most modern mobiles too big, this is a great alternative. We think it looks great, too.

✅ You need a powerful phone: Qualcomm's bespoke Snapdragon Gen 2 chipset will give you plenty of power for gaming, video editing and other demanding tasks.
Don't buy it if:
❌ You have big-screen dreams: A 6.1-inch display, even an FHD one like this, can feel a little cramped, especially if you've been living with a 6.5-inch or above handset.

❌ Your budget stretches to the Ultra: We've not been shy about our preference for the S23 Ultra – if you can afford that super-powered Android phone, we'd recommend you go for it.

❌ You have a recent Samsung S phone: If you're only upgrading from the S21 or S22, the fact that this is an incremental upgrade might put you off – not too much is new here beyond processing power.
The bottom line
📱 The Samsung Galaxy S23 isn't the biggest handset or best photography phone around, but it does offer a clean and reliable Android experience. It's an incremental update over its predecessor, but upgrades to the phone's design, processor, and selfie camera are welcome. ★★★★
What you need to know
The Samsung Galaxy S23 is the small fry of the Galaxy S23 range, but it's easily one of the most capable Samsung phones ever made and, quite possibly, the best-looking of the lot.
Design: Like its predecessor, the Galaxy S23 is a phone that's small enough to slip into your pocket and forget about. In today's world of oversized phones (like the larger Galaxy S23 Ultra, detailed above), its 146.3 x 70.86 x 7.62mm chassis feels puny, but Samsung has done a great job of making it look sleek.
Display: The S23's 6.1-inch display remains the same as its predecessor's, which is by no means a bad thing. The 120Hz refresh rate and crisp 1080 x 2340 resolution keep things feeling smooth and looking sharp, while the phone is plenty bright enough to maintain good visibility in sunlight.
Cameras: The S23's rear camera array is identical to that of the S22. You'll get a 50MP main lens, 12MP ultrawide lens and 10MP telephoto lens (with 3x optical zoom), which rivals Apple's iPhone 14 phones. It would have been nice to see Samsung give the S23 a 108MP main lens, but the device does get an impressive 12MP selfie camera that trumps its predecessor's equivalent.
Performance: As with the S23 Ultra, the base S23 boasts Qualcomm's bespoke Snapdragon 8 Gen 2 chipset across the board. Practically, Qualcomm's latest processor delivers exceptional performance for all manner of mobile tasks, so you'll rarely find yourself lacking power with the S23.
Battery life: The Galaxy S23 gets a slightly bigger battery than the S22, with Samsung jumping from 3,700mAh to 3,900mAh. The phone supports the same peak 25W wired charging as the S22, though, along with fast wireless charging and wireless PowerShare.
Value for money: The vanilla S23 is a (relatively) affordable way to get in at the top of the Galaxy line. Naturally, you don't get everything the Ultra offers, but that's why this phone is far cheaper.
Read the full review: Samsung Galaxy S23 (opens in new tab)
Swipe to scroll horizontally
Samsung Galaxy S23 scorecard

| Attributes | Notes | Rating |
| --- | --- | --- |
| Price | Samsung boosted the power but held the line on price | ★★★★☆ |
| Design | It's a clean look that holds onto all that's good about the S22 | ★★★★☆ |
| Display | Gorgeous, bright, and smooth; all you can ask for in a smartphone display | ★★★★★ |
| Camera | A great camera array backed by better image processing, but we wanted more | ★★★★☆ |
| Performance | The best silicon a Galaxy S phone has ever had | ★★★★★ |
| Battery life | All-day-and-more battery life that won't let you down | ★★★★★ |
The best compromise Galaxy phone
Buy it if:
✅ You want a top-tier Android flagship: The S23 Plus will remain a top-tier handset for several years thanks to its industry-leading processor and magnificent display.

✅ The Galaxy S23 is too small: Although we prefer the Galaxy S23's more compact size, the S23 Plus is perfect for those who've grown accustomed to beefier phones.

✅ You need long-lasting battery life: The S23 Plus has a giant 4,700mAh battery, which is 200mAh larger than the one in its predecessor and 800mAh larger than the battery in the standard Galaxy S23.
Don't buy it if:
❌ You're on a budget: The S23 Plus is more affordable than the S23 Ultra, but the S23 is cheaper still. Given that the Plus doesn't offer much more beyond a bigger screen and battery, the base model may be a better fit for you.

❌ You own the S22 Plus: Despite its slightly superior battery life, processor and storage options, the S23 Plus is not a must-upgrade device for S22 Plus owners.

❌ You want the best camera phone: The S23 Plus' high price isn't justified in the camera department. For the best Samsung camera phone, pick up the S23 Ultra instead.
The bottom line
📱 The Samsung Galaxy S23 Plus bundles its smaller sibling's impressive design, performance and camera credentials into a larger but more expensive package. As such, it may prove an attractive proposition for Galaxy newcomers in the market for a big-screen all-rounder, but anyone with the means to make the more rewarding jump up to the Galaxy S23 Ultra should consider doing so. ★★★★
What you need to know
The Galaxy S23 Plus is an excellent like-for-like alternative to the standard S23, but its significantly higher price makes it a hard sell to anyone content with its smaller sibling's much more compact size. What's more, since there aren't too many notable upgrades over the S22 Plus to be found here beyond processing power, battery life and more storage options, this is probably a phone best suited to Galaxy newcomers – or those who just aren't able to shell out on the eye-wateringly expensive S23 Ultra.
Design: Thanks to the removal of Samsung's once iconic Contour Cut metalwork from around the camera array, the S23 Plus boasts the same attractive design as the standard 23, albeit in a larger 76.2 x 157.73 x 7.62mm package.
Display: The S23 Plus' 6.6-inch, 2316 x 1080-pixel screen is big, bright, and responsive, even if largely unchanged from its predecessor. The phone's adaptive refresh rate and brightness settings are a big positive, too.
Camera: The S23 Plus has the same three rear cameras as its predecessor: a 50MP f1.8 main, a 12MP f2.2 ultrawide and a 10MP f2.4 telephoto with 3x optical zoom. On the front, you're getting an improved 12MP camera. This isn't a bad setup, by any means, but we hoped the S23 Plus would inherit the S22 Ultra's 108MP sensor.
Performance: The S23 Plus boasts a bespoke Snapdragon 8 Gen 2 chipset that delivers industry-leading performance. Whether you're rapidly swiping across its home screen, multitasking with various apps or photographing using one of its power-hungry camera modes, the phone is near-flawlessly responsive, and gaming is impressive, too.
Battery life: The S23 Plus' 4,700mAH battery is larger than its standard sibling's equivalent and delivers almost two days' worth of charge. The phone supports 45W wired fast charging, too, where the smaller S23 only supports 25W.
Value for money: A $999.99 / £1,049 / AU$1,649 starting price for a phone of this quality is to be expected, but we'd suggest opting for the more reasonably priced standard S23 if you're not fussed about the Plus' larger display and battery size.
Read the full review: Samsung Galaxy S23 Plus
Swipe to scroll horizontally
Samsung Galaxy S23 Plus scorecard

| Attributes | Notes | Rating |
| --- | --- | --- |
| Price | In line with other premium phones | ★★★☆☆ |
| Design | Handsome look, but impractical button positioning | ★★★★☆ |
| Display | Big, good looking but not exceptional | ★★★★☆ |
| Camera | Strong rear camera setup, but minimal improvements over predecesor | ★★★★☆ |
| Performance | Industry-leading power thanks to bespoke Snapdragon processor | ★★★★★ |
| Battery life | Almost two days of general use | ★★★★★ |
The best discounted Galaxy phone