The best Samsung phones offer some great features that make them stand out. These include fantastic cameras as well as intuitive software and excellent reliability. That's why they command a lot of respect in the field.
Many of Samsung's Galaxy line also feature among the best Android phones, with the S-series models also ranking among the best smartphones.
Samsung is adventurous too, with its latest Galaxy Z Flip 4 and Z Fold 4 models ushering foldable phones into the mainstream. Sideline additions, like the Samsung Galaxy Watch 5 Pro are helping innovate the whole brand too.
Whether you need a phone with exceptional battery life or the best camera, the best Samsung phones have this covered. Topping the list is the Samsung Galaxy S22 Ultra, which is expensive but has the best camera right now.
We've tested thousands of phones over the years, from the best iPhones to the best cheap phones and best gaming phones; so we know what we're talking about.
Below is a list of the best Samsung phones, including links to our in-depth reviews of each, as well as pros and cons, and an overview of why they're worth it.
The best Samsung phones 2022
Why you can trust TechRadar Our expert reviewers spend hours testing and comparing products and services so you can choose the best for you. Find out more about how we test.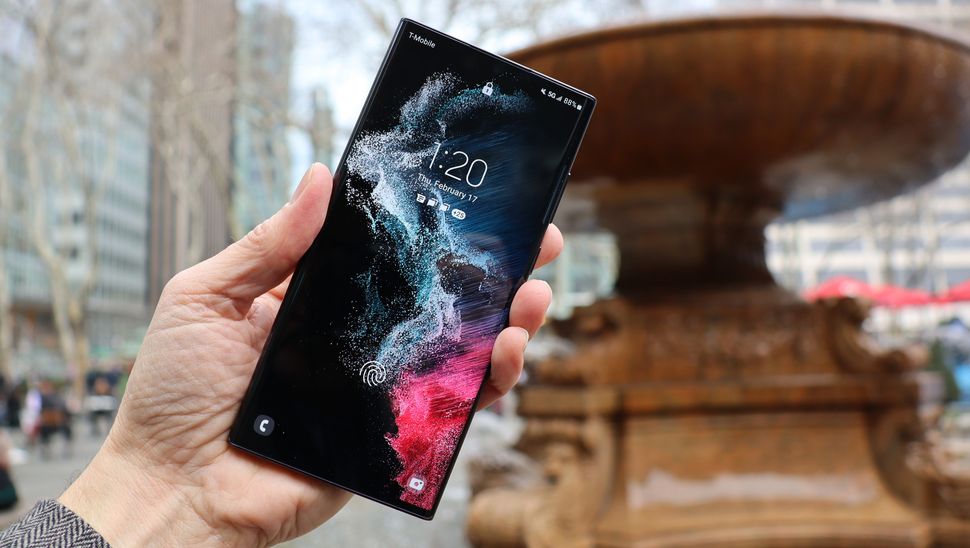 The Samsung Galaxy S22 Ultra is the best Samsung phone you can buy right now, combining all the best bits of the S Ultra range and the Galaxy Note range into one sumptuous package.
Really though, this is more Note than S, with a Note-like shape, an S Pen stylus, and a slot to house it. This makes it a dream for productivity, allowing you to sketch, edit, and take hand-written notes with ease.
But the Samsung Galaxy S22 Ultra also has the excellent camera hardware you'd expect from the range, including an improved 10x optical zoom lens which we were incredibly impressed with in our review.
There's plenty of power too, whether you end up with the Exynos 2200 chipset (in Europe), or the Snapdragon 8 Gen 1 model (in most other places). That coupled with a massive 6.8-inch 120Hz 1440 x 3088 screen makes the Samsung Galaxy S22 Ultra a joy to use.
And we've really only scratched the surface of what this phone offers. A big battery, fast 45W charging, water resistance, and masses of RAM and storage are all here too, among many, many other flagship features.
Read our full Samsung Galaxy S22 Ultra review
The Samsung Galaxy A53 isn't the fastest phone but it offers a lot for the price. Good looking, it's comfy to hold onto with an understated camera bump on the back.
Its 6.5-inch screen uses an AMOLED panel while offering a full HD+ resolution and 120Hz refresh rate so it's easily one of the best-looking displays in this price range.
Accompanying that is a 64MP main lens, 12MP ultrawide, 5MP macro, and 5MP depth sensor so the Samsung Galaxy A53 can take some pretty good photos as helepd by some smart software options.
A little sluggish at times, we'll still forgive the Samsung Galaxy A53 if you're keen for a great camera and screen without spending a fortune.
Read our full Samsung Galaxy A53 review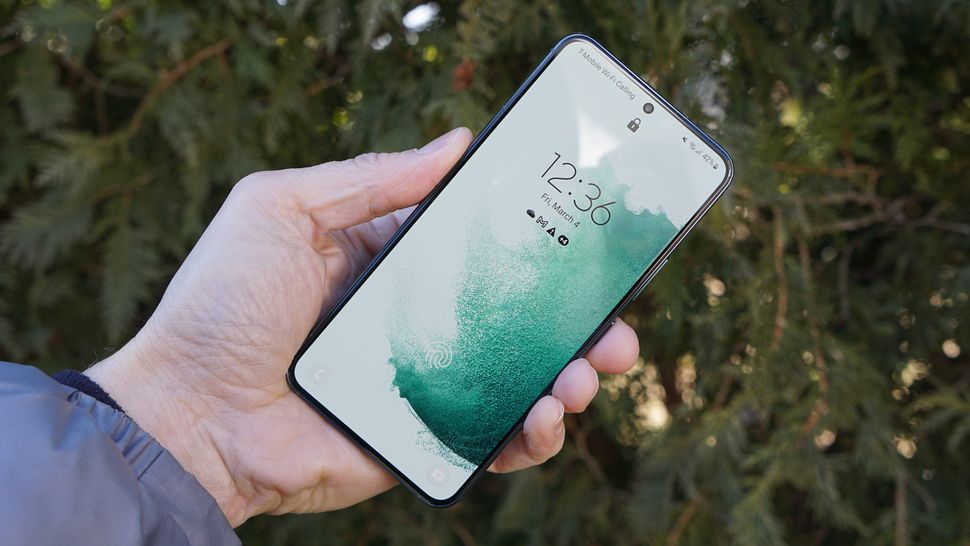 The Samsung Galaxy S22 is the baby of the Galaxy S22 range, but that doesn't mean you shouldn't consider it. In fact, as the cheapest of Samsung's flagship trio it's a very tempting handset, and easily one of the best Samsung phones.
In our review we praised its performance and its stylish yet solidly built construction. It's small by flagship phone standards too, with a 6.1-inch screen and compact overall dimensions, making this a great choice for fans of small handsets. That screen is no slouch though, with a 120Hz refresh rate and a crisp 1080 x 2340 resolution.
The cameras – while no match for those on the Galaxy S22 Ultra – are also fairly good, and include a new 50MP main sensor, along with capable ultra-wide and telephoto ones.
And as noted the phone performs well, as it packs a top-end chipset (albeit one which varies depending on your region) and 8GB of RAM. If you need the biggest or best phone around then this isn't for you, but if you want a capable, compact flagship on a budget then the Samsung Galaxy S22 is well worth considering.
Read our full Samsung Galaxy S22 review
While Chinese rivals offer more bang for your buck, for those after an affordable phone with Samsung's specific take on Android, look no further than the Galaxy A13.

It boasts the same stylish design as the rest of the current A series and as a user experience, One UI is packed with options for customisation, as well as a few unique features you can't find on competing budget devices.
There's a notable difference to the A13, depending on where you pick one up. Across the board, the 50MP main camera impresses for the price, but in the US you lose out on the 5MP secondary ultrawide snapper found on the UK and Australian models, in exchange for 5G connectivity (up from 4G).
Read our full Samsung Galaxy A13 review
The Samsung Galaxy S21 Ultra was Samsung's top, premium flagship for 2021, and what a phone it is. For the first time Samsung offered S Pen support on an S-range handset here, meaning that you can optionally get the Galaxy Note range's best feature.
But even without that, this is a stunning handset, with a brilliant quad-lens camera capable of 10x optical zoom. In fact, in our review we called it the best camera zoom on any readily available Android phone - though the S22 Ultra has since beat it.
The Samsung Galaxy S21 Ultra also looks great, with a smooth Gorilla Glass back that has a matte finish that looks better than the reflective Galaxy S20 range, while around the front there's a curved edge-to-edge 6.8-inch screen.
And speaking of that screen, for the first time on a Samsung phone you get both a QHD+ resolution and a 120Hz refresh rate at the same time. And being a high-end Samsung screen this is one of the best around.
There's also oodles of power of course, and while obviously very expensive, this actually has a cheaper starting price than the Samsung Galaxy S20 Ultra did at launch.
Read our full Samsung Galaxy S21 Ultra review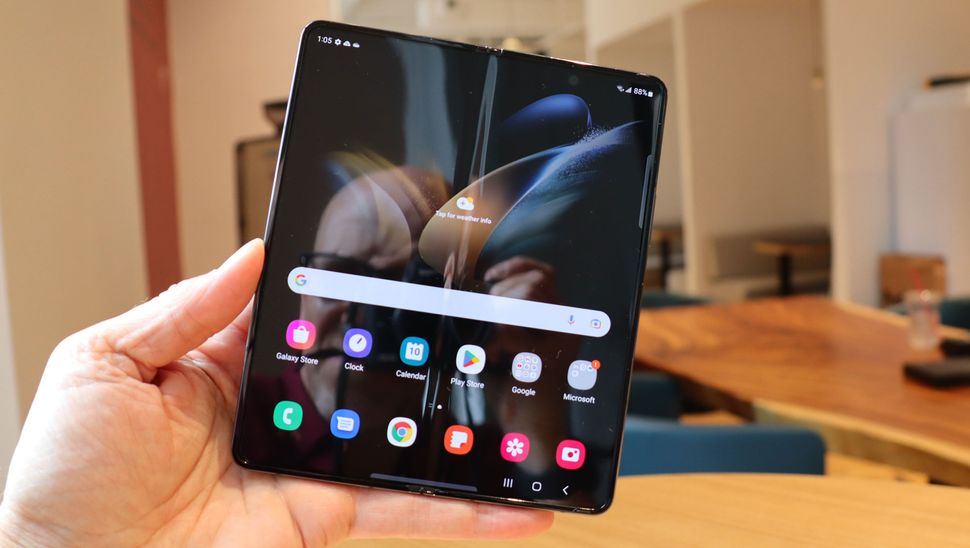 The Samsung Galaxy Z Fold 4 is the top Samsung foldable you can buy, but with its enormously high price it's certainly not for everyone.
It has a large 7.6-inch foldable screen along with a more conventional 6.2-inch secondary display – both of which are of the high quality you'd expect from an expensive Samsung phone.
It also has even more power than the Samsung Galaxy S22 Ultra, thanks to a Snapdragon 8 Plus Gen 1 chipset, and there are upgraded cameras over its predecessor, headlined by a 50MP primary sensor.
In our review we were also impressed by the software, which is better optimized for multitasking this year, and feels generally more suited to a foldable phone.
This isn't a mammoth upgrade over the Samsung Galaxy Z Fold 3, but it's a nice refinement of an already-excellent foldable phone.
Read our full Samsung Galaxy Z Fold 4 review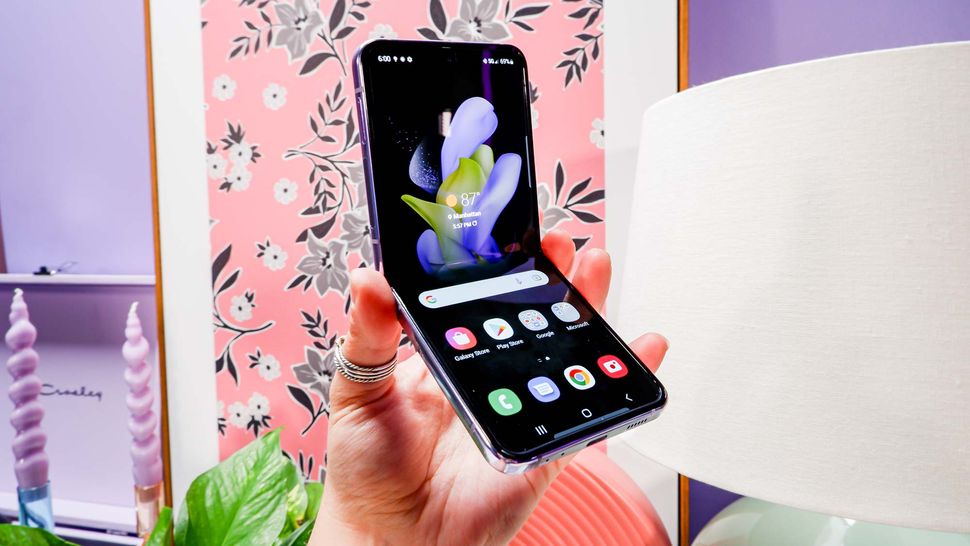 Samsung virtually perfected the clamshell foldable with the Samsung Galaxy Z Flip 3, so it's not surprising to find that the Galaxy Z Flip 4 is only a minor upgrade.
You get a bigger battery here plus faster charging and a more powerful chipset, but almost everything else is as it was on the previous model.
That's okay though, because the Z Flip 3 was an excellent phone, and the Z Flip 4 is even better. In our review we were particularly impressed with its performance and how compact it is, while the larger battery helps fix one of the biggest issues with the Flip 3.
We're hoping for bigger changes on the Samsung Galaxy Z Flip 5, but for now this is the best clamshell foldable you can buy, and one of the best Samsung phones.
Read our full Samsung Galaxy Z Flip 4 review