The best Samsung phones 2023: top Galaxy handsets ranked
Best
Contributions from
last updated
We've tested all the best Samsung phones you can buy – including foldables, flagships, and affordable models – to bring you the definitive reasons to buy each one
Best Samsung Phones: Quick Menu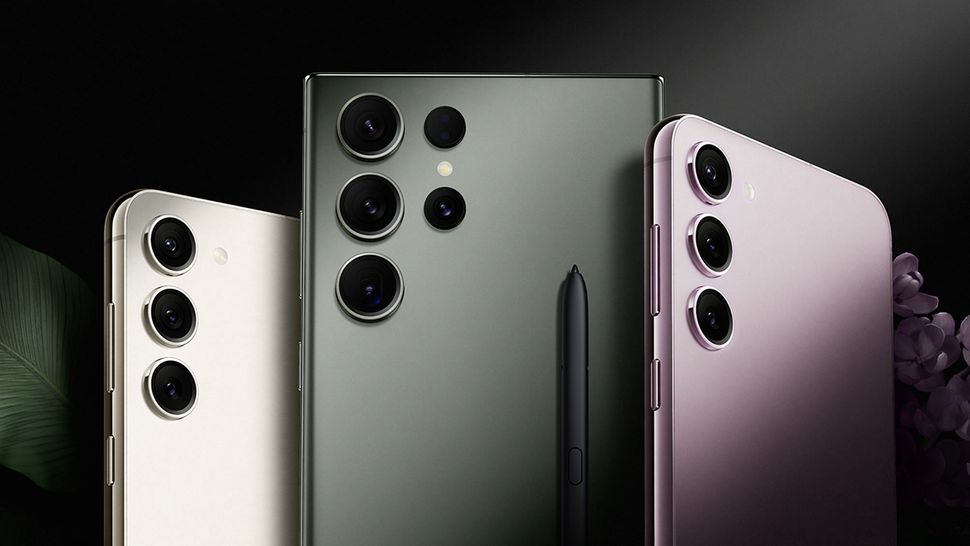 1. The list in brief
2. Best overall
3. Best value
4. Best 2022 phone
5. Best foldable
6. Best clamshell
7. Best compact flagship
8. Best compromise
9. Best discounted
10. Best budget
11. How we test
The very best Samsung phones boast fantastic cameras, feature-rich software and some of the best displays you'll see, all of which helps to make them stand out from the crowd in 2023.
It's no wonder that several devices in Samsung's Galaxy range feature prominently in our list of the best Android phones, with the S-series also ranking among the best smartphones, period. These devices command a lot of respect among smartphone fans – and for good reason.
Whether you need one of the best camera phones or a handset with superior battery life, the best Galaxy devices have you covered. Topping our list right now is the recently released Samsung Galaxy S23 Ultra, which is expensive but has the best camera of any phone on the market.
For the lowdown on Samsung's latest handsets, head over to our Samsung Galaxy S23 review, our Samsung Galaxy S23 Plus review and our Samsung Galaxy S23 Ultra review. All three feature in the below list, so they're well considering.
We've tested thousands of devices over the years, from the best iPhones to the best cheap phones and best gaming phones, so we know what we're talking about.
Read on as we take you through the best Samsung phones, with links to our in-depth reviews included alongside a quick overview of each model.
The quick list
Welcome to our "let's get to the good parts" section, where we give you a quick overview of all Samsung's top phones (up to this moment). Check out each design, a brief description of why we like the phone, the all-important rating, and, naturally, where you can buy it. Scroll down further (or use the jump links) to dig into the details of each Samsung handset.
Load the next 3 products...
Best compromise
7. Samsung Galaxy S23 Plus
The best compromise option
The Galaxy S23 Plus is a good compromise between the bigger and more expensive Ultra and the smaller base S23.
Best discounted
The best discounted option
Now over a year old, Samsung's former Galaxy flagship is a great option if you're after a top-tier Android for a lower price.
Best budget
The best budget Samsung phone
The Galaxy A13 is a seriously cheap smartphone that manages to be good enough in most of the areas that matter.
The best Samsung phones in 2023
Why you can trust TechRadar We spend hours testing every product or service we review, so you can be sure you're buying the best. Find out more about how we test.
Below you'll find full write-ups for each of the best Samsung phones on our list. We've tested each one extensively, so you can be sure to trust our recommendations.
The best Samsung phone overall
Image 1 of 5
The best Samsung phone overall
Specifications
Release date:
February 2023
Dimensions:
163.4 x 78.1 x 8.9mm
OS:
Android 13 w/ One UI 5.1
CPU:
Snapdragon 8 Gen 2 Mobile Platform for Galaxy
Storage:
256GB / 512GB / 1TB
Rear camera:
200MP (wide) + 10MP (telephoto, 3x optical) + 10MP (telephoto, 10x optical) + 12MP (ultrawide, 120-degree)
Reasons to buy
+
Phenomenal cameras
+
Bespoke Snapdragon 8 Gen 2 chipset
Reasons to avoid
-
Faster charging would have been nice
-
Seriously expensive
Buy it if
✅ You want the best camera phone: Put simply, the Galaxy S23 Ultra offers the best pocket-sized photography experience money can buy. Here, you're getting an absolutely huge 200MP camera sensor, as well as a veritable smorgasbord of other photo capabilities that no other phone can match.

✅ You need as much power as possible: The Galaxy S23 Ultra delivers some phenomenally good performance. If you need a smartphone that can handle multiple power-hungry tasks at once, there's really no better device on the market.

✅ You want the best Android phone: There's little the Samsung Galaxy S23 Ultra doesn't do and do well by modern smartphone standards. It has everything you could need as an Android fan, plus a few extras.
Don't buy it if:
❌ You're on a budget: The S23 Ultra is eye-wateringly expensive, and even pricier than its predecessor in a lot of markets.

❌ You don't like big phones: The S23 Ultra is not just big: the squared silhouette of this mammoth phone means it's especially poorly suited to pockets. One-handed use is a challenge, even if you do have big paws.

❌ You hate One UI: Samsung's take on Android, with its own fonts, additional features and distinct aesthetic, won't be for everyone. It's customisable, but you won't be able to hide the Samsung-specific touches outright.
The bottom line
📱 The Samsung Galaxy S23 Ultra is the very best of what Samsung can pack into a smartphone. Provided you're not dissuaded by its steep asking price, the phone's tougher build, faster memory, more efficient battery, custom-tuned chipset and new 200MP main camera make the Galaxy S23 Ultra one of the best handsets in the world. ★★★★½
What you need to know
Despite looking identical to the S22 Ultra, the Galaxy S23 Ultra is packed with improvements that help it rank as the best Samsung phone available in 2023. In a nutshell, this phone has a tougher build, faster memory, a more efficient battery, a custom-tuned chipset and a new 200MP main camera that blows its competitors out of the water.
Design: The S23 Ultra offers only subtle refinements to its predecessor's already excellent design. There's a similar pill-shaped top-down profile, with curved front and back glass feeding into a metal frame. One change is the reduced radius of the curved edges of the display, which offers a greater flat surface area.
Display: Aside from that reduced curvature along its edges, the S23 Ultra's display offers a familiar viewing experience to its predecessor. As on last year's Ultra, you get a 6.8-inch Dynamic AMOLED 2X panel, with a resolution of 1440 x 3088 and a dynamic refresh rate that can scale between 1Hz and 120Hz.
Camera: The Galaxy S23 Ultra's camera setup is incredibly versatile. It boasts a wide, ultrawide, and two telephoto cameras, giving you optical zoom at 3x and 10x, respectively. Add to that an absolutely huge 200MP sensor for the primary camera, and the S23 is easily the best camera phone money can buy.
Performance: Previously, Galaxy S phones were powered by either Samsung's own Exynos or Qualcomm's Snapdragon silicon, but the S23 series has the Snapdragon 8 Gen 2 chipset worldwide. This eliminates performance disparities that previously left users of Exynos-powered phones feeling behind the curve. And it's fast. Very fast.
Battery life: The S23 Ultra keeps the same 5,000mAh battery as its predecessor, as well as the latter's support for 45W wired charging, and wireless and reverse wireless charging. In testing, the phone delivered some of the longest screen-on time per charge (approximately eight hours) of any device we've sampled recently.
Value for money: Naturally, the S23 Ultra's phenomenal hardware comes at a price, and the phone is even pricier than the S22 Ultra in a lot of markets. No handset that demands a four-figure sum can reasonably be described as 'good value' – but if you can afford it, this is the best Samsung phone money can buy.
Read the full review: Samsung Galaxy S23 Ultra
Swipe to scroll horizontally
Samsung Galaxy S23 Ultra scorecard

| Attributes | Notes | Rating |
| --- | --- | --- |
| Price | Double the storage, but even more expensive that the S22 Ultra in most markets | ★★★☆☆ |
| Design | Attractive and well built, but no more pocketable than its predecessor | ★★★★☆ |
| Display | A stunning display with even greater color accuracy than previously | ★★★★★ |
| Camera | Iconic Ultra versatility with a new sensor that improves low light shooting | ★★★★★ |
| Performance | The best-performing Android phone, if not the best-performing phone outright | ★★★★★ |
| Battery life | Efficiency improvements deliver far greater battery life | ★★★★★ |
The best value Samsung phone
Image 1 of 5
The best value Samsung phone
Specifications
Dimensions:
159.6 x 74.8 x 8.1mm
Rear camera:
64MP (wide) + 12MP (ultrawide) + 5MP (macro) + 5MP (depth)
Reasons to buy
+
Good cameras for price
+
Attractive design
Reasons to avoid
-
Slow charging
-
Slow navigation
Buy it if
✅ You take pictures for social media: The Samsung Galaxy A53 takes bright photos that take little time to edit into Instagram- or YouTube- ready packages. That's as true for macro snaps as it is for selfies or videos.

✅ You want to draw eyes: Usually, you need a foldable phone to draw eyes at a party – not so with the peach or blue Galaxy A53 phones, which are attractive enough to garner heaps of praise.

✅ You watch loads of videos: If the likes of Netflix, Prime Video and YouTube are your most-used apps, the Galaxy's good-looking screen will suit you well.
Don't buy it if:
❌ You're a mobile gamer: The Samsung Galaxy A53 doesn't have the chops to compete with other mid-range phones in the performance department, making it sub-par for gaming.

❌ You need fast charging: Two hours to charge to full is incredibly slow for any smartphone in 2023, and we can't recommend the A53 if speedy charging is vital.

❌ You need a battery superhero: Some mid-range and budget phones can last for over two days on a single charge. Not the Samsung Galaxy A53, which will generally last you about a day.
The bottom line
📱 The Samsung Galaxy A53 is an attractive phone with a good-looking screen and impressive cameras for the price, the Samsung Galaxy A53 offers good value for money overall; but with its slow charging and stuttery performance, it's not for everyone. ★★★★
What you need to know
The A53 is essentially a 'lite' version of the Galaxy S22 further down this list, bringing lots of 'S-range' features to a lower price point. It's not the absolute cheapest phone Samsung makes by some distance, but it is on the lower end of the mid-range, and definitely worth considering if you're on a budget.
Design: The phone measures 159.6 x 74.8 x 8.1mm and weighs 189g, so we'd call it medium-sized. It's not so big that it's uncomfortable to use, so long as your mitts aren't massive. It's also undeniably attractive; while we were testing the peach version, we were constantly told how good it looks. The white, black and blue versions are similarly pretty.
Display: The Samsung Galaxy A53 boasts one of the best-looking screens you'll see on a phone for this price. It's a vibrant, colorful 6.5-inch Super AMOLED panel, with a FHD+ resolution, 120Hz refresh rate and 800 nits max brightness.
Cameras: The main camera is a 64MP f/1.8 with a wide-angle lens, and it's joined by a 12MP camera with an f/2.2 123-degree ultrawide, a 5MP f/2.4 macro and a 5MP f/2.4 depth sensor. The snappers take photos that are bright and colorful, which makes shots of wildlife, food, landscapes or people pop. There's high dynamic range for a phone at this price and pictures are sharp too, as long as you take them on the main camera.
Performance: The Galaxy A53 may lap same-price rivals in the camera and display departments, but it falls behind on performance. The chip here is the Exynos 1280, which is a home-brewed piece of mid-range kit from Samsung – and it leaves a lot to be desired.
Battery life: The 5,000mAh battery is on the big side, though we see lots of mid-rangers pack this kind of power. That bright screen and 5G require a lot of juice and we found that the phone lasted roughly a day between charges.
Value for money: The Samsung Galaxy A53 gives you some surprisingly top-end specs for its price in some departments, but in others it's weaker than its rivals.
Read the full review: Samsung Galaxy A53
Swipe to scroll horizontally
Samsung Galaxy A53 scorecard

| Attributes | Notes | Rating |
| --- | --- | --- |
| Price | Some top-end specs for less | ★★★★☆ |
| Design | Surprisingly attractive at the price | ★★★★☆ |
| Display | One of the best displays at its price tier | ★★★★☆ |
| Performance | Painfully slow, which could lead to frustration | ★★☆☆☆ |
| Cameras | Better than similarly priced rivals | ★★★★☆ |
| Battery life | You'll get a day, but charging speed is slow | ★★☆☆☆ |